Did you know that there are many places in the city of Exeter that were inspirations for Harry Potter?
That's right, J. K. Rowling was a graduate of the University of Exeter and it is thought that this magical city inspired parts of her Wizarding World.
One of the most famous locations is 10 Cathedral Close which is thought to have inspired the secret room on the seventh floor of Hogwarts, the Room of Requirement!
Here is a complete visitor guide for 10 Cathedral Close Exeter and the Harry Potter Room of Requirement inspiration.
Read my complete Harry Potter guide to Exeter here!
10 Cathedral Close Exeter history
The area surrounding Exeter Cathedral and Cathedral Close has a history dating back to Roman times when they built their bathhouse under Exeter Cathedral Green.
The first Christian place of worship was established in the city around 1050 and this makes Exeter one of the oldest working cathedrals in the country.
The group of buildings in Cathedral Close dates back to the 14th-century although they have had many renovations made to them since then.
In the Middle Ages, 10 Cathedral Close was the house of the Archdeacons of Barnstaple and Totnes. The front courtyard was used as a gatehouse and stables.
The house has been expanded over the centuries with numerous alterations being made. Different bishops and members of the clergy used it as a private residence. Hence why it is often called 'the house'.
The white and black timber-framed facade was placed there in the 19th century. This is when the artist John Gendall lived here who owned Mols Coffee House that you can still see on number 1 Cathedral Close today.
The building and door were given a Grade I listed status in 1953 and so it is now protected. Over the years, this building fell into disrepair and the oak door suffered wood rot. So, conservation efforts were made to restore it in 2009.
Today, Cathedral Close in Exeter is still owned by the cathedral and number 10 is the private residence of the Cathedral Dean.
10 Cathedral Close Door
The ornately carved Devon oak door on 10 Cathedral Close is thought to be around the same age as the one located on the famous Exeter Guildhall.
There are a few decorative doors like this found in the city and they are all thought to have been created around the 1600s.
The door at Exeter Guildhall dates back to dated 1593 and was carved by Nicholas Baggett who was a local carpenter.
There are multiple similarities in both doors found at 10 Cathedral Close and the Guildhall including the cubed raised carvings, curved semi-circle lines, and the carved faces of lions too!
So, it's safe to assume that Baggett also carved the door on Cathedral Close as it fits in perfectly with the timelines as well.
You'll notice the coat of arms of Bishop Cotton above the doorway who was a bishop at Exeter Cathedral in 1598 for 23 years. Maybe he was the one who commissioned for the door to be made?
Apart from a bit of wood rot in 2009, this decorative door has been wonderfully preserved for the past 400 years or so!
Nowadays, it's also famous in Exeter as many Potterheads believe that this is the inspiration for the Harry Potter Room of Requirement door in the series!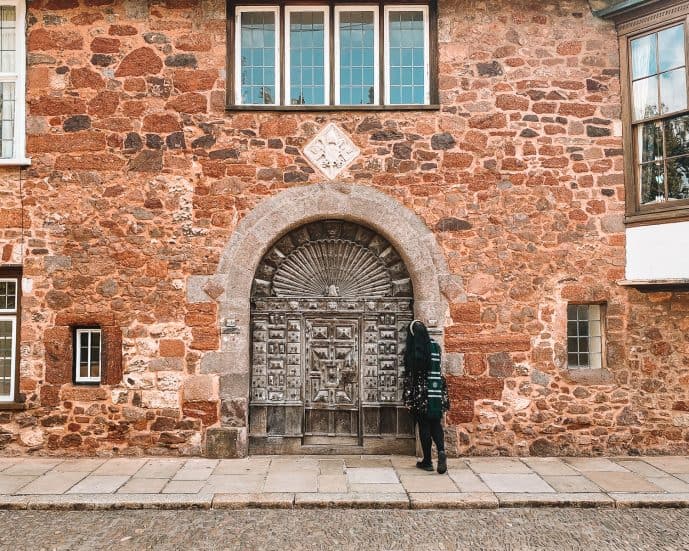 What is the Room of Requirement in Harry Potter?
Fans of Harry Potter will not need reminding what the Room of Requirement is but if you're just learning about it now the Room of Requirement is a secret room on the seventh floor at Hogwarts School of Witchcraft and Wizardry.
It's also known as the Come and Go Room according to Dobby and the Room of Hidden Things where Draco hid during his sixth year at Hogwarts.
It only appears to those who are in great need of it and it transforms itself into whatever is needed for the witch or wizard at that particular moment.
For example, the Room of Requirement appeared for Harry Potter and Dumbledore's Army as a place to train to fight Death Eaters.
It's also famous for hiding things like Horcruxes and Voldemort used this very room to hide one inside Rowena Ravenclaw's lost diadem!
To make the Room of Requirement appear, you have to walk past it three times thinking about what you need and a door will reveal itself.
In the movies, you will have seen this room in Harry Potter and the Order of the Phoenix, Harry Potter and the Half-Blood Prince, and Harry Potter and the Deathly Hallows Parts 1 & 2.
Who can forget the Skirmish in here and when Harry Potter saves Draco Malfoy from the Fiendfyre?!
Was the Harry Potter Room of Requirement really inspired by 10 Cathedral Close Exeter?
Did you know that J. K. Rowling was a student at the University of Exeter? Yep, she studied French and Classics.
So, there are many theories that she was inspired by locations in Exeter and Devon for her Harry Potter book series!
For example, it is thought that the magnificent Exeter Cathedral inspired the Great Hall at Hogwarts.
Local towns like Chudleigh inspired the Chudley Cannons Quidditch Team. Even the Civil Parish of Ottery St Mary is thought to have inspired Ottery St Catchpole which is the village south of the Weasley's Burrow!
But, one of the biggest fan theories is that the incredible 10 Cathedral Close door in Exeter inspired the Room of Requirement.
It's easy to see why as the carving work is immaculate and it does evoke a sense of mystery and wonder to those who are standing on the other side of it!
J. K. Rowling has never confirmed that this was the inspiration of the Room of Requirement door in Harry Potter. But, she hasn't dispelled it either.
Recently, she denied publicly on Twitter that Gandy Street inspired Diagon Alley as it "didn't look like that in her head" and that the Old Firehouse did not inspire the Leaky Cauldron as she'd never been there!
But, she didn't deny that 10 Cathedral Close was the inspiration of the Room of Requirement door. Although it's still just a popular fan theory, it is a must-visit for Potterheads.
So, walk by this door three times and think about what you really need, grab your wand, and say Alohomora!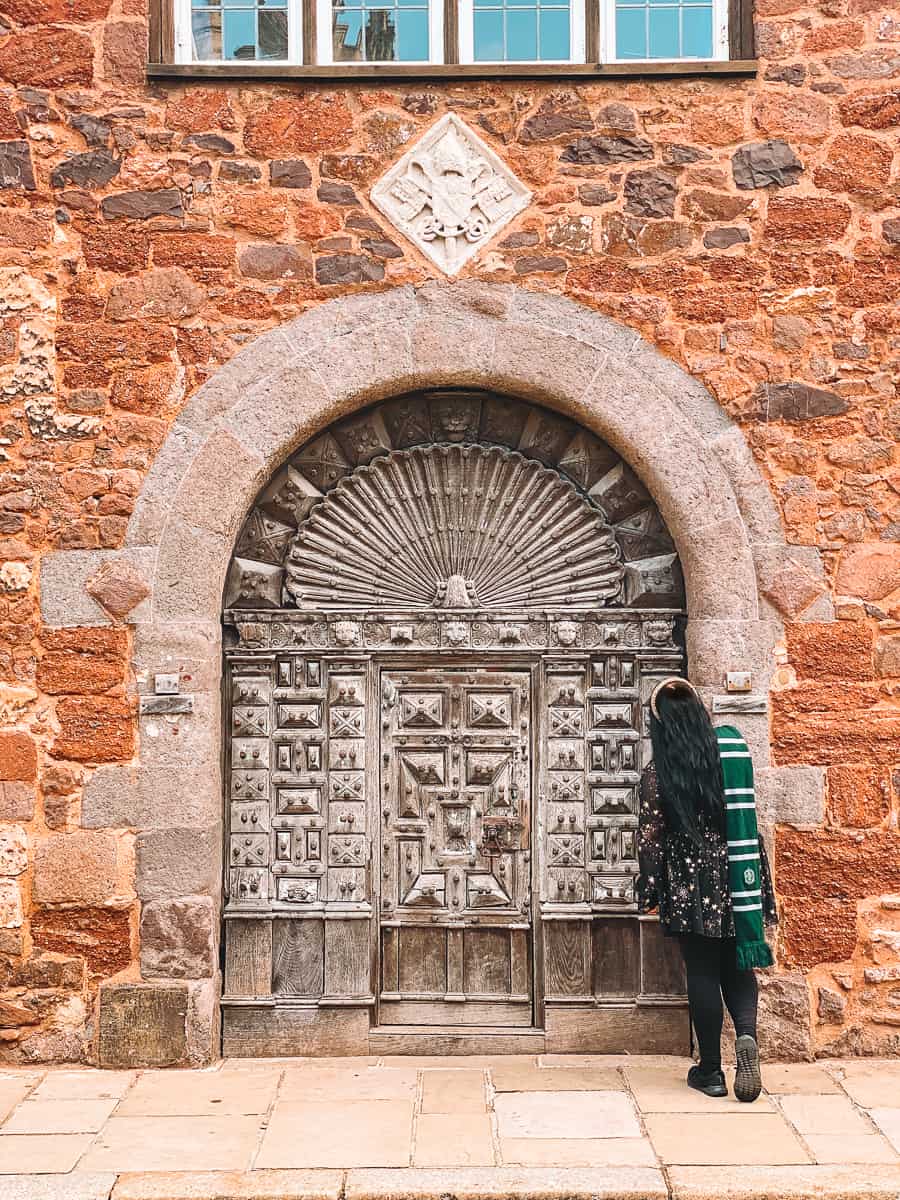 How to find Cathedral Close Exeter and the Room of Requirement Door
You won't need your Revelio Charm to find the Room of Requirement door in Exeter.
In fact, it could not be easier to find the 10 Cathedral Close door as it lies near to one of the most famous buildings in the city, Exeter Cathedral!
From the entrance of the cathedral, walk behind it onto Exeter Cathedral Green. Then, step out onto the cobbled pathway to find 10 Cathedral Close.
The door is instantly recognisable, even if you aren't in great need of it, due to it being so big and full of fantastic carving work!
10 Cathedral Close postcode is EX1 1EZ or you can use this Google Map Pin here.
Can you go inside 10 Cathedral Close?
Although 10 Cathedral Close is owned by Exeter Cathedral, unfortunately, it is closed off to the public at this time.
Those who have been inside say that the door doesn't really lead anywhere, much like the Room of Requirement I guess! But, you won't find any hidden things or Horcruxes behind this door I'm afraid.
If you were to go inside, the architecture is quite clever. You'll enter through the tiny postern doorway to save having to swing open that heavy oak door!
If you crawl through the tiny entrance, it leads out onto a small courtyard called The Gatehouse, and then you can access both the 10 and 11 Cathedral Close buildings on either side.
There is also a small chapel accessed to the north side. The buildings are private residences for members of the Cathedral including the current Dean.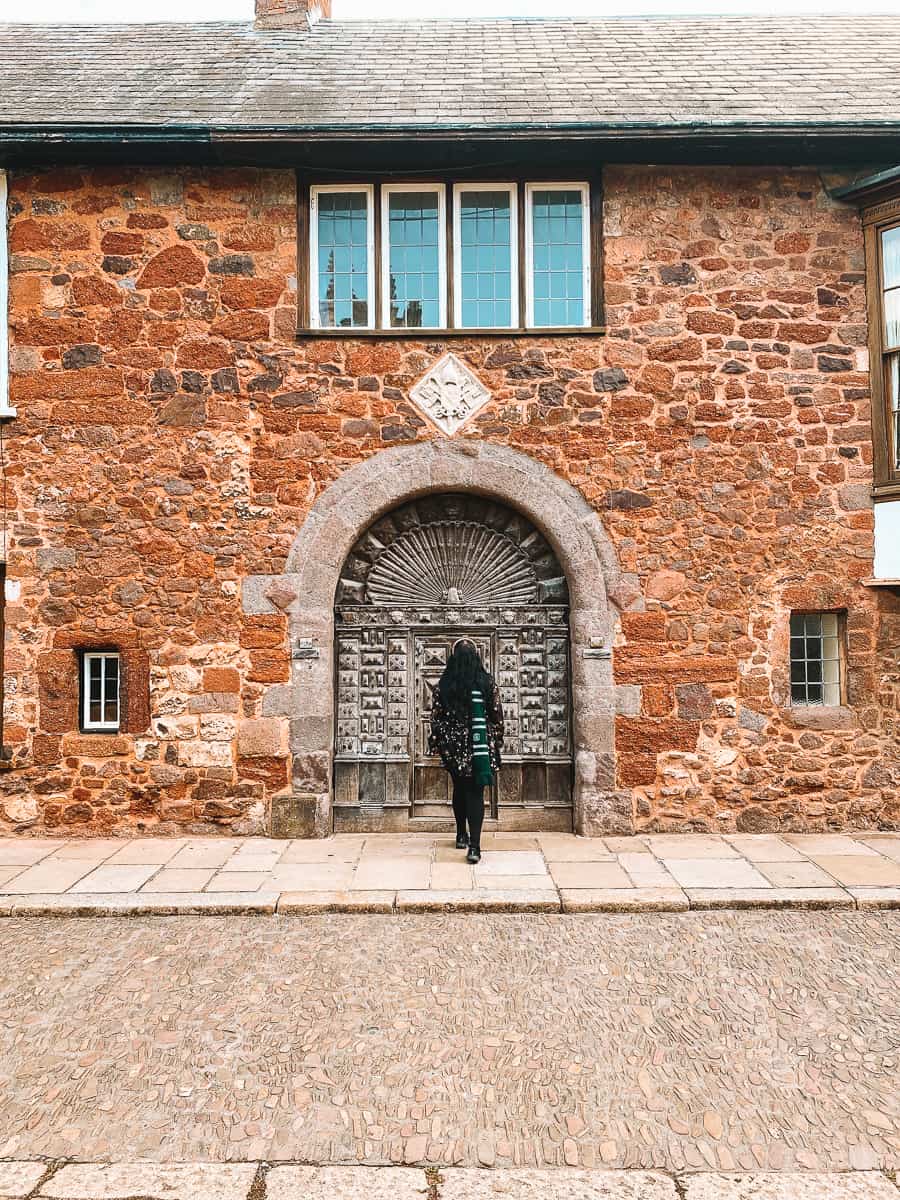 Cathedral Close Exeter photography tips
This road is a through route for residents in the city, so you may find that it gets quite busy during the day! I would always recommend to visit as early as you can.
Saying this, the door is always closed to the public and doesn't lead anywhere! So, you should be able to grab a quick photo in between pedestrians if you're patient
The best location for photos is across the road on the opposite side! If you're too close, you won't get all of the door in your frame
The road in front of this door is cobbled but car-free, so don't worry about having to avoid or wait for traffic
The sun shines on this door in the afternoon if it's a sunny day. So, if you don't want harsh shadows, I would arrive early morning or late afternoon/sunset.
How to visit Exeter
The amazing historical city of Exeter is located in the South West of England in the county of Devon. It's perched on the River Exe and you're only a few miles from the South Devon coastline here!
The easiest way to reach Exeter is by car and you'll find this city on the M5 Motorway. But, you can also access Exeter on the Devon Expressway if you're heading in from places like Dartmoor, Plymouth, or Totnes.
As a huge city, Exeter has a good range of public transport options with a central railway station. There is a direct train from London Paddington to Exeter St David's and it will take you two hours.
Plus, Exeter has just opened up a new bus station. National Express coaches run to Exeter from a range of locations throughout the UK. For example, you can go from Exeter to London by coach for as little as £13.
Exeter Parking
Parking in Exeter is a little steep nowadays with all-day parking costing upwards of £13 -15 a day for the central places.
But, there is a little-known car parking area that is only £3.50 for the whole day near to the quayside!
It's an Exeter city council car park that is located on Okehampton Street which is only a 2-minute walk to the more expensive Cathedral & Quay Car Park.
It's also a 7-minute walk to The House That Moved and Fore Street and a 10-15 minute walk to the High Street, Exeter Cathedral, and Cathedral Close.
I parked up here and I would highly recommend it! It's right on the water so you can walk along the scenic quays in the city.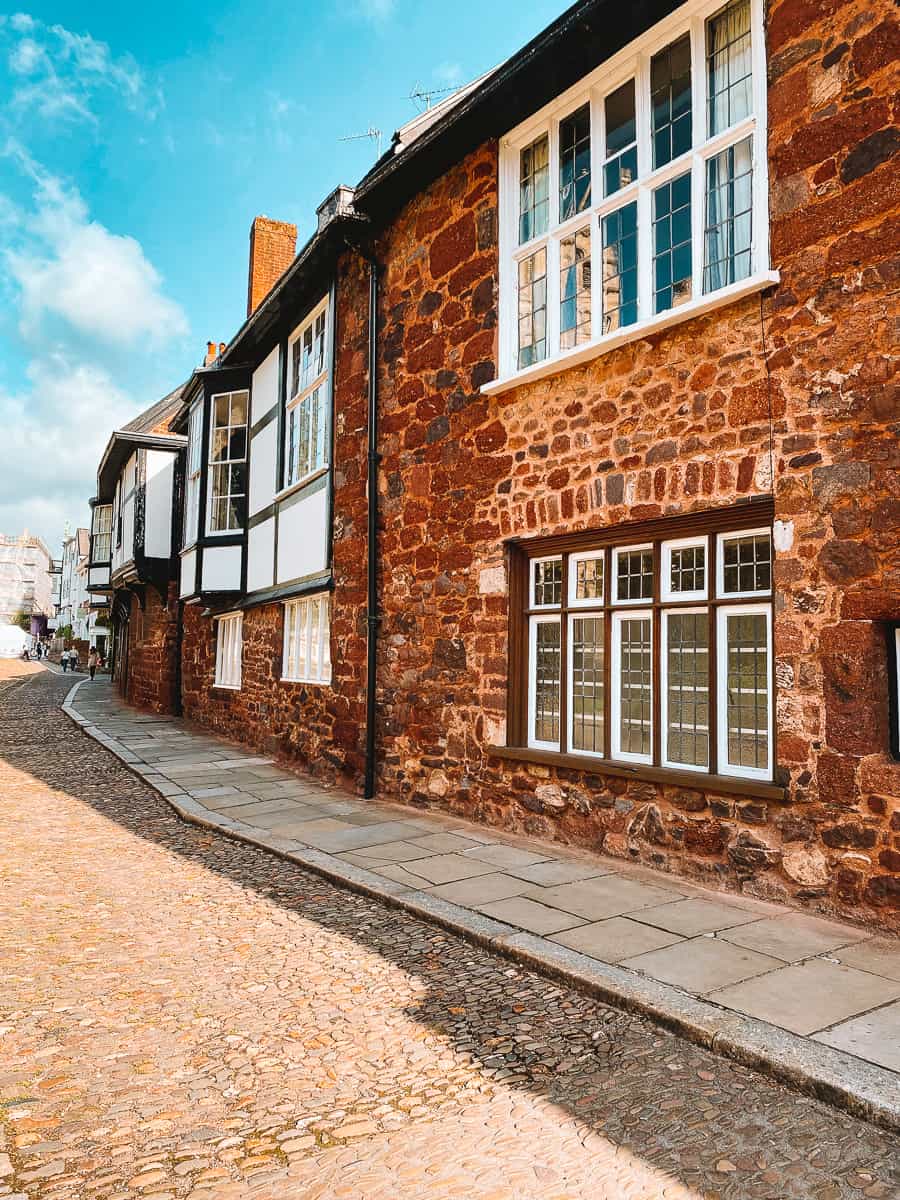 Are you looking for more Harry Potter locations in Exeter?
If you're a Potterhead, you'll love the fact that there are many places in this city that inspired locations in the Harry Potter universe!
For example, although J. K. Rowling has now denied it, Potter fans thought that Gandy Street in Exeter was the inspiration for Diagon Alley for years.
You'll instantly fall in love with the amazing and colourful shops here. You may even spot a broken red brick wall at the end of the street which looks like the entrance from the rear courtyard at the Leaky Cauldron!
If you head further down you'll see The Vaults which was apparently an inspiration for Gringotts Bank.
Exeter Cathedral looks just like Hogwart's Great Hall and The Old Firehouse was the inspiration for the Leaky Cauldron!
Although some of these locations have now been officially 'disproved' by J. K. Rowling, Potterheads will still love to visit these places as they look like something straight out of the Wizarding World!
You could even travel around Dartmoor to some of the places that inspired names in the stories like Dartmoor!
Read more – A magical self-guided Harry Potter tour of Exeter!
Read more of my Harry Potter travel guides
Harry Potter locations in Lacock
Harry Potter filming locations in Alnwick Castle
How to spend the night in Hagrid's Hut
Harry Potter filming locations in Scotland
Godric's Hollow filming location
Where to find Harry Potter in York
How to find the Harry Potter Tree at Blenheim Palace
The Shop That Must Not Be Named Review
How to find Dobby's Grave in Wales
A complete Forbidden Forest Experience Review
Harry Potter filming locations in Gloucester Cathedral
How to see the Hogwarts Express in Scotland
Visiting Malfoy Manor in Real life!
Where to find Tom Riddle's grave in Edinburgh
Visiting the Quidditch Town of Tutshill Tornados
Instagram locations at the Wizarding World of Harry Potter
Harry Potter filming locations in Virginia Water
Is Cecil Court a real Diagon Alley in London?
How to visit Dumbledore's Grave in Scotland
Harry Potter filming locations at Durham Cathedral
Save this Harry Potter Room of Requirement Door Exeter guide for later!