Want to sprinkle some Disney magic into your Instagram feed? These photo worthy Instagram spots in Walt Disney World Florida are sure to make your feed look like something out of a fairy tale!
Walt Disney World is a beauty of a beast in terms of size, so in this list I will be covering all four theme parks, some Disney resorts you can visit easily on the Monorail and Disney Boardwalk that can be accessed on Disney Water Transportation. No magic carpet needed.
If I'm being honest, every inch of Walt Disney World is photo friendly. There is nothing to compare to Disney in terms of attention to detail and service.
You'll see and can meet your favourite Disney pals all day and have hard time forgetting you're not actually part of that world.
But, to save you wasting your wish upon a star to find them, I've put together this list of my favourite Instagram spots in Walt Disney World.
So, in the words of the fairy godmother; Bippity Boppity Boop, let's go out and shoot!
20 magical Instagram spots in Walt Disney World in 2023
1. Cinderella's Castle at Magic Kingdom
If you didn't get a photo with Cinderella's castle at Walt Disney World, did you even go?!
This is the creme de la creme of photo spots and is a must for your Instagram feed. What could be more magical than a photo with a fairytale castle?
Now, you may not know this, but every Disney park around the world has a different castle and Florida has Cinderella. You can even eat inside the castle for a special Disney Princess Character Breakfast, how cool is that?!
There are so many photo spots within the park where you can capture this incredible spot. From Main Street, Tomorrow Land, and even from the Monorail and some of the Disney Resorts.
Now, unless you run into Magic Kingdom at full pelt as soon as it opens or get Extra Magic Hours or Early Morning Magic, you're gonna have a hard time getting this photo without people in it. But, I'll give you a few hacks;
Head to the front of the castle in the morning to get your shots. It's a lot quieter at this point.
Loiter around on the walkway up to the castle around 11am and wait for the cast members to close off the walkway for the show. Then, get your shot in before they usher you on up through the castle to Fantasy Land
Get a shot in the gardens in front of the castle for a different angle and the topiary helps block some of the crowd out
Get a shot to the side of Cinderella's castle on the walkways from Liberty Square or Tomorrow Land.
2. The Tree of Life in Animal Kingdom
One of my favourite spots in Walt Disney World is the epic Tree of Life in Animal Kingdom. This icon of the theme park stands on Discovery Island surrounded by Discovery River.
This tree looks so life like you'll have a hard time believing it's not real and when you get closer you can point out up to 400 animals that have been carved into it. It's 145 feet tall, has over 10,000 branches and 100,000 man-made leaves!
The lovely spot to capture the Tree of Life is on the bridge entering Discovery Island but this is always quite crowded. Personally, I think it's easier to wait your turn at the front of the tree for a photo. That way you can capture all the gorgeous carving work of the animals.
If you come back in the evening, you can see The Tree of Life all lit up in different colours. It's well worth stopping to watch as they put on a holographic show.
After you've got your photo you can take a walk around Discovery Island for some actual wildlife spotting or go on 'It's Tough To Be A Bug', a 4D cinema experience. You'll be given some Bug Eye glasses and can watch Flik and his friends put on a show for you!
3. Spaceship Earth in Epcot
The Icon of Epcot is Spaceship Earth. It's a geosphere, that has many nicknames like The Epcot Ball or the Giant Golf Ball. You can find the perfect picture spot as soon as you enter the theme park around the gardens and fountains as you walk in.
Of course, this spot is always crowded as it's the first thing people see and want a photo of it. But, you can wait your turn in front of the manicured gardens and this will guarantee no other people in your photo.
I visited during the holiday season and they had a really cute display of Minnie, Mickey, and Pluto. But, they change the displays throughout the year and for the season. All of them will be gorgeous.
You can also capture Spaceship Earth from the pathway to World Showcase as you're leaving Future World or from the World Show Case itself. Show off your ears to add some magic!
4. Valley of Mo'ara Floating Mountains in Pandora, The World of Avatar in Animal Kingdom
Pandora or The World of Avatar is BIG news at Animal Kingdom which has seen a rise in people visiting and some wait over three hours for the Avatar Flight of Passage ride.
Having been on it myself, thankfully with a fast pass, I can see why! It was hands down the best ride I've ridden at Disney. I won't give anything away but I'm just going to say, you ride a banshee!
The attention to detail in The World of Avatar is nothing short of genius. When you enter the Valley of Mo'ara, it looks like you have literally entered Pandora and the floating mountains look so realistic!
The Valley of Mo'ara has many photo spots, including exotic plants that come to life and a Na'vi drum circle you can play. My favourite spot was walking through the archway towards the floating mountains!
This is currently the busiest part of the park so the earlier you get here for photos the better.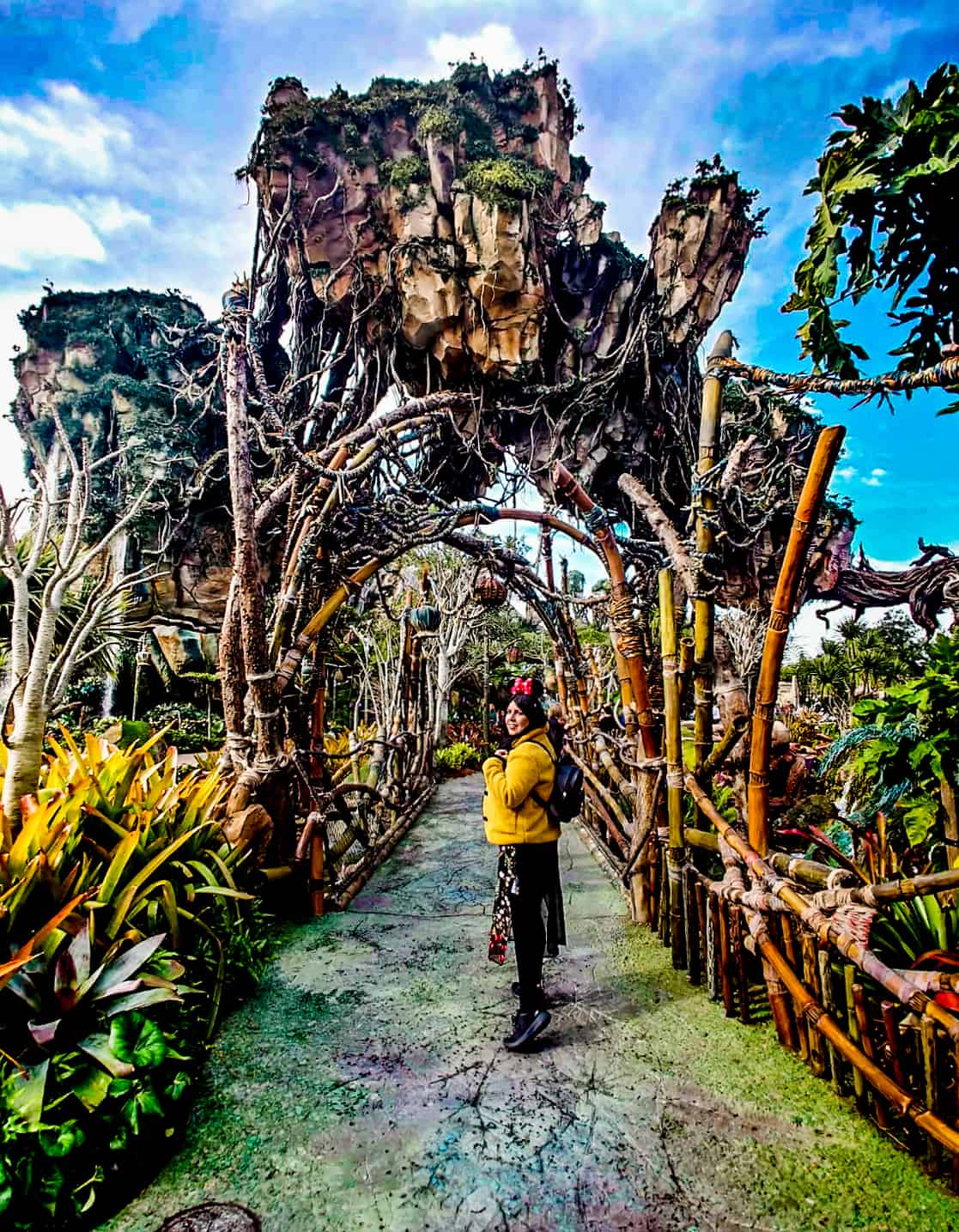 5. Sunset Boulevard in Hollywood Studios
I was sad to find out that they took away The Sorcerers Hat at Hollywood Studios, but Sunset Boulevard is a great alternative for some photos.
This strip is lined with quintessentially Californian palm trees and the Hollywood Tower Hotel in the background!
Disney's Hollywood Studios is, you guessed it, all about the movies so you'll find some you'll find Hollywood stars, signs and some entertainers here. They caught me taking some photos and so they joined me for a snap haha.
There are a few spots where you can take photos here. Along the strip or under the Once Upon A Time Sign. So get creative, the choice is yours.
6. The Purple Wall in Magic Kingdom
This has become a favourite amongst Disney fans, so famous it now has its very own Instagram account and purple slush drink named after it! Although, I think this is seasonal as when I visited I couldn't find it anywhere – boo!
The Purple Wall can be found at the entrance of Tomorrow Land in Tomorrowland Terrace under the People Mover.
It used to be just a purple wall, but now it's risen to insta-fame the guys at Disney did a solid and enhanced it with some decoration for people wanting photos.
Luckily, this spot isn't as crowded as others as it's off the main path. So, you'll pretty much have it to yourself. Why not bring your Disney Starbucks along for the ride? This is also something Disney fans love to do!
If you're interested to find out more, I wrote a whole post about it here.
Read my guide on how to find all the Disney Walls at Walt Disney World here!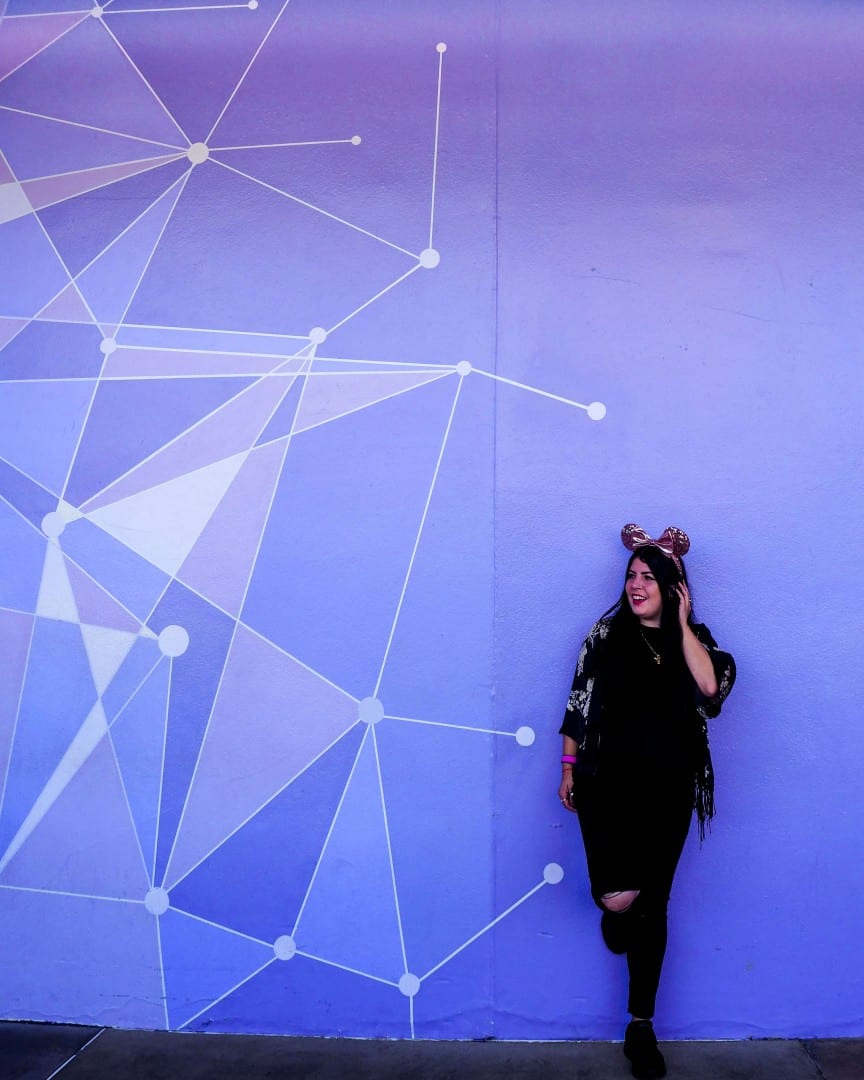 7. Harambe Market Bicycle in Animal Kingdom
The Africa section of Disney's Animal Kingdom is full of photo inspiration. But, the favourite spot for Instagram shots is the bicycle next to the wall opposite Harambe Market food court.
Don't worry, the bicycle doesn't move! So, you can pose how you like against this wall for a snap. When I visited, we had just seen the back of a tropical rainstorm, so it was just a tad wet on the seat. But, I thought it was worth a wet bum for the photos, haha!
Read more about the best Harambe Market photo spots in this guide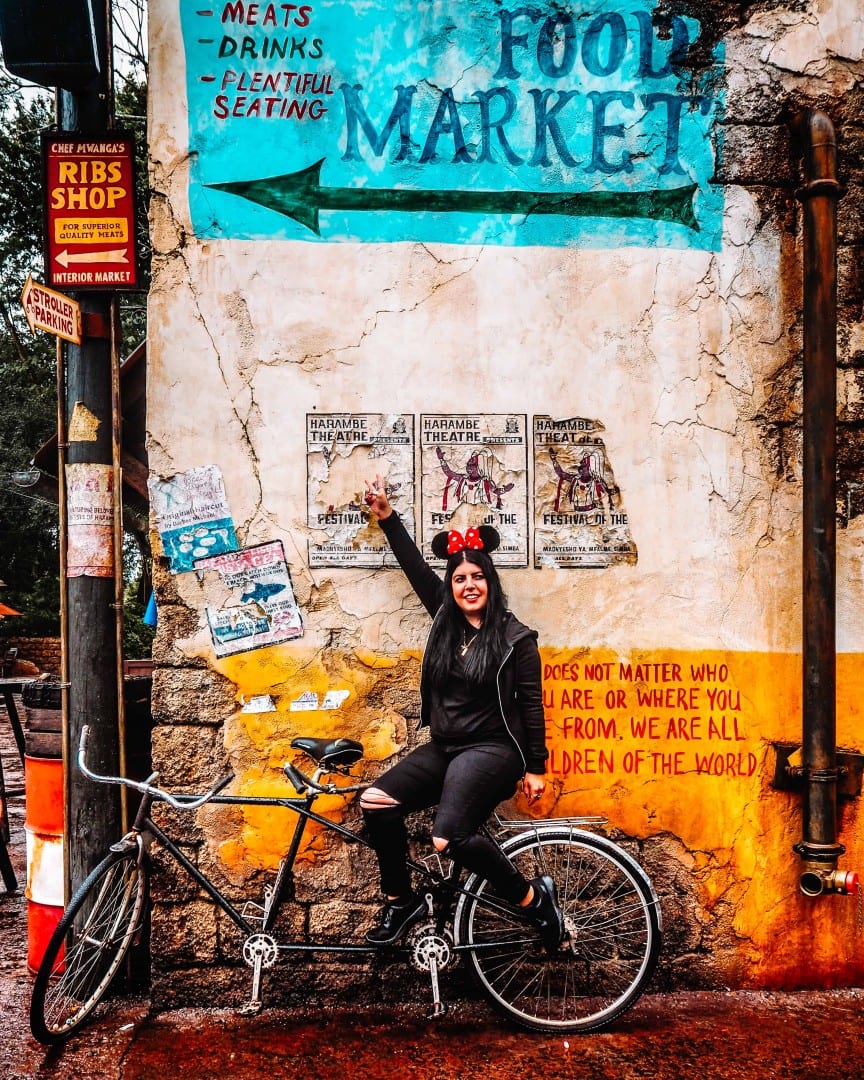 8. Bubblegum Wall in Epcot
Underneath Spaceship Earth at the exit of the ride is the famous Bubblegum Wall.
Disney Walls have in recent years become a craze with many having their own Instagram accounts! This is because they are now favourite photo spots for Disney Fans and add vibrant colour to your feed.
The Bubble Gum wall is made up of two block pink colours with a blue strip running through it and you can have a lot of fun posing in front of it.
It does get quite busy with people coming out of the Spaceship Earth ride but it's easy enough to avoid if you step to the side.
You can also find the Toothpaste Wall which is in Epcot. A wall full of bright blue and turquoise hues. This can be found outside of the Finding Nemo attraction.
Read more about the best Disney Walls in Walt Disney World here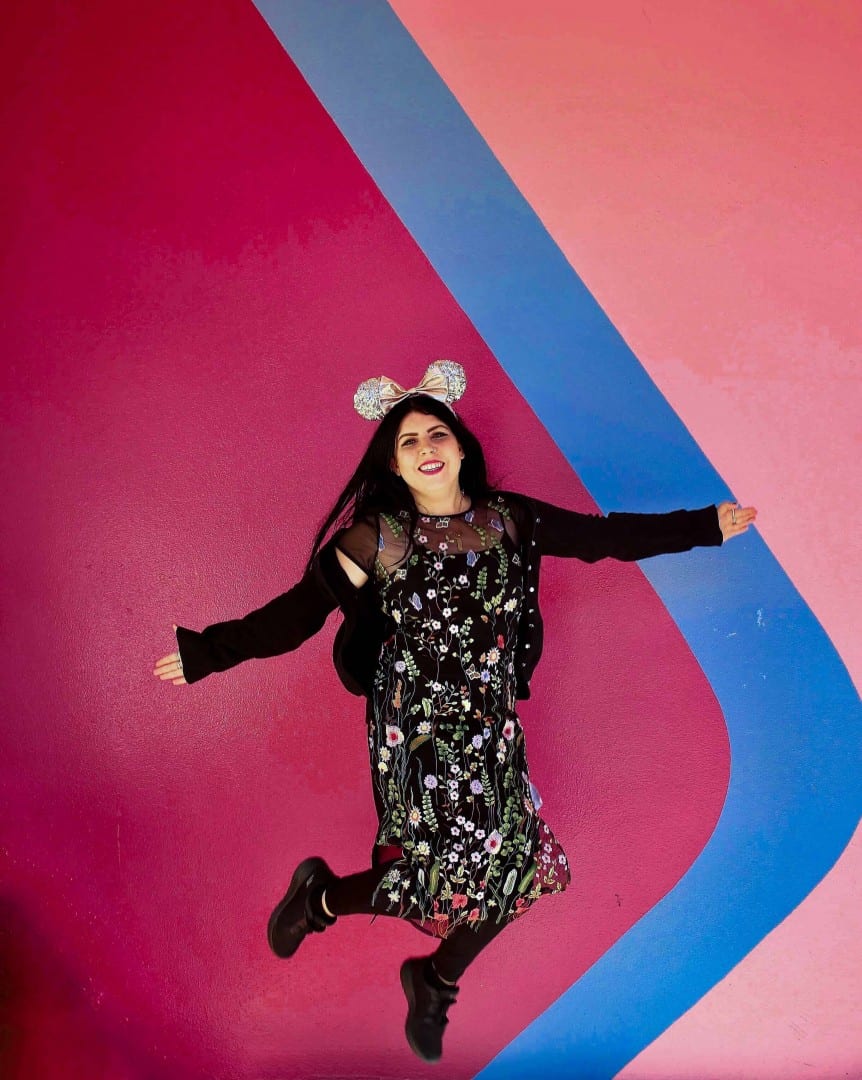 9. Tangled Bathrooms in Magic Kingdom
Again, an unlikely place for photos but when you visit the Tangled Bathrooms in Fantasyland in Magic Kingdom you can see why. They are absolutely adorable!
You can get a photo of the hallway with the beautiful flower mural inside the bathrooms or the entrance with the lanterns and the Hookhand at the Piano poster.
As this is a restroom, be prepared to get some really strange looks. Some people just don't understand why you would be taking photos in a bathroom. But, we know it's for the 'gram, so yolo.
I didn't get the chance to do this, but you can also get a beautiful photo with the Tangled Lanterns here at night. It looks completely magical.
10. Aerosmith's Rock 'n' Rollercoaster Guitar at Hollywood Studios
I am a big fan of rock music and Aerosmith have been a favourite of mine since I was a teen. So, make sure you walk this way and take a ride on the Rock 'n' Roller Coaster at Hollywood Studios. You will twist, turn and headbang with Aerosmith playing in your ears. It's a must!
As soon as you walk towards this ride you'll see a huge guitar at the entrance and a walled garden in front of it and this your photo spot! Also, look out for the upside-down car riding the music at the entrance too which is pretty cool.
11. Be Our Guest Restaurant in Magic Kingdom
Beauty and the Beast is my favourite Disney movie of all time and stepping inside this restaurant was like a DREAM COME TRUE! It is honestly like you're in the ballroom with Belle and Beast.
The Grand Ballroom at Be Our Guest restaurant is dimly lit with twinkling chandeliers, windows that change weather, servants who wish to serve you, and everything is served on crockery, not paper plates!
Click here to read my complete Be Our Guest restaurant review
Getting a seat inside this restaurant is like pulling teeth so make sure you plan your Disney Dining reservation or Table Reservation for here a few months in advance.
You may be lucky with a walk in, but it's unlikely and could have huge queueing times. Although you used to be able to wait in line for a table for lunch, this is no longer the case.
But, it is SO worth it to take a peek inside and get some photos as there are a few spots. You can get a photo with the Grand Ballroom, pose with the Enchanted Rose in the West Wing, snap the gorgeous stained glass window and, if you have an evening reservation, get a photo with your host Beast himself!
Out of all the restaurants at Walt Disney World, this is a MUST. So, plan for it in advance.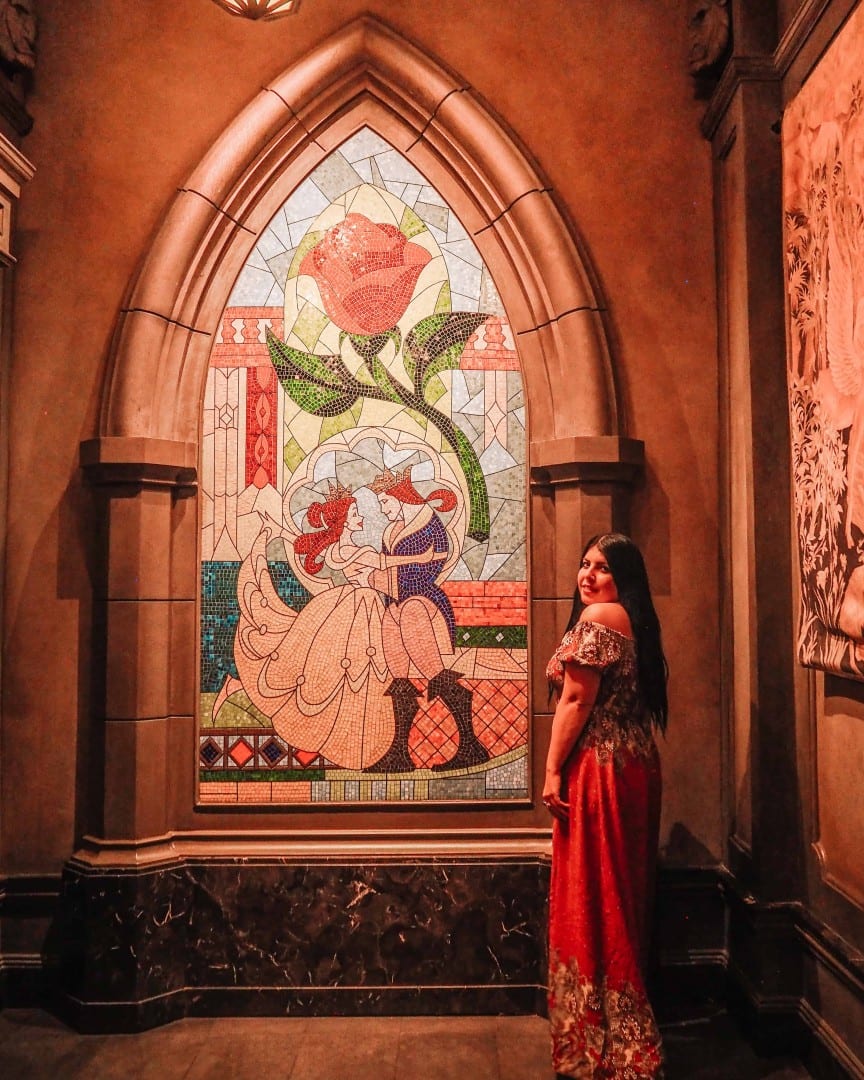 12. Morocco Pavilion in Epcot
The world showcase in Epcot will make your feed look like you've flown around the world, but out of all the country showcases Morocco is the best for photos.
As soon as you walk in you'll be greeted by the Koutoubia Minaret to mirror the one in Marrakech and a gorgeous fountain.
You can then walk under picturesque archways, find stunning alleyways lined with palm trees, insta-worthy tiled rooms, and Moroccan architecture to swoon over.
I could honestly have spent an hour in here exploring all of the tiny details, even though it's so small, so get snapping!
Tip: The World Showcase in Epcot opens at 11am and Morocco is on the East side of the World Showcase Lagoon between France and Japan. Be one of the first inside when it opens and run around to the section you want to photograph.
It only gets crazier as the day goes on. This is also a good tip if you want to ride on the Frozen ride in Norway, it gets ridiculously long lines.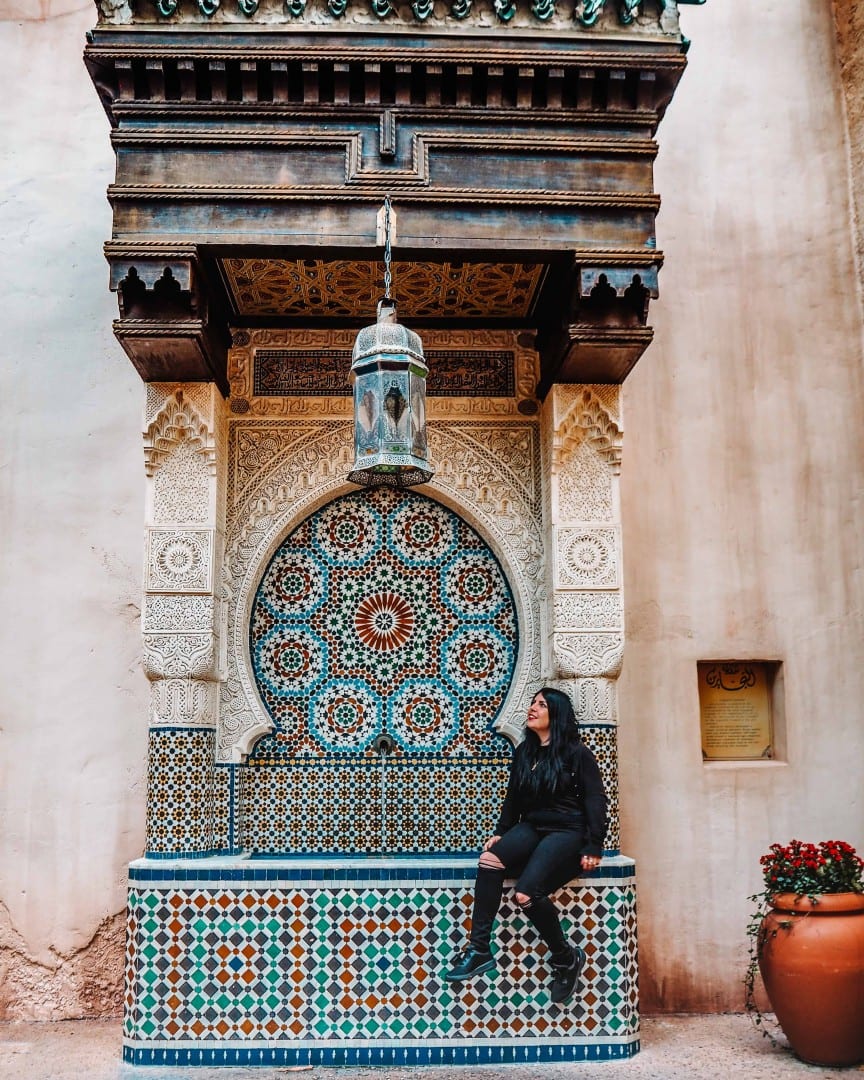 13. Fichwa Fellow! in Harambe Market Animal Kingdom
Another photo-worthy location in Harambe Market in the Africa section of Animal Kingdom is the Fichwa Fellow!
Fichwa means hidden in Swahili, so it's also a hidden Mickey if you're trying to find them on your travels.
This is another Insta famous photo wall of Disney and, you guessed it, also has its very own Instagram account.
You can pose next to the Fichwa Fellow! the mural here or ride the Wanjohi Refreshment bicycle too. Again, this wasn't very crowded when I visited on a rainy day. Guess I was the only person mad enough to want gram shots in the rain.
Read more: the best Harambe Market photo spots
14. Disney's Grand Floridian Resort
Out of all the Walt Disney Resorts, I think The Grand Floridian is the most impressive. Disney's Grand Floridian Resort is a whole different level of budget to spend the night.
But if you've got the dollars to spend, I couldn't think of anything more magical than waking up to the sight of the Cinderella castle.
Anyone is welcome to enter Disney's Grand Floridian Resort and the most convenient way is to park up at the hotel in the parking lot. Or, you can catch the Disney Monorail Transportation system as it has its own dedicated stop.
The Grand Floridian is the definition of Grand, so make sure you take a look up. I was here during the Holiday Season so they had giant Christmas Trees beautifully decorated and a life-size Gingerbread House in the lobby.
You can catch a ride in their birdcage elevators, pose on the grand staircase, find some magical views from the upstairs terrace or enjoy a character breakfast here.
We had a character breakfast at 1900 Park Fayre with Cinderella, Mary Poppins, Alice in Wonderland, Winnie the Pooh, and The Mad Hatter. Tigger was also there but for photoshoots at the back. It was magical and highly recommended.
15. Anandapur Indian Food Truck in Animal Kingdom
Probably the most insta worthy stall in Animal Kingdom is the Asian Food Truck. Having lived in India for over a year, it does look very much like an Indian truck would do. With the bright colours, murals, and texts on it.
Sorry to tell you, it doesn't actually sell any Asian food but it does serve yummy soft-serve ice cream!
For photos, we're not really interested in the food stall but the section at the back of the truck. This is a great Insta Wall to pose with. It's so vibrant with lots of colour and is bound to get lots of attention.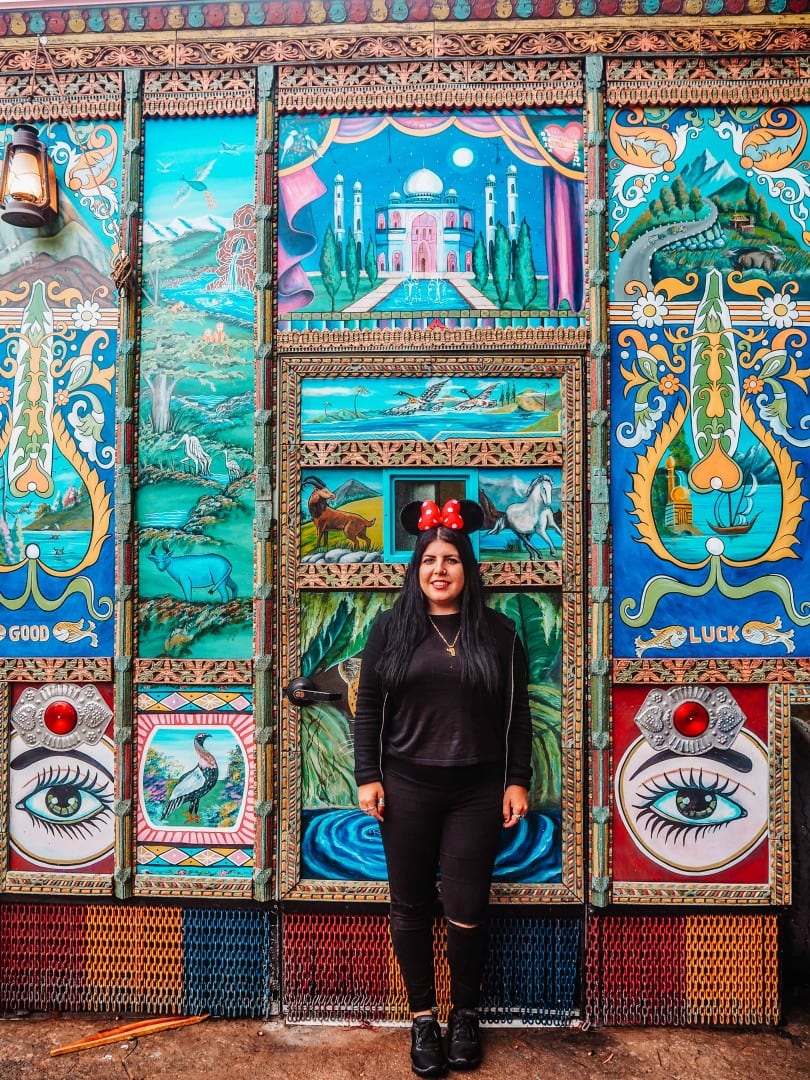 16. Main Street USA Balloons in Magic Kingdom
This one takes a little bit of patience but is worth it if you have the time. A great snap is one of you holding a bunch of Disney Balloons on Main Street USA. This doesn't mean you have to buy them all, but it does mean that you have to ask a cast member really nicely if you can borrow them for a photo.
The cast member is not allowed to let go of the bunch of balloons, so you will have to try and crop them out of the photo or angle it so that they're not included but it's easy enough to do.
It makes for a great photo. I did this at night in Mickey's Christmas Party with the balloons lit up in all different colours!
17. You Are Most Beautiful Sign in Animal Kingdom
This one is a little harder to find than the rest but, it's easy if you know where to look. If you head inside the Harambe market food court, you will need to look for a Cast Members Only doorway.
It's actually located next to the doorway to the kitchens, so it may be worth stopping here later in the day or earlier to avoid peak restaurant times.
It's definitely becoming popular with Disney fans and is a must-stop for your photo collection.
Can't find this wall? I have a post with easy instructions to find the location here.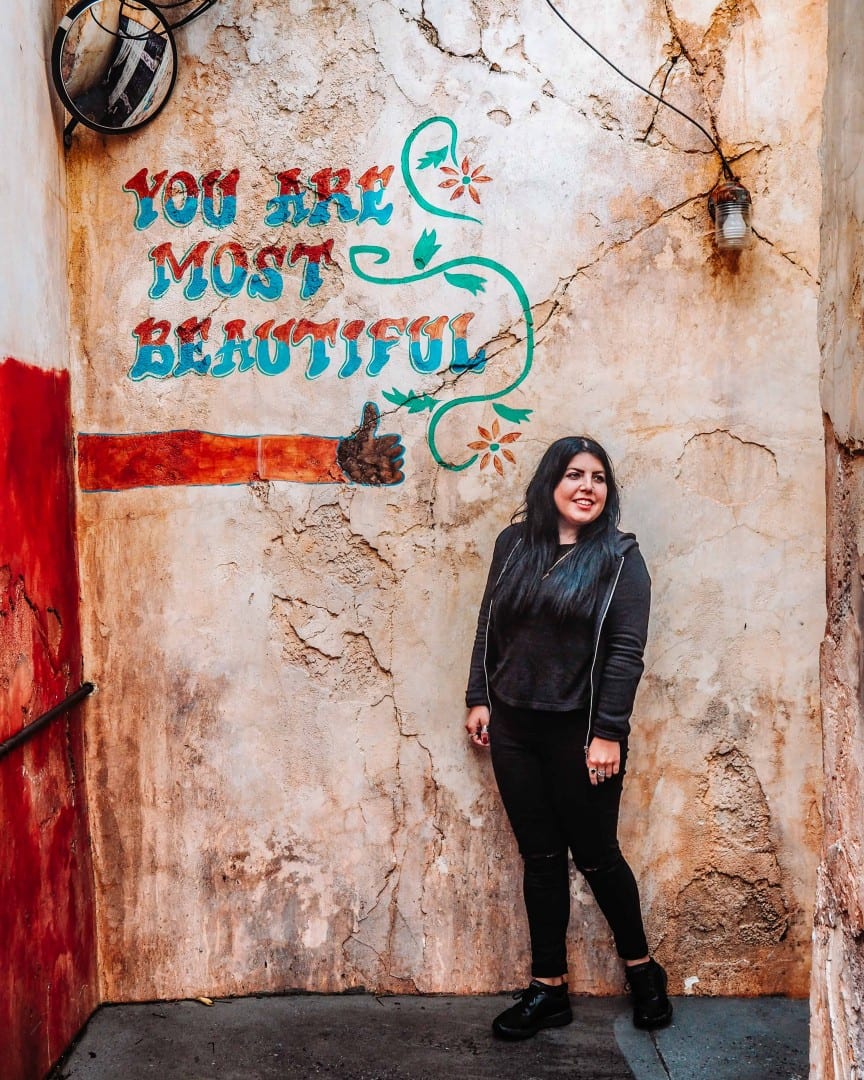 18. Boardwalk at Disney Boardwalk
Disney's Boardwalk has been a favourite place of mine to explore in Walt Disney World since it opened.
I remember the first time we visited, it was lit up all in white lights and reminded me of Atlantic City. Well, actually it was more like the TV series Boardwalk Empire in the 1920s, but still.
Disney's Boardwalk is a free spot to visit in Walt Disney World and is effortlessly picturesque.
You can ride a vintage bicycle, walk up and down the marina, visit the bakery and restaurants, go shopping or go dancing in their Atlantic Dance Hall. There's so much to do here than when it first meets the eye.
You can easily reach Disney's Boardwalk using the Water Transportation system from Disney's Hollywood Studios or Epcot. It's definitely worth spending a few relaxing hours here away from the crowds.
Read more about a FREE Disney day at Disney Boardwalk here!
19. Muppet's Studio Splatter Wall in Hollywood Studios
Everyone loves the Muppet's and what could be cooler than posing with a giant Kermit?! This wall is epic with paint splatters and giant murals of your favourite Muppet characters all over it.
This can be found when you exit Muppet-Vision 3D and it's actually the backside of the gift shop.
My top tip would be to go inside the Muppet-Vision 3D ride, exit the theatre then hang back and wait for the crowds to leave until it's empty. Then it's easy to take photos before the next crowd exit the theatre.
20. The World of Avatar at Night in Epcot
If you think that The World of Avatar is magical during the day, just wait until the sun goes down and visit in the dark! The whole place lights up just like in the Na'vi River Journey ride.
The plants light up in blues, purples, and pinks, there are waterfalls all colours of the rainbow, the pathway is laced with neon splattered paint and even the floating mountains are all lit up against the night sky. It's completely magical, out of this world, and is well worth your time to explore!
You will need a good camera to capture Pandora at night, so make sure you bring a tripod or take extra care to snap your photo with it in focus.
Read more of my Disney articles
The best shows at Walt Disney World
Mickey Shaped Food you have to try!
Like it? Pin it!