The most famous street address in the entire world has to be 221b Baker Street London.
It's the official home of the famous fictional detective Sherlock Holmes and a place where he lived with Dr. Watson and his landlady Mrs. Hudson!
Although he was the brainchild of Sir Arthur Conan Doyle, many fans wonder whether this is a real address and if you can visit in London.
So, the game is afoot dear reader! Let's see if we can solve how to visit 221b Baker Street London – the legendary home of Sherlock Holmes.
Who lives at 221b Baker Street London?
221b Baker Street is the official address of none other than Sherlock Holmes, a famous consulting detective in London!
He's the brainchild of Sir Arthur Conan Doyle and his fictional character is explored in 56 short stories collected in 5 books.
There have been countless stage productions, film & TV adaptations and publications featuring the legendary Sherlock Holmes and his cases. So much so that the Guinness World Records have listed him as the most portrayed literary human character in film & TV history!
The stories are so famous worldwide that people often forget that he is in fact a fictional character and not a real detective.
The legacy is so strong that many fans often wonder whether there really is a 221b Baker Street London!
Is there an actual 221b Baker Street London?
221b Baker Street London is one of the most famous addresses in the entire world but alas, no. Just like Sherlock Holmes himself, his London address is entirely fictional.
Although there is a real Baker Street in London today, it is generally agreed that this is not the location from Sir Arthur Conan Doyle's novels. It's been under much debate for years!
At the time the books were written, this street was called 'Upper Baker Street' and it didn't even have the number 221!
However, it is entirely possible that this gorgeous Victorian street filled with 18th-century buildings was a massive inspiration for the fictional address.
Baker Street tube station opened up in 1863, one of the oldest in the world, and Doyle would have most certainly explored this area.
This street was renamed and renumbered in 1932 and this is when we finally got a 221 Baker Street.
It became the offices of the Abbey National Building Society and they even had a full time secretary to reply to all mail addressed to Mr. Sherlock Holmes!
The Sherlock Holmes Museum was opened in 1990 by the Sherlock Holmes International Society and took the address of 221b Baker Street.
The Abbey and the museum fought for years over this until the building society left the premises. Now, the museum holds the only claim to 221b Baker Street today!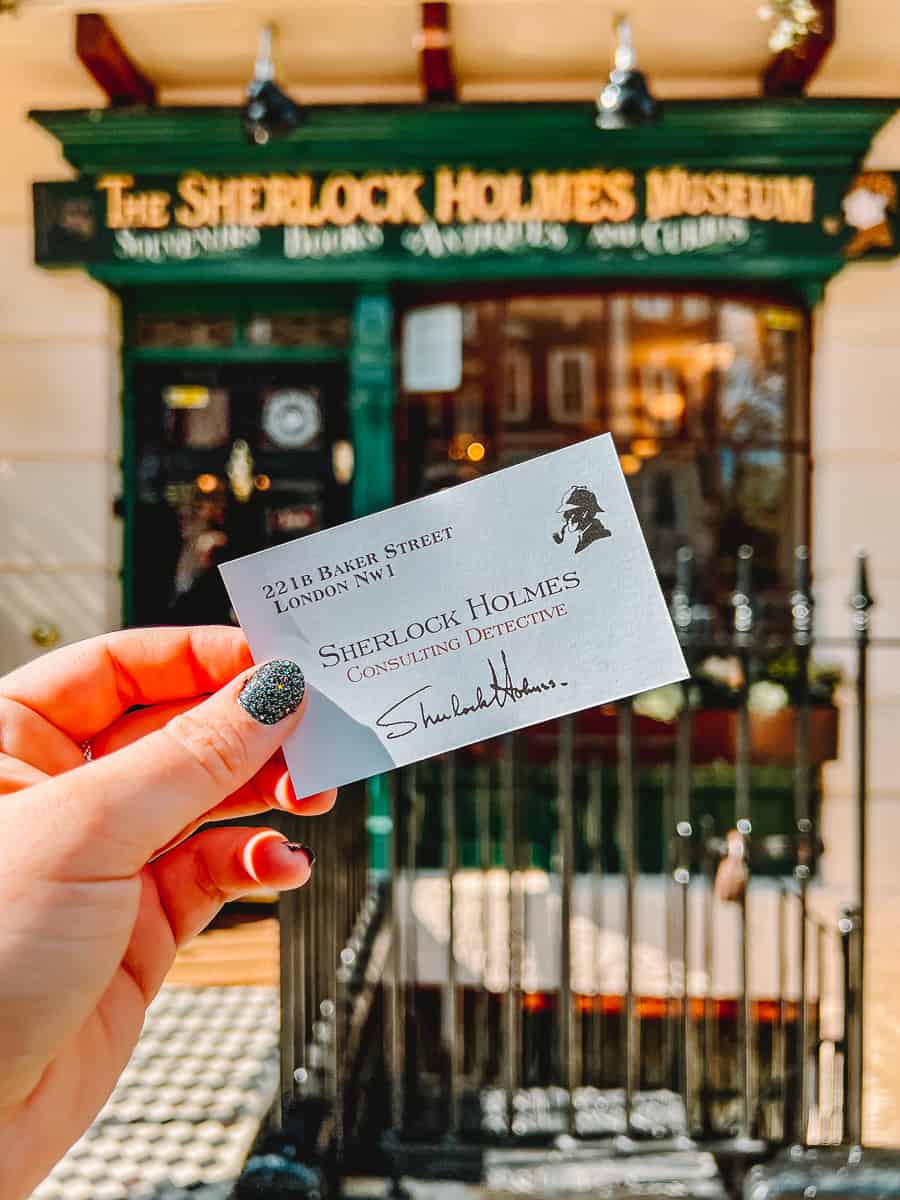 Can you visit Sherlock Holmes's house in London?
YES, you definitely can! Although the address is fictional, 221b Baker Street is the official home of the Sherlock Holmes Museum today.
Technically, the museum resides at 239 Baker Street but the entire area of 237-241 Baker Street is dedicated to Sherlock Holmes, Dr. Watson, and Mrs. Hudson!
When you visit modern-day Baker Street, you'll instantly feel like you've been transported back in time with all the historic buildings.
If you head to The Sherlock Holmes Museum, you'll see a traditional English 'bobby' outside to greet you.
You can then visit Sherlock Holmes' house and see the lavish apartments where he worked on his many cases.
The Sherlock Holmes Museum at 221b Baker Street
Once you reach the museum, you can purchase tickets in the shop and then wait your turn to enter the famous 221b Baker Street.
You'll often find that there are long queues here, especially on weekends, so I would aim to get here as soon as it opens to avoid queueing for too long.
You'll ascend the stairs and you'll get to see the rooms where Sherlock Holmes would attempt to solve his cases….smoke, experiment, and be a nuisance to his roommate Dr. Watson amongst other things!
You'll explore the sitting room, Sherlock Holmes' bedroom, study, dining room, Mrs. Hudson's room, and Dr. Watson's Room. There's even an old-fashioned bathroom too.
You'll also find props and exhibits from many of the film and TV adaptations. It's a must-visit for any Sherlock Holmes fan whilst in London!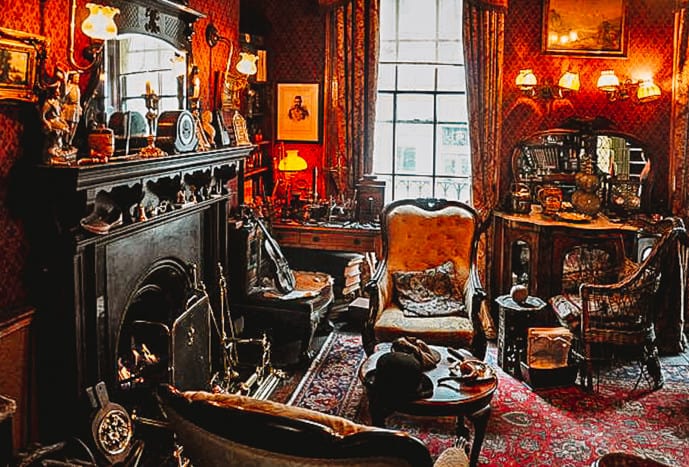 The Sherlock Holmes shop in London
After your visit to the 221b Baker Street museum, you must pop inside the Sherlock Holmes Shop!
It's an entire Victoriana boutique dedicated to all things about the Great Detective. As the shop sign suggests, it's filled with 'Souvenirs, Books, Antiques and Curios'!
You'll find Sherlock Holmes novels, puzzles, mugs, keyrings, music boxes, sweets, clothes, old London matches, Sherlock Holmes busts, and even rubber ducks.
You could spend hours here browsing everything it has to offer. Make sure you purchase something to remember your visit to the home of Sherlock Holmes!
If you can't make it in-store, there is an online shop dedicated to Sherlock Holmes. Click here to browse.
Sherlock Holmes Museum opening times and prices
The Sherlock Holmes museum is open daily from 10 am – 5 pm for tours. Due to the size of the museum, only small groups can go inside at any one time.
It is recommended to book online to avoid disappointment but tickets can be purchased on the day from the Sherlock Holmes shop next door!
Ticket prices are £15 for an adult and £13 for concessions. Children under 16 are £10 a ticket and children under 6 can visit for free with an accompanying adult.
Click here to book tickets on the official website!
How to visit the Sherlock Holmes Museum in London
If you wanted to visit 221b Baker Street for yourself in London, then it's easily done by heading to Marylebone in the city.
The nearest tube station for the Sherlock Holmes Museum is conveniently called Baker Street! When you exit the tube station you'll see an amazing Sherlock Holmes Statue statue of the Great Detective just outside.
This is right next to Madame Taussads Museum which is an amazing attraction to visit while you're in the area. It contains hundreds of waxwork models of notable people through time and around the world.
Once you exit the tube station on Marylebone Road (the one with the statue), make a right and then right again and head down Bakers Street until you find 221b!
You're almost guaranteed to see a queue of people waiting to go inside and you'll recognise the Sherlock Holmes house from the commemorative blue plaque above the shop.
The address is 221b Baker Street, Marylebone, London NW1 6XE. Click here for a Google Pin!
Visit more Sherlock Holmes attractions in London
There aren't many dedicated Sherlock locations in London besides the Sherlock Holmes Museum but you can have a pint in the famous Sherlock Holmes Pub near Trafalgar Square.
This entire public house is dedicated to the famous detective and Sir Arthur Conan Doyle and is delightfully decorated in Victorian style.
There are many literary links however that are mentioned in the books. You'll find The Langham hotel and Ye Olde Cheshire Cheese on Fleet Street. There is also the British Museum and the Lyceum Theatre too.
If you wanted to visit some of the BBC's Sherlock filming locations there are many in London. North Gower Street is featured as Baker Street and you can even grab a bite at Speedy's Sandwich Bar!
Follow Sherlock Holmes around the UK
After your visit to London, you can head south towards Bristol. This vibrant city has many filming locations for the recent BBC's Sherlock drama.
If you head further South West you can follow in Sherlock's footsteps at Dartmoor National Park! This is the famous literary location of The Hound of the Baskervilles.
You can stay where Sir Arthur Conan Doyle did in Princetown which inspired his famous detective novel. You'll find Hound Tor, Buckfastleigh, and the inspiration for Grimpen Myre (Fox Tor Mires) too.
You can also visit Portsmouth where the story all began. Sir Arthur Conan Doyle invented Sherlock Holmes when he moved there in 1882 to set up a medical practice.
If you head up north to the likes of Whitby you can visit the Sherlock's Coffee Shop which is always a favourite. The whole place has been decked out in Victoriana and they do the most amazing cakes.
Read more of my London travel guides
Why you must visit God's Own Junkyard
How to visit Word on the Water – London's Bookbarge
A complete guide for the Greenwich Foot Tunnel
Jurassic World Exhibition in London review
The hidden gem of St Dunstan in the East Church Garden
FREE things to do in the London Bridge District
How to find Diagon Alley at Cecil Court
A Harry Potter guide for Leadenhall Market
Magical cocktails at The Cauldron
Why you must visit the Harry Potter Photographic Exhibition
How to visit Harry Potter's 12 Grimmauld Place
Why you must visit the House of MinaLima
The secret Anne Boleyn symbols at Hampton Court Palace
Visiting Hogwarts in the Snow at Harry Potter Studios
How to visit Highgate Cemetery in London
Dark Arts at Harry Potter Studios London
How to visit the Hogwarts Divination Stairwell at St Paul's Cathedral
Why you must visit Daunt Books Marylebone
The best London Christmas lights and displays to visit
A complete Mr. Fogg's Tavern review
Save how to visit 221b Baker Street London for later!