Having lived in Delhi for over a year and backpacked (almost) all over this country, I couldn't believe that I still had the southern state of Kerala to check off my list.
It's almost could be considered criminal as most tourists flock to Kerala and rave about it. So, on this recent trip to India, I knew that all had to change!
Thankfully, India Someday came on board to plan out the perfect 7 days in Kerala itinerary for me to make it happen.
I gave them the number of days I was planning to visit Kerala and they worked out the ideal itinerary to make the most out of my trip there! It really took the stress out of it, as they booked my transport, hotels, activities, the lot.
I spent a week in Kerala exploring the historic Fort Kochi, frolicking in the tea plantations of Munnar, and cruising down the Alleppey Backwaters.
Here is my perfect 7 days in Kerala itinerary, make sure you steal it to have the best trip.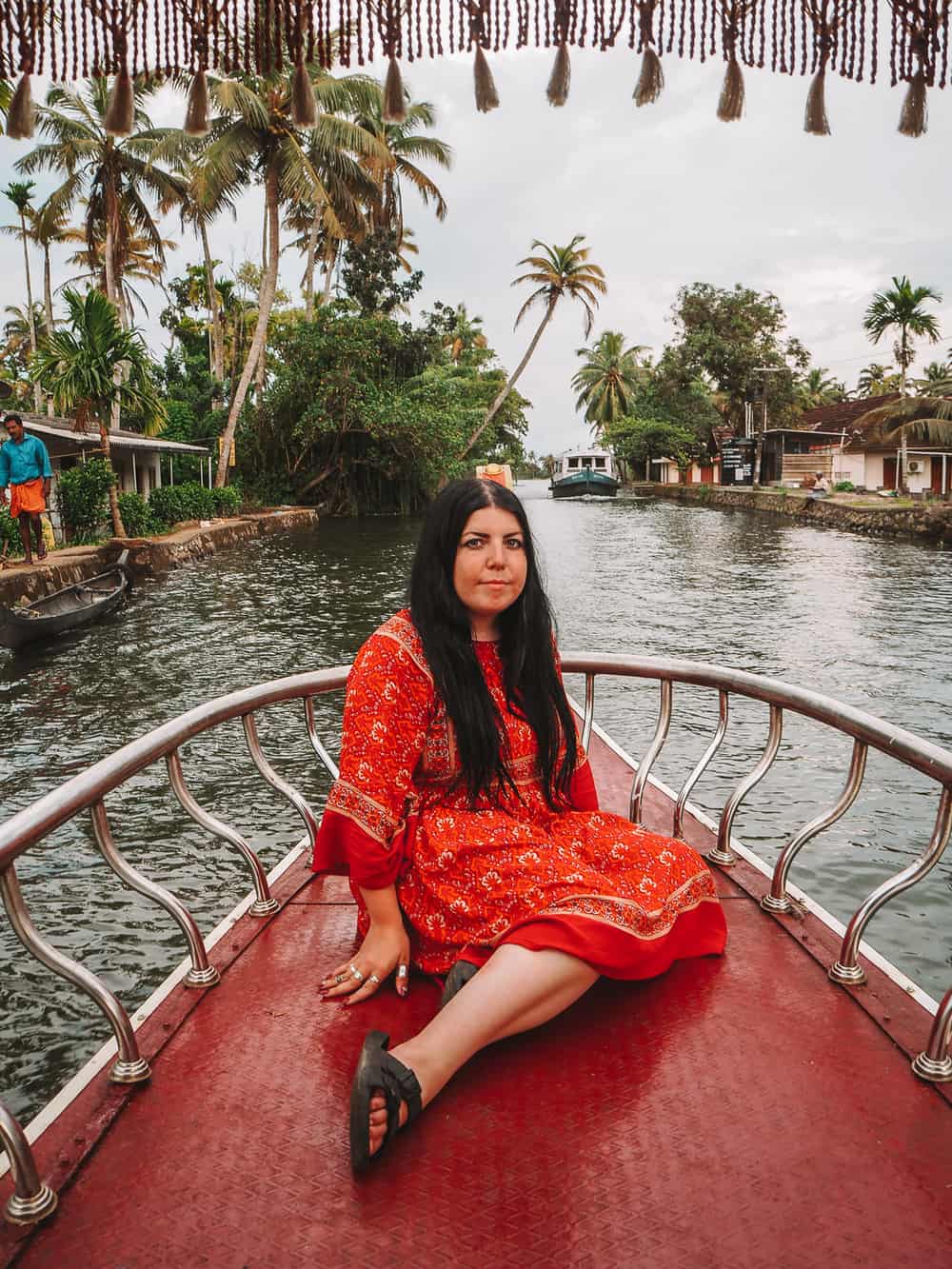 Who are India Someday?
India Someday is a trip planning company that is based in Mumbai, India. They specialise in planning travel itineraries for those that want to go to India but don't necessarily know where to start planning their trip.
They have extensive contacts with luxury hotels and cosy homestays so you can plan your holiday based on your budget and preferences.
I personally stayed at a lot of boutique homestay's while in Kerala and absolutely loved them! They were so unique and the cherry on top (for me at least) was that they were in heritage buildings so you were living the history while there too!
As well as places to stay, they can plan out your transport to reach each location and organise activities for you too. So, everything will be taken care of. All you have to do is show up and enjoy your holiday.
To read more about their services, read my full review of India Someday here.
Did you know that India Someday offer 20% off for solo travellers? As a bonus, add on my code "THIRDEYE05" to get an extra 5% off. That's a whole 25% off your trip!
How to reach Kerala
By plane: Kerala is easy to access by flight as it has a huge international and domestic airport. I flew into Kerala from Delhi with Vistara and the prices were pretty reasonable for a one-way ticket at £50. But, if you book further in advance tickets can be considerably cheaper. I always use Skyscanner to book flights and compare prices.
If you're flying internationally from the UK straight into Kerala, you can take a flight from Birmingham, Cardiff, London, Manchester, Newcastle and Edinburgh. Most of these stop over in Dubai, Doha or Delhi first.
By Train: Kerala is also accessible by direct train from Mumbai, Goa and Bangalore. I always book my trains online to save the hassle of the dreaded India train company website. You can see my full post on how to book trains in India here. If you'd rather book on the day, you can get a Taktal ticket at the station but chances can be slim!
How to get around Kerala
Kerala is not the easiest state to navigate with a lot of places, like Munnar and Alleppey, requiring private transport.
Of course, you can take sharing cabs and public government buses to reach main locations, but after that you're on your own!
Fort Kochi is easily accessible from Kochi airport and you can get around on foot but if you're heading to the hill stations, national parks, and the backwaters, this is where it gets a tad complicated.
Munnar doesn't really have public buses and the buses that are there stop quite early in the day.
So, unless you're staying in the hectic Munnar city, rickshaws and taxis can be difficult to secure and book to head to some of the tourist attractions which are spread out in the hills. So, you will need a private car hire anyway.
Luckily, India Someday booked me a private driver for the week while I was staying in Kerala. This was the perfect way to make the most of my time and I highly appreciated the air conditioning as Kerala was scorching!
I would highly recommend hiring a driver to explore Kerala, or hiring a vehicle to take you around.
The ultimate 7 days in Kerala itinerary
So, let's get started on the 7 days in Kerala Itinerary! It's good to note that Kerala is HUGE and so there is only so much that you can cover in one week.
India Someday was on hand to make sure that I saw the best of Kerala in the time that I had and it worked out perfectly. So, I thought I would pass on this onto you.
In this Kerala itinerary, I'll be covering Fort Kochi, Munnar, and Alleppey. This gives you the perfect balance of heritage, culture, tea plantations, beaches, and backwaters.
How to get from Kochi Airport to Fort Kochi
Kochi Airport is around 36 kilometres from Fort Kochi, so I was glad to have a car to take me there. The heat in October was stifling and the air conditioning in the car was a must!
If you don't have transport booked you will need to book a transfer to the town after your flight. The airport will have pre-paid taxi services that you can buy at the airport.
I would highly recommend these booking counters as they can save you a lot of money rather than negotiating outside of the airport.
Bus from Kochi Airport to Fort Kochi
There is also a Volvo bus transfer service from Kochi airport to Fort Kochi if you would prefer.
This is a great budget option at 90 rupees per head and it does have comfortable seats and air conditioning! There is also the option for Non A/C but it would be pretty grim with the heat.
The only downside is that these do have a strict schedule for timings. But, if you're not in a hurry, it's perfect.
Day 1-2 explore the historic Fort Kochi
Fort Kochi is the perfect starting place for your Kerala Itinerary. For such a small fishing town, this place is a powerhouse of history!
But, despite the name, don't expect to find anything remotely resembling a fort here. Okay, except for maybe one canon lol.
The current history of Fort Kochi really began when a merchant sailor by the name of Vasco de Gama rediscovered the old spice trade route from Europe. He sailed from Portugal to India and landed on the shores of Kerala in 1501.
After a rather unsuccessful meeting on southern shores with the Zamorin (king) of Calicut, he ended up making an alliance with the Rajah (another king) of Kochi.
The deal was, in exchange for defeating the Zamorin, Vasco de Gama had permission from the Rajah to trade and build in the area. Thus, the first settlement in Fort Kochi was born!
Many of the Portuguese churches and historic buildings are still here today.
Two centuries later the Dutch wanted to take over the spice route and created the Dutch East India Company, a business that equated to over 8 trillion dollars in today's society!
Eventually, the British Raj took over power and built more houses, hospitals, train lines, and clubs for those of the Empire to meet.
Today, since India's independence, there's a perfect synergy of colonial heritage, religious temples, and local culture here. Something you'll notice very quickly as you wander around.
Read more places to visit in Fort Kochi here
Places to visit in Fort Kochi
Fort Kochi is a tiny picturesque fishing village and so it's really accessible to explore on foot self-guided.
But, if you were looking for a little bit of direction and to learn some history, I would recommend going on a walking tour with Gully Tours.
The 'spice trail' walking tour allowed me to understand way more of the history than discovering it for myself!
On our tour, we visited many of the churches, historic buildings, the sea front and I was really impressed with a lot of the street art in the area.
We had lots of fun taking photos against the many 'Instagram walls' and visiting some of the trendy art cafés.
One that particularly caught my interest was The Pepper House Café, it used to be a heritage pepper exchange and now it serves up fair trade coffee.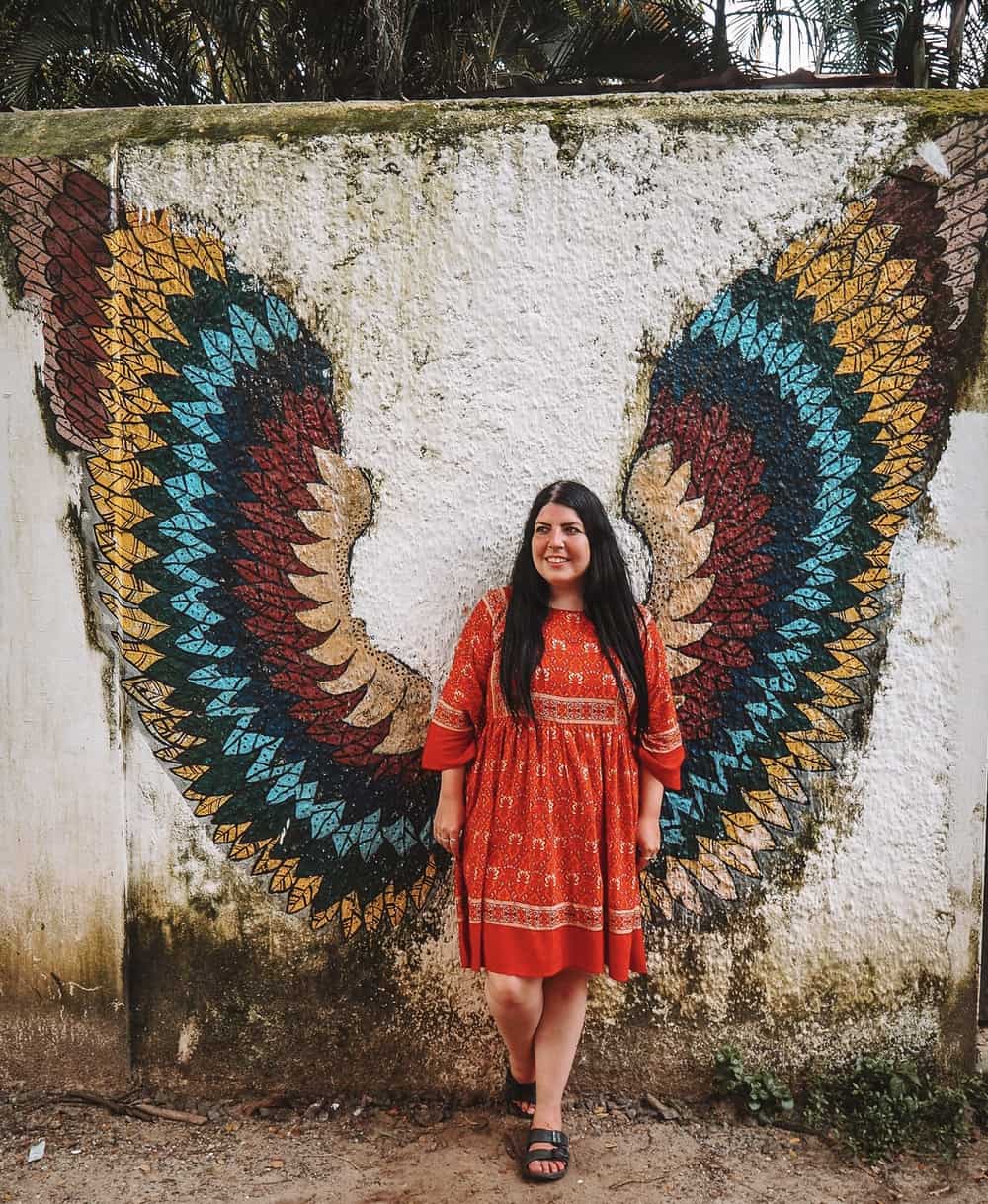 Chinese Fishing Nets
No visit to Fort Kochi would be complete without a visit to the famous Chinese Fishing Nets on the seafront.
The legend goes that a Chinese fisherman named Zang He introduced these nets to Kerala over 500 years ago and they've stuck ever since. They are a bit of a tourist trap though, so, haggle if you want photos!
What I also loved about this walking tour was the fact that we visited the colonial side but also the Indian side of town.
This is where you got to see some of the 'real' Kochi, where locals go about their day, sell their wares in the market and eat in cafés once the workday is done.
Click here to read tips on how to not get scammed at the fishing nets!
Where to eat in Fort Kochi
We stopped by a local restaurant called Kayeez Rahmathulla Café which is the most popular restaurant in Fort Kochi with locals!
It was packed and apparently is that way from morning until night. We had an absolute feast of buffalo curry, Kerala roti, rice, and even chai tea and it cost next to nothing. Such a great way to experience life in the city.
Don't miss in Fort Kochi – Kathakali performance
If there is one thing that you must do while in Kerala, it's visiting a Kathakali dance performance.
You can visit these dance performances all over Kerala, but I had heard that Fort Kochi has the best places to watch.
I was so excited to see that India Someday had included it on the itinerary – I watched the show at the Kathakali Cultural Centre.
What is Kathakali?
If you're not aware of what Kathakali is, it's a historic dance that is inspired by the Hindu epic the Ramayan.
Performers have to train for over six years to be able to perform the craft; that's the dancers, drummers, singers, and even the makeup artists too!
What to expect in a Kathakali dance
The first half of the performance is to watch the makeup being applied. The performers apply this themselves and only use natural products with coconut oils.
In Kathakali the characters have yellow and green faces. So, they apply natural face paints to get into character.
The performers even put flower seeds in their eyes to make their eyes go red – they're really dedicated to the craft!
Once the makeup has been applied, you learn a little bit about the training for Kathakali.
There is no talking during the performances but the performers learn to move their facial muscles, eyes, hands, legs, eyebrows, and pretty much all of their bodies to make a dancing 'language'. No wonder it takes years to perfect, as there is so much to remember!
The dancing part of the show was incredible. The storytelling through the body movements was fascinating to watch and, although I didn't understand all of it, you could definitely tell most of the story by the body language.
Luckily, the centre give you a piece of paper with the story on it beforehand so you can keep up.
I would highly recommend a visit while you're in Kerala!
Read more of my top tips for watching a Kathakali show in Kerala
Where to stay in Fort Kochi – Delight Homestay
I was really pleased with the accommodation that India Someday had chosen for me here. I'm a massive fan of historic cities and the fact that I was staying in a heritage property was the cherry on top!
Delight Homestay is one of the oldest homestays in Fort Kochi that dates back 200 years during the Dutch period. The building had so much character and a beautiful garden full of flowers, orchids, trees growing fruits and they even grew their own vegetables here!
My room was spacious with a double bed, mirror, wardrobes, living area, air conditioning (needed with the heat), and a clean bathroom too.
Every morning I would enjoy breakfast with the family and get to know them a little better. It was such a little cosy retreat and I couldn't have asked for more.
The homestay is only a few minutes from the seafront and some of the main attractions in Fort Kochi, so it's an amazing base for a few days of sightseeing here.
Read my full review of this incredible Delight homestay here
Days 3-5 ascend to the Hills of Munnar
After a few scorching hot days in Fort Kochi, I was really excited to head up to Munnar Hill Station to beat the heat!
Once again, I was really happy that India Someday had booked me a car to get here as there aren't really any buses that make the journey. Many people drive their own cars, hire a car or take private taxis to get to the top.
Munnar is like an emerald paradise with waterfalls and rolling hills that go on for miles! It's also famous for its main export, tea, so you'll see (and taste!) lot's of it when you're here.
This hill station is incredibly touristy making a lot of the attractions overcrowded.
It also didn't help I was visiting over a holiday, so everyone was making their way up here for a few days. But, there are some parts of Munnar where you can explore without endless people – more on that later.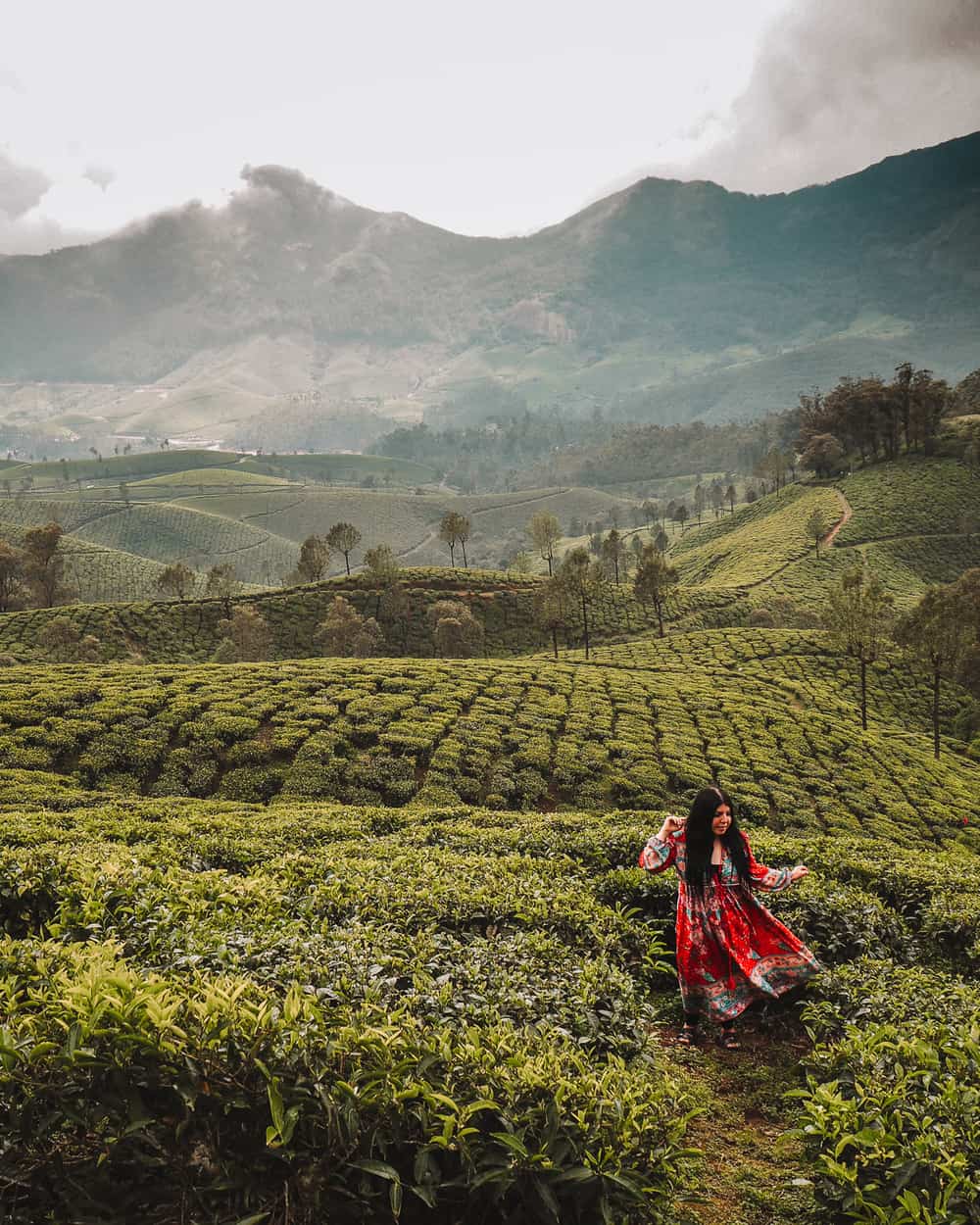 How to get from Fort Kochi to Munnar
The journey from Fort Kochi to Munnar will take you around 4-5 hours due to the winding switchback roads.
Thankfully, as it's a big tourist destination, the roads are really well laid and so you don't have to worry about a bumpy journey.
However, there will be quite a lot of traffic on the way up and some parts of the roads are under construction. But, I was in safe hands with my driver Suresh, who knew how to handle them.
There aren't really any tourist buses that head up from Fort Kochi to Munnar and the public buses looked like a bit of a dice with death. So, I would definitely opt for a shared or private taxi to take you up to the hill.
The benefit of taking a private taxi is that you'll be able to stop off at places along the way. A lot of places are like tacky ayurvedic shops, spice farms, and even elephant riding centres which I DO NOT recommend. But, I'll go through some places with natural beauty to stop off at below.
Read my complete guide to this Kochi to Munnar road trip with sightseeing, food stops, and viewpoints here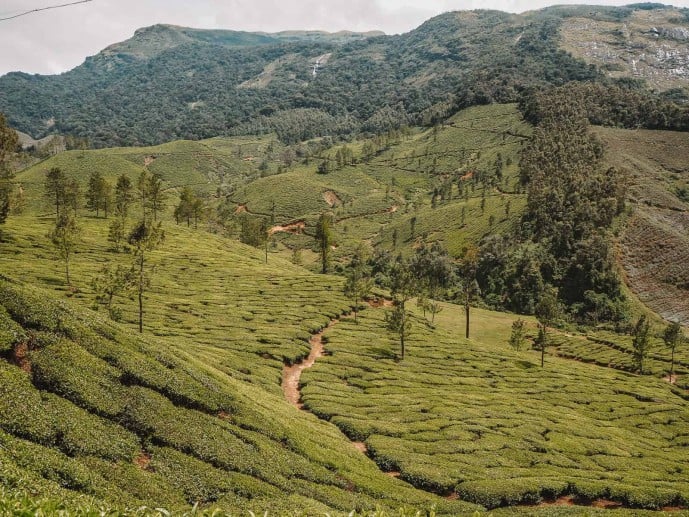 Places to stop on the way from Fort Kochi to Munnar
There are a couple of waterfalls that you have to stop off on your way up to Munnar.
You'll instantly know the places as you'll see lots of cars parked up before you get there and there is a reason for that; they are drop-dead gorgeous!
We stopped at two of the most popular waterfalls; Valara & Cheeyapara waterfalls.
The first one, Cheeyapara, was a big photo spot and I've never seen so many selfie sticks being taken out. Of course, I had to join in the fun and get a photo.
The second was Valara and apparently, even though it was roaring, this was a light flow compared to monsoon season!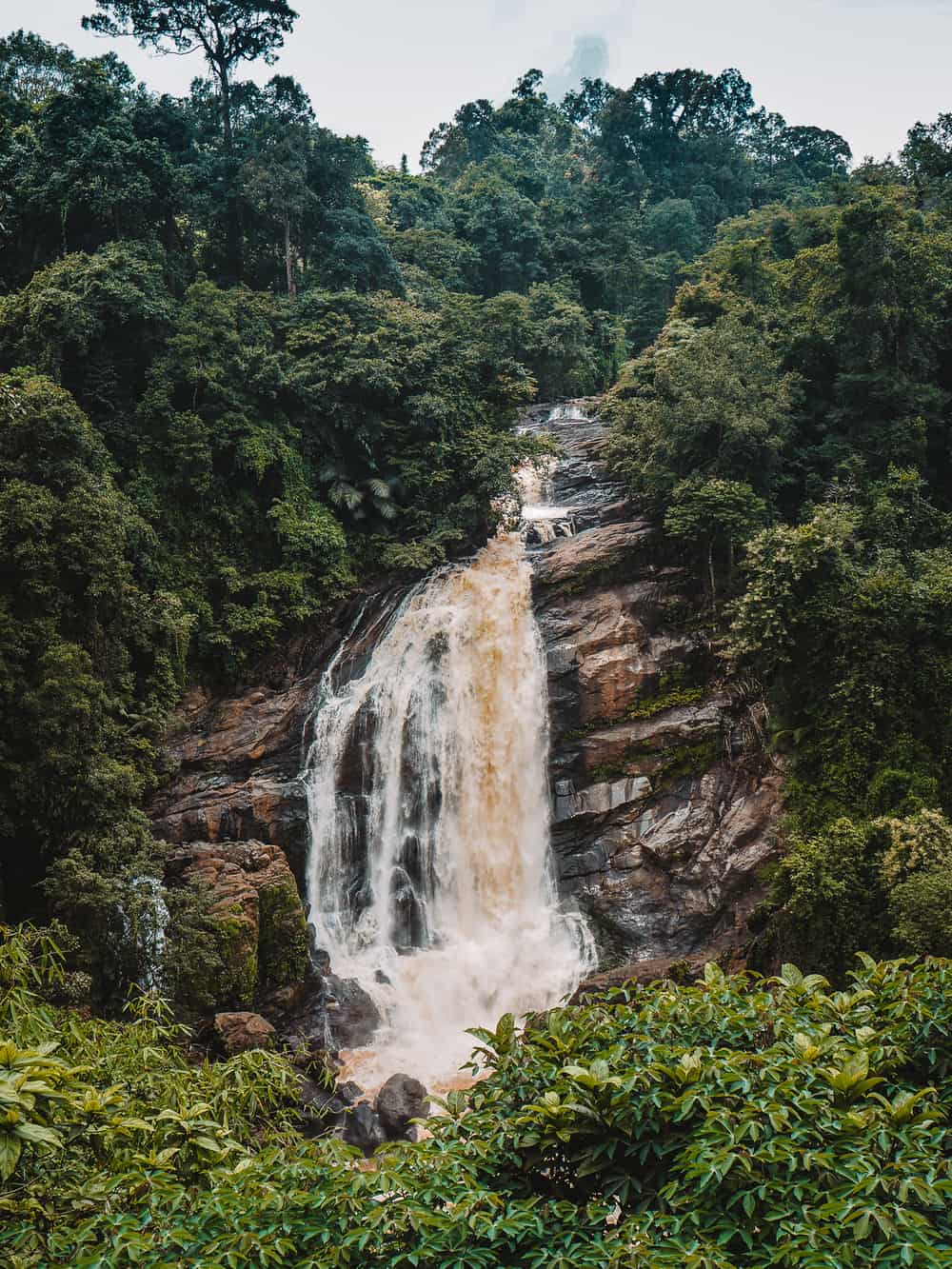 If you're looking for places to stop off for food then I would highly recommend The Clay Oven. This place was super clean, the food was hygienic and the toilets were lovely, if you needed a clean bathroom break!
My driver recommended trying the Kerala feast which was like a thali on a banana leaf. Eating curry on a banana leaf is traditional here so I guess it had to be done.
When the Clay Oven said 'feast', I really didn't know what I was in for! I was a massive plate of rice and around ten little dishes full of curry, chutney's, dal and then there was even pudding with banana chips and a banana on the side. Then, to wash it all down I had a freshly squeezed pineapple juice.
Safe to say I was so stuffed afterward but it was incredible local and organic food. The whole bill came to about 270 rupees (£3!) which was a steal.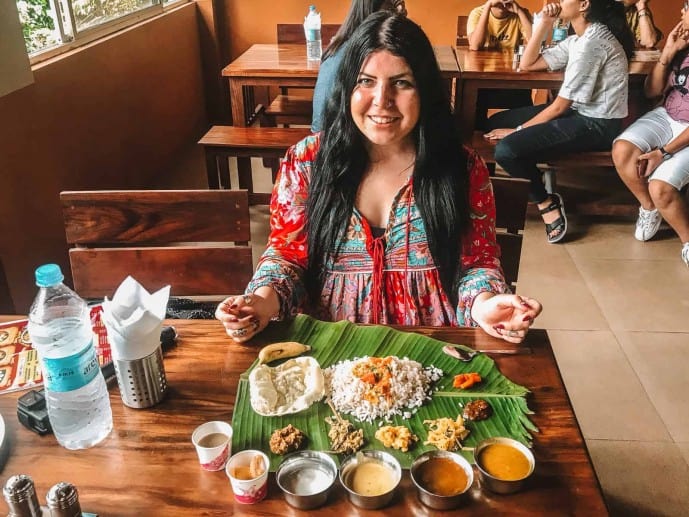 Places to visit in Munnar
Munnar is any nature lovers paradise and many visit simply for the epic views alone! But, there are plenty of things to do in the area, so make sure you leave a couple of days to really get the most out of it.
Read more: 20+ tourist places to visit in Munnar!
Wildlife and Nature Parks
If you're into wildlife then you have to visit one of the National Parks. We decided to visit Erivakulum National Park where you can have the chance to spot an endangered Nilgiri Tahr deer.
At one point when the British were here, the Nilgiri Tahr almost became endangered with so much hunting taking place. But, now they are protected in this park and there's lots of conservation going on.
I was really impressed with the care taken towards the environment too, like no jeeps touring around and people were allowed to walk for the chance to spot one. We were lucky and got to spot not one but three of them near the end gate.
If you didn't fancy splashing out on a parking ticket, then there is plenty of wildlife to see roaming free on the roadsides. I was really lucky and had the chance to see wild elephants, nilgiri lankur's, and wild buffalo!
Click here for my essential tips for Erivakulam before you visit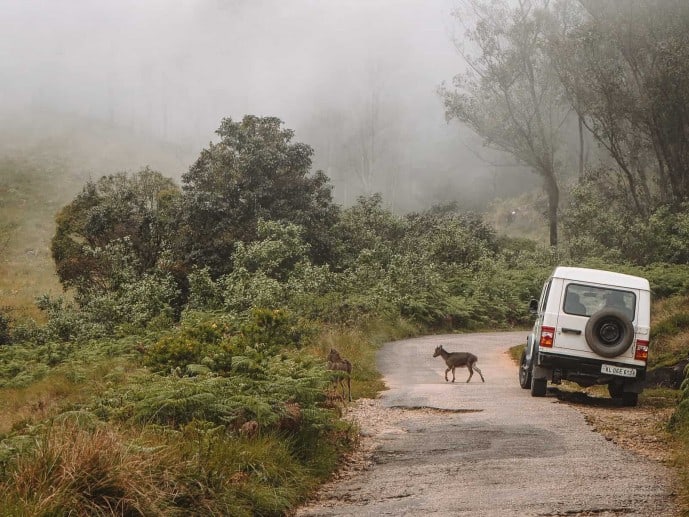 Top Station Route
Did you know that Munnar is close to the border of Tamil Nadu? So, you can head on up to Top Station to see the old trading post of the British Raj. But, you may not see great views on a cloudy day. The best way to see the views is to head out as early as possible before the clouds roll in.
Read more on whether a visit to Top Station is worth it!
There's also many waterfalls that you can visit and even swim by like Lakkam Falls.
When I went inside, the fish were giving me a natural foot spa. My feet were so soft afterward haha.
Read more about the gorgeous Lakkam Falls here or check out the best waterfalls in Munnar here
If you're interested in seeing some heritage then Munnar has a lot leftover from when the British were here.
Once upon a time, there was a train station that has now been converted into shops or you can visit the oldest church in Munnar.
Christ Church Munnar was built in 1921 and it's well worth checking out. They even have a London Exchequer sign from years gone by!
In the evening, you must visit Punarjarni to watch some Kerala Martial Arts; Kalaripayattu.
This ancient craft takes years of training and originates from the warriors of Kerala long ago. When I first walked into the theatre, it was like a colosseum. I thought to myself, is this going to be a fight to the death?!
The show involved lots of fighting with wooden sticks, spears, swords, and even jumping through rings of fire! It amazing and I would highly recommend it.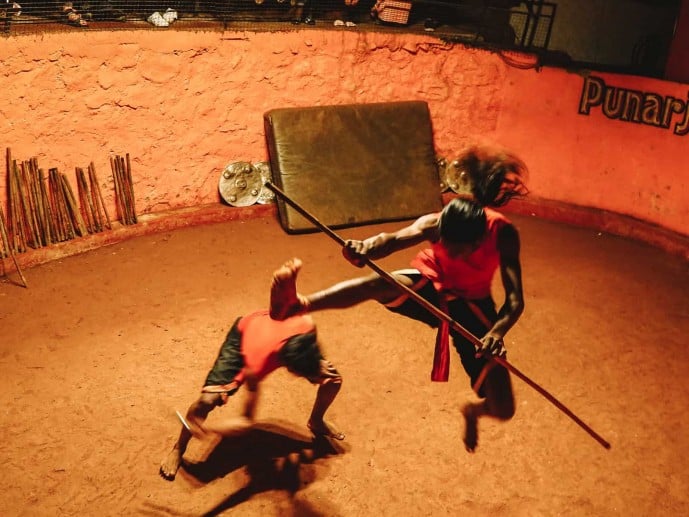 Don't miss in Munnar – Lockhart tea plantation
I have to admit, heading up to Top Station was super touristy. Every attraction we stopped at on the way had a queue to even to park up which became frustrating after a while.
But, I was super happy that India Someday had booked me on a tour with Route 49 adventures to off-road into Lockhart Tea Plantation.
We took a private jeep off-roading into the tea plantations and I honestly could not believe my eyes. It was endless tea fields, mountains as a backdrop, and not one tourist in sight!
Route 49 adventures have a permit so that you can access private tea plantations which made the perfect escape! I loved exploring the plantation and I took LOTS of photos while I was here.
Off-roading in a jeep can be extremely bumpy but it's so much fun. We also got to stop at the many villages where the tea plantation workers live and see them working in the fields too.
Read my top tips for visiting the Tea Gardens of Munnar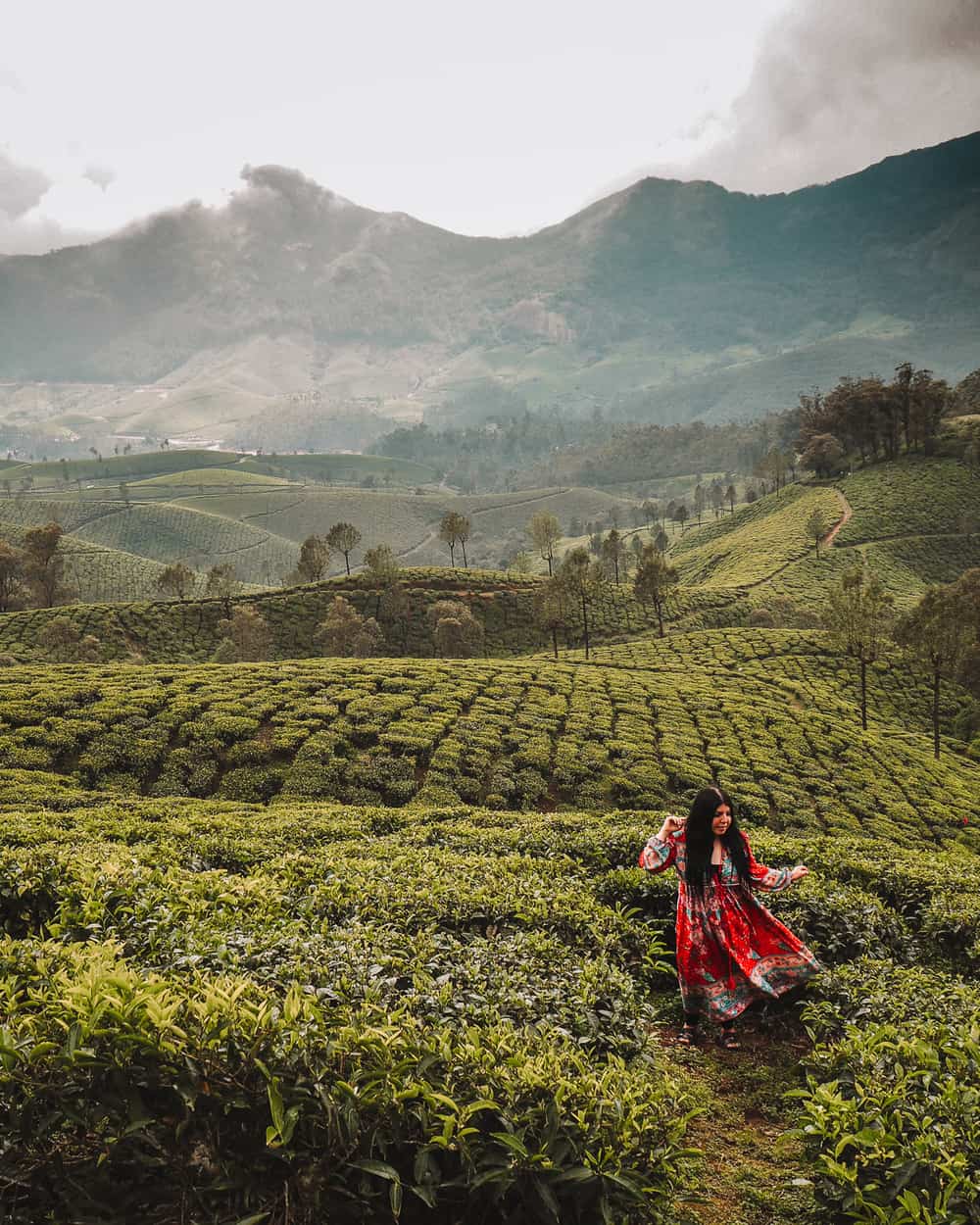 Lockhart Tea Museum and Tea Tasting
After taking a lot of photos, we pulled back into tourist town again and went for a tour of Lockhart Tea Museum.
This allowed us to see how the tea was cultivated and made into bags for the cups of tea we drink at home! No photos were allowed inside and you had to wear these super fashionable shoe covers… lovely.
To finish off our tour we went for a tea tasting at Munnar Tea Tales, unfortunately, the power went out halfway through but as they say, the show must go on!
We tried all sorts of teas like Munnar Green Tea, Pekoe Tea, even Rose Tea. I loved learning about how each tea is made and how the type of tea depends on how it's produced.
Out of all my trips in Munnar, the adventure to Lockhart Tea Plantation with Route 49 adventures was the best. I had such a great time and, if you want to escape the crowds in Munnar, this is the tour for you!
Where to stay in Munnar – Mistletoe Homestay
I stayed in an amazing homestay called Mistletoe Munnar while I was here. It was a little further out of Munnar City but this was honestly a blessing rather than a curse.
Munnar City is incredibly overcrowded with traffic pretty much all day and night. So, staying a little bit away from the hustle and bustle was brilliant.
Mistletoe Munnar is a delightful family-run homestay that has spectacular views of the Munnar Hills.
My room was spacious with a double bed, desk area and I had a huge bathroom! The highlight was my private balcony that looked right over the rolling hills and I absolutely loved sipping on a cup of tea and enjoying breakfast with the view.
I actually loved the food so much here that I ate dinner here every night. I would always ask for them to surprise me, as long as it wasn't too spicy, and each night the meals were delicious!
It's the perfect base for a few days of sightseeing in Munnar which provides peace and quiet. Read my full review of Mistletoe Munnar here.
Days 6-7 sail down the backwaters of Alleppey
After a few days in Munnar, it's time to head back down to the heat. This time, we were heading to Alleppey!
Alleppey, or Alappuzha, is somewhere that I had wanted to visit for an age. It looked like such a treat to be floating down the backwaters so I was excited that India Someday had added this onto the Kerala itinerary.
Most tourists opt for a houseboat while they are here to explore the backwaters. But, I was going to be staying on an island IN the backwaters which sounded amazing.
After some busy travelling and exploring days, I was happy to take it down a notch and relax.
Places to visit in Alleppey
I guess Alleppey doesn't really have that many 'top places to visit' as it's mainly the backwaters and beaches that tourists come to see.
After our journey from Munnar, we headed straight out to see the Alleppey Lighthouse get an introduction to the area. It's a huge lighthouse that provides amazing views of the ocean, beaches, jungles, and beyond.
Click here for a 24 hours Alleppey itinerary
Alleppey Beach nearby was also lovely, if a bit overcrowded at sunset.
Like with a lot of Indian beaches, instead of sunbathing with towels like in the West, most people simply stand near the shoreline to paddle in the waves that come crashing in.
But, ladies, don't come to this beach in a bikini! Most people are fully dressed so it will draw a lot of attention.
Lastly, you'll definitely want to prioritise a trip down the backwaters!
Most houseboats have hotel rooms, toilets, showers, and lots of amenities most hotels have. So, you can opt to stay on the backwaters or take a day trip in one from your guesthouse/hotel. The choice is yours.
Where to stay in Alleppey – Emerald Isle Heritage Villa
India Someday booked Emerald Isle for my stay in Alleppey which is located on an island in the backwaters! This was ideal for me as staying alone on a houseboat for the night wouldn't be the most fun.
I loved the fact that Emerald Isle was another heritage homestay. It was a farmhouse that the owner's great grandfather had built over 160 years ago.
When I was checking in, I even got to see the original deed of lands granted to the family that was carved into a leaf of a palm tree! How cool is that?!
Years ago, the hotel rooms that are now open to guests were used for storage on the farm.
They would store rice, coconuts, grain, and all other types of harvests for the family to trade. Nowadays, the homestay has six amazing boutique rooms that you can spend the night in. My room was where they used to store the rice.
I loved the wholesome Kerala food they served every lunch and dinner time at the hotel. They made the most amazing thali with fresh fish and chicken curries, local Kerala rice, pappad, and more. The chef was also so sweet and always asked me for preferences which was a nice touch.
Click here to read my full review of Emeral Isle Homestay.
Things to do around Emerald Isle
As part of my stay, Emerald Isle booked in a few resort activities for me to enjoy.
Firstly, I had a tour around the island in a rickshaw, which was a lovely introduction to the area.
We got to see houses on the backwaters with buffalos bathing in the sun, Christian churches, locals fishing and meeting people which was the best part!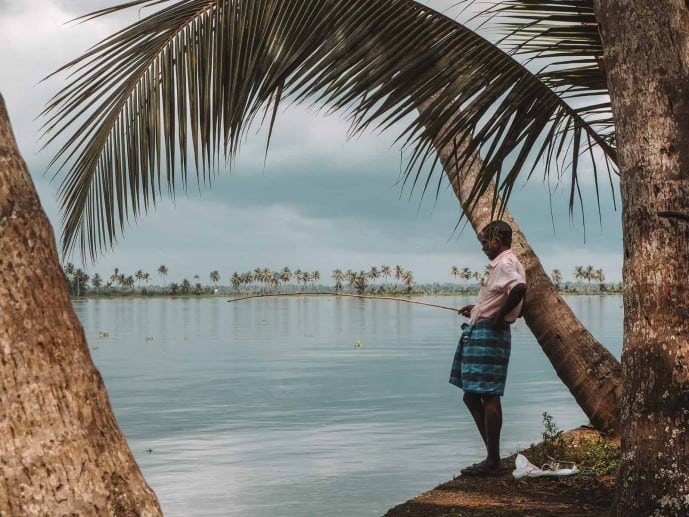 Ayurvedic Massage
Later, I was booked in for a massage. Can you believe that it was my first massage in India?! Which I think could almost be criminal haha. But, where better to have my first massage than at the home of Ayurveda?!
Before my massage, she asked me to tell her any pain I was experiencing that she could help me with. As a blogger, I'm usually hunched over my laptop or carrying lots of heavy tech, so I asked her to help me with shoulder pain.
What I loved is also they asked me how much oil I wanted and if I wanted a soft or hard massage. I guess it was my first time, so I asked her to do medium lol!
It really, really helped me with my shoulder and back pain and I only wish I was there for a couple of days more to have a few treatments.
Sailing down the backwaters on a Shikara Boat
As I mentioned before, most tourists opt for a day trip on a houseboat. Included in that would be your boat ride, food, snacks, water etc. So, you can spend all day sailing down the backwaters.
But, the only thing with a huge houseboat is you can only sail down the main waterways which can get terribly crowded in peak seasons. So, we opted for a Shikara boat.
This traditional boat meant that we could sail down little canals and see the locals which sounded far more fun.
It was great to see the local fisherman, women washing clothes, families on their houseboats, the local ferries transporting locals to where they needed to be. There were also churches, Mandirs (temples), wildlife, swaying palm trees, all as we floated merrily down the river.
I would highly recommend taking a boat trip for at least a few hours to make the most of it.
Click here to read more things to do on the backwaters of Alleppey!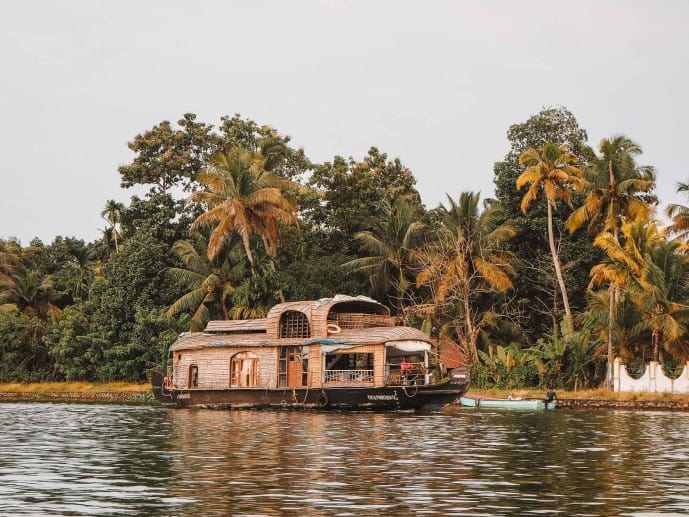 Don't miss in Alleppey – Toddy!
Toddy is something I desperately wanted to try in Kerala, ever since I arrived in India over 3 years ago. It's a palm wine made out of sap that they source from the palm trees here! You may see some bowls that have been placed on the palm trees as you wander around, that's where the locals collect Toddy!
Now most tourists will try toddy in their resort or the bottled stuff on their houseboats. But, I wanted to try a more local experience. I was desperate to visit a toddy shack and so I forced my guesthouse owner to take me to one while I was in Alleppey.
Now most tourists don't touch toddy shacks, let alone a woman entering one.
But, as I had my guide with me, I didn't see the harm. They're not really recommended as they use local water to mix the toddy wine to drink. But, a little taste can't harm you, right?
Toddy wine will cost you a whopping 60 rupees ;) which is a fraction of the price of local and imported wines here. So, you can fill your boots even on a budget.
The guy who owned the toddy shack was so proud to serve me and asked me to take some photos. So, here's a little memoir of my toddy shack adventure. It isn't for the faint-hearted but it was a lot of fun and something I have wanted to do for an age!
Click here to read my guide on how to consume Toddy safely in Kerala
Where else is there to visit in Kerala?
If you can spare more than a week in Kerala and would rather see some different places while you're here, this state is packed with beautiful and diverse locations.
If you're into beaches, why not visit Varkala and Trivandrum. These beaches are a little less touristy and maybe more fun than Alleppey.
Or, if you'd like to watch more wildlife, why not visit Chinnar Wildlife Sanctuary for elephants or Periyar National Park for tiger where you have the chance to spot a wild tiger.
If you really want to go off the beaten track then I would suggest you look to Neeleshwar, Parambikulam Tiger Reserve, or Vagamon.
So, that's your perfect 7 days in Kerala itinerary
I really have to thank India Someday for planning the perfect Kerala Itinerary for my 7 days in Kerala.
With only a week, it felt like there wasn't much time to explore this huge state but I felt like I had the perfect blend of history, culture, hill stations, wildlife, beaches, and backwaters.
I loved the fact that all of the stress was taken out of my travel plans as everything had been booked and arranged for me.
I knew where I was going, where I was staying, what activities were planned and it all went off without a hitch.
If you're ever planning a trip to Kerala, or elsewhere in India, then I would highly recommend using India Someday's services. They're incredible efficient and organise your trip around your preferences.
Another thing I loved is the fact that they use local businesses, tour companies and homestay's throughout the trip.
These homestays are run by local families and they really allow you to meet locals while you're here and even, in some cases, feel a part of history too.
I have a whole post that goes into more details about India Someday's services and how to book here. Click here to start planning your trip via this link!
Did you know that India Someday offers 20% off for solo travellers? As a bonus, add on my code "THIRDEYE05" to get an extra 5% off. That's a whole 25% off your trip!
Save this 7 day Kerala itinerary for later!
With thanks to India Someday for sponsoring my trip to Kerala, although I was a guest, all photos, opinions, and videos are my own.