Imber village is an abandoned 'ghost village' in Wiltshire which sits in an isolated area of Salisbury Plain.
The people of Imber were gathered in the school hall in November of 1943 and told they had 47 days to evacuate their homes by Christmas. They were promised they would be able to return after the war but that never happened.
Today, Imber is still deserted and is home to a range of abandoned buildings that are shells of what they used to be. The only building that has been retained is St Giles' Church.
As Imber is owned by the Ministry of Defence entry is forbidden most of the year but access is granted on a few select open days.
Here is a detailed guide on how to visit Imber village, why it was abandoned, open days, directions, and things to do while you're here!
Imber history
Although Imber is famous for being abandoned during World War II, its history on Salisbury Plain actually starts in pre-historic times!
Monuments like Stonehenge close by were thought to have been constructed around 5,000 years ago in the late Neolithic period.
The first recorded settlement in Imber was in 967AD and was originally called 'Imemerie'. The land was owned by the Abbess of Romsey as part of the Edington Estate.
Later, in 1086 it was divided between the Abbess and the Earl of Hereford. But, by the 13th-century it was passed onto the Rous and Hungerford families around the same time that St Giles' Church was founded.
In the 16th-century, Imber was owned by the Thynne family of Longleat House which is still a popular attraction that you can visit today!
The military moved onto Salisbury Plain in 1867 and started to take ownership of more land in the name of defense by WWI. War troops were billeted at Imber Court in 1916.
By 1932, all of the farmland of Salisbury Plain was owed by the War Office and the housing was rented to farmers, business owners, and tenants.
Before 1943, Imber was a thriving village. It had two large houses, two churches, a pub, a school, a blacksmith, and a farm that held social events.
However, when WWII started, the Imber village as the residents knew it was about to change….
Do you know what Imber stands for? In Latin, Imber means shower/rain!
What happened to Imber & why was Imber evacuated?
On a cold winter's night in November 1943, the villagers of Imber were gathered in the school hall by the army or the Ministry of Defence as they are called now.
They were told that they had 47 days' notice to 'quit' and abandon their homes by the 17th December around Christmas time.
This was to make way for American troops who were landing here to train for the liberation of Europe during World War II. Also, to ensure their safety as they were in close range of shell impact areas.
As the residents were 'only' tenants of Salisbury Plain which was owned by the army, they were told they had 'no right' to their properties.
All 152 villagers were 'liberated' from Imber by December but they were given nowhere to go as an alternative!
They were provided with a small amount of money for moving costs but no funds to buy new housing or any compensation for business lost.
It was a hard blow on the residents and many took seriously ill. Albert Nash, who was Imber's blacksmith for 40 years cried for days and later died 'of a broken heart' from this sudden news!
Why didn't the villagers return to Imber?
Although the villagers were told that they would get their houses back six months after the war ended, that never happened. Imber became the permanent property of the Ministry of Defence.
Even today, Imber is located on Salisbury Plain which falls within a 94,000-acre military training ground. The land was supposedly 'too important' to allow the residents back into their homes.
The Imber villagers still held onto hope, even until the end of the 20th-century. In the 1960s, there was a rally in support of the villagers which saw 2,000 people attend.
The unforgiving treatment was challenged in the House of Lords but to no avail and a public inquiry made the decision to allow the military to continue using it for training purposes.
Most of the original Imber residents have passed on now. The last remaining resident is Ken Mitchell who was the son of Albert Nash. He's 96 years old and was just 6 when he was evacuated.
Ken still visits Imber on open days. In fact, I was told that he was there on the morning of my visit!
Why is Imber forbidden today?
Imber Village stands on the Imber Range of Salisbury Plain which is the UK's largest training ground today.
This area is used by the military which often test tankards, weapons and they even use the abandoned buildings for Urban Warfare training.
It is too dangerous for the public to visit in the interest of safety for most of the year. Entry is forbidden and you face prosecution if you try.
So, you can only visit Imber on certain access days throughout the year.
These Imber open days are chosen by the Ministry of Defence and follow military byelaws from the Ministry Lands Act of 1892.
Can you visit Imber village?
Despite the fact that Imber is forbidden most of the year, it is possible to visit Imber village in Wiltshire.
The Ministry of Defence opens Imber Village to the public on select days of the year. This used to be around 50 public open days but now this has been reduced to just a couple of days.
Unfortunately, the MoD has reduced the number of days recently because visitors were abusing the privilege and walking in places that they shouldn't be.
There are warning signs everywhere that it is extremely dangerous to explore Salisbury Plain on the outskirts of Imber. No access means no access!
As a Ministry of Defence training ground, there are leftover bits of shrapnel and unexploded military debris which can put you in danger.
Some visitors decided to ignore these warning signs and went on to explore these restricted access areas and buildings.
Because of this, the open days have been reduced to just a couple of days but they could stop altogether if people keep breaking the rules.
So, when you see the announcement that Imber village is open, grab the opportunity with both hands while you can!
How much does it cost to visit Imber? There is no ticket price to visit Imber village, it is completely FREE on open days. But, donations to St Giles' church are welcomed.
When is Imber open each year?
Imber village only opens to the public three times each year for a couple of days or weeks.
Typically these are in Easter around April and then in late August near St Giles' Day and December for Christmas.
The specific dates that Imber is open change every year, so it's important to check for announcements for when you can visit Wiltshire's 'Ghost Village'.
I would personally follow their Facebook Page for the latest announcements. This is usually the first place that you will see posts about Imber open days a few months in advance.
This way, you'll get the latest information and also any news if there have been any changes or delays to Imber access that year. The MoD can change their mind at any time without notice.
Click here to follow the Imber Facebook Page for announcements
How to visit Imber village in Wiltshire
There are a couple of ways that you can access Imber village each year. One is by a bus tour and the other is by driving to Imber yourself.
Here are all your options on how to get to Imber Village in Wiltshire!
Option 1 – Join the Imber Bus run from Warminster
Every year, around 30 vintage red buses make a journey from Warminster to Imber Village. The event is called the Imber Bus Run.
This is a charity event that raises thousands of pounds for the Imber Church fund, the Royal British Legion, and Macmillan Cancer Support.
The red buses run every 15 minutes from Warminster to Imber throughout the day and it's a great way to travel over the Salisbury Plain to the ghost village.
Imber bus prices are £10 per adult on an all-day explorer ticket. Up to 3 children can accompany adults for £1 each. Or, you can purchase a simple return ticket from Warminster to Imber and back for £5.
Click here for details on the Imber bus website
Option 2 – Can you drive to Imber?
Yes, you can drive to Imber if you didn't want to visit the village with the Imber Bus event from Warminster.
The road to Imber is blocked off by the military for the majority of the year. So, the general public can only drive to Imber on specific dates. There are also 'car free' days when only the Imber Buses can use the road.
So, it's important to always check for announcements on when you can drive to Imber before you visit. The dates are different every year.
Check here for open day announcements on the Imber Facebook page
There is a 30 mph speed limit accross Salisbury Plain but there is a 15 mile speed limit when you enter Imber Village.
Note: It's important to know that there are a few roads leading you to Imber Village on Salisbury Plain. One is flat and the other has major potholes. So, follow my directions below to ensure to avoid the bad roads around Imber village!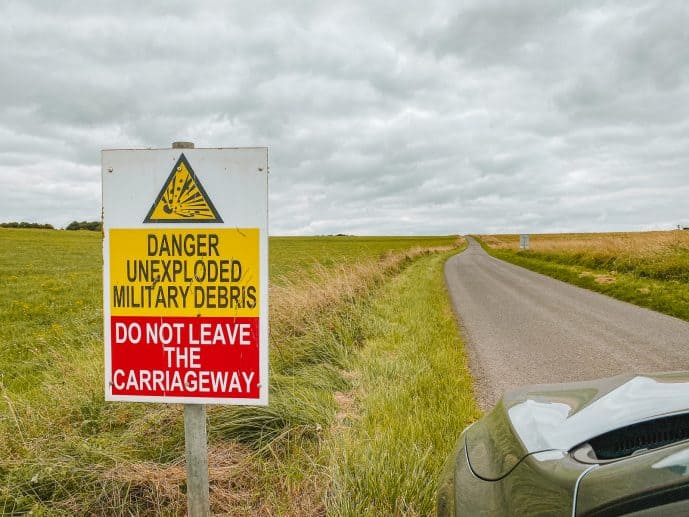 Where is Imber in Wiltshire?
The abandoned Imber village is located on Salisbury Plain in Wiltshire. This is 94,000 acres and the UK's largest military training area which is usually closed off to the public.
The closest city to Imber Range is Salisbury, there is also Lavington village, Westbury, Melksham, and Devizes which are just a few miles away.
You may be surprised to know that Imber has no postcode so you'll need to make sure you follow driving directions to Imber Village. SatNav's will not be much use.
There is a Google Map pin for Imber which you can find here. But, I'll provide general driving directions below.
Imber village driving directions
If you're driving to Imber, you'll need to make your way over to a place called Gore Cross Interchange on the A360 Road. It's between Tilshead and West Lavington. This is 30 minutes drive from Salisbury and 15 minutes from Devizes.
You'll eventually see a sign for 'G. Collin's Farm'. Take the turning opposite G Collin's Farm off the A360 road.
Once you've taken the turning, you'll see a sign for New Zealand Farm Camp and Stoke Hill Farm to the right. Don't turn right as this takes you on the bad road with loads of potholes.
Keep going straight behind the farms and follow this road all the way down to the Imber village barrier point.
When you get here, you'll see if the road is open or not. If it's open, then just keep driving forwards until your reach Imber Village.
Note: there are warning signs everywhere on this road to keep to the carriageway and which places have no public access. Don't veer off the main road for your safety.
Imber Parking
If you're driving to Imber, there is free all-day parking provided. You'll find some designated parking areas at either end of the village. Also, there are some spaces on the main road near the turning to St Giles' Church.
It's important to note that Imber parking spaces are limited to around 6-8 cars per car park. So, if you cannot find space, you can always park up on the roadside in the off-road lay-bys.
There are places all the way down the road where cars can park with consideration on the grass verges.
Sometimes when it's busy in summer, they open an overflow car park infront of St Giles' church.
Imber Village map
Here is a map of Imber Village below.
Imber village maps are available to take around the village along with an audio guide from St Giles' Church;
Things to do in Imber Village
Although a ghost village, you may be surprised to know that there is actually a lot of things to do in Imber!
From visiting the gorgeous historic church to having coffee in the café and taking a stroll around the ghost village.
Here are all the things to do in Imber!
1 . Visit St Giles' Church
The first thing you should do is head to St Giles' church. This acts as the welcome centre for Imber on open days.
Inside, you'll be greeted by The Friends of St Giles who are lovely and they will introduce you to the village and what you can expect to find here.
Unlike the buildings in the ghost village, the church has been beautifully preserved! It has a history since the 13th-century and you can find many original features like the font and nave. There are also some rare medieval wall paintings of the Seven Deadly Sins.
I loved the flower arrangements that had been placed in here and the team informed me that a lady drives all the way from Wales to make them for Imber! They were absolutely gorgeous.
There is also a small gift shop here which sells postcards, souvenirs and locally made preserves like honey and jams too so you can remember your visit!
It's well worth taking a look at the Imber churchyard as well as the building is beautiful and surrounded by the Wiltshire countryside.
2. Learn about Imber's history
Inside St Giles' Church, there are lots of exhibits and information boards about Imber's history and how it used to look before it was evacuated by the army. It gives some context for your visit to the abandoned buildings here.
The exhibition has lots of vintage photographs where you can see all the Imber village residents who were evacuated. There are also photos of their homes and the original buildings.
Also, you can learn all about the Imber village evacuation in World War II and even see copies of the original transcripts that were sent to the residents asking them to leave.
You can read quotes and stories recorded from the people who used to live here. I found reading these exhibits upsetting. Some residents were so shocked they became seriously ill from the stress of leaving.
A doctor recorded that the local blacksmith Albert Nash 'died of a broken heart' just days after receiving the news. He was found sobbing over his anvil days before.
I can't imagine how tough it would have been to pack up and leave your home with barely any notice in the middle of winter so close to Christmas.
They were given money for moving costs but no provision was made to buy them a new house or set up a new business in a different parish. It's really shocking!
3. Have coffee or tea at Imber church café
You will be pleased to know that there is an Imber café on your visit and it can be found in St Giles' Church.
They provide light refreshment in the form of tea, coffee, squash with some yummy biscuits.
Coffees and teas are £1.50 which includes a biscuit. Glasses of squash are 50p each which also includes a biscuit too! It's a bargain.
There is some seating provided inside if it's raining but there are benches and places around St Giles' churchyard to sit with your drinks as well on a sunny day.
4. Take an Imber audio guide tour and map!
Imber tours on public open days are self-guided and so there won't be an official guide to take you around.
Instead, you can hire one of the Imber audio guides with a village map to take around with you if you wanted a more immersive experience.
It's not required but this audio guide gives you some context about the abandoned buildings that you see as you're walking around the village! Along with the history and the people who lived there.
Simply ask the guides in St Giles' church for the details about renting one on your visit.
5. See the abandoned buildings of Imber
Whether you decide to take an audio guide or not, walking around the abandoned village of Imber is a must. It's a short flat walk that you can take to see all the abandoned buildings here.
You'll find a mix of new Ministry of Defence buildings set up for urban warfare training and the original buildings that stood here in Imber before World War II.
You will be walking along the main road so mind out for vehicles. Also, it's good to note that you will be looking at all the buildings over fences. Most of them have police tape around them. You cannot go inside any of these buildings.
Here is a list of the places that you should not miss seeing in Imber!
Imber Pub – The Bell Inn
Imber's pub was The Bell Inn on the west side of the village. But, this building didn't have its humble beginnings as a free house. Originally, this building was home to Philip Flower in 1769 who was an overseer of the poor.
In 1840, The Bell Inn opened as a pub to the village and was supplied with ale from Usher's Brewery. However, in 1943 the tenants were asked to leave like the rest of the residents at Christmas time.
After they left Imber, Usher's brewery continued to renew its license until the 1960s. They hoped that one day they would be allowed to return to their village inn.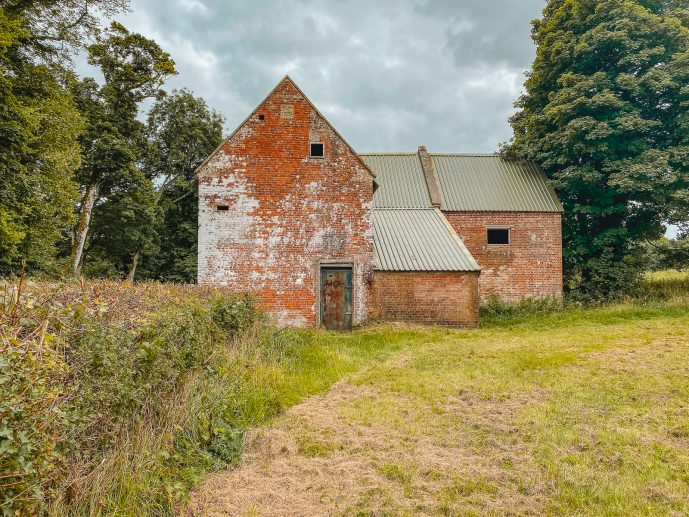 Imber Baptist Church
You may be surprised to know that St Giles' Church was not the only church that was built in Imber.
Right by the Bell Inn are the remains of Imber Baptist Church. It's not a building anymore but a churchyard with gravestones that is graced by two large yew trees!
The Imber Baptist Church was created by public subscription and was established around 150 years before Imber was abandoned.
Almost a third of the village at this point became Baptists as there was a large movement away from the Church of England.
In 1943, the Imber Baptist Church was abandoned and fell into ruin, and has since been demolished. Now, only the graveyard remains.
Imber School – St Giles' School
Imber's first Sunday School in Imber was built was established in 1814.
St Giles' School started off as a tiny building that could only teach around 20-30 school children. It was then enlarged to take around 60 school children in the late 1800s.
The building we see today was abandoned in 1943. All the equipment and desks inside were sent off to Warminster to be re-used.
Seagram's Farm
Seagram's Farm was one of my favourite buildings in the village, although it is abandoned it still has the original ornate plaque with 1880 beneath it.
As well as agricultural work this used to be the location of tennis parties and cricket matches before it was abandoned.
It is over 1,000 acres and was rented by the Dean family but was owned by a General Seagram.
Nag's Head Cottages
On the east side of the village, you can find the Nag's Head Cottage which is another large red brick building.
It was apparently the location of the Nag's Head pub which was Imber's second inn. It closed in the 19th-century well before the village was abandoned in 1943.
It is now just a shell but inside it is a large dwelling with many rooms and a fireplace. Again, entrance is forbidden for safety reasons.
Imber Court
You wouldn't believe it now, but this large red brick building with green shutters used to be the manor house of Imber village.
The Court Farm behind it was also the hub of social events for the villagers rich and poor alike!
In the 17th and 18th centuries, this was home to the Wadman Family. Later, the Dean family moved in and were the Lords of the Manor in the 19th and 20th century although they were still only tenants.
The Court Farm and Barn behind it was also used by Richard Tucker who ran an academy for young gentlemen. Eventually, it was sold by Ecclesiastical Commissioners to Thomas Holloway in 1920 who oversaw improvements.
Now, it is only two storeys high and is still a ruin. The green shutters stop the house from being damaged further.
You cannot go inside or even get close to this building but you can see what remains of this once great manor through the holes in the fences on your visit!
Imber's ghost buildings
What I loved about my tour of Imber was the fact that they have signs for the ghost buildings that once stood in Imber Village.
It is hard to imagine now but Imber used to look like a typical quintessential Wiltshire village. It used to have a post office, rows of thatched cottages, and many family-owned businesses that had been here for decades if not centuries.
Just before Christmas, they were given just a few weeks to abandon their family homes and livelihoods and find somewhere else to live.
Many of these tenant buildings have since been demolished by the Ministry of Defence due to ruination and there is no trace of them now.
But, in honour of those houses, Imber make signs which let you know what building used to be there. On your Imber Village map, they have highlighted all the ghost buildings and how Imber used to look.
Can you go inside any of Imber's abandoned buildings? No, all buildings are strictly out of bounds for safety aside from St Giles' Church. You just get to see them from the outside. You could face prosecution if you enter without permission.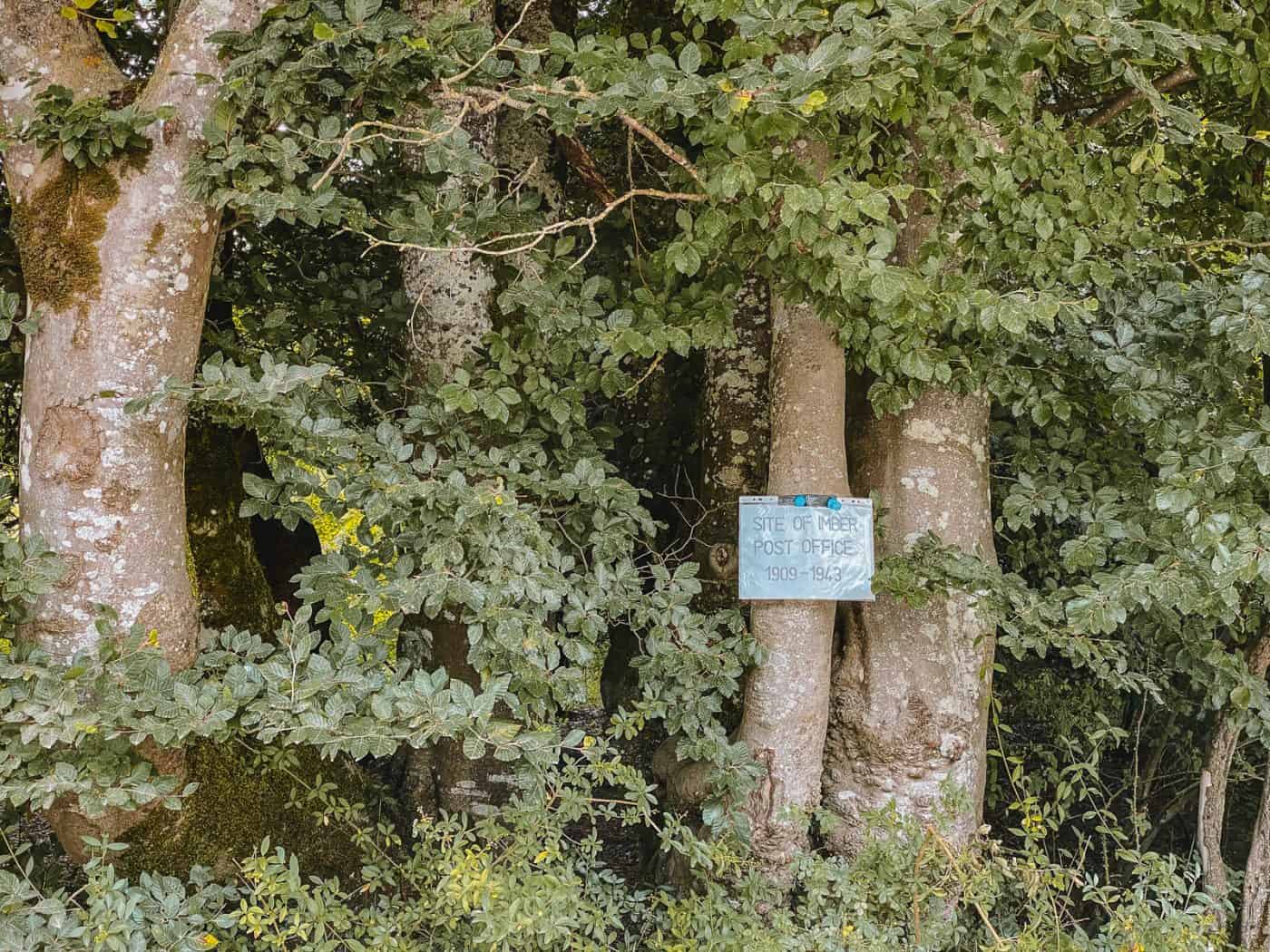 What is the best time to visit Imber village?
The road to Imber village is open all day on open days. There is a barrier system though so it may not be open if you arrive very early morning or late at night.
I would advise visiting when St Giles' Church is open. This would make your visit a much better experience as the church has an exhibition about the history of Imber to give you some context of what you're seeing.
St Giles' Church Imber's opening times are from 11 am – 4 pm. Click here to check their website.
The staff are also lovely and are on hand to welcome you to Imber and answer any questions you may have.
There is also an audio guide you can take to explore Imber village and a cosy church café with coffees, teas, and biscuits.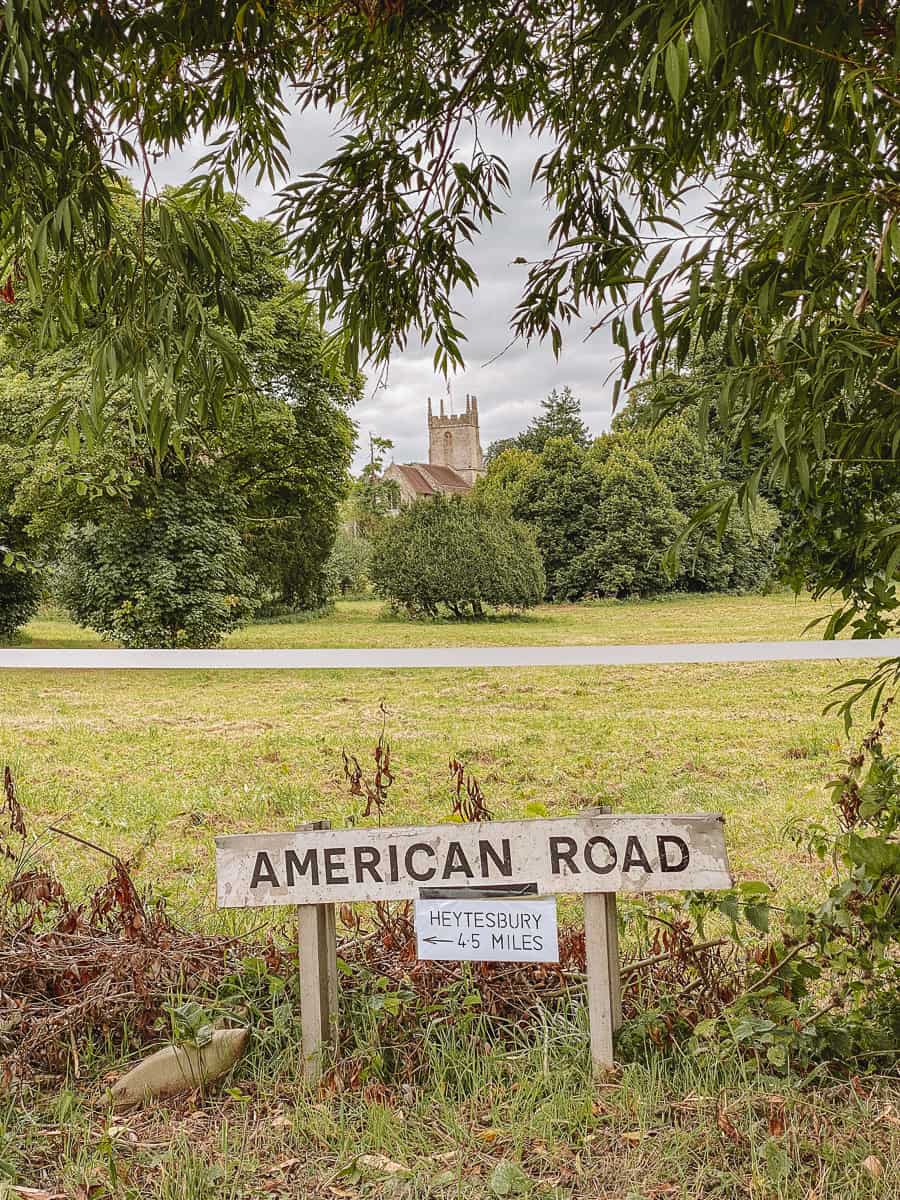 Is there an Imber village tour?
Unless you take the Imber Bus Run, there are no guided tours of Imber Village really. Even then, the Imber Bus only drops you there.
If you decide to drive, your visit to Imber will be mainly self-guided so I would always recommend visiting St Giles' Church first
You can grab an Imber audio tour from there. These audio guides will provide you with a tour and a lot more context about each abandoned building you see as you're walking around the village.
Where to eat in Imber
As Imber is only open a few days a year, there are no permanent tearooms or pubs open in Imber village. There's not even electricity!
St Giles' Church has a small temporary café that provides light refreshments throughout the day. You can get coffee, tea or squash with some biscuits.
It's also reasonably priced at £1.50 a tea or coffee with a biscuit included or 50p for cordial and a biscuit.
If you were after something for lunch, there are plenty of pubs which are located just outside of Imber Range where you could grab a drink or some dinner.
We visit The Churchill Arms in West Lavington which was really friendly. They had an outdoor terrace and a gorgeous indoor seating area.
But, you're also very close to Salisbury from here so you could easily eat in one of the many pubs, restaurants or cafés in the city!
Are there toilets in Imber?
This is something I was also worried about too but YES there are some temporary toilets provided in Imber for the public open days.
These are port-a-loo's but they are extremely clean and well maintained. They also have toilet roll, a bag holder, a mirror, and a hand sanitiser provided. It won't be anything like a music festival, haha!
The Imber toilets are located near St Giles' church and are free to use for the duration of your visit.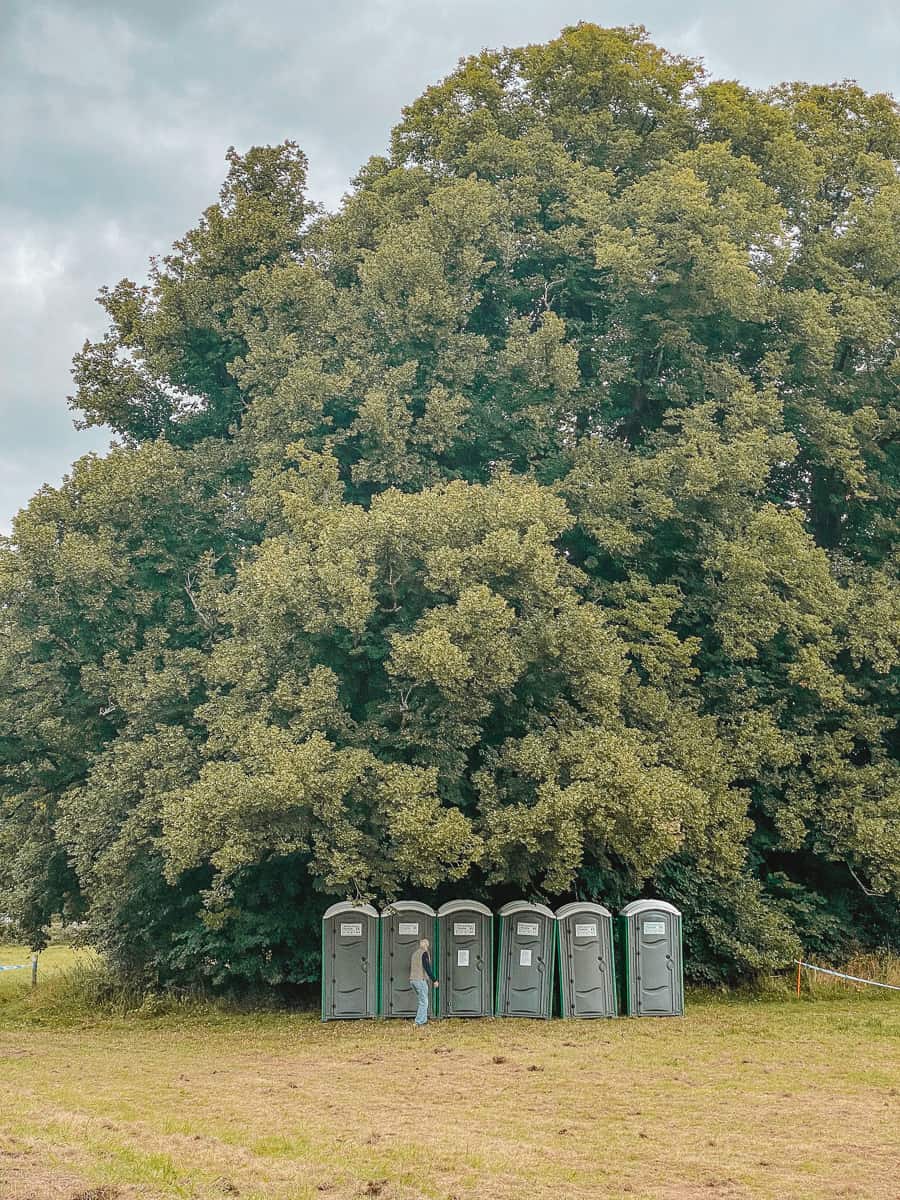 Top tips for visiting Imber village
Access – always check that there is open access for Imber before you visit. You can head on the Imber Bus or drive to Imber when the road is open. Check the Facebook page for Imber open dates.
Crowds – as Imber is only open a few days of the year, it's very popular with locals and tourists alike! I would advise to visit on a weekday if you can or as early as possible for fewer crowds.
Tours – there are plenty of exhibits about the history of Imber in Imber church as well as old photographs but you can also grab an audio guide with a map which provides more information on a walking tour.
Mobile signal – there is no mobile signal in Imber as it's usually not open and it's a military training area. So, don't rely on your phone for directions
Is photography allowed at Imber? – Yep, photography is allowed at Imber in public areas but drones are forbidden due to this being a Ministry of Defence area.
Is Imber dog friendly? Yes, dogs are allowed in Imber and are welcome inside St Giles' Church but they must remain on a lead at all times.
Can you stay overnight in Imber?
It's probably obvious by now but no, you can't spend the night in Imber Village although that would be pretty cool.
There are no hotels in Imber and I wouldn't fancy staying in one of these abandoned buildings as they look pretty cold and empty!
If you're looking for hotels near Imber, the closest places to the Imber Range are Devizes, Melksham, Lavington and you also have the historic city of Salisbury.
If you wanted to visit on the Imber Bus, I'd recommend staying in Warminster where the buses run from.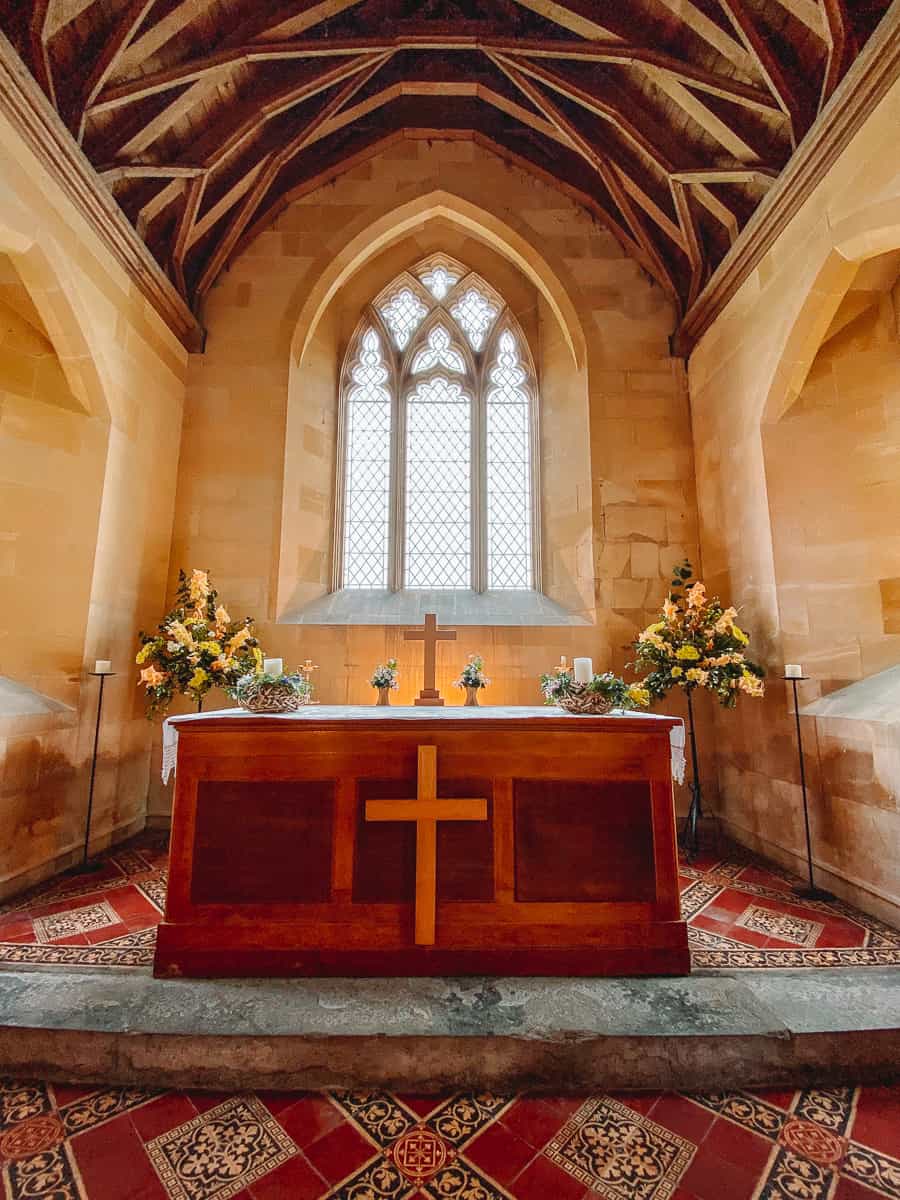 Is a visit to Imber worth it?
100% YES! I mean, it's not every day that you get to visit an abandoned ghost village or Salisbury Plain for that matter!
Although Salisbury Plain is 94,000 acres and the UK's largest training area, public access is only granted by military bylaws so I would grab the chance at any public access you can get.
St Giles' Church in Imber is a gorgeous historic building and learning about the history of this village keeps Imber's story alive today.
So, if you are in the UK around Imber's open days, I would highly recommend visiting as it is a rare opportunity to see something out of the ordinary!
Where to next in Wiltshire?
Now that you're in Wiltshire, there is a wealth of amazing and historic attractions to explore in the area!
No visit to Wiltshire would be complete without a visit to Stonehenge! This can cost quite a lot but, as a local, I have a complete guide on how to visit Stonehenge for free here.
There is also Longleat House & Safari Park which is a fun place to visit for all the family.
Salisbury is a great city that you can visit with the spectacular Salisbury Cathedral. It has a copy of the Magna Carta signed in 1215 by Bad King John.
Lacock Village is also an incredible historic village in Wiltshire which is the filming location of the Harry Potter movies or Castle Combe is the prettiest village in England.
Or, you could head over to the historic town of Devizes with Wadsworth Brewery and Caen Hill Lock.
There is also Avebury World Heritage Site. This has stone circles, ancient long barrows and Wiltshire's very own pyramid of Silbury Hill!
We also have many of the famous white horses that you can explore like Hackpen Hill.
Read more of my Wiltshire travel guides
Castle Combe – the prettiest village in England
How to see the wild Snakes-head Fritillary in Cricklade
Visiting Wiltshire's very own Pyramid
A complete guide for West Kennet Long Barrow
A complete guide for Hackpen Hill
How to visit Stonehenge for FREE
Unbelievable Places to Visit in Wiltshire
Aqua Sana Spa in Longleat review
The Bridge Tea Rooms in Bradford-on-Avon
Save how to visit Imber village for later!