The Hopetoun Estate in South Queensferry has a plethora of Outlander film locations, but one you may not have heard of is Abercorn Church.
Located in the quaint Abercorn village, this is a season 4 location that acted as a graveyard in Boston in the 1960s.
WARNING: if you haven't seen Outlander season 4 yet – don't read this post any further unless you like spoilers!
After Frank's death by a car crash in season 4, Brianna visits her father's grave to pay respects.
If you're planning to visit Lallybroch (Midhope Castle) or Hopetoun House, it's a must to add this historic church to your visit.
Here's a complete guide to Abercorn Church in Edinburgh.
Where is Abercorn Church in Edinburgh?
Abercorn Church is located in the tiny village of Abercorn, which is encompassed by the wider Hopetoun Estate in South Queensferry.
The Hopetoun Estate is over 6,500 acres in West Lothian (!) so, it's a massive area. Once owned by various Earls of Hopetoun, Abercorn was a parish close to the Firth of Forth south coast.
It's hidden away a bit, but the village and church are both signposted so you can locate it easily.
I have to admit, I did get lost a few times as my SATNAV didn't incorporate all the locked-off gates into the drive. Which resulted in a few stressful three-point turns on a single-track road! So, be careful as you go.
How to reach Abercorn Church
Knowing it was such a huge estate, I decided to drive around in my car. By far the easiest way to access Abercorn church is by car or taxi.
Plugin Abercorn, EH30 9SL into your Satnav and follow the signs. Here is a Google Map pin!
There are no buses that run to Abercorn village. The closest stop is Newton and it's a 25-minute walk from there.
Abercorn Church Walks
If the weather is fine and you're feeling active you could also add Abercorn Church to your walk around the Hopetoun Estate.
There are many recommended walks around the area including the Sea Trail you can check out here.
For Outlander fans, you can even walk to Blackness Castle which starts from Abercorn church. Blackness Castle acted as Fort William where Jamie was flogged by Black Jack Randall!
Parking at Abercorn Church
Abercorn is a tiny little village, but the church does offer some free parking outside of the gates to the cemetery.
You'll be parking up against the wall, so make sure you leave enough space for people to turn and access the church itself.
When I visited the church during the week, it was pretty much empty. But, If this is busy on a Sunday, there are a couple of country road spaces nearby further up the road.
Visiting Abercorn Church – opening times and prices
The grounds of Abercorn Church are open all year round. There is no lock placed on the gate or restrictions to access the graveyard.
But, as this is a church no longer providing service, visiting the inside of the church is restricted to certain Sundays in the summer.
There is no entrance fee for a visit to Abercorn Church but, like with most historic churches in the UK, a donation is appreciated to go towards the upkeep of the building.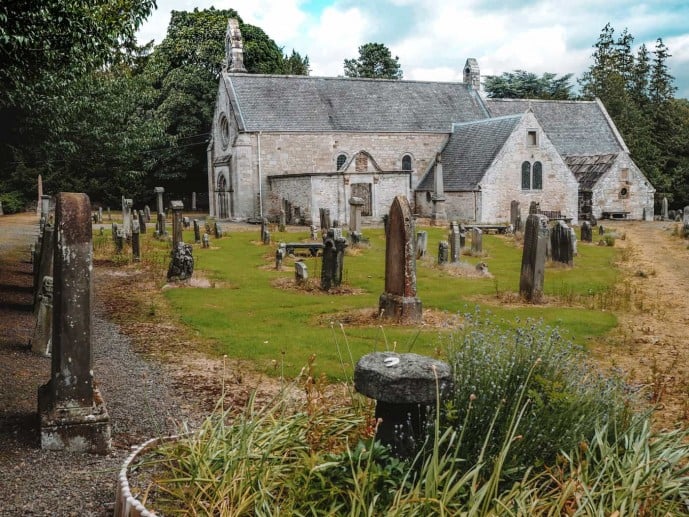 Abercorn Church Outlander Location in season four
In Outlander season 4, episode 7 'Down the Rabbit Hole', we see various flashbacks of Frank and Bree throughout the episode leading up to Frank's car crash.
Near the end, Bree visits Frank's grave to pay her respects to him in Boston. Abercorn Church was used to portray this graveyard.
As soon as you walk into the kirkyard you will instantly recognise the scene. It only featured in the series for a couple of minutes and the church itself was barely featured in the background. But, it's a really peaceful place to walk around and visit.
Just remember that beyond a filming location this is a real graveyard, so please respect the area.
Abercorn history
If you were interested in a bit of history surrounding Abercorn village and the parish church, it's anything but boring!
The Abercorn name is Cumbric meaning "mouth of the Cornie Burn".
Saint Bede the Venerable, born in 673, noted that Abercorn monastery was home to the Bishop Trumwine, the only bishop of Northumbrian Picts.
Today, the remains of 7th-century cross from Northumbria and Norsemen (Viking) hogback stones can still be found.
The church itself dates back to the 12th century, which also had a castle nearby built by Robert de Avenel who was Justiciar of Lothian under King William I.
The castle was destroyed in 1455 during the siege against the "Black Douglases" by James II. The Douglas family was then outlawed and the crown awarded the grounds of Abercorn to Claud Hamilton, who was Lord Paisley. His son became the first Earl of Abercorn.
After that, the ownership changed numerous times until the Hopetoun family took over the estate. Abercorn then became part of the wider area and was owned by the Earl of Hopetoun.
In 1821, Abercorn was recorded to have over 1000 people living in the village, but today it's less than half of that.
Abercorn Church is now known as a 'Titular See', or a "dead diocese", a name by the Catholic Church that declares it's no longer running and there is no bishop overseeing it.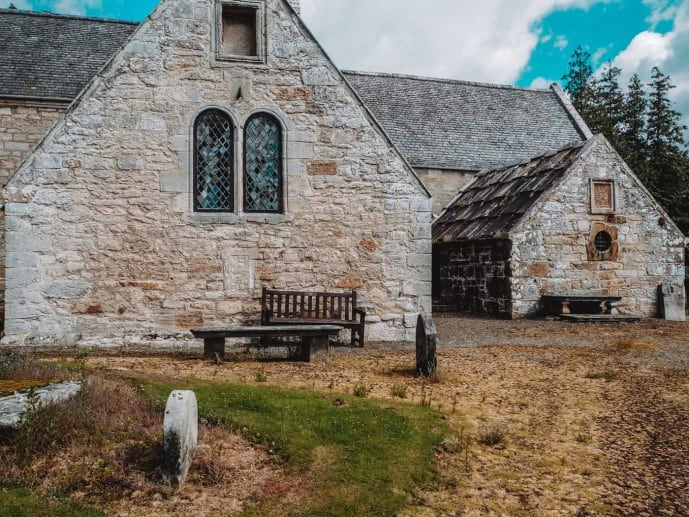 Where to stay near Abercorn Church – Parkhead House
If you're planning on visiting Edinburgh for a few days, it's more convenient to base yourself near the city centre and drive here. But, if you fancied staying on the Hopetoun Estate, I would recommend the nearby Parkhead House.
Previously the residence of the groundskeeper of Hopetoun House. This cosy B&B is the perfect retreat for Outlander fans.
They really embrace the Outlander theme. I happened to pass Parkhead House on the way to Abercorn Church and found this awesome sign!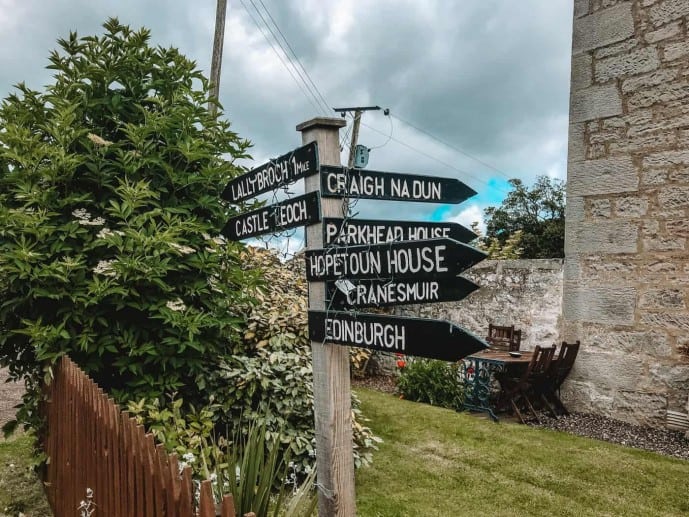 Outlander Locations on the Hopetoun Estate
To make the most of your time, you'll be glad to know there are lots of Outlander film locations just on the Hopetoun Estate. So, you won't have to travel far to access them while you're in the area.
You could probably spend a whole day on Hopetoun Estate exploring Outlander locations. It's an absolute dream!
Of course, the most famous is the ancestral home of Laird Broch Tuarach or LALLYBROCH! Midhope Castle is just a mile away from Abercorn Church and you can visit every day from 9 am – 5 pm seasonally!
See more about how to visit Lallybroch, the cost and when's the best time to here
The rest of the Outlander locations can be found at the gorgeous Hopetoun House and grounds. This home, belonging to the Hope family, has many Outlander spots to seek out.
In Hopetoun House, you can visit the Duke of Sandringham's red drawing-room as well as rooms used by Mary Hawkins and Jamie and Claire in Paris.
On the grounds, you will find the entrance to Maison Elise, the stables of Helwater estate, the duel location of the Duke of Sandringham, and many more. Make sure you grab one of their Outlander maps to find them all!
Read more: An Outlander Tour of Hopetoun House and Grounds
Outlander Locations around Edinburgh
Once you're done exploring the Hopetoun Estate, there are many more Outlander locations you can easily access from here. You can have a look at my ULTIMATE Outlander list of over 90 Outlander film sites, have a look at the Outlander locations in Edinburgh, or check out the Outlander locations in Glasgow too!
Fort William, where Jamie was flogged can be found at Blackness Castle is less than five miles away and you can find Wentworth Prison at Linlithgow Palace down the road.
Bo'ness which featured in season one is the vintage railway where Claire and Frank said goodbye. Or, visit Culross to see Geillis Duncan's house in Cranesmuir or visit the West Kirk to see the Black Kirk.
Doune Castle played Castle Leoch, the seat of clan Mackenzie, Deanston Distillery featured as Jared's wine store in La Havre and Drummond Castle Gardens featured as the Palace of Versailles grounds.
In Edinburgh city centre, you can visit Bakehouse Close that featured as Alexander Malcolm's Print Shop.
Or, visit the nearby Tweeddale court which was transformed into an 18th-century marketplace. The World's End Tavern from the series is also a real pub you can visit and have dinner if you can get your hands on a seat!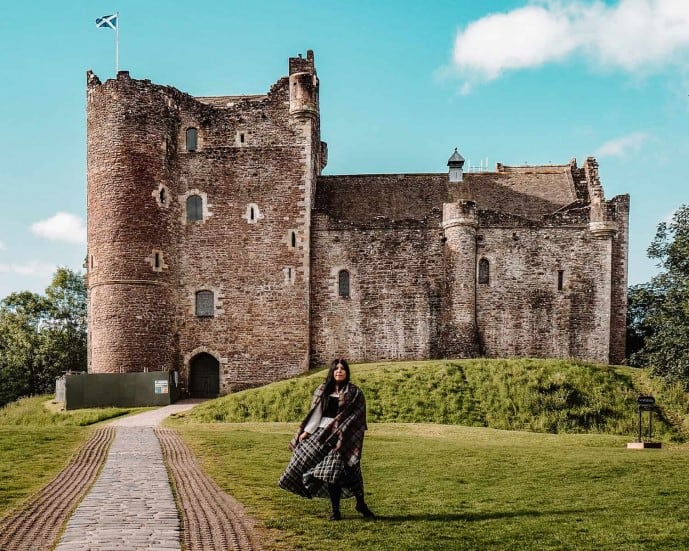 A visit to the Colonnades at the Signet Library will transport you to the Governor's mansion in Jamaica and Summerhall has lecture room in Claire's medical school in Boston.
Craigmillar Castle featured as Ardsmuir Prison in series 3, Glencorse Old Kirk is where Jamie and Claire tied the knot and Roslin Glen has some Gunpowder Mills which featured in series one too.
In East Lothian, you can visit Gosford House to see Helwater Estate or Preston Mill to see the Lallybroch Mill.
Falkland village played the iconic scenes of 1945 Inverness and you can stay in the room that Claire and Frank did in Mrs Baird's B&B.
Read more: Outlander walking tour of Edinburgh
Save this Abercorn Church Outlander guide for later!