Hey, there! My name is Sophie and welcome to Third Eye Traveller
I'm so happy that you're visiting my blog and even more happy that you want to know a little more about me and what I do. So, who am I?
Well, where do I begin?! I'm a small town girl, half English, half Welshie, from a place in UK called Swindon!
Where? Well, it's around an hour outside of London and 30 minutes away from Bristol.
But, when I'm travelling, I'm from London (aren't we all from the capital cities of our home countries when we travel? ;) )
Although it sounds cheesy, growing up, I was always a bit of an outcast. I listened to rock and metal music, dyed my hair black, had my nose and lips pierced and would do anything I could to avoid being 'normal'.
I just hated the thought of being mainstream.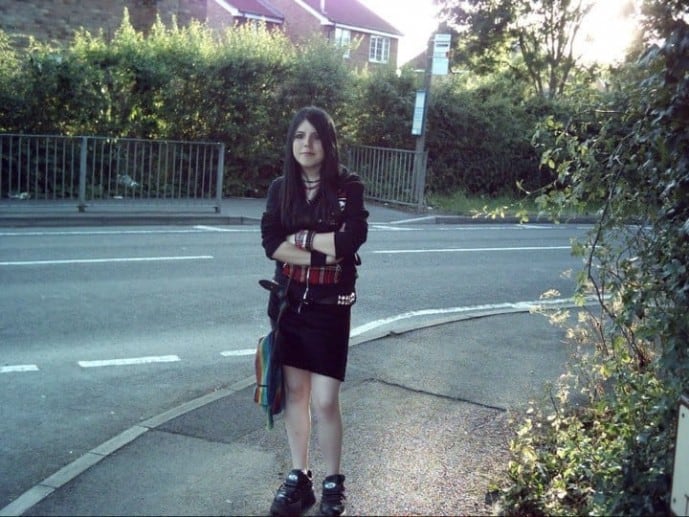 Now, that doesn't mean I was a anti-social rebel and went out underage drinking and getting ASBOS. No, no.
But, I just felt like I found my tribe and acceptance in amongst the kids that were different, the outcasts and the ones who understood me.
I preferred Nirvana, Black Sabbath, Slipknot and The Doors to the latest singles.
I was bullied in school quite a bit for it as this was way before it became 'cool' to be alternative and have any other interests other than, makeup, pop music and have Nelly and Kelly as your ringtone (and if you understand THAT reference you know how old I am now ha!).
When I was in college and university I had zero dreams to travel, I actually studied Performing Arts and for recorded media.
I performed in the Edinburgh Fringe Festival, loved learning how to make movies, danced and sung in musicals. It was a blast.
It was my dream to work in and around TV/movie production somehow so I worked really hard to set up a website, got some head shots and wanted to make it work.
But, although I got a First in my degree and was really successful inside University.
When you get to the big world outside, you quickly realise you a really tiny fish in a REALLY big pond.
I applied for hundreds of jobs, even internships but nothing came back and there was only so long I could keep it up without earning any cash.
Unfortunately, I didn't have any sort of large savings or rich parents who could send me to live in London or pay for me to go to drama school.
That with the massive debt I accumulated at university, I decided to leave that dream and try and make some money for a while.
That was when I applied for the first corporate job I could find in IT that paid well by the hour.
I was good with computers and super quick with admin tasks so it was easy money.
It was a temporary job which suited me as I could leave at any time.
But, one year turned into two and then into four and I was losing my mind in my 'cubicle'. The routine was getting so old.
I was so bored of my 9-5 life
I had moved out of my parents place and into my own apartment, but, I was miserable.
I was living the life that I always knew I didn't want.
Working 9-5, renting but trying somehow to save for a mortgage, barely having money to eat, pay rent, maintain a social life and not go completely insane!
Then, after a pretty big breakup, I decided I wanted to travel. I wanted to see more of the world.
I wanted to have new experiences, tick things off my bucket list, get away from this tiny toxic little town and do something completely out of my comfort zone.
So, I booked my first big trip for six months of backpacking.
I went to South East Asia, Australia and New Zealand. It was the first time I had ever visited Asia or anywhere other than the West for that matter, and it completely changed my outlook on life.
I was skydiving, surfing, meeting elephants, beachcombing, tubing and abseiling down waterfalls. I was living the dream! I didn't want it to end.
But sadly, that six months was over in a flash and when I came back, everything was the same.
Swindon was the same, my job was the same, everything was the same but I had changed.
I no longer wanted to settle down in Swindon, I didn't want a house here. I knew I wanted to lead a different lifestyle.
I knew I wanted to keep travelling
The problem was finding people who wanted the same things as me. A lot of my friends were settling down, buying houses, getting married and having kids!
Although, there's nothing wrong with that, I knew that was the life I personally didn't want.
So, I decided I would stay with my rents and save all of my money from my job to travel. This was when I took some solo trips abroad.
I wanted to do it all by myself. The first country is Morocco!
I was a little scared, even sick to my stomach with anxiety before I left but I ended up having the best time.
It taught me a lesson that I could travel alone and be happy, fulfil my life with the experiences I wanted but didn't have to rely on anyone else to get them. For me, it was quite a life-changing realisation.
I didn't need anyone to go travelling, I could take myself! I went onto visit Budapest, Prague, Iceland, Turkey, even the most romantic city in the world Paris by myself.
That's when India first walked into my life… and it was all about to change
It was about this time that I started to want more. I wanted to keep travelling full time.
I was sick of 9-5, looking forward to weekends and only getting 20 or so days off a year to travel.
Swindon was suffocating me and I needed out. Then, an opportunity surfaced in the most unlikely place.
The company that I worked for posted a job-based in India.
I applied with very little knowledge of what was required, survived a gruelling interview and, somehow, I landed the position.
Before I knew it I was flying over to India to become and expat for the first time!
India felt like home
I don't know how to describe it.
But, you know when you feel so comfortable in a place that it feels like you've always been there? Well, that's what India felt like for me.
Like, I had been there in a previous life or something. It was so weird, but, I knew that India would be in my life for a long time to come.
I felt like I had found my second home, I had a life in India.
That's when I created Third Eye Traveller
But, after 9 months my contract was quickly coming to a close and the chapter in India was coming to an end.
I knew that I had found my path and it was a the kick in the backside I needed to really pursue the life I had always dreamed of.
So, I created this travel blog Third Eye Traveller.
It was a place to document my travels, express my passion for India and try and make a life for myself that I always wanted.
Out of the ordinary, exciting and (as cheesy as it sounds) something worth living for!
And so it continues…
So, I left my 9-5 job (again) and came back to India a month after I flew home to spend another 5 months travelling there full time.
I went to the far North of India, Rajasthan, Nepal, Sri Lanka and the North East.
Updating my blog along the way and capturing each moment with my camera.
I spent countless hours on bumpy buses, trains, planes and Sumos. Breathed in enough pollution for a whole lifetime.
Drank a zillion cups of chai. Lost my temper more times than I can count at rickshaw drivers. Smelt some ungodly smells.
Added a lot of Hindi to my vocabulary. Shook my head and said 'acha' 'hain na' and 'hain' to the point where it's part of me and I'll probably do it in UK (and people won't get it!)
Added a few pounds to my bum through butter naan and too much curry.
Fell in love with the dirt, the hustle, the 'yes' attitude where anything is possible.
Sleepless nights, tonnes of laughter, tears and kisses And I'd do it a hundred times over again!!
Because I love it and hate it all at once and that's the Indian journey. There is no place like it.
As of now, I've visited over 30 countries and I truly feel like I have found my calling and my path in life.
Hence, Third Eye Traveller is the name for my blog and beautiful journey of living out of a suitcase.
I've always been a bit unconventional since I was a kid and, although this path and life of travel aren't for everybody, it is most certainly for me.
If I can travel, you can do it too!
I set up this blog in the hope to inspire women of all ages that they can choose a different path in life.
You can be single, travel solo and be safe and truly happy.
You can follow your dreams, be your own cheerleader and stick a middle finger up at society and it's conventions while you do it!
If I can do it then you can certainly do it too! So, if you're up for it.
Be bold, brave and open to new experiences. Take that leap, book that trip and live every second how you want to live it.
Thanks for reading and finding time to visit my blog! I'm so glad you're here.
If you want to know a little more about me, be sure to read these articles;
The 21 things no one told you about travelling (and you'll only learn afterwards)
6 problems which come with travelling solo…and how to avoid them!
Eating at restaurants when travelling solo…like a boss!
An honest solo female travel guide to Varanasi
See you on the road, Sophie x