One of the highlights of visiting Gujarat is exploring its many ancient stepwells or Vavs. The most popular in Ahmedabad being the Adalaj Stepwell, known locally as Adalaj Ni Vav.
This ancient stepwell was built all the way back in the 15th-century and showcases some of the finest carving work in the region.
But, as well as the stunning craftsmanship attracting visitors, this place is also connected to a rather touching and tragic love story as well!
Although it's now over 500 years old, it's been beautifully preserved underground and so this water temple appears as new and transports you back in time.
It's well worth planning a visit while you're in the UNESCO World Heritage City.
Here's a complete guide for visiting the Adalaj Stepwell with the legend, new entry fee, how to visit and what to look out for!
First up, what is a Vav in Gujarat?
A Vav in Gujarat in a stepwell, the word comes from the Gujarati Language. Also called a water temple, this involves a series of steps that lead down to a well of water.
Stepwells have different names around the country. In the North of India they will commonly have the name Baoli from the Hindi Language, like in Delhi. Or, in Rajasthan you may find they have the name Kund.
Out of all the Vavs in Ahmedabad, the Adalaj stepwell is by far the most famous. Even when you land in the airport, the whole arrivals hall is decorated like this very stepwell!
In total, there are 2 Vavs in Ahmedabad that have survived and are now protected by the Archaeological Survey of India as tourist attractions. The Adalaj Ni Vav and the Dada Harir Stepwell.
Around Gujarat, there are thought to be 100 ancient stepwells that have survived the ages. There are also around 2000 historic stepwells in India that you can visit!
What were stepwells used for in India?
The dry landscape in the North of India often meant that there were many water shortages in cities years ago.
So, to provide a solution, stepwells were built to collect water and acted as a reservoir for communities.
As the water source was something that everyone needed in the area, Baoli's essentially brought people together!
This is where locals would meet to chat, seek shade from the heat, collect water to wash clothes and bathe. It was almost like a modern day community hall.
In Gujarat, these vav stepwells even went one step further and communities used them for religious rituals and festivals as well.
Related post – How to visit the Panna Meena Ka Kund stepwell in Jaipur
What is Adalaj Stepwell or Adalaj Ni Vav?
Adalaj Ni Vav or the Rudubai Stepwell is an intricate 15th-century stepwell that's located near the capital of Ahmedabad in Gujarat.
It's hidden away in the small village of Adalaj in the Gandhinagar district, and it was built to commemorate Rana Veer Singh and his wife, Queen Roopba aka Queen Rudabai.
It's considered to be one of the finest examples of Indian craftsmanship and made in the Solanki architectural style. It consists of five levels that have been made entirely of sandstone.
Like other stepwells throughout India, these levels were made large enough for locals to congregate, relax, gossip and socialise.
It's said to reach as much as five degrees cooler down here then outside. So, it was a popular place to seek shade in the harsh summer months.
The staircase leads down towards an octagonal well with intricately designed pillars between each of the five levels.
The carvings are a mix of Islamic influence as well as having symbols of Hindu and Jain gods. So, it's really quite unique.
As well as idols, there are carvings of women doing their daily chores, a tree of life and sacred animals like elephants.
Another unique feature of this well is that it is the only stepwell with three sets of entrance stairs.
Apparently, a lot of ancient traders heading to Ahmedabad would use this place for shelter before there was such a thing as a hotel.
The tragic legend of Adalaj Stepwell & its history
As well as the architecture being incredible and the main draw of this place, there is also a heartbreaking tale that goes hand in hand with this stepwell too.
It's almost like a Bollywood drama with elements of love, loyalty, betrayal and war!
According to legend, the Adalaj stepwell was started by Rana Veer Singh, of the Vaghela dynasty, who was king of these lands in the 15th century. He was married to a beautiful queen or Rani named Roopba or Queen Rudabai.
His people needed a place to access water and so he started to build Adalaj Ni Vav stepwell for them.
Unfortunately, before he could finish, an Islamic King called Mehmud Begada waged war on his kingdom.
Rana Veer Singh tragically fell in battle and Mehmud Begada took over the throne and so the stepwell could not be finished.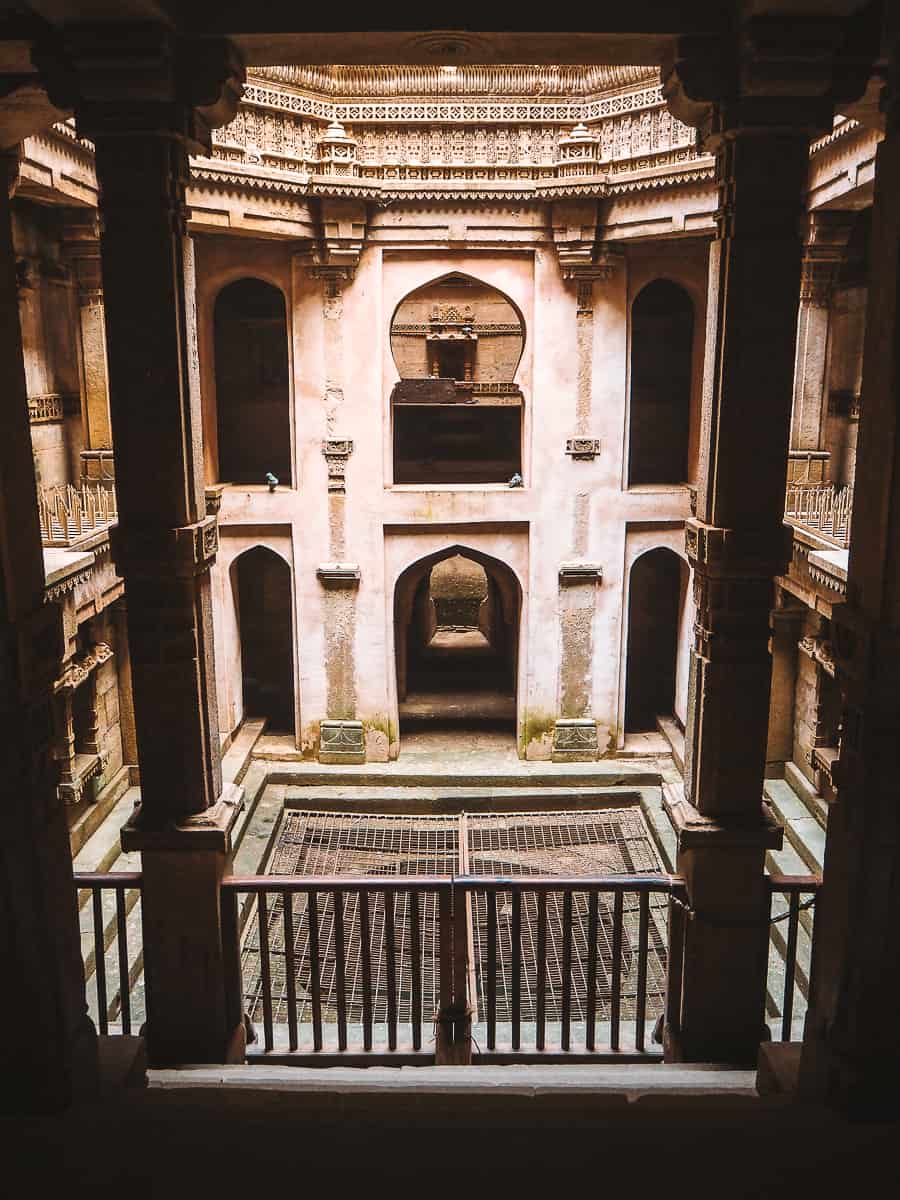 As per medieval traditions, once a king died his queen would perform Sati. An act of self-immolation to join their husbands in the afterlife.
But, Mehmud Begada would not allow Queen Rudabai to perform Sati. Instead, he wanted to marry her!
Queen Rudabai agreed to the marriage proposal on one condition; that Mehmud Begada would finish the Adalaj stepwell that her husband started.
As Mehmud Begada was so in love with this queen, he agreed and the stepwell was finally finished in 1499.
He reminded the queen that his end of the bargain was complete and she had to marry him.
But, instead of going through with the betrothal, Queen Rudabai climbed to the top of the stepwell and threw herself off the top ledge. Ultimately falling to her death to join her beloved husband and king.
She never intended to marry Mehmud Begada at all, she only wanted her husband's work and legacy to be finished.
Despite this tragedy, Mehmud Begada kept Adalaj Ni Vav open for the people to mourn her and added some Islamic influence. It has survived to this day and is now a popular tourist attraction!
Related article – the haunted Agrasen Ki Baoli stepwell in Delhi
Where is the Adalaj Stepwell located in Ahmedabad & how to get there?
Despite it being advertised as a Ahmedabad attraction, this gorgeous stepwell is actually located around 18 kilometres away from the centre of the city.
It's in a small village called Adalaj and so you'll need to organise some transport in order to reach it from the centre.
As Gujarat is a state capital city, the transport options are endless! You could take one of the Gujarat City Buses to the stepwell or hire a shared or private auto-rickshaw to take you over there.
I visited for the opening time around 7.30 am to beat the crowds. So, knowing that Tuk-Tuks may not be as readily available at this time, I pre-ordered an Uber.
Yes, Ahmedabad has Uber and it's really easy to use via your normal Uber app. Plus, you don't get ripped off and it saves haggling. I paid around 200 rupees for a single journey to reach there.
Click here for my complete guide on using Indian Uber. I have a nice discount code inside for you if it's your first ride.
Adalaj stepwell timings and entry fee in 2021
The stepwell is open from 7.30am – 6pm every day for visitors.
Unlike pretty much every article I read about it, the entry to Adalaj stepwell is NOT FREE in 2021 any more guys. There is a charge now but it's not expensive, especially if you're a domestic tourist.
Due to this misinformation, I almost walked in expecting not to pay a penny. However, the guy at the tiny ticket booth near the entrance called me over to buy a ticket.
Domestic tourists or those from SAARC countries pay 25 rupees to enter the stepwell and foreigner's pay 300 rupees for entry.
Photography is permitted inside with no extra charge but drones are strictly prohibited.
Photography tips & things to know before visiting
If you want to take photos, I'd recommend getting here as soon as possible or for opening time. Even when I visited at 7.30am, I only got this place to myself for around 20 minutes. Then, a massive school group arrived!
Tour groups, school kids, locals and tourists all gather here during the day. But, you can still get nice photos even with the crowds. Every inch of this stepwell is a delight to photograph. You'll find the intricate architecture stunning.
As I was here alone, I had my tripod out for a while as no one stopped me with it on entry. But, then, I got told off by security guards – oops. There were no signs saying tripods weren't allowed. So, keep this in mind.
A lot of parts of this stepwell are closed off to explore. They actually have camouflaged spikes on the walkways! If you wanted to go exploring a stepwell that has no limits, I'd recommend Dada Harir Stepwell in the city. Any part of that is free to walk on plus, it's free entry.
You don't need to take your shoes off to explore the stepwell. But, if you enter any of the small nooks with idols, it's respectful to do so. There is a temple nearby and priests visit here often.
As well as exploring inside the stepwell, you can get an incredible view on the top level up above! Don't miss it. This way you can look inside the octagonal well and see the famous 'crystal blue water'. But when I got here, the water was caged up and looked murky. Sigh.
This place is an amazing respite from the heat and the further you go down the cooler is gets. But, it's also the home to pigeons and bats! So, you'll see lots of poop and it may smell a bit strange.
What to expect on your visit
The Uber dropped me off at the drop point, but, I was totally lost when I arrived, being honest.
The drop off point for the stepwell is at the Adalaj Ambe Mata Temple. So, I presumed I had to go through there. But, that's not the case.
Luckily, there was a sign with directions of how to enter the Adalaj Rudubai Stepwell and it meant just walking around the outside of the temple to a small gateway. I passed lots of rubble, cows and bulls with huge horns chilling out on the road!
Enter through the gate barrier and you'll come across the ticket booth at the entrance of the stepwell. It's managed by the Archaeological Survey of India, so it is an official ticket desk.
Then, you take a short walk around and see the top of the stepwell. In order to access it, you need to take one of the stairways underground to enter the Vav!
Although you can walk around the top of the stepwell, it's important to watch your step. But, in the riskiest areas, they have bars over the top so you don't fall.
Exploring the different levels of Adalaj Ni Vav stepwell
As I arrived here really early in the morning, I had this place completely to myself. Despite the noisy traffic and horns of cars heading out of Ahmedabad. This water temple was a place of calm.
It was only 7.30am, but even in November it was already getting hot. So, walking down the different levels of the stepwell was so refreshing!
Later, a priest arrived who was cleaning the temple and brushing away the dirt and rubbish.
Despite it being over 500 years old, the fact that it's been guarded underground and avoided weathering means it's been fantastically maintained over the years. It looks almost brand new.
Unlike Dada Harir Stepwell, there is not a wealth of places you can access inside the stepwell.
You are not allowed to walk up the winding stairs of the Octagonal Vav anymore. Or really step on the levels. A lot of the levels have been closed off with spikes to stop accidents, or they were when I got here.
You were only allowed to walk down the main staircase to the bottom of the well! Then, you made your way back up.
Personally, I fell in love with the first 'level' of the well which was like a sanctum. Here, you'll find the most intricate carvings as well as little rooms with idols and a small alcove that looked like a balcony!
It's a stunning place to sit and relax a while admiring the architecture, carvings and symmetry that make up the well.
Things to look out for while you're here
The Octagonal Vav – this can only be found by going down to the bottom of the stepwell. Although you cannot go inside you can still take a look up at the incredible architecture. Also, you can get a better look from up the top. People sometimes leave coins here.
Carvings – There are many intricate scenes beautifully displayed in the sandstone. You'll find Islamic patterns as well as Hindu and Jain idols. This ties in nicely with the story about how this stepwell came to be. You'll also see kings, scenes of ladies churning butter and dancing alongside musicians.
Ami Khumbor – This is a carving that has a pot with what looks like water coming out of it in all different direction. This pot contains the water of life.
Kalp Vriksha – This is the tree of life. It is one of the finest pieces of work here carved out of a single piece of sandstone.
Navagraha – This small frieze towards the edge of the wall represents nine planets. It is believed that this protects the well and the people inside it from evil spirits.
Carved Balcony – I'm not sure what this was used for. Maybe for ladies to relax in and gossip? Or, to sit while watching the stepwell outside. But, this little balcony with a window as stunning. A great photo opportunity too!
Looking for more things to do in Ahmedabad?
Ahmedabad was one of my favourite cities to visit in India, especially because it was filled with culture and history! It's recently been declared a UNESCO World Heritage City.
You could visit the other amazing stepwell here called Dada Harir that has a lot more freedom to move around.
Or, you can marvel at one of the many temples like Jama Masjid, Swaminarayan Temple or Akshardham Temple.
A lot of people don't know that Gujarat was the birthplace of Mahatma Gandhi! Visiting his Sabarmati Ashram here is a highlight attraction of the city.
There's also the Calico Textiles Museum and if you were looking for markets, you could check out Law Garden and/or Manek Chowk!
In the evenings a stroll alongside the Kankaria Lake is just the ticket or the Sabarmati Riverfront is lovely too.
Where to stay in Ahmedabad
I stayed in two properties whilst in Ahmedabad, one was a contemporary hotel and the other was a boutique Haveli.
The first hotel I stayed in was the highly rated Hyatt Regency in Ahmedabad, my room was on a really high floor so I had picture perfect views to wake up too.
There was also modern amenities and a breakfast buffet in the mornings. This is a great hotel but more catered for business travellers I'd say or those that want more modern conveniences.
The second was The House of MG. This is nicer for those travellers who want to experience the culture and heritage of Gujarat.
This is a boutique Haveli hotel that was built in the early 20th century and belonged to one of the cities foremost businessmen, Sheth Mangaldas Girdhardas. Mahatma Ghandi even stayed here in 1915 on his return from South Africa!
I stayed in a heritage suite with a four poster bed and it even had a swing at the back of the room! It was a luxury worth splurging on.
The hotel also run many heritage walks and tours and can help you organise the rest of your travels through the city and Gujarat if you wanted to.
The House of MG's most popular restaurant, 'Agashiye', is on the terrace and serves up one of the best Gujarati Kansa Thali's in town. It's unlimited food, fit for a Rana or Rani, so bring lots of room in your stomach and get involved!
Read more of my India articles
The ultimate Rajasthan itinerary
A first timers guide to Jaipur
My complete guide for Rishikesh
Save this Adalaj Stepwell guide for later!