If there is one pub that you must visit in Cornwall, it's the Admiral Benbow Inn in Penzance.
Penzance has a long history of pirates and smugglers and this pub has been serving up rum to ne'er-do-wells in Cornwall for over 300 years.
It is said that Robert Louis Stevenson visited this pub when it was an illegal drinking den and his visit inspired the famous novel Treasure Island.
As a lover of anything to do with pirates and a lifelong fan of Treasure Island, I just knew I had to visit for myself. It's one of the most unique pubs I have ever visited on my travels.
Here is a complete guide for the Admiral Benbow Inn where I'll spill secrets of pirates, smugglers, and the Treasure Island connection.
"Fifteen men on the dead man's chest…Yo-ho-ho, and a bottle of rum!" – Treasure Island
Admiral Benbow Inn history
The Admiral Benbow Inn is one of only three pubs in all of Cornwall that has received a heritage status.
It's the oldest pub in Penzance and has been serving up rum to pirates and smugglers since 1695!
The name comes from Admiral John Benbow, a 17th-century English officer in the Royal Navy. Known in sea shanties as "Brave Benbow", many believed he was the Nelson of his time.
It's quite ironic that this pub is named after him as Admiral Benbow joined the navy at 25 after seeing action against Algerian pirates.
Centuries ago the pub was an illegal drinking den and had a reputation that was only spoken of in hushed whispers.
You'd often find pirates, sailors, and smugglers here nursing a bottle of rum, planning covert operations, and hiding from the authorities.
Pirates of Penzance
The Pirates of Penzance is, of course, a popular comedy opera. But, there really were pirates that raided Penzance back in the day and practiced what is known as Barbary Piracy.
It wasn't romantic and had nothing to do with pieces of eight. Penzance was popular a point of attack where pirates would plunder the town and steal men, women, and children from their houses for slavery.
The boats in Penzance Harbour would also be boarded and the crews were taken captive. At its peak in the 17th century over 60 Babary men-of-war ships were spotted on the Cornish coast.
The people stolen would be taken to slave markets in North Africa. They would be bought to serve as labourers and concubines. These pirates were known as the Barbary corsairs.
However, famous pirates like Edward Teach or 'Blackbeard', Captain Kidd, Henry Every, Calico Jack Rackham, and Anne Bonny were known to sail these shores in the Golden Age of Piracy.
These pirates often operated out of Bristol port and sailed to the West Indies/Caribbean sea.
Blackbeard was born in Redcliffe and had an unobstructed view of the pirate gallows from his house as a child.
Later, he became a privateer (a 'legal' pirate) for Queen Anne but turned rogue and ended up becoming the most feared pirate on the Seven Seas causing havoc on Queen Anne's Revenge.
The Llandoger Trow is another pub in Bristol that Stevenson was thought to have visited to inspire Treasure Island. In the novel, The Admiral Benbow Inn is located on the Bristol Channel near 'Kitt's Hole'.
Smuggling tunnels
In 2008, the pub discovered a series of Smuggler's tunnels that were carved out underneath the Admiral Benbow Inn.
These tunnels were created so that they could smuggle untaxed goods from the harbour right under the excisemen's nose.
Cornwall has a huge smuggling history. In the 17th and 18th centuries, things like silks, rum, brandy, tea, and salt for fishermen were all imported from other countries like France.
To fund the various battles with other countries, the crown imposed huge tax levies on imported goods. Some alcohol levies were increased to a whopping 250%!
This meant that a lot of fishermen and common labourers couldn't afford basic items at the increased prices and they weren't going to survive.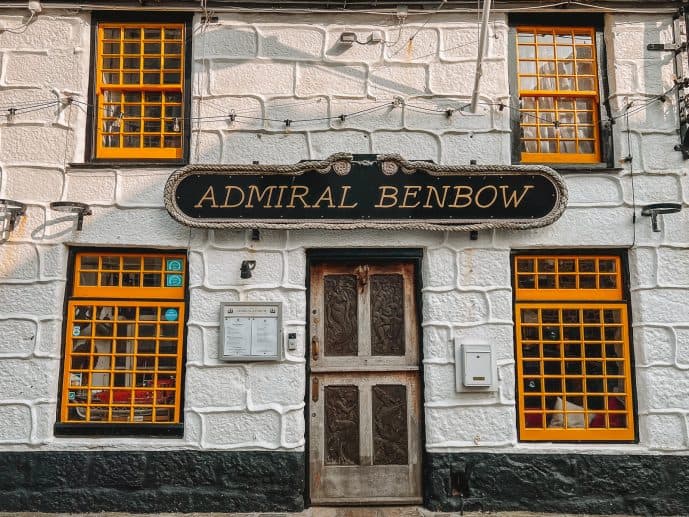 Smuggling then became commonplace and this involved looting trade ships for cargo and hiding the contraband to eventually sell.
At its peak in the 18th century, Wrecking also became common. The wreckers would guide a ship into the cove with false navigation lights, knowing it would crash upon the rocky shore.
Once the ship had wrecked on the shore, the smugglers would steal the goods and (usually) would kill any survivors. As they say, dead men tell no tales.
Smuggling happened all over the coast of Great Britain but Cornwall became known as a "smuggler's haven". It's thought that over 50% of illegal brandy during this time landed on its shores.
It is believed that a famous smuggling gang The Benbow Brandy Men used the tunnels at Admiral Benbow Inn to sneak brandy, gin, and tobacco from the harbour to the pub.
It was a 'free trade' and the pub even had spy holes so that the gang could watch out for the authorities.
Admiral Benbow Treasure Island connection
The reason why the Admiral Benbow Inn is word famous is due to its connection to the classic novel Treasure Island.
It is said that Robert Louis Stevenson visited the Admiral Benbow Inn in 1880 which was, at the time, an illegal drinking den.
He gained inspiration from hearing stories in this pub to formulate the plot for his buccaneer book and mentioned it in the novel as thanks. It was then published in 1881.
In Treasure Island, The Admiral Benbow Inn is the Hawkin family business. One night, a mysterious, rum-guzzling pirate called Billy Bones comes to stay and asks Jim Hawkins to look out for a 'one-legged man'.
A beggar named Blind Pew comes along, gifts Billy a black spot and then he later dies of a stroke. Jim then finds Billy's treasure map and decides to set sail on a swashbuckling adventure.
Much of what we know as 'pirate culture' today comes from Robert Louis Stevenson's classic novel, including sayings like 'yo-ho-ho and a bottle of rum' and the infamous black spot.
The story started a phenomenon romanticising piracy and the characters and traits of this book have become so ingrained in popular culture that it's often hard to split pirate fact from fiction!
Many of the references in this book inspired movies like Pirates of the Caribbean and Starz Black Sails TV series. Plus, games like Monkey Island and the more recent Sea of Thieves.
Also, let's not forget the legendary classic Muppet's Treasure Island starring Tim Curry as Long John Silver!
Why you must visit the Admiral Benbow Inn today
If all of the above isn't enough to convince you to visit the Admiral Benbow Inn in Cornwall, then the prospect of delicious food and inexpensive drinks may seal the deal.
You won't find grog on the menu but they have an extensive collection of local cask ales, distilled rum, spirits, wine, and soft drinks.
Almost all of the decor is genuine nautical artifacts and were salvaged and collected by Roland Morris, a deep sea diver who decorated the inn in the 1960s.
Each owner has since added their personality to the place and it makes for a fascinating visit. It's way more than just a pub, you could argue it's a big piece of Penzance history.
Captain's Cabin restaurant
I would highly recommend stopping by Admiral Benbow for some food in their Captain's Cabin restaurant.
Much of the fine woodwork in this area was taken from a Portuguese Man O' War and you'll find figureheads, ship wheels, pulleys, and ropes all over the place.
As it was a Sunday, they had a fabulous roast dinner offer and I jumped at the chance in chilly February.
It had generous cuts of Cornish beef, fluffy roast potatoes, yummy vegetables, and lashings of gravy. It was one of the best roasts I've had at a pub and I would highly recommend it!
The Wreck Room / Lady Hamilton Bar
There are many rooms that make up the Admiral Benbow Inn and the upstairs has a Wreck Room & Lady Hamilton's Bar.
In the Wreck room, you'll see a portion of the lifeboat from Torre Canyon amongst other maritime artifacts.
The Lady Hamilton's Bar continues the nautical theming and has panoramic views over Penzance Harbour.
Note that in winter, many of the rooms may be closed. But, the staff are usually happy to give you a small tour on request.
Other things to look out for at the pirate pub
Before you even step inside Admiral Benbow Inn, there are lots of things to look out for here;
Pirate on the rooftop – If you look on top of the roof, you'll see a pirate/smuggler who appears to be aiming his pistol at the excise men.
Jolly Roger – Although not here on my visit, the pub usually has a Jolly Roger flying overhead. They also have a Union Jack and St Piran's flag.
Carvings on the front door – I loved the carved door at the entrance. You'll find merfolk/sirens and a ship in a storm.
Ship figureheads – there were lots of figureheads dotted around the pub. These traditionally would embody the spirit of a vessel and the power of its leader. It was also used to offer the crew protection from harsh seas and a safe journey home. Although women were seen as 'bad luck' to bring onboard a ship, they were a popular choice of figurehead (often a mermaid/siren) and ships were also referred to as 'she'.
Hundreds of maritime artifacts – The pub has a seemingly endless collection of genuine maritime artifacts all over the inn. You'll see old maps, ship wheels, lanterns, paintings, and kegs.
Hear the sounds of the sea – They have some ambiance here while you drink or dine that sounds like you're on a creaking ship! You can hear the crashing waves, the creaking of the ropes, and the billowing of shrouds.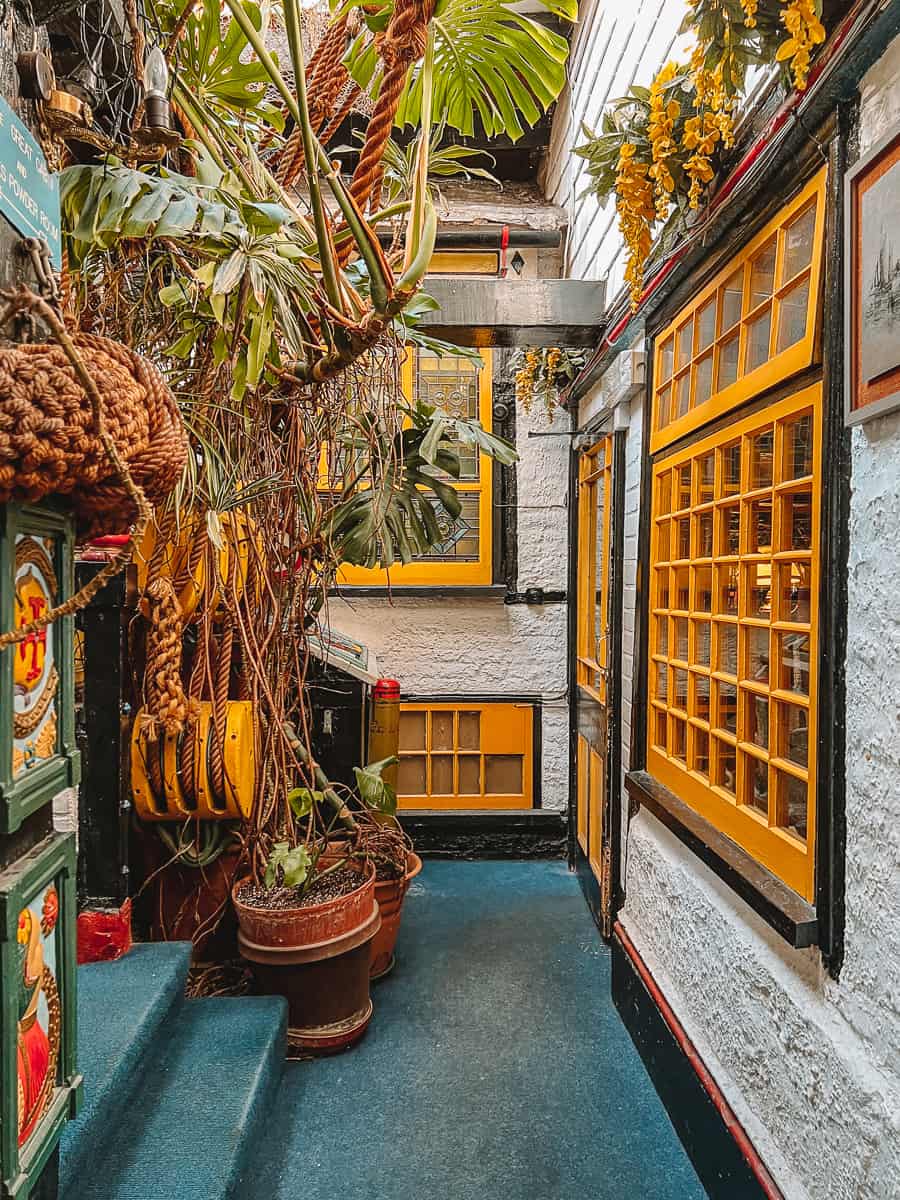 How to visit the Admiral Benbow
The Admiral Benbow Inn can be found in Penzance which is an ancient market town in Cornwall.
It's easy to spot on the historic chapel street and is just inches away from The Egyptian House and St Mary's Church.
It's a gorgeous white-washed building with huge flags, and a swinging sign – it oozes character!
Penzance is close to popular attractions like Mousehole, Sennen, Land's End, and St Michael's Mount so it's easy to plan a visit as part of your holiday to West Cornwall.
The Cornish town is also accessible by train and has direct transport links with Bristol, London, and Cardiff.
Admiral Benbow Inn's address is 46 Chapel Street, Penzance TR18 4AF. Click here for a Google Pin!
Admiral Benbow opening times
If you wanted to visit this pirate pub for yourself, then you should be aware that it isn't open every day of the week.
The Admiral Benbow opening times are Wednesday to Sunday from 12 pm. Opening times vary throughout the week for food and drink and depend on the season.
It's best to check their website and book a table in advance to avoid disappointment as it's quite a small pub.
They usually charge £5 per booking which is taken off your bill upon payment. If you fail to turn up on the day, or don't cancel within 24 hours, your deposit is forfeited.
Click here to book your table at the Admiral Benbow Inn
Admiral Benbow parking
There is no dedicated parking for the Admiral Benbow Inn but there is lots of timed off-road parking on Chapel Street you can use.
There is also paid short-stay parking close to the Jubilee Pool on the Penzance Promenade and at Penzance Harbour.
Personally, I would park up at Wellfield's car park which is £2.50 for 24 hours on Alverton Road. This is a short walk away from the pub.
There is a large visitor car park at the Penzance Harbour Long Stay but it's much more expensive. It is around £6 for 3-4 hours and around £8 for 24 hours.
Can you stay at the Admiral Benbow Inn?
Unfortunately, you cannot stay in Admiral Benbow for the night as Billy Bones did. They don't have any rooms at the inn.
But, there are plenty of accommodation choices in the ancient market town of Penzance if you wanted to stay nearby.
Click here to have a look at the amazing choice of hotels, inns, and holiday accommodations in Penzance.
On my visit, I stayed at St Aubyn Estate Cottages in Porthgwarra which had unobstructed views of the coast.
It was self-catered and had everything you could need for a relaxing break. It's only a 30-minute drive away from Admiral Benbow.
Click here to read my complete Pendower Cottage review!
Admiral Benbow FAQs
Was there a real Admiral Benbow? Yes, there is a real Admiral Benbow Inn in Cornwall
What is the Admiral Benbow in Treasure Island? It's an inn that belongs to Jim Hawkin's parents and where the rum-guzzling Billy Bones (The Old Sea Dog) comes seeking a quiet place to hide.
Where is the real Admiral Benbow inn? Penzance, Cornwall on historic Chapel Street
Is Admiral Benbow Inn dog friendly? Yes, just keep them on a lead.
Looking for more things to do in Penzance?
Penzance isn't the prettiest town in Cornwall but it does have many historic buildings, attractions, boutiques, and cafés on offer.
On Chapel Street, it's well worth exploring The Egyptian House. It's Grade I listed and was made after Napoleon's campaign in Egypt in 1798.
There is also St Mary's Church and the old Lloyd's Bank which is set in a Georgian-style building with an ornate cupola.
The Jubilee Pool is popular in summer and has a heated pool in winter. Or, you can wander around the Morrab gardens.
The Penzance Promenade has amazing views of St Michael's Mount and Penzance Harbour is a great place for a scenic stroll or you could take a boat trip.
St Michael's Mount is one of the most magical places in the UK. It's an island that you can only walk over to at low tide over the causeway.
It's home to St Michael's Mount Castle & Gardens and was recently used in House of the Dragon as a filming location for Driftmark.
Read more of my Cornwall articles
How to visit Camelot Castle aka Tintagel Castle
Why you must visit St Nectans's Glen
Magical things to do in Boscastle
Things to do in Mousehole Cornwall
How to visit St Michael's Mount in Cornwall
Things to do in Charlestown Cornwall
The Museum of Witchcraft in Boscastle
How to visit the Lost Gardens of Heligan
Things to do at the Jamaica Inn
How to visit Golitha Falls in Cornwall
A complete guide for the Cheesewring Hike
How to visit Tregothnan Estate in Cornwall
A complete guide to Porthgwarra
Magical Things to do in Lands End
Why you must visit the Minack Theatre
Visit the secret Nanjizal Beach
Save the Admiral Benbow Inn for later!