Calling all book lovers, did you know that you can visit a real-life fairytale library in Austria? It's called Admont Abbey Library and it's truly a magical destination.
Ever since I was a little girl, Beauty and the Beast has been my favourite Disney movie and I've always wanted to twirl in the bookshelves of Beast's library like Belle.
So, I was over the moon to finally make my dreams come true by visiting this enchanting book trove in Austria.
It's the world's largest monastic library that sits within a monastery of Benedictine monks who have been practicing their faith here for nearly 1,000 years.
Many people call this Renaissance gallery of tomes the 'eighth wonder of the world' and it has been voted many times as the most beautiful library on earth.
You must make a visit at least once in your lifetime and it's very easy to do from Vienna.
Here is a detailed guide on how to visit the whimsical Admont Abbey Library in Austria.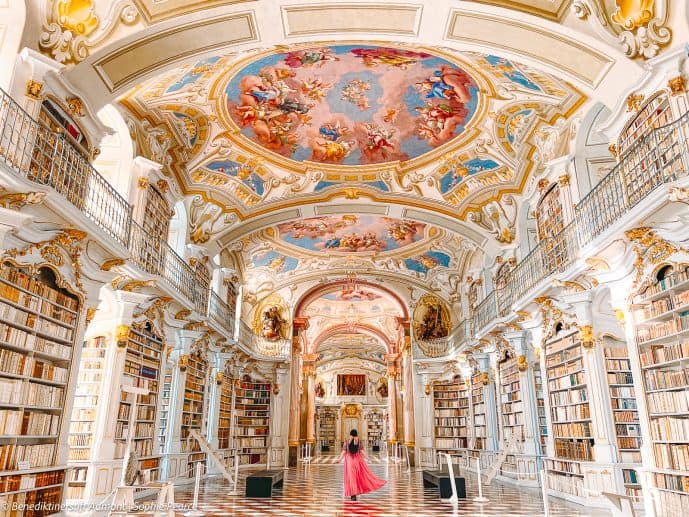 Admont Abbey history
The monks at Admont Abbey have practiced their faith here for over 900 years following the principles of St Benedict.
'Ora et Labora et Lege' or 'Pray, Work and Read' are the rules that the order abides by and they have done so since the abbey was founded.
Admont Abbey is the oldest abbey in Styria and was founded in 1074 by Archbishop Gebhard of Salzburg. The very first monks to reside here were from St Peter's Abbey.
In just a few years, Admont Abbey became one of the most important monastic institutions in Southern Germany and Austria. They had a huge track record of Reforms and a skilled scriptorium school.
In the 12th century, a nunnery was added to the monastery where the nuns were educated. However, this was dismantled during the Reformation period.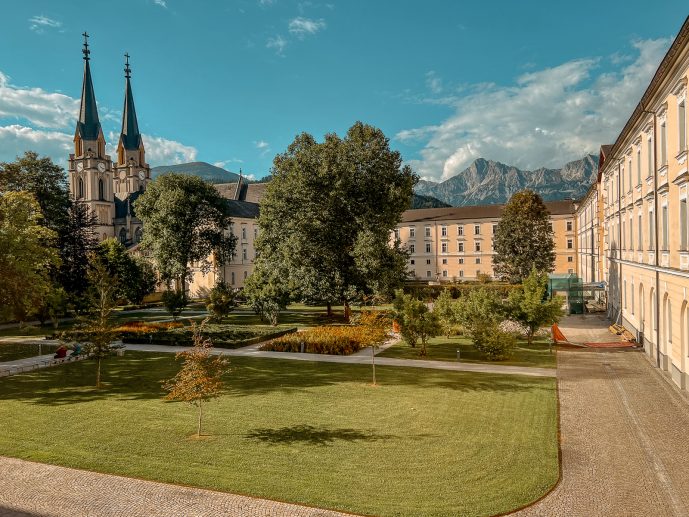 This period also saw the abbey's popularity fall into decline but the Counter-Reformation brought back its popularity and a new lease of life.
The 18th century saw many Baroque transformations to the abbey including the impressive Admont library.
But, tragedy struck in 1865 when a great fire consumed almost the entire monastery. The abbey complex, including the church, had to be reconstructed.
During the 1930s there was an economic depression which meant that the abbey had to sell off many of its precious treasures. During World War II, the monks were forced to leave the abbey but then returned in 1945.
Today, 23 monks call Admont home and are led by Abbot Gerhard Hafner. They meet several times a day for choral prayer and holy mass.
They are in charge of 26 parishes, run a high school of students, and employ over 500 people in their various businesses.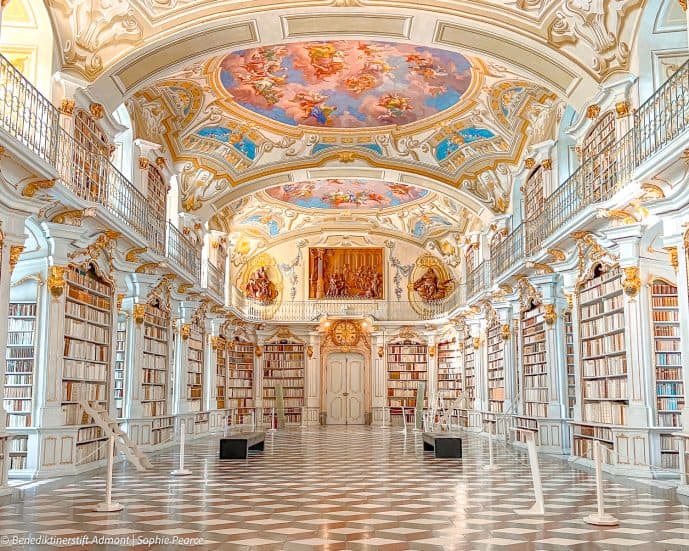 When was Admont Abbey library built?
The impressive library in Admont Abbey was commissioned by Abbot Matthäus Offner in 1776.
It was designed in the Baroque style by the Austrian architect Josef Hueber and has a theme of human enlightenment with its impressive frescoes on the ceilings.
Hueber was also the architect who designed the Imperial Library for the Hofburg Palace in Vienna which is now known as the National Library of Austria.
It was named the eighth wonder of the world, with its cacophony of bookshelves, panels, reliefs, and statues like the 'Four Last Things'. These represent death, judgment, heaven, and hell.
The library was built for the Benedictine monks to study, and practice philosophy and theology.
Miraculously, the library and its contents survived the Great Admont Fire of 1865 but it has been restored over time.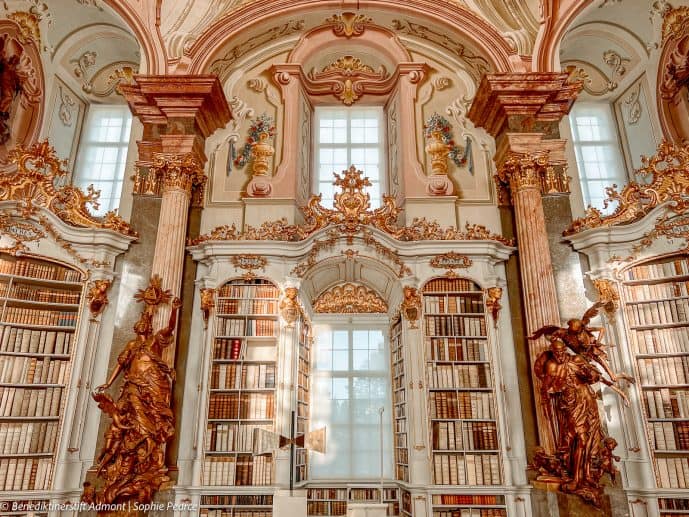 How big is the library at the Admont Abbey?
Admont Abbey Library is actually known as the world's largest monastic library.
The great library hall is 70 metres long with a width of 14 metres and a ceiling height of 11 metres. The central cupola dome has a height of 12 metres.
The gallery is split up into 3 parts with cupolas and seven ceiling frescos that date back to the Renaissance.
There are 48 windows that light the space with natural daylight. So, on darker days this library can be quite dark.
As well as the numerous bookshelves that house the precious collection, there are many statues and reliefs that decorate the hall.
How many books are in the Admont Abbey Library?
Admont Abbey Library has over 70,000 books on display in their collection that you can see on your visit.
Thankfully, this library survived the great fire and so many of these books are first editions and precious artifacts.
You could honestly spend hours admiring every shelf and looking at the ornate titles on the spines.
But, beyond the surface collection, the abbey actually has over 200,000 books in its archives.
The most valuable being their gold bible, manuscripts dating back to the 8th century, and incunabula.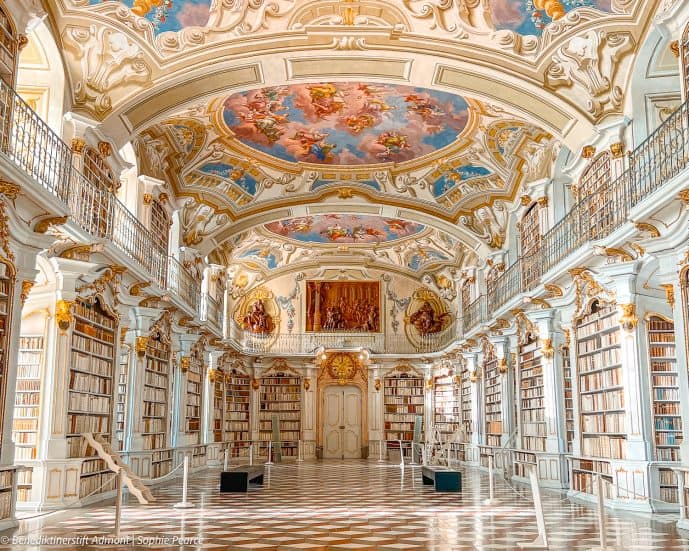 Did Admont Abbey Library inspire Beauty and the Beast?
I'm constantly searching for enchanting places that look reminiscent of the castle in Beauty and the Beast and I think Admont Abbey Library is the closest I have gotten yet.
Because this book trove in Admont is not just simply a library. It's a beautiful symphony of ancient tomes, symbolic statues, Renaissance murals, cupolas, and antiques.
Whether the inspiration for Disney is true or not, you cannot deny that as soon as you enter this library you will feel like you've been transported to a castle in a faraway land.
I'm a huge fantasy reader and a lover of S. J. Maas' A Court of Thorns and Roses series. So, I couldn't help but feel like I was walking through the pages of one of my faerie novels.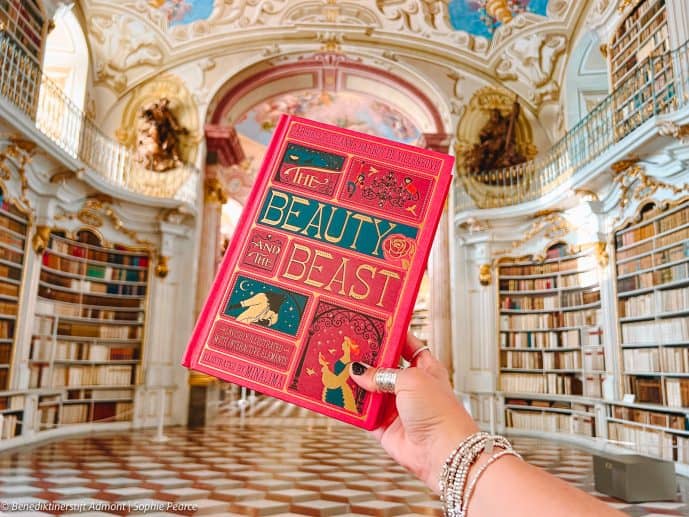 Entering a real-life fairytale library
As I made my way up to the 1st floor to enter the Admont Library, I was bursting with excitement and anticipation.
I opened up the door to the library and my jaw dropped as I stepped inside my own real-life fairytale!
Pictures and words cannot describe just how captivating this library is and how it feels to walk around and explore the tomes.
I constantly felt like my neck was aching as I couldn't stop admiring all the colourful paintings on the ceiling and looking at all the wonderful book spines.
Although I could have browsed the shelves all day, there are so many things to admire in this library aside from the beautiful books.
As you explore all three chambers, you'll see statues of the Four Last Things, pink marble columns, antique clocks, carved reliefs, and gold details.
It almost didn't feel real and I had to pinch myself that I was actually there. I was completely in awe.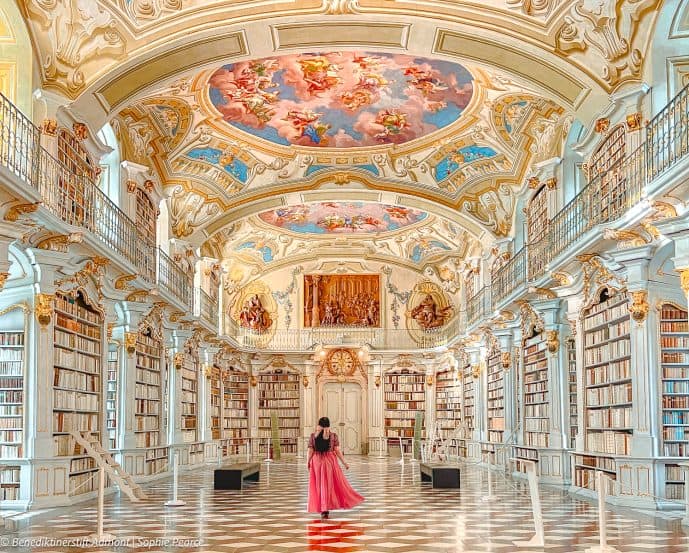 Admont Library secret doors
Did you know that the Admont Library has a selection of 'secret doors'?
You'll find that some of the book spines in this library are actually fake and act as an illusion to a secret entryway.
Behind these secret doors are staircases that lead you to the upper mezzanine gallery. How cool is that?!
You can see these secret doors open by joining one of the guided tours. Unfortunately, visitors aren't allowed to walk up the stairs to the upper galleries.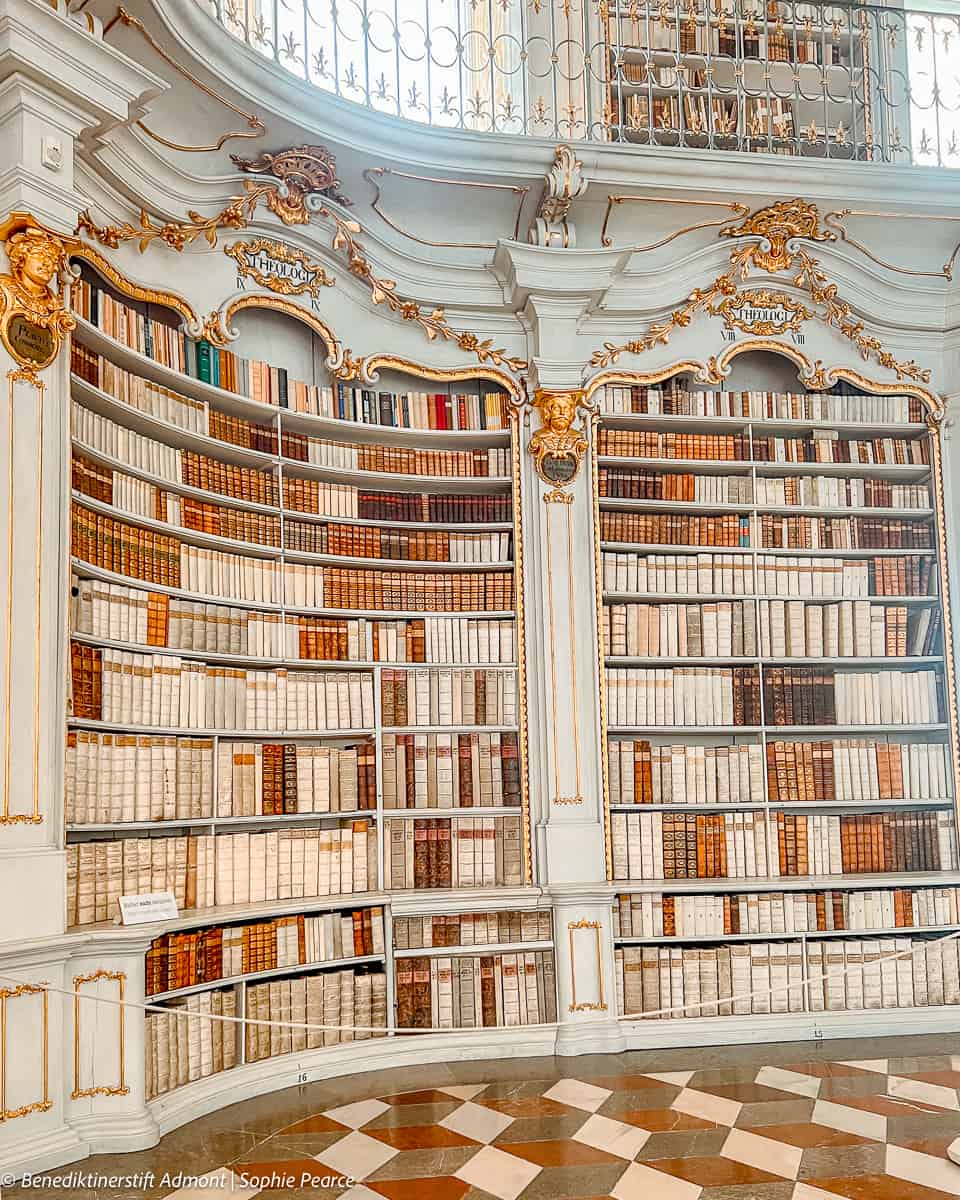 Is Admont Abbey Library worth visiting?
100% yes, this library has to be on your bucket list especially if you're a fan of Disney or an avid reader!
I love visiting beautiful libraries around the world but Admont Abbey Library has been at the top of my 'most wanted' list for years as it's a real-life fairytale location.
It is quite far away from the main cities in Austria and can seem a long way to travel for 'just' a library but I thought it was worth the effort and every penny spent.
You can explore all the bookshelves and admire paintings that feel like you're in the castle from Beauty and the Beast.
You must make a visit to this whimsical library in Austria, it's a bibliophile's dream come true.
How to visit the Admont Abbey Library?
Admont Abbey Library is located within the ancient Admont Abbey which is in the town of Admont in Austria.
The great news is that the library is open to the public as a museum nowadays and anyone is allowed to visit.
Admont lies within the Austrian Alps and is on the gateway of the popular Gesäuse National Park.
This is around a 3-hour drive from Vienna, a 2-hour drive from Salzburg and around 90 minutes drive from Hallstatt.
It is easiest to drive to Admont as it's in quite a remote location. There is a huge free parking area onsite.
But, if you aren't driving in Austria, you can visit Admont by train from the capital city of Vienna.
Admont Abbey address is Kirchplatz Admont, Austria. Click here for a Google Pin!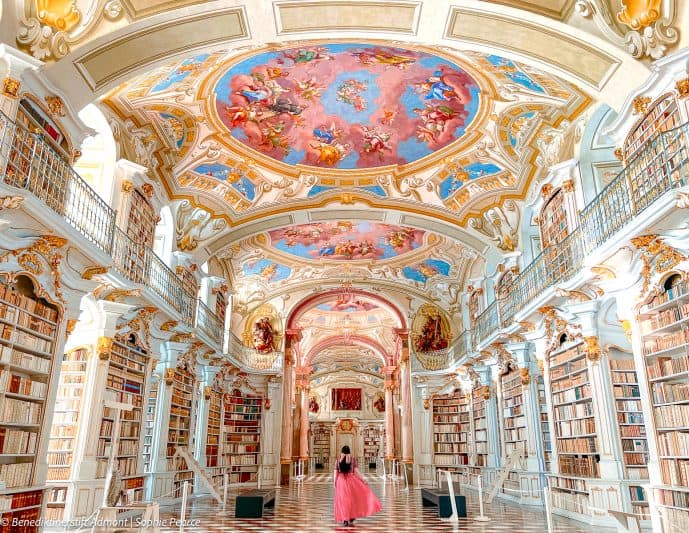 Can you visit Admont from Vienna by train?
YES, there are direct trains that run from Vienna to Admont and this is how I visited Admont Abbey Library on my trip.
But, be warned that the direct train services only run on Saturdays and Sundays and the train times are limited.
The train leaves from Vienna to Admont at around 6.45 am from the Wien Westbahnhof station.
Then, the journey will take you around 3 hours and 45 minutes and you will arrive in Admont around 10 am just in time for the opening of the abbey.
The return train back to Vienna leaves around 5 pm and you'll be back at Wien Westbahnhof around 8 pm. It makes a great day trip from the capital, especially for book lovers.
You can book tickets via the OBB website or app and it's very easy to do. The train was a regional one, so it stopped at around 20 stations.
But, it was very clean and comfortable and the views of the mountains in the Alps along the way were spectacular.
If you can't travel on a weekend or don't want the early direct train, you can book a non-direct train journey any day of the week.
But, this would be around 4 hours with 2 train connections and a bus ride. Although doable, it's much simpler to go the direct route in my opinion.
Alternatively, you could drive to Admont Abbey or you can take a guided tour from Vienna that has a few stops in the Alps like the fairytale town of Hallstatt.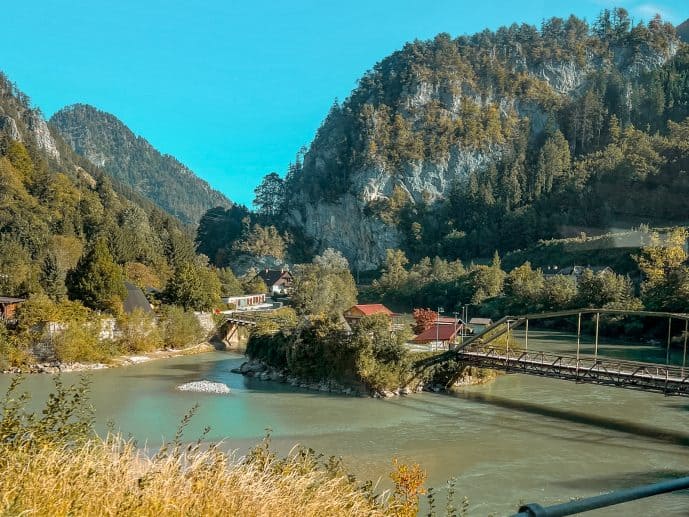 Why not consider a guided tour to Admont?
If you don't want to drive to Admont Abbey library or take a long train journey, it may be worth booking a tour to the abbey instead.
There are a few tours that run from Vienna to Hallstatt that make a stop in Admont Abbey along the way.
They are seasonal and quite long day trips but, if you're short on time, it's a great way to see these two fairytale locations in one day without driving.
Click here to book a guided tour of Admont Abbey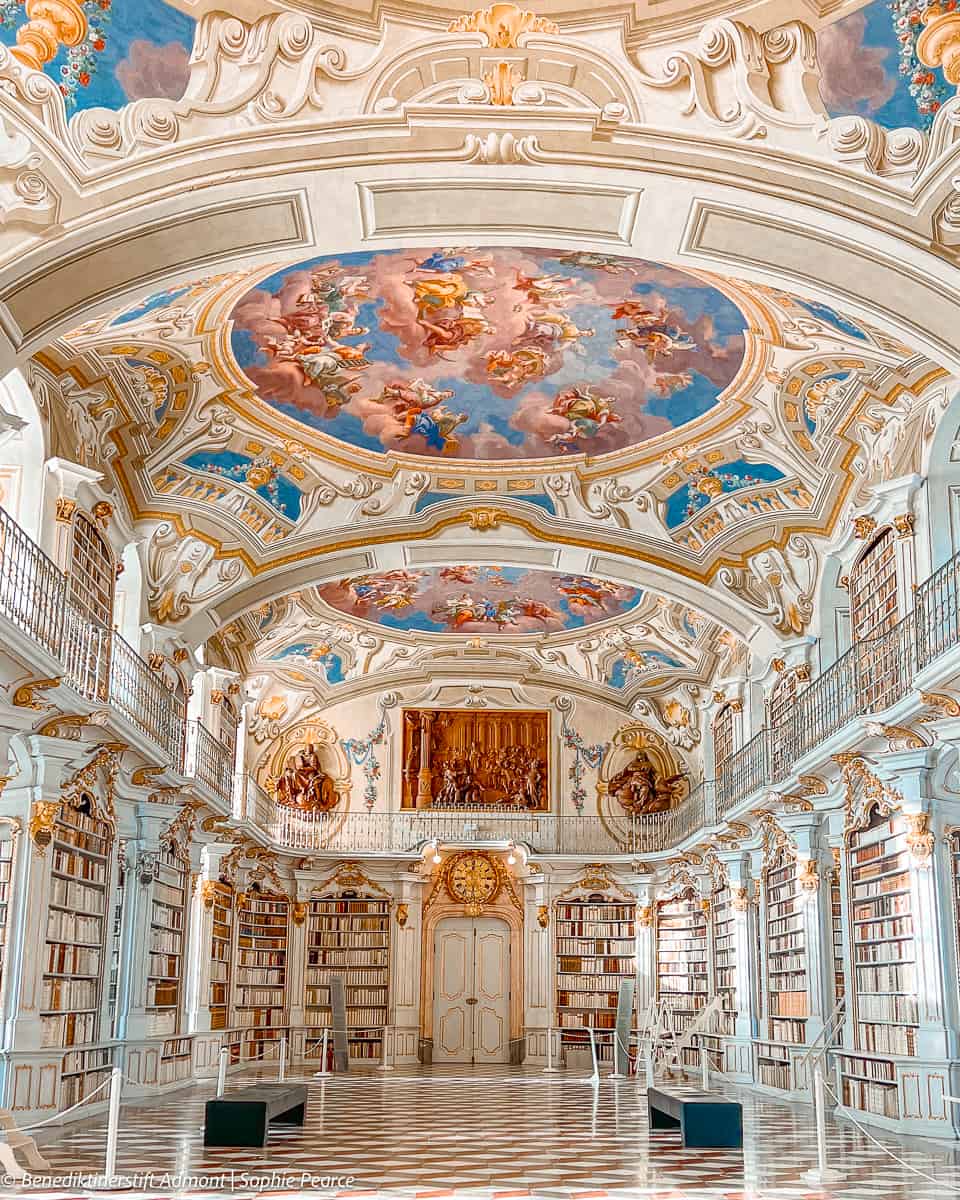 Other things to do in Admont Abbey
I would recommend spending half a day to a full day in Admont as there is lots to do here besides the beautiful library.
Your ticket to Admont Abbey Museum gets you access to not just the library but four other amazing attractions inside.
Plus, you can explore the stunning abbey grounds with its impressive church, beautiful gardens, delicious restaurant, and lake with a view of the mountains.
It was a world apart from the busy streets of Vienna and I loved the peace and quiet of this gorgeous town in the Alps.
Gothic Museum
The first museum on the bottom floor is the Gothic Museum. It's a gorgeous exhibit that houses many Gothic statues, painted panels, and stained glass.
It provides an amazing insight into the Gothic period with a theme of the 'closeness to God' in the paintings and sculptures.
This vast collection, including a 15th-century statue of the Madonna, belongs to a single collector called Kuno Erich Mayer who lives in Vorarlberg.
You can find a description of the items in both German and English and all the ornate pieces on display are fascinating.
Art History Museum
Baroque and Renaissance artwork will always be my weakness and so I loved exploring the Admont Art History Museum.
They had all sorts of beautiful portraits on display as well as ornate robes, stained glass, painted panels, and a jewelled abbot staff.
A portrait that caught my eye here was The Maiden of Strechau (1720), it represents a lady as a skeleton in a bonnet and dress.
According to a legend, she was unfaithful to her fiancée who was a valiant knight fighting in the Crusades.
When the knight returned, she claimed she was to go to a nunnery but instead, she married his rival. To everyone's surprise, she turned into a skeleton at the wedding!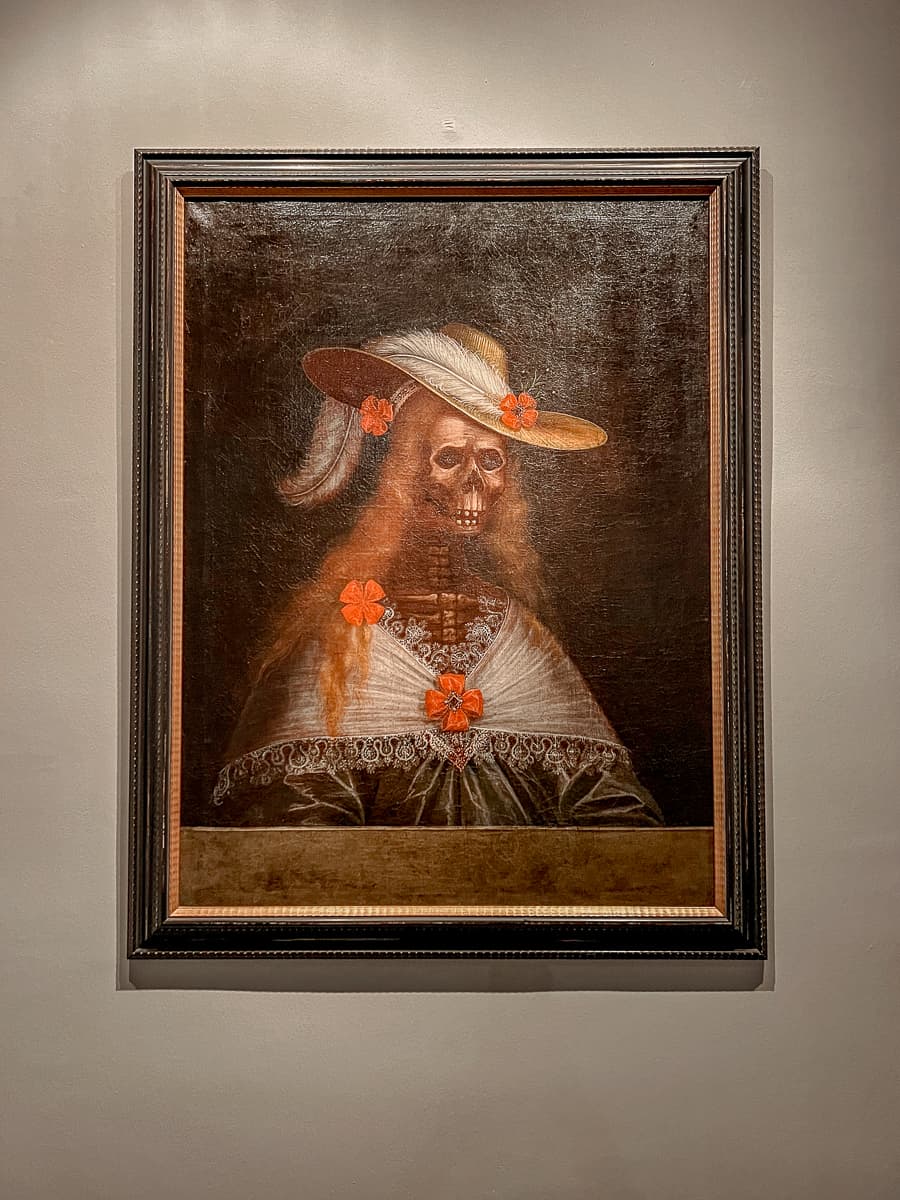 Museum of Contemporary Art
In complete contrast to the Art History Museum, they also have a Admont Modern Art Gallery. It houses a collection that started in 1997.
They have more than 1,500 pieces by 160 local artists from Austria. As well as permanent exhibitions they are always inviting new temporary displays into the abbey each year.
Modern art always stretches the boundaries of what art could be and so you can expect to find not just paintings but sculptures, soundscapes, and photography too.
Natural History Museum
Aside from the library, my favourite museum at Admont Abbey was the Natural History Museum.
It was a cabinet of curiosities that had many different rooms and displays inside. You could see medical jars filled with preserved snakes, lizards, alligators, and mammals.
There was an entire room filled with bug and butterfly collections collected by Father Gabriel Strobl, a revered scientist.
You can expect to see lots of taxidermy with creatures organised by earth, air, and water and endless cabinets of precious stones and minerals.
One of the most surprising features was the extensive collection of wax fruit by Father Constantin Keller. He created these realistic-looking fruits from gifts or fruit he ate over the years.
Honestly, I could have spent hours in here as I love these types of curios exhibitions. There were so many weird and wonderful things!
Visual gallery & Scriptorium
One of the things I liked whilst visiting was the short video they had about the history of the abbey.
Although it was in German, it was quite easy to pick up the storyline from the images and pictures. It was set in a mirrored room so it had a bit of a trippy 'planet' effect.
After, you can visit the Scriptorium. This showcases some of the finest penmanship that the monks used for precious documents and scriptures.
Years ago, all books and important documents were handwritten in ink and/or painted. They would use minerals and plants to create different colour paints.
You can see their work displayed inside and it was fascinating to see the ornate calligraphy in Latin and High German. Unfortunately, photos are not allowed inside this room.
Admont Abbey Church of St Blaise
After your visit to the museums, I wouldn't leave without exploring the rest of the abbey. Your first stop should be Admont Abbey Church.
It's dedicated to St Blaise and is an impressive Neo-Gothic building that has had its foundations since the abbey was built in 1074.
Unfortunately, the original Gothic temple burned down in 1865 after a great fire. So, it was rebuilt by Wilhelm Bücher in 1869. The design was inspired by Regensburg Cathedral in Bavaria.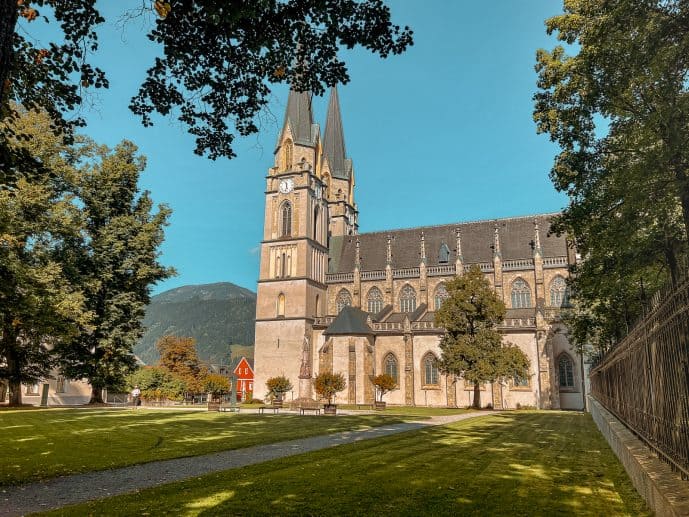 It's now one of the finest examples of Neo-Gothic architecture in Austria. You can see statues of St Benedict, St Scholastica as well as St Blaise outside.
Inside, you can see the huge vaulted ceilings along with a portrait of the Virgin Mary 'Maria Immaculata' with the 15 Mysteries of the Rosary. These are original Gothic portraits that survived the fire.
The architecture and details inside will truly take your breath away. Entry is free but donations are always appreciated.
Explore the Admont Abbey grounds and lake
Admont Abbey truly is a spectacular place that is tucked away in the Alps. I couldn't believe the panoramic views you get just by strolling around the grounds!
You can take a walk around the gardens to see the rose gardens and fountain. There are symbolic statues and a pretty garden pavilion.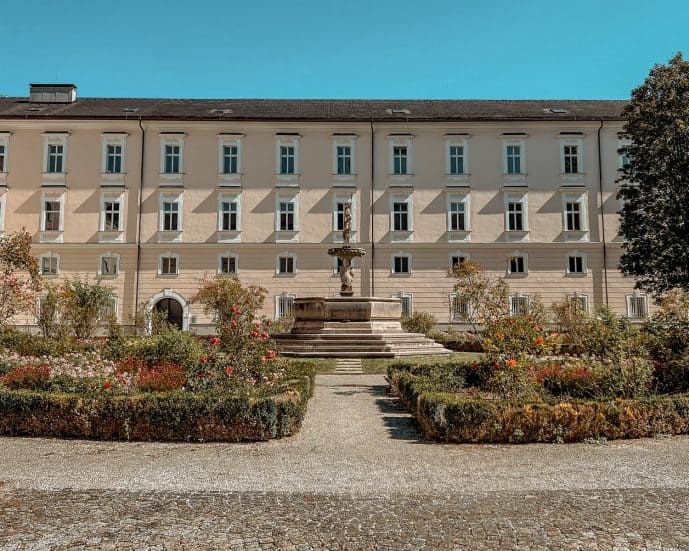 Or, you can visit their physic garden and admire the scenic lake. On a clear day, you can see the mountain range reflected in the water and it looks like a fairytale.
I loved seeing the ducks and swans that make a home here. It was so peaceful to take a seat and relax with these stunning views.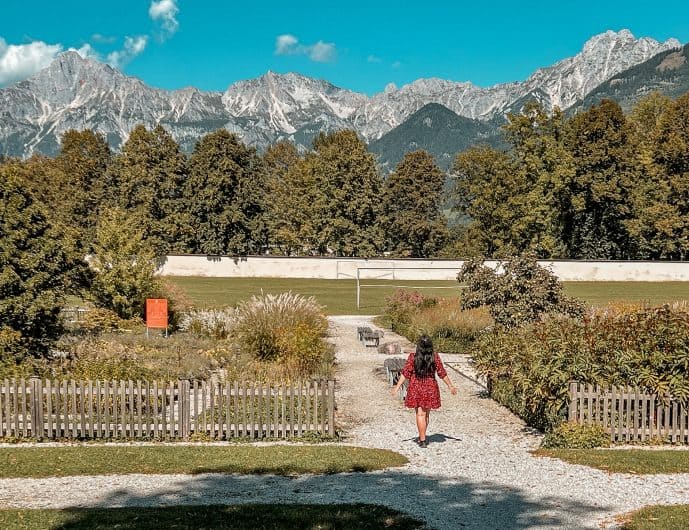 Eat at Stiftskeller Admont
If you want to have a coffee, beer, or a meal at Admont Abbey you can visit the Stiftskeller Admont restaurant near the museum entrance.
In summer, they had lots of outdoor seating but the interiors are stunning too with carved wooden furniture and colourful murals.
They have a menu of traditional Austrian dishes like Wiener schnitzel and Stiftbraten (monastery roast) which is pork cuts served with dumplings, sauerkraut, and gravy.
Or, you can try their selection of salads, cheese Spaetzle, and vegan vegetable curry if you don't eat meat.
Don't forget to try the wide selection of wines that Admont Abbey makes themselves from their extensive vineyards.
You can try a full glass here or sample some in the gift shop. They sell bottles to take home.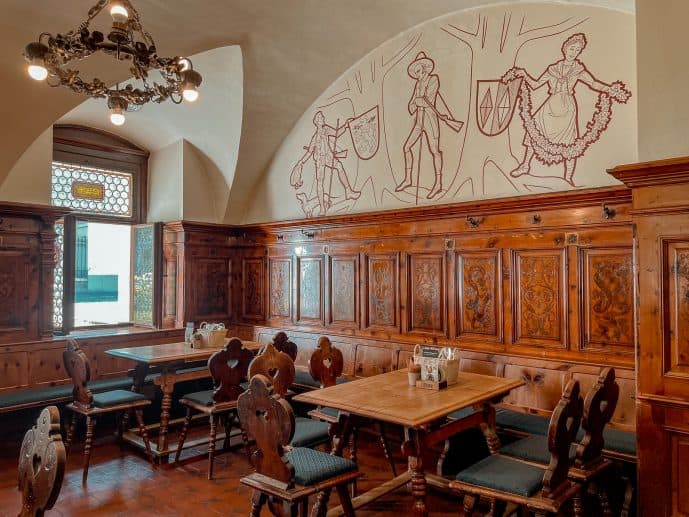 Discover Admont town & Nationalpark Gesäuse
Beyond the abbey, you can take a walk around the town of Admont. It's a small place but very quaint with lots of colourful buildings.
There are a few restaurants dotted around if you'd prefer to eat outside of the abbey. Or, there is a supermarket down the road.
Admont is a gateway to the Nationalpark Gesäuse and is one of the most beautiful parks in Austria.
It's famous for Enns Valley, an impressive gorge that you can explore either by hiking its various trails or by white water rafting down the river.
It's only a quick drive or bus ride away from Admont. There is a tourist information centre opposite Admont Abbey if you want to find out more.
Admont Abbey Library opening times
Admont Abbey Library is open seasonally and has different opening times throughout the year.
It's open every day of the week from 10 am to 5 pm in July, August, September and October.
In April, May, November, and December, it's open from 10.30 am to 3.30 pm on Wednesday to Sunday.
It's always best to check the current calendar with opening times online before you visit.
Important: Admont Abbey is closed to visitors from the 18th of December to the 1st of January.
Admont Abbey Library ticket prices
Tickets to visit Admont Abbey Library cost 16.50 euros per adult and 10.50 for children and students (with ID). Senior citizens get a slight discount and pay 15 euros.
Although it seems a steep cost to visit a library, it is known as the 'eighth wonder' and one of the most beautiful libraries in the world!
Also, keep in mind that your ticket gains you access to four more museums with plenty of other displays on your visit.
You can explore the library and museums self-guided. But, there are some special guided tours available if you would like to be shown around.
These last 30 minutes and cost an extra 3 euros on top of your entry fee.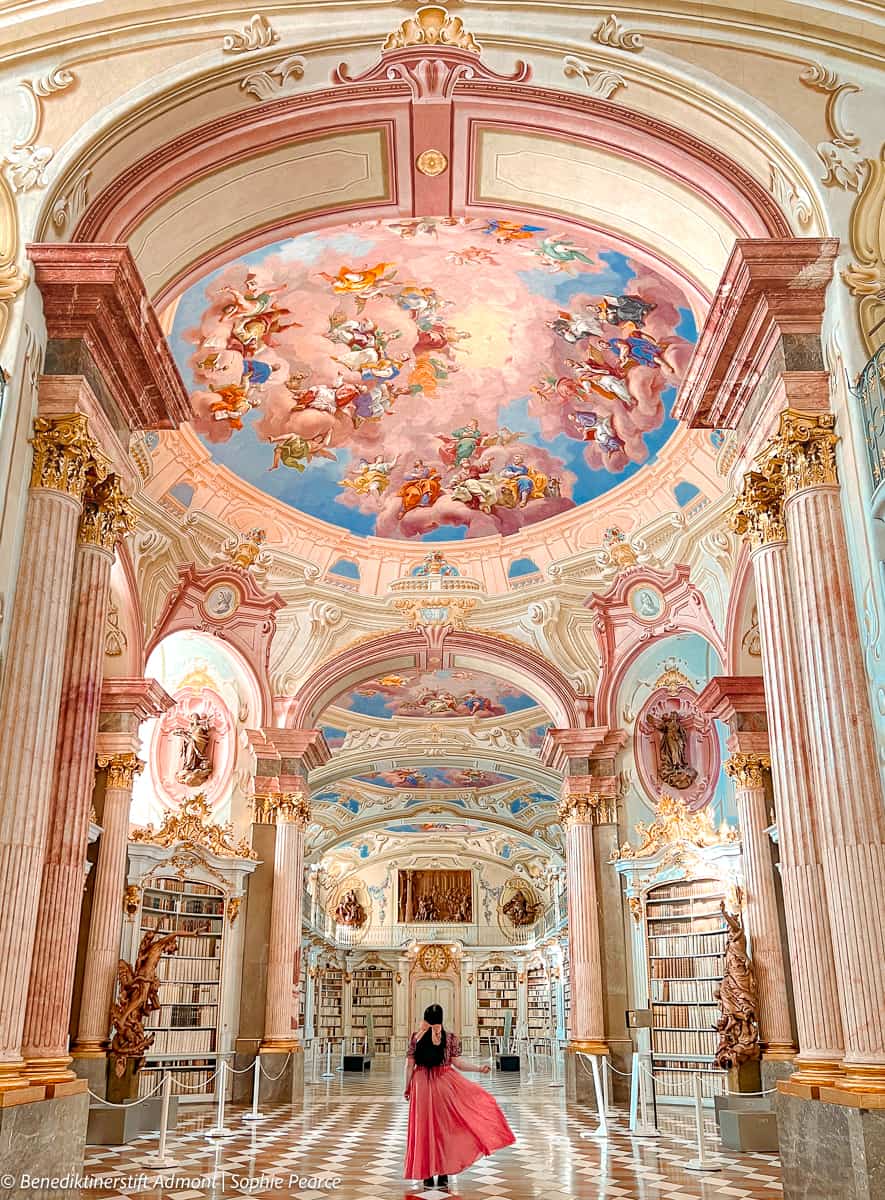 How long do you need to visit Admont Abbey Library?
Although it is the highlight of any visit, I want to stress that the Admont Abbey museums are more than just the library!
You will be visiting many separate attractions such as the Gothic Museum, Natural History Museum, Scriptorium, and art galleries.
There are also the abbey grounds to explore, the Stiftkeller restaurant, gift shops, and the church to visit.
So, I would leave around 2-4 hours for your visit to Admont Abbey Library. There is lots to see beyond the fairytale book collection that makes it a great day trip.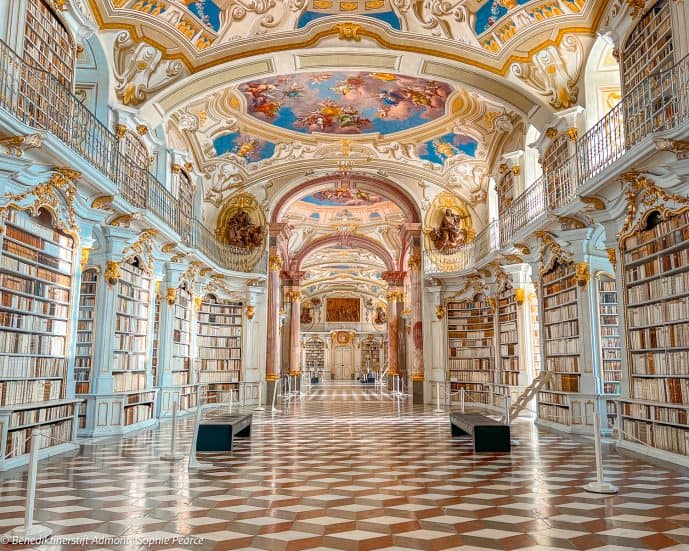 My top tips for visiting Admont Abbey Library
Tripods are not allowed – If you want to bring a tripod into the abbey, you will be classed as a 'professional photographer' even if it's just for your phone and you will need a permit to use it. You can apply online.
Visit for opening time for fewer crowds – As one of the most beautiful libraries in the world, this library can see crowds and lots of tour groups, especially on the weekend. Visit for opening time for a quieter visit.
Train journeys are long, consider driving – Although I got a direct train from Vienna, it was almost 4 hours! It was worth it but if you drove from Salzburg, it would take half time.
Don't forget the other museums and features – Admont Abbey is more than just the library. There are lots of interesting museums and features onsite. Don't forget to explore the rest.
Admont Abbey Library FAQs
What should I wear to Admont Abbey Library? As it's a museum, you're not required to wear formal clothes. But, if you go inside any active religious buildings it may be an idea to cover your legs and shoulders out of respect.
Can you take photos in Admont Abbey Library? Yes, photos and videos are allowed for personal use. Just don't use flash.
Can you store bags at Admont Abbey? There are lockers for large bags. You need a 1 or 2 euro coin to use the lockers but you get your coin back when you re-open it.
Where to stay in Admont
If you want to extend your stay in Admont then there are a few places to choose from.
Hotel Spirodom is probably the closest to Admont Abbey as it's just around the corner.
It's a four-star property at a reasonable price that has comfortable rooms, a spa, a swimming pool, and some stunning mountain views from the rooms.
Read more of my Austria travel guides
How to visit Justizpalast Vienna
Magical Austrian National Library in Vienna
Café Sacher Vienna review – trying the famous Original Sachertorte
Save how to visit Admont Abbey Library for later!