The famous Balmoral hotel is an iconic feature in the Edinburgh city skyline.
With its impressive architecture, famous clocktower, and Scottish flag flying patriotically – it's like a siren that makes you want to see what's inside its walls.
On my recent trip to the capital, I decided to take my Balmoral afternoon tea at their magnificent Palm Court.
It was an incredibly indulgent affair and on reflection, one of the best I have had in my life!
The whole experience was top quality and truly reflects that of a 5-star hotel in service and in gourmet cuisine.
Here's my complete Balmoral afternoon tea review.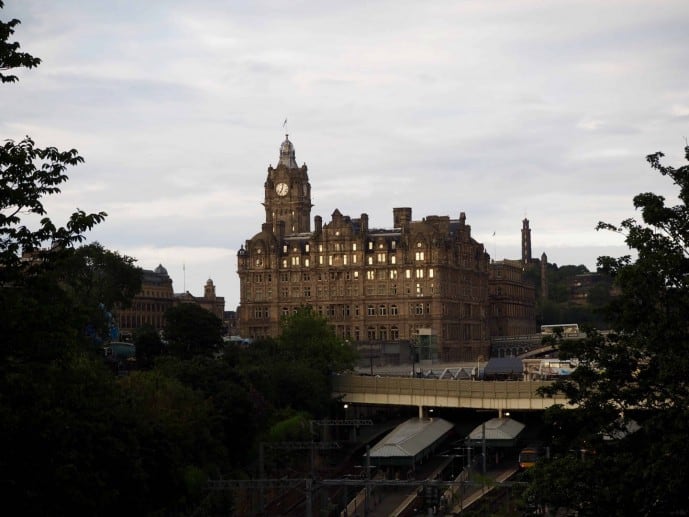 The Setting for afternoon tea – Balmoral Palm Court
As you walk in for your Balmoral afternoon tea at reception a gentleman in red-tails greets you and shows you inside the exquisite Palm Court.
The glass doors open to reveal a stunning backdrop of the highlands, a crystal chandelier hangs from the rococo ceiling and beautiful tall palm trees frame the room perfectly.
A harp plays from the balcony which adds a touch of elegance to the air and the patrons are sat on traditional sage and indigo tweed and tapestry furnishings as they sip on their high tea.
You definitely know when you have arrived at the Balmoral, that's for sure!
As you're shown to your seat and a cute little menu is placed at your table, you can browse through their impressive list of loose leaf teas.
We decided to go for their exclusive Scottish white tea which is sourced from a local plantation outside of the city. The waitress performs a tea ceremony by pouring it into the sterling silver teapot.
The flavour was very light and had lots of fruity notes which made it enjoyable and didn't have that after taste that the leaves normally do.
It's served with a complimentary slice of lime which you can squeeze along the rim of your cup – which is only for the brave according to their menu!
The citrus flavour complements the tea perfectly and adds a nice kick to your chai.
The Balmoral Afternoon Tea experience
Start off with an Amuse Bouche
Something that was new to me was an Amuse Bouche!
I have heard of them being offered at fine dining restaurants but not for an afternoon tea. I
t was not unappreciated however and was a perfect starter to cleanse the palette before the fun foodies delight begins.
I believe the refresher is seasonal and changes frequently, compliments of the chef!
We were offered a tomato-based Vichyssoise (or chilled soup to you and me) and was very tasty.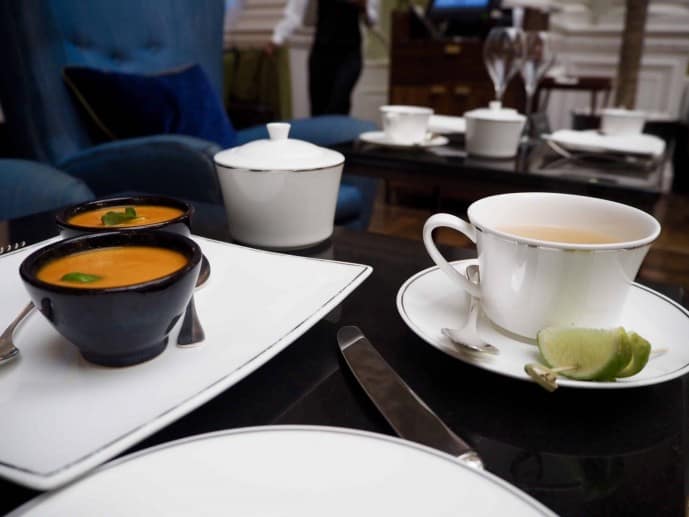 The Savoury tier
When they arrived with the tiered tray it was laden with scrummy-looking savoury morsels.
But, to the horror of my sweet tooth, I couldn't spot any of the scones or cakes!
Then it dawned on me…it was only the first serving. The first round of food – I squealed with joy!
A whole stand dedicated to savoury – amazing!!
We had a quintessentially Scottish haggis roll, Anster scone, and salmon bruschetta.
Also for the taking were traditional Egg Mayonnaise brioche buns, cucumber wraps, and coronation chicken sandwiches.
Usually, a Traditional tea is served with teeny finger sandwiches but the savoury fare served by the Balmoral was on another level.
Everything was a delight to eat and it was served in miniature form so that you have enough room for the sweets.
The Sweets (finally!)
Those following me know I have an insatiable sweet tooth and most of what draws me to an afternoon tea is the selection of treats the hotel has on offer!
The Balmoral didn't disappoint on this front either and what arrived at the table was a plethora of colourful and interestingly shaped deserts!
My eyes grew and we started on the feast. I'll break it down by tier:
On the top tier: a delicious crumble creme brûlée served in an eggshell and a raspberry tart with white chocolate and pistachio topping.
The middle tier: a ginger muffin with gold leaf and a rice pudding with berry compote and pistachio crumble.
The bottom tier: a selection of plain and fruit scones with cream and strawberry jam!
Safe to say that after this, we were quite full from our Balmoral Afternoon Tea.
Every dainty was so elegantly designed and chic that it was almost too cute to eat!
Although miniature in size, they were packed full of flavour and went down very well indeed.
Even more, treats from the Trolley
The sheer value of this tea gets even better when despite having two tiers of exquisite food, you are offered treats from their trolley!
On our visit, there was a rainbow of macaroons, pink champagne marshmallows with wild rose petals, Victoria sponge cake, salted caramel chocolate pieces, and gorgeous chop pastries in all types of flavours.
My eyes were definitely bigger than my belly at this point but I decided to power on through as it was just too rude not to look at their sweet offering!
If you're not up for munching on any more treats at this time, you can take away your choice and they pop them away for you in a pretty package.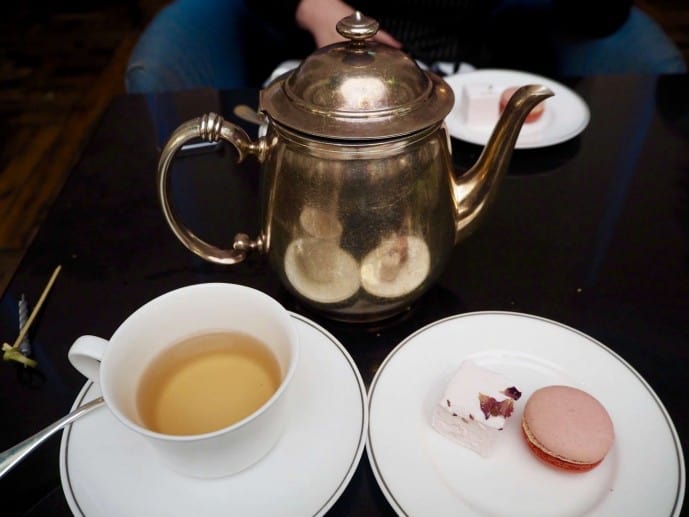 The Balmoral pink bathrooms
Okay, so you may think I'm a little strange for reporting on the Balmoral lady's bathrooms but there is a good reason I promise.
They are decorated in a tropical shade of hot pink and house some of the prettiest porcelain sinks I have ever seen in my life, accompanied by gold vintage taps!
If I could have these in my bathroom at home I totally would! They are honestly to die for.
How much does a Balmoral afternoon tea for two cost?
A Balmoral afternoon tea costs a mere £49.50 per person this afternoon tea is worth every last penny.
Not only do you leave absolutely filled to the brim, but you're also waited on hand and foot by their friendly staff who make you feel right at home.
As a parting gift, you also receive a complimentary tea caddy with their own Balmoral blend loose leaf tea so you can remember your amazing experience for a lifetime – incredible!
Save this Balmoral afternoon tea review for later
As a Brit, I have had my fair share of afternoon teas. I have been to the Ritz, The Sanderson, and plenty of others around the country but I have to admit, the Balmoral is the BEST.
In terms of value for money, wonderful service, and foremost the sheer range of tasty savoury and sweet treats on offer cannot be beaten.
If you do find yourself in the Scottish Capital, make sure you book a table at the Palm Court – you and your taste buds won't regret a single thing!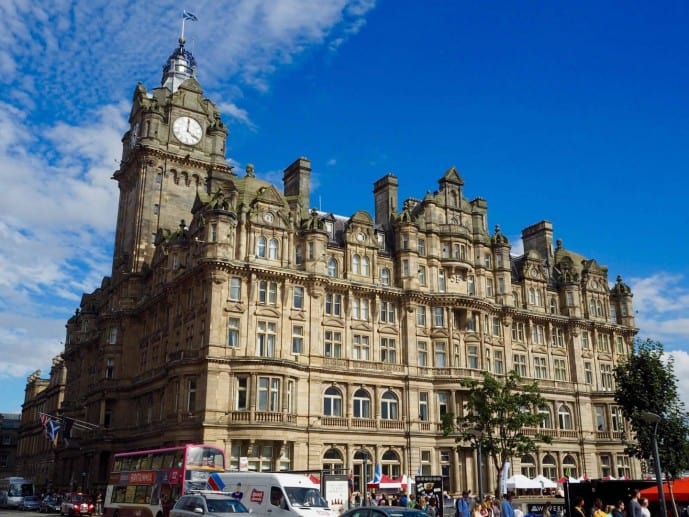 Heading around Edinburgh?
Edinburgh is one of my favourite cities, EVER!
So, I have plenty of travel guides if you wanted to take in some of the tourist sites around the city too;
The ultimate list of experiences in Edinburgh
Harry Potter locations in Edinburgh
The best viewpoint in Edinburgh
Visiting a quaint village in the capital of Scotland
My complete photography guide to Edinburgh
A complete list of Outlander film sites in Edinburgh
Why you must visit Bakehouse Close
A complete guide to the Vennel
The hidden gem of Tweeddale Court
Why Craigmillar Castle has to be on your list
Discover Liberton Kirk in Autumn