It seems to be a common pastime with me now to have afternoon tea when I travel. I don't know what it is, I just can't resist them.
There's something so special about allowing a few hours to escape and lose yourself in china teacups, dainties, and gluttonous desserts!
My friend and I found ourselves in Warsaw, the capital of Poland, recently and when we heard about a highly recommended afternoon tea at the swanky Hotel Bristol, we thought we'd treat ourselves.
Also, the fact that it only cost £13, definitely swung the deal too. Could it be too good a deal to be true? My friend and I decided to check it out.
Here's a peak inside Hotel Bristol's High Tea in the Column bar and what it's like to have a Hotel Bristol Warsaw afternoon tea!
What is Hotel Bristol Warsaw like?
Hotel Bristol Warsaw is more than a hotel in Warsaw. It's an icon of triumph and an institution in the city.
Constructed in 1901, it survived the Polish independence, World War I & II, the Warsaw rising, and the rise and fall of communism.
When the hotel was being constructed on the site of the Tarnowski Palace, they held a competition for the design of the building.
Two architects, Thaddeus Stryjeriski and Franciszek Mączyński, won with their Art Deco design.
Although the owners decided to change the outside of the building to a Neo-Renaissance design, the inside today is Art Deco.
After the fall of communism in Warsaw in 1989, Hotel Bristol was renovated back to its original roots of Art Deco decor.
In 1993, they reopened the doors of the hotel with Margaret Thatcher at the ceremony.
Today, hundreds of famous actors, musicians, and politicians have paid a visit and you can see their mural to them outside the Café Bristol.
Fancy a room at Hotel Bristol? For available dates and rates see here.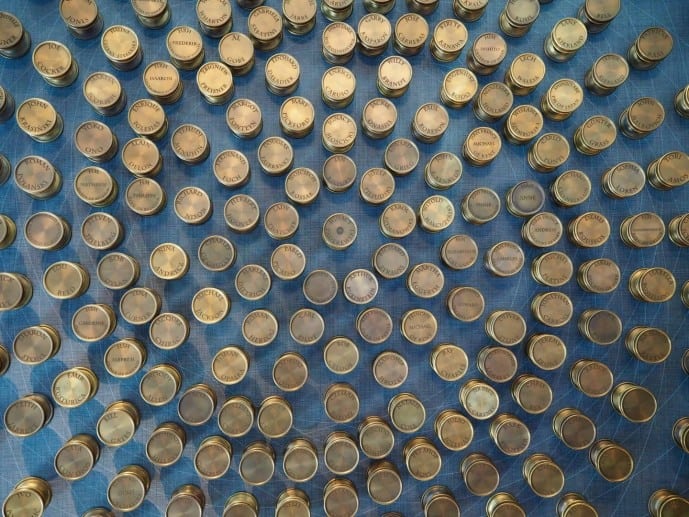 Hotel Bristol Warsaw Column Bar
The Art Deco Column bar is tucked away at the back of the hotel.
So, you get to walk through their lobby of marble, granite, and mauve velvet sofas. It's so luxurious, you won't want to leave.
Check out their old-school glass elevators! You can tell why it's called the Column bar as soon as you step in.
The super tall pillars lined with gold seem to hold the ceiling up! After the fall of communism in Poland in 1989, the hotel renovated the Column bar back to its original glory and they've done a spectacular job of it.
The design is flawless, classy, and sumptuous. The white leather padded booths are striking against the grey walls.
A pianist plays to create some atmosphere as you dine which is a welcome addition. You definitely feel like you're getting the luxury treatment here and feel like a celebrity.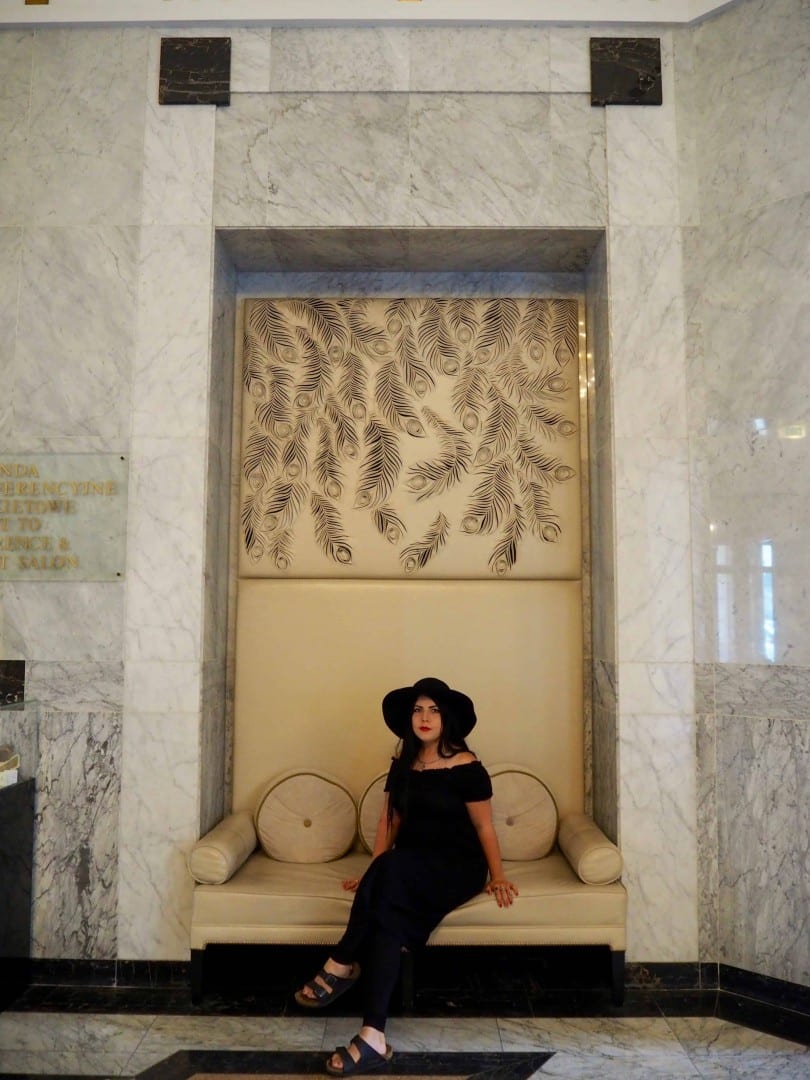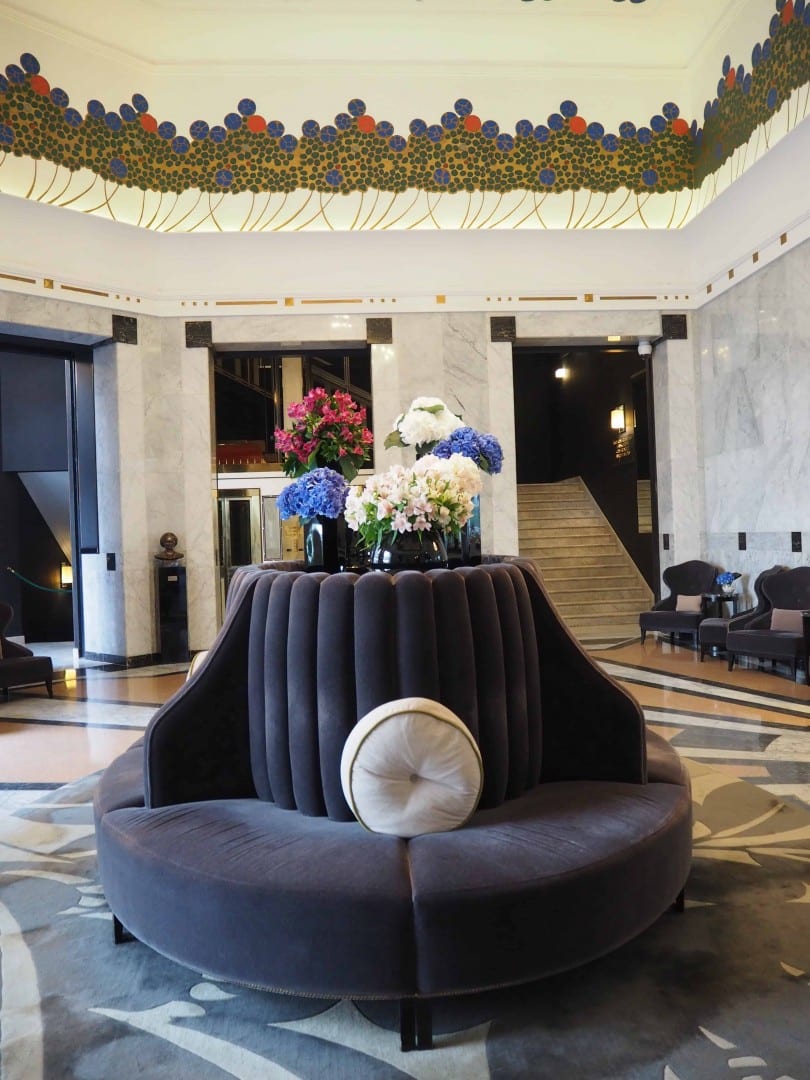 Hotel Bristol Warsaw afternoon tea review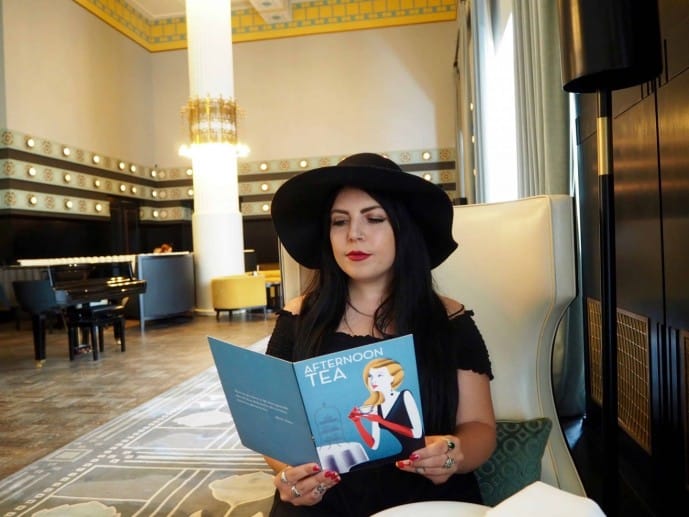 How much is a Hotel Bristol Warsaw Afternoon tea?
For £13, this afternoon tea was well worth the money. First, you select your special blend of tea from their exclusive tea menu.
I went for the 'Celebritea' which was a blend of fruit and tea leaves.
Once brewed, it came out a beautiful shade of pink. I always find a black fruit tea is refreshing if you're going to pig out on the food.
What's the food like in the afternoon tea in Hotel Bristol Warsaw?
Next you get the tier which is laden with treats! On the bottom tier, you had the tea sandwiches; you get the options of Polish ham and English mustard, goats cheese, and caramelised onions and prawn. On the side were egg mayonnaise rolls.
The middle tier had 4 mini fruit scones. At first, my eyes were bigger than my belly and I thought to myself they were rather small!
But, when you add up the other cakes you're getting, it's a good job they were mini.
The condiments were clotted cream, quality strawberry conserve and something I haven't had with scones before; lemon curd.
OH EMM GEE. How have I never discovered this before?! Lemon curd is awesome on scones!! You need to try it. So, I had lashings of curd with my fruity jam.
The top tier is usually my favourite cakes and dainties! I always let out a little squeal when I see what we have in store.
Unfortunately, there was a lot of marzipan with the Battenburg and chocolate roulade.
I hate marzipan and so did my friend so, these had to go into the rejected pile!
However, the pistachio, berry layered cake, and strawberry compote were delicious. It almost tipped me over the edge. Almost.
Make sure you book an afternoon tea at Hotel Bristol Warsaw!
I cannot believe that you can have afternoon tea at Hotel Bristol for £13.
The normal price for the same thing in London is around £35 minimum, so you're saving an absolute packet here in Poland.
There was so much included and I can assure you, you definitely won't leave feeling hungry.
Everything tasted yummy (aside from the marzipan but that's personal taste) and the setting made you feel like a VIP.
I would highly recommend that you take Hotel Bristol up on their offer of afternoon tea if you find yourself in Warsaw. Click here to make a reservation!
Are you looking for more Warsaw inspiration?
Read my complete guide to the city with things to do, where to stay and eat!
A complete photography guide for Warsaw
Make sure you visit this incredible palace in Warsaw
St Anne's Bell Tower – The best viewing terrace of Warsaw Old Town!