If you're looking for all the spots you can visit on the Agatha Christie Mile, keep reading!
As a lifelong fan of Agatha Christie, I have been armchair sleuthing with her novels since I was a child.
Not to mention watching nearly every Poirot and Marple that's existed on the box.
In fact, my Mum and my Nan do too. So, we're a whole three generations of Christie fans.
On my recent visit to Devon, we made it a little bit of an Agatha Christie weekend.
We went to her summer home at Greenway and had tea at Burgh Island. All that was left really was to explore the beautiful seaside town of Torquay.
Agatha Christie was born in Torquay in 1890 and so to honour her South Devon have made a special 'Agatha Christie Mile'.
They have marked out all the places in Torquay that are related to the Queen of Crime and some that inspired locations in her novels.
Not only is this a great way to explore the highlights of Torquay, but you also get to follow in her footsteps too.
Here are all the places to visit on the Agatha Christie Mile Torquay. Save this list to follow the trail!
What is the Agatha Christie Mile?
The Agatha Christie Mile or simply the Mystery Mile is an easy walking trail you can follow in Torquay.
Not only does this walking trail include some of the main highlights of this Victorian seaside resort, but it's also perfect for Agatha Christie fans.
On this trail, you'll enter two historic hotels on the strip, beaches where Agatha Christie would go swimming, see a commemorative bust of her, and some spots she used to visit.
It's a nice easy trail that is just over a mile at 1.3 miles and is mostly on flat ground (save the hill for the Imperial Hotel).
Look out for the Agatha Christie Mile plaques
Although it does say that all of the spots on the Agatha Christie Mile have a commemorative plaque to mark them. I actually only found three.
One at the Imperial Hotel, one at Torre Abbey, and the other at the Grand Hotel. But, maybe I wasn't looking hard enough!
It's quite easy to find all the spots if you follow my list below on the trail as they are in order.
Plus, I've created a lovely Google Map with all the locations pinned on it that you can steal too.
The plaques will have a photo of Agatha Christie on, with 'Agatha Christie Mile' underneath and the name of the location.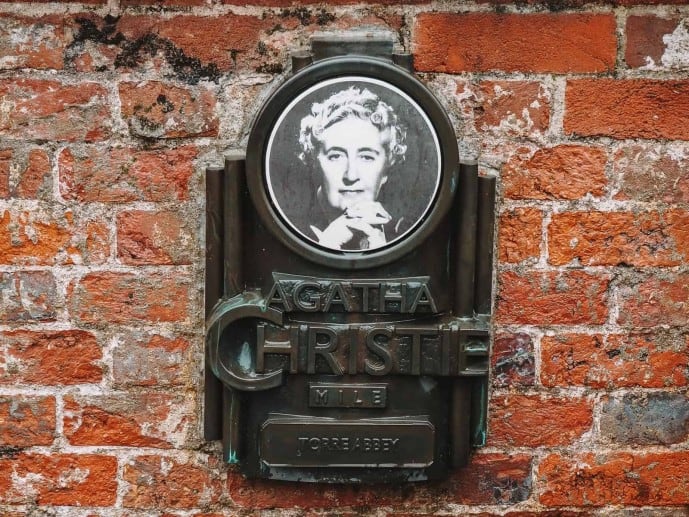 How long does the Agatha Christie Mile take to complete?
Although it's called the Agatha Christie Mile, it is slightly over that. The whole walk from the Imperial Hotel to the Grand Hotel is around 1.3 miles.
If you just walked from one hotel to the other, it would take you around 25-30 minutes without stopping.
However, you could spend a whole day doing this trail!
It includes both the Torre Abbey museum and the Torquay Museum which will take you at least a couple of hours if you wanted to go inside.
Plus, there are some places to stop to eat or have a coffee on the way. Or, you could treat yourself to a cream tea in either of the hotels!
You could honestly spend a whole day exploring Torquay just to tick off the highlights.
12 places on the Agatha Christie Mile
You can start at either the Imperial Hotel or the Grand Hotel to walk the Agatha Christie Mile. It doesn't really matter which one.
A long time ago, when the Mystery Mile first opened up there was a small mystery to solve. But, the leaflets for that are no longer there.
I parked up at the Beacon Cove multi-storey car park and started the walk from the Imperial Hotel. So, I'll go through in that order.
1. The Imperial Hotel
This fabulous 19th century Victorian Hotel opened its doors in 1866 and has seen many a celebrity and even royalty walk through its doors.
Notable guests include Queen Sophie of the Netherlands, Napoleon III, Prince Albert Victor, and George V too as a prince!
The Imperial Hotel and Agatha Christie connection are that she attended many social functions here throughout her life.
The Imperial Hotel is also featured in two of her novels. Firstly, in the 'Peril at End House' as The Majestic hotel and a terrace in 'Sleeping Murder' where Miss Marple reveals the mystery for Gwenda and Giles.
It's an incredible hotel that sits right on the cliffs overlooking the sea in Torbay, so you can book a sea view room. Or, have afternoon tea and dinner on their terrace overlooking the ocean.
The Agatha Christie Mile plaque is located in the reception of the hotel. So, you can pop in and take a picture.
Also, the staff welcomes all to have a look around whether you're a resident or not, so don't be shy.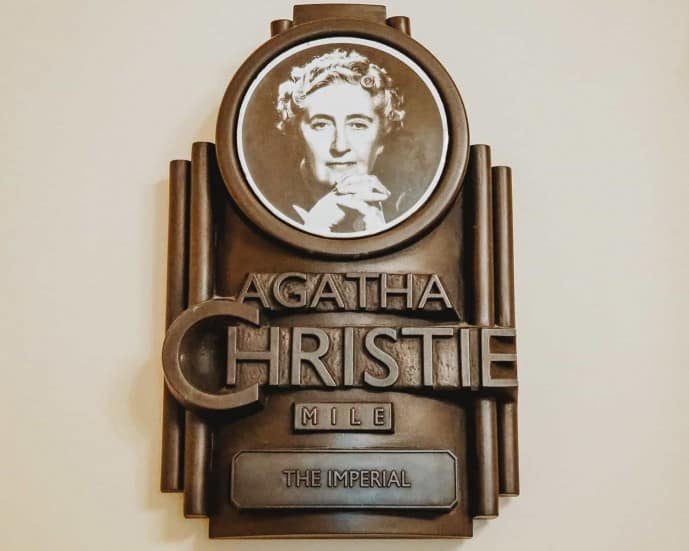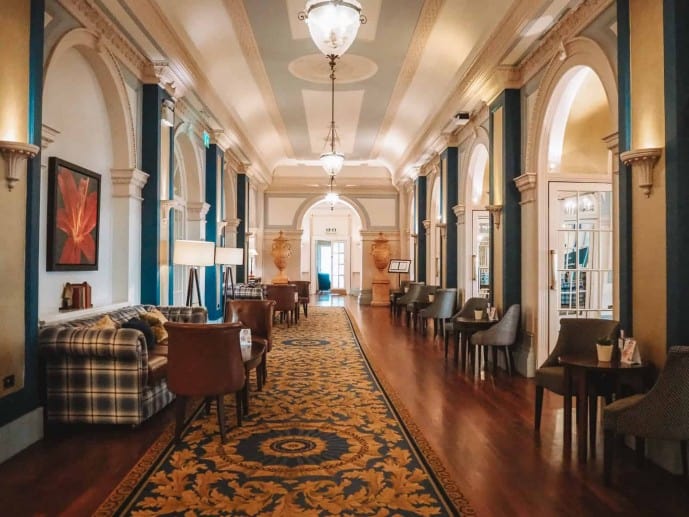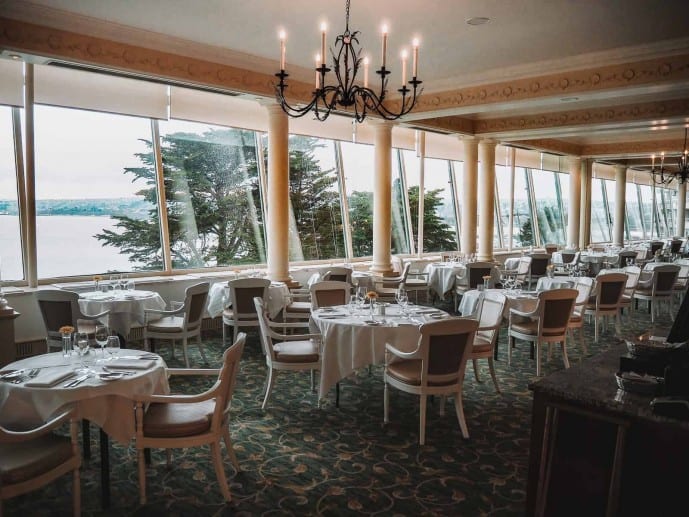 2. Beacon Cove
If you carry on down the road from the Imperial Hotel and turn into a small pathway, it will lead you down to Beacon Cove in Torquay.
It's a secret cove located far away from the main beach which makes it a lovely place to visit away from the crowds.
Back in Agatha Christie's time, this was a popular ladies bathing spot and it was one of her favourite places to go swimming.
One of the most famous tales of Agatha Christie and Beacon Cove was that she almost drowned here while trying to help her nephew!
As it was a winter's day, I didn't try swimming in the water myself. But, it would be a lovely spot in the sunshine.
3. Royal Torbay Yacht Club
Opposite the opening to Beacon's Cove is the building for the Royal Torbay Yacht Club.
Agatha Christies talks about how her father used to visit here as a member. He would have a small routine of playing cards, chatting to his friends, and reading newspapers here.
Her father, Fredrick Miller, also used to be the president of the Torquay Cricket Club.
Although you cannot go inside unless you're a member of the club, you can take a peek at the outside.
The Torbay Yacht Club was founded in 1875 when Sir Lawrence Palk obtained a warrant from Queen Victoria. It held its first Torbay Royal Regatta in 1887 – that's over 125 years ago!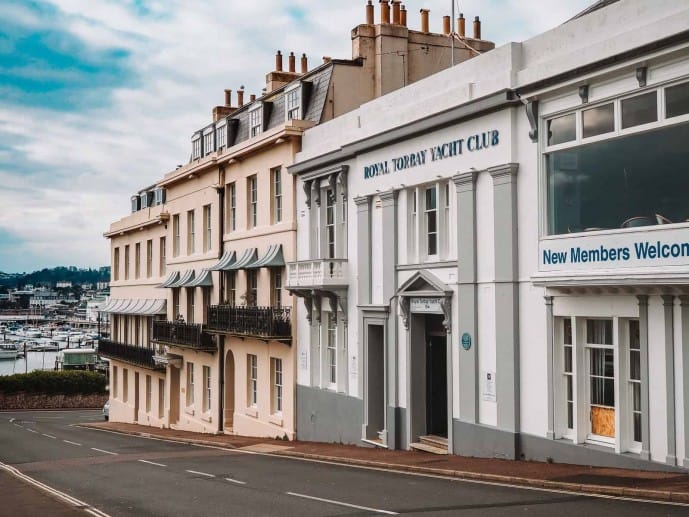 4. The Torquay Museum
Did you know that the Torquay Museum is Devon's oldest museum?! It opened its doors in 1845!
It holds some fantastic artifacts and exhibitions including many items recovered from Kents Cavern, the pre-historic caves.
The reason why it is included in the Agatha Christie Mile is due to the fact there is a one-of-a-kind Agatha Christie Centenary exhibition here. It was created in 1990 with the help of her family members.
Inside the exhibit, there are many artifacts from her personal collection that have been donated and never before seen photographs of her too.
It's a great place to visit on a rainy day and there's a small café inside too.
Torquay Museum is open from Monday to Saturday at 10am – 4pm. Tickets are buy once and get in all year!
5. The Strand Torquay
As you make your way back to the promenade in Torquay, you'll pass by The Strand with its iconic clock tower.
Ever since Torquay has been a popular seaside resort, this area has been a hive of activity and was even where Victorian stagecoaches would pull in.
Nowadays this area is full of popular high street shops like Debenhams, but in Agatha Christie's time, the shops would be very different!
Popular department stores in the 1930s were Rockhey's on Fleet Street, Bobby's at one end of the Strand, and Williams & Cox at the other.
Williams & Cox survived until 1981 until it changed face to Hoopers. Which you can still visit today!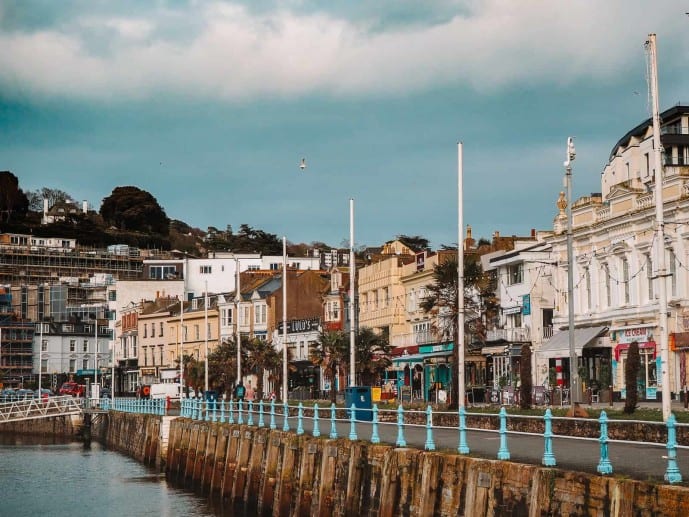 6. The Agatha Christie Bust
As I made my way over to the Pavilion, I actually struggled to find the Agatha Christie bust!
In photos, it looked a lot bigger and I always imagined that it would be right on the seafront in the Princess Gardens. I even asked a local and they didn't know!
Eventually, I found it myself while looking a little lost haha. So, if you're struggling to find it too – head to the front of the old Victorian Pavilion building and turn around 180 degrees. You'll find the statue beside the grove of palm trees there on Palk Street.
This hand-crafted bronze bust of Agatha Christie was created to celebrate her centenary in 1990. It was created by a Dutch sculptor called Carol Van Den Boom-Cairns and is completely unique.
The statue was unveiled by her daughter, Rosalind Hicks. It stands on the very spot that her first husband, Archie Christie, proposed to her. They had both attended a Wagner concert that evening in the Pavilion.
7. The Pavilion
Although this gorgeous graded building is very much abandoned now, in 1912 it opened its doors as a popular concert hall in Torquay. It was nicknamed 'Torquay's Palace of Pleasure'.
Over the years it produced lots of performances, plays, and concerts. Agatha Christie was a huge fan of music and theatre and she attended plays often!
But, the last stage show took place in 1976. After Agatha Christie's death, there were discussions to rename it the Agatha Christie Memorial Theatre.
It then had a short history of an ice skating rink, then it was a shopping arcade that stopped trading in 2013. It's been boarded up ever since.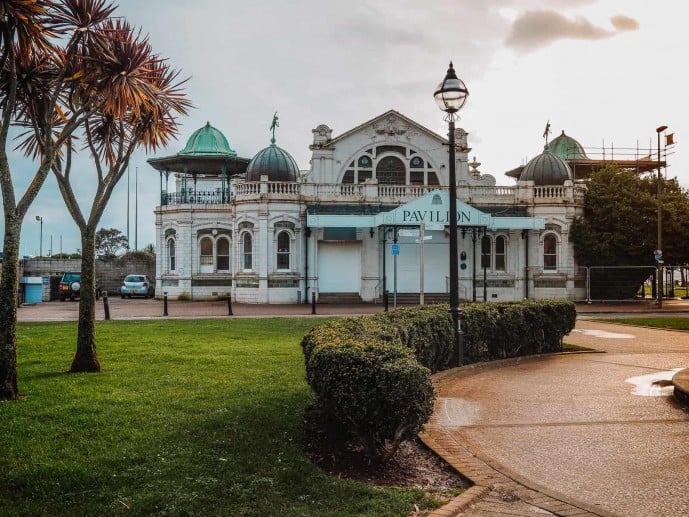 8. The Princess Gardens
The Princess Gardens are a really lovely place to relax in Torquay and provide spectacular views of the seafront.
These beautiful Victorian gardens opened to the public in 1894 and have some incredibly planned flowerbeds, a feature fountain, and also are lined with tropical palm trees from New Zealand.
Although she didn't mention the gardens in her memoirs, she did feature them in one of her novels; The ABC Murders.
This novel features Poirot trying to solve a case of a murderer leaving mysterious letters and killing people in alphabetical order!
9. Princess Pier Torquay
The Princess Pier opened up in 1894 and was built perched on top of the Harbour wall on the seafront.
Once upon a time there was an 'Islander' arcade here but was demolished in the early 1970s.
For Agatha Christie, this was one of her favourite places to visit as a teenager.
She used to roller skate along the pier. You can see some photos of this in the Agatha Christie gallery in the Torquay Museum.
While visiting you can take a stroll down this restored pier and enjoy some spectacular views of the coast and marina. Or, take a seat and watch the world pass by you. It's up to you.
The Princess Pier is FREE to visit and has recently been extended for all to use
10. Torre Abbey
Torre Abbey Museum is another stop on the Agatha Christie Mile. But, even if you're not a fan of the Queen of Crime, there is a lot that may interest you here.
Torre Abbey has existed on this site in Torquay since 1196 and for many years was a place of worship for the Premonstratensian Canons. It's one of the best-preserved abbeys in Devon and Cornwall.
It was later home to the Cary family for centuries and they housed over 300 Spanish prisoners off war in their Barn onsite during the Spanish Armada.
The Cary family were known Catholics despite it being illegal after King Henry VIII became the head of the Church of England.
So, the family had their own private chapel inside where they would perform Catholic sermons.
There's is lots more history to uncover inside and they have a fantastic display of interactive exhibitions which brings the place to life.
For Agatha Christie fans you can check out some of the potent plants in their gardens that were made in her honour.
Agatha Christie had a vast knowledge of poisons and plants that kill. So, they have made a whole poison garden to check out.
There are four sections of the garden and each has a mystery to solve. Can you figure out what poisonous plants belong to what novels?
Torre Abbey is open Tuesday to Sunday from 10am until 5pm (last entry 4pm)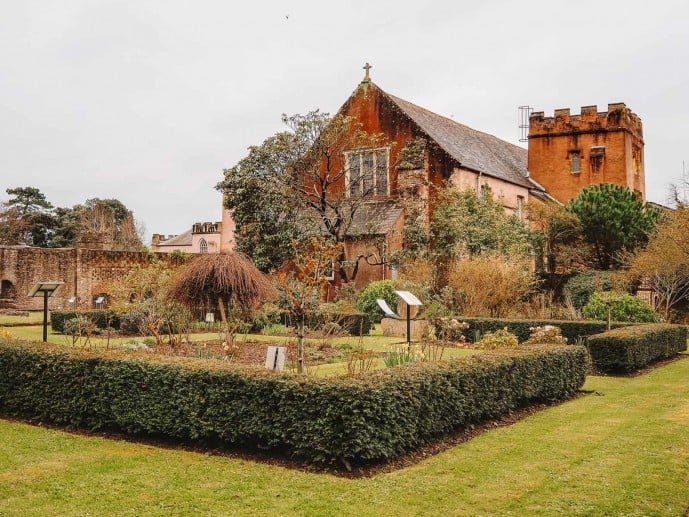 11. Torquay railway station
As part of the Agatha Christie centenary celebrations, there was a steam train service 'The Orient Express' brought into Torquay Railway Station.
In Agatha Christie's novels, her two most famous characters Hercule Poirot and Miss Jane Marple were never given a chance to meet.
So, on the day Joan Hickson who played Miss Marple met David Suchet who played Hercule Poirot for the very first time. He kissed her hands and the crowd cheered!
Fun fact: David Suchet has performed as Hercule Poirot from 1989 -2013 and has acted out every Poirot novel that has existed on TV!
12. The Grand Hotel
The Grand Hotel will be your last stop on the Agatha Christie Mile and you can spot this iconic hotel on the strip long before you arrive.
It's another historic hotel in Torquay that opened its doors 1881 and it was built in response to the Great Western Railway's expansion to the South West.
In 1926 it was one of the first hotels in the UK to install central heating and was used by the Royal Air Force in World War II. It re-opened as a hotel in 1946 and has remained that way ever since.
Agatha Christie used to love visiting this place for her writing. She loved it so much this is where she and her husband Archie Christie spent their honeymoon in 1914!
Non-residents are welcome to have a drink at the bar, indulge in an afternoon tea or dine with them too!
Die-hard fans can also stay in their Agatha Christie suite. It's historic in design and sleeps up to five people. I would have loved to have a snoop, but on my visit, it was booked up!
Bonus Agatha Christie Spots in Torquay
Once you've completed all the places on this Agatha Christie Mile in Torquay, the adventure doesn't stop there.
There are plenty more places associated with the Queen of Crime you can visit around the area.
Barton Road
Agatha Christie was born at Ashfield House, a Victorian mansion, in 1890 on Barton Road.
She had a happy childhood here with her parents Frederick and Clara Miller. She lived here with her parents and siblings, Monty and Madge, until she married Archibold Christie in 1914.
She used Ashfield as inspiration for The Laurels in her novel 'Postern of Fate'.
Eventually, she sold the property in 1938, and in the 1960s it was demolished to make way for a new apartment complex.
There is a blue plaque that has been placed here to mark the spot where Ashfield stood.
Meadfoot Beach
Just a short drive from the Imperial Hotel will take you down to Meadfoot Beach and you can walk here in around 15 minutes.
It's a lovely secret spot away from the main busy areas and it would be lovely if the weather is fine.
Agatha Christie loved to swim and so she would visit this beach nearly every day in the summer.
This was also a beach that would have traditional bathing machines for ladies to swim as men were not allowed to mix.
There is a mix of sandy and rocky areas and the 'beach' is entirely dependent on the tide. When the tide is low or out, there are beach huts and cafés open to enjoy.
Public parking is limited on the strip, but there is the main car park at the end of Meadfoot Beach.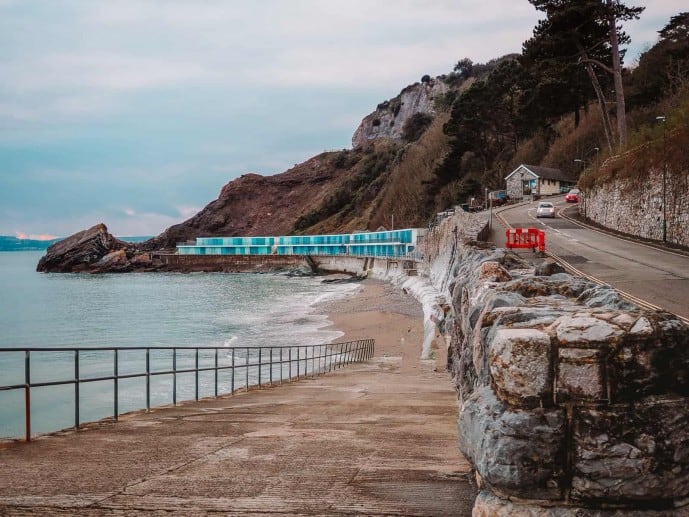 Cockington Court
Cockington Village is a beautiful countryside retreat just a half-mile away from Torquay.
You'll feel like you've gone back in time here to a world of thatched cottages and Lutyens-style buildings. Some of these amazing places, like the Old Forge, were mentioned in the Domesday Books from 1086!
Cockington Court is a Tudor Manor Home that was owned by Cary's and then the Mallock Family.
Agatha Christie was friends of this family and would often visit them to take part in amateur dramatics despite her shyness.
Today, Cockington Village and Court is a huge public area that makes a great day out.
Whether you want to admire historical buildings, attend an arts and crafts workshop, stroll around the country park or take a horse and carriage ride there's so much to do.
Click here to read my complete Cockington Village travel guide
Kents Cavern
Kents Cavern is part of the UNESCO English Riviera Global Geopark. This massive cave system tells a huge story that spans back to prehistoric periods!
It is also known as Britain's oldest home as there is evidence of cave dwellers found here over 36,000 years ago.
The first recorded excavations of the caves took place in 1824. But, the most famous was led by Edward Vivian and William Pengelly in 1846.
It took a course of over 15 years to fully investigate the caves.
As well as removing over 8 tonnes of cave waste, thanks to their cute donkey Topsy, they also uncovered a labyrinth of caves underground.
It was here they also uncovered Stalagmites over half a million years old and bone fragments from prehistoric humans and animals too.
It opened as a tourist attraction in 1903 and today, thankfully, we don't have to go diving or digging to see what is inside.
It's an entertaining guided tour through the caves and you can learn about the history, the minerals and some of the findings too.
For Agatha Christie fans these caves inspired "Hampsley Cavern" in The Man in the Brown Suit.
A visit to Kents Cavern is by guided tour. check the website for tour times and price
Even more Agatha Christie spots in Devon
Also in Torquay, you can visit Antey's Cove, where Agatha Christie would have midnight picnics.
Or, the Old Town Hall where she volunteered as a nurse in the Voluntary Aid Detachment in the First World War.
Later she was assigned to Dispensary where she learned a lot about poisons and would use this in her works.
Elberry Cove is another hidden spot near Brixham where Agatha used to love swimming also Sir Carmichael Clark was murdered here in the 'ABC Murders'.
Churston Ferrers was a quaint village that Agatha would travel to often to visit the St Mary the Virgin Church.
Churston Station also appeared in the 'ABC Murders' and 'Dead Man's Folly'.
Greenway is was Agatha Christie's summer home from 1938 and she spent many summers here until her death.
Here you can admire her amazing collection and also visit the Boat House that was the murder spot of Marlene Tucker in 'Dead Man's Folly'.
Click here to read my complete guide for Greenway House here!
Another gem that you can visit here in Devon is Oldway Mansion built-in 1874. Agatha Christie would attend social occasions like balls and dances here.
If you want to travel back in time then a ride on the Dartmouth Steam Railway may be a great option for you. You can travel just like Agatha Christie and Poirot did to Greenway Halt. It was mentioned in both 'The ABC Murders' and 'Dead Mans Folly'.
It's only open seasonally from March – October. Or, why not visit Agatha Christie's second home of Burgh Island?
She wrote two novels here 'And Then There Were None' and 'Evil Under the Sun'! You can treat yourself to afternoon tea in their magnificent Palm Court.
Read my complete travel guide for Burgh Island here!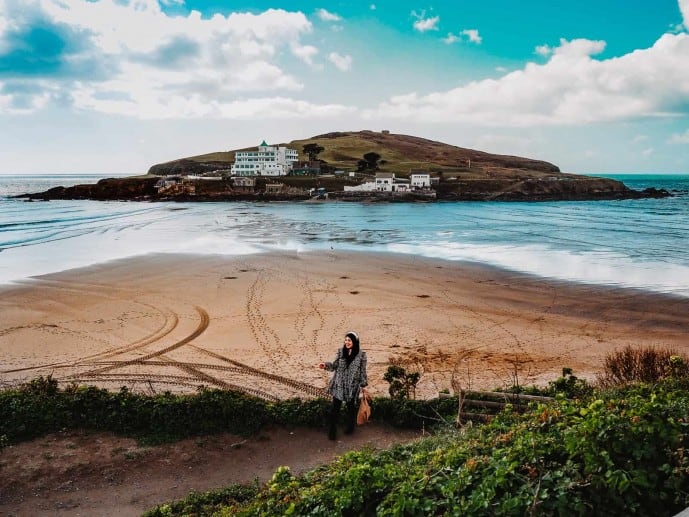 Read more of my Devon travel guides
The House That Moved in Exeter
Harry Potter locations in Exeter
Is this Exeter's Diagon Alley?
Walking down the Narrowest Street in Britain!
How to visit Wistman's Wood on Dartmoor
How to visit Lydford Gorge & White Lady Waterfall in Dartmoor
How to visit Brentor Church in Dartmoor
Woolacombe Bay Holiday Parks Review
Magical Valley of the Rocks Devon guide
Like it? Pin it!