Did you know that you can follow in Agatha Christie's footsteps by stepping aboard the Steam Ship Sudan in Egypt?
The oldest steamboat still running on the Nile today. You really can take your very own Agatha Christie Nile Cruise!
The queen of crime herself stepped aboard the Steam Ship Sudan to sail down the Nile. She travelled throughout Egypt in 1937. This cruise, and the Old Cataract Hotel in Aswan, inspired her to write her famous novel 'Death on the Nile'.
Decades later, it has been the star attraction and filming location for scenes in modern film and TV adaptations. Most famously, Death on the Nile in 2004 starring David Suchet
.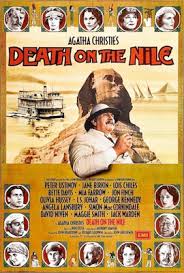 During my Nile cruise aboard the MS Mayfair from Aswan to Luxor, I spotted the SS Sudan pulling into Kom Ombo port. I instantly recognised it and was dying to take a look around. My tour guide, Eid, used to work on board the ship and knew it well.
He also knew the manager of the Steam Ship Sudan and managed to score me a free tour! A.K.A I got to snoop around the ship for a few hours. I was over the moon with excitement!
It felt surreal to wander around the filming location of a movie I have been watching for years. Here's a tour of Agatha Christie's Nile Cruise, the boat used in Death on the Nile.
Agatha Christie Nile Cruise: The history of Steam Ship Sudan
The Steam Ship Sudan, or SS Sudan, is an old steamer Nile cruise ship that was built for King Fouad in 1885.
A few years before this, the legendary entrepreneur Thomas Cook acquires a permit for tourist Nile sailing. He then accepts eager tourists aboard his first Nile Cruise for Egyptian tourism in 1876. As well as Nile cruises, Cook also built the Old Winter Palace in Luxor and the Old Cataract in Aswan.
In 1911, he acquires the Steam Ship Sudan and Arabia to advertise faster cruise ships. These boats cut down the tour from Cairo to just 20 days and so more tourists were eager to step aboard.
By 1935, the Steam Ship had reached a golden age of tourism and in 1937, Agatha Christie steps onboard.
No one ever knows whether Agatha Christie intended to stay so long in Egypt. But, what we do know is that she remained here for most of that year. The SS Sudan and the Old Cataract were her muses for writing Death on the Nile.
In World War II, Egyptian tourism came to a halt. This also meant that the Steam Ship Sudan was abandoned and locked away for over 50 years.
In 2000, directors of Voyageurs du Monde bought the steamer and revived the SS Sudan to its former glory. It set sail once more in 2006 and has welcomed tourists on board ever since.
What films and shows have been filmed onboard the Steam Ship Sudan?
The famous 'Karnak' steamer which Agatha Christie wrote about in her novel, was based on the Steam Ship Sudan after her own cruise.
I always thought that the 1978 version of Death on the Nile was filmed onboard the Steam Ship Sudan. But, I later found out that four weeks of filming took place aboard the SS Memnon. This ship is still running as part of Seti Cruises, but only for private functions.
The SS Sudan at the time was still locked away. But, I'm sure if it was available they would have used it for the movie.
The 2004 version of Death on the Nile, starring David Suchet, was filmed on board this very ship.
There is also a new adaptation with Sir Kenneth Branagh due to be released soon and I wonder if the SS Sudan will be a filming location too!
Welcome aboard the Steam Ship Sudan
As soon as I waited on the dock at Luxor and saw the SS Sudan pull in, I felt butterflies. Seeing this ship in person and knowing I was going to come aboard was a strange feeling.
The fact that Agatha Christie would have been on this boat made me have a serious fan girl moment!
I walked down the steps and the gangplank was lifted, allowing me to come aboard and I was shown to the bar. It was a hot day in Luxor, so I was thankful for the cooling temperature of the drawing-room.
No sooner had I sat down, a kind waiter in full livery and tarboush, served me a refreshing glass of hibiscus tea.
I could see the residents reading from the ship library, which had copious copies of Death on the Nile to choose. Some of the patrons were playing board games. It was very relaxing.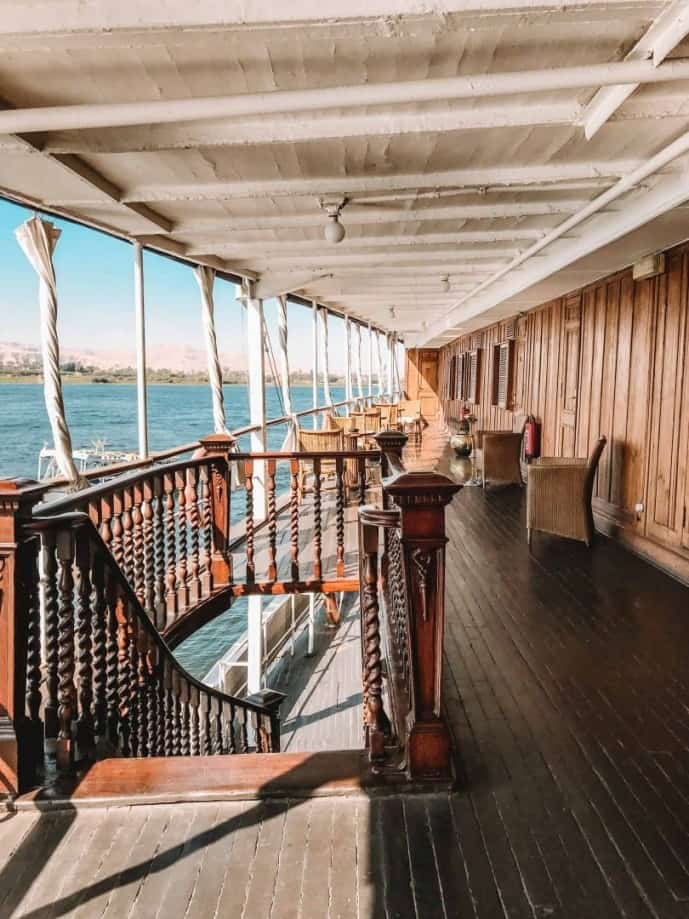 The lounge and sun deck onboard the SS Sudan
Unfortunately, when I came on board the boat was at full occupancy. So, I couldn't check out any of the cabins for myself.
But, from seeing the Death on the Nile movie and the Steam Ship Sudan website; they all look vintage boutique!
Some of the rooms have brass and antique gold wicker bed frames, and luxe deco bedding and interiors.
There are 5 suites and 18 cabins onboard the Sudan. You can even stay in the Agatha Christie Suite and a cabin dedicated to her famous detective, Hercule Poirot.
Steam Ship Sudan cabins
As we wound our way up the winding wooden staircase and over the wooden floorboards, it felt surreal. To walk along this steamer which I had seen on TV was just spectacular.
We made our way up to the lounge deck on top of the boat and found a beautiful place to pass the time and watch the world go by.
There were lounge chairs, sunbeds, tables to play chess. It really looked like the ideal place to relax with a drink and see the sights of the Nile.
I could only imagine what it would be like to catch the sunset from here. Ah, I can only dream!
A look inside the SS Sudan engine room
I always love poking my nose in to see the captain's quarters of a ship. There's something so interesting about modern sailing.
There's a chair, navigation equipment and lots of shiny buttons which I didn't understand (but so tempting to push)! Also, a phone to make calls.
You won't find the stereotypical ships wheel like in the olden days now, although you can find it outside for show.
The engine room was also fascinating. Unlike modern cruise ships, steamships work with an engine that makes a chugging sound. You can watch it spin in the engine room.
My guide told me that it's quite loud at night, so you can hear it while you sleep. I'm quite a light sleeper myself. But, if I was on this ship I think it would be worth it!
How much is the Agatha Christie Nile Cruise?
The Steam Ship Sudan runs two types of cruises. What's great about these is they stop at more sites than most of the regular Nile Cruises including Dendera and Abydos (which usually cost extra);
The Dynastic – a 6 days, 5 night river cruise that runs from Luxor down to Aswan.
Eternal River – a 6 days, 5 night cruise from Aswan to Luxor.
Steam Ship Sudan cruise prices
Both cruises have the same rates;
From Oct – Apr – 2400 -2700 Euros depending on your cabin.
From May – Sept – 1900 – 2200 Euros depending on your cabin.
Special occasions and holidays may cost more.
You can also rent this boat out for special occasions. The captain told me about a murder mystery evening that was held onboard. I think I would die of excitement if I got to attend!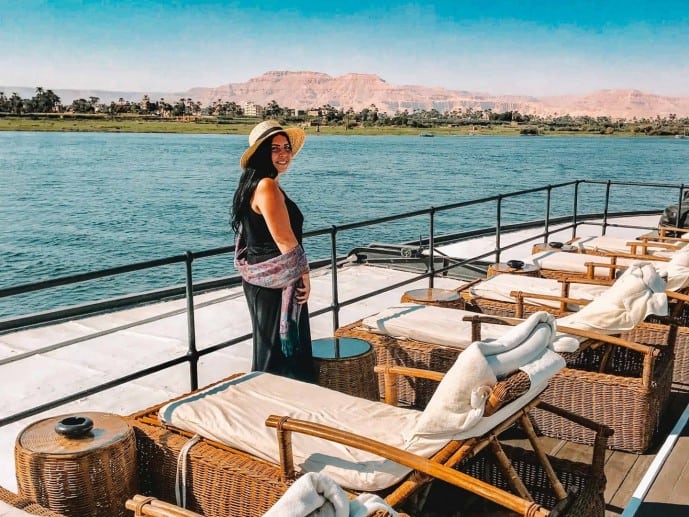 Do you love Agatha Christie?
If you're gaga about Agatha Christie too and wanted to read more about her travels in Egypt. I have a few posts that I think you might love all about the hotels that she stayed in here on her travels.
You can read about the Old Winter Palace in Luxor and discover all the Agatha Christie secrets you can find within the Old Cataract Hotel in Aswan.
All aboard the Steam Ship Sudan
If you're a fan of the novel or movie Death on the Nile and the queen of crime herself, then a trip on the Steam Ship Sudan is the perfect choice for you.
Don't miss out on travelling back in time with the Agatha Christie Nile Cruise and come aboard the Steam Ship Sudan; the oldest ship still actively running on the Nile.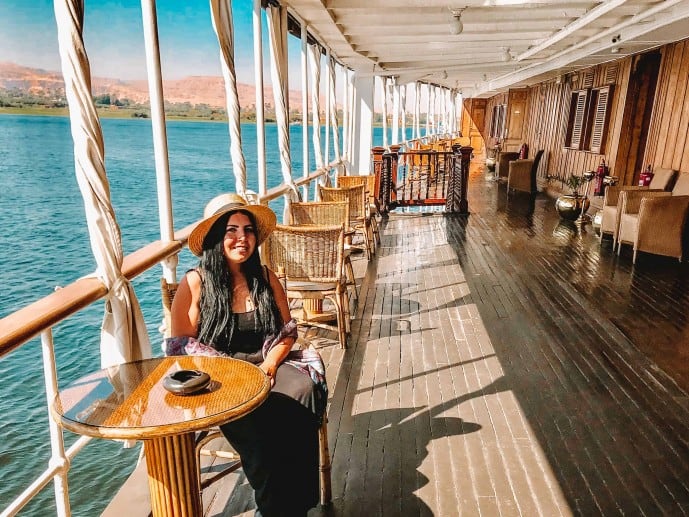 Read more of my Egypt articles
My perfect 2 week Egypt Itinerary
The perfect Egypt packing list
Why you need to visit the West Desert in Egypt
The most Instagrammable places in Egypt
My guide to the Valley of the Kings
The ultimate 4-day Nile Cruise
Top places to visit in Luxor at night
The perfect guide for Abu Simbel
My survival guide for the pyramids
Why you NEED to visit Alexandria
Top tips for riding a hot air balloon in Luxor
Like it? Pin it!