Hidden in amongst the chaotic streets of Connaught Place, you'll find an ancient stepwell called Agrasen Ki Baoli.
Although nowadays many locals and tourists use this shaded area as a welcome respite from the heat and an Instagram photo. What many people do not know is that this is one of the most haunted places in Delhi!
There isn't any recorded history of this mysterious stepwell. However, there are legends that the water collected here used to turn black and ghostly demons used to hide out here in its walls.
So, if you're feeling brave enough, I would definitely recommend popping this photogenic landmark on your Delhi itinerary.
Here's a complete guide for Agrasen Ki Baoli (Ugrasen ki Baodi) with the history, haunted legends and how to visit!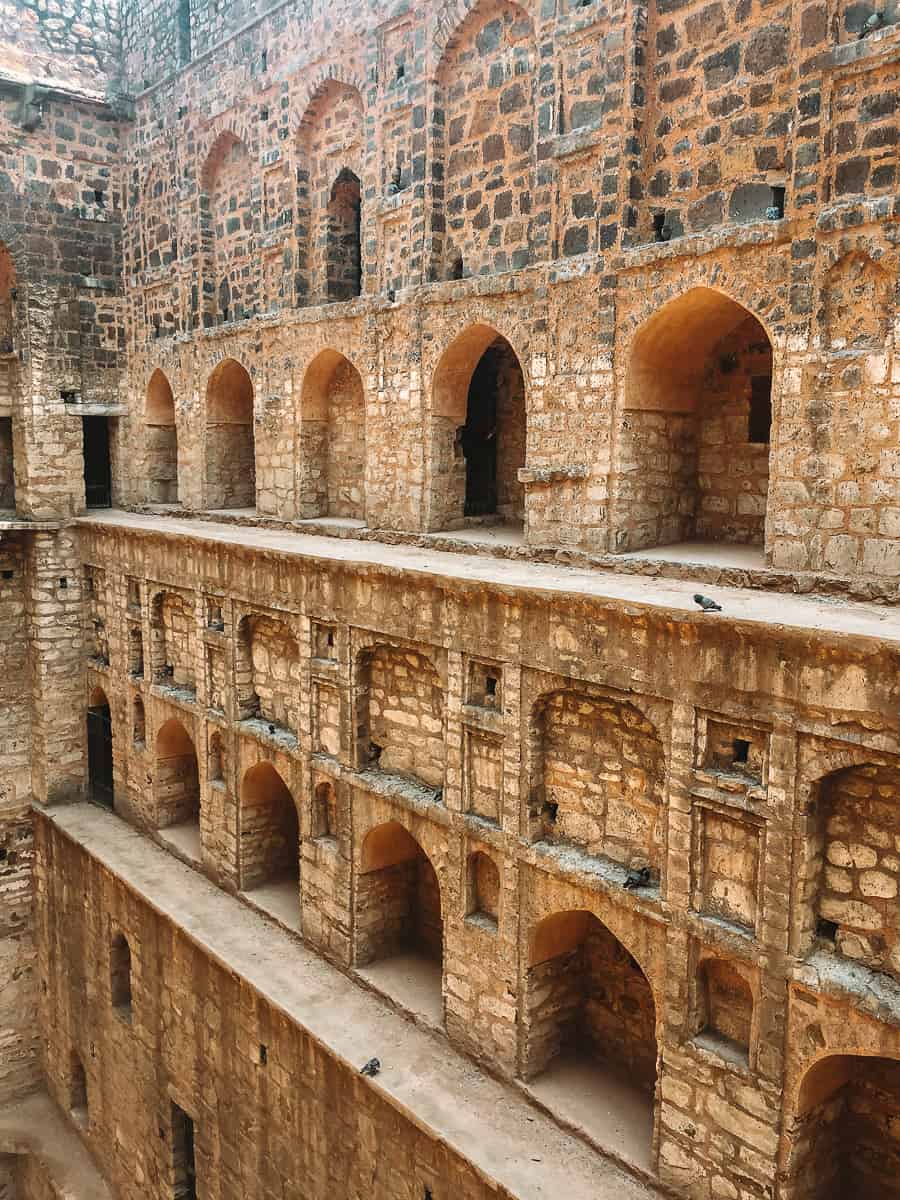 First of all, what is a Baoli?
A Baoli in North India is a stepwell. Also called a water temple, this usually involves a series of steps that lead down to a well.
Stepwells have different names around the country. In Delhi and Rajasthan stepwells will commonly have the name Baoli from the Hindi language. In Gujarat, these are called Vavs.
Out of all the Baoli's in Delhi, Agrasen Ki Baoli is by far the best maintained. Probably due to the fact that it's a bit of a hidden gem amongst the busy streets and more popular attractions.
In total, there are currently 14 Baolis in Delhi that have survived and are now protected by the Archaeological Survey of India.
There are also thought to be around 2000 ancient stepwells in India today!
Read more – The incredible legend of Adalaj Stepwell in Ahmedabad
What were Stepwells used for in India?
The dry landscape in the North of India often meant that there were many water shortages years ago.
So, to provide a solution, stepwells were built to collect water and acted as a reservoir for communities.
As the water source was something that everyone needed, Baoli's essentially brought people together!
This is where locals would meet to chat, seek shade from the heat, collect water to wash clothes, and bathe. It was almost like a modern-day community hall.
Related post – the historic Dada Harir Stepwell in Gujarat
The history of Agrasen Ki Baoli
Agrasen Ki Baoli is an ancient stepwell that is 60 metres long, 15 metres wide, and has 108 steps. It also has three levels and each of them has niched arches on either side of the well.
It is one of the few historic Baolis/bawdis that have survived in Delhi, hidden in amongst the sky-high buildings of Connaught Place.
Although there is no recorded history of who built the stepwell and when. It is believed to have been commissioned by the legendary King Agrasen around 3000BC.
Agrasen was a legendary Maharaja who was thought to have founded the Kingdom Agroha, which was the kingdom of traders.
Recent archaeological surveys have found that this stepwell was largely rebuilt in the 14th-century by the Agarwal community during the Delhi Sultanate. The Argarwal's believe they are direct descendants of Agrasen and Agroha.
Throughout time, the stepwell was used to collect water, acted as a reservoir and also provided a community area for the locals.
Is Agrasen Ki Baoli haunted?!
Although there is not much recorded history on Ugrasen ki Baodi, the infamous legends surrounding this mysterious place are well known throughout the city!
Years ago, many people would say that the water collected in the well was completely black in colour.
It is said that when people approached the black water in the well, they would be enticed by it and were compelled to commit suicide.
As they leaped from the well into the depths of the black water below, the water would rise up and spill over! Oozing the blood of its victim.
Although this mysterious 'black water' has dried up, there are also legends that the stepwell is haunted by ghosts and demons that lurk beneath.
Many people complain about being 'followed' in the stepwell as they can hear footsteps behind them. But, this can be explained away by the echoes caused by the acoustics in the architecture.
Whether you believe any of these legends is up to you. But, you cannot deny that the stepwell has a creepy feel to it when you visit. Added by the fact that bats and pigeons now call it home!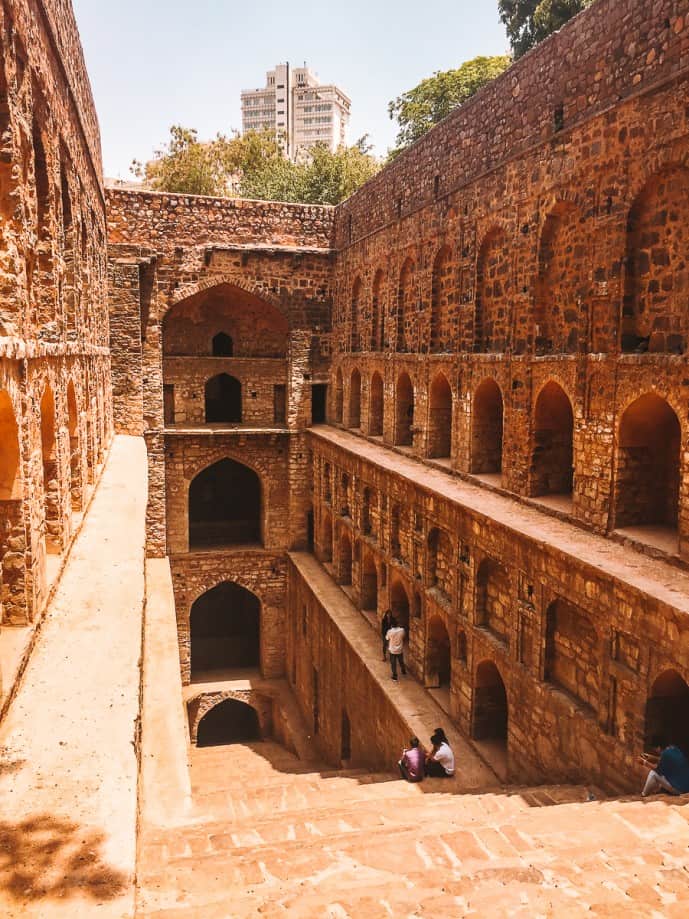 Which movie was filmed at Agrasen Ki Baoli?
Although this stepwell is a bit of a hidden gem in the heart of Delhi, it has recently been made famous by the Bollywood Movie PK.
The Sci-Fi comedy starring Aamir Khan sees him playing an Alien called "PK". His home is the Ugrasen ki Baodi!
You'll find many tourists and locals alike chasing in the footsteps of their favourite characters here.
Read more – How to visit Panna Meena Ka Kund in Jaipur
What to expect on your visit
Although it no longer collects water today and the legendary black water has dried up. It is now a protected monument by the Archaeological Survey of India.
It's amazing that something like this has survived thousands of years and is open to explore!
Although there are gates that surround the monument to protect it, once you're inside the complex you're completely free to explore all areas of the stepwell
You can climb up and down the steps, enter the rooms and find what lies inside the niche arches (although you'll mainly find bats!).
Many people come here to relax for a while in the shade and sit on the steps. It's a really nice atmosphere.
Although you're sitting in the middle of Delhi, you'll find that this place is extremely peaceful.
It's also a welcome respite from the heat. As I was living in Delhi at the time, I visited in May when it was almost 40 degrees each day! So, I was loving sitting here in the shade.
Read more – the most Instagrammable places in Delhi!
Top tips for visiting
Although it's great to be able to walk around freely, there are no barriers on any of the levels in the stepwell. So, mind your footing – you don't want to fall and hurt yourself.
Some of the rooms at the bottom of the well have been blocked off to protect them
You don't need to take your shoes off to explore the footwell, this is a great thing as there is a lot of bats and pigeon poo on the floor. You should also prepare for the smells.
Although the site is largely protected, it isn't well maintained. There is still lots of rubbish around
This place does get busy during the day with tourists, college students and locals. So, if you want clear photos best to visit early in the morning.
Photography is perfectly fine but tripods are forbidden. This is the same with most ASI sites in Delhi.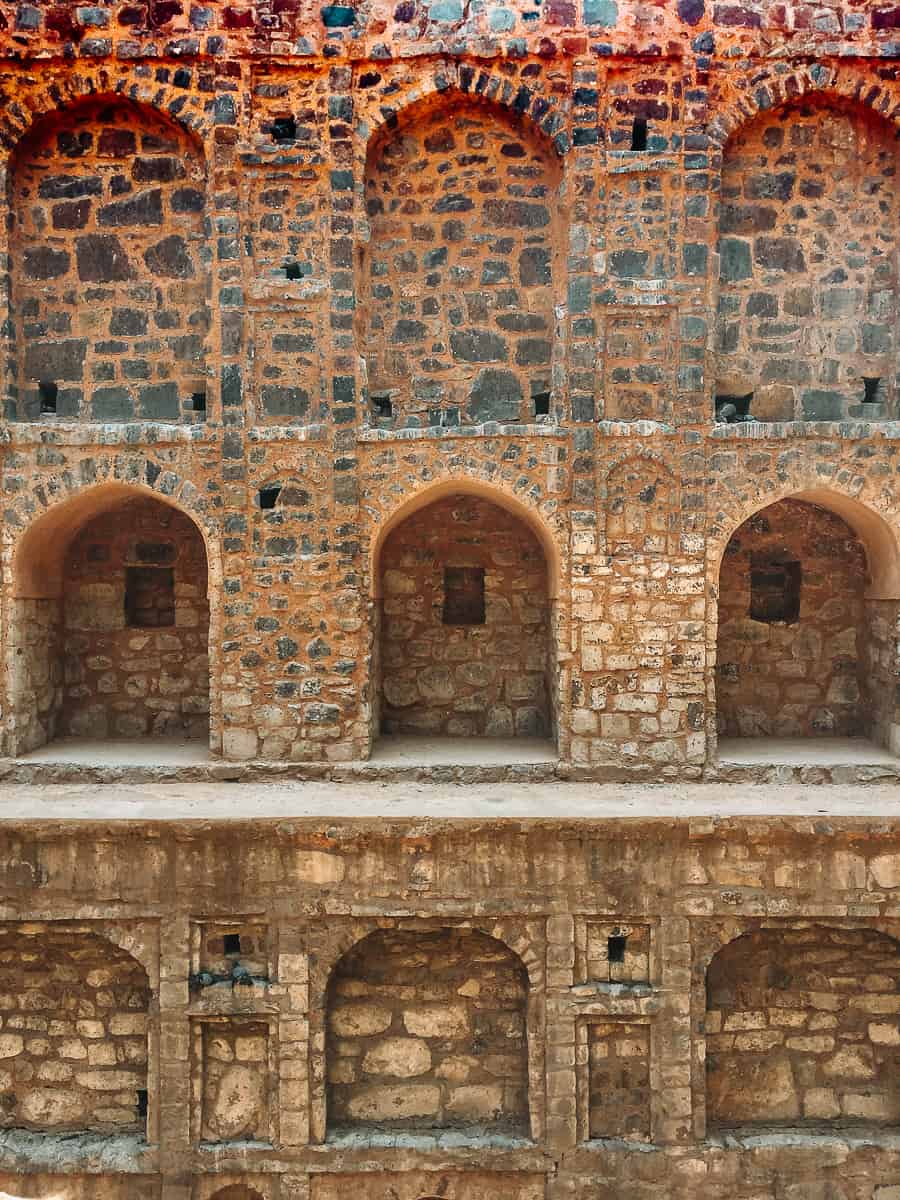 Agrasen Ki Baoli opening times & prices
The Baoli is open every day, including Sundays, from 9 am to 5:30 pm. So, unfortunately, you cannot visit at night time to go ghost hunting.
There is currently no charge to enter the complex for foreigners or Indian nationals.
Photography is also free but you may be stopped from using your tripod by the security guards. Drone photography is strictly forbidden.
Where is Agrasen Ki Baoli in Delhi and how to get there?
This historic stepwell can be found near Connaught Place in Delhi but it may not be obvious if you approach it on foot from there.
This ancient place is hidden away on the sleepy Hailey Road in between high-rise buildings!
New Delhi is a huge city with many districts and so it has an endless list of transport options to take you to the stepwell.
Personally having lived in Delhi for well over a year, I would avoid taking the local buses. The Metro is far more convenient and safer to use – plus it has some much-needed air-con!
The Delhi Metro works on a coin-token system. So, you simply go to a machine in any of the Delhi Metro stations then, select your station (there is an English option). Pay your rupees and you'll receive a coin token. You must keep this with you on your journey as it's collected on exit.
The Nearest Metro station to Agrasen Ki Baoli is Barakhamba Road or Rajiv Chowk stations.
From Barahhamba Road it's a 10-minute walk to the Baoli and from Rajiv Chowk the walk will take 15 minutes to Hailey Road.
Alternatively, you could hire a driver to take you around Delhi for the day. As this Baoli is not usually included as one of the 'main' attractions of the city, make sure to ask the driver to add this to your itinerary.
What is near Agrasen Ki Baoli?
Once you've finished chasing ghosts around the Baoli, where is there to travel to next?
Well, there are plenty of things to do in the area that are worth seeing. The first would be to explore the lively Connaught Place!
This is one of the most happening areas of Delhi where you'll find endless shops, bazaars, and restaurants to explore in the day or the night.
You could then explore Janta Mantar and close by is one of my favourite markets in all of Delhi. Janpath is where I do all my souvenir shopping! It has a great range of tourist souvenir shops and local market stalls too.
From here, you could visit the Sikh temple of Gurudwara Bangla Sahib or head on over to Chandni Chowk in Old Delhi.
This is also where you can try some amazing street food on a tour or head into Karim's which is my go-to restaurant.
If you're looking for Instagram spots the Old Spice Market Rooftop can be found here. Also, a boat ride from Yamuna Ghat is a popular location.
If you want somewhere more relaxing I'd recommend the Lodhi Gardens which are so peaceful. Or, you could hide away in the Imperial Hotel for a spot of afternoon tea.
Some of the most popular attractions in Delhi are the India Gate, the Red Fort, Lotus Temple, Qutub Minar, and Humayun's Tomb.
In the evening, I would totally recommend you head to Akshardham Temple. It's free entry but you can pay to watch their amazing light and sound show. As a local, It's was one of my favourite things to do and I think I've been around five times now!
The list of things to do in Delhi is endless. If you're stuck for time, make sure to check out my complete guide on how to spend 24 hours in the city.
Where to stay in Delhi
Delhi is huge, chaotic, and busy at all times of the day. Where you stay in the city can have a huge effect on whether you enjoy it as a tourist or not.
Most travellers tend to choose Paharganj as this is where most of the backpacker hostels are and cheap guest houses. But, It's not the most peaceful. In fact, it's noisy pretty much all hours of the day and night.
When I backpacked through Delhi, I chose Paharganj. Personally, I don't mind it and I love the atmosphere around the area in the evenings. However, it's not for everyone. I can recommend the budget Yes Please Treebo Natraj (it's actually quiet) or the mid-range Hotel Ajanta.
For a more peaceful area, I'd pick New Friends Colony or somewhere near Hauz Khas Village. There are a couple of 'Poshtels' here and some friendly Homestays which provide more of a relaxing dwelling.
For hostels, I like the Zostel chain. They come highly recommended and I've stayed in a few myself. As a bonus, the Zostel Delhi is located in Connaught Place so it has a nice central location and it's near the Baoli.
For more luxurious residences, I'd always choose The Imperial New Delhi, Taj Palace or the Leela Ambience near the airport.
Read more of my articles on India
The ultimate Rajasthan itinerary
A first timers guide to Jaipur
My complete guide for Rishikesh
Save this Agrasen Ki Baoli guide for later!