One of the places I kept seeing on my Instagram and Pinterest before my first visit to the white city of Rajasthan was the Ahar Cenotaphs Udaipur.
I knew I instantly wanted to get some photographs of this amazing place but what I didn't know was that this area was a sacred cemetery! A marble city of the dead.
The Ahar Cenotaphs are the final resting place of Udaipur Royalty and, as such, it is a place that has great respect from the local people.
Today, it's a popular tourist attraction and photography location in Udaipur. However, what Instagram doesn't tell you is that you're not technically supposed to take photos here.
I'll reveal more of what goes on behind the scenes of those pretty Instagram pictures in my honest guide for visiting the Ahar Cenotaphs.
What are the Ahar Cenotaphs in Udaipur?
Cenotaphs are tombs that have been built to commemorate someone of influence when their remains are located elsewhere. A group of cenotaphs in India is also known as a Mahasati.
The Ahar Cenotaphs in Udaipur were built to commemorate Mewar Royalty and the Maharajas that ruled over the Mewar kingdom years ago.
It's good to note that are no bodies buried on these grounds. The cenotaphs are here simply as a memorial to remember them. The Maharajas and their families were usually cremated and their ashes were scattered elsewhere.
On the grounds, there are over 372 memorial cenotaphs that were built over the course of 400 years. These were built to commemorate all members of the royal family including queens, princes, princesses, and others.
In amongst this marble city of the dead, there are 19 'Chhatris' that commemorates the Maharajas and Maharanas of Mewar who were cremated there.
The reason why it is called Ahar Cenotaphs is they are located in the small town of Ahar in Rajasthan. This is located just over 2 kilometres from the city of Udaipur.
What is a Chhatri?
In many parts of India, the funerary cenotaphs are called 'Chhatris'. This is due to the elevated dome-shaped pavilions that sit on top of the tombs.
Chhatris are extremely common in the North of India, mainly used in Rajput and Mughal architecture, and the word translates to 'canopy' or 'umbrella'.
In Udaipur, chhatris were built to commemorate Mewar Royalty and the construction of the Ahar Cenotaphs started over 400 years ago!
Did you know? You'll find a group of chhatris in nearly every Rajasthani city. For example, Bada Bagh in Jaisalmer.
History of the Ahar Cenotaphs
It is believed that the first Mewar king to be commemorated in this area was Maharana Amar Singh II in the year 1710. A Maharana is a Maharaja that has never been defeated in battle.
It was then preceded by Maharana Sangram Singh and it is his cenotaph that is the most beautiful.
It was constructed in 1734 and is the largest of the chhatris on the cremation grounds. It's has a huge octagonal dome and is supported by seven pillars. It is this one that people visit and photograph the most!
Ever since all the Mewar Royalty have had cenotaphs made here to commemorate them. There are now over 372 cenotaphs.
The latest one that was built on the grounds was in 2004 in memory of Udaipur's last Maharana; Bhagwat Singh. He died in 1984.
Things to do at Ahar Cenotaphs
Today, many people still visit this burial ground to remember those kings and rulers of Mewar. Others visit solely for photography.
As well as visiting the tombs, there are some other things to do in the area as well;
Explore the Royal Cenotaphs
Each Chhatri at the Ahar Cenotaphs is very grandeur in architecture. The Chhatris here are to commemorate the Mewar King's life achievements. So, the more revered the king, the bigger and more expensive the chhatri will be.
The Ahar Cenotaphs echo the architecture of 15th-century temples and so you'll find grand studded domes and pillars. Carvings of elephants and intricate marble structures.
Inside each of the tombs, you'll find a carving of the Hindu God Shiva, along with an image of the Maharaja.
In many of the tombs, you will also find carvings of the Maharajas wives as well who performed 'sati' in the event of their husband's death.
Sati is a tradition in which the wives of the Maharaja would have to self immolate in the cremation fires of their husband.
As you wander around these memorial tombs, you will be in awe of the design. They are simply stunning, so I would plan lots of time for your visit!
Some of the grounds aren't very well maintained. You may see quite a lot of rubbish left around. I would also be careful to mind your step as some of the cenotaphs are not stable.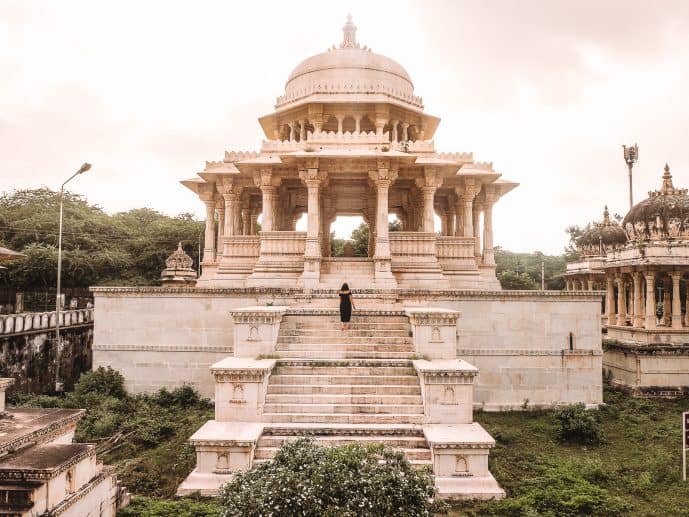 Ganga Udbhav Kund & Bhaktimati Meera Temple
Just nearby the Ahar Cenotaphs is an ancient Holy Pool of water or 'Kund' that you can explore locally known as Ganga Kund!
According to legend, this place was the origins of the Holy River Ganga.
Just nearby to that is the impressive Bhaktimati Meera Temple which originates from the 10th century. Dedicated to Shiva, you'll find intricate carvings and sculptures to admire.
The Ahar Archaeology Museum
Although the ancient town of Ahar is now remembered for these cenotaphs. It may surprise you to know that there is a history surrounding this place ever since the Bronze Age!
It has long been a site of the Ahar-Banas culture and Indus Valley Civilisation in the South of Rajasthan. You can learn more about this in the Ahar Museum nearby which concentrates on the archaeology of the area.
It only costs 3 rupees to go inside and they have lots of displays from digs and excavations made in Ahar and Dhulkot Mound.
If you're a history lover, you'll enjoy looking at all the earthenware and artifacts that have been recovered!
Top tips to avoid mistakes
Shoes off on the cenotaphs – This is really important. You must take your shoes off before you explore the chhatris just like you would in holy temples! It's seen as extremely disrespectful to ignore this.
Photos – Although there are signs not to take photos here, this is often ignored. If you arrive early enough security will not be there to shoo you on.
Security Guards – If you happen to visit when the security guard is here, they will tell you off for taking photographs. They will also ask for payment. It is up to you whether you pay this. It's a bit of a scam. I ended up paying but it felt a little icky to me.
Remain respectful – As much as taking photos is important, it's also important to remember where you are and what this place means.
Dress appropriately – India is a very conservative country. Although not everyone wears the traditional sari, it's important to cover up in accordance with the culture. So, that means covering up your shoulders and knees. Wearing mini dresses or shorts is not appropriate
Bring Water – Rajasthan is extremely hot and dry. So, it's important to take water with you and keep hydrated.
What is the best time to visit?
The best time to organise a visit to Rajasthan would be in the winter months from October – March. This is when the temperatures are much cooler.
From April – June, this will be the summer months where Rajasthan sees temperatures of nearly 50 degrees celsius! I have been in summer and it's unbearable, believe me. I got very sick.
From July – September, this will be a monsoon where it will be intermittent showers. This is when I visited the cenotaphs and it was incredibly muggy and hot!
The best time to visit the Ahar Cenotaphs would be for sunrise when the light is softest and it's not boiling. You may get a lovely colourful sunrise at this time!
I would allow at least 2 hours to travel to the grounds, explore and make the journey back.
Read more – my ultimate two weeks in Rajasthan Itinerary!
Where are the Ahar Cenotaphs in Udaipur & how to get there?
Although these cenotaphs are described as being in Udaipur as an attraction, they are actually located in the small town of Ahar in Rajasthan.
Ahar is located around 2 to 3 kilometres away from the city of Udaipur. So, you can choose to walk there or you can organise transport.
Due to the nature of walking paths in India and the heat in Rajasthan. I would always recommend hiring an auto-rickshaw (Tuk-Tuk) or taxi to take you longer distances.
I ended up organising a rickshaw to take me to the cenotaphs at sunrise. I did this the night before with my guesthouse as there is never a guarantee that Tuk-Tuk drivers will be operating in the early hours.
I ended up paying around 500 rupees for a return journey to the Ahar Cenotaphs.
This included getting there from Lake Pichola, the rickshaw driver waiting for me to take photos, and then taking me back. However, this is India and prices are negotiable!
Ahar Cenotaphs opening times and ticket prices
The cenotaphs are open daily from 6 am to 6 pm. This makes it perfect for a sunrise or sunset visit.
There is no charge for entry into the cenotaphs but the security guard may charge you for taking photos.
There is a 3 rupee charge to enter the small Ahar Museum nearby. This is open from 10 am – 4.30 pm. Closed on Fridays.
Looking for more photography locations & things to do in Udaipur?
Udaipur is SUCH a romantic city in India. Also known as the Venice of the East, the White City and the City of Lakes, you'll find no end of things to do.
You can head on over to the City Palace or take a relaxing boat ride on Lake Pichola.
A trip up to the Monsoon Palace will give you one of the best views of the whole city! Also, The Karni Mata Temple was also one of my favourite places to view the lake.
You could head into the ancient Jagdish Temple or watch a cultural show at Bagore Ki Haveli.
Plus, there are many day trips you can take from this city including Chittorgarh Fort, the Ranakpur Jain Temple, or Kumbhalgarh Fort too.
Click here to read my complete guide on places to visit in Udaipur!
Where to stay in Udaipur
There is only one place that I would recommend staying in Udaipur and that is the incredible Taj Lake Palace!
Situated in the middle of Lake Pichola, this historic hotel used to be a summer palace for Mewar Kings.
I stayed at this incredible place only once but the memory of it has always stuck with me. It can only be accessed by boat and you'll really feel like a queen.
This is the ultimate bucket list accommodation for Rajasthan and the service from the Taj Hotels cannot be beaten.
Click here to book a room or you can read my complete review here!
Heading around Rajasthan? Check out these posts!
My complete guide to the Pink City of Jaipur
A photography guide for Jaipur
My top travel tips for Jaisalmer
A camel safari in the Thar desert
Why Bundi has to be on your bucket list
Top places to visit in Bikaner
Visiting the rat temple in India
Save this Ahar Cenotaphs Udaipur guide for later!