Alappuzha Lighthouse in Alleppey is an extremely popular attraction in Kerala.
Not only are these red striped lighthouses along the coastline iconic, but they also provide some breathtaking views of the area and a lovely refreshing breeze to boot!
The lighthouse in Alleppey was built in the 19th century as a navigational aid but today, as well as a museum, tourists visit to get a birds-eye viewpoint for photos.
Before you visit, there are a few things you need to know about opening times and accessibility to reach the top. I experienced this first hand, so make sure you read all my tips.
Here is all you need to know about visiting the Alappuzha lighthouse in Alleppey and what to expect.
The history of Alappuzha Lighthouse
Kerala has long been a popular trade route due to the many spices that grow here. In fact, this is what first attracted Portuguese sailors here in the 16th century to settle in the area. They would transport the spices to Europe from India by boat.
Next up, the Dutch took over these trade routes and then eventually the British Raj. Kerala was one of the busiest trade ports in all of India and Alleppey had hundreds of ships pull in with foreign traders.
Eventually, a lighthouse was needed due to the development of the harbour. Previously, light signals were given manually by staff in the area.
In 1860 the first stones were laid by Mrs Mough Crawford. Then, by 1862 the Alleppey lighthouse was born! It was 30 metres high, with a teak staircase and had optical equipment imported from Birmingham in the UK. They also used a coconut oil double wick lamp as the light source!
Over time, the equipment has been updated but you can see the originals in the Lighthouse museum. Unlike other lighthouses which are completely automatic, this one still has a manned station today.
Where is Alappuzha Lighthouse in Alleppey?
Alappuzha Lighthouse is slap bang opposite Alleppey Beach! You can't really miss it as it towers above the trees and you can see the red bands from miles away.
It's a popular stop for most tourists staying in Alleppey and you can access this on foot from the Alappuzha beach or make it a stop on your bicycle tour!
If you're self-driving to Alappuzha Lighthouse, then it's just off the main car park for Alleppey beach and easy to park up next to the lighthouse too.
Opening times and prices for Alappuzha Lighthouse
Opening times for the Alappuzha Lighthouse are 9 am – 11.45 am in the morning and then it closes for a few hours until it reopens at 2 pm – 5.30 pm! It's closed on Mondays.
I would 100% recommend going earlier in the morning to beat the heat and the crowds. In the afternoon the lighthouse was like a hot tin can and super busy. So there were queues to climb to the top and you ended up just sweating inside.
However, when you are up the top, there is no limit to how long you can be there and I would relish in the lovely breeze!
Ticket prices for the Alappuzha lighthouse are 10 rupees for Indian citizens, 50 rupees for foreigners and you pay an extra 10 rupees for photography.
Top tips before you visit Alappuzha Lighthouse
I would visit early in the day rather than later, to escape the heat and crowds
You will need to take your shoes off before you go inside both the lighthouse and the museum. You just leave them in a pile outside, there isn't a shoe counter.
The top of the lighthouse is metal and absorbs heat, so be careful of your tootsies!
The sun is harsh in India and the lighthouse is hotter than hell inside the more you climb up. Around 4 pm, there were queues all the way down the lighthouse and people started to feel faint and were complaining as it was far too hot inside.
You will have to climb up a steep metal ladder at the end that is almost vertical. So, if you do have a foot/leg injury, cannot climb or are concerned about accessibility to get to the top, I would check the photos first to see if you're up for it.
If you're afraid of heights, this isn't the attraction for you! You'll be at the top of the lighthouse, 30 metres high.
It is a one-way ladder, so there was a lot of congestion and little control over people taking turns to go in and out of the lighthouse. So, if you want to avoid the scrum, go early!
Wear practical clothing – don't wear any dresses without shorts/leggings underneath as you'll be climbing up a vertical ladder and people can see right up there. I saw a lot of women wearing saris which were a struggle to climb in and people having to tuck their dresses in between their legs so that people didn't see their knickers! Luckily I wore leggings that day, lol.
What can you see from the top of Alappuzha lighthouse?
Despite the climb being a little sweaty and overwhelming, I'm sure you'll be happy to know that the views are totally worth climbing for!
You get perfect 360-degree views of the whole area, including the beach, the jungle and you can even see the rooftops of churches with trains passing by below.
I'm not gonna lie, the top reason why I stuck around for quite a while was to enjoy the refreshing breeze from the top. Alleppey was roasting in October and was still a little humid as the monsoon season had just passed, so I was here for it.
It is busy at the topmost of the day, but in the afternoon it is busiest. There will be people everywhere, but most do move around so that others can see the view as well.
There are also some seats, but you'll mostly be looking at people's backs in the afternoon if you sit down haha.
Don't forget to visit the Lighthouse museum in Alleppey!
Although the views from the Alleppey lighthouse are excellent, I still think it is worth visiting the small museum near the entrance to learn all about the lighthouses in the area.
The museum is included as part of your ticket, so you haven't got anything to lose really. Plus, as a little bonus, there is air conditioning, so it's a nice time to cool off inside. Thank me later! ;)
The lighthouse museum gives you an inside look at the trade history, how the lighthouse was built and other lighthouses in the area too.
You can also see the original equipment and learn about how the lighthouse works in the area. It's a great way to pass the time.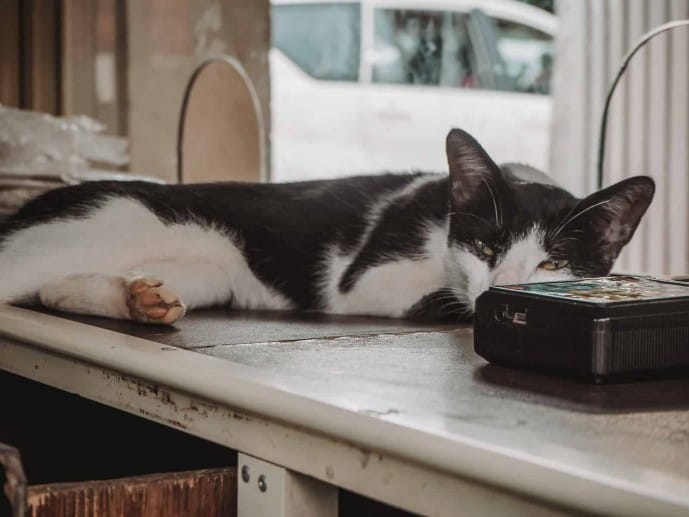 The top things to do in Alleppey!
Alappuzha lighthouse just scratches the surface of what Alleppey has to offer you in Kerala. There is beaches, backwaters, temples, restaurants, Toddy and more.
I would definitely recommend sending 1-2 days here to make the most of everything but if you only have a day, it is still possible to see the main sites.
My favourite moments from my trip here were the experiences from a boat ride on the backwater canals.
Click here to read my full guide on everything you can do in Alleppey or, click here to discover the backwaters of Kerala!
Houseboat Tours of Alleppey
If you're wondering how to get around the main sites of Alleppey backwaters, most tourists opt to rent a houseboat or a Shikara boat for the day.
On a houseboat, you can treat this as a hotel as it will have rooms, bathrooms and even a kitchen on board to prepare meals. But, you're restricted to the main waterways.
If you want to go a little offbeat, I'd opt for a Shikara boat so you can float down the lesser-known smaller canals and see some of the smaller villages.
Click here to see all your options;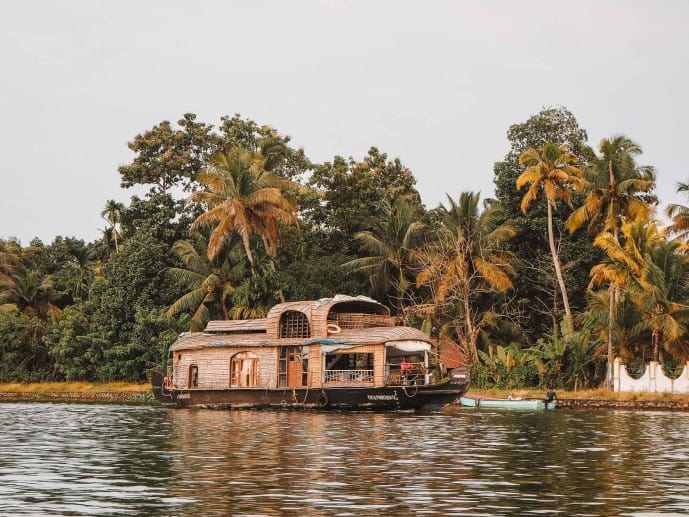 Where to stay in Alleppey
Most tourists opt to stay in a houseboat for the night while they are in Alappuzha to cruise down the backwaters.
But, as I was on my own, India Someday booked for me to stay in Emerald Isle Heritage Villas instead. I wrote a full review here.
It's a gorgeous 150-year-old farmhouse that is located within the backwaters themselves! So, you can get a taste of what life is like here while enjoying a boutique stay.
Don't worry, as well as trekking around here, you can still book a boat tour from the hotel to explore the backwaters too!
But, if you just want to stay put there's an Ayurvedic spa, grounds with hammocks to sway in and a restaurant that serves up tasty local food.
Click here to book your stay at Emerald Isle and check dates and rates!
Where are you heading next in Kerala?
I spent a week in Kerala with India Someday and explored the historic Fort Kochi, the hill station of Munnar and the backwaters of Alleppey.
From the experiences on my adventures,I wrote up some detailed guides to help you plan your perfect trip in Kerala!
I loved the diversity on this trip, so make sure you read my full Itinerary for Kerala if you're planning on spending some time in Gods Own Country.
Fort Kochi
For such a small village Fort Kochi is a powerhouse of history and culture.
You'll find Portuguese buildings, indo-catholic churches, Paradesi Synagogues, street art, Chinese fishing nets and the ancient dance of Kathakali too;
Chinese fishing nets: how to prevent being scammed
Kathakali: a complete guide
Munnar
Probably the most famous stop in Kerala is Munnar. An emerald green paradise located 1,500 metres in the hills.
It's home to some of the highest peaks outside of the Himalayas in India, with miles of tea gardens, wildlife, waterfalls and spectacular viewpoints;
A Munnar road trip guide with sightseeing stops
Pretty waterfalls you must visit
Top tips for Kerala's oldest National Park
Top station: is it worth the drive?
Save this Alappuzha Lighthouse Kerala guide for later!
With thanks to India Someday for sponsoring my trip to Kerala. Although I was a guest, all photos and opinions are my own!