The Allas Sea Pool Helsinki is by far the best swimming pool in the city. What could be more amazing than bathing in a thermal pool overlooking the Baltic sea?!
It's not just a fad tourist attraction either! It's extremely popular with locals and tourists as a wellness hub and the fact that it can house up to 3,500 visitors at once and get full at peak season, speaks volumes.
Sauna culture is part of the Finnish identity and naturally, it wouldn't be a wellness spa area without them! There are three saunas here and three open-air swimming pools. So, you'll have enough choice of where to bathe.
You may have already guessed but the Allas Sea Pools is called that for one reason, it has a pool that's filled up from the sea and you'll be following in the footsteps of a true Finn if you swim in there. Spoiler alert: It's FREEZING!
Although it seems simple enough, I actually found the Finnish sauna culture a little overwhelming and confusing as a Brit.
So, I'm going to cover everything you need to know about the Allas Sea Pool Helsinki here before you visit. That way you'll be a little more prepared than I was!
How to reach Allas Sea Pool Helsinki
The Allas Sea Pool is a floating deck located near the main ferry dock of Helsinki by the Suomenlinna ferry port and near the Old Market Hall.
It's only a five-minute walk from Senate Square with the Helsinki Cathedral and a three-minute walk from Uspenski Cathedral. If you're heading here from the Helsinki Central train station, the Allas Sea Pool Helsinki is only ten minutes walk away from there.
If you're travelling here by public transport you can take the tram lines 4, 2 and 7 to reach Allas Sea Pool alighting at Riddarhuset station near Senate Square.
You can tell you're nearby seeing the big Helsinki Skywheel that can be seen for miles around!
What are the Allas Sea Pool Helsinki opening times?
The Allas Sea Pool is open seven days per week, and opening times vary. From Monday to Thursday you can enter the pool anytime 6.30 am – 9 pm at night.
On Fridays and Saturdays the Allas Sea Pool is open from 6.30 am – 11 pm. This is probably the best day to go as the sunrise and sunset/night times are quietest in the spa.
On Sundays the Pool is open from 9 am – 9 pm. This is one of the busiest days to visit.
Sessions are limited to two hours and you must enter 40 minutes before closing time or you won't be allowed entry! Swimming closes 20 minutes before closing.
How much is Allas Sea Pool Helsinki?
An adult single entry ticket to the Allas Sea Pool Helsinki will cost 14 Euro. Children are 7 Euro's a single ticket.
Their booking page is quite confusing as even though you can select English, most of it is still in Finnish! But, nothing a bit of Google Translate can't help with. 'Aikuinen Kertalippu' is your adult basic single ticket.
You can order them in advance online to guarantee your space, or turn up at the Allas Sea Pool to buy tickets at the entrance. I turned up and was turned away as it was too busy so it may be worth reserving tickets online or turning up early to avoid being disappointed.
What to bring with you to the Allas Sea Pool Helsinki
Although you can rent or buy swimming costumes, towels, robes, slippers, goggles etc. I would highly recommend packing a few things with you on your visit to the Allas Sea Pools;
Flip flops or sliders – as it's an open air swimming pool, you will need to protect your feet around the area. I brought a pair of waterproof Birkenstocks with me and they were perfect for saunas. So, I'd pack some with you or you may find you get cold feet in winter or burn your feet in summer!
Swimming costume – As this is an open air mixed gender pool you must where a swimming costume. Don't be surprised if you see people naked in the female and male only saunas however. You can rent a swimming costume here if you don't have one! Rental is 13.50 Euro's
A hat or swimming cap – In the winter season the Allas Sea Pool gets FREEZING and I saw lots of locals wearing wooly hats and swimming caps, even when I went in April. The water is 27 degrees celsius but your head will be outside in low temperatures.
A robe or towel – when you leave the oasis of the thermal pool to leave for the fitting rooms or visit the sauna , you'll soon be shivering with the cold temperatures outside. Bring a towel or robe to keep you warm and dry off! Towel rental is 8.50 Euro's and Robe rental is 10 Euro's.
Important things to know before you visit the Allas Sea Pool Helsinki
1. There are three saunas, as well as three open air swimming pools
There are three saunas at the Allas Sea Pools, a women-only sauna, a men-only sauna and a mixed-gender sauna which is used for private events. The temperature in here reaches 80 degrees celsius.
Don't be surprised to see people naked in the women and men's only sauna rooms. It's very common in Finland as is part of their culture. As a Brit, it can be quite awkward as we're traditionally quite conservative.
In Allas Sea Pool there are three swimming pools on a floating deck, a steamy thermal pool at 27 degrees celsius, a children's pool (that is shut in wintertime) and the sea pool which changes temperature.
The sea pool is filled up from the Baltic Sea, but don't worry it's sourced from further away and filtered so it's clean. When I visited in April, it was only three degrees celsius! In Winter, temperatures can go down into the minus so it's a pretty brisk swim if you're feeling brave.
I loved the fact that the Allas Sea Pools were environmentally conscious and heated their pool with renewable energy sources called Biogas. It means its energy is generated from raw materials.
2. It's better to reserve tickets for your experience
I didn't do my research before I visited the Allas Sea Pools and so was shocked when they turned me away as the spa area was too full! I guess I figured it was huge and there would be enough space but I was totally wrong.
A lot of the time it isn't always about space in a sauna but how many lockers they have available for people to store their belongings. So, I guess I turned up at the wrong time at 6 pm on a Saturday night.
I would highly recommend reserving tickets online or turning up at off-peak times that is during the week, early mornings or late at night around sunset.
3. The locker rooms can be a puzzle and get overwhelming
I found in any popular sauna in Helsinki, the locker rooms were always quite packed and could be overwhelming. They're loud, busy, lot's of people are about and very limited space to get changed.
Although men and women get changed separately, you won't find any individual locker rooms in a sauna in Finland, everyone gets changed out in the open. So, it can be quite a vulnerable experience if you're a Brit.
The Allas Sea Pool give you a waterproof magic band to wear and you use this to enter the locker rooms and use on a locker to store your belongings.
There weren't really any signposts for the main locker rooms so I couldn't find them and I ended up going to the spare set out the back. Thankfully, this was quite quiet but when I came back to change it was rammed!
I actually forgot my magic band at first and got locked out and there was also no one to ask about it, so I then had to climb under the barrier to find it. It was a bit of a nightmare! So, definitely ask a member of staff for the right directions to find your way.
4. It's called the Allas Sea Pool for a reason and it's FREEZING!
The Allas Sea Pool gets its name from the Sea Pool that they have on the deck. In Finland, it's traditional to bathe in the sea, snow or ice after their sauna session so it's almost essential to take part.
The Sea Pool is sourced from a water source far from the main ferry dock so you won't have to worry about any dirt or pollution inside. Also, it's filtered before it reaches the pool so you know you're not bathing in anything unsanitary and there definitely won't be any fish swimming with you haha.
But, it doesn't mean you don't have to grit your teeth and be brave for this experience! The Sea Pool is the same temperature as the sea at that time and when I visited in April it was three degrees celsius. So, in wintertime, you can expect it to be in the minus!
At first, I chickened out by putting one toe in (big mistake), then the lifeguard on duty convinced me to give it a try. At that moment, I decided that I had to try it or I'd regret it.
I mean you can't come to Finland and not bathe in the sea right?! So, I went for it and I don't think I've swam faster in my entire life!
My whole body felt like pins and needles after I came out but I have to admit that it gave me lot's of energy and I felt better for it. So, I'd definitely urge you to give it a go!
Top tip: Don't think about it too much and just go!
5. The heated pool at Allas Sea Pool really isn't that warm
Okay, so if I'm on holiday and it's 27 degrees celsius, I am boiling! It's almost uncomfortable for a Brit as that's a crazy temperature to us. But, I have to admit that in the thermal pool here, I wasn't all that warm.
It may have been because outside was only four degrees celsius at the time but, I expected it to be a lot cosier. Saying that, after my icy sea pool dip, I definitely felt the heat!
A lot of people bring hats to wear inside of the thermal pool, so I would definitely say to bring one along with you if you want to retain your warmth.
6. The Allas Sea Pools are really busy pretty much all day
If you haven't heard, saunas are a big thing in Finland. I mean, the Finns invented them after all!
So, you can expect to see lot's of locals here at all times of the day.
It's also a popular swimming pool in Helsinki and many of the locals have season tickets. Even at 7 am, the swim lanes were quite busy. Locals take their wellness very seriously so I would avoid the fast swimming lanes if you just want to relax.
Of course, as a tourist, you can visit to simply use the sauna's, bob around in the slow lane and have a dip in the sea pool. But, it will be crowded.
So, if you want it to be quieter I would recommend getting here for opening time or getting here for sunset or for a late-night swim.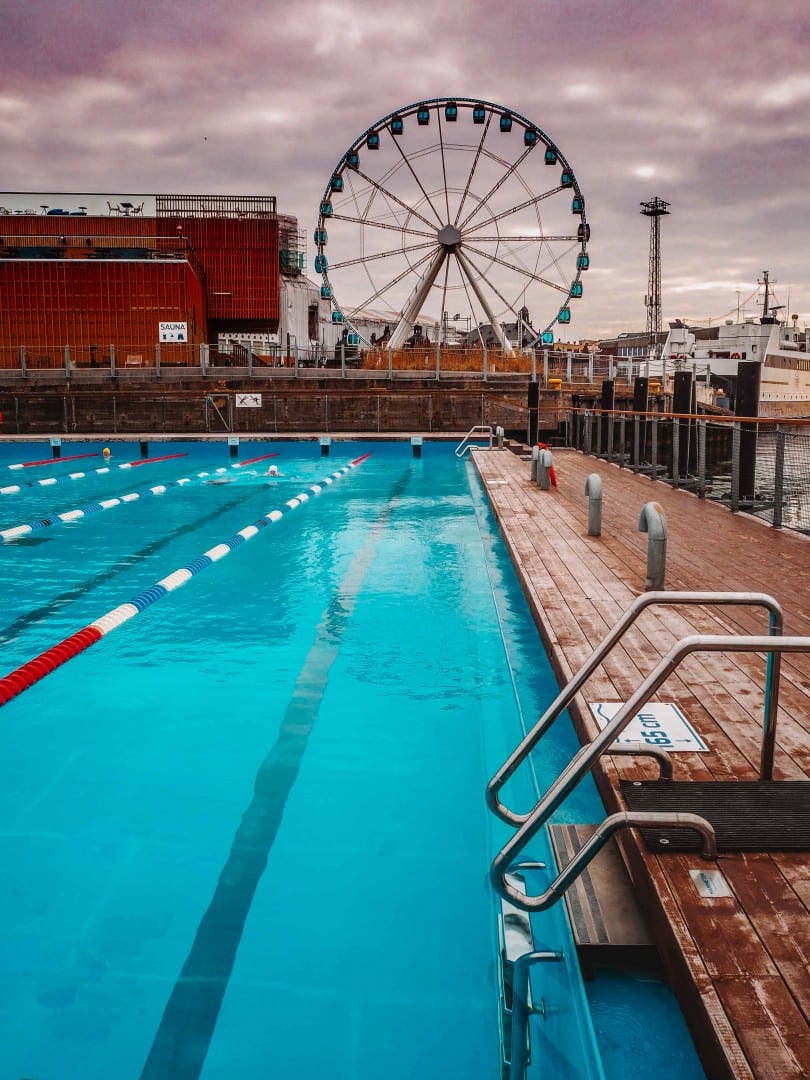 7. As it's a mixed swimming pool and sauna, you must wear a swimming costume
You may be surprised to know that many swimming baths in Helsinki have male and female-only days. That's because, a lot of the time, women and men swim naked in the pools and stay naked for the saunas too.
So, if you were looking for a true Finnish experience I would recommend the oldest public swimming pool, Yrjönkatu, if you're keen.
But, at the Allas Sea Pool, you must wear a swimming costume at all times in the public areas. The swimming deck is pretty out in the open by the main ferry dock so you'll have an audience, along with those exploring the sun deck and terraces where the restaurants are!
In the female-only and male-only sauna's, that may change. Of course, you can keep your swimsuit on but you may see the locals naked in there.
8. You can rent swimming costumes, as well as towels and robes
The Allas Sea Pools have lots of items to buy and rent from their reception near the ticket desk. So, don't panic if you've forgotten something;
Swimming costume rental – this costs 13.50 Euro's
Towel rental – 8.50 Euro's
Robe rental – 10 Euro's
Of course, you can bring your own costume, towels, or robe if you choose. They also have their own beauty products in-store, swimming caps, goggles and lots more to buy too.
9. They have a yummy Ravintola restaurant on the second floor
After your spa experience, you can end your time here with a yummy lunch or dinner in the Allas Sea Pool restaurant on the second floor. It has spectacular views of the Baltic Sea and the Helsinki Cathedral so it's the perfect spot.
They have an incredible a la carte menu, along with a fully stocked bar should you choose to treat yourself. I had their beef fillet with a sweet ending of ice cream and crumble.
Also, I saw they had port on the menu and I got super excited and ordered some (as I'm obviously an 80-year-old granny haha).
If you didn't fancy dining and dining, you can visit their café and have a coffee shop that sells all sorts of light snacks.
You don't have to buy a ticket for the Allas Sea Pool to enter their rooftop terrace, café or restaurant. So, you can still pop up there to admire the view for FREE.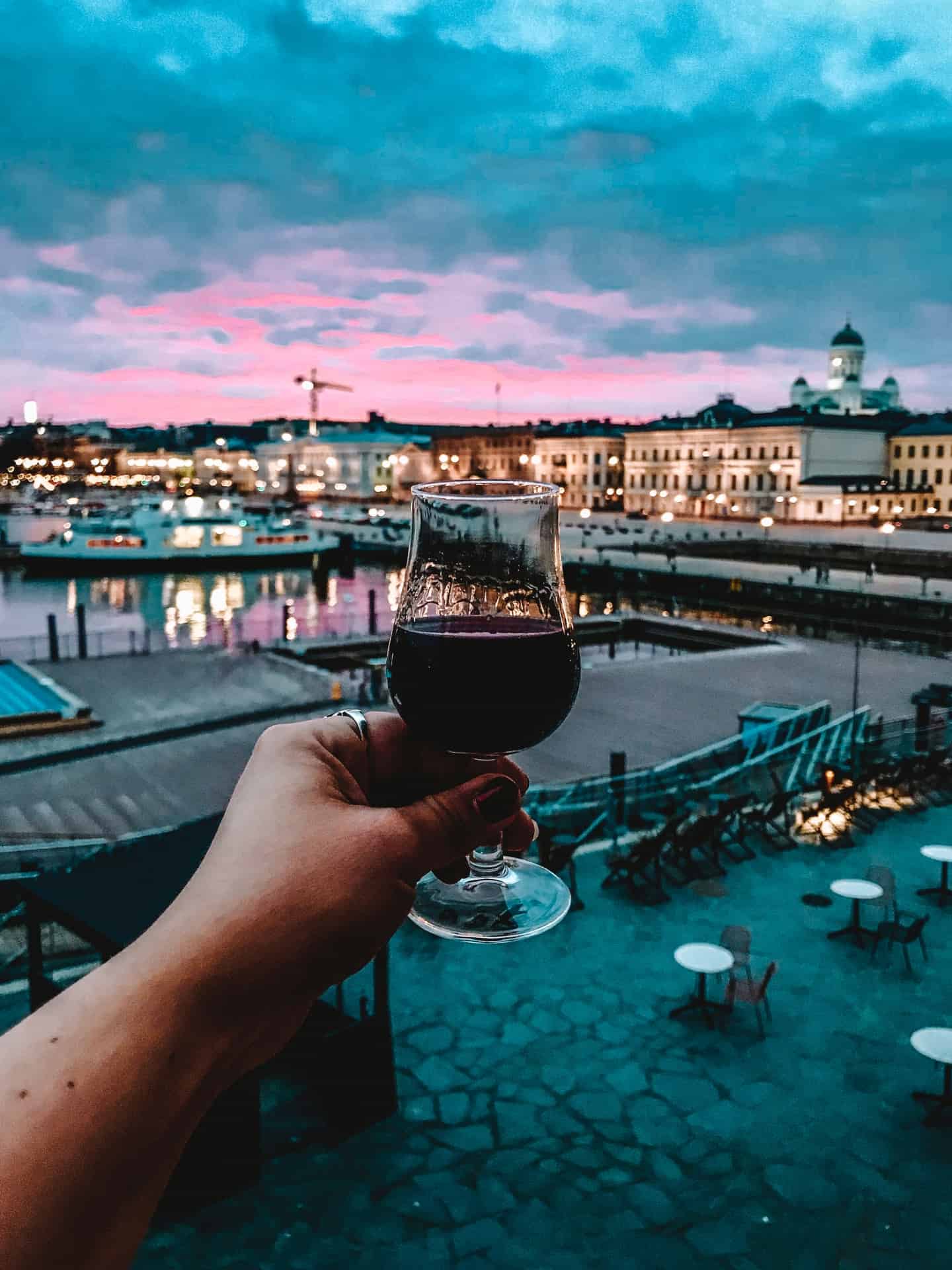 10. Allas Sea Pool put on concerts throughout the year
When I was here, they actually put on a free concert at the Allas Sea Pool to kick off the spring season. A lot of the locals were here, singing and dancing by the stage despite the cold weather.
It was a local performer and I didn't really have a clue who they were but the crowds were going wild for their songs so they must be pretty popular in Helsinki.
If you didn't fancy going out in the cold to watch, you can get a really good view of the stage from the restaurant, terrace, or bar and sit by the fires they have roaring.
I had a very traditional Finnish Longkero drink while I looked on by the fire wrapped in one of their cosy blankets provided.
11. The Allas Sea Pool is an experience you will never forget
You can't say every day that you got to bathe in an open thermal pool in the middle of the Baltic Sea in Helsinki or that you swam in it after a sauna experience! So, the Allas Sea Pool Helsinki is a bucket list worthy item that you have to add to your list while in the city for sure.
It may be chilly outside but it's nice and cosy in the saunas and heated pool. You'll be following the footsteps of a true Finn for taking part.
Make sure you add the Allas Sea Pool to your itinerary while in Helsinki, you really won't regret visiting!
Read more articles on Helsinki
The top places to visit in Helsinki
A photography guide for Helsinki
Why is Finland so obsessed with Moomins?
Where to eat & drink in Helsinki
Cafe Regatta – the most Instagrammable café in Helsinki!
Finnish Sauna etiquette for tourists
The Ultimate Suomenlinna Fortress guide
Taking a ferry to Tallinn from Helsinki
Like it? Pin it!
With thanks to My Helsinki for hosting my visit to the Allas Sea Pool and their restaurant as part of a press trip. Although I was a guest, as always, all photos and opinions are my own.