Cruising down the Alleppey Backwaters of Kerala is a must-do for any traveller visiting India!
There is nothing more iconic than floating down the canal ways with palm trees swaying either side. Watching the locals and waving to the other boats as you cruise down the river in the sunshine.
But, if you're unfamiliar with Kerala in general, it can be hard to know where the backwaters are and how to explore them while you're here.
So, in this detailed guide to the backwaters of Kerala, I'll take you through what they are, where best to access them, what boat to choose with prices and things to do on the backwaters of Kerala too!
Heads up: my trip to Alleppey backwaters was a gifted press trip with India Someday. For a full review of their trip planning services see here or to see an itinerary of what we got up to see here.
What and where are the backwaters of Kerala?
The backwaters of Kerala are HUGE. There are over 900 kilometres of canals and it's a natural phenomenon.
They are a network of lagoons, lakes, canals, rivers, and inlets that run through Kerala and feed from the Arabian Sea or Malabar Coast. It's almost a labyrinth of waterways in amongst the jungle.
The easiest, cheapest, and best way to access the backwaters of Kerala is from Alleppey or Alappuzha (the current name). But, you can also access them from different areas in Kerala too.
Kuttanad backwaters are the most popular and this is where I would suggest you explore to see the best of it. As you'll have a great range of Toddy shacks, temples, churches, and some amazing views too while you sail around.
What is the best time to visit Kerala and the Alleppey backwaters?
The best time to visit Kerala would be in the peak season from October – March. At this time the weather is a lot cooler but you will get most of the crowds too!
Kerala is one of the most popular destinations in India, so you're looking at hiked-up prices during this period.
April – June is the summer months which are extremely hot and temperatures can be in the mid-late 40s. Plus much of the backwaters would be quite dry.
Another time to consider visiting would be from July – September during Monsoon. Although you will experience heavy rainfall most days, the backwaters will be lush and green!
Even when I was here post most monsoon in early October, it was very humid, with some light showers as the heavy monsoon had just passed. But, the greenery was stunning!
Heading to India? Don't Forget Travel Insurance! I always use World Nomad's and trust their policies.
How long do I need in Alleppey?
Honestly? I would say you only really need one to one and a half days in Alleppey. Any more and it will feel like you're seeing the same thing over and over again!
There are some beaches that you can stand on with the locals (Kerala isn't a place for sunbathing all day) and you can take a boat ride out on the backwaters. But, after that, I think you'll be struggling to find more things to do.
If you're looking for some activities to do in 24 hours, make sure you read my complete guide on how to see the best of Alleppey in one day!
What boat do I choose to explore the Alleppey backwaters of Kerala?
What boat you choose entirely depends on your budget and what you want to see. You can go all the way from incredibly expensive houseboats with all the trimmings, to rowing yourself in a traditional wooden canoe.
A big houseboat is great as it has facilities like a toilet and a kitchen to prepare lunch but it's also restricted to the crowded main waterways. Whereas, a Shikara or canoe boat can squeeze through some of the offbeat canals and has seats and sunbeds too.
As I was on my own and didn't plan on staying the night in a houseboat, my homestay booked me a Shikara boat for my adventures in the Alleppey backwaters.
If you're on the fence, I'd choose this as it's less expensive and you can cover more ground!
You don't have to book your houseboat in advance, it is possible to do this while you're here. But, I've included some links in case you're the A-Type who likes to have things booked.
Houseboats
This is what most tourists opt for when they visit the Alleppey backwaters. They are essentially a floating hotel. This will be the most expensive option to travel along the backwaters.
You can choose to take a day trip on the backwaters of Kerala in a houseboat or stay overnight in one too.
But, you should know now that not all houseboats are created equal!
Some are budget with very limited facilities and go all the way up to a luxury houseboat with bedrooms, a bathroom, a kitchen, and a sundeck lounge area.
Prices range from 4,000 rupees (£42/$55) for a 6/7 hour day tour to 20,000 rupees (£220/$250) for a stay overnight depending on your package and the boat. Always check terms and conditions to see what is included like meals etc.
Click here to see houseboat tour options in Alleppey!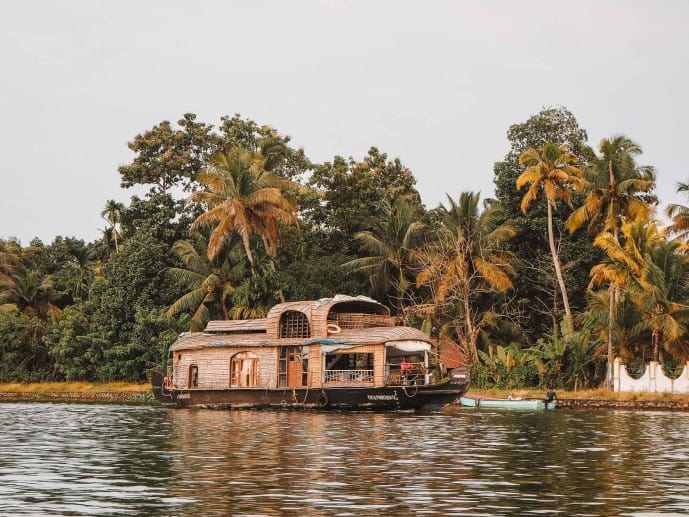 Shikara Boats
This is what I went for and I LOVED it! It's a lot cheaper than a houseboat and as you're in a smaller vessel you can cruise through the smaller more offbeat canals.
A Shikara is a wooden boat that actually originates from Jammu and Kashmir and can most commonly be found in Srinagar on Dal Lake. It has seats, a big bed to lie on, a cover to keep you shaded and dry and an engine to cruise.
Another great reason to hire a Shikara is that you can hire them by the hour. So, it makes it a lot cheaper.
I'd recommend sailing for at least 2-3 hours minimum so you can cover some ground. Any less and you won't see very much.
Shikara boat prices in Alleppey start from around 600-2000 INR per hour depending on the boat. A smaller boat means a lesser price.
So, if you have some friends you could split the cost between you and cruise for however long you like. You can definitely negotiate the price with the boatman if you plan to sail for the day.
Click here to book a Shikara day trip on the backwaters
Canoes
Canoes, or the traditional country boats in Kerala, are how people have been getting around here for centuries!
Many people live in the middle of the backwaters and some have no choice but to travel in these daily.
I travelled over to my homestay in a traditional country boat and it is a little bit of a balancing act! But, it's also really fun and more of a local way to travel which is always an experience.
You can go on canoe tours where you row yourself, or you can hire one with a rider who has an engine so you can explore more places. It's entirely up to you.
This is a great option if there is only one or two of you and if you're rowing, you're protecting the environment too!
Click here to book a canoe day tour in Alleppey
Public Ferries
If you're backpacking on a shoestring budget and you can't justify the cost of a private charter, then the public ferries will be your best way to go.
This is how the locals get around the backwaters and it still gives you a chance to take in the views and explore the area too. As a bonus, travelling with others is also more environmentally friendly!
There are ferry stops all along the main Alappuzha canal that stop at temples, churches, toddy shacks, and access the mainland too. You'll see the stops as they are black and white striped.
They're written in Malayalam but they stop at each one regardless of anyone calling out. So, if you like the look of what you see, hop-off. There will be public ferries that go in different directions outside of Alleppey too.
This option will need a lot more time to explore, so make sure you start out early if you want to cover a few places.
Kayaking
If you're more of the active type, you could opt to choose a kayaking tour of the backwaters!
This was something I considered at first but, to me, Alleppey meant to rest, Ayurveda, and relaxation to end my trip – but, I know that isn't for everyone!
You can simply rent Kayaks here without a guide for around 1000-1500 rupees for four hours.
Or, can do a guided sunrise tour, sunset tour, or spend the whole day in your Kayak on the backwaters which include lunch. Or, spend 2-3 days kayaking with hotels, the choice is yours.
Click here to check out some packages with Plunge Adventures!
Things to do on the Alleppey Backwaters of Kerala
So, once you've chosen your boat. Now, all that's left to do is cruise the backwaters and go sightseeing!
Some of my best memories of Alleppey were from my boat ride on the backwaters so I know that you'll have an awesome time.
Everything from the views, to meeting the locals, enjoying the food, and stopping for Toddy will make a great day out.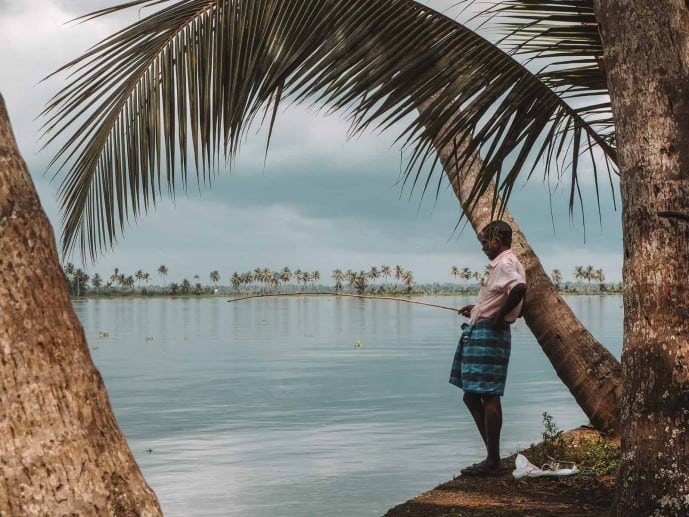 Take in the amazing views
The views here are what most people come for on the Alleppey backwaters and I can guarantee you won't be disappointed.
The Kuttanad Backwaters are the main area where you can see the life that goes on in this part of the world.
You'll pass churches, temples, locals collecting water, fishing boats, toddy shacks (more on that later), and lots and lots of palm trees. I couldn't get enough of the amazing views around here and seeing others on their houseboats.
The reason why I loved my Shikara ride was that we got to head into the smaller canals to see the smaller villages, houses, and float into the dense jungle. We got to go deeper into the maze and float by lakes and lagoons too.
Go temple hopping
South India has a plethora of different religions due to the colourful colonial history of the area. Kerala is no exception to that!
On your way through the backwaters of Kerala, you'll see lots of Catholic churches, Hindu temples, and Islamic Mosques.
You can stop off to explore some of these temples or you can float by and admire them from the water.
It's good to note that some Hindu temples here do not allow foreigners inside.
I loved stopping off at St Joseph's church and some of the Hindu temples that had been here for centuries. It's hard to believe sometimes that these buildings have been used for worship for hundreds of years and still stand today.
Pop into a Toddy shop!
Toddy is something you must try here in Kerala! It's a type of palm wine that is sourced directly from palm trees.
If you're lucky enough, you may be able to see some of the local's toddy tapping. They climb the tree and make a hole in the flower of the tree. Then they tie a pot to the top and collect the sap.
This sap naturally ferments with the yeast in the air and within a few hours, they will have a liquid that is sweet to taste with a 4-6% alcohol content!
If you want to try Toddy for yourself ask your boatman to stop at a Toddy shop. These aren't fancy but will have a lot of locals enjoying palm wine after a long day's work.
I will warn you not to consume too much if you're not used to it. It can irritate your stomach and they sometimes use local water.
Make sure you read my guide here on how to consume Toddy safely
Stop for a delectable lunch
At some point, you're going to get hungry, so I would definitely recommend that you stop off for some lunch on your way around.
South Indian food is mouthwateringly good and in Kerala they often serve curry on a banana leaf. It's like your typical Thali that comes with a pile of rice and a variety of curries and chutneys to enjoy with it!
There are plenty of restaurants on the backwaters and if you're on a tour that includes lunch you'll be taken to the one that they partner with or recommend.
But, if you want some recommendations, popular restaurants include 'A Tasty Land', 'A Taste of India', and 'Aatumukham Restaurant & Toddy Shop'.
Where to stay in Alleppey Backwaters of Kerala
If you're planning on staying the night in Alleppey, then why not stay over in the backwaters themselves?
It's far less crowded and touristy than the hotels in Alappuzha and gives you a chance to unwind in peace.
Emerald Isle Heritage Villa is a 150-year-old farmhouse that is still owned by the original owner's great-great-grandson. It has been converted into a boutique homestay with a few unique rooms. It's the ideal place for travellers looking to escape for a few days.
As well as a tasty restaurant that prepares local meals, they also have an Ayurvedic spa and 9 acres of farmland to explore. So, you can chill in a hammock, take a swim in the backwaters and see their spice farm too!
Click here to read my full review here or check their website for dates/rates
Other things to do in Alleppey other than the backwaters
If you're done exploring the Alleppey backwaters of Kerala and wanted to do something on the mainland, there is a lot more to explore!
As I was on limited time, I actually explored the main strip of Alappuzha beach on my road trip back down from Munnar and then headed straight over the river into the backwaters to my hotel.
Alleppey city & beach is where you'll find the most guesthouses and hostels if you're looking for budget accommodation.
The Zostel in Alleppey is recommended. Although I don't personally stay in hostels very much anymore, I have stayed in a Zostel in the past and they are great options for meeting other travellers (and that way you can share boat fees too!).
Alleppey Beach
Alappuzha or Alleppey beach is one of the cleaner beaches I've visited by Indian standards and that's saying a lot. But, there is still signs of rubbish and, as there are cows and dogs on the beach, they leave their crap which doesn't get cleaned up.
Although in the West, we visit the beach to sunbathe around 10 foot apart from another party and lie down in a bikini. In India, you don't really do that a lot.
Most of the locals on Alappuzha beach will be stood at the shoreline in massive crowds, paddling in the waves. There will be hardly anyone actually lying on the beach.
So, if you want to see the ocean, I'd join the crowds. It will be noisy with a lifeguard whistling but it's lovely to watch the sunset and cool your feet down.
Alappuzha Lighthouse
Another awesome stop in the area is Alappuzha lighthouse.
It was originally built in 1862 as a navigational aid to help traders pulling into the harbour. But, today it's a popular attraction as a viewpoint where you can get birds-eye views of the whole area.
As it's 30 metres high, you can climb up their old teak staircase and get views of the beach and jungle – plus an amazing breeze!
Entry is 50 rupees for foreigners and there is also a small lighthouse museum included in your ticket.
This isn't the most accessible attraction and can be a little bit of a sweaty scrum so make sure you read my guide on what to expect before you climb!
Where else are you headed in Kerala?
Of course, Alleppey is the most popular spot in Kerala but did you know that there is so much more to Kerala than the backwaters?!
There is the historic Fort Kochi, and the hill station of Munnar which gives a great mix of history, culture, viewpoints, and relaxation.
Click here to see my whole itinerary for a week in Kerala or see my detailed guides below;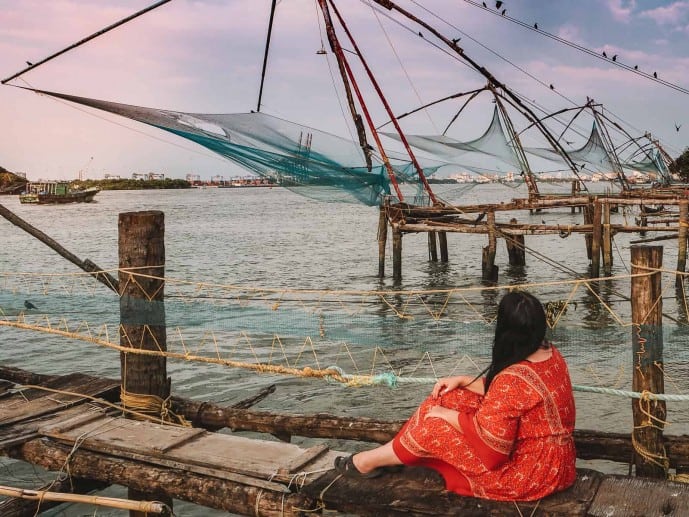 Fort Kochi
Fort Kochi is a cultural hub here in Kerala and has such a diverse range of historical and cultural attractions to enjoy.
You can see some of the 'real' Kerala by visiting the locals at Dhobi Khana laundry house or climb aboard the Chinese Fishing nets to help the fishermen to reel in the catch of the day.
Or, you can hop around Portuguese churches, Dutch palaces, Paradesi Synagogues, and Indo-Catholic Cathedrals!
It's also a great place to watch a traditional Kathakali performance too.
Munnar
Munnar is a hill station located 1,500 metres above sea level and it's one of the more popular destinations. You'll escape the heat up in the clouds and enter an emerald paradise with thousands of acres of jungle and tea plantations!
The most popular stops are Top Station, Lockhart Tea Plantation, Echo Point, Eravikulam National Park, and Lakkam falls.
But, there are also a wealth of amazing attractions as well;
Read more of my South India blog posts!
I have travelled to every Southern state in India, so make sure you read my informative guides to learn more about it!
Goa
A staple place if you want to go and enjoy some of the best tropical beaches in India!
But, there is a lot of stuff to do here that isn't just lying on a beach for a week. Churches, spice farms, markets, and historic buildings are everywhere too.
So, if you are the adventurous type like me, here's a list of things to do that aren't the beaches in Goa.
Pondicherry
I LOVED Pondicherry in India. It's a French colony so you'll find freshly baked baguettes, French on the signs, and White Town painted in all different colours!
You can also visit some of the many beaches, temples, and Auroville an experimental township that is home to the Matrimander.
Read my top tips for Pondicherry here and the best activities at Auroville here.
Hampi
Another place that travellers rave about in South India is Hampi.
A UNESCO world heritage site and ancient city tucked away in Karnataka (one of the least visited states in mainland India!). It's such a cool area and you could explore for days.
Here's a complete Hampi travel guide on what you can get up to and where to stay!
Save this Alleppey Backwaters of Kerala guide for later!