Once a year in Northumberland, there is an Alnwick Gardens Cherry Blossom festival that takes place for a week or two!
It's a time when 329 Taihaku trees blossom together and show off their pretty coloured petals in their orchard.
The Alnwick Garden have the largest collection of Taihaku trees in the entire world and to see them during blossom week is truly a wonderful sight.
However, as the blossom is weather dependent, the time they bloom changes every single year. So, you need to be on the ball and plan your visit at the right time!
It is easy to keep up to date, but here are some essential tips to ensure you don't miss out and get to see the Alnwick Gardens Cherry Blossom while in season.
Disclaimer: my visit to the Alnwick Gardens Cherry Blossom festival was sponsored in partnership with Visit Northumberland. Although I was a guest, all opinions are my own.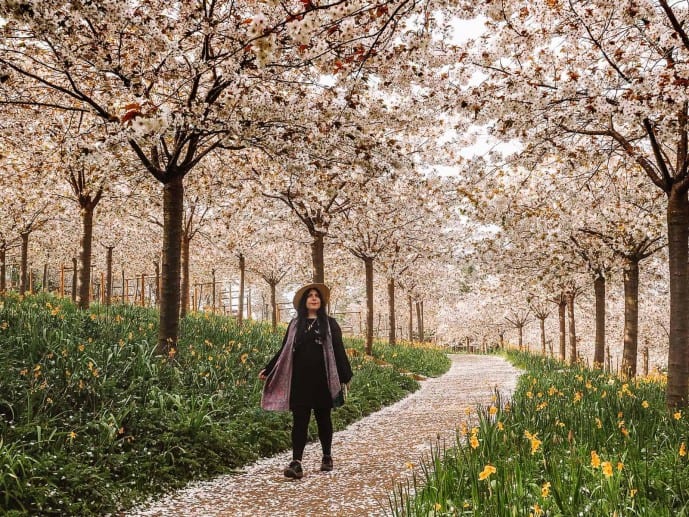 What is the Alnwick Gardens Cherry Blossom festival?
The Alnwick Gardens Cherry Blossom Festival is an annual event that happens every year at The Alnwick Garden in Northumberland.
It's a time when their huge collection of Taihaku Cherry Blossom trees bloom. These are also known as the 'Great White' for its snow-like clusters of long blooms that are 7cm long.
It's a hugely popular festival that draws in thousands of tourists and photographers every year.
You can enter the orchard within the gardens and just enjoy the beauty. Plus, they also have swings that you can relax on.
As well as entering the Alnwick Cherry Blossom orchard, there is also a whole range of events and activities to celebrate! So, it's a really special time of year to visit.
The history of the The Alnwick Gardens Cherry Blossom festival
So, how did such a huge collection of rare Taihaku Cherry Blossom trees end up in the North of England?
Well, it all started with a Captain Collingwood Ingram also known as "Cherry" Ingram. He was invited to Japan to give a lecture on Sakura to the Sakurakai, the Cherry Society.
While he was there, the Sakurakai showed him a picture inside an 18th-century book. It was a large white cherry blossom that had long been thought of as extinct.
Cherry Ingram instantly recognised it and said that he had seen the same Cherry Blossom tree that had been imported to Sussex in 1899.
After the conference, he travelled to Sussex and took some cuttings of the Taihaku tree. He then brought it back to Japan and reintroduced the Lost Taihaku Tree in 1932.
Every single one of the Alnwick Gardens Cherry Blossom trees originated from that one tree in Sussex! They were introduced to these gardens in 2001.
Did you know? In Japan, Sakura or the Cherry Blossom has a cultural significance. It represents beauty, a time of renewal, and the fleeting nature of life.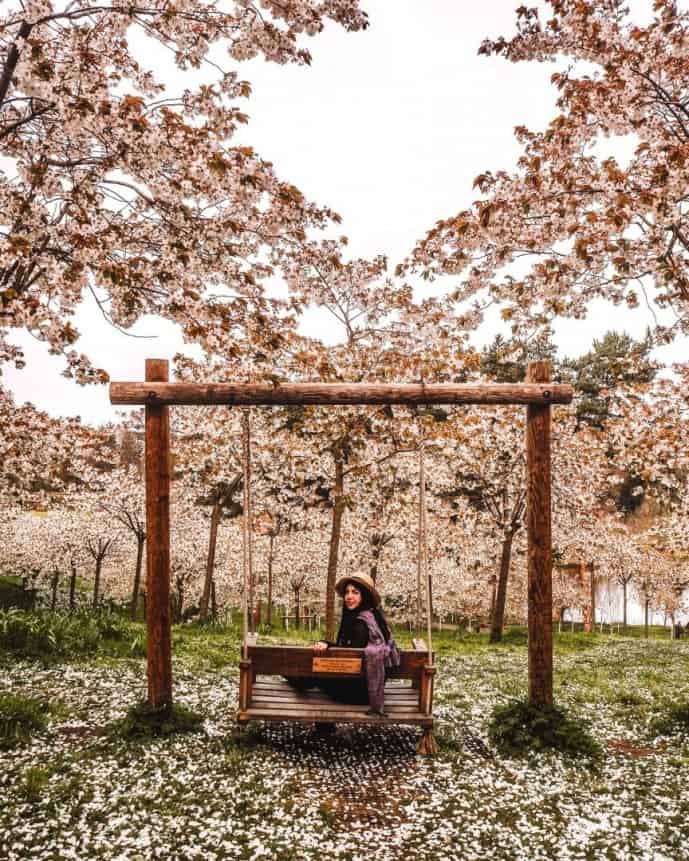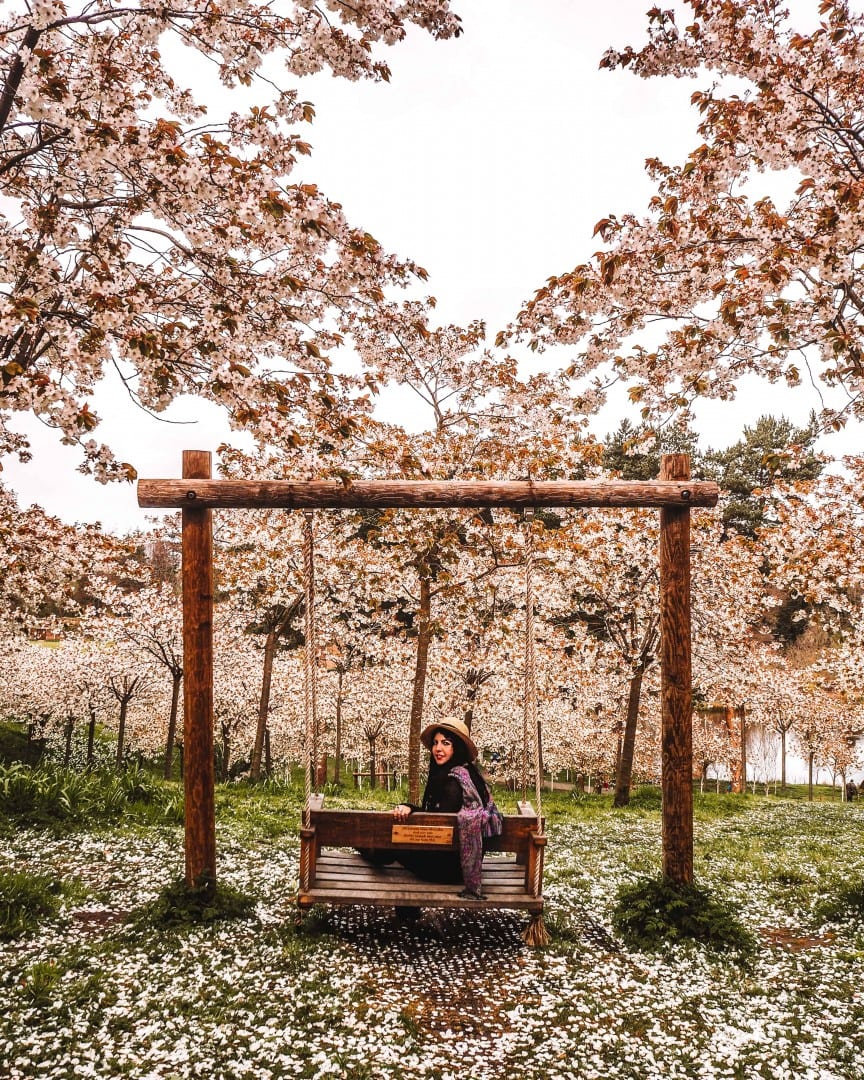 What is the best time to see the Alnwick Gardens Cherry Blossom?
The best time to visit the Alnwick Gardens for their Cherry Blossom festival would be in the springtime around the end of April or the beginning of May.
So, if this was something you really wanted to do, I'd set a reminder in your calendar to look out around this time.
However, it's good to note that the cherry blossom is completely weather dependent. The time that they will be in bloom changes every single year.
Sometimes, it could be two weeks of blossom and others it can be only one. So, you'll need to keep an eye out for updates.
There are a couple of ways that you can do this so you don't miss out!
How to find out when the Alnwick Gardens Cherry Blossom is in bloom!
There are a couple of ways to keep up to date with The Alnwick Garden or get a reminder for when the Cherry Blossom is in season here.
I would personally make sure you do these now so you don't forget next year. Your future self will be very thankful that you did!
1. Follow The Alnwick Garden on social media
The simplest way to keep up to date would be to follow The Alnwick Garden on their social media channels.
They can be found on Instagram, Twitter and Facebook and they will always put out updates on what's in season at the gardens.
For the blossom updates, it could be a build-up to blossoms season, the day it has started or when it's predicted to end. This is the best way to plan your visit at the right time.
Algorithms with social media can be a fickle thing, so make sure you that you ask whatever platform you're on to prioritise the updates.
Also, look out for competitions. They regularly hold them to gift some lucky followers FREE entry.
2. Bookmark the Alnwick Cherry Blossom Live Cam!
Another way that you can keep up to date with the Cherry Blossom orchard is by checking out their Cherry Blossom Live Cam or Blossom Watch.
This is a live stream video of the orchard so you can see whether they have blossomed or if they are nearly finished for the season.
It's the most efficient way and saves you spending time and money if the Cherry blossom has already finished. Make sure to bookmark the page to your browser!
Click here to watch the Alnwick Garden live stream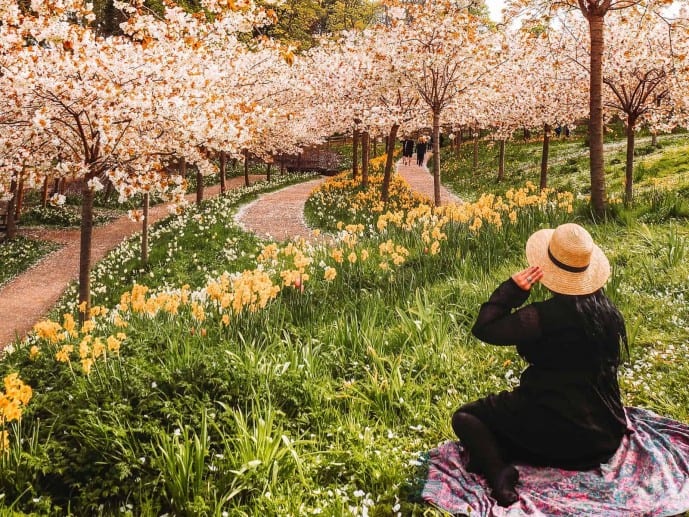 How long does the Alnwick Gardens Cherry Blossom last?
Everything good eventually has to come to an end and unfortunately, the cherry blossom doesn't last very long.
The Alnwick Gardens Cherry Blossom typically lasts around two weeks each year. But, if it has been particularly inclement weather or there have been lots of strong winds, it could be less.
You'll need to keep an eye out for updates and check out the Cherry Blossom Live Cam to make sure you visit at a time when the blossoms are in full force.
Visiting out of season or at the end of their blossom cycle could be a bit disappointing if you were set on it.
Top tips for visiting The Alnwick Garden during Cherry Blossom season
Okay, so you've planned your visit at the right time for the cherry blossoms. Awesome, Check.
What happens when you actually get here?!
Well, I have a few tips for you on what to prepare for and expect on your visit.
1. Get here early to beat the crowds
What time you get here will totally depend on what you want out of your visit. If you would just be satisfied to see the Cherry blossoms, then arrive at any time during the season!
But, if you were eager for some clean photographs of the cherry blossom orchard, then I would aim to get there around opening time at 10am or hang around near closing time.
As the Alnwick Gardens Cherry Blossom only arrives for one or two weeks of the year, it's extremely popular and does have the tendency to get really busy.
I didn't get this memo and when I arrived, although I was totally gobsmacked by the beauty of it, It was also really busy.
So, I came back around closing time and was quite lucky to get some nice photos and enjoy it pretty much to myself for a while.
2. But, don't worry, there will be enough swings for everyone!
Saying that, don't panic if you don't get here by opening time! There are 329 Taihaku trees in this orchard so there is plenty of blossoms to go around.
Also, what I loved about this display is that there were plenty of bench swings to choose from too. There were around 30 of them and it was never overly busy.
It wasn't like displays in London where they have one Instagram swing that you have to queue an age for. You know the kind I'm talking about!
There are plenty of places where you can enjoy some solitude in between the blossoms and daffodils!
3. You'll want to leave lots of time to explore
I really didn't know what I was expecting before my visit, but I was blown away by this blossom festival.
There were rows upon rows of cherry blossom trees and with the breeze it almost looked like it was snowing blossom! I kept thinking, if there was a heaven on earth, this is what it would look like.
There was the option to walk through the orchard with the winding accessible pathway or chill out on their snuggle swings for a while. It was so romantic.
I honestly was shocked by how amazing the whole thing was and I didn't want to leave. I could have sat on that swing for hours just chilling in amongst the blossom.
I would definitely leave plenty of time to explore the area and take in everything. If you leave it too late to closing time, you might not get the best out of the display.
4. Make sure to bring your camera!
Even if you're not into photography in a big way, this is a photo opportunity you are not going to want to miss.
I think I must have taken over a hundred photos of the cherry blossom orchard, at different angles and on the swings too.
The contrast between the white cherry blossom, yellow daffodils and thousands of wildflowers is just so beautiful. There were even resident pheasants hanging around which made a great addition!
Whether you want this for your Instagram feed, TikTok, or just a family album at home; bring your camera or your phone to capture everything.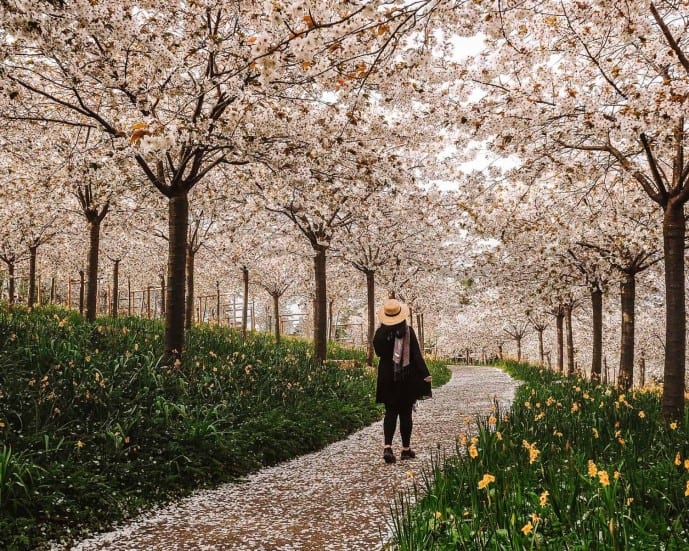 5. Look out for more events and activities for Alnwick blossom week!
As well as the orchard itself, the Alnwick Garden hold plenty of events to celebrate their blossom week.
You'll find that the place has been decked out in blossom decor and also they may have some craft and fun activities going on.
The best way to see what's on and to plan your visit alongside their events would be to check their website or social media pages.
How much are tickets for the Alnwick Gardens Cherry Blossom festival?
Tickets to the cherry blossom festival are included with your standard entry ticket to The Alnwick Garden. That's right, amazingly, it doesn't cost any extra to enter!
Tickets prices vary for different seasons. In spring and summer, when the blossom festival is on tickets are £14.30 an adult and £5.50 a child. Concessions are £12.65. All proceeds help the charity.
If you wanted to visit Alnwick Castle as well, it is not included in your ticket price. It's an attraction in its own right and it will be a separate ticket you need to purchase.
It's best to buy a joint ticket for both Alnwick Castle and the gardens. Combo tickets are £30.20 Adult and £13.25 a child. Concessions are £26.00.
What else is there to see in The Alnwick Garden?
The first thing you'll notice, as soon as you walk in, is The Grand Cascade. This is made up of 120 water jets that dance and make waves throughout the day!
Nearby you can also experience the Bamboo Labyrinth where you can get lost in this endless maze of curved shaped tunnels. The Serpent Gardens also sparks your imagination with their creative topiary too.
The Walled Rose Gardens are also a delight when in season and you can find all sorts of blooms that grow around here. There are so awesome photo opportunities too with their giant's mug. Don't forget to find him relaxing in the pond!
As well as the displays, there are plenty of cafés where you can have a pick me up during the day. Or check out their gift shop to buy some plants to take home!
The Poison Garden
Just next door to the Cherry Blossom orchard, in complete contrast, is the world-famous poison gardens.
Everything inside it has the potential to kill you and there are 100 types of intoxicating, potent and deadly plants. From belladonna, or deadly nightshade, hemlock, daturas, wolfsbane, mandrakes and foxgloves.
You'll find a whole range of poisonous species inside. Some, you may be surprised to know, grow in your back garden!
The gardens are locked away by the gardeners here for obvious reasons, but they are open for guided tours throughout the day.
If you're feeling brave enough, make sure you join one! It's honestly mind-blowing.
Click here to read some friendly warnings before you enter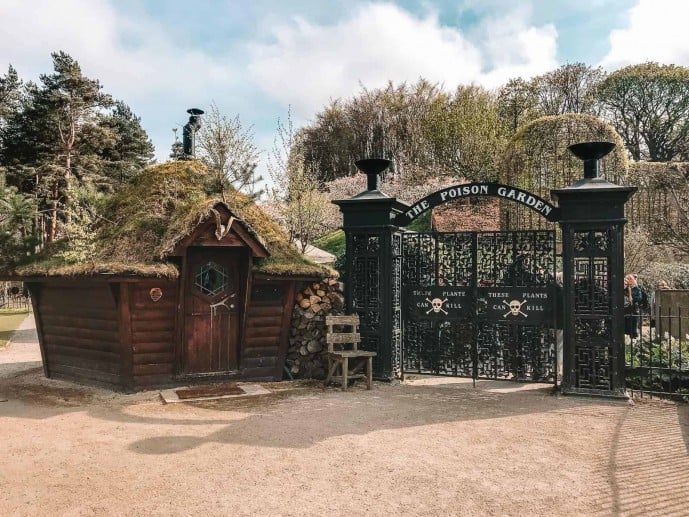 Make sure to find Potter magic at Alnwick Castle!
Potterheads will feel at home when they visit Alnwick Castle, as it will transport you straight back to the Harry Potter movies. Why? Because they used this very castle to shoot scenes at Hogwarts!
The first two movies were filmed here in 2000 and 2001 and there are some famous scenes you'll recall.
From broomstick flying lessons, quidditch, the famous Levi-O-sa scene and even poor Neville losing control of his broom.
You can go on a FREE Alnwick Castle film tour that's included in your entry or find all of these film locations self-guided.
Don't forget to attend one of their world-famous broomstick flying lessons.
Your wizarding professors with have you zooming around the courtyard in no time!
Click here to find all Harry Potter experiences at the castle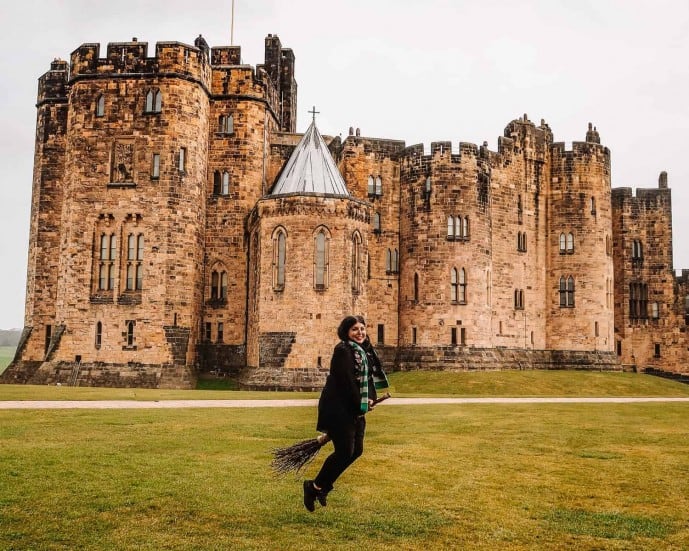 Don't forget to visit the Treehouse Restaurant
If you're looking for where to eat in Alnwick, then one of the best restaurants sits on the grounds of the Alnwick Garden.
It's like something you'd find in a storybook or Weasley's Burrow as it's one of the world's largest treehouses!
You'll be walking over canopies within Alnwick Forest to reach the door and when you walk inside, you'll be immersed in a world of fairy lights and tree branches!
The dishes on the menu have been specially prepared with organic produce from the gardens themselves and local farms. You can even try their Alnwick Beer with locally grown hops!
A big tip I would have is to book a table WELL in advance, around two to three weeks before you plan to visit. This place is extremely popular and books up quick!
Click here to read my full review of this magical restaurant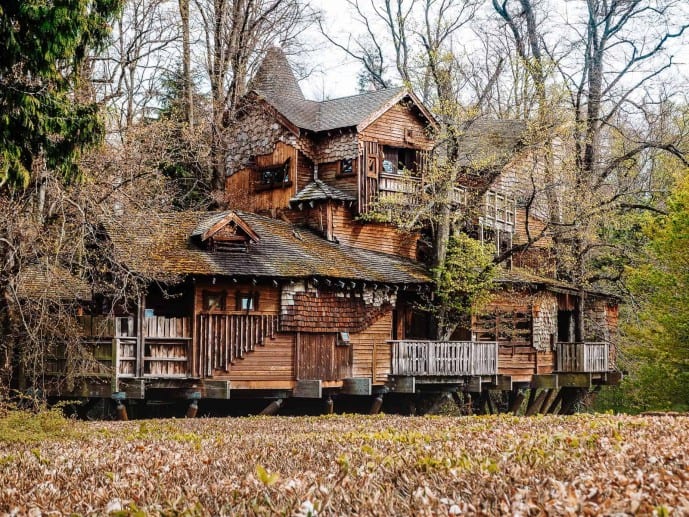 Where is The Alnwick Garden in UK and how do I get there?
The Alnwick Garden is located in Alnwick in Northumberland, UK. It can easily be accessed less than a mile off the A1 motorway.
Once you take the slipway, it's really well signposted and you'll arrive on Denwick Lane on the B1340 road. Plugin NE66 1YU into your SatNav.
Parking will cost £3 for an all-day spot that is payable in cash only.
If you plan on arriving on public transport, you get an added benefit of 20% off your garden ticket when you show proof. So, remember to present your bus or train tickets when at the ticket desk.
Alnwick Castle by train: the nearest railway station is Alnmouth. From here you can take a bus or taxi to the castle.
Alnwick Castle by bus: There are plenty of bus services that connect with Alnwick bus station, some front the city of Newcastle. You can plan your journey here. It will be a five-minute walk to the castle from the main bus station.
Is The Alnwick Garden dog friendly? Unfortunately, only assistant dogs are permitted in the gardens.
The Alnwick Garden opening times
Alnwick Garden is open from 10am throughout the year but has different closing times for different seasons.
During the Cherry blossom week the gardens will be open from 10am – 6pm.
Where to stay near the Alnwick Garden
The Hogs Head Inn – An award winner in the North East England Tourism Awards, this place was named after the Harry Potter tavern! I love the Inn Collection Group and their properties are always cosy, with a hearty breakfast and friendly service. This Inn has 53 en-suite rooms for rent with a pub and restaurant onsite. Click here for rates.
The Cookie Jar – This boutique accommodation is an award winning cosy retreat located right in the heart of Alnwick. The bedrooms are all unique and the amazing interiors are just to die for! There's a terrace and Bistro onsite. Click here to book.
The Bondgate Boutique – Another boutique property in a Grade II listed building dating back to the 1700s. But, you'll find cosy modern furnishings in their beautiful rooms. Click to enquire.
Look up some more of my Northumberland inspired articles!
A complete guide for Ford and Etal estates in Northumberland
The best time to visit the Farne Islands
Walking from Craster to Dunstanburgh
What to see on the Holy tidal Island of Lindisfarne
Why you must try Lindisfarne Mead!
A Last Kingdom Fans guide to Bebbanburg or Bamburgh in Northumberland!
How to do the Steel Rigg to Sycamore Gap walk on Hadrian's Wall
Visit the magical Barter Books in Alnwick
Why you must visit Bamburgh Castle at Christmas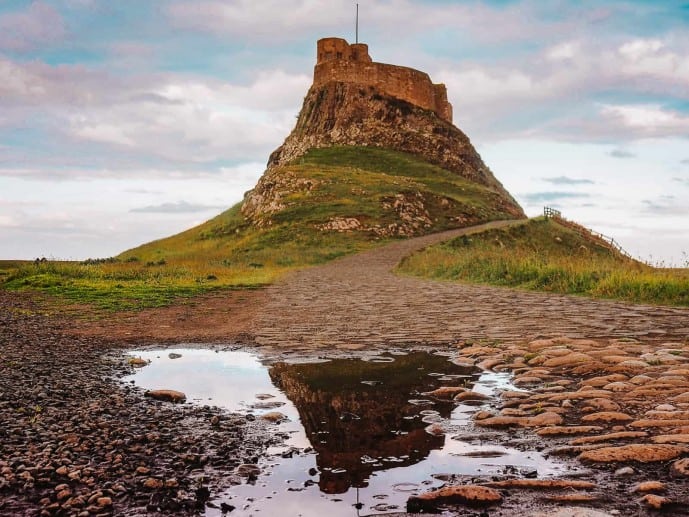 Like it? Pin it!