When I heard that there was an Alnwick Treehouse Restaurant in Northumberland where I could eat in the biggest treehouse in the entire world, I knew I had to visit!
Plus, I'm now Harry Potter obsessed and this totally reminded me of the Weasley's Burrow!
It's a truly magical setting for dinner where you have to walk over wooden canopies and bridges in the treetops of Alnwick forest to reach it!
Once inside, you'll be immersed in a world of fairy lights, branches and culinary delights. It's like something out of a story book.
If you find yourself in Northumberland, you must book in for supper. But, it is extremely popular, so you will need to plan in advance.
Here is my complete Alnwick Treehouse Restaurant review with some top tips for booking!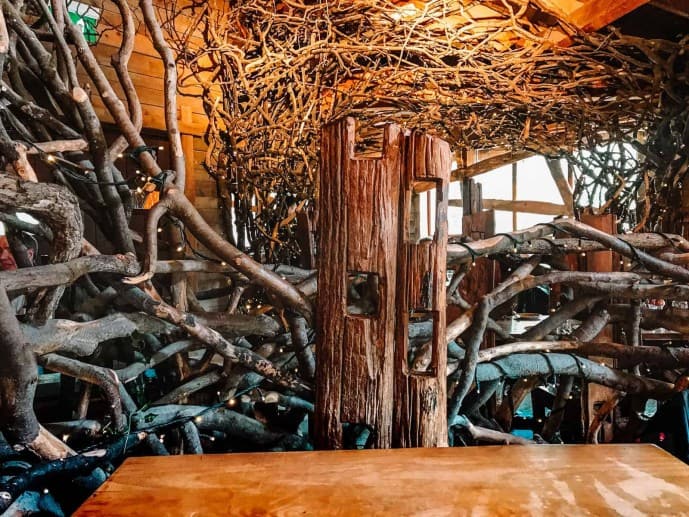 What is the Alnwick Treehouse?
The Alnwick Treehouse is the world's largest treehouse in Alnwick, Northumberland.
You'd definitely be forgiven for mistaking it as the higgledy-piggledy Weasley's Burrow from Harry Potter or something from Rivendell in Lord of the Rings! It looks like a work of fiction but it's completely real!
It's a 6,000 square foot complex which includes a restaurant and Potting Shed and Roost Café and it is suspended at 60 ft in the air. It can only be reached by walking on their treetop canopies and walkways.
The Treehouse is made from Canadian Cedar, Scandanavian redwood and English and Scottish pines.
It's tucked away in Alnwick forest which also has it's own special collection of trees. You'll be walking through a mature lime tree copse.
At the centre of the Treehouse is a luxurious restaurant that has been lovingly designed by recycling fallen branches within the forest. All of the tables and chairs were expertly hand carved.
It also has trees branches growing through the floor, a roaring log fire in the middle and the whole place has been decorated in twinkling lights for a magic touch!
Who built the Alnwick Treehouse & when was it built?
The Alnwick Treehouse was the brainchild of the Duchess of Northumberland who owns Alnwick Castle and Gardens with the 12th Duke of Northumberland.
It was her ideas and relentless ambition that inspired a renaissance of The Alnwick Garden in 2001 that you can visit today.
She completely repurposed the land and transformed it into 14 acres of wonderful contemporary gardens. This is now one of the most popular attractions in the North East of England.
The Alnwick Treehouse was built and opened up as a further development in January 2005 at the cost of £3.7 million pounds!
It may have been an expensive creative project but the hard work and has really paid off. It's now one of the most unique and coveted dining experiences in the entire country.
It captivates the imagination, supports local by using Northumbrian farms and is a place you won't forget in a hurry.
Top tips for visiting the Alnwick Garden Treehouse
The Alnwick Treehouse restaurant is extremely popular – so, you must make a reservation in advance! You'd be very lucky to get a table on the day/night. This is not something you want to miss.
Parking is FREE – you usually have to pay £3 for parking at Alnwick Castle and Gardens if you're just visiting the attractions. But, if you are planning to visit the Alnwick Treehouse restaurant your parking will be refunded.
It's accessible – Although the restaurant in suspended in the air, the walkway to the restaurant is flat wooden ramps. So, buggies and wheelchairs can get there. The only part that isn't accessible is the canopy rope bridge but this can be avoided.
Do I have to buy a ticket for The Alnwick Garden to eat at Alnwick Treehouse? No, the Alnwick Treehouse is located on the grounds but outside of Alnwick Castle and Gardens. So, you can visit with no obligation to buy a ticket and visit in the evening time too!
How to make an Alnwick Treehouse Restaurant reservation
I know I keep harping on, but you must book your table well in advance if you wanted to eat here on your visit to Northumberland.
I got extremely lucky on my visit by another table being cancelled but it was a close call and almost didn't happen, believe me.
I would personally recommend booking a table around 2-3 weeks in advance of your visit, longer if you can.
It may seem a little bit much, but this place is unique and packs out. There are small serving windows and it's very popular on weekends, half terms and summer holidays.
The easiest way to make a reservation is by giving them a call on 01665 660320.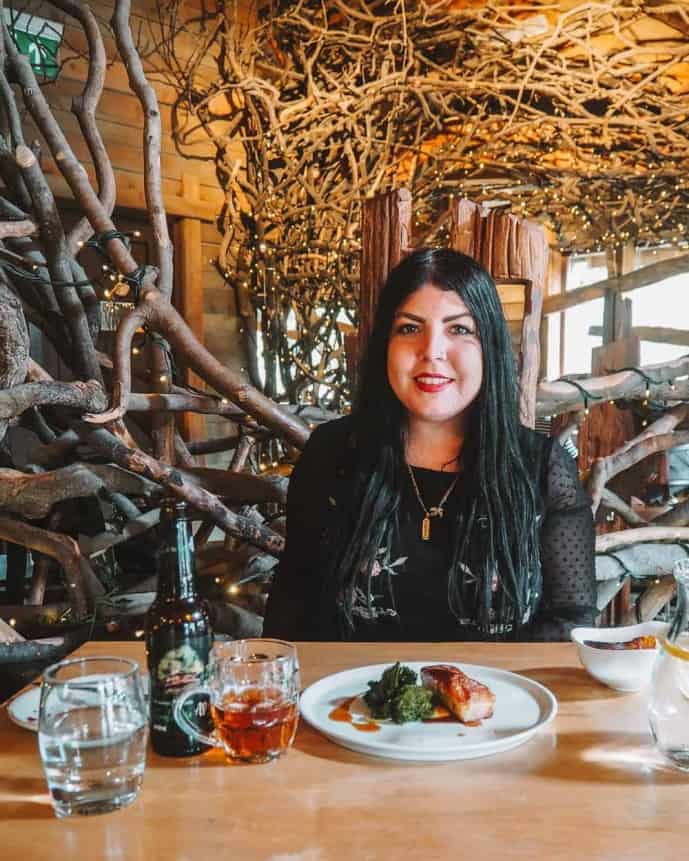 The Alnwick Treehouse Restaurant review
The menu on offer at the Treehouse Restaurant has been specially prepared by Searcys', who are affiliated with a whole range of restaurants in London and around UK.
Their impressive portfolio includes the Helix at the Gherkin, The Tearooms at St Pauls Cathedral, The Orangery at Blenheim Palace and The Pump Rooms in Bath!
Searcys' have created special seasonal menus that incorporate the local Northumbrian cuisine and uses locally sourced ingredients. They serve up lunch, dinner and Sunday roast.
They use local catches from the waves of Whitley Bay, Castle Heaton potatoes and a whole range of produce grown right here at The Alnwick Garden too.
I visited for lunch on my visit to Alnwick Castle and Gardens and decided to go for a 2 course meal for £23.50. I decided to go for a main and a dessert option because of my insatiable sweet tooth!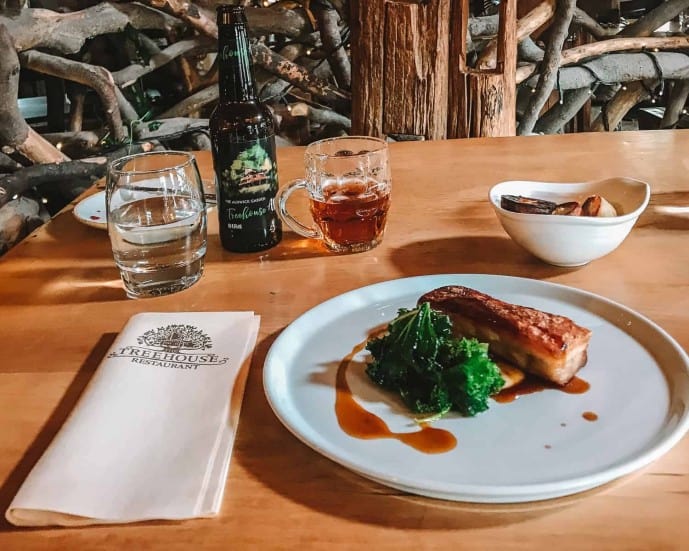 For my main course, I chose the Pork Belly with rich gravy, crispy roast potatoes and leafy greens. Which was really delicious, flavoursome and piping hot.
Then, I had a sweet ending of chocolate and vanilla ice cream with cherries and peanut brittle and I was in heaven.
The only thing I would say is that the portions come up quite small and this is something that receives quite a few complaints. So, it's definitely a matter quality over quantity with the dishes.
Personally, I was quite full after my meals and I loved how expertly prepared the dishes were, almost like works of art. Every mouthful was so full of flavour!
The famous Alnwick Treehouse Cocktail menu
If you are not in the driver's seat, you may be interested in treating yourself to a delightful concoction on the Treehouse cocktail menu while you're here.
All of the potions have been created as a homage to the Duchess of Northumberland, Jane Percy, and there are five cocktails named after Her Grace. Alnwick Rum is quite famous in the area and all of the cocktails use either white or dark rum as a base.
These cocktails have a light-hearted nature with names like Desirable Jane and even Deadly Jane. But, don't worry, they have all had the seal of approval from Her Grace.
If cocktails aren't your thing, maybe you would like to try some of the Alnwick Treehouse beer?
They make their own 'Treehouse IPA' using hops from their very own estate. I treated myself to a bottle and it was delicious.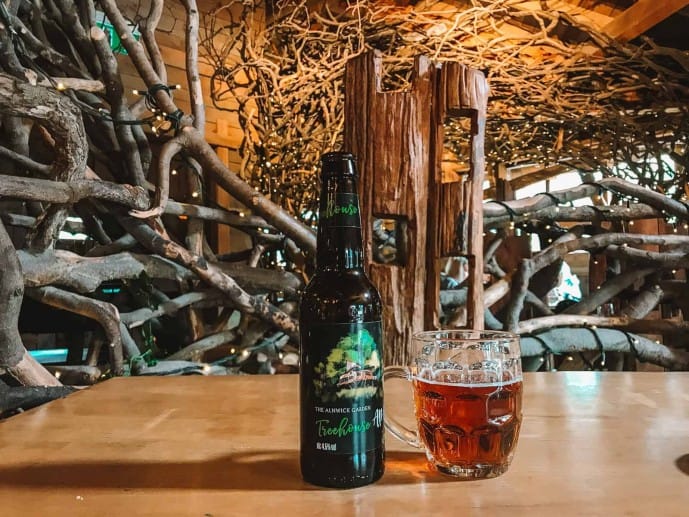 Alnwick Treehouse Restaurant opening times
The Treehouse Restaurant welcomes guests to dine with them throughout the week but lunch and dinner times vary;
Dinner is served from Monday to Saturday from 6pm – 8.30pm
Saturday lunch runs from 12pm – 3pm

Sunday lunch runs from 2pm to 4pm
Are dogs allowed in the Alnwick Treehouse? Only assistant dogs are permitted inside.
Where is the Alnwick Treehouse and how do I get there?
The Alnwick Treehouse is located in the town of Alnwick in Northumberland, UK. It can easily be accessed less than a mile off the A1 motorway.
Once you take the slipway, it's really well signposted and you'll arrive on the B1340 road. Plugin NE66 1YU into your SatNav. There is ample FREE parking for diners.
Alnwick Treehouse by train: the nearest railway station is Alnmouth. From here you can take a bus or taxi.
Alnwick Treehouse by bus: There are plenty of bus services that connect with Alnwick bus station, some front the city of Newcastle. You can plan your journey here. It will be a five-minute walk to the castle from the main bus station.
More magical things to do in Alnwick Castle and Gardens
The Alnwick Treehouse is located on the grounds of the ever so popular Alnwick Castle and Gardens.
You can enter the stronghold of the Percy family who has lived on the site for over 700 years or you can explore the new gardens created by the Duchess. You could even spend a whole day here and do both!
The Castle and Gardens have separate tickets or you can buy a combination ticket. The combo tickets are £30.20 Adult and £13.25 a child. Concessions are £26.00.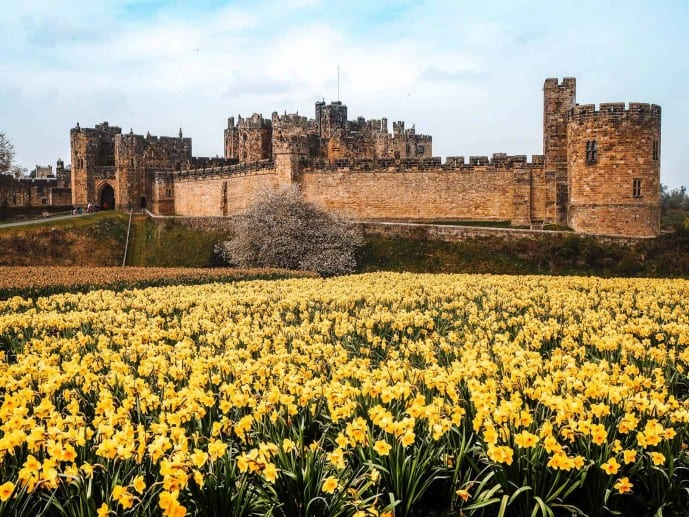 Fly a broom at Alnwick Castle
If you're a Potterhead, you will LOVE a visit to the castle. They filmed not one but two of the Harry Potter movies here and used it as the backdrop for Hogwarts!
There are plenty of famous filming locations you'll recognise from broomstick flying lessons with Madam Hooch, quidditch and the golden snitch and scenes on how to properly pronounce "Levi-O-sa".
You can find all of these self-guided or go on a special film tour that's included in your ticket.
Don't forget to attend one of the famous broomstick flying lessons. Your wizarding professors with have you zooming around the courtyard in no time!
Click here to find all Harry Potter experiences at the castle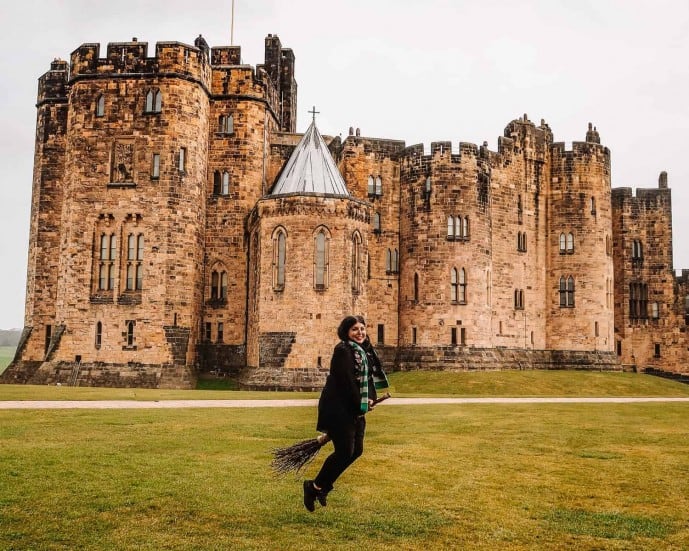 Explore the beauty of The Alnwick Garden
Another brainchild of the Duchess of Northumberland is The Alnwick Garden that she renovated to its former glory.
You can wander around the 14-acre estate to find Grand Cascades and a Bamboo Labyrinth.
The Serpent Gardens will spark your imagination with its creative topiary or get lost in The Walled Rose Garden that is also a sensory delight when in season.
The Cherry Blossom Festival happens here once a year and you can see the world's largest Taihaku collection in bloom.
As well as the displays, there are plenty of cafés where you can have a pick me up during the day. Or, check out their gift shop to buy some plants to take home!
It's a really special time to visit. Click here for my top tips for the blossom festival.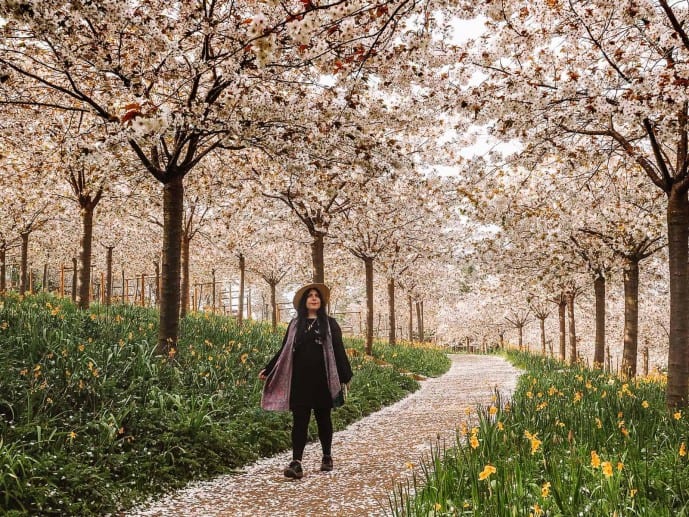 Visit the world famous Poison Garden
Did you know that the Alnwick Garden is home to a world-famous poison garden? All 100 plants inside this potent plot have the potential to kill you!
There are all kinds of intoxicating, pretty but deadly plants. From deadly nightshade, hemlock, belladonna, wolfsbane, mandrakes and foxgloves.
Some will surprise you like daffodils and the leaves of rhubarb!
The gardens are locked away by the gardeners here for obvious reasons, but they are open for guided tours throughout the day. If you're feeling brave enough, make sure you join one! It's honestly mind-blowing.
Click here to read some friendly warnings before you enter the poison garden!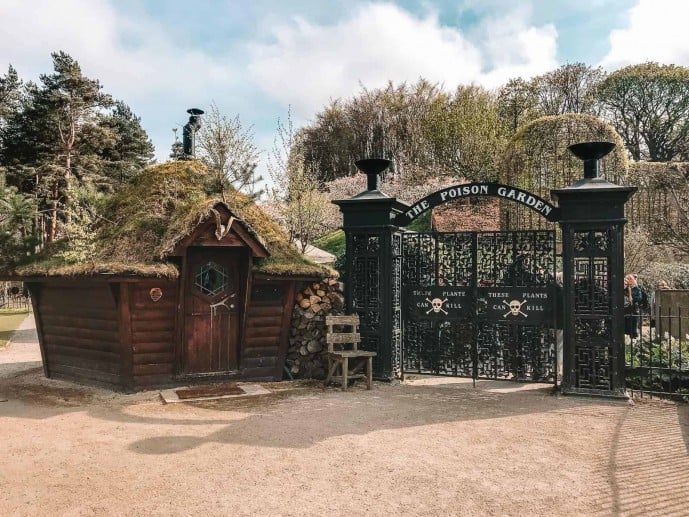 Hotels in Alnwick
If you're planning to come here for dinner, why not make it a weekend away?
Here are some of the best hotels in Alnwick;
The Hogs Head Inn – An award winner in the North East England Tourism Awards, this place was named after the Harry Potter tavern! I love the Inn Collection Group and their properties are always cosy, with a hearty breakfast and friendly service. This Inn has 53 en-suite rooms for rent with a pub and restaurant onsite. Click here for rates.
The Cookie Jar – This boutique accommodation is an award winning cosy retreat located right in the heart of Alnwick. The bedrooms are all unique and the amazing interiors are just to die for! There's a terrace and Bistro onsite. Click here to book.
The Bondgate Boutique – Another boutique property in a Grade II listed building dating back to the 1700s. But, you'll find cosy modern furnishings in their beautiful rooms. Click to enquire.
Looking for more things to do in Northumberland?
Why you must visit Ford and Etal estates
A complete guide for visiting the Farne Islands
A coastal journey to the ruined Dunstanburgh
Everything you must see on the Holy tidal Island of Lindisfarne
Why you must try Lindisfarne Mead!
A Last Kingdom Fans guide to Bebbanburg or Bamburgh in Northumberland!
How to do the Steel Rigg to Sycamore Gap walk on Hadrian's Wall
Visit the magical Barter Books in Alnwick
Why you must visit Bamburgh Castle at Christmas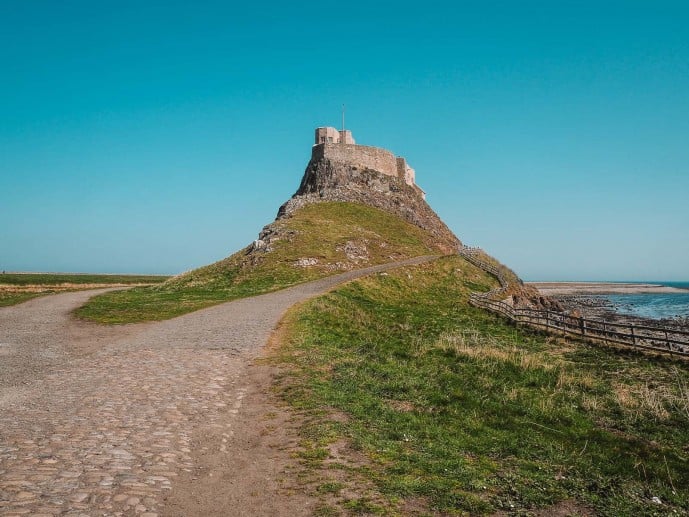 Save this Alnwick Treehouse Restaurant review for later!