Did you know that Alton Towers is home to the UK's first Rollercoaster Restaurant that brings a whole new meaning to "fast food?"
You'll be seated under a huge rollercoaster track where you can watch your food whizz around the tracks, spin around loop-the-loops and drop down to your table!
It's a novel experience here at Alton Towers and is an extremely popular restaurant so pre-booking in the evenings is essential.
But, what is a visit to the Alton Towers Rollercoaster Restaurant really like, how does it work and is it worth the money?
In this honest Alton Towers Rollercoaster Restaurant review, I'm going to try to answer your most popular questions and if it lives up to the hype.
What is a rollercoaster restaurant?
So, first of all, let's cover the basics. What on earth is a rollercoaster restaurant?
When I first heard the term 'rollercoaster restaurant', I had this vision of people on a rollercoaster that runs inside the restaurant.
I kept thinking, what if something (like someone's shoe) fell in your food? And isn't it going to be noisy with people screaming?
But, no, a rollercoaster restaurant simply means that there are rollercoaster tracks inside the restaurant that will deliver your food to you. Kind of like a miniature railway.
Once you order your food, it will be delivered on little carriages that are sent directly from the kitchens, down the rollercoaster tracks to your table.
All you have to do is take the plates off the carriage and then enjoy your meal. It's really cool!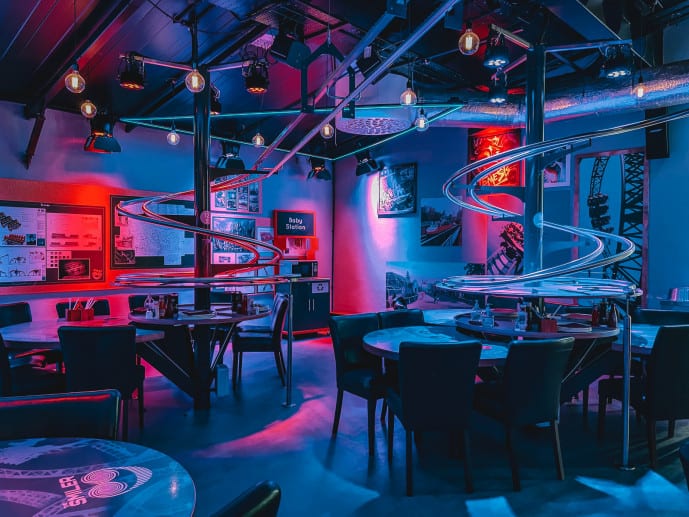 When did the rollercoaster restaurant open at Alton Towers?
Alton Towers opened the UK's first rollercoaster restaurant in 2016 but I was quite surprised by this as it looked brand new to me.
There are tables set below a vast rollercoaster track. You can watch your meals defy gravity and travel over loop-the-loops and drop down 8 metres before landing on your table!
Apparently, each plate at the restaurant travels around 173 miles a week which is nearly the equivalent of driving from London to Sheffield.
It was designed by a company called HeineMack GmbH which owns the patent for this design and they are located in Nuremberg.
There are 8 rollercoaster restaurants like this one around the world in Europe and the Middle East.
Alton Towers have designed their rollercoaster restaurant around family favourite coasters at the parks like Wicker Man, Smiler, Oblivion and Galactica (aka Air).
So, you'll find rollercoaster design sketches, miniatures, and projection mapping. Look out at the back as every so often, there is a movie that plays in the backdrop celebrating their world records!
What happens inside the Alton Towers Rollercoaster Restaurant
Once you're seated at your table, you'll be given a tablet where you can order your food off the menu.
Your server will give you a table/order number and it's important to remember this.
There are three separate tables surrounding the end of each rollercoaster track where your food will arrive.
So, you will be sharing the end of your rollercoaster track with up to three different parties on your visit depending on how many of you there are in your group.
The end of the track has a circular table that you can spin around to easily grab your food if it lands on your neighbour's side.
Once you've ordered your food on the tablet, you simply wait until it gets delivered down the rollercoaster tracks. You can spot the kitchen staff loading the carriages upstairs!
It's so fun watching your meal speeding and spinning down the track to your table. Some even go upside down on a double loop-the-loop.
When dishes arrive, always make sure to check the pot has your number on it to ensure you grab the right dish. You don't want to open up someone else's food without being sure.
Each dish gets delivered in metal pots with a plastic lid top. You can either eat your meal in the metal pot as is or you can grab plates, cutlery and condiments that are located underneath the track table!
How to order food at Alton Towers Rollercoaster Restaurant
The smart tablet is really easy to use to order food and has a couple of categories to choose from.
There will be categories for drinks, starters, mains, desserts, children's meals and even souvenirs
Each category will then branch out into different sub-categories. For example, if you click drinks you'll find a section for soft drinks, mocktails and alcoholic drinks.
If you click on mains, you'll find sub-sections for combos, RCR favourites, vegan/vegetarian, sandwiches/burgers and not gluten. Each item on the menu will have a photo of the meal and a price next to it.
Simply click on the item that you want to order from the different sections. You will then be offered add-ons like onion rings and sauces and the choice to add any special requirements.
When you're ready, click on 'add to order' and it will be added to your order list. You can remove items if you've made a mistake or ordered too much.
Once you're ready and have ordered everything you'd want for the time being, click 'send order to kitchen'. Then, you just need to wait for it to arrive by rollercoaster!
Important: Don't order all your drinks, starters, mains and desserts at the same time. It all goes to the kitchen at once and so it will arrive at once. It's best to order each course separately. You get your tablet for the duration of your meal. Payments are taken at the very end at the cash register and you can pay cash, card or contactless.
What sort of food do they serve at the rollercoaster restaurant?
The food served at the rollercoaster restaurant is your typical UK family restaurant pub fare. Similar to the Woodcutter's Bar & Grill restaurant located in Fountain Square.
Think chicken wings, popcorn chicken, burgers, scampi, wraps, pasta, chips etc. They did have salmon fillets, slow-cooked pork ribs, cod loin and Bombay chicken curry as well. Desserts are cheesecakes and ice cream sundaes.
There are vegetarian, vegan, not gluten options and kids' dishes so there will be something suitable for all the family or members of your group.
As the food has to arrive by rollercoaster, I wouldn't expect the presentation to be amazing. It is travelling and spinning down a track. You get it served in a metal bowl that many compare to a dog bowl.
But, I have to admit, I was pleasantly surprised when I opened the pots that it was still warm (not hot but warm) and didn't fall apart too much on the way down.
What to do when your food arrives by rollercoaster!
The only downside to the rollercoaster restaurant, in my opinion, is that getting your food off the tracks is the most ungraceful experience and a bit of a faff!
You have to stand up and awkwardly lean over the table to get your food off the tracks and then it's a bit of a struggle to work out how to remove the metal pots of food from the train carriage.
The metal pots have a black plastic lid held together by a black elastic band. It's quite dark inside, especially at night time, with neon lighting and so it can be hard to see what you're doing.
Due to the rollercoaster delivery, one meal may arrive separated in three pots like mine did! I had ribs in one, chicken wings in another and chips in the third. It's not a big issue but more pots to remove.
Another example would be that a burger and chips will arrive in two pots so it doesn't jostle about.
If you're a larger group, there may be many dishes in the queue and they don't always arrive at the same time on the track.
My advice would be to not wait for everyone to receive their dishes as your food will simply go cold.
Soft drinks and bottles also arrive by rollercoaster but, for obvious reasons, hot drinks and some alcoholic drinks are served by your waiter.
It's just a bit awkward really, especially the first time. But, I guess that's all part of the fun of working it out and you do get used to it by the end.
Once you've removed your food from the tracks to your table, make sure to spin the centre table all the way around.
The plastic carriage your food arrived on will be dumped into a recycle bin with the other used ones.
My honest review of the rollercoaster restaurant food
So, as it was my first time at a rollercoaster restaurant and I was feeling a little bit overwhelmed, I actually decided to order a test starter first to see what it was going to be like getting my food off the tracks.
I decided to order a diet coke that was delivered on the rollercoaster (that had the cutest hat on FYI) and some onion rings.
I also ordered a glass of wine which was delivered by the waiter and they said they had run out of wine glasses for the day (?!). But, eventually, I was able to get one from the kitchen.
It was so awkward getting my food out and I struggled a bit at first but eventually, I managed and the onion rings were really good!
For my main, I decided to order their chicken and ribs stack with fries that came in three separate pots.
Instead of eating out of the metal pots, I decided to put my food on a proper plate and they were really pretty with the rollercoaster restaurant logo on and a track design.
The food portions were huge and it was really tasty but it wasn't that hot. I would say it was more lukewarm. The chips were almost cold. This was the only thing that let it down.
I decided to go for one of their brownies with berries and ice cream to finish. I was so stuffed I barely managed to eat it all!
Is the Alton Towers Rollercoaster Restaurant worth it?
Overall, I think it was a really great experience simply for the novelty of getting my food delivered by rollercoaster. It was something quite unique in the UK and brand new to me!
It's Alton Towers, the home of record-breaking rollercoasters, so it just has to be done if you're visiting the parks or the resort.
The prices were reasonable but the food was average. I guess you're paying for the experience rather than just a meal.
On reflection, I did enjoy it but I'm not sure I'd go again simply because the quality and warmth of the food for the price lets it down.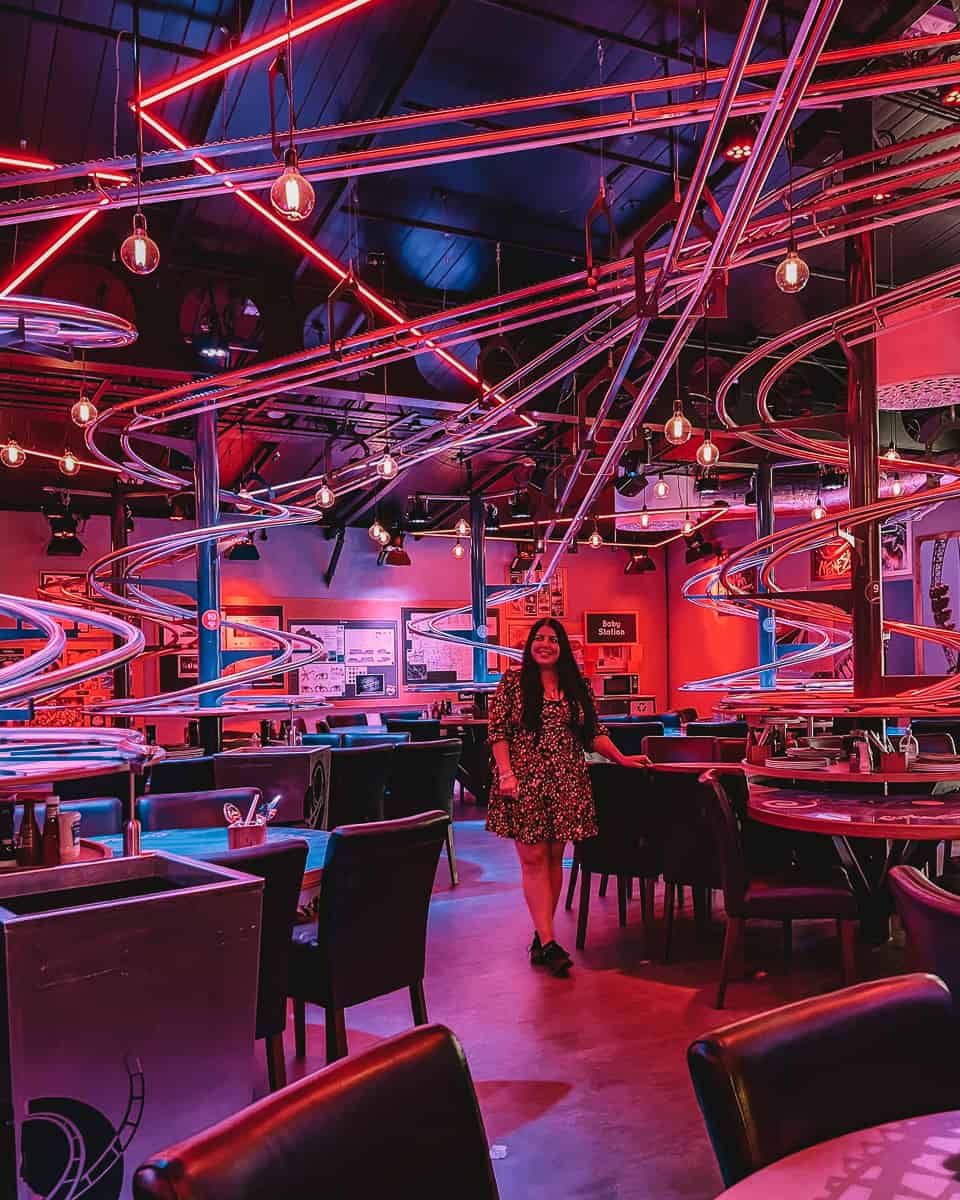 Where is the Rollercoaster Restaurant at Alton Towers?
The Alton Towers Rollercoaster Restaurant is located in the Forbidden Valley area of the Alton Towers Resort.
So, if you're visiting the park during the day you can either walk from the entrance or grab the Skyride over here to visit.
If you're visiting in the evening after the park has closed, there is a separate entrance that you can use that is reserved for Alton Towers Resort guests.
You'll need to follow the Golden footpath which is located near the Alton Towers Extraordinary Golf towards the theme park.
I was staying in the Enchanted Village and it only took me 15 minutes walk to get here. From the Alton Towers Hotel or Splash Landings Hotel, it's a 5-10 minute walk.
It was so cool entering the park after hours as you could walk under the Galactica tracks at night time!
Parking is free for Alton Towers Resort Guests and Merlin Annual Pass Holders. For regular visitors, it's £6 to park even for Blue Badges (which I think is so wrong!).
I believe you can get a token/pass for parking if you're visiting just for the restaurant in the evening but always double-check before you arrive.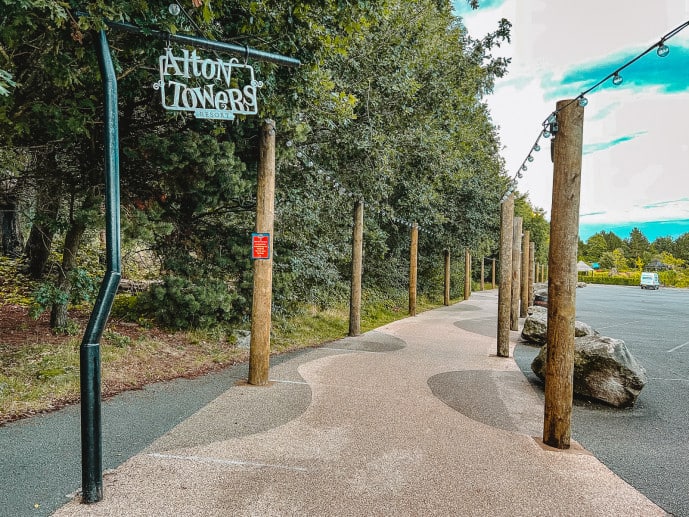 Do you need park tickets to eat at the Alton Towers Rollercoaster Restaurant?
No, you only need to have a valid park ticket if you plan to eat here during the daytime when the park is open.
If you don't have a park ticket, or you're staying at the Alton Towers resort without tickets, you can eat here in the evening after the park closes.
If you live locally in the Staffordshire area, it's such a cool restaurant to have nearby as it's something a bit different.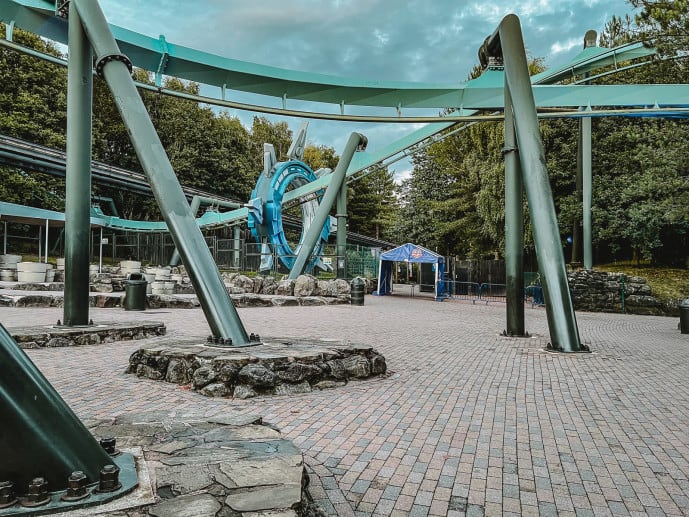 How to book a table at Alton Towers Rollercoaster Restaurant
If you're going to be visiting Alton Towers during the day, you can't book a table at the Rollercoaster Restaurant.
It's a case of simply showing up and waiting for a table to be free. I would recommend getting here for an early lunch at 11 am to avoid long wait times.
However, if you're planning on staying at the Alton Towers resort or if you're local and wanted to eat here in the evening then pre-booking your table is essential.
It's a very popular restaurant at Alton Towers and so you should look to book your table a few weeks beforehand, especially in summer.
You can book your table reservation online via The Fork and it will only take a minute or two.
Be warned that you will need to reconfirm this reservation nearer the time via email or you risk losing your booking.
Click here to reserve your table at the rollercoaster restaurant!
Alton Towers Rollercoaster Restaurant opening times
The rollercoaster restaurant is open from 11 am in the morning and closes at 11 pm in the evening.
Lunch is usually served from 11 am until 3 pm and dinner bookings open from around 4 / 5 until 9 pm.
Alton Towers theme park is seasonal and is open from March – November. Resorts remain open all year but the rollercoaster restaurant may be closed in the off-season. Always check the calendar before you book your break.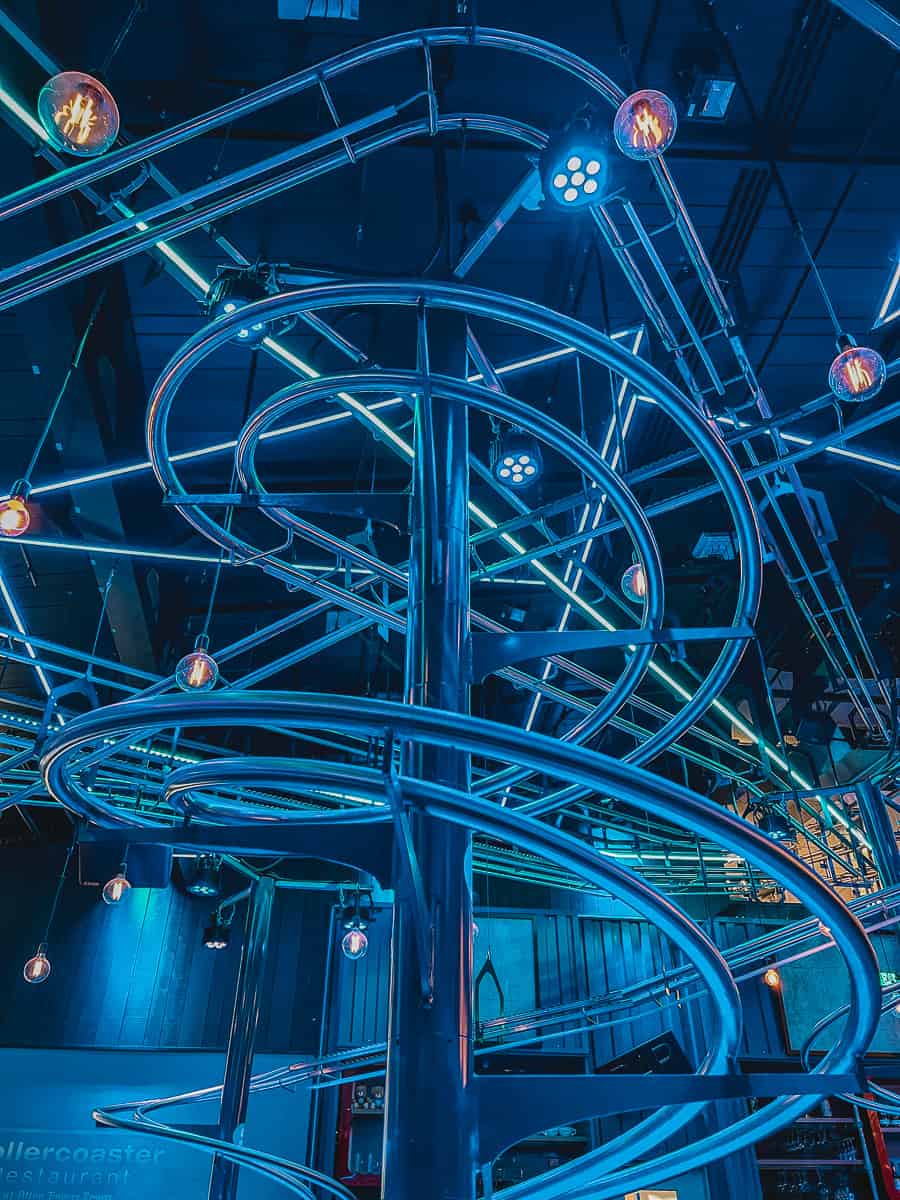 Alton Towers Rollercoaster Restaurant prices
This restaurant is a premium outlet inside Alton Towers but I didn't think the prices were unreasonable.
According to The Fork, the average meal price is around £29 and I would say you could easily order a drink, main and a starter or dessert for this price (depending on what you order of course).
Starters like falafel bites, nachos and chicken wings were around £5 / 6 each.
Mains like burgers and pasta dishes were around £13-15 but if you go for a steak or a chicken and ribs meal it could be £16 – 20 each.
Desserts were around the £4 – £7 mark and some sides were around £3 – £4 each.
Soft drinks were around £4 for a bottle of pop but beer was almost the same price at £4.50 for a bottle or £5.50 for a draught pint. My glass of wine was around £8.
Personally, I thought the food was average and not very hot. You're mainly paying for the novel experience of having your meal delivered by rollercoaster which I was fine with for the price.
For larger families, it's not a cheap dinner out so make sure to check the menu with prices before you book.
Don't forget that Merlin Annual Pass holders get a discount at restaurants. This is up to 20% off for the Platinum Pass!
What else is there to do at Alton Towers?
Alton Towers is the UK's most popular theme park that is a shrine for adrenalin junkies.
It's home to some world-record-breaking coasters like The Smiler which has a whopping 14 loops!
You also have a Wicker Man wooden coaster, Galactica where you lie down and feel like you're flying, Nemesis with record-breaking speeds and Oblivion which has a vertical drop.
But, it's not all adrenalin-focused as there is a Gangster Granny area and CBeebies Land for little ones, a Sea-Life aquarium and live shows.
There are also seasonal events throughout the year like Mardi Gras, Oktoberfest, Scarefests, Fireworks and Christmas Markets.
Alton Towers used to be an 18th-century estate of the Earls of Shrewsbury so you have the ruins of the old manor house plus beautifully planned gardens to explore.
There is something for all the family at Alton Towers so make sure to book your fun-filled break!
Where to say at Alton Towers Resort
If you wanted to extend your stay at Alton Towers resort they have a great range of accommodations to choose from.
The original is Alton Towers hotel which has a Phileas Fogg theme with influences of Victorian exploration around the world.
The Splash Landings Hotel is a Caribbean theme that is home to the indoor Alton Towers Waterpark. There is also the CBeebies Land Hotel which is meant to be amazing for little ones.
Personally, I stayed in their Enchanted Village in one of their Enchanted Lodges which I much preferred to the busier/noisier hotels.
The lodges were warm with a double bed, bathroom and a bunk bed in an adjoining children's room. As they are large wooden lodges in small groups it's far quieter than the bigger hotels and they are cheaper too.
It was only £128 for the night and came with coffee-making facilities, towels, toiletries and breakfast in their cute Crooked Spoon restaurant.
Just remember to pre-book your breakfast time. Yes, it's annoying but essential and many people on my visit forgot and were annoyed they couldn't be seated early morning.
The cheapest accommodation choice is their Stargazing Pods but these don't have a bathroom and look a bit squished for a family. You have to use shared shower/toilet facilities with other pod guests.
They were also around £100 a night too which I didn't think was worth it. Usually, those types of huts are around £50 at a campsite.
I'd rather pay a little bit more for a lodge that has all your facilities included. It's a far nicer experience than having to leave your hut in the middle of the night to use the toilet.
Remember that regardless of where you stay at Alton Towers Resort, all guests can make use of the entertainment facilities, bars and restaurants at other hotels onsite (except CBeebies hotel). I also got a free round of mini-golf!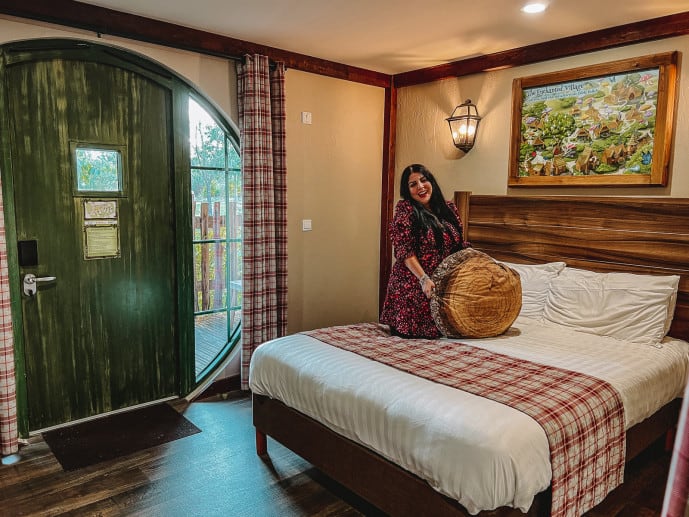 Alton Towers Rollercoaster Restaurant FAQs
Do you get Merlin discount in the rollercoaster restaurant? Yes, Merlin Annual Pass holders receive a discount at the rollercoaster restaurant.
Do they serve alcohol at the Alton Towers rollercoaster restaurant? Yep, although it may not be delivered by rollercoaster! There were beers, wines, champagne, cocktails etc. All pretty reasonable prices as you'd expect of a pub.
Do you have to buy Alton towers tickets to eat at the rollercoaster restaurant? Only during the day. You can visit the restaurant after the park closes in the evening without a ticket but booking a table is essential as it's so popular.
Save this Alton Towers Rollercoaster Restaurant review for later!