So, you've been to Jaipur, Jodhpur, and Udaipur and now you're looking for something more off the beaten track in Rajasthan?
Well, here are some amazing places to visit in Alwar! A hidden gem and easily accessible from Delhi.
Tucked away in the Rajasthani countryside, Alwar gives you a perfect break from the loud noise of the city.
My friend and I did have our doubts before visiting here. It wasn't exactly recommended in the India guidebooks.
But, in the end, we were pleasantly surprised by what we found and had a hilarious 3-day getaway.
At only three hours away by train from Delhi, it is the perfect little stop for a short weekend break or can provide a gateway to start your Rajasthan adventure!
You can visit forts, palaces, lakes and even go on a tiger safari from here. So, what are you waiting for?
How to get from Delhi to Alwar?
Alwar is a large district in the Indian state of Rajasthan and so you'll need to be familiar with where you're going when planning to stay here.
Luckily, Alwar Junction train station provides a central location to arrive in.
By far the cheapest and quickest option to get from Delhi to Alwar is to catch a train from Delhi or the neighbouring city of Gurgaon. It is only around 3 hours away so is a nice and short picturesque journey.
From here, you can catch a taxi or Auto-Rickshaw to your chosen hotel. I would recommend the Ajmer Shatabdi express train (leaves Delhi train station at 6 am) as Alwar is the second stop.
The picture below isn't from the Shatabdi train. It was the 2AC sleeper that leaves from Delhi in the afternoon.
There's something I love about being able to stretch out on a train and watch the world pass me by!
A great website for booking Indian train tickets is cleartrip.com. They provide easy functionality and, unlike the IRCTC (Indian Railway Central booking system), they allow you to book train tickets on the same day!
They do charge a small premium, but if anything saves me from wanting to rip my hair out when booking an Indian rail ticket – I'll happily pay it. From here, you can easily head on to Jaipur, Ajmer, or back to Delhi.
Click here to read more of my Indian train travel tips
Where to stay in Alwar? The best Alwar hotels
Alwar itself doesn't have many great hotels.
In fact, we originally booked a 'resort' here but changed our minds on arrival due to the rat infestation (ew).
Luckily for us and you, there is a beautiful hill fort we discovered in the nearby village of Kesroli that you will fall in love with!
The Hill Fort Kesroli is officially a 'non-hotel' owned by the Neemrana Hotel Group. They specialise in restoring ancient historical properties and transforming them into beautiful heritage sites to spend the night.
There are 23 across India and I would highly recommend you check in to one on your travels.
The first thing I adored about the fort was the fantastic views of the Rajasthan countryside. No traffic, No noise, no pollution. It was bliss. If you didn't fancy venturing out of the hotel, there's plenty to keep you occupied here for a staycation.
There's a pool, spa offering treatments, outdoor games, walking routes, and a library.
Restaurants are mainly a buffet affair with a wide range of Indian and western choices. Each night there are cultural shows to entertain you while you dine.
Click here to book your stay at the Fort!
Places to visit in Alwar
1. Drive to Sariska
I'm not a staycation kind of girl. In fact, I struggle to stay in one place for too long.
So, when we were looking at activities in the surrounding area, there was one that piqued my interest with the hope of ticking another item off my bucket list.
A tiger safari at the Sariska Tiger Reserve.
Now, don't get too excited now. When I was googling Lonely Planet to find out more about it, it pretty much told me that my chances of seeing a tiger here were next to none. In fact, my chances of seeing a unicorn were more likely than a tiger in Sariska.
It's a massive reserve at 866km squared and a tiger population of just 13. But, never one to give up on a challenge, we decided to give it a go.
We got a cab from the fort and made the 40-minute journey to the reserve.
We did make a fatal error and arrived at the tiger reserve around midday. Unfortunately, the safari only takes place twice a day. Once in the morning at around 6 am and then again around 3 pm in the afternoon.
Although we didn't have much success, make sure you check the Sariska Safari website for timings.
2. Sariska Palace
Hopefully, after reading this, you won't make the same mistake.
But, if you do find yourself in Sariska with nowhere to go before your safari I would highly recommend a visit to the Sariska Palace opposite.
Although its 'Fusion' restaurant is something which looks like it belongs in the '70s, it has air conditioning and a beer! Sweet salvation.
They say you need to pay some money to go in, but if you're going to dine in the restaurant they don't charge you.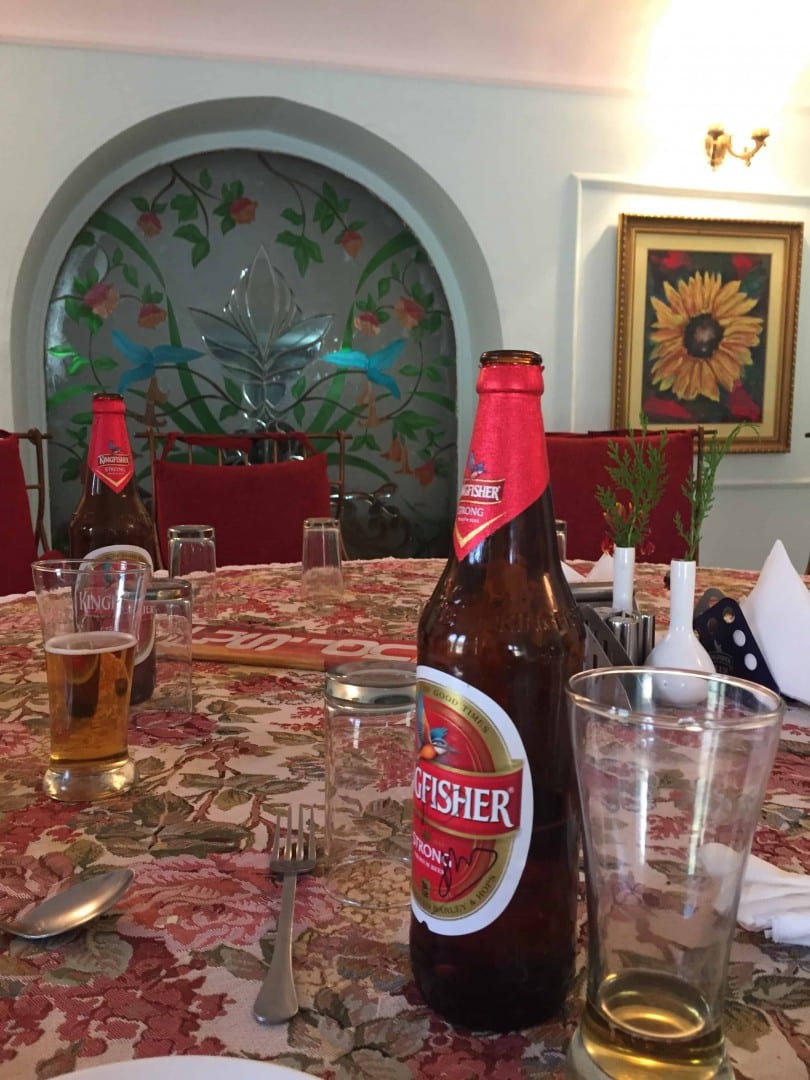 3. Take a Sariska Tiger Reserve Safari
There were two choices of vehicle for the safari, the gypsy or the canter.
We were first in line for the safari tickets, which was great as we had heard they were limited.
I could tell that the ticket sellers were thrilled with their jobs as they got ready to sell to the crowd forming. I, myself, didn't help by pushing my face into the window but it was hot and I just wanted a ticket after that long wait.
The gypsy is an open-air 4×4 and can take up to 6 people at a time. This is the more expensive option at around 600 rupees per person.
You initially pay this to the ticket counter, then you pay some fees directly to the guide after the tour. The total comes to around 1200 rupees.
The Canter is a cheaper option and a massive open-air vehicle which is higher and takes around 20ish people at a time.
Personally, for your best chances of spotting a tiger get the Gypsy. It may be more expensive, but the Gypsy can weave in and out of the jungle and reach the off-the-beaten-track places the tiger may be hiding in.
This is the Gypsy below (yes, I did get the cheesy hat!).
What to expect on your Sariska Safari
We zipped off around the reserve with the other tourists, in the hope of finding one.
Each jeep will go in different directions to spread out. We had seen peacocks, wild boars, a panther hole (but no panther), and deer but no tiger.
Time was running out, it was nearing sunset at 6 pm when we were due to head back to the ticket desk. Our driver told us to keep silent so he could listen out for tiger noises.
My friend and I looked at each other trying not to laugh, surely he was just putting this on for effect? But then, the birds started making a warning call. The next minute, we heard a tiger roar!
Our driver didn't waste any time, he slammed his foot on the pedal and we zoomed off in the hope of seeing it.
It was one of the scariest yet thrilling rides I had experienced in my life. I was holding onto the frame of the gipsy so tight. The driver certainly had skill!
It created some serious adrenalin as we quickened the chase. Then, behind the bushes in the jungle we finally saw what we were looking for; a beautiful orange and black striped Bengal tigress!
Although we got lucky, I would definitely recommend a visit here even if you don't see a tiger. The jungle is beautiful to explore.
Read more: Tiger Safari at Sariska
4. Siliserh Lake
One of the most beautiful places to visit in Alwar is the natural beauty of Siliserh Lake.
It provides stunning views of turquoise blue water, the hills, and beyond.
The best place to take in the panorama view is from the Lake Palace Hotel.
Situated right at the edge of the water, there is a bar and open-top restaurant to dine in while taking in the views.
While we were here, we saw people speed boating! So, if you fancy it – you can get involved.
5. Alwar City Palace and Fort
Centrally located, the Alwar City Palace is a great spot for some Rajasthani history.
It is in desperate need of repair but it is worth a visit if you have time. It's completely free of charge.
You can start at the massive entrance courtyard and then make your way up to the roof for some great aerial views of Alwar.
There is a museum inside the palace but it charges extra. It really isn't worth the money, so I would save your rupees.
6. Alwar Palace Lake
My favourite part of the palace was actually situated outside the grounds. It was the water tank and it has to be the most picturesque part of Alwar.
In fact, this was the scene that drew me to it online in the first place.
It was nice just to take a stroll around here. But it was a little awkward getting constantly stared at by the locals.
I really don't think they get many western tourists visiting, so it was a selfie request at every turn!
Save these places to visit in Alwar for later!
That's Alwar in a nutshell.
There's not an extensive amount to do and it's not built up for western tourism like the bigger cities nearby.
However, it does provide an off-the-beaten-track experience of the Rajasthani villages and countryside.
Make sure you put Alwar down for your next weekend break!
Heading around Rajasthan? Check out these posts!
My complete guide to the Pink City of Jaipur
A photography guide for Jaipur
My top travel tips for Jaisalmer
A camel safari in the Thar desert
Why Bundi has to be on your bucket list
Top places to visit in Bikaner
Visiting the rat temple in India