Looking for all the amazing, unusual, and FREE things to do in the London Bridge area?
This list will cover them all including the big-ticket attractions as well as some free activities and hidden gems.
Ah, there really is no place like London! This city has so much energy. But, there is so much to do in this city, it's easier to split your London itinerary into neighbourhoods or boroughs.
First off, let's start with London Bridge that's oh so very quintessentially LONDON!
The London Bridge area will tick off some of your big London Bucket list items like The Shard, Tower Bridge, The Tower of London, Borough Market, St Paul's Cathedral, Shakespeare's Globe, and of course the actual London Bridge. All while taking in some breathtaking views over the River Thames.
I'll also throw in some scrumptious restaurants near London Bridge and how to easily access Westminster from here to see Big Ben and the London Eye.
So chaps, tally ho! Here is 20 amazing things to do in London Bridge.
How to get around London Bridge
Personally, I love exploring neighbourhoods in London on foot and the London Bridge area is a real treat!
The River Thames that snakes through London Bridge have some beautiful pathways that run right alongside it. So, you stroll along while taking in the breathtaking skyline views.
But, London does get exhausting. I think I clocked in close to 35,000 steps for the day!
So, I can completely understand if you'd prefer to use the London transport networks to save your energy.
London Underground
What lies beneath London is the famous London Underground and this is the best way to get around while ticking off another must do bucket list item too.
Although the colourful map of train lines looks like a nightmare to navigate it's actually quite easy. Or, you use Google Maps which will let you know your tube route from A to B.
The best way to save money on the London Underground is to invest in a London Transport Card or an Oyster Card. You can buy these for certain 'transport zones'.
Alternatively, the tube takes contactless so you just tap your card on and off at the entrance and exit gates. These prices are capped, find out more here.
London Red Buses and Boris Bikes
Alternatively, you can grab one of London's iconic red buses to take you around the city. You can use your London Transport Card, or use contactless on these too.
Or, you can rent a city or 'Boris' bike if you'd prefer to cycle. These bikes were nicknamed after Boris Johnson, a previous mayor of London who introduced them.
22 Amazing Things to do in London Bridge
1. See the spectacular View from The Shard London
Let's kick off with London's tallest skyscraper building; The Shard!
Nicknamed The Shard of Glass it's currently the tallest building in Western Europe.
It dominates the London skyline at 310 metres high and its iconic jagged architecture is made up of 11,000 glass panels.
The Shard has 44 lifts, 72 floors and 306 flights of stairs. It really is a beast of a building!
You can see the Shard from all over the London Bridge area and you'll need to really crane your neck as you get closer to it.
You can spend the night in the shard, have dinner or afternoon tea here and visit the View from the Shard for the best view of London in the sky!
The View from the Shard
The View from the Shard really does provide the best view of London from above.
As you take two elevators to the 68th floor, which travel at 6 metres per second (!), you will come out to three viewing platforms including a sky terrace.
You can walk between the 68th, 69th and 72nd floor for some of the finest views of the whole of London!
From the sky terrace you can see the famous views of Westminster with The London Eye, Tower Bridge, Tower of London, Canary Wharf and so much more beyond. The sky terrace is out in the open, so you'll really be out in the clouds. Tip: bring a jacket.
You won't be alone up here, it's ridiculously busy. Lot's of people sit down in front of the windows view on the floor so you may have to wait patiently for photos.
I decided to go for the all inclusive Shard ticket that included a glass of bubbly Moet & Chandon! So, I could toast a glass while enjoying the view. I thought it was worth it but book in advance for the best price.
Restaurants in the Shard
If you were thinking of enjoying a more culinary experience The Shard has three restaurants.
A New York Grill called Oblix, Hutong serving Chinese fare and the Aqua Shard, which has a British inspired menu.
The Shangri-La also do a yummy afternoon tea in the sky at Ting. See more here.
2. Walk over Tower Bridge
People always confuse London Bridge with Tower Bridge and I can see why, it is London's most iconic bridge. It's everyone's favourite due to its gorgeous architecture and colourful blue royal insignias.
Tower Bridge opened in 1894 and connected the boroughs of Tower Hamlets with Southwark.
It's 42 metres high, 60 metres long and over 40,000 people walk or drive over it every single day!
As its a suspension bridge, you may be lucky enough to see it open to allow boats to pass through along the Thames.
This is a beautiful photoworthy spot and you can find some great views of Tower Bridge from the Tower of London.
Don't forget to take out your camera for photos of the views over the bridge too, it's like a postcard.
You can walk over Tower Bridge with its pedestrian pathway for free at the bottom or take a tour of Tower bridge and walk across the top for a unique experience!
3. Glimpse at the Crown Jewels in the Tower of London
I can't believe I'm 30 years old and I've never entered the Tower of London.
I've always seen Traitor's Gate from the River Thames, where prisoners used to come and go for trial at Westminster, but never breached the tower walls.
So, this time I decided to check it out!
The Tower of London is without a doubt London's most iconic attraction.
People commonly mistake the The Tower of London as just a prison for famous traitors to the crown, but, it was actually palace for the royal family and a stronghold of defence too!
I really underestimated the amount of things to do in the Tower of London.
Of course, I was excited to check out the shiny crown jewels but there were also many towers, palace rooms, museums, ravens, castle walls to explore and torture chambers too.
You may think the Tower of London is beautiful to look at, but it has a notoriously gruesome past.
Many famous prisoner's including Anne Boleyn, Lady Jane Grey, Sir Thomas More, Guy Fawkes, Catherine Howard, Queen Elizabeth I, Sir Walter Raleigh and recently the Kray Twins were residents of the Tower.
Make sure you check out the Tower of London prison apartments where you can see the graffiti of famous prisoners.
Some were publicly executed here and some were mysterious murdered including the Princes in the Tower. You can learn about their story in the Bloody Tower which still remains England's biggest whodunnit in history!
Again, it's worth booking in advance to beat the queues and get the best price.
4. Have lunch in Borough Market
If you're looking for somewhere to eat for lunch near London Bridge there is nothing better than a stop at the famous Borough Market.
Established in 1756, you can take in all the sights, sounds and smells of this foodie paradise!
This bustling market not only sells fresh food produce but has stalls serving up delectable dishes from all over the world. Paella from Spain, Kebabs from Turkey, Pasta from Italy, Indian street food, you name it, it's here for you to try.
You can buy coffee from independent traders, wines by the bottle and Pimm's by the glass, strawberries and fruit by the punnet, cakes and pastries, cheese, vegetables; everything.
Whenever I pay a visit I always queue up for a bowl of the fresh paella they cook up on huge hot plates. It's honestly delicious.
Borough Market is one of the busiest food markets in the whole of London, especially at lunchtime, so expect huge crowds, queues, shouting and chaos. There aren't really any sitting areas so lots of people eat their food on the go, but it's totally worth it!
5. Discover St. Dunstan in the East
If you're looking for a hidden gem in London Bridge then St Dunstan in the East is your spot! It's also a FREE thing to do near London Bridge.
I couldn't believe this little rural paradise was in the middle of the city. It's quite literally a botanists paradise that's sandwiched in between urban buildings.
This Parish Church of England dates all the way back to 1100 and has had many restorations and extensions made throughout the centuries.
It was damaged in the Great Fire of London and during The Blitz during World War II in 1941. By 1971, it was opened to the people of London as a public garden.
Today it's a Gothic architectural ruin and secret garden that is absolutely stunning. It's a small place but you can see the remains of the church walls and windows that have plants and trees growing all around them!
This spot is popular with suits taking their lunch breaks, so if you want it quiet for photos I would avoid lunch hour.
Click here to read my complete guide for St Dunstan in the East!
6. Learn about Winchester Palace
If you're looking for more unusual ruins in the city, then head to the ruin of Winchester Palace!
Built in the 12th century, this is all that remains of the palace of the Bishops of Winchester. It was the largest and most important building in medieval London!
What we can see today is the remains of the Great Hall and its rose window, which was built by Bishop Henry de Blois, Brother of King Stephen and acted as a resting place for the bishops visiting London.
The palace remained in use until the 17th century and was used to entertain royal guests. James I of Scotland had his wedding feast here in 1424!
Today you can walk by the ruin and see all that remains on Clink Street. The ruin was discovered in the 19th century and was opened in the 1980s to the public.
7. Enter The Clink if you dare – London's oldest prison
Another one of Henry de Blois' creations and an important medieval London site is The Clink prison. It's the prison that gave all others the nickname and has been voted London's most notorious prison site.
In 1144 the Winchester Palace was built and with it came two prisons one each for men and women.
The name 'Clink' was given in the 14th century, which some believe was because you could hear the blacksmiths hammer beat down and make a 'clink' noise putting the irons around the prisoners wrists and ankles. Now the term 'being thrown in the clink' comes from this prison!
Famous prisoners include Sir Thomas Wyatt the younger for rebelling against Queen Mary I and John Rogers who converted the bible from Latin to English.
In 1780, Lord George Gordon broke into the Clink with the Protestant association, released all prisoners and burned it to the ground. Lucky prisoners!
Nowadays the Clink prison museum stands on the site and you can enter if you dare! As London's oldest prison there are a few ghosts about and you can even attend a ghost tour to get spooked.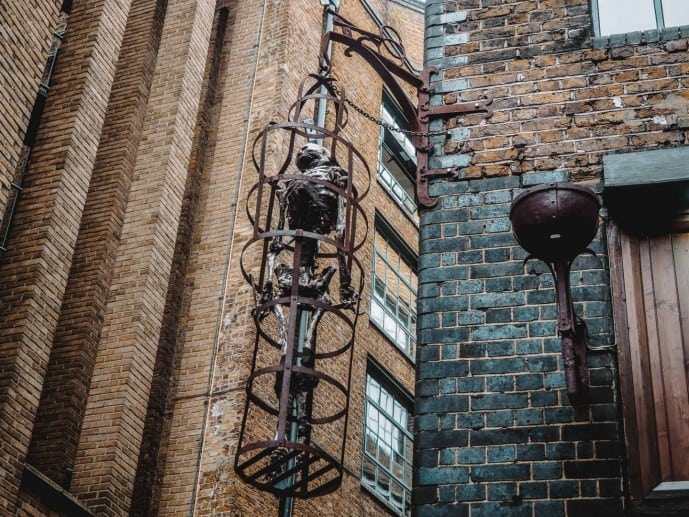 8. Visit St. Paul's Cathedral
By far London's most iconic church is St. Paul's Cathedral, one of the largest churches in the whole world.
A church has stood on this site dedicated to St. Paul since 604AD and the construction of what we see today started in 1675 after the Great Fire of London in 1666.
It also has one of the largest crypts in Western Europe and lot's of famous people are buried here including King Ethelred the Unready, the Duke of Wellington, Admiral Lord Nelson, Christopher Wren, Alexander Fleming and Florence Nightingale.
Other highlights include the Grand Organ, the Cathedral Dome and the Whispering Gallery with the Stone and Golden Galleries too.
Did you know that the Harry Potter movies were filmed here? You can visit the Geometric Staircase that was the Hogwarts Divination Stairwell in the movies! Click here to read my Harry Potter guide.
It's not a cheap place to go in at £21 a ticket for walk-ins, however, you can book online in advance for £18. Regardless, as one of the most famous pieces of architecture in London, just looking at its sheer size from the outside.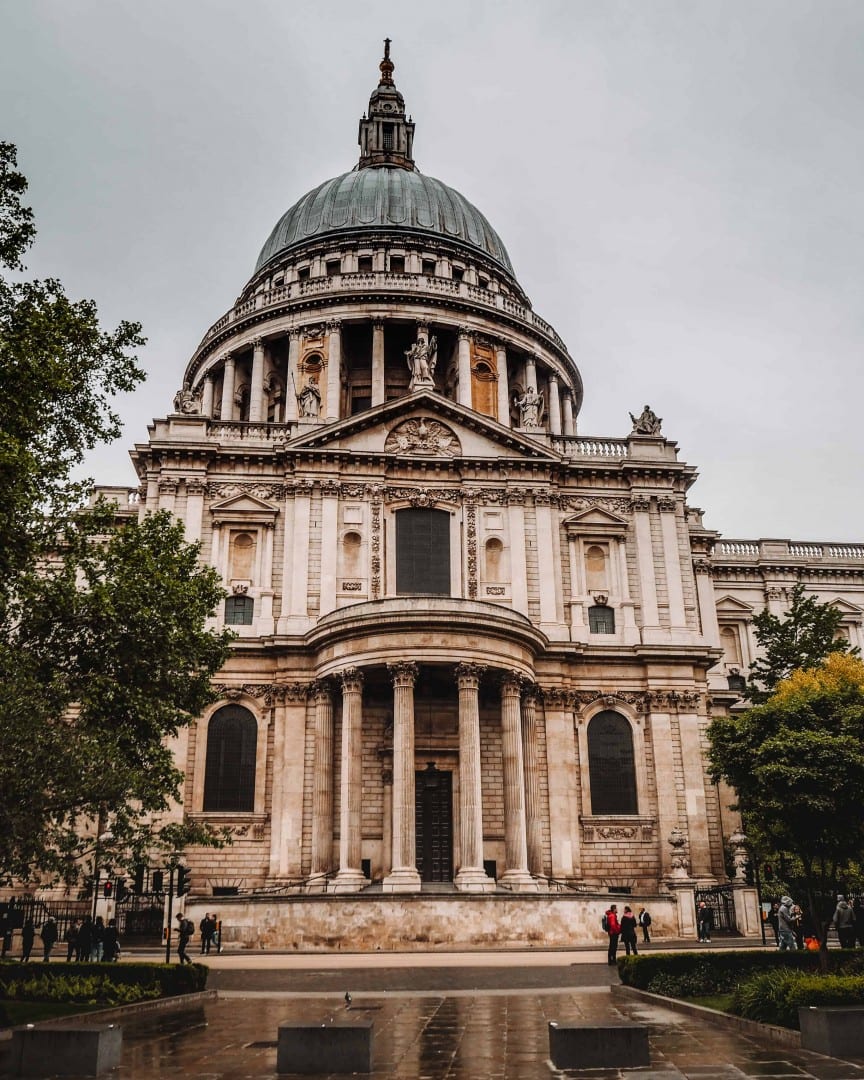 9. Take in the view of St. Pauls Cathedral at One New Change
If you're looking for a fab and FREE view of St. Paul's Cathedral, you only have to head up to the rooftop of One New Change. It's a shopping centre nearby.
It's well sign posted and you can take the elevator all the way to the rooftop for a spectacular view of St. Paul's Cathedral dome.
As well as the dramatic view of St. Paul's cathedral, you can spot other iconic buildings as well as the London Eye from here as well.
It's well worth a photo stop. It's open from 6am – midnight so you have plenty of time during the day to fit it in.
If you were after a few cocktails or dinner, they have an incredible rooftop bar called Madison's Restaurant and Bar where you can sip your drink with this amazing view too. The shopping centre also has hundreds of shops and foot outlets to explore.
10. Visit Southwark Cathedral
Another Gothic Cathedral located by Borough Market is Southwark Cathedral, an Anglican Cathedral that's stands on the oldest crossing point on the River Thames.
It was believed to be inhabited by nun's as far back as the 7th century but was recorded as a 'minster' in the Doomsday book of 1066.
In 1106, it was founded as a priory with a hospital nearby as St. Saviour's Church and eventually became known as Southwark Cathedral in 1905.
It's an open place of worship today and you can go inside to marvel at the gothic architecture, archways and cloisters. A donation of £2 is expected for photography.
11. Marvel at Shakespeare's Globe Theatre
A must visit in London Bridge is a visit to Shakespeare's Globe, a reconstruction of the original theatre built by the Bard himself.
Shakespeare's words have inspired millions through the ages and so a visit to see one of his play's is a must visit.
William Shakespeare was born in 1564 in Stratford-upon-Avon in England and is the greatest wordsmith that ever lived!
He came to London around 1592 with his stage plays and became so famous he used to put on performances for royalty including Queen Elizabeth I and was awarded a royal patent by King James I. He died in 1616 and his play's are still performed today.
The original Globe theatre was built in 1599 by Shakespeare's Playing Company and unfortunately it burned down in 1613.
Then a second one was built on the same site in 1614, closed in 1642 and was eventually completely demolished in 1644.
What we see today is a reconstruction of the original Globe theatre, by Sam Wanamaker, that opened it's doors in 1997.
Here, you can take a tour of the theatre or watch a Shakespearean play by the Royal Shakespeare Company on the stage.
You can buy cheap standing tickets like the peasants used to in Shakespeare's time or sit in the gods like royalty. The choice is yours.
I went here years ago to watch Romeo and Juliet and it was an incredible experience. The theatre and the stage is beautifully decorated and makes you feel like you're really in Shakespeare's time.
12. Shop at Hay's Galleria
An unusual thing to do near London Bridge tube station is to stop at Hay's Galleria on Battle Bridge.
It's a grade II listed structure that used to be part of a brewery called Hay's Wharf since the 17th century and then the Larder of London in the 1800s.
In the 1980s Hay's Galleria underwent a huge reconstruction and opened to the public in 1987 to commemorate London Dockland's shipping heritage in the area.
In the middle you can see a huge bronze ship with a face! The architecture was actually based on Milan's famous galleria on Piazza del Duomo.
Alongside offices and flats, you can shop around this centre and also dine in it's many chic restaurants!
13. Hop aboard the Golden Hinde
The Golden Hinde is the famous galleon of Sir Francis Drake, the first Englishman who circumnavigated the globe with her in 1577 – 1580!
He was one of the greatest seafarers of his time and also helped defeat the Spanish Armada for the crown.
The original ship remained at Deptford dockyard and rotted away in the 17th century. But, she wasn't forgotten and on the 400th anniversary of her arriving to the 'new world' colonies of America, two Americans were inspired to make a reconstruction.
In 1973 the Golden Hinde was reborn and in 1974 set sail from Falmouth to San Francisco and made anther journey around the globe.
Nowadays it's a museum on St Mary Overie Dock near London Bridge where you can pay to take a self guided tour.
14. Explore HMS Belfast
HMS Belfast is the most significant surviving Second World War Royal Navy warship and the last of her kind. Commissioned in 1939 on the brink of World War II, it was one of the most powerful boats that intercepted German battle ships.
It also saw service during the D Day landings and she is one of only three ships to survive today. The other two are in the USA.
As well as World War II, the HMS Belfast was serviced in the The Cold War, Korea and more. She was over 162 metres long with 12 guns, torpedoes and depth charges.
HMS Belfast is now docked in the River Thames by the Tower of London and opened as a museum in 1971. By 1975, over one and a half million people visited her!
She's now part of the Imperial War Museums group and you can take a visit to see what life inside a battle ship was like.
15. Walk over the Millennium Bridge
I hated the look of the Millennium Bridge when it first opened, but I've grown to like it over the years.
I don't know why, I guess the architecture just looked a little basic compared to the other historic bridges. No prizes to guess when it opened, yes, it's the Millennium!
It's actually got the nickname "wobbly bridge" as when it opened, it wobbled so much it was going to fall. It then closed for two years to fix it and reopened in 2002.
Today it's a popular throughway from the Tate Modern to St. Paul's Cathedral with some spectacular views as you go across and yes it does still wobble! Plus, it's really slippery in the rain haha.
For Harry Potter buffs you may recognise the bridge from the Harry Potter and the Half-Blood Prince when the bridge collapses due to Death Eaters!
Click here to read my complete guide on how to visit the Millennium Bridge Harry Potter filming location
16. Browse contemporary art at Tate Modern
I'm usually a historical and classical art buff, but the Tate Modern I make an exception for.
Built inside Bankside Power Station, which is admittedly ugly as sin, it's actually a great museum full of contemporary works inside.
If you're willing to be open to the concept of what defines art, you'll do just fine. But if you prefer gazing at portraits you may struggle here.
The Tate Modern, by its very philosophy, changes artists and exhibitions all the time. So, it's always somewhere to go back to and see the latest works.
I've been lucky enough to catch some pieces here by the controversial Damien Hirst including his crystal skull 'For the Love of God' and 'The Physical Impossibility of Death in the Mind of Someone Living' with animals preserved in formaldehyde.
Some things are just plain weird in here and take more than the abstract mind to even try to grasp what the artist was trying to achieve. But, as they say, beauty is in the eye of the beholder and does art even need a purpose to be art?
The good news is that it's FREE to enter and it's a great rainy day activity!
17. Visit the OXO Tower
The OXO tower is another famous site on the River Thames with an interesting history.
During the World Wars, companies were banned from Skyline advertising in London. So, the OXO company, who sold the famous beef stock cubes, decided to do something different. They built the top of the tower with windows in the shape of OXO as a way around it! Quite clever really.
It was a thriving trade centre on Stamford Wharf until the 1970s where it was demolished and rebuilt. In 1991, it had a huge grant and was renovated. Nowadays it's an award winning landmark site that has restaurants, shops, art galleries and craft and design workshops.
Here you can eat on their OXO Tower Restaurant on the highest floor for a magnificent view of the skyline including St. Paul's Cathedral.
18. Stroll over London Bridge
I mean, you can't come to London and not visit London Bridge.
The famous rhyme 'London Bridge is falling down' originates from the countless attempts to repair London Bridge as it was destroyed or fell apart so many times!
Old London Bridge history
There has been a London Bridge since the Roman era of Londinium, then William the Conquer rebuilt London Bridge in the 11th century that was destroyed by the 'London Tornado'.
In the 12th century a stone bridge was started by King Henry II and had a series of 19 arches over the River Thames with a draw bridge for ships. There were over 100 shops on the bridge itself with a public loo, apparently it used to STINK!
By the Tudor period, the bridge was so popular that royalty used to impale heads of traitors on spikes for all people passing by as a warning. By then, London Bridge had over 200 residents living on it!
The Great Fire of London in 1666, blamed on the baker from Pudding Lane near London Bridge, spread rapidly across the city destroying many buildings.
Only one fifth of London was left standing with 13,000 homes burned to the ground. Amazingly, only 6 people died.
There's a monument that stands as a memorial for it near the New London Bridge today. It's commonly thought that London Bridge was burning down in this time but that's not the case.
In 1825 the bridge needed widening and so London had a new bridge built in 1831.
New London Bridge
What we see today is a new London Bridge opened in 1972 and the old bridge was shipped off to Arizona in the states. If you stroll across the bridge you can see some incredible views of the Thames and city skyline!
19. Get a fright at the London Bridge Experience and Tombs
Voted UK's scariest attraction, the London Bridge Experience and Tombs is not for the faint of heart.
In this award winning exhibit, you can experience 2,000 years worth of history bringing London Bridge to life.
You start out in Londinium in the Roman Era, then travel through time to the Star Inn Pub which used to be on London Bridge and was a regular haunt of Jack the Ripper.
In Tudor times the head of traitors were displayed upon London Bridge as a warning to passers by so you can even meet the Keeper of the Heads.
In 2007, construction workers discovered a plague pit with hundreds of skeletons beneath it which is now the London Bridge Tombs!
You can now enter the tombs for the ultimate scare maze, so don't go in alone. Tickets are best booked in advance.
20. Visit Sky Garden
A hidden gem in London Bridge and a FREE viewpoint is Sky Garden, London's highest public garden.
It's located on 20 Fenchurch Street, standing tall at at 160 metres! From here you can get breathtaking 360 degree views of the city, all within the grounds of a landscape garden.
Access to the sky garden is free of charge but you must book tickets in advance and these are limited.
My biggest advice would be to book two weeks beforehand or as soon as the tickets become available. There are walk ins on the day but access is not guaranteed. I've been in before and loved it, but couldn't get a walk in this time, boo!
They also have restaurants which give you access to the Sky Garden including Fenchurch Restaurant, Darwin Brasserie, Sky Pod Bar, Fenchurch Terrace and City Garden Bar too!
21. Dine in Padella – the Best Restaurant in London Bridge
This is London Bridge areas best restaurant by a mile! It's been on foodies lips and magazine pages for months and you can tell due to the huge queues that wait outside it every evening. It's waiting list and reserved tables are also sold out almost every night too – so book in quick!
Padella make their own fresh hand rolled pasta onsite and serve up tasty Italian dishes at a reasonable price. In fact, for London, it's a bargain.
I waited for ages to get a walk in table outside in the drizzly rain and it was SO worth it. The pasta was fresh, hot and full of flavour. I decided to try the Tagliarini with nettles, nutmeg and egg yolk, it was incredible.
22. Take the Queen's walk along the River Thames to Westminster
So, now you've ticked off most of the attractions and things to do in London Bridge, you can head on over to the city of Westminster.
Yes, Westminster is a borough that holds a city status in London!
It's funny to think that years ago Westminster wasn't part of London at all, it was separate from the main city walls.
There has been a Westminster palace, church and Westminster Hall since the 11th century. It became the Houses of Parliament in 1542 and famous trials including King Charles I, who was tried for treason, were held here.
The Houses of Parliament today was built in 1834, with the famous Big Ben bell being installed in 1858. In 1965, it became Westminster City and part of Greater London.
Westminster is a must stop in London and covers a HUGE area.
But, at the centre in Parliament Square you can see Westminster Bridge, The Houses of Parliament, Big Ben and London Eye.
If you go further you can visit Hyde Park, Buckingham Palace, Tate Britain, the Beatle's Abbey Road Crossing and Covent Garden!
With thanks to hotels.com for gifting me spending money for an amazing day out in London, although this day out was gifted all photos and opinions are my own.
Read more of my London travel guides
Leadenhall Market – Home of the Leaky Cauldron in London!
How to visit Word on the Water – London's Bookbarge
How to visit 221b Baker Street – Home of Sherlock Holmes
How to visit The Hardy Tree in London
The secret Anne Boleyn symbols at Hampton Court Palace
How to visit Platform 9 3/4 at King's Cross Station
Visiting a magical Harry Potter Cocktail bar in London
Is Goodwin's Court a real Knockturn Alley?
Cecil Court – Visiting a real Diagon Alley in London!
Magical reasons to visit the Harry Potter Photographic Exhibition
Why you must visit the only Butterbeer Bar in London
How to visit 12 Grimmauld Place in London
Visit the House of MinaLima in Soho!
A complete guide for the Greenwich Foot Tunnel
Hogwarts in the Snow Review at Harry Potter Studios London
How to visit Highgate Cemetery in London
Dark Arts at Harry Potter Studios London
Jurassic World Exhibition in London review
Why you must visit Daunt Books Marylebone
The best London Christmas lights and displays to visit
A complete Mr. Fogg's Tavern review