Amsterdam is one of the world's most popular cities that sees well over 8 million tourists visit every year. So, it can be hard to avoid crowds!
Once you've seen Damrak, the canals, Rijksmuseum, Van Gough Museum, and Anne Frank's House you're probably wondering what else there is to do in this canal city.
It's no surprise that over-tourism is stretching infrastructures to their limits and so this list of Amsterdam hidden gems should give you some alternative and off-the-beaten-path things to consider.
It's a great way to discover something completely new and avoid some of the bigger crowds in the process.
Here is a list of Amsterdam hidden gems and alternative tours in the capital of the Netherlands!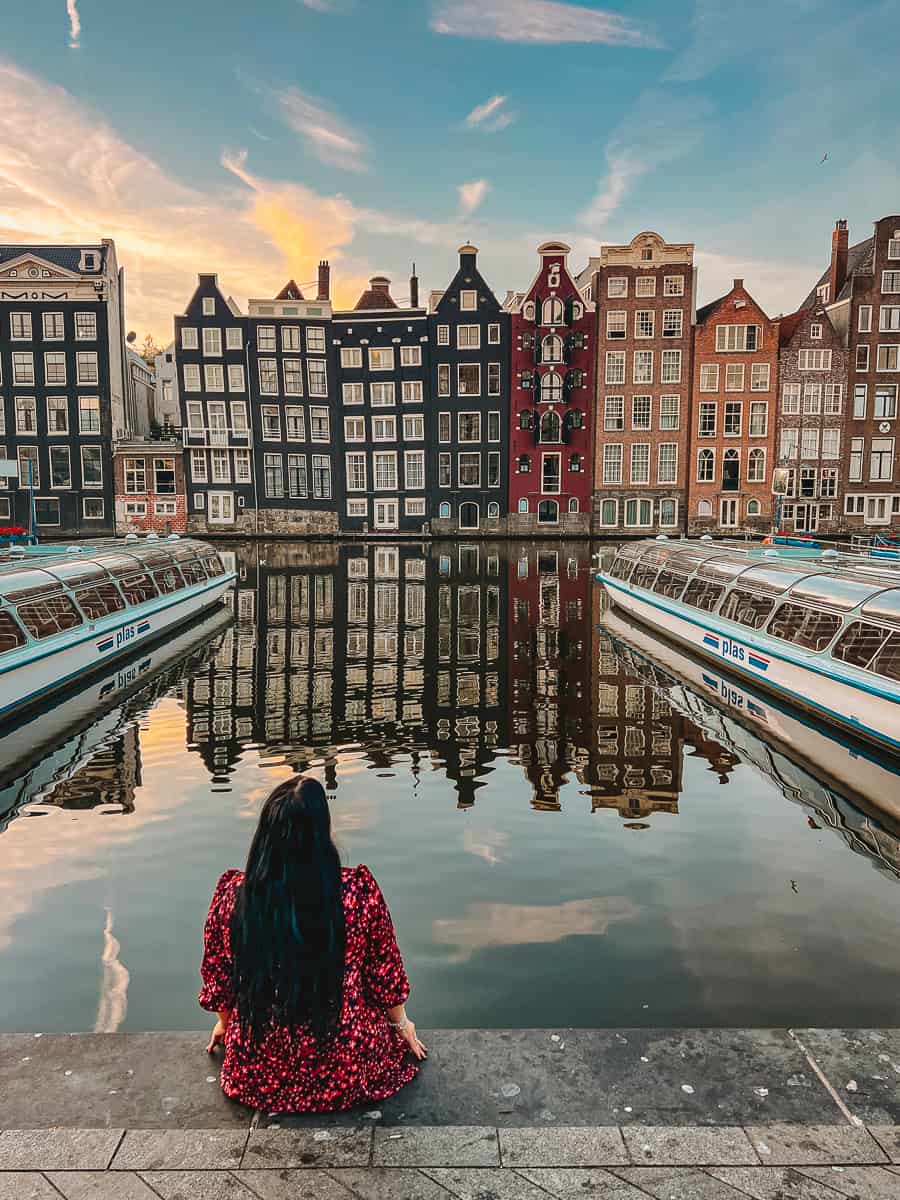 Amsterdam Hidden Gems & Alternative Tours
1. Hortus Botanicus
Did you know that one of the oldest botanical gardens in the world is in Amsterdam? It's called Hortus Botanicus and was established in 1638 as a physic garden for medical healing.
These plants were especially useful during the plague which saw thousands of victims needing treatment.
Many of the exotic plants, like the coffee plant, we see here today were shipped to the city during the 17th century by the Dutch East India Company.
Today, the Hortus Boticus has over 6,000 different plant species in its garden. You'll find desert cacti, Amazonian lily pads, palm tree collections, and all sorts of rare flora and fauna.
It's a great place to find some peace and fresh air in the big city. You can wander around their greenhouses filled with palm trees or their three climate greenhouse filled with sky walkways.
Or, if you'd prefer, you can take a stroll in the peaceful gardens outside. It's a huge place so leave enough time to explore.
There's even a café to have lunch or a coffee break. It's one of the best Amsterdam hidden gems.
Hortus Botanicus is open every day from 10 am to 5 pm. They open until 9 pm on Thursdays and Sundays.
Tickets are 12 Euros for an adult and 6.50 Euros for students and children. You get in FREE with the I amsterdam City Card.
2. Rijksmuseum Library (Cuypers Library)
Now I know what you're thinking, the Rijksmuseum should not be on this list of Amsterdam hidden gems!
It receives well over 2.5 million visitors every single year and it's home to some of the most famous paintings of the Netherlands and the world.
But, there are still some hidden gems inside this museum that most people miss whilst visiting the bigger exhibits.
Although you're probably eager to see Rembrandt's Night Watch and Vermeer's Milkmaid, don't leave without visiting the Rijksmuseum Library!
It was designed by Cuypers and it will make you feel like you've travelled back in time! In fact, it's the largest and oldest art library in the Netherlands.
Petrus Josephus Hubertus "Pierre" Cuypers was a Dutch architect who also designed the Amsterdam Centraal station – that's why both buildings look so similar.
As it's a research library, you do have to be quiet inside to respect those studying. Also, you can't take pictures on the first floor so if you want to capture it head up to the second. You'll find the door to the library after the ship model of the William Rex!
It's honestly one of the prettiest libraries I've seen in Europe and I wish I could climb that spiral staircase and explore all the books. But, alas it's for private study only.
The Rijksmuseum is open every day from 9 am – 5 pm. Adult tickets are 20 Euros. Anyone under 18 gets inside for free. It's also free on the I Amsterdam City Card but you do have to book a timeslot.
Related post – How to Visit Cuypers Library in the Rijksmuseum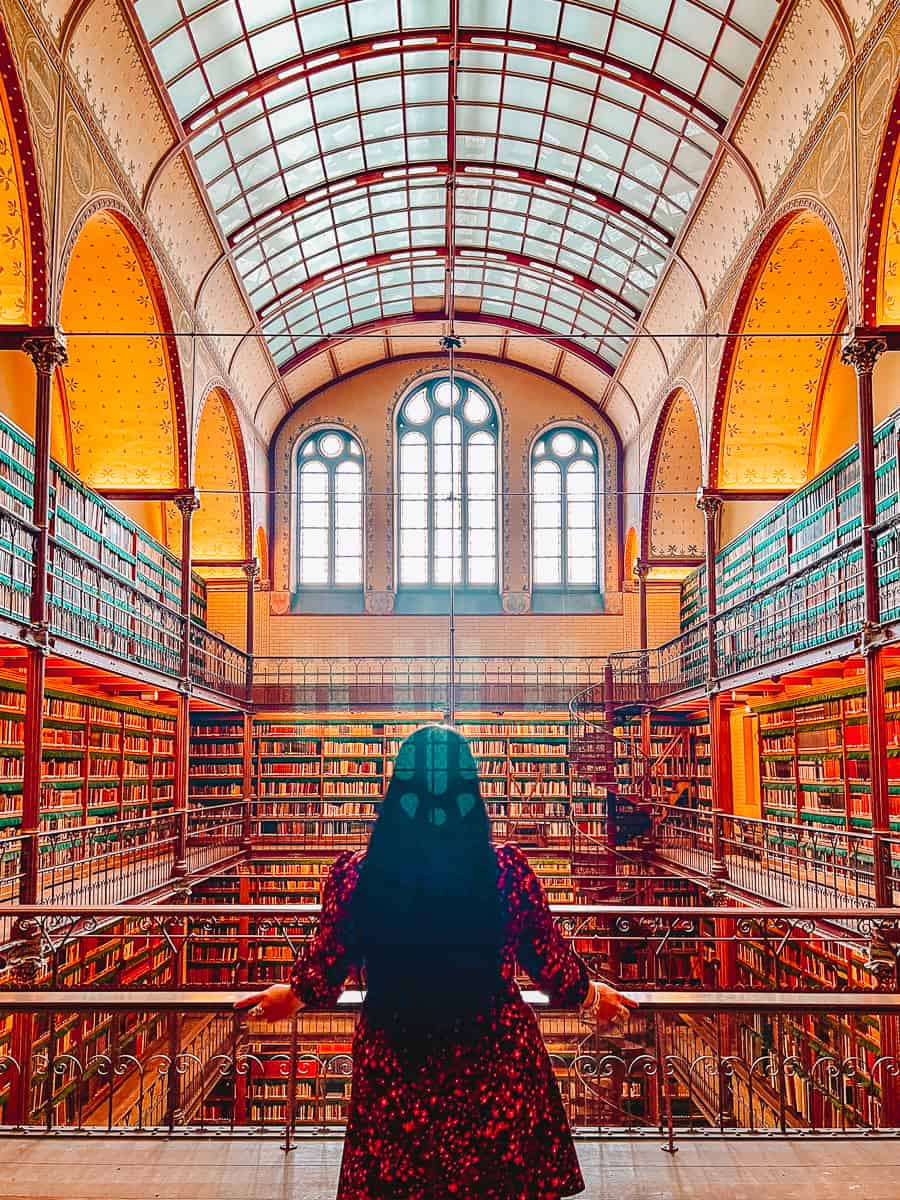 3. De Beurspassage
After you've snapped some photos of the Insta-famous gingerbread houses of Damrak, make sure to visit an Amsterdam hidden gem nearby called De Beurspassage.
It's a small passage constructed in the 19th century that links the two major streets of Damrak and Nieuwendijk by a shopping centre.
As it's in a popular area, you may find that it's busy most of the day. But, if you visit early in the morning it will be deserted.
Everything in this passage has pretty nautical tiles from the ship wheels and anchors on the floor to the fish tiling and patterns up above.
It's also lit by beautiful chandeliers. It's a great place to grab some photos so make sure to have your phone out to capture them.
Make sure to appreciate the small details like the glass bull skull and fish fountain where you can grab some water to take with you!
4. Hot tubs at the Volkshotel
If you were looking for something unique to do in Amsterdam, then you could soak in a hot tub above the city at the Volkshotel.
They have one sauna hut and three hot tubs in their Badplaats area which is located on the 8th floor. It provides spectacular views of Wibautstraat and over the city! You can see most of the main attractions from the top!
The Volkshotel hot tubs are open every day for hotel guests (and I would highly recommend staying there) but they do also open for non-hotel guests on Sundays from 12 pm – 8 pm.
They usually have music, shows, art installations and events going on at this hotel on the top floor so make sure to check their website for what's happening on your visit.
As an aside, the Volkshotel is a great place to stay whilst in Amsterdam. It has rooms for every type of budget and prices start from 79 Euros a night.
Click here to check out the Volkshotel website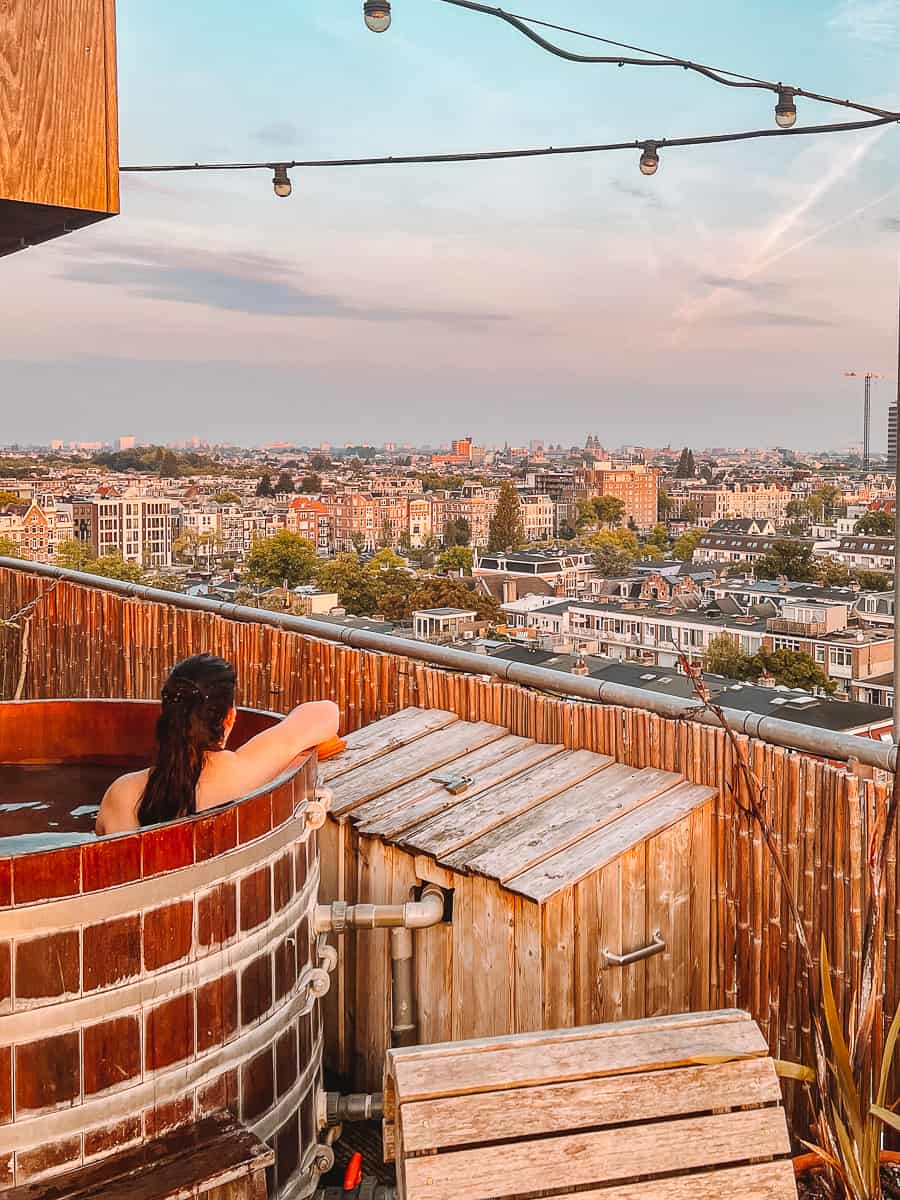 5. Wetlands Safari of Watergang
Although Amsterdam is a big city with tall buildings, you may be surprised to know that you can travel just 10 minutes by bus to an emerald paradise.
The small village of Watergang in Waterland is one of the secret Amsterdam hidden gems. You'll escape the traffic and be immersed in waterways that have been used since the 17th century!
These waterways used to be a way for milkboats to deliver milk from dairy farms to the big city and they built a small church at the settlement that is still here today.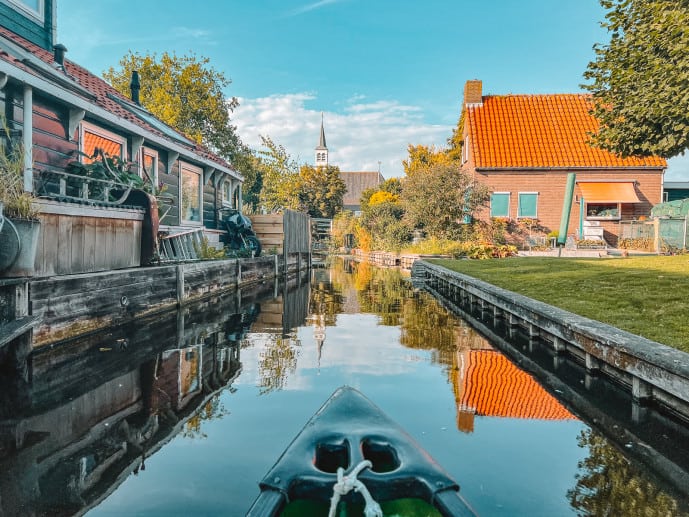 It hasn't changed much since then and it inspired painters like Rembrandt and Ruysdael. Artists you'll most likely see in the Rijksmuseum!
A great way to explore these ancient canals is by canoe on a Wetlands Safari! Majel has been running her tours since 1995 and is an expert in this area.
You'll pass through the small village, moorland meadows, small windmills, flora, and fauna. Plus, you'll see lots of wildlife. It's a great way to see what the Netherlands would have been like centuries ago.
Click here to book a Wetlands Safari
6. Amsterdam Tiny Houses
If you're passing by Westerstraat don't forget to check out the Amsterdam Tiny Houses between numbers 54 and 70.
You may think it strange that the numbers jump from 54 to 70 and you're probably wondering where the missing houses are.
Well, they aren't missing anymore! You'll notice a row of seven tiny houses stacked on top of each other between the crack of the door. These use to be ceramic but now are stickers.
In reality, the reason why there is a gap is due to the fact that there used to be a small courtyard here that had seven houses in it.
This spot is really very cute and such a unique find! Make sure to take a snap if you pass by.
7. The Fault In Our Stars Bench
Did you know that The Fault in Our Stars was filmed In Amsterdam? Although it was a bit of an emotional rollercoaster, you can visit where some of your favourite scenes took place around the city.
The most famous location has to be The Fault In Our Stars Bench which can be found at the intersection of the Herengracht and Leidsegracht canals..
I won't give away any spoilers but quite a big scene takes place here in the movie! Augustus shares his big news with Hazel. You can visit to recreate the scene or just sit and relax for a while.
Although it is popular with The Fault In Our Stars fans, others may have no idea what this book or movie is and won't get the excitement.
As it's in a busy area, you can also expect the bench to be occupied. It's definitely one of the more niche Amsterdam hidden gems.
Click here for a Google Pin for The Fault In Our Stars Bench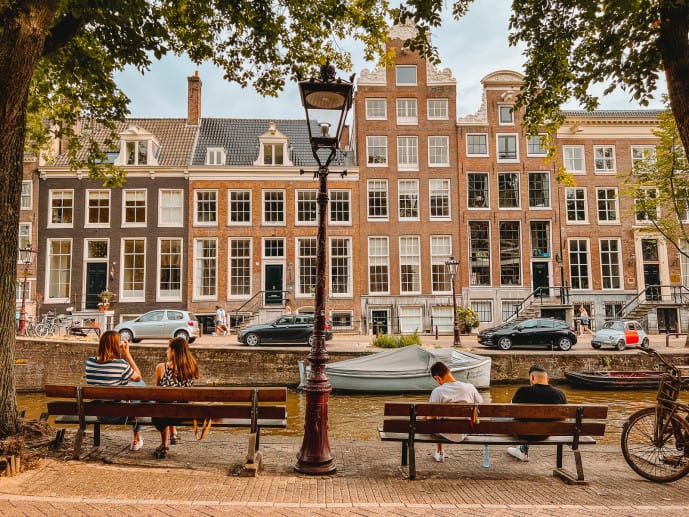 8. Sail the canals with Rederij Lampedusa
It could almost be illegal to travel to Amsterdam and not sail on the canals whilst you're here. But, if you were looking for an alternative canal tour of Amsterdam I would recommend sailing with Rederij Lampedusa.
It's a refugee boat trip that gives you a history of refugees in Amsterdam. From the human slave trade to Jews during the Nazi occupation and refugees today.
Your vessel will be a boat that was used to carry over a hundred refugees from Africa to Europe and was seized by the Italian authorities before coming to Amsterdam for these tours.
Your guides will be refugees currently living in the Netherlands who fled terrible conditions in countries like Somalia and Egypt. They will tell your their stories plus others about the city too as you sail along the canals!
It was a very thought-provoking tour that inspired empathy and compassion towards people of the world. I would highly recommend it.
Click here to book your boat tour with Rederij Lampedusa
9. Swing over the A'dam Tower
The A'dam Tower could be called an Amsterdam hidden gem in plain view. As it's such a new building it's not really well known yet and not many know you can go to the top floor.
You'll need to get the free passenger ferry over to Amsterdam Noord over the River Ij to visit. You can catch it from Amsterdam Central station. These run every few minutes for 24 hours a day!
You should definitely take the chance to visit their top-floor observation deck which has unrivalled, spectacular views over the whole city.
You'll travel up to the top floor in their elevator with a funky light show at the beginning and the end.
There's a sky deck, restaurant, Heineken bar, interactive exhibition, and free audio guide about Amsterdam's history and culture. Plus, lots of photo opportunities.
But, the one thing you must do is their Swing Over the Edge! You'll be lifted up over the edge of the building and you'll get to swing over the top. It's a little scary but really, really fun.
I did this at night time and absolutely loved it as the moon and stars were out. You should give it a try as the views are incredible.
Your I amsterdam City Card gets you free entry to the tower but tickets cost 6 Euros extra to swing.
Click here to find out more about the A'Dam Lookout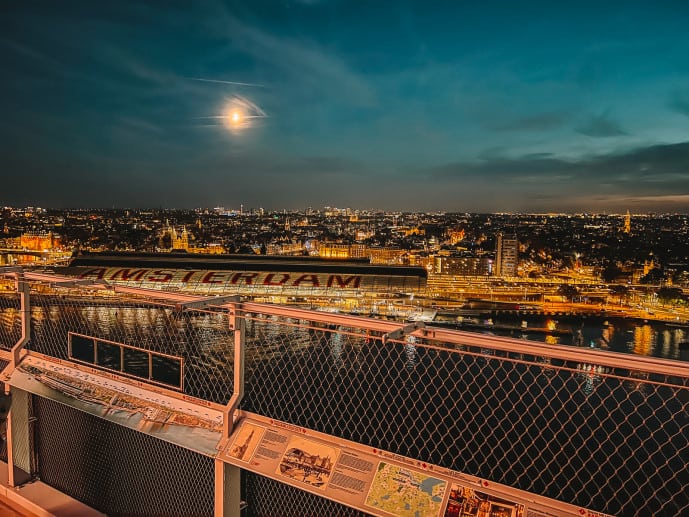 10. Explore Mediamatic
Mediamatic is an art centre that was established in Amsterdam in 1983. They are dedicated to the development of the arts and they regularly hold lectures, workshops, and events.
As well as exploring art, they are passionate about how art, design, and science can merge together to help the city and the world! It looks at preventing waste and pollution.
For example, they have now installed urinals outside of their buildings to solve the problem of people peeing outside residential buildings. They collect the urine, water it down, and then use it to water plants so there is zero waste.
Also, they have pigeon towers of mycelium waste from oyster mushroom farms and fish fertiliser from their excrement to grow their own herbs here. It's very creative and innovative.
They have a science lab to study scents to further discover how our senses can provoke emotions and memories. There are lots of things going on to get involved with.
As well as their art events, they have a restaurant that you can book. You can dine in one of their glass greenhouses on the water's edge.
Click here to check what's on at Mediamatic!
11. Take a walking tour with Tours That Matter
There are plenty of walking tours that you can take in Amsterdam that will show you the main sites. But, why not take a walking tour that is educational, sustainable, and makes a difference?
Tours that Matter is a company that aims to give a voice to the less heard and uses its walking tours as a tool for change.
Each tour uses stories from the past, present, and future to educate and make a difference in local communities.
We took a Fair Trade walking tour that explored Amsterdam's dark past with the slave trade, the exploitation of other countries with colonialism, and how we can use these stories to pave the way forward today.
On your walking tour, you'll get to enter local studios and shops and end your tour at the Cacao museum. You'll learn how this tour gives back to the farmers, workers, and shop owners with fair trade.
There are also other tours on counterculture, fast fashion, racial tolerance, urban agriculture, and diversity.
Or, if you'd prefer, why not visit a bicycle tour of the countryside where you can harvest your own vegetables and take a swim in freshwater?
Click here to book a tour with Tours That Matter!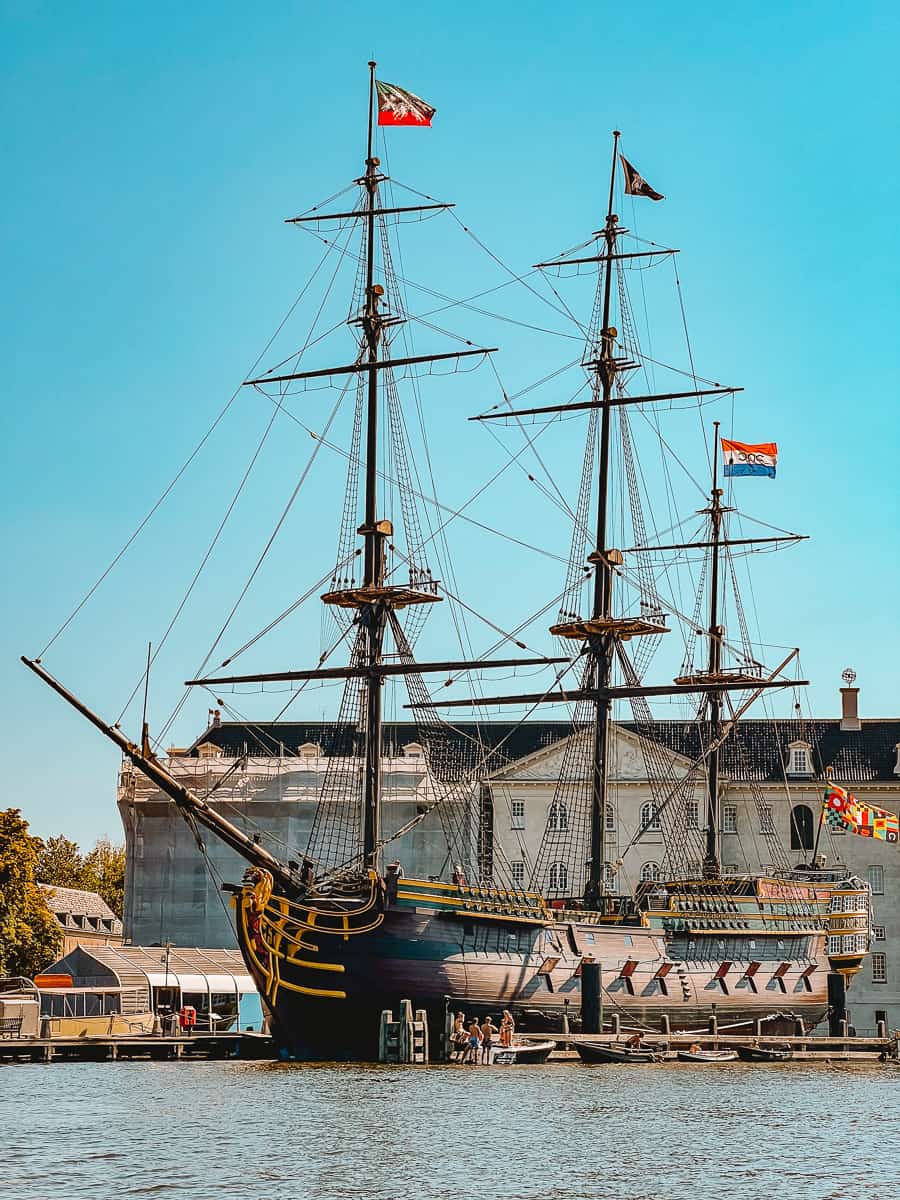 12. De Pijp 'Wake me up when I'm famous' bench
There are plenty of photo opportunities around the city but De Pijp is one of the best. Amongst the pancake bars, small boutiques, and cute cobbled streets you'll find some amazing street art!
One of the most popular photo opportunities found here is the Wake Me Up When I'm Famous bench.
It was made by the artists Rinus & Jurriaan van Hall. You can act like you're sleeping to make a cool photo.
You'll find this bench on Frans Halsstraat 64 near the Albert Cuypmarkt. Click here for a Google Pin!
13. Eat at Restaurant Freud
If you were looking to eat in a restaurant that makes a difference, I would recommend heading over to Restaurant Freud on Spaarndammerstraat.
The restaurant aims to assist both men and women with psychological vulnerabilities and aims to help over 70 people a week find their way back into work.
Everyone has the right to protect their emotional, psychological, and social well-being and Restaurant Freud provides a safe working environment for its employees.
You can visit for lunch or dinner and treat yourself to their tasty menu of Mediterranean dishes. Every plate was filled with flavour and the service was excellent.
Click here to book your table at Restaurant Freud
14. Take in the views from NEMO Science Museum
The NEMO Science Museum is a popular place for locals and tourists alike. But, have you heard of their FREE rooftop terrace?
You can climb to the very top of the NEMO building via their sky walkway and be greeted with some spectacular views.
It's the highest city square in the Netherlands and you can find an open-air exhibition, terrace, and restaurant here.
It's only open from 10 am – 5.30 pm when the museum is open (but it still opens on Mondays when the museum is closed). It also closes in bad weather and on bank holidays like King's Day.
15. Buy artisan sweets at Polaberry
Polaberry is a beautiful Instagrammable bakery in Amsterdam that sells artisan chocolate treats, cake pops, and espresso coffee.
Founded by Polabur on Instagram, this bakery serves up the prettiest treats in the city. You can indulge in chocolate-covered strawberries, unicorn cake pops, and glittery doughnuts.
They also make pretty boxes of sweets and bouquets. There's so much to choose and it's almost too pretty to eat.
If you make your way inside the bakery you'll see their pretty flower wall display that's perfect for taking a snap of you or your cakes.
I remember when this first opened and I'm so happy I finally got a chance to visit. The cakes were incredibly tasty and well worth the money.
Polaberry is open every day from 11 am – 6 pm and can be found on Prinsengracht 232!
16. Visit Begijnhof
One of the true Amsterdam hidden gems has to be Begijnhof which can be found behind a door on Spuiplein.
It was a courtyard established somewhere in the 14th century and is named after the beguines. These were a group of Catholic women who lived in a community together.
Although they dedicated their lives to God and lived frugally, they had a little more freedom than they would in a traditional nunnery.
When the Catholic faith was banned in the 16th century, this complex was the only Catholic institution allowed to exist as the houses were privately owned by the beguine!
They did have to give up their Catholic chapel in favour of a Protestant place of worship. But, that didn't stop the women from building their own hidden church behind several facades (a place you can still visit today).
The most famous beguine was Cornelia Arens and you may see her gravestone in a gutter rather than the church. That was her wish to be buried there as she was being forced to convert to Protestantism!
The last beguine passed away in 1971 and there are no more living here today. But, you can still visit this hidden courtyard in Amsterdam to learn their history.
17. Oudemanhuispoort Bookmarkt
I am an avid reader and so I love to find hidden or quirky bookshops wherever I go to purchase some reading for my shelves.
One of the best ones I saw was an Amsterdam hidden gem called Oudemanhuispoort Bookmarkt or the "Old Man's House Gate".
Hidden in a passageway that was popular with Van Gough, you'll find a second-hand book market containing books, prints, music, and maps.
The building used to be a place for the elderly but is now owned by the University of Amsterdam. You'll pass through a beautiful green courtyard to access the stalls.
Oudemanhuispoort sells a wide range of both Dutch and English books. So, make some time to have look on your visit.
18. Plantage Neighbourhood
Many people make a beeline to Anne Frank's House to learn about the Nazi occupation and persecution of the Jewish people in Amsterdam and the Netherlands.
But, if you wanted to extend that learning, you could opt to explore the Plantage Neighbourhood in Amsterdam.
Before the occupation, this was a large Jewish community and it still has lots of Jewish synagogues, buildings, and culture today.
You can visit the Amsterdam Holocaust Memorial where there are over 100,000 bricks for each Jewish person sent to concentration camps. Also, you can visit the Jewish Memorial to Auschwitz Victims in Wertheimpark.
You'll also see historic buildings like Entrepotdok, Artis publishers, the Trade Union Museum, Amsterdam Zoo, Hortus Botnicus, and more.
We explored the Plantage neighbourhood with Ruud Van Soest on a Stadswandelkantoor. Prices start at 17 Euros a person.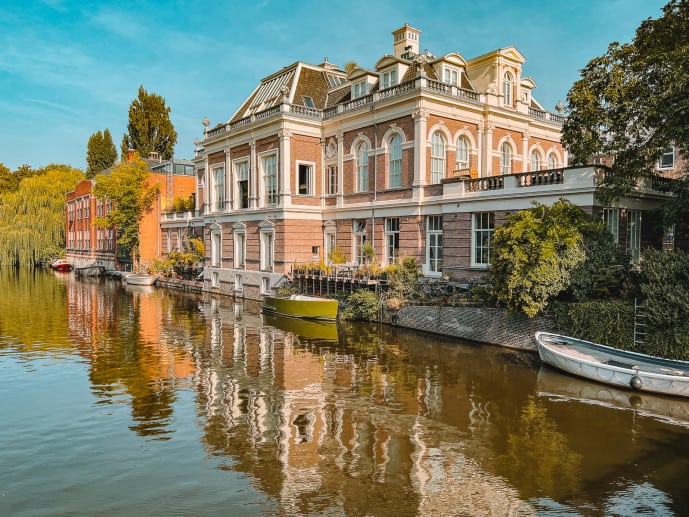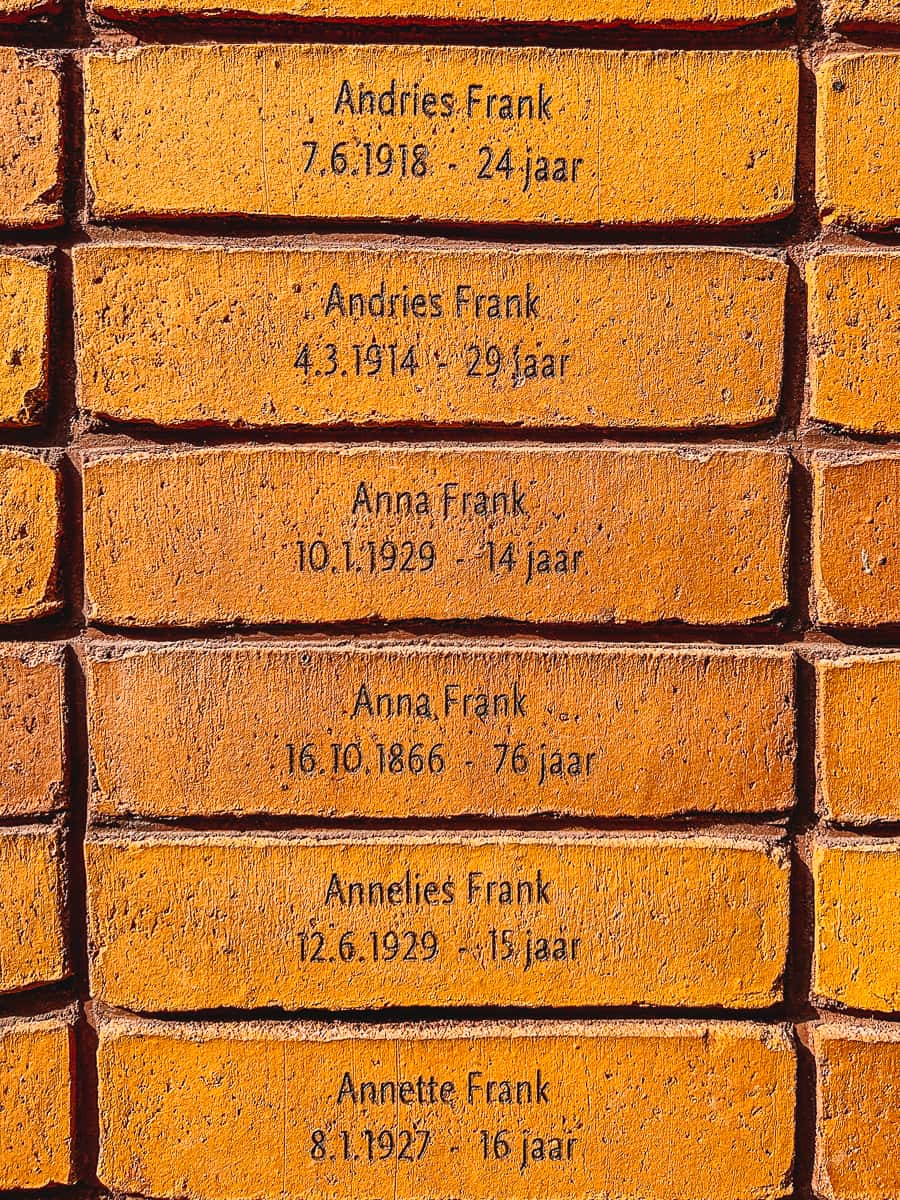 19. Café de Sluyswacht
If you're planning on heading to Rembrandt's House Museum in Amsterdam, consider making a stop at the pretty Café de Sluyswacht after your visit.
It was a building originally constructed in 1692 for the sluyswacht aka the man who controlled the neighbouring lock.
Now, it's been converted into a charming bar with lots of character on the waterfront. You can opt to sit inside or outside.
Don't forget to order some of their bitterballen or Dutch meatballs with your beer on your visit! You have to try some when in the Netherlands.
20. Pick your own fruit at Fruittuin Van West
I don't know about you but I love visiting strawberry farms, pumpkin patches, and orchards where I get to pick and harvest my own fruit.
Luckily, there is a convenient place just outside of Amsterdam where you can do this called Fruittuin Van West!
It's a huge plot with acres of farmland where you can pick your own apples, mushrooms, berries, and vegetables. Plus, they have organic shops to buy locally sourced produce.
There is also a Tuin café on the premises where you can enjoy a fresh glass of pressed apple juice with an organic lunch. Or you can enjoy a slow coffee with a homemade cake!
The Fruit Garden of West can be accessed by bike in Tom Schreursweg 48. Or, you can take the 21 bus from Amsterdam Centraal station.
Click here to find out more on Fruittuin Van West
21. Tony's Chocolonely Stores
If you wanted to try some Tony's Chocolonely Chocolate whilst in Amsterdam then you should definitely make your way to their superstore.
The store is educational and informs you about the abuses happening in the cocoa industry and how your purchase can help make an impact.
You can make your own custom bar, try their new flavours, or take a picture at their mega-monster-super-choco-vending-machine!
They have a Super Store, Home Store, and their very own Tony's Chocolonely Chocolate Bar located in Damrak near Dam Square. Here, you can order popping candy shakes, chocolate cake, and savoury snacks.
22. Restaurant Stork
If you were looking for a tasty seafood restaurant in Amsterdam then I would head over to Restaurant Stork on the banks of the River Ij.
As they are located by the water they only use local fishermen to source their fish and the menu always has the freshest fish of the season.
You can treat yourself to one of their fruits de mer platters, juicy steaks, the catch of the day, and vegetarian dishes too.
The best part about this restaurant is the spectacular views over the city. Best paired with sunset, you can sip wine, eat good food and chat with friends on the water's edge.
Click here to book a table at Restaurant Stork!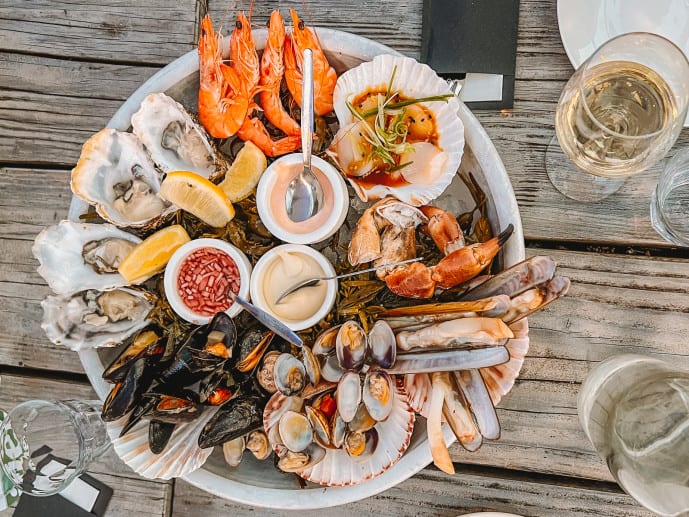 23. Ons Lieve Heer op Solder (Our Lord in the Attic)
You can still find some Amsterdam hidden gems in the heart of the city centre and one of those is the Our Lord in the Attic Museum or Ons Lieve Heer op Solder.
Located in a 17th-century canal house, you can walk through the narrow corridors through a historic merchant's house up to the top floor which reveals an attic church!
You see, in the 1600s Catholicism was banned and so people had to find alternative places to practice their faith. These are called "schuilkerk" which translates to clandestine church.
Ons Lieve Heer op Solder was commissioned by a wealthy merchant called Jan Hartman. It was here that Catholics in the city would secretly attend mass.
It opened as a museum in 1888 and it's a great place to learn about religious tolerance. There are also some spectacular views to be had from their top tower.
You can visit with the I Amsterdam City Card. Tickets for an adult are 15.50 Euros a person. Children from 5 – 17 years pay 7 Euros.
24. De Waag
The Waag or 'weigh house' almost looks like a medieval castle in the centre of the city in Nieumarkt Square. It's the oldest non-religious building in Amsterdam!
It was originally constructed in the 15th-century and formed part of the Amsterdam City Walls as Sint Antoniespoort (Saint Anthony's Gate). In 1617, it was repurposed as a weighhouse for weighing trade goods.
It has had a colourful history since then and has played many roles over the years. It was a guildhall for trade, a museum, a fire station, and an anatomical theatre.
Today, the top floors are owned by the Waag Society whilst the bottom is home to the Waag Restaurant.
Even if you don't choose to visit the inside, you must visit the building as you can still see all the historical details left behind from centuries ago!
25. Kattenkabinet (Amsterdam Cat Museum)
I am a definite cat lover and I was so happy to see that Amsterdam has its very own Cat Museum called the Kattenkabinet.
It's an art museum that is entirely dedicated to cats! It was created in memory of an old ginger tomcat called John Pierpont Morgan and was founded by his owner Bob Meijer.
You'll find cat paintings, kitty drawings, feline sculptures, and works of cat art by famous painters like Pablo Picasso and Rembrandt. There's also cat-inspired furniture and objects.
You can find this wonderful museum on Herengracht 497. It's open from 10 am – 5 pm on weekdays and 12 pm to 5 pm on Weekends.
You can use your I Amsterdam City Card to enter or tickets are 10 Euros for an adult. It's 5 Euros for students and Children under 12 go free.
26. 7 Houses Zevenlandenhuizen
If you love architecture then you must check out the 7 Houses Zevenlandenhuizen. These set of 7 houses are built in different styles that represent seven European countries.
It's a commonly known fact that the narrower the house in Amsterdam, the less tax you paid. Hence why you see so many narrow houses along the canals.
But, architects started to get creative with the facades like Tjeerd Kuipers. He was commissioned by Sam van Eighen in 1894 to create these Seven Country Houses;
Number 20 is a German-inspired Romantic style house
Number 22 is France based off Loire Castle
Number 24 is a Spanish house and is based on the Mudejar style
Number 26 is Italy inspired by the Palazzo style
Number 28 is Russia inspired by Orthodox cathedrals
Number 30 is the Netherlands in the Renaissance Style
Number 32 is England in a traditional cottage design
They make great photo opportunities as you're exploring the city but be respectful of residents! You can find them in Amsterdam south near the Vondelpark on Roemer Visscherstraat 34II.
Consider the I amsterdam City Card!
If you're planning on visiting the main attractions and some Amsterdam hidden gems while you're here, consider buying an I amsterdam City Card.
It gets you free access to over 70 museums, city-wide public transport, a canal cruise, and bike rental.
There is even an app that you can download to your phone. You can plan your journey and book timeslots to attractions that make it even easier to explore!
You can buy 24, 48, 72, 96, and 120-hour cards depending on your holiday time and preferences. Then, you're free to explore the city as you wish.
Some attractions do need you to prebook your visit, so make sure to do that before you arrive. But, many allow you to go straight in.
Click here to buy an I Amsterdam City Card!
How to visit Amsterdam
We all (hopefully) want to do our part to help the environment these days and that means cutting down our carbon emissions by using public transport and cutting down air mileage.
Did you know that you can travel by train to Amsterdam from London in just under four hours?!
Eurostar runs a regular service from Kings Cross St Pancras International station that stops at Brussels, Rotterdam, and Amsterdam!
With all the travel queues and airport stress this year, it's a great way to travel to Europe and you'll know that your suitcase is secure with you.
Eurostar prices from London to Amsterdam start from just £50 one way. Click here to book your journey!
Where to stay in Amsterdam
When in Amsterdam, where you stay can make a difference. Although staying on the canals may seem idyllic, the crowds and noise in those busy areas most definitely are not!
I stayed in the Volkshotel during my visit to the quiet area of Wibautstraat. It acts as a hotel, co-working space, spa, and club. Although it's so quiet in the rooms you'd never know there was a club in the hotel.
The Volkshotel has some great room choices, ours was a mezzanine studio apartment. It had two floors and a fully functioning kitchen so you could make your own meals.
The huge continental buffet breakfast was served each day on their 7th floor which had incredible views over the city. There were plenty of places to relax and I miss it already.
Click here to book your stay at the Volkshotel
Save these Amsterdam hidden gems for later!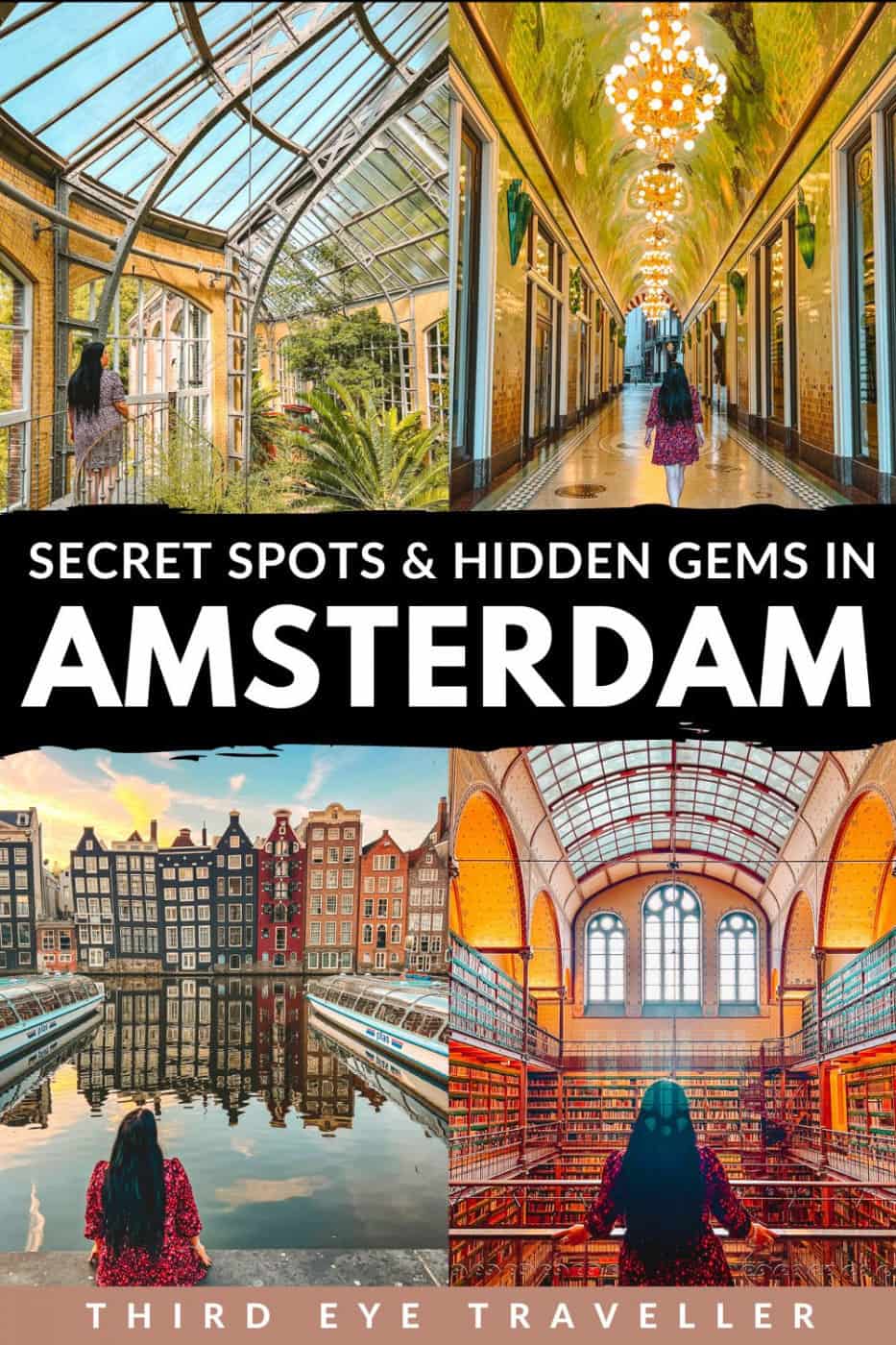 Third Eye Traveller was invited by Iamsterdam as part of their Sustainable Amsterdam Campaign. Although I was invited all opinions are my own.