Hidden away, high up on a Llanberis mountainside is Snowdonia's forgotten street of Anglesey Barracks.
A desolate place that was once home to a series of slate dwellings for quarrymen working the mines.
Today, these terraced houses are abandoned and the entire place feels like an eerie ghost town.
They are skeletal ruins that have been overtaken by nature. But, you can still visit this evocative avenue today on a short walk from Dinorwic Quarry.
Here is how to visit Anglesey Barracks in Wales, the forgotten street of Snowdonia!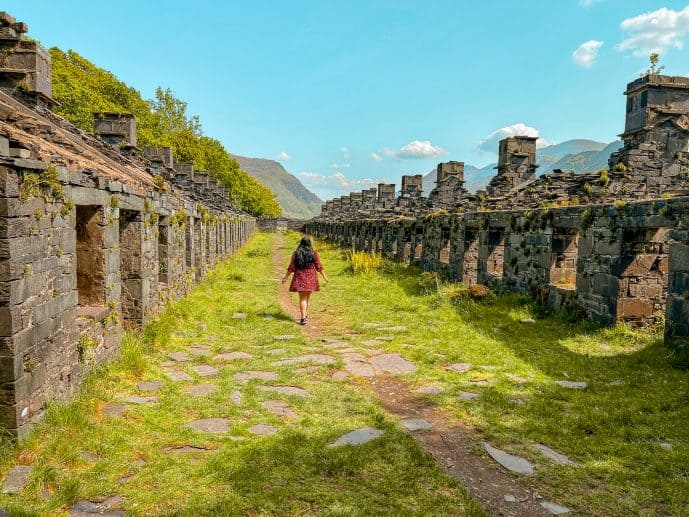 What is Anglesey Barracks?
Many of the quarrymen that worked in Welsh mines were given terraced housing high up on the mountainside near their workplace.
They were tiny homes and wouldn't have suitable conditions to live in today.
Many of these have been dismantled over time but one forgotten street that has survived is the Anglesey Barracks of Snowdonia.
The Anglesey Barracks is a 'street' near Dinorwic Quarry which used to be a powerhouse of Welsh slate mining.
Although the name does make it sound like an army base, the slate barracks were for travelling quarrymen who didn't live near the site.
They would pay rent out of their wages to live in these tiny dwellings and bunk with other workers. It wasn't luxury but it provided a roof over their heads and a quicker commute.
What is the history of the Anglesey Barracks?
Dinorwic Quarry was established in 1787. At its peak in the 19th century, this quarry was the second-largest producer of slate in the world!
To keep up with demand, the quarry hired thousands of workers not only from Llanberis but across North Wales too.
If you didn't have housing near the quarry, you could opt to stay in ramshackle housing like Anglesey Barracks.
These dwellings were miserable places to live built 600 metres above sea level and susceptible to the unforgiving Welsh weather.
They were very cramped and often drafty with little shelter from the elements. They were also crawling with vermin but the workers were still expected to pay a shilling out of their wages to live in them!
Each of the 22 houses had 2 tiny rooms. One was a bedroom with four cots for the quarrymen to sleep in and the other was a living area with some crockery, a table, and a fireplace.
There was no indoor toilet or plumbing. There was a place for washing and private business in an outhouse.
They were eventually abandoned in 1937 as the council deemed them unfit for human habitation. Dinorwic Quarry stopped slate production in 1969.
Snowdonia's forgotten street
Today, Anglesey Barracks still stands on the mountainside but has been lost to the chapters of time.
It is now a ruin and many now call this ghost town 'Snowdonia's forgotten street'.
The tiny terraced houses made of slate are skeletal and have been overtaken by nature and the elements.
But, they are still worth seeing in North Wales to learn about this important chapter of Welsh history.
You can visit them on a short walk from Dinorwic Quarry which can be accessed by road, walking or bus from Llanberis.
Where is Anglesey Barracks in Snowdonia National Park?
Anglesey Barracks can be found on the hillside beneath Dinorwic Quarry which lies above the town of Llanberis.
Llanberis is the beating heart of Snowdonia National Park and many people visit here to hike Snowdonia mountain.
It's easily accessible via the North Wales Expressway and the A487. You can either head here via the town of Caernarfon or the A5 and Pen-y-Pass via the A4086.
The postcode for Anglesey barracks is Barracks, Caernarfon, Wales, LL55 2DD. Click here for a Google Pin!
How to visit Anglesey Barracks
There are many ways to visit Anglesey Barracks in Snowdonia, one way would be walking from the Slate Museum in Llanberis.
But, this is a very steep 3-kilometre walk. I would actually recommend heading up to Dinorwic Quarry first and then walking down to visit the forgotten street.
It's easiest to drive to Dinorwic Quarry via Minffordd Road but you can also walk to Dinorwic or take the Sherpa bus to the quarry too.
From the Dinorwic Quarry parking area, the Anglesey Barracks are well sign-posted and it's a short walk down to the abandoned street through a woodland.
It will take you around 20-30 minutes depending on your speed and how well you handle steep steps.
Where do you park for Anglesey Barracks?
There is a large off-road parking area just outside of Dinorwic Quarry. Many people park around the bus turning circle.
Parking here is completely free but it does tend to get busy, especially on sunny days, holidays and weekends.
I would visit either earlier or later in the day to guarantee a parking space.
Always remember to park with consideration and don't block access gates or the bus stop.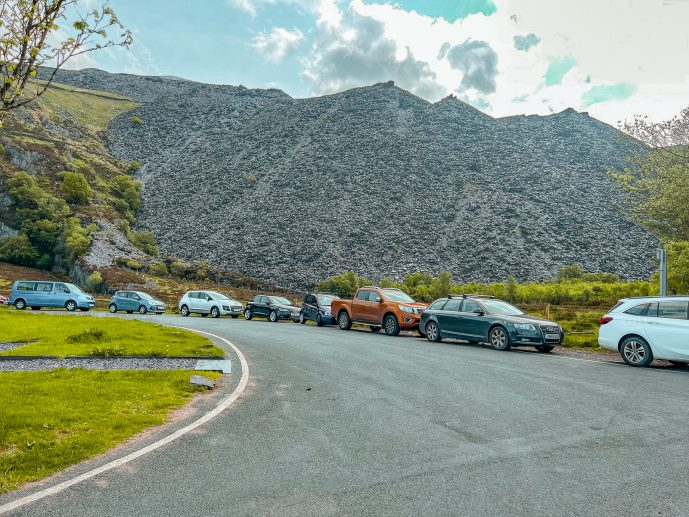 How long is the Anglesey Barracks walk?
From Dinowic Quarry parking area the walk will take you around 20-30 minutes one way.
It's not a very long walk or particularly difficult, only around 1 mile or so, but it is quite a steep terrain when you enter the woodland area.
There will be a trail of yellow markers leading you down a series of tall steps. So, wear a sensible pair of shoes for the walk.
Walking directions
Although you can access Anglesey Barracks via some steep paths found in the quarry, the easiest way to visit would be to start in the Dinorwic car park.
From the parking area, you will see a sign pointing towards Anglesey Barracks. You will need to start walking along this road.
You'll eventually see the Blue Peris Mountain Centre on your right and a series of residential houses in front of you on either side of the path.
Walk straight through these houses and then follow the path all the way along until you reach the forest track.
This is where it will start to get quite steep and you'll be traversing uneven terrain. You will also have to clamber down a series of steep steps.
There won't be any more 'official' signs for the barracks but keep following the yellow markers.
Eventually, you'll see the Anglesey Barracks come into view below! You can then head down and explore the abandoned street.
Is the Anglesey Barracks walk difficult? Not particularly, but it's quite a steep walk down from Dinorwic Quarry. So, wear walking shoes/boots with ankle support.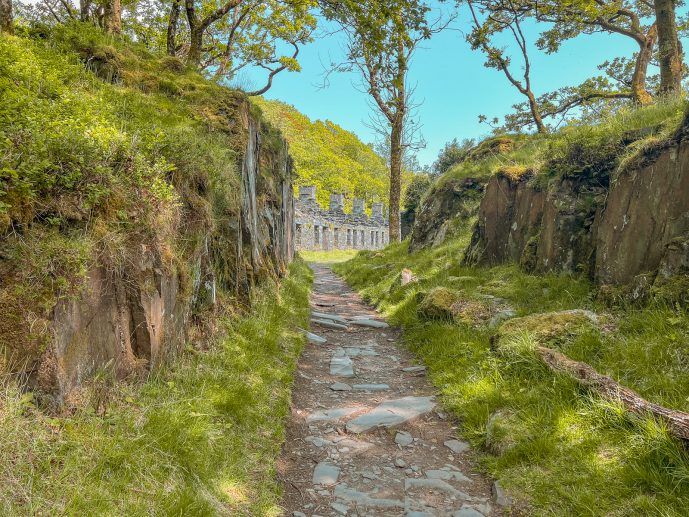 What to expect at Snowdonia's forgotten street
When you get here, you'll see two rows of terraced slate houses opposite each other and a path snaking through them so you can explore.
There is also the remains of an outhouse/washroom behind the houses as there was no plumbing inside any of the dwellings.
As I was here alone, it felt quite creepy and eerie exploring this ghost street in the middle of nowhere.
But, it was very cool to see this place, especially with the amazing views of the mountains in the backdrop! As it was a sunny day, I could see for miles up here.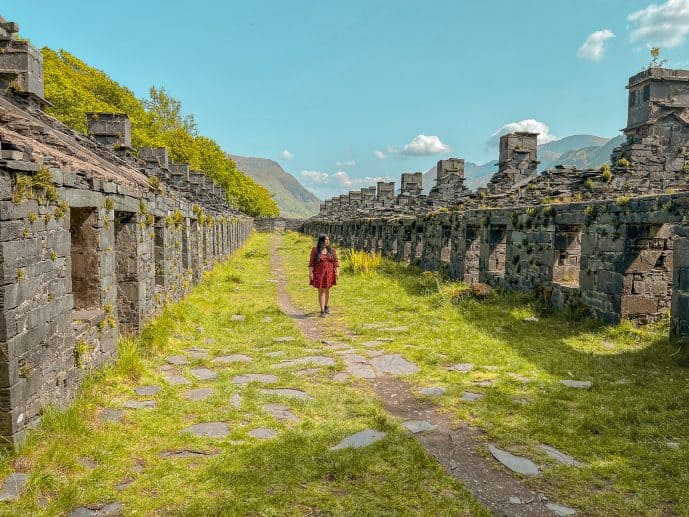 Exploring the abandoned houses
All of the terraced houses are roofless, they don't have any windows or doors remaining.
They are now slate skeletons but you can still see the foundations of the housing pretty well.
When you investigate the interiors, you can see the two rooms in each house and the remains of a fireplace and chimney on the walls.
If you do plan to have a look around the bunkers just be mindful of where you tread.
I didn't go into many of these houses as the floors looked quite sketchy. They were all overgrown and there was lots of glass, rubbish, and sharp rocks inside.
Finding unexpected views
If you walk to the very end of the street towards the old entrance gate, you will see a surprise view!
As the street is so high on the mountain, you can see for miles over the Snowdonia range.
My favourite castle in North Wales is Dolbadarn Fortress and you can get a great view of it from here.
There's no seating or anything like that but you can always perch on one of the many pieces of slate to take in the views.
Always remember to leave no trace in these beautiful places. It may be abandoned but it's not an excuse to litter. I saw so much rubbish left around here, it's so sad!
Anglesey Barracks opening times and prices
The forgotten street of Snowdonia is open 24 hours a day but I wouldn't recommend visiting in the dark as there is no artificial lighting.
It's also completely free to visit this ghost street and even the parking at Dinorwic Quarry has no charge.
So, it makes a great budget activity in Snowdonia National Park.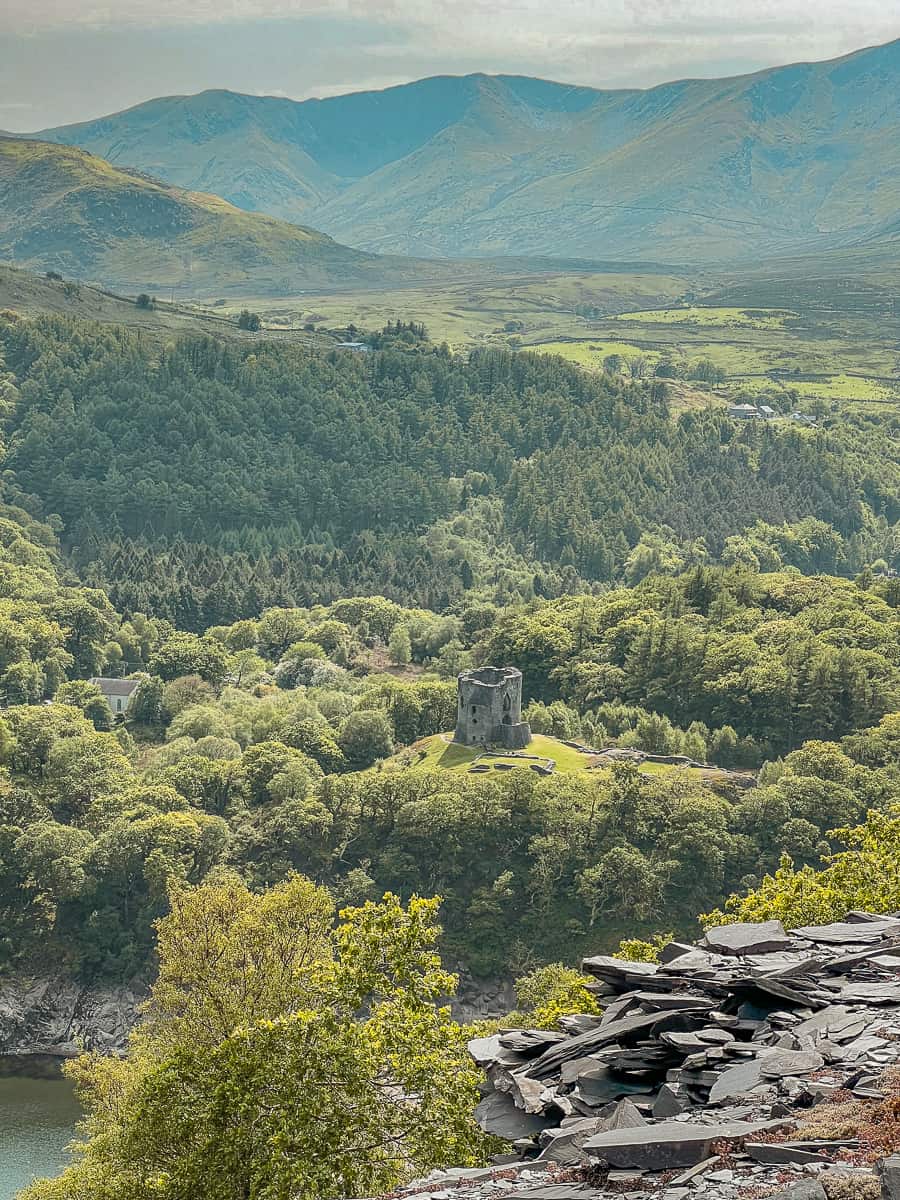 Is visiting Anglesey Barracks worth visiting?
I thought so, yes! But, then I love visiting abandoned places and seeing buildings lost to the chapters of time.
I would definitely recommend visiting Anglesey Barracks if you have the time in North Wales.
The barracks are a bit of a hidden gem in Snowdonia that sees very few crowds. So, you'll be visiting this area in peace.
It's also quite atmospheric to explore the houses in this ghost town and it has some fabulous views of the mountains as it's so high up!
The walk is free, relatively easy and you get to experience a forgotten part of Welsh history. What's not to love?
Where to visit next?
After you have explored the forgotten street of Snowdonia, there are plenty of places that you can visit next.
Personally, I would recommend heading back up towards Dinorwic Quarry and taking a walk here before heading back down to Llanberis.
Here is what you can expect to find.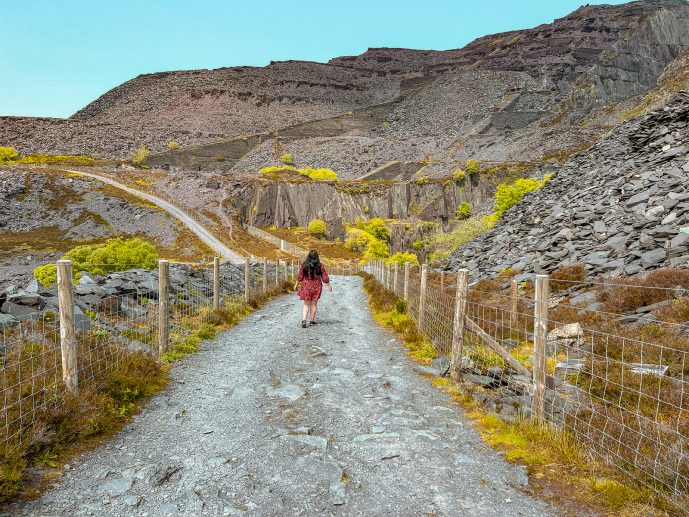 Llyn Padarn / Llanberis viewpoint
If you walk towards Dinorwic Quarry, you have to check out the Llyn Padarn / Llanberis viewpoint.
It can be accessed on a short walk from the parking area and provides a spectacular panoramic view of Snowdonia and the mountain range.
If you look below, you can see Llyn Padarn, Dolbadarn Castle, Llanberis, and even the Lone Tree!
This is one of my favourite viewpoints in Snowdonia as the sky-high panorama is mind-blowing but it requires very little effort. On a clear day, you can see for miles.
Dinorwic Quarry
Dinorwic Quarry was the old slate quarry here in Llanberis and the reason why the Anglesey Barracks were built.
It was eventually abandoned for mining in 1969 but then made way for Electric Mountain.
You can visit for free and it covers 700 acres. There are lots of public walking paths that allow you to explore the abandoned quarry safely.
You can find various viewpoints, old slate mines, the rainbow slabs, and even Clash of the Titans filming locations.
Click here for my complete guide for Dinorwic Quarry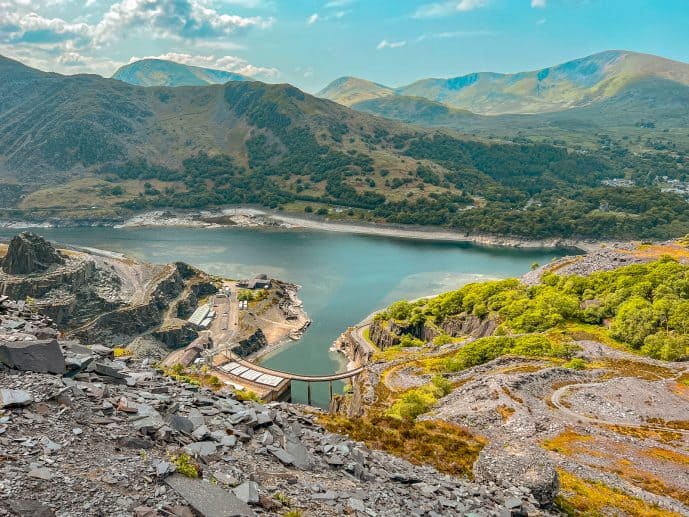 National Slate Museum
After your visit to Dinorwic Quarry, I would recommend either walking or driving over to the Welsh National Slate Museum.
It's a free attraction that provides a detailed history of Welsh Slate Mining and the impact that this trade had on the country.
They have a residential street that will show you the inside of a quarrymen's house over time and how they used to live. Plus, there are many more exhibits including a huge 50-foot waterwheel.
Click here for more information on the Slate Museum
Llanberis
Llanberis is a colourful town in North Wales that most people visit to hike up Snowdonia.
But, there are many things to do around this town that don't require a huge hike. Indeed, you can get the Snowdonia Railway up the mountain as opposed to walking there.
I would recommend visiting Dolbadarn Castle. It was a statement of Welsh power and was owned by the last Princes of Gwynedd.
You can wander down the high street of rainbow shops and make your way over to Llyn Padarn.
You can see a giant sword called the Blade of Giants. Many people believe this lake is where King Arthur's Excalibur rests.
If you have time, I would also recommend visiting the Lonely Tree. It sits on the far shore of the lakeside and it provides a beautiful view.
There's also a scenic railway that takes you around the lake, electric mountain museum, and Plas Newydd House.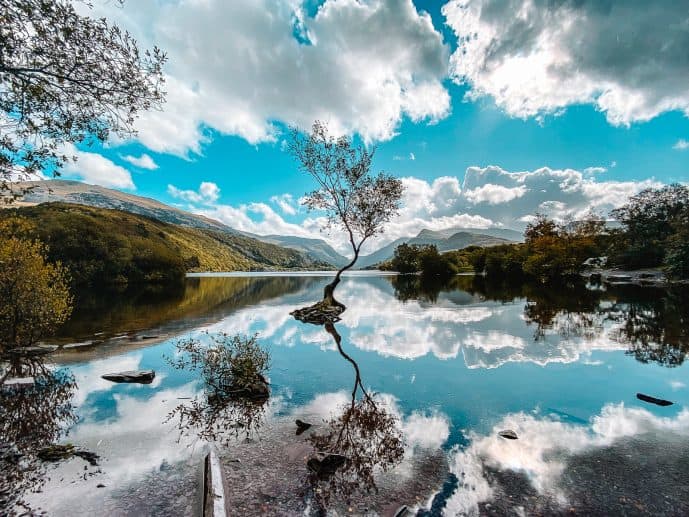 Read more Snowdonia & North Wales guides
Look inside the Smallest House in Great Britain!
Penmachno Roman Bridge photography location
Why is the Ugly House called Ugly?
When does Tu Hwnt I'r Bont turn red?
The legend of Gelert & how to visit his grave
The top places to visit in Beddgelert
Visiting the Cauldron Waterfall of Pont-y-Pair
How to find Sappers Suspension Bridge
A complete Swallow Falls guide
Why you MUST visit the Fairy Glen Gorge
A complete Conwy Falls & cafe guide
A complete guide for the Conwy Town Walls
How to do the Llyn Idwal Circular Walk
A complete guide for the Dinas Emrys Walk & Dragon legend
How to see the Bodnant Garden Laburnum Arch
How to visit Pistyll Rhaeadr Waterfall
Gladstone's Library – Stay in the UK's only residential library
Save the Anglesey Barracks for later!