Stratford-upon-Avon is famous for being the birthplace of Shakespeare and there is no better hotel to stay there than the Arden Hotel Stratford Upon Avon!
Standing just a stone's throw away from the RSC Theatre, it's the perfect base to watch some theatre. Especially now, as they've recently reopened the No 44 Waterside Brasserie for some delectable pre-theatre dining!
Here you can share some dinner or share plates with friends along with some bubbly or a cocktail.
As the Arden Hotel is centrally located in Stratford Upon Avon it's great for sightseeing on foot.
You can visit all the Shakespeare museums or just stroll around this quaint market town in the countryside. It's full of gorgeous timber frame houses, parks and cafés overlooking the River Avon.
After you're finished sightseeing and applauded your final curtain call, you'll need a place to rest your head. The Arden Hotel Stratford Upon Avon has some sumptuous rooms and suites for the night fit for a queen.
Here's all you need to know about this luxury property!
Where is Stratford upon Avon in England
Stratford Upon Avon is located in Warwickshire in West Midlands and you can easily access it in around two hours from London:
Stratford upon Avon by car – Stratford is well connected with the Motorway networks in UK. If you're heading here from the South, you can drive on the M40 and take junction 15 and then the A46. From the North, you can take the M1, M5, M40 and take the A46.
Stratford upon Avon by train – Stratford upon Avon has a train station with direct train routes from London Marylebone and Birmingham New Street. Check National Rail for details.
Stratford upon Avon by bus – There are National Express coaches that run from London Victoria to Stratford Upon Avon and takes 3 hours. Check their website for more details. Or, local buses by Stagecoach from Birmingham and Leamington Spa run here daily.
How to reach The Arden Hotel Stratford Upon Avon and parking
The Arden Hotel Stratford Upon Avon has an unrivalled location in the centre of Stratford! So, you can head towards The Waterside by the world-famous Royal Shakespeare Theatre and it will be waiting for you.
You can use the postcode CV37 6BE to locate the parking. It's important to use this one as The Waterside has lots of one-way streets.
Parking at The Arden Hotel is secure and free for the duration of your stay which is a big bonus. You will need a pin code to exit, so make sure you get this before you leave the hotel.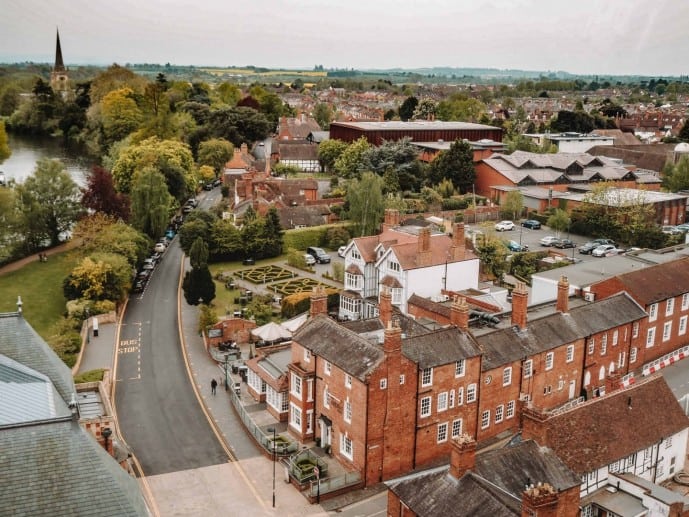 6 reasons to stay at The Arden Hotel Stratford Upon Avon
1. The Arden Hotel is opposite the RSC Theatre in Stratford Upon Avon
This is probably the main draw of staying at the Arden Hotel.
It's famous because it stands directly opposite the Royal Shakespeare Theatres on the Waterside!
It's also the perfect place to stop for some pre-theatre dining before you watch the show.
As it's so close, it gives you more time and you don't have to rush. Some of the rooms even have a view of the iconic red-brick theatre itself!
I loved strolling around their Tudor knot gardens that smelled gorgeous, full of bright colourful flowers and had the most spectacular view of the RSC theatre. There were garden tables here too so you could enjoy an Al Fresco drink in summer before you head in.
The Royal Theatres not only put on shows, but they also have a variety of cafés, museums, tours, exhibits and attractions for you to enjoy at only an arms reach.
That way, when you leave the theatre late at night, you only have to walk a few feet and you'll be back at the bar for after-theatre drinks or tucked up in bed.
Related post – All the amazing things to do at the RSC in Stratford Upon Avon!
2. The Arden hotel has stunning decor to feel at home
As soon as I walked into the Arden Hotel Stratford Upon Avon, my breath was taken away by the stunning decor inside.
It was light and airy with sumptuous wallpaper and velvet furnishings. Every room had been thoughtfully decorated with colour coordination and a touch of class.
As part of the small luxury hotels collection, it's is a modern property with a boutique feel.
It perfectly blends state of the art design with inspiration from Stratford's roots as the home of Shakespeare. A town that celebrates the ancient art of the theatre.
They have a beautiful drawing room that serves afternoon tea, a cubby for drinks and relaxing with portraits of famous actors that have taken the stage, a newly refurbished brasserie and a stunning winding staircase.
It was such a gorgeous haven to return to during my stay in Stratford-upon-Avon, I didn't want to leave!
3. The luxurious rooms at The Arden Hotel are fit for celebrities
Did you know that famous celebrities like Judi Dench and David Tennant have stayed at the Arden Hotel? So, you know that this hotel is fit for a celebrity and you can feel like one for the night in their gorgeous rooms too.
The Arden Hotel has 40 bedrooms onsite, including suites, classic, superior and deluxe rooms in a variety of sizes and budgets.
I was so excited to spend the night in one of their luxurious feature rooms, which provided lots of space and unbeatable comfort. I think it was one of the largest rooms I've ever stayed in!
We had two bathrooms, one with a huge bathtub and double showers and the other with a toilet – so there was no need to queue!
I loved soaking in the tub here with their Elemis toiletries for some much-needed pampering. After, I wrapped one of their comfy robes around me with their slippers.
We had a hallway (!) which led to our room and my princess bed for the night!
It had a beautiful indigo throw and you could honestly sink into the soft mattress and pillows. We also had a lounge area with sofas and chairs, a TV and complimentary teas and coffees. Always a winner for me.
I loved practising my best Hamlet impression with the complimentary fruit bowl ;) ..Alas poor Yorick!
4. You can enjoy delectable pre-theatre dining in No 44 Waterside Brasserie
My mum and I were quite lucky as we timed our visit perfectly with the reopening of the refurbished No 44 Waterside Brasserie at The Arden Hotel. It's the perfect spot for some delicious pre-theatre dining and we were delighted to put it to the test.
The decor and romantic lighting inside the Waterside Brasserie in Stratford upon Avon was stunning. I loved the white walls and colourful watercolour chairs. The whole room has beautiful magenta, purple and blue hues and it was a treat to dine in.
The No 44 Waterside Brasserie menu has also had a revamp and they now serve a variety of dishes. You can sample their sharing plates, like tapas, that are ideal for families and friends to nibble on while eagerly anticipating the theatre. Or, you can dine in style with their a la carte options.
The taste of the menu at No 44 Waterside Brasserie
To start, my Mum decided on the prawn cocktail with avocado, while I went for a crab bisque soup.
The broth was served rustically with bread on the side while the cocktail was like a piece of art! Both were incredible dishes to get the taste buds going.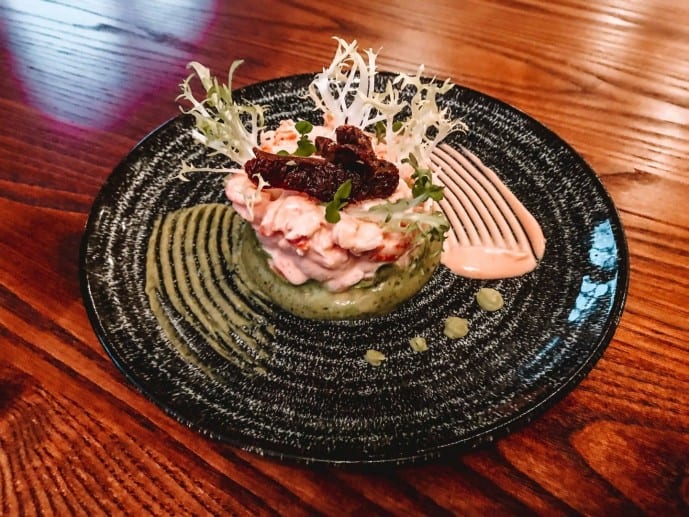 Next up were the main courses. I decided on the venison with potatoes and my mum had their burger and fries, which was a monster portion.
I loved their little shopping trolley full of chips, I think they're so cute.
The venison was a smaller dish but packed with flavour and looked effortlessly delectable on the plate!
Finally, it was a sweet ending. We ordered the créme brulée and baked lemon cream with meringue. I'm a massive fan of citrus, especially in summer and my pudding looked like a painting!
The raspberry coulis circled the plate and the shards of meringue decorated it perfectly. I'm a for anything sweet and both puddings were divine.
I thoroughly enjoyed our dining experience here for the evening, especially as we washed it all down with a sweet bottle of rosé!
Champagne Bar & Cocktail Station
The Waterside Brasserie at the Arden Hotel is home to the Champagne Bar. Perfect for some pre-theatre drinks before the show. As their name suggests, they have a whole champagne trolley that you can sample from!
As well as their diverse selection of bubbly, I was delighted to see their very own gin cocktail station. Where you can fill your spirit glass with all sorts of tonics and garnishes to your heart's content. Such a great idea!
To quote the Arden hotel "To Gin, or Not to Gin, that's a silly question"!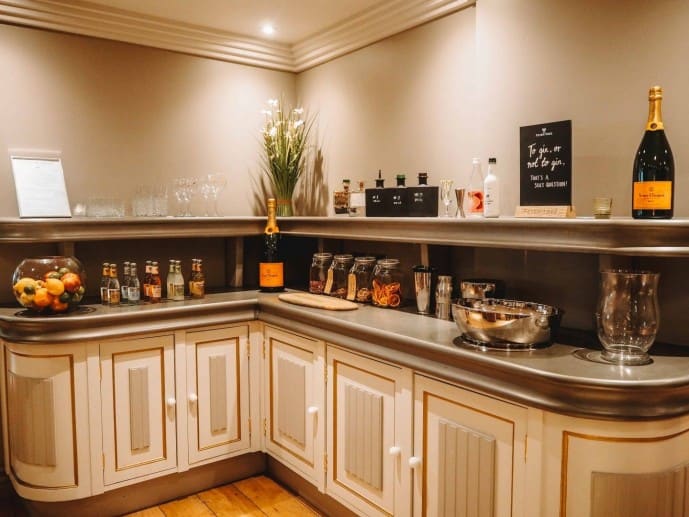 5. The Arden Hotel breakfast is out of this world
I always find that sleeping is like being on fast forward to breakfast and it's always my favourite thing to wake up to and start the day.
We had a long day of all sorts of Shakespearean sightseeing ahead of us so we made sure we filled up with the delicious breakfast the Arden Hotel has on offer!
Of course, I had to start with coffee as I cannot function without it and it was served fresh in their own cafetière. They also had the option of espresso coffee as sometimes I prefer it over the filter.
The Arden Hotel had a continental spread of fresh pastries, creamy yoghurts, cereals, fresh fruit and juices with toast if you preferred.
We also had the option of ordering a hot breakfast with lots of options. My mum went for a full English breakfast and I had avocado on toast with poached eggs! Both were yummy and started the day in the right way for exploring Stratford.
6. It's the perfect base for exploring the birthplace of Shakespeare!
The good news about Stratford upon Avon is it's relatively compact and you can get around quite easily on foot. Make sure to grab a super cute map from the Arden Hotel;
Shakespeare tourism in Stratford upon Avon
Stratford upon Avon is world-famous for being the birthplace of Shakespeare! The Bard was born here in 1564 in a timber-framed house on Henley Street, a house you can still visit today.
You can follow in the footsteps of the greatest poet who ever lived in his very own house which is now owned by the Shakespeare Birthplace Trust.
I've written a whole post about all the unmissable places in Stratford upon Avon for Shakespeare fans here. But, I'll give some more details below.
I would highly recommend getting a joint museum ticket so you can see the whole story and visit all of Shakespeare's family homes.
You can visit New Place, which is the gardens where Shakespeare's new home sat before it was knocked down.
Hall's croft which is where Shakespeare's daughter, Susanna, lived or Anne Hathaway's cottage where Shakespeare courted his bride to be.
Or, visit Mary Arden's farm where you can learn what life in Tudor times was like!
You can also go back to school and visit the Shakespeare schoolrooms where Shakespeare was taught and visit his gravesite in Holy Trinity Church.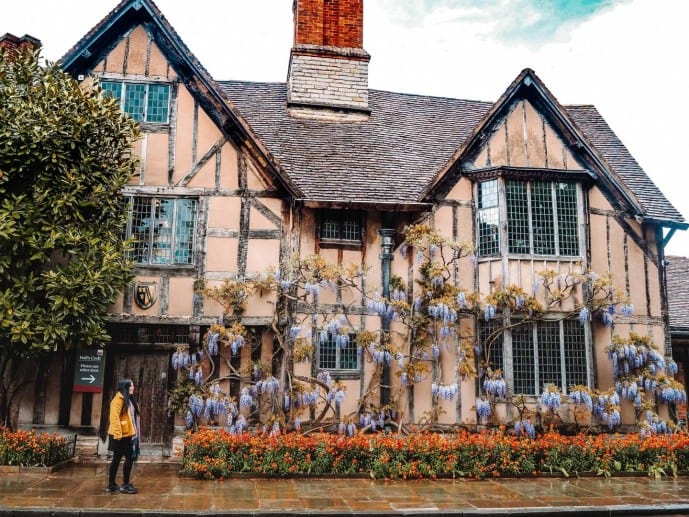 The Royal Shakespeare Company in Stratford upon Avon
The Royal Shakespeare Company is huge in Stratford upon Avon and thousands flock to the Royal Shakespeare theatres that put on plays throughout the season. It's a must-visit while you're here!
My Mum and I went to watch their Taming of the Shrew which was outstanding. They reversed the gender roles and made Kate a man and Petruchio a woman! It was extremely powerful and so funny.
As well as amazing theatrical performances, they have a whole range of tourist attractions too.
You can take a backstage theatre tour and try on some costumes, ride up the elevator to their lookout RSC tower for some incredible views and enter their informative exhibition "The Play's the Thing". See more here.
Read more: Top things to see and do at the RSC!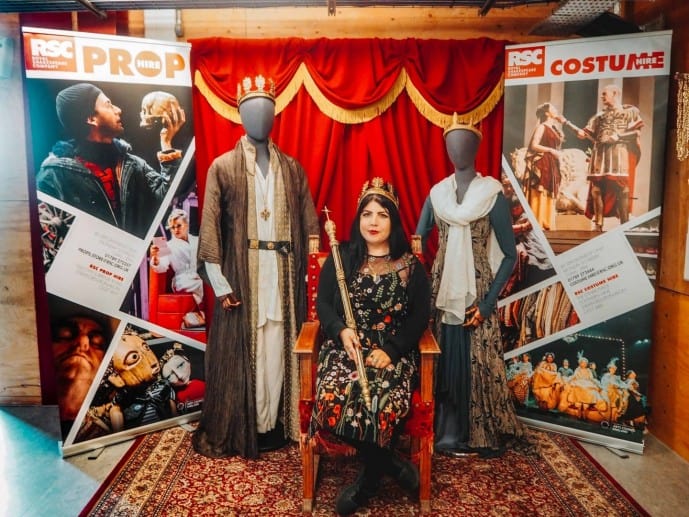 Aside from Shakespeare, Stratford upon Avon really is a gem in the English countryside. I couldn't stop cooing at all the picturesque timber frame houses with wisteria.
They honestly seemed to be on every street corner! You can also walk alongside the picturesque River Avon and shop on their high street.
In the words of Shakespeare "parting is such sweet sorrow" and I was sad to leave this beautiful hotel. May there always be a reason to visit Stratford!
Click here to book yourself into the Arden Hotel!
Save this Arden Hotel Stratford Upon Avon review for later!
With thanks to the Arden Hotel Stratford upon Avon for hosting me. As always, although I was a guest, all photos and opinions are my own.