Outlander fans, Ardsmuir Prison is real and a place you can actually visit in Scotland! But, it won't be called Ardsmuir Prison and it's not in the middle of the Scottish Highlands either.
Craigmillar Castle was used as a filming location for Ardsmuir Prison in Outlander. There were little or no modifications made to the building for filming.
So, when you approach it, you will really feel like you're walking into the place where Jamie, Mac Dubh, and Murtagh are imprisoned!
A visit to Craigmillar Castle is well worth your time while in Edinburgh as there are many Outlander filming locations of Ardsmuir Prison inside.
So, if you need more information, Dinna Fash. In this guide, I'll give everything you need to know about Ardsmuir Prison and visiting the Craigmillar Castle Outlander locations!
What is Ardsmuir Prison in Outlander?
Ardsmuir Prison is a fictional fortress in the Scottish Highlands near Coigach.
After the battle of Culloden and the Jacobite risings in 1745, Jamie Fraser, Murtagh, and other Jacobite rebels were imprisoned here. The prison is guarded by British red-coat soldiers in 1755.
Jamie Fraser or Mac Dubh is seen as the chief of the Jacobite prisoners. Lord John Grey, who appears in Outlander season 2, 3 & 4 of Outlander, takes over as the new governor of the prison.
Where was Ardsmuir Prison filmed?
In Outlander Season 3, Episode 3 'All Debts Paid' in Outlander, Craigmillar Caste in Edinburgh features as Ardsmuir prison.
There were many parts of Craigmillar Castle that were used to double up as Ardsmuir prison, including the exteriors of the building, the courtyard, and some of the stairways.
The interior scenes of Ardsmuir prison, including where the prisoners were kept and Lord John Grey's office was shot in a film studio. So, we can't visit those. But, there are some prison cells that look very similar inside.
Update: most recently, in Outlander Series 6, we revisit Ardsmuir Prison again when we see the scenes between Jamie and Thomas Christie! Although brief, it was great to see a bit of Scotland again feature in this series.
Where is Craigmillar Castle or Ardsmuir Prison in Scotland?
Craigmillar Castle is around two miles away from Holyrood Park in the capital city of Edinburgh.
In medieval times, it was a safe haven for Mary Queen of Scots and is actually built on a cliffside! Although it's hard to see it now, if you take a stroll around the grounds you can spot the cliff face easily.
Craigmillar Castle is known as Edinburgh's 'other' castle. Even today, Craigmillar Castle is so much quieter than Edinburgh Castle, although you're only a mere few miles away.
I actually preferred exploring this castle over Edinburgh Castle as it has so much to explore but without the masses of crowds. No iPads or selfie sticks in your face here!
How to reach Craigmillar Castle in Edinburgh
As Craigmillar Castle is near the centre of Edinburgh, there are many ways to easily access Ardsmuir Prison;
Craigmillar Castle on foot: If you did fancy walking to Craigmillar Castle it will take you around 45 minutes to one hour south of Holyrood Palace and Park. There is a lot of parkland around Craigmillar Castle so it provides some gorgeous scenery.
Craigmillar Castle by car: The easiest way to get here is by driving to Craigmillar Castle. From the city centre follow Craigmillar Castle Road until you reach the attraction car park. It's well sign posted from Queen's Drive in Holyrood Park. Parking is free of charge for castle visitors. But, spaces are limited!
Craigmillar Castle by bus: From the Royal Mile or Holyrood Palace, you can catch the number 14 bus service to Greendykes that will make a stop at Craigmillar Castle. The journey should take around 30 minutes.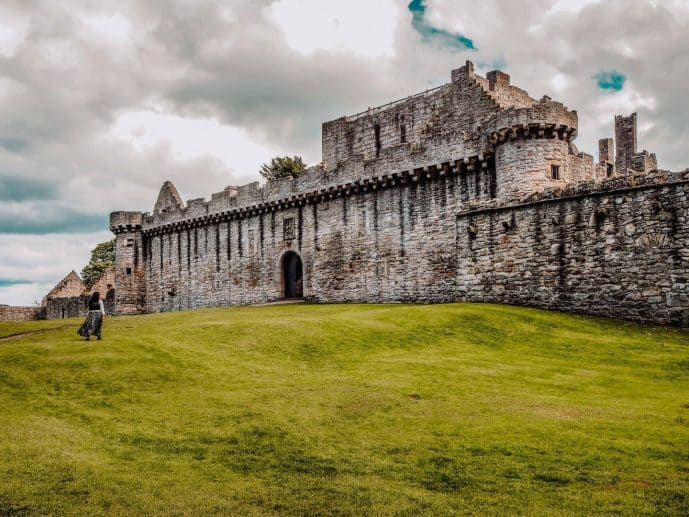 Craigmillar Castle ticket prices
Craigmillar Castle is owned by Historic Environments Scotland, which is a charity. The proceeds of your ticket contribute to the maintenance of these historic places throughout Scotland so that everyone can enjoy them in the future.
Ticket prices to enter Craigmillar Castle are £6 per adult and £4.30 for children.
Did you know that Historic Environments own quite a few of the castles used in Outlander?
So, If you are going to be visiting more Outlander locations while in Scotland, it may be worth investing in an Explorer Pass for your vacation. That way, you can save lots of money on entrance prices.
To read more about the Historic Environments Explorer Pass, see here.
Craigmillar Castle opening times
Like most of Scotland, opening times vary depending on the season. The opening times for Craigmillar Castle are;
April 1st – September 30th: 9.30am – 5.30pm
1st October – 31st of March: 10am – 4pm
Make sure that you arrive at least 30 minutes before closing time to guarantee your entry!
Craigmillar Castle / Ardsmuir Prison Outlander Locations
There are many spots in Craigmillar Castle that were used as Ardsmuir Prison in Outlander.
To help you find all the Outlander locations on your visit, I'll go through each one and what it was used for in the series.
It's easy to get lost in Craigmillar Castle, it's like a maze and there are so many entrance ways, stairways, and doors to enter, you could spend hours finding all the nooks and crannies. You have been warned!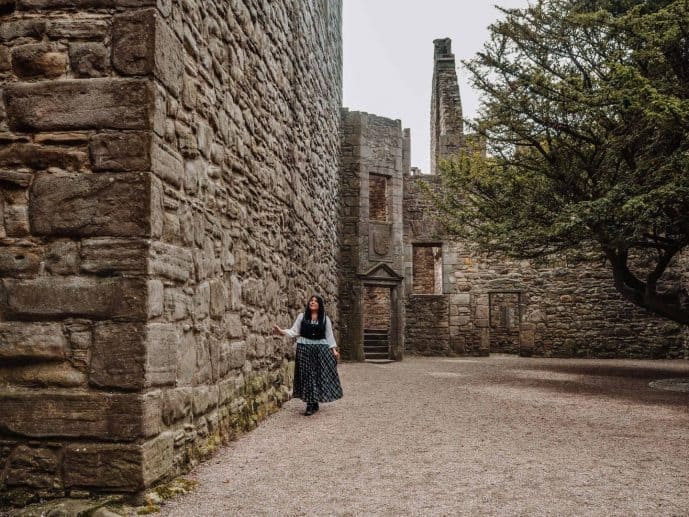 1. The front of Craigmillar Castle as Ardsmuir Prison
In 'All Debts Paid', we see many exterior shots of Craigmillar Castle as Ardsmuir Prison used as establishing shots.
In the series, Craigmillar Castle was transformed into the Ardsmuir prison fortress, with red coats on patrol. You will see flags, weapons, carts, and fire torches outside. Of course, when you visit today none of this will be there!
However, you can easily recognise the front of the castle with the coat of arms over the doorway as the outside of Ardsmuir Prison.
This is also the view we see of the castle in Outlander series 6 as an estalishing scene for Ardsmuir Prison.
2. The stairways and walkways of Craigmillar Castle as Ardsmuir Prison
The next scenes we see in the episode are of John Grey following the previous governor of Ardsmuir through the prison.
To make the prison look larger in Outlander, there are many walkway scenes repeated that you can find dotted around the castle.
The first can be found in the courtyard through a doorway towards the kitchens. If you enter the castle and look right, head through the doorway with stairs leading up nearest to the castle.
The second can also be found through a doorway in the courtyard heading inside the castle. There is an arched tunnel and a staircase leading upwards.
If you head through the main entrance doorway of the castle again, turn left, and take a right you can find it there. Head inside and you'll spot it.
Lots of extra prison doors, windows, and props were added like barrels, ropes, chains, torches, and stocks.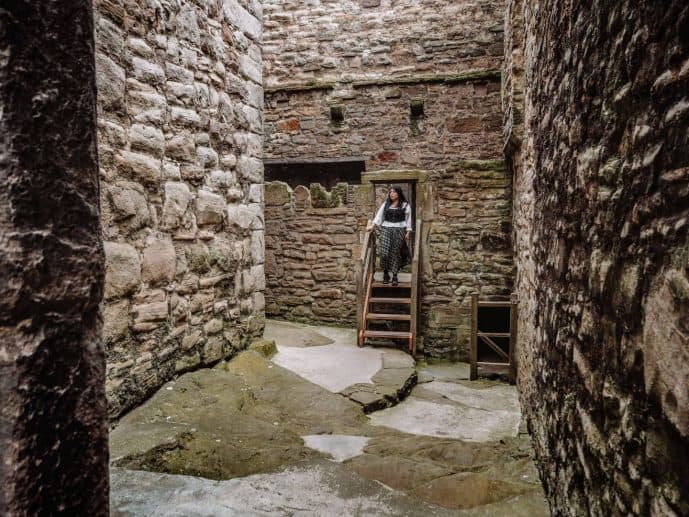 3. The Craigmillar Castle courtyard as Ardsmuir Prison courtyard
The most defining feature of Craigmillar Castle as Ardsmuir Prison is the courtyard, where two Yew trees are growing in the doorway.
These were originally planted in Craigmillar Castle as an entrance feature, but also were used to make bows and arrows!
We see these Yew trees at the beginning of the episode and again when Lord John Grey asks Jamie to translate the French and Gaelic by Duncan Kerr about the gold.
You can't miss this spot as they grow right in the entranceway to the castle! If I didn't see this castle in Outlander as a prison, you could mistake it for something out of a fairytale. The two Yew trees that twist and entwine here look eerie and magical.
You'll also recognise other parts of the courtyard too but again, it will be empty. There won't be any stocks, torches, chains, or prisoners in sight!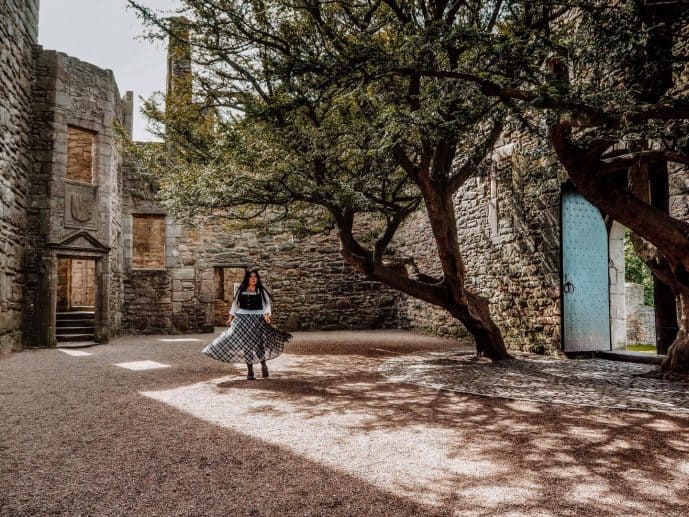 4. The room in Ardsmuir Prison where Duncan Kerr talks about the cursed gold
If you head into the children's toy room at Craigmillar Castle, this is the room where Duncan Kerr is kept. He's speaking in tongues, English, Gaelic, and French about the cursed gold that's of interest to the crown.
Jamie is asked to translate what Duncan is saying and the scene where he speaks to Duncan is here.
As it's the children's room of the castle, you won't find a bed or a fire, but lot's of fun historical toys to play with!
This room can be found when you enter the main castle doorway and turn left heading straight into the first doorway you see.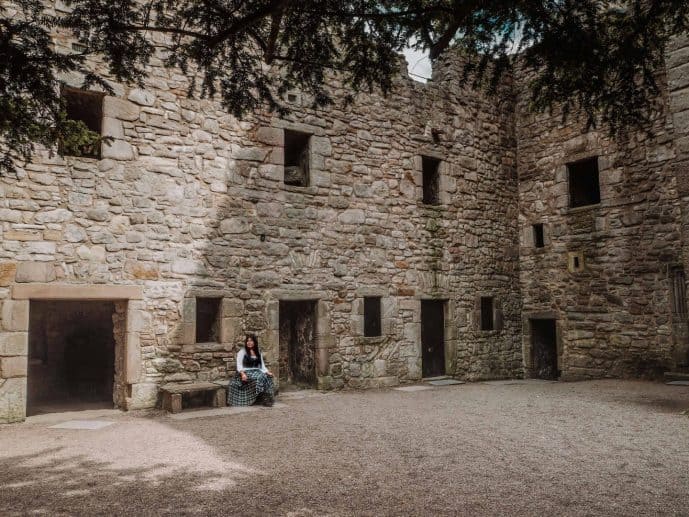 5. The spot where Jamie confronts Lord William Grey in Ardsmuir Prison after his escape
After Jamie escapes Ardsmuir Prison to swim to Silkie Island for the gold, he returns and confronts Lord John Grey by holding a sword to his neck. Jamie asks Lord Grey to keep his promise and kill him but he refuses (luckily!).
To find this location, head outside the main building of Craigmillar Castle. Facing the main doorway, take a right and enter the courtyard garden to the West side.
If you turn around, you'll recognise the gated doorway where Jamie and Lord John Grey argue.
Silkie's Island Location
In the same episode 'All Debt's Paid' we first see Silkies' Island. This is where Jamie escapes Ardsmuir Prison to swim out and see if 'La Dame Blanche', or Claire, is waiting for him there and if the gold bullion exists.
If you were curious about where they shot Silkies' Island in the series, it was actually in Dunure village. The ruins of Dunure Castle doubled up as the castle on Silkies' Island.
Click here to read my complete Outlander guide for Dunure village
You may be disappointed to know that Dunure Castle ruin is not actually on an island but on mainland. But, on the positive side, it makes it easier to access and even better, it's FREE.
In here, you can also see the place in Outlander where the treasure chest is kept, although there isn't a Mckenzie crest I'm afraid.
In Dunure village, you can also visit the beach where Jamie and Claire watch young Ian swim out to the Silkies Islands and the historic harbour nearby which was used in seasons 3 & 4.
This is the harbour where Jamie and Claire find a ship heading to Jamaica to save young Ian and both Brianna and Roger find ships heading to 18th century North Carolina.
The history of Craigmillar Castle
Beyond being an Outlander location, Craigmillar Castle has a fascinating history of royalty and a plot for murder!
The original tower house of Craigmillar Castle was built all the way back in the 14th century! It was the first of its kind to be built in Scotland. The courtyard walls were then added in the 15th century and the west range built in the 17th century.
After the murder of David Rizzio, the Italian courtier and private secretary to Mary Queen of Scots, Mary fled to Craigmillar Castle in 1566. Mary took apartments here at the castle and you can enter the room where she slept called the Queen Mary room today.
It was also here that a plot was formed to murder Mary's husband, Lord Henry Darnley. Although never proved, Mary was the number one suspect in his death.
Motives are plenty but the main ones are that Darnley was found out to be bisexual and suffering from syphilis, he was also insanely jealous of Rizzio so he helped have him murdered in front of Mary. To top that, Darnley threatened to impugn their son, James VI's, legitimacy to the throne. So, he needed to be done away with.
He was meant to be blown up by gunpowder in the house he was staying in Kirk O'Field. But, in the end the naked bodies of Lord Darnley and his valet were found strangled nearby.
Mary's trusted council James Hepburn Bothwell was also a suspect and it didn't help matters that the two of them were married a few months later! This marked the beginning of the end of Mary Queen of Scots short and turbulent reign.
Looking for more Outlander locations in Edinburgh?
If you're on the Outlander trail in Edinburgh, there are plenty of locations you can visit. Make sure you read my complete list here.
Bakehouse Close and Tweeddale Court on the Royal Mile appear in Season 3 as A. Malcom's 18th century Edinburgh.
That along with the Signet Library as the Governor's Mansion in Jamaica and The World's End pub. Or visit Summerhall for the lecture room Claire studies at in Boston.
Read more: Outlander walking tour of the Royal Mile
Head south to Glencorse Old Kirk where Jamie and Claire tied the knot.
Or, you can head out to East Lothian and check out Gosford House that acted as Helwater Estate in Series 3 and Preston Mill that was used as Lallybroch's mill in Series 1.
Lallybroch, or Broch Tuarach, can be found at Midhope Castle on the Hopetoun Estate near South Queensferry. Also, the 12th century Abercorn Church is on the grounds or visit Hopetoun House that has 17 Outlander locations, including that beautiful red room at the Duke of Sandringham's.
You can also visit Wentworth Prison that was shot in Linlithgow Palace and Blackness Castle nearby that doubled up as Fort William where Jamie was flogged by Black Jack Randall.
Head to Doune Castle to visit the seat of Clan MacKenzie, Castle Leoch. Or, visit Deanston Distillery for a whisky tour and a peek into Jared's wine warehouse in La Havre. You can also carry on your Outlander Paris tour at Drummond Castle Gardens that featured as Versailles.
Falkland appeared as Inverness in 1945 and you can stay in the same hotel and Claire and Frank. Or, visit Bo'ness to see the station where Claire and Frank said goodbye.
The previous Royal Borough of Culross, with its gorgeous palace and gardens, was used as the village of Cranesmuir. Close by, you can find Culross West Kirk that featured as the Black Kirk in the series.
If you heading to Glasgow, make sure you read my Outlander locations in Glasgow list here. Or, if you're really keen, read my complete list of over 90 Outlander sites in Scotland and worldwide.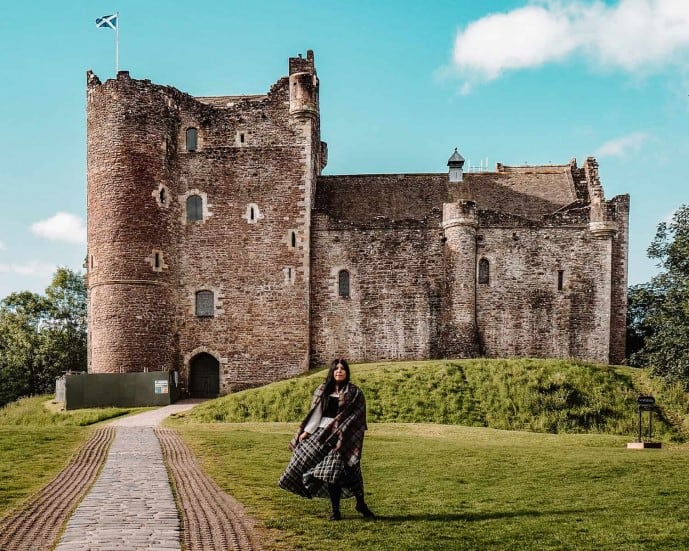 With thanks to Historic Environments Scotland for sponsoring my visit. Although I was a guest, all photos and opinions are my own.
Save this Craigmillar Castle Outlander guide for later!