Edinburgh is home to some of the world's biggest literary giants and was the very first city to be named a UNESCO City of Literature.
Not to mention, the Edinburgh International Book Festival takes place here each year and it's known as the 'birthplace of Harry Potter'.
So, it stands to reason that Edinburgh will have some incredible bookshops that you can explore while in the capital of Scotland.
One of my favourite second-hand bookshops in Edinburgh and, dare I say it ever, has to be Armchair Books.
It's an antiquarian labyrinth of bulging bookshelves, plush carpets, and a familiar bookish smell that will make bookworms feel right at home. It's a must-visit while you're here.
Here is a complete guide for visiting Armchair Books Edinburgh and what you can expect on your visit!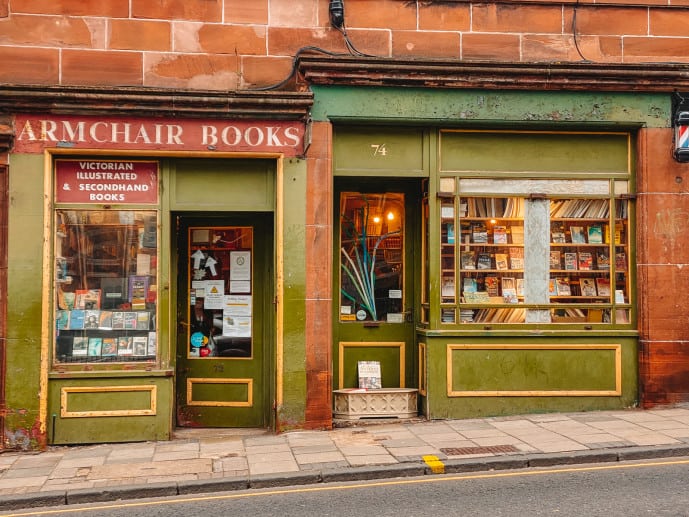 Armchair Books history
The ancient area of West Port in Edinburgh has a long history dating back centuries. The name comes from the old gate of West Port which used to be the only access point of the Western boundary via the Flodden Wall.
West Port has long been a home for antiquarian booksellers in the city and this shopping street is now referred to as 'Edinburgh's Soho'. You'll find six bookshops in this area leading from Grassmarket and more being added regularly!
Armchair Books joined the the long list of booksellers around 15 years ago and has been a favourite bookstore of locals, students, and wayfarers alike since!
They are constantly adding to their collections and so you'll find something new each time you visit.
What books do they sell in Armchair Books?
Armchair Books is spread across two historic buildings on 72-74 West Port and so each one provides something different.
You'll enter through 72 West Port and this is where you'll find their 'very nearly alphabetised chaos'. Here, you'll find an impressive selection of second-hand fiction, philosophy, poems, myths, history books, Sci-Fi, and more.
If you head over towards 74 West Port, you'll then find more antiquarian books and a huge collection of non-fiction titles.
It has an endless selection of books to explore and you can guarantee something will pique your interest while you're here.
Why you should visit Armchair Books in Edinburgh
This second-hand bookshop is a bibliophile's paradise and you'll instantly feel at home as soon as you walk in!
You'll find aisles upon aisles of old books stacked on bookshelves and the smell of old paper and ink makes the place feel cosy.
The floors are covered in delicious patterned rugs placed over creaking floorboards which squeak as you walk. So, it almost feels like you're visiting a private collection of books in a library rather than a shop.
They have all sorts of genres here to browse and you could honestly spend hours looking through their book collections. I have a weakness for vintage hardbacks and you can find them in abundance.
This bookshop is very popular on Instagram and so, beyond shopping for books, photographers will want to stop by and capture the neverending maze of tomes!
Potterheads will also love popping into Armchair Books as it has quickly become one of the 'unofficial' Harry Potter attractions in Edinburgh. You can get lost in the old dusty books and feel (almost) like you're in the Hogwarts Library.
If you can't visit Armchair Books in person, did you know you can support them via AbeBooks? Click here to shop their collection online!
How to find Armchair Books in Edinburgh
Armchair Books can be found in central Edinburgh near Grassmarket in the historic West Port area of the city.
This is near to famous shops like Mary's Milk Bar and Armstrong's Vintage which are always popular with visitors.
So, it's really easy to add a visit to your Edinburgh itinerary if you're planning on visiting the Royal Mile, Edinburgh Castle, Candlemaker Row, or Victoria Street.
Armchair Books can be found at 72-74 West Port, Edinburgh, EH1 2LE. Click here for a Google Pin!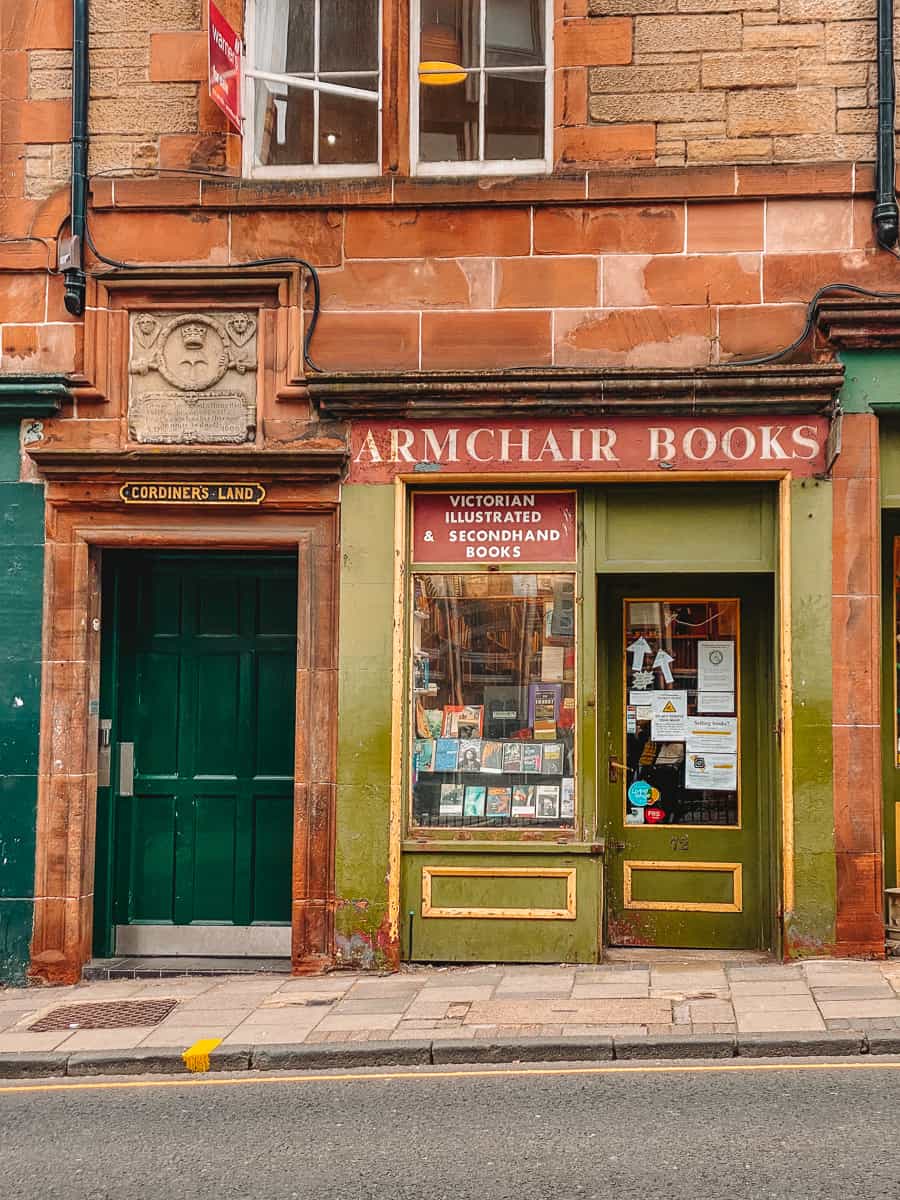 Armchair Books opening times
Bibliophiles will be ecstatic to know that Armchair Books is open every day of the week!
Opening times are typically Sunday to Thursday from 12.30 pm to 5.30 pm and Friday to Sunday from 10 am to 6.30 pm.
Top tips for visiting
Armchair Books can get extremely busy and it's a very small bookshop with narrow aisles. Weekends can see this place crammed. If you wanted to avoid crowds, I would visit as early as possible during the week.
In their own words, Armchair Books is 'very nearly alphabetised chaos' so, although it looks chaotic, its very easy to find things via their system! But, the staff are more than happy to guide you if you have a specific text you're looking for.
As it is an old building, parts of it are not accessible for all. But, the shop are happy to provide assistance if you get in touch with them beforehand!
Many people visit this bookshop for Instagram and they are more than happy for you to take photos. It is extremely photogenic after all! For fewer crowds, try to visit at off-peak times. Make sure to tag them at @armchairbooksedinburgh when you post.
Things to do near Armchair Books
Once you've lost yourself in their labyrinth of tomes and made your precious purchases, make sure to check out some of these popular attractions nearby!
Grassmarket & Victoria Street (aka Diagon Alley!) – If you're a Potterhead chasing some magic in the 'birthplace of Harry Potter', you must visit Victoria Street nearby. This is known as a real life Diagon Alley and you can explore the popular Harry Potter Shop called Museum Context.
Greyfriar's Kirkyard – This is my favourite graveyard in the entire world. It has a rich history and you can learn about Covenanter's, grave robbing, poltergeist's and a little pup called Greyfriar's Bobby. Harry Potter fans can find Tom Riddles' grave here amongst other names. Click here to read my complete guide.
Click here to read my complete list of Harry Potter locations in Edinburgh
Are you looking for more Harry Potter things to do in Edinburgh?
Although there are no filming locations in Edinburgh, this amazing city is known as the birthplace of Harry Potter. It's the place that started it all and all these Dark Academia streets will make you feel like you're strolling through Hogwarts!
The first place you can visit would be Victoria Street which is a real-life Diagon Alley! You'll see Museum Context which is one of the most popular Harry Potter shops in the city.
I would recommend visiting one of the many cafés that J. K. Rowling wrote in while you're here. The most famous are the Elephant House (temporarily closed) and Black Medicine Coffee (previously Spoon).
Nearby the Elephant House you'll find Greyfriars Kirkyard, unofficially known to fans as the 'Harry Potter Graveyard. Here, you can find Tom Riddle's Grave and many other tombstones that have similar names to characters in the books.
Just beside the Kirkyard, you can catch a glimpse of George Heriot's School which is thought to be a real-life Hogwarts.
In the Museum of Edinburgh, you can find the Lewis Chessman that inspired the pieces in Wizards Chess, or see J. K. Rowling's Golden Handprints at the City Chambers.
Not to mention that there are plenty of Harry Potter experiences to be had like having a Butterbeer in The Dog House, cocktails at The Cauldron, The Department of Magic Escape Rooms, and many, many more!
Click here for my complete list of Harry Potter filming locations in Scotland
Read more of my Edinburgh blog posts
The most Instagrammable places in Edinburgh
Discover Liberton Kirk in Autumn
My ultimate Edinburgh Bucket List
A complete guide for The Vennel viewpoint
A complete guide for Dean Village
Why you must visit Circus Lane
How to find the Old Stockbridge Market Arch
Why you must visit Craigmillar Castle
Lunch at the Witchery By The Castle
Afternoon tea at the Signet Library
Scottish National Portrait Gallery review
Topping & Company Booksellers Edinburgh review
Lady Stair's Close & The Writers' Museum in Edinburgh
Save Armchair Books Edinburgh for later!