One of the smallest churches in Munich is the Asamkirche (Asam Church) also known as St. Johann Nepomuk in the heart of the city.
This stunning rococo temple was originally built by two baroque architects who were brothers as their private chapel. Later they were pressured into opening up to the public.
Never have I been more thankful as this is one of the prettiest churches I think I have ever visited.
I'm not usually someone who admires churches but this goes beyond a typical chapel, it's a rococo masterpiece and work of art.
The beauty of this place will take your breath away and there are lots of symbolic relics, statues, and murals to see here as well.
Here is the interesting story of the Asamkirche and how to visit for yourself in Munich, Germany!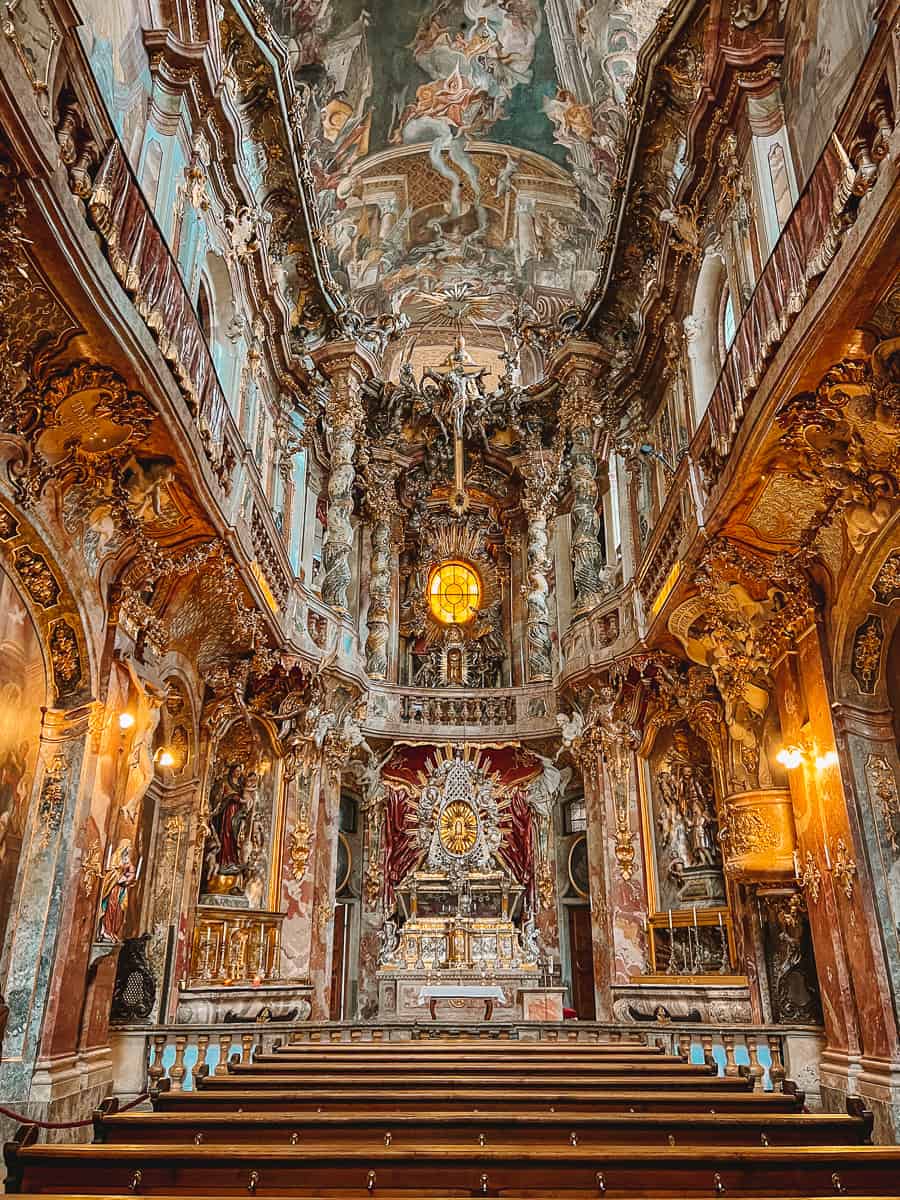 Asamkirche history
St. Johann Nepomuk was built by two brothers as a private chapel. A sculptor called Egid Quirin Asam and a painter Cosmas Damian Asam.
They bought four houses on Sendlinger Strasse for their project in 1733 and demolished the two houses in the middle to build the church.
They worked on the chapel from 1733 to 1746 in a grand Baroque style. As they bought the residence outright and it was not commissioned, they were able to build as they wished.
The church was small at 22 x 8 metres and was designed as a two-storey building with three vertical levels representing the world, the divine rule, and God.
The pews are in darkness representing the worlds suffering and it gradually gets lighter as you approach the 'heavens' where there are frescos of God and eternity.
The brothers would not enjoy their private church for long. There was significant pressure to open it up to the public and eventually they relented.
Today, it's one of the most important churches in Munich and is considered one of the best examples of Late Baroque architecture in southern Germany.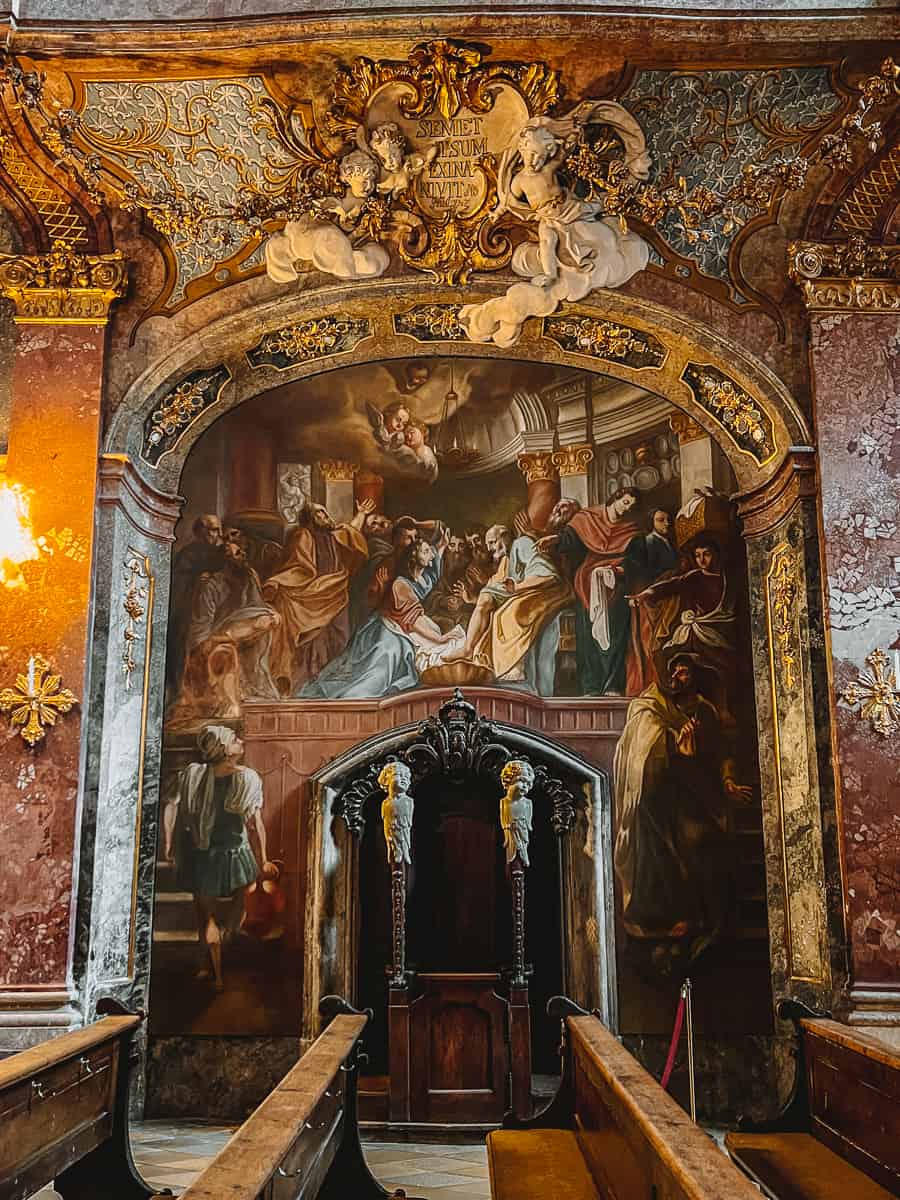 How to visit Asamkirche in Munich
If you wanted to visit this magnificent church for yourself, it is still open to the public today.
The entrance to Asamkirche can be found on Sendlinger Strasse, a pedestrian street in the city centre of Munich. It's very close to the main square of Marienplatz.
It's easy to find on the street as the building is rococo in design with huge windows and wooden entrance doors!
If you're taking public transport, you can alight at Marienplatz station and walk around 500 metres to the church from there which will take you around 6 minutes.
The doors will most likely be closed from the outside but don't be shy. Push them open, step inside, and prepare to be amazed by what you find!
Just remember that this is a place of worship so you should respect anyone praying inside. There is a sign on the entrance gate to remain silent.
Food and drink are not permitted. You're not allowed to wear a hat, use a flash or bring dogs inside.
Asamkirche address is Sendlinger Strasse 32, München, Germany. Click here for a Google Pin!
Asamkirche opening times and prices
The Asamkirche is open every day of the week but it has slightly different opening times on Fridays.
From Saturday to Thursday, the Asam Church is open from 9 am – 6 pm but on Fridays, it's only open from 1 pm to 6 pm.
Visiting is completely FREE but donations are always appreciated. There are votive candles available for purchase and prayer.
Things to see in the Asam Church Munich
Although this is primarily a place of worship and a small room, there is a surprising amount to see in this rococo chapel.
You can sit down in the pews to admire the facade or you can wander down the outer aisles to find more paintings and statues.
There is a top floor to the Asam Church but this will most likely be roped off on your visit. It's a shame as it would be wonderful to see what's upstairs.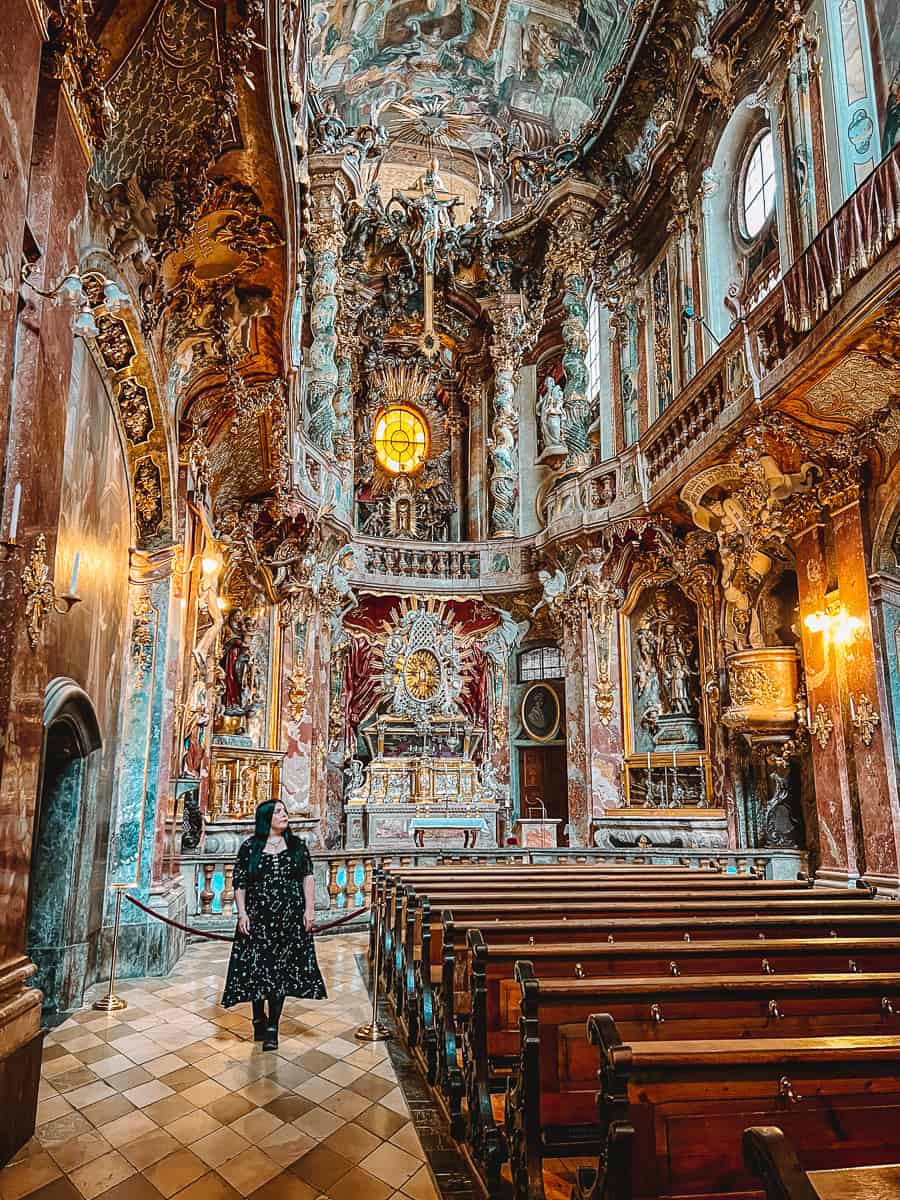 The entrance hall
When you first step inside the Asamkirche, you'll find the entrance hall. Although it pales in comparison to the baroque facade, this room is still very beautiful.
If you look on top of the oval ceiling, you'll find a golden face representing the sun and marble statues of Greek gods surrounding it.
There is also the famous golden statue of Death cutting a life thread of an angel. Quite symbolic!
You'll also see some confessional alcoves here. This is because Egid Quirin Asam wanted this to be a confessional church for the youth.
In this outer hall, you'll find a donation box, votive candles that you can light for prayer, and some leaflets to explain more about the chapel.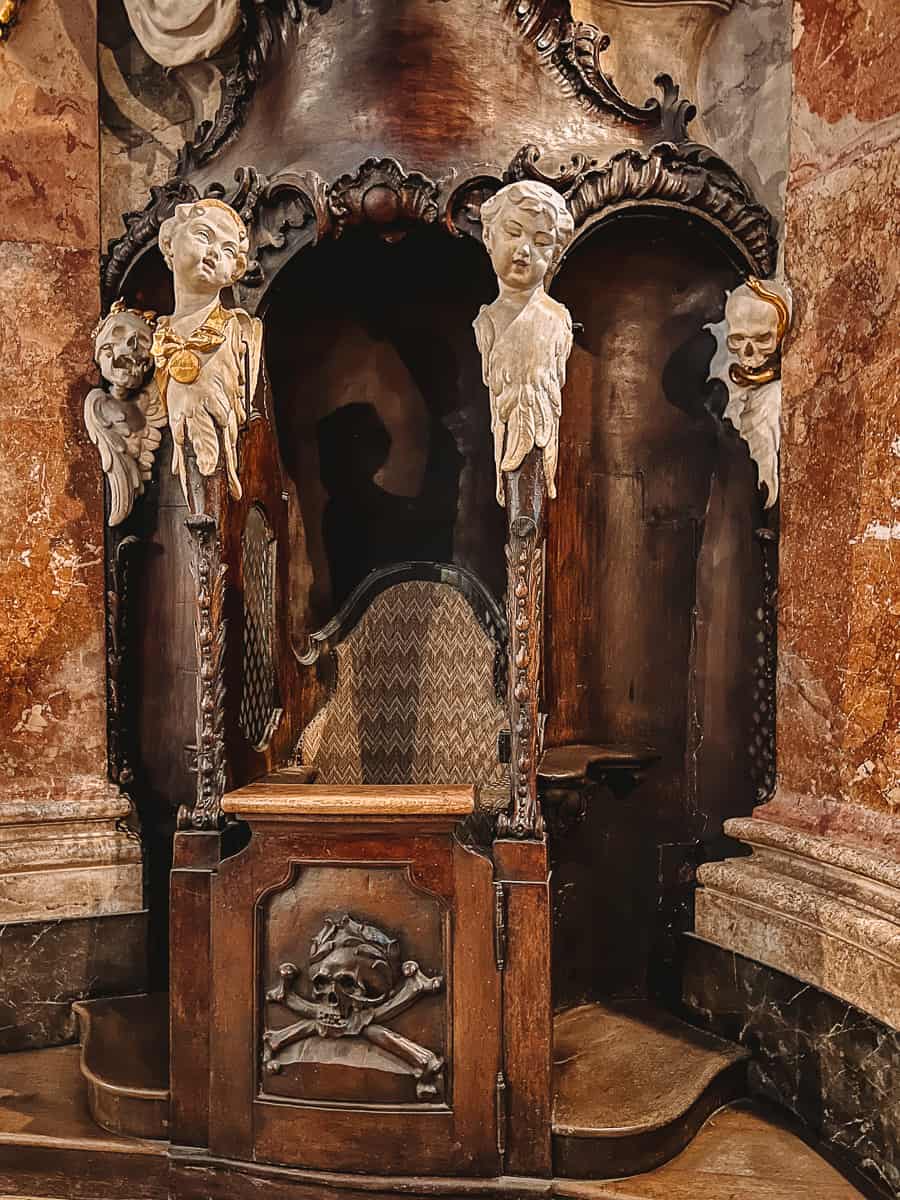 Rococo / Baroque facade
You then step through ornate gates to the main chapel hall which is the Baroque facade. This is one of the most impressive pieces of rococo architecture I have ever seen and it is divine.
As the brothers bought the property and it was a private residence, they had free rein to build this church however they wished.
It's a small space but has three vertical levels and each one has a different level of lighting for the space.
The bottom level is the darkest near the pews and represents the suffering in the world, the second level is white and blue and represents the colours of the emperor. The third is the brightest and illuminates a painting of God and eternity.
The high altar is framed by four spiral columns which symbolise the four Bernini columns in Rome.
Egid Quirin Asam could see the altar through a window of his house next to the church. Another baroque residence called Asamhaus.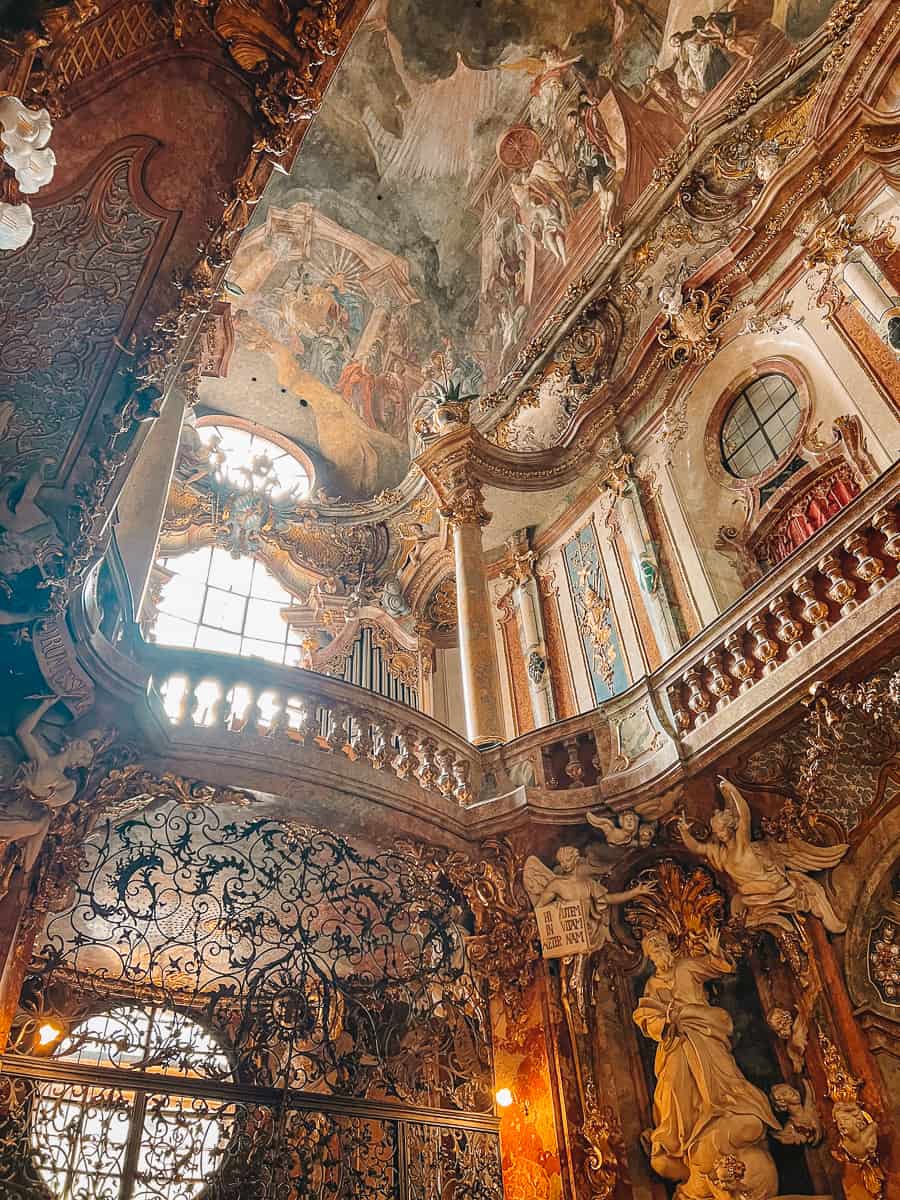 "Life of Saint Nepomuk" ceiling fresco
An impressive part of this chapel is the ceiling fresco which represents the "Life of Saint Nepomuk".
It was painted by Cosmas Damian Asam and the mural is lit beautifully with the natural light let in from the top windows.
It spans the entire length of the church and features scenes from Saint John Nepomuk's story.
He was a patron of Bohemia and a preacher. But, was thrown into prison when he wouldn't tell King Wenceslaus IV what the queen told him in her confession.
John was later tortured and thrown into the river where he drowned. But, at that precise location in the water, a brightness appeared.
He was accepted into heaven as a saint and is now known as the 'martyr of the confessional'.
Is visiting Asam Church in Munich worth it?
100% YES. It's easily one of the prettiest baroque churches in Bavaria and a jewel in Munich's architectural crown.
It's a small place so it doesn't take up much time in your Munich itinerary and it's completely free too. What's not to like?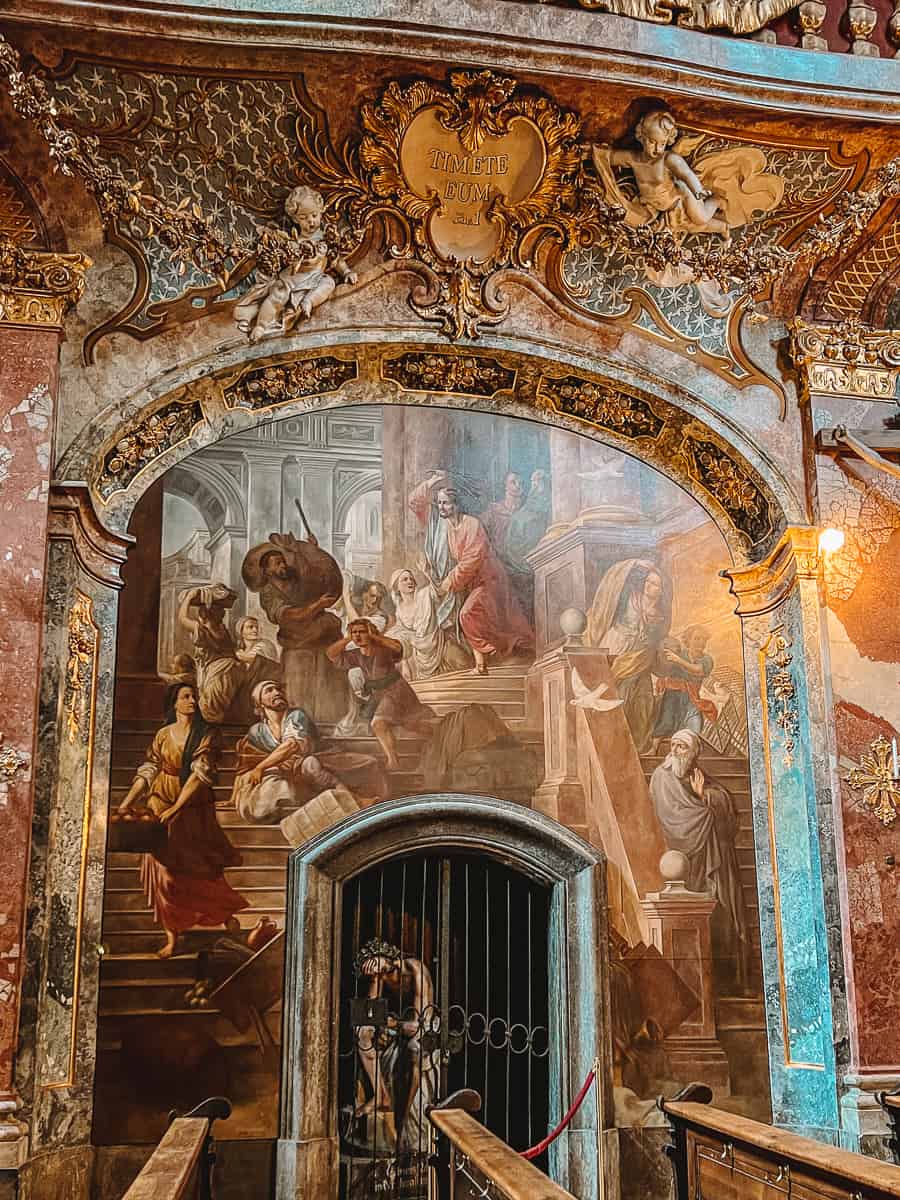 This dark academia location reminded me so much of the church in Bram Stoker's Dracula 1992! It's so gothic, you could easily imagine this as a place in Van Helsing where vampires hideout.
I would highly recommend visiting the Asam Church in Munich if you're in Bavaria. You won't regret it.
Asamkirche FAQs
How much does Asamkirche cost? It's free but donations are always appreciated.
What is the smallest church in Munich? Asam Church Munich, although it's small it is one of the most important churches in the city today.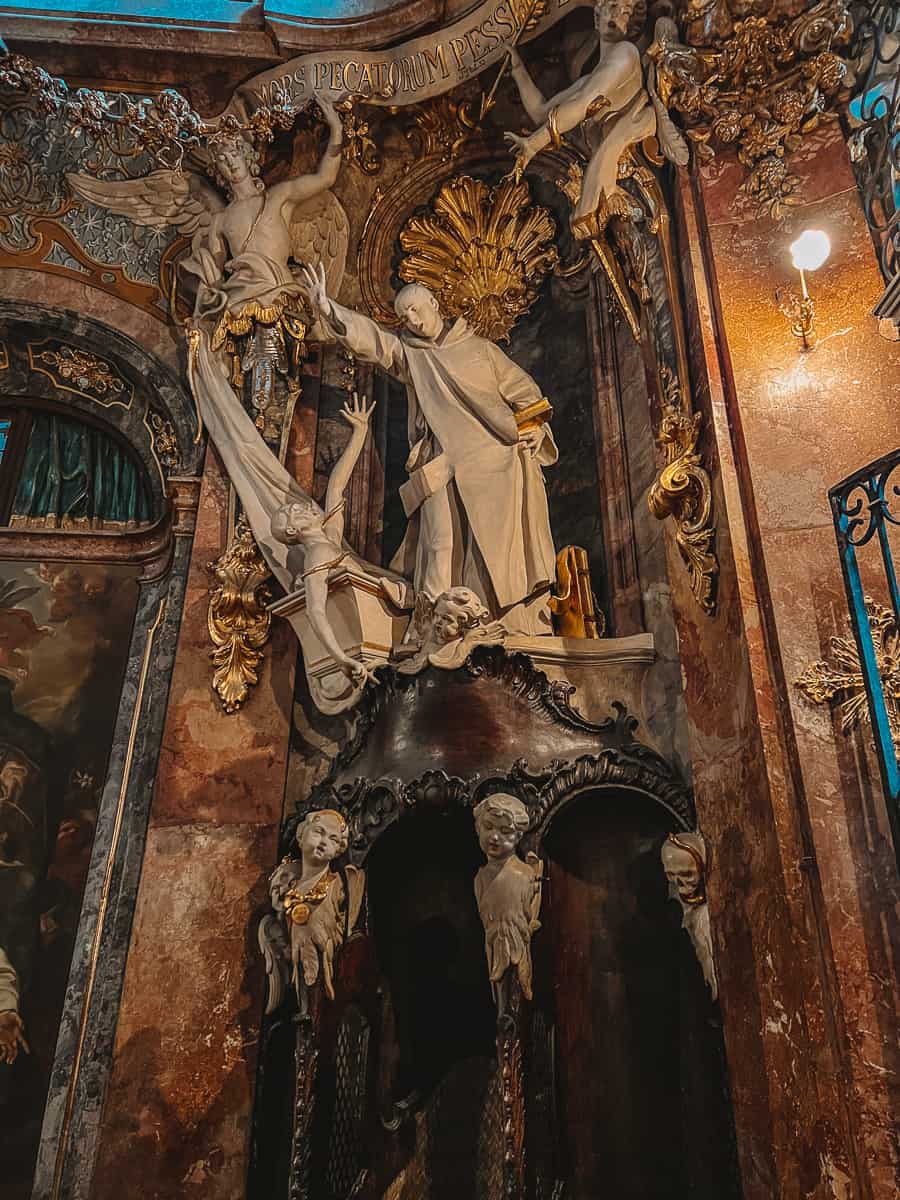 Looking for more things to do in Munich?
Munich is the capital of Bavaria and is filled with incredible historic buildings, streets, and palaces to explore!
After you're finished at Asamkirche, there are plenty more attractions in Altstadt (Old Town) to enjoy.
Marienplatz is the main square and from here you can see the Old Town Hall (Altes Rathaus) and New Town Hall (Neues Rathaus).
The New Town Hall looks like it was built in the middle ages but it was actually only constructed in the 19th century.
It's home to the magical Munich Law Library that looks like something from Beauty and the Beast or Harry Potter!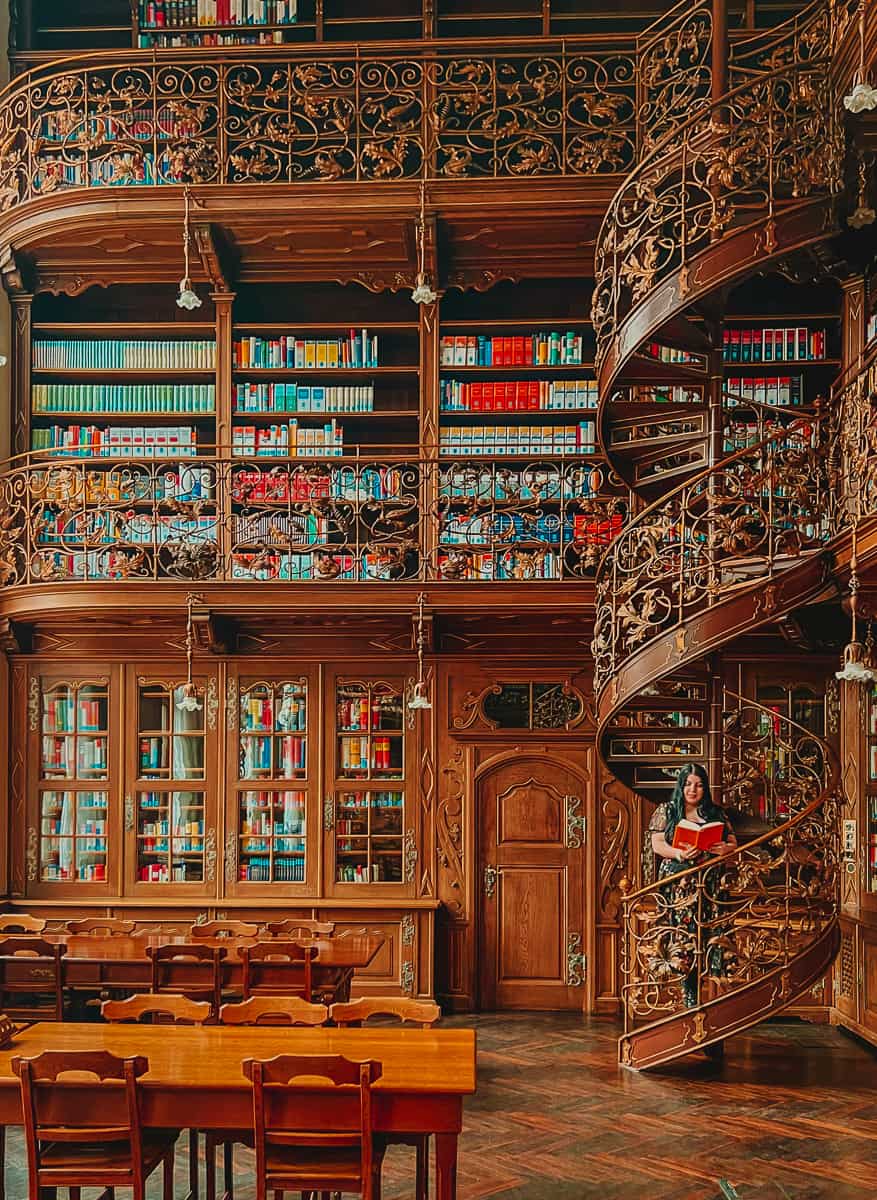 You can climb up to St Peter's Church tower to get incredible views over the main square or Marienplatz. But, be aware that there is no lift and you'll be climbing just over 300 steps.
Residenz is another museum that is a must-visit in the city. It was the former royal palace of the Wittelsbach monarchs of Bavaria.
It has hundreds of rooms but the most famous is the Antiquarium which was a former ballroom!
There is also the Nymphenburg Palace which was a summer residence for Bavarian Kings. The Grand Ballroom and the Hall of Beauties are a highlight.
Or, why not take a rest in one of the Munich beer halls? Hofbräuhaus München is the oldest and most popular and serves up beer by the litre, pork, and potato dumplings to the sounds of traditional Bavarian music.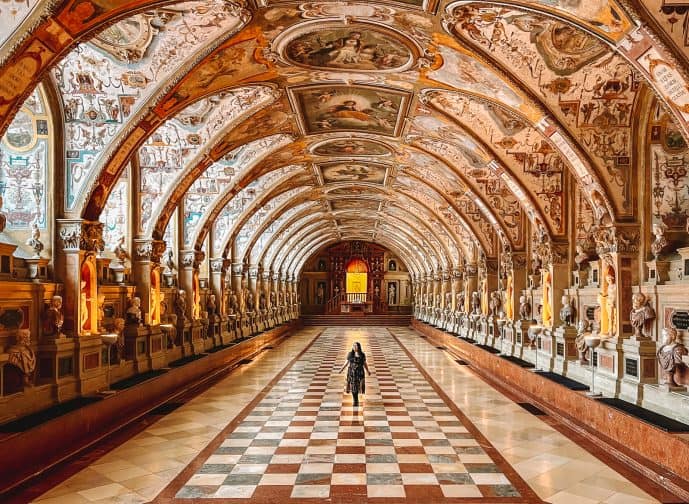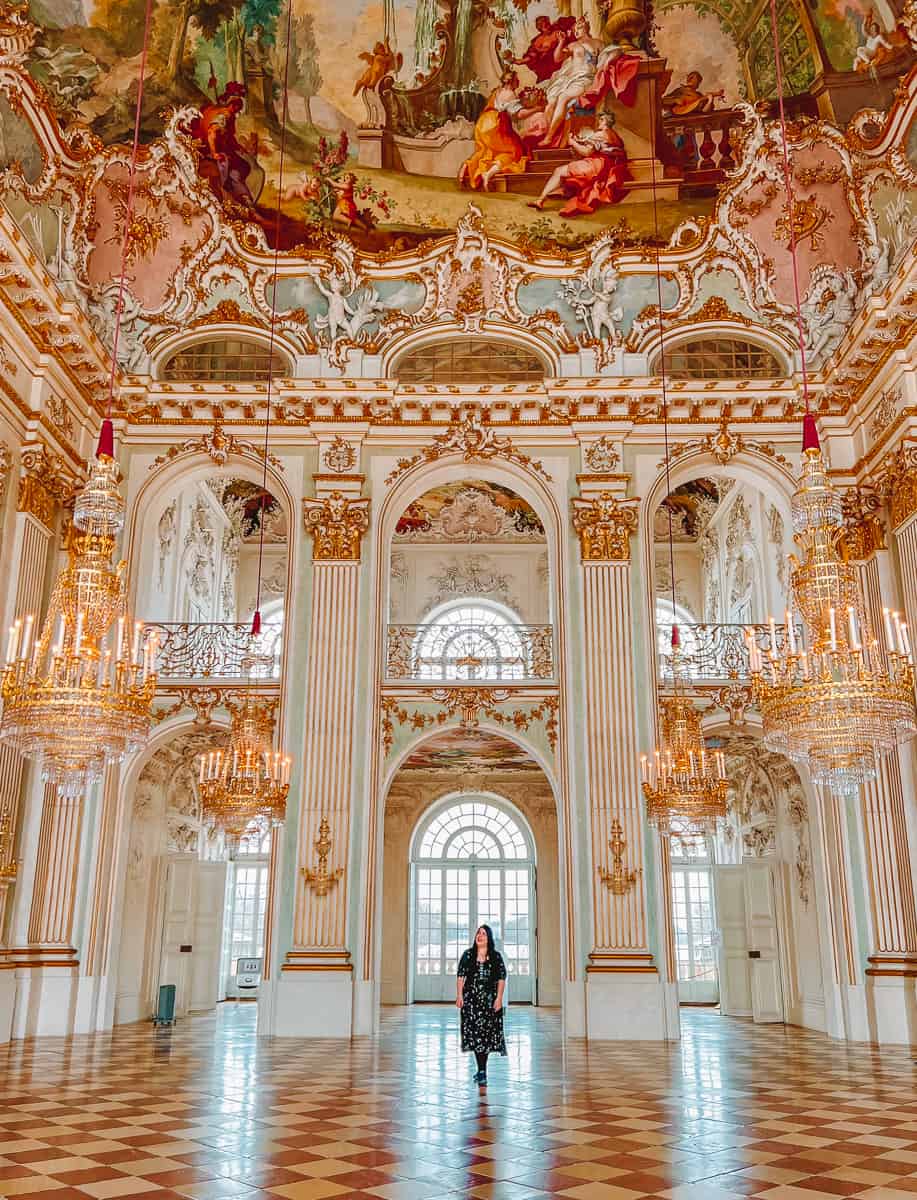 Read more of my Germany travel guides
A complete guide for the Justizpalast in Munich
How to visit the fairytale Wiblingen Abbey library
Magical Plönlein in Rothenburg ob der Tauber
is visiting Neuschwanstein Castle in winter worth it?
Is Hohenschwangau Castle worth visiting?
Is it worth going inside Neuschwanstein Castle?
Save the Asamkirche Munich for later!