One of my favourite cafés in Vilnius has got to be the Augustas ir Barbora Love Story Café.
As soon as I passed it on my walking tour of Vilnius Old Town and I saw the incredible decor, I knew I had to plan a visit.
As it was Christmas time, they had a pink glittery wall, huge baubles, and a pink unicorn on top.
Inside, there were the most gorgeous rose trellises and hanging flowers. Not to mention their coffee, champagne breakfasts and cakes looked to die for.
If you're looking for Instagrammable places in eat in Vilnius, then I would bump this pretty restaurant to the top of your list.
Not only does it have one of the most beautiful settings, but it's also inspired by the most famous love story in Lithuania.
Here's a complete guide for visiting the Love Story Café in Vilnius.
Why the name Augustas ir Barbora Love Story?
The reason why it is called the Augustas ir Barbora Love Story Café is because of the Lithuanian legend of Barbora Radvilaitė and Žygimantas Augustas.
Barbora Radvilaitė was the Grand Duchess of Lithuania and Žygimantas Augustas who was the King of Poland in the 16th Century (as Lithuania was ruled by Poland at this time).
This bitter-sweet romantic tale has a tragic ending, but the love story still resonates as a testament of eternal love in the hearts of Lithuanians today.
The Legend of Barbora Radvilaitė and Žygimantas Augustas
The story goes that Barbora Radvilaité was born into one of the most important families in Lithuania, the Radvilas. She was also one of the most beautiful women in all of Europe.
When she met Žygimantas Augustas, the two fell instantly in love and started a secret affair.
The two would meet in secret and it is thought that Augustas would meet her at Radvila Palace via a secret corridor he created.
Eventually, the pair married in secret at a cathedral in Vilnius but it was a scandalous union. This was because of a medieval custom that the king could not marry a woman who wasn't from a royal family.
When their marriage was known to the court, Augustas' mother Queen Bona could not accept the marriage and moved to Krakow in Poland. She broke off all relations with her son. The court also urged Augustas to divorce Barbora.
Augustas would not be swayed and he threatened to dissolve parliament if Barbora was not made Queen of Poland! Sure enough, her coronation took place a few months later in 1550.
Tragically, Barbora died just six months later. Many blamed Queen Bona for poisoning her!
After, Augustas made sure her remains were buried in Vilnius where they first fell in love. He then wore black almost every day of his life after that.
Although many call this just a legend, in 1931, Barbora's remains were found under Vilnius Cathedral. She was then moved to the royal mausoleum in Saint Casimir's Crypt.
Also, an excavation of Radvila Palace revealed that secret corridor that allowed them to meet.
Places in Lithuania that are named after Barbora Radvilaitė
This tragic love story has inspired many throughout the ages and ensures that Barbora's story lives on.
There are plays, songs, portraits, and even books that have been influenced by the star-crossed pair;
You can find a portrait of Barbora Radvilaitė in the Palace of the Grand Dukes of Lithuania
There is a street in the Old Town named after Barbora Radvilaitė. This borders Pilies and Maironio Street
You can find a statue of Queen Barbora in Vokieciu Street
There is now an award established in both Barbora Radvilaitė and Žygimantas Augustas' names. These medals are awarded to women in Vilnius who have made significant contributions to the city
And of course, the Augustas ir Barbora Love Story Café is a tribute to their story
Where is the Love Story Café in Vilnius & How to get there?
Augustas ir Barbora is located on Stiklių Gatvé in Vilnius. This is in the Jewish Quarter (Former Ghetto) of Vilnius Old Town.
You can easily make your way over here on foot from the Vilnius Town Hall. Follow the signs for the Jewish Ghetto and take Stiklių Gatvé.
Once you're on the street, you'll easily spot the café from its fantastic display.
It's easiest to arrive at the café is on foot. But, you can take an Uber / Tram to Town Hall Square and find it from there.
Augustas ir Barbora Love Story Café opening times
The Love Story Café is open from 10 am – 11 pm at night, every day of the week.
However, it is busy pretty much at all times of the day. So, I would recommend reserving a table to guarantee a place.
If not, I would arrive just before opening time to get a table for breakfast.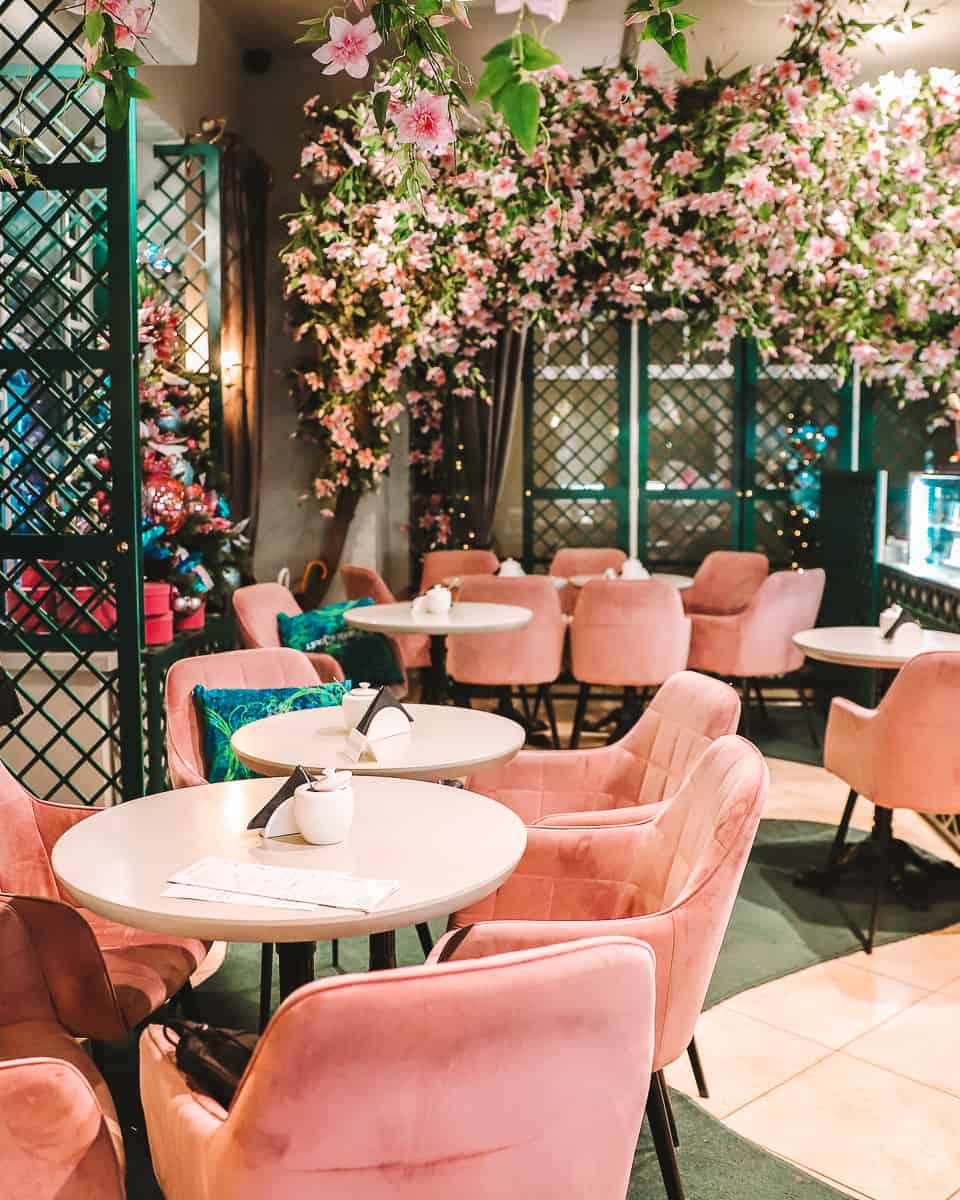 What to expect on your visit
As soon as you walk into the café, you'll be absolutely stunned by the decor. You'll find pretty flowers hanging everywhere, pink velvet seats, and marble tables waiting for you.
Knowing I wanted to get some empty photos, I arrived at the opening time of 10 am and decided to stay for a late breakfast.
I went for their continental offering which was a coffee, orange juice, and a buttery, flaky croissant. It was really delicious and the coffee and orange juice was freshly pressed.
The café are open all day, so you'll also find some amazing lunch and dinner choices. Plus, you can stay for an afternoon tea, ice cream or for some cocktails in the evening. There is so much on offer.
Make sure to check out their seasonal menus here.
It's good to note that the displays in the Love Story Café change often. In winter, I saw the most fantastic Christmas display with baubles. In summer, they decorate the whole wall outside with flowers.
But, one thing is guaranteed, the displays are always incredible. They often win competitions.
It's fast becoming the most Instagrammable cafés in Vilnius. So, have your camera at the ready.
Photography tips
The Love Story Café in Vilnius is always busy. So, if you want to get good photos without many people in them I would recommend visiting at opening time or just before that. It will pack out after that all day.
If you want to guarantee a table to eat or have cocktails, I would try to make a reservation with them to ensure a seat!
The café serves a variety of things that are super pretty in photos like cocktails, iced coffees, and cupcakes
If you tag the café (@augustasirbarboracafe) on their social media, you may be lucky enough to get featured on their social channels!
Places to visit near Augustas ir Barbora Love Story Café
The Jewish Quarter & Vilnius Old Town – After your visit to the café, it's well worth exploring the streets around here. There are plenty of amazing restaurants and shops to explore plus lots of courtyards and street art! Vilnius Old Town has the most stunning architecture.
Vilnius Cathedral & Cathedral Square – The main hub of the city is the Vilnius Cathedral and Cathedral Square. The cathedral is extremely impressive and this is where Augustas originally buried Barbora
St Casimir's Cathedral – You can visit this amazing pink cathedral in the Old Town which is another photography spot. This is also where Barbora's is laid to rest in the cathedral crypt.
Palace of the Grand Dukes of Lithuania – I absolutely loved this huge museum which is a recreation of the Old Palace during the occupation of Lithuania. Here, you can find many lavish rooms, paintings and even a portrait of Barbora!
Radvila Palace – The palace where Barbora used to live and where the two used to meet in secret still exists today and is now an Art Museum. Click here for more details.
Click here to see my ULTIMATE list of places to visit in Vilnius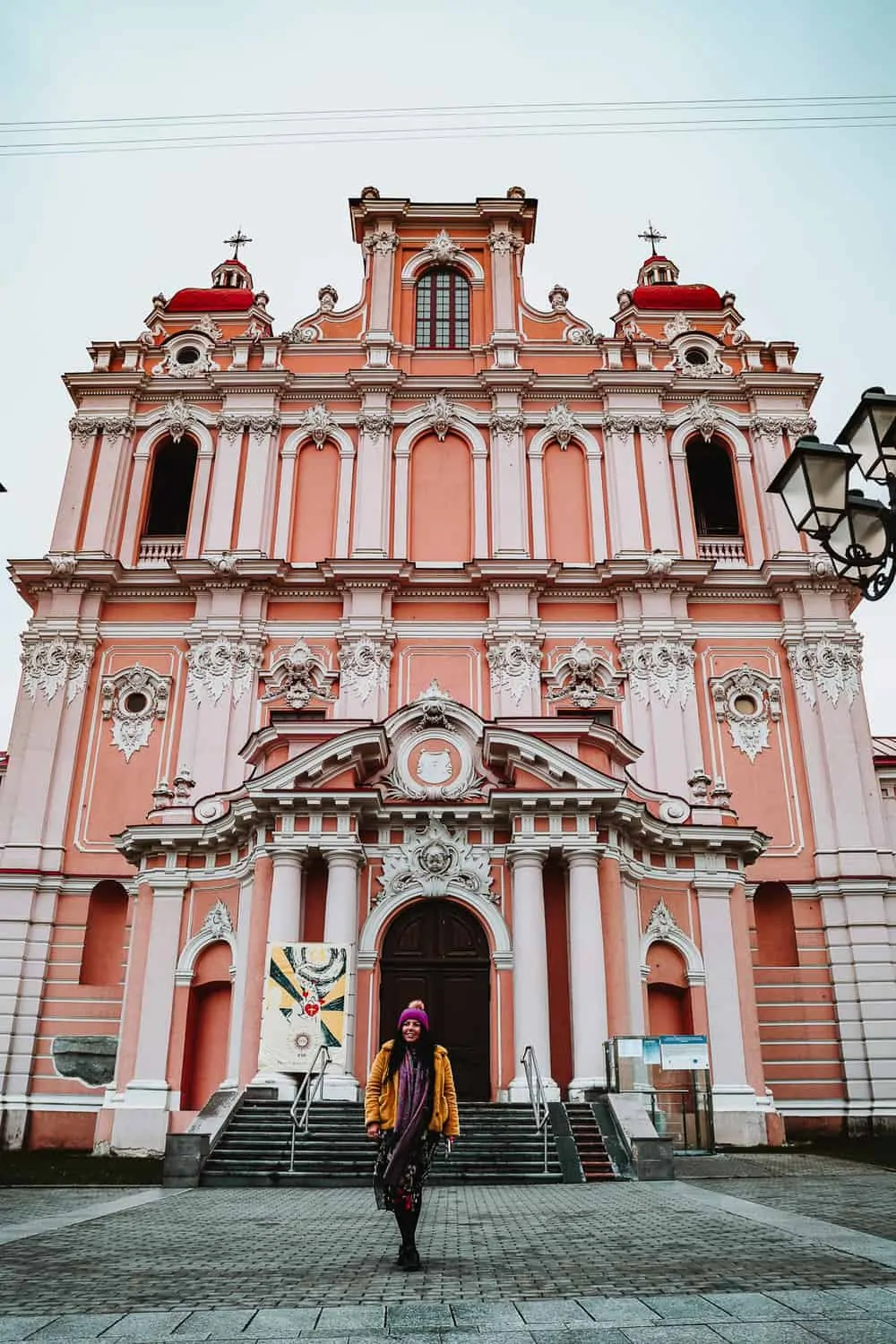 Are you looking for more Instagrammable places in Vilnius?
Many people told me that Vilnius would be very drab and grey. But, they couldn't be more wrong! Vilnius is a gorgeous city to photograph.
Not only does it have many colourful cathedrals, but it also has some incredible viewpoints and street art too.
Not to mention the Old Town which is like a photographer's paradise. You'll find historic courtyards, squares, and streets.
In fact, there are so many amazing places to photograph in Vilnius I have created a whole list of them for you to check out!
Read more in my photography guide for Vilnius
Read even more of my articles on Lithuania
A guide for visiting Gediminas Castle
The best viewpoints in Vilnius
The ultimate guide for Three Crosses Hill
Traditional foods to try in Lithuania
A complete guide for Trakai Castle
The top places to visit in Kaunas
A day trip to the Hill of Crosses in Lithuania
Save this Augustas ir Barbora Love Story Café Vilnius guide for later!