Looking for the best things to do in Auroville? You've come to the right place!
When I was heading to Pondicherry and asking for travel tips, everyone recommended that I visit the famous Matrimandir in Auroville.
I had never heard of this place before I landed in India and so, as everyone was recommending it, I decided to do some research.
Here are 5 epic things to do in Auroville.
What is Auroville?
Auroville is an experimental township in India.
The land was bought by "The Mother" or Mirra Alfassa in 1968 and today, it is a community where everyone of all creeds and classes is welcome.
The Matrimandir is at the centre and is the 'soul of the city'.
The orb made of gold is a symbol of spiritual significance to those who practice integral yoga, a philosophy which was practised by Shri Aurobindo and "The Mother" here. It took 37 years to build.
However, beyond the Matrimandir, there are actually a lot more reasons why you should stop by if you find yourself in the area.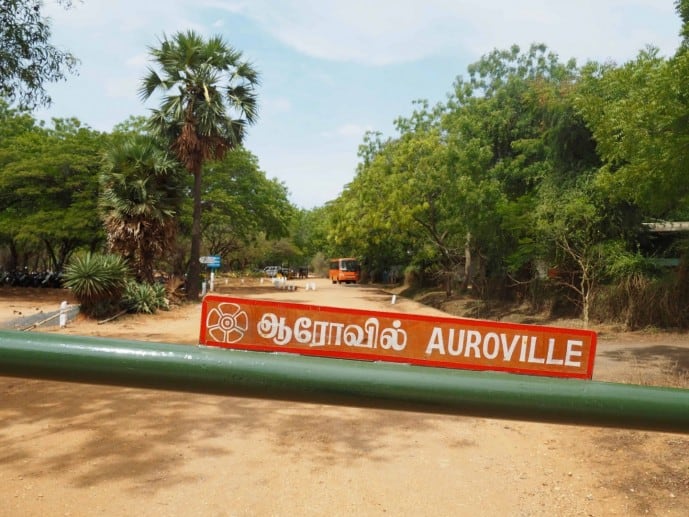 These are the top things to do in Auroville
1. Visit the world-famous Matrimandir
First and foremost, the 'soul of the city' is the main draw of Auroville.
It's free to view and is open to the public every day of the week. Opening times for the Matrimandir are;
Monday – Saturday: 9am – 4.30pm
Sunday: 9am – 1pm
If you head through to the visitor's centre you'll receive a free signed visitor pass to head to the viewing point.
You'll be invited to watch a short video presentation of the Matrimandir and the visitor centre is an informative introduction to the land, "The Mother" and the history of Auroville.
What to expect on the walk to the Matrimandir
The walk to the viewing point is around 1 km from the visitor centre.
Although they say this is shaded, I was absolutely boiling! It was around 40 degrees when I was walking up to the viewing point so make sure you stock up on some water.
If you're not able to make the walk, there are some electric vehicles that will transport you to the viewing point free of charge.
Despite the fact that it was so hot, the walk itself is actually pleasant. It is decorated with some beautiful flowers and sentiments of spiritual awareness.
Reaching the Matrimandir viewpoint
When you reach the viewing point, it's a really peaceful area.
The locals say you can feel the energies in your blood if you meditate here and it's recommended to spend some time doing so.
There are some seats under the trees, so you can perch in the shade.
It was a beautiful place with a good feeling and you could see why so many people come to pay it a visit every day.
Can you go inside the Matrimandir?
Yes, you can. Bookings for first time visitors must be made in person and on an individual basis for concentration.
You cannot apply via email or make a telephone booking.
You cannot book as a group and your pass will be issued for the following day or the next free day available.
When I was here the Matrimandir was closed and undergoing some maintenance, so I couldn't go inside it.
If you have visited before, you can apply via email or phone. Details can be found on the Auroville website.
2. Shop at La boutique d'Auroville
The shopping here was awesome. They have these super cute boutiques full of locally handcrafted clothes, books and jewellery.
Outside and around they also had stalls boasting local organic food products, gorgeous candles, essential oils and incense!
All the prices were fixed and fair and reflected the time and skill required from the people selling them.
I have to admit I spent way longer than I should in these shops, fawning over all the pretty things they had for sale. I'm such a magpie!
They also sold pretty colourful hammocks…If only I had enough room to take one home…and some palm trees to hang it on…
3. Try some of the amazing icecream
I was in food heaven when I landed in Auroville. Firstly, on my rather hot walk back from the Matrimandir, I saw a sign for Italian Gelato!
It was like a mirage in the desert after the heat – is this a dream, could this possibly be true?!
Luckily it was real and I handed over my 100 rupees for lemon sorbet. It was so tangy and delicious.
4. Sample the amazing organic food in Auroville
Feeling peckish after looking around the information centre, I headed over to their cafeteria for a spot of lunch.
Auroville has its own 'Auro-farms' in the area and wherever possible, everything on their menu is organically grown and served here.
This meant that the vegetables and ingredients were fresh and free from any chemicals or preservatives.
They sold the perfect mix of South Indian and European cuisine.
There were rice dishes, curries and dosa but on the other side fresh salads, French onion soups and wood fire pizzas!
If you're vegan, this place also serves up some options for you. The bakery here was my favourite part, I had one of the best chocolate brownies at this place since being in India.
Unfortunately, there isn't a picture as it went in my mouth before I remembered to take one (oops)!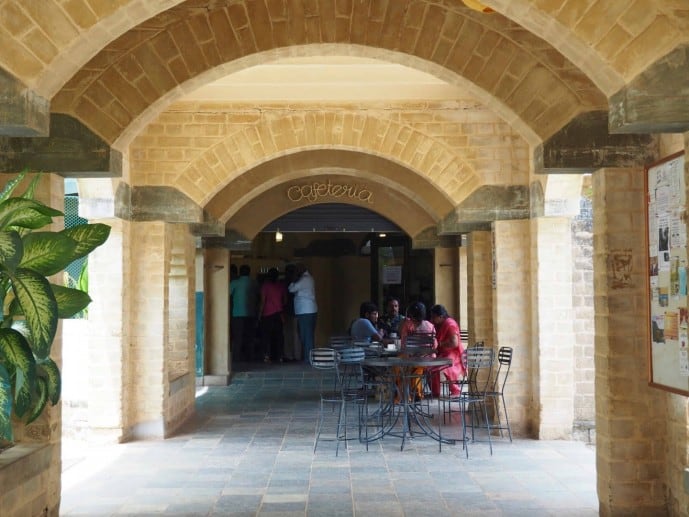 5. Register to volunteer in Auroville Ashram
The whole of Auroville is run by volunteers who give up their time and energy for a place they believe in with a common vision.
Auroville has many visionary programmes here such as alternative healthcare, helping villages in the local area, organic farm work and renewable energy sources.
Although there are plenty of resident volunteers who have made a lifetime commitment, you can volunteer for temporary placement for a minimum of 6-12 months.
To find out more details and contact information to apply, visit their website.
6. Wander around this beautiful place that can make you feel at peace
When you arrive in Auroville, you feel such energy in this place and when you visit the Matrimandir it develops three-fold.
Pondicherry has its own mood and the laid back atmosphere is catching, but Auroville takes it to the next level of inner quiet.
If you're looking to extend your visit, you can get involved in the many workshops and wellness therapy programmes they run here.
Their main philosophy and practice is integral yoga and you can get involved in a one day workshop to introduce yourself.
So, that's all the things to do in Auroville
Auroville is deep in the Pondicherry jungle and you can stay in the local area.
The colourful houses, palm trees, farms and local wildlife make it a great place to stay and explore the 'real' South India.
Looking for more travel inspiration for Pondicherry?
I LOVED Pondicherry! So, you have to check it out while you're here.
Make sure you read my travel guide with the top things to do in Pondicherry here.
Heading around the South of India? Read more of my articles!
A first timers guide for Mumbai
My one week in Kerala Itinerary
Amazing things to see in Alleppey
A guide for the Kerala backwaters
The best Munnar tea plantations
Save these things to do in Auroville for later!