One of the world's most beautiful libraries has to be the State Hall of the Austrian National Library or Österreichische Nationalbibliothek.
It's one of the largest Baroque libraries on the planet and houses 200,000 antique books on its ornate bookshelves in the heart of Vienna.
It used to be the Imperial Court Library of the Hofburg Palace but now is a museum inside the largest public library in Austria.
The entire place is like stepping back in time to the Renaissance with its dark wooden shelves, antique volumes, colourful frescoes and statues of nobility.
It was breathtaking and felt like I'd walked into the library from Beauty and the Beast or the Hogwarts Library in Harry Potter.
It's well worth visiting in Vienna and is the perfect attraction for bibliophiles.
Here is how to visit the Austrian National Library in Vienna and what it's like to explore the magical State Hall.
Austrian National Library history
This huge library was originally established in 1368 by Duke Albrecht III when he moved his book collection from the Viennese vaults to a library.
As well as translating many texts from Latin to German, he commissioned Johannes von Troppau to create the Holy Gospels which is the oldest book in the archives.
In 1723, Holy Roman Emperor Charles VI ordered for the library to have a permanent home in the Hofburg Palace and it was known as the Imperial Court Library or Kaiserliche Hofbibliothek.
It was constructed into a large Baroque hall with a domed ceiling, carved bookshelves, gold gilt ornamentation and frescoes of 'Becoming a God' by court painter Daniel Gran.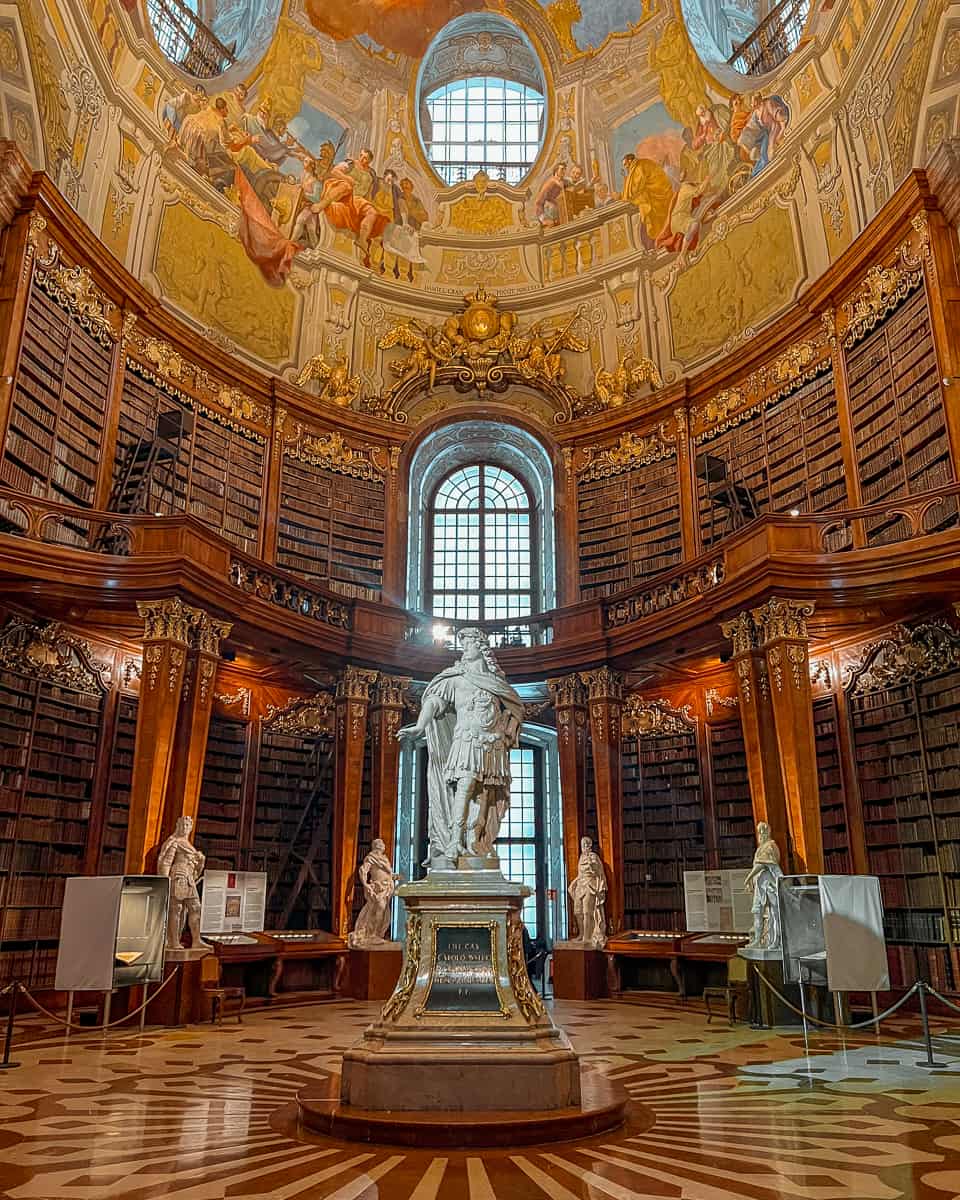 There are also 16 statues throughout the Prunksaal of Austro-Spanish Habsburg rulers and nobility sculpted by the Strudel brothers.
Prince Eugene of Savoy gifted over 15,000 volumes to the library from Morocco. Plus, it has the largest collection of Martin Luther's texts from the Protestant Reformation.
The State Hall grew to a huge collection of 200,000 antique texts and many of these still sit on the bookshelves today. But, almost all can't be read as they are too delicate to handle.
State Hall of the National Library of Austria
The elaborate State Hall is one of the largest Baroque libraries in the world at 80 metres long (262 feet) and 20 metres high (65 feet).
It also has a huge domed ceiling in the centre that is beautifully painted in colourful frescoes. These paintings are called 'Becoming a God' by Daniel Gran and took four years to paint from 1726 to 1730.
The frescoes show the Holy Roman Emperor Charles VI with famous Gods from mythology like Apollo. They are a powerful message and a reminder to all here that he was ordained by God to rule his empire.
In the centre of the hall, you'll find a grand statue of Charles VI as "Hercules Musarum". It was handcrafted in 1735 by Imperial court sculptor Antonio Corradini.
Plus, if you look around the space you'll find some stunning celestial and terrestrial Venetian globes.
The Prunksaal also has adjoining War and Peace wings to house the treasured tome collection. Each section has beautiful fresco paintings to complement the theme.
Why is the Austrian National Library important?
After the end of the Habsburg monarchy in 1920, the library changed its name to Österreichische Nationalbibliothek and opened as a public library.
Today, the National Library of Austria is the largest in the country with over 12 million books and artefacts in its archives.
As well as books, you can find manuscripts, tomes, maps, incunabula, musical scores, globes and photographs.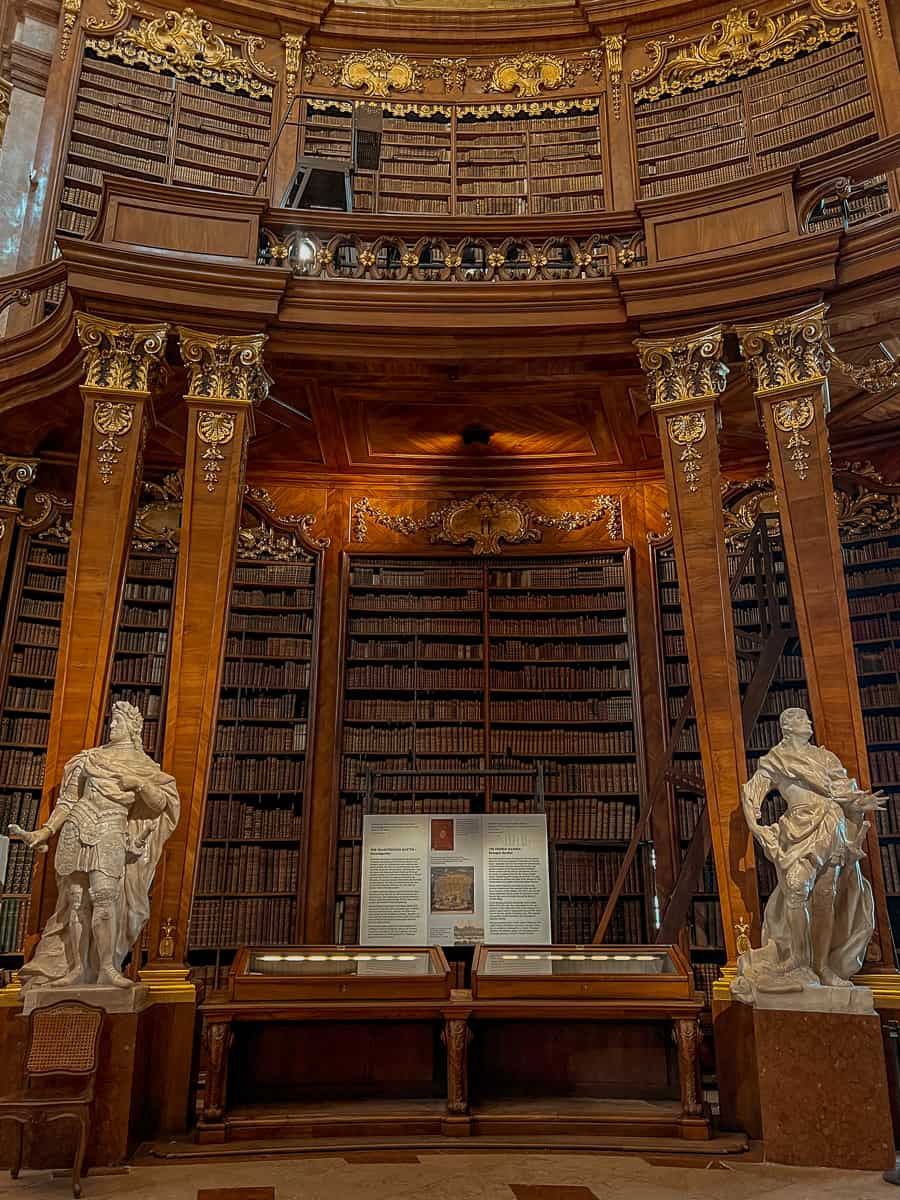 It's an important resource and research centre as it has considerable historic artefacts on European intellectual culture and heritage.
The library network is huge and spread across several annexes of the Imperial Palace in Vienna.
It has 19 reading rooms open to the public, including the Augustinian Reading Room, and several permanent museum exhibitions.
Can you visit the National Library of Austria?
Yes, the National Library of Austria is open to the public whether you want to read their archives in the reading rooms or visit their museums.
If it is your first visit to Vienna, I would highly recommend visiting the State Hall as this is the most famous and impressive room of the entire collection.
But, they also have several other permanent exhibitions including the Literature Museum, Papyrus Museum, Globe Museum, Esperanto Museum and the House of Austrian History.
Exploring the magical State Hall
As soon as you step inside the magical State Hall, it will take your breath away.
This marvel of Baroque architecture is a symphony of marble floors, gold gild decor, stucco reliefs, vibrant frescoes and ornate statues.
It has towers of tomes on dark wooden bookshelves and every single one has precious books on display that date anywhere from 1501 to 1850.
Although you cannot read or touch the books, many of the highlights are displayed in cases so you can take a closer look. Some have stunning hand-scripted text and illustrations.
I really did feel like I had entered a fairytale library like the one the Beast gifts Belle. I could have spent hours here admiring everything.
Everywhere you looked there was a breathtaking detail or artefact to discover. The antique globes were also very beautiful, I especially loved the celestial one with images of the zodiac.
There are also some 'hidden passageways' behind the bookshelves. You may be lucky enough to spot one of the staff walking through them on your visit.
How long do you need to visit?
I would recommend leaving at least one hour to explore this wonderful library. There is so much to see and learn from the exhibitions.
Also, you should take into account that this is one of the most popular attractions in Vienna and it does get very busy.
I would visit for opening time for a quieter experience or an hour before closing time as there are far fewer crowds.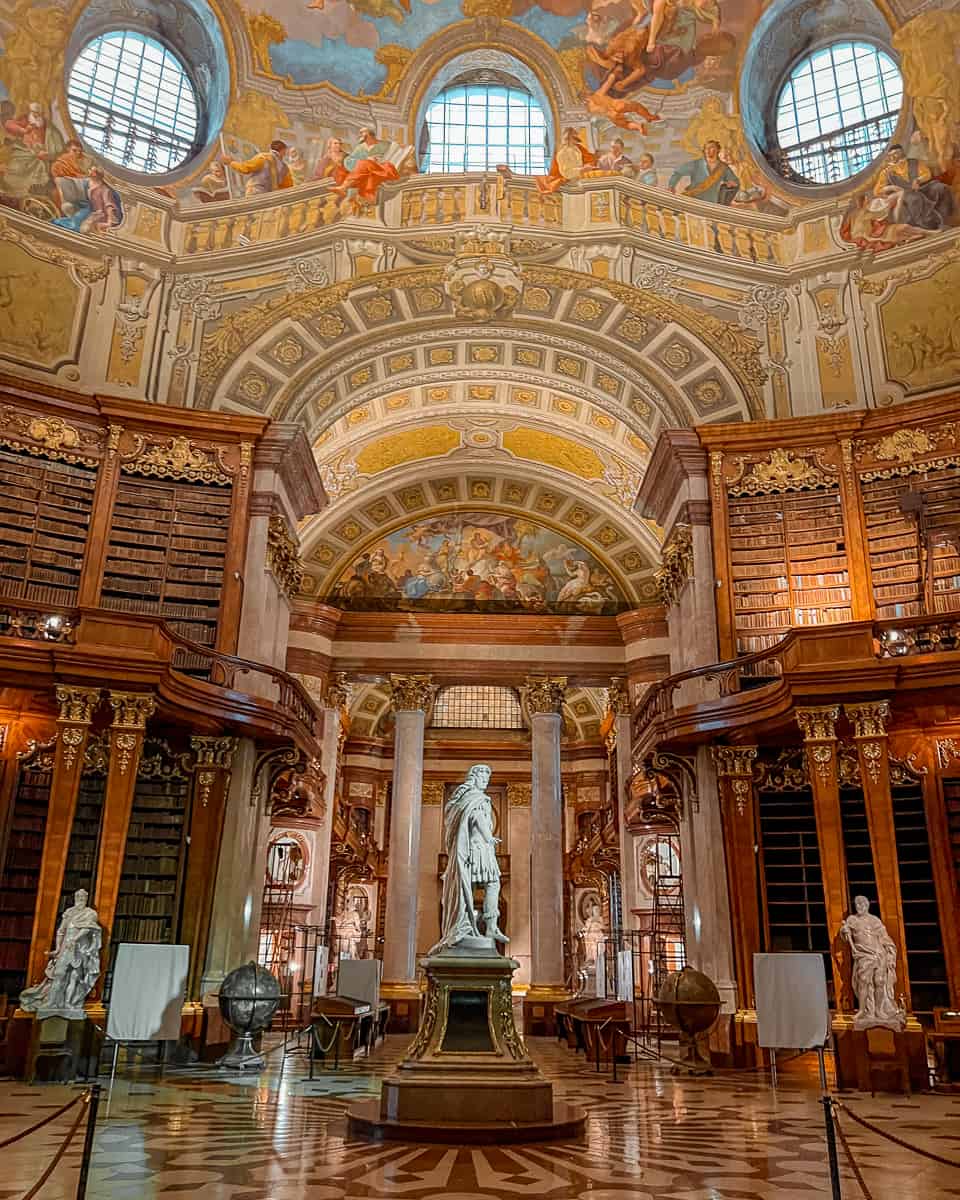 What books are in the Austrian National Library?
There are over 12 million volumes and items in the archives. The oldest book they own is the Holy Gospels commissioned by Duke Albrecht III in 1368.
Other highlights include several literary treasures such as the Vienna Dioscurides, Theatrum Orbis Terrarum and Harmonia Macrocosmica.
There are also lots of incunabula, maps, papyrus collections, globes, music and manuscripts. Many of these are on display in their museums for you to see.
The extensive archives are made up of Habsburg collections, purchases from famous libraries, large donations by the Austrian bourgeoisie and book fairs.
Is the Austrian National Library worth visiting?
Yes, this is easily one of the most beautiful library rooms in the world and the architecture is outstanding.
As an avid reader and lover of fairytales, this magical book trove was a highlight of my visit to Vienna.
Although you can't read any of the books inside, just walking amongst the tomes was a dream come true. Especially for bibliophiles.
Don't skip a visit to the Austrian National Library State Hall in Vienna. It's truly a literary feast for the senses.
My top photography tips
In recent years, this magical State Hall has gone viral from the likes of Instagram and TikTok and so it's very popular with tourists.
It's easy to see why as the architecture is stunning and makes a great photo opportunity. It feels like you've stepped into Hogwarts Library.
But, because it sees so many crowds it's always best to visit the library straight away at opening time.
I visited for closing time around 5 pm and it was quite quiet. At the very end when we were ushered out I managed to get some great empty photos but, on reflection, I wished I had gone at opening time.
At the time of writing, the library is undergoing a renovation. So, many of the books have been taken away for cleaning and there is some scaffolding.
It's also very dark inside with limited lighting to protect the books so bump up the ISO. Luckily, iPhones have amazing low-light settings these days.
Just a little heads up, for some ridiculous reason the library was shining a garish green light on the central statue which was quite frankly hideous. Why not a white light like the rest?
It was hard to ignore and caused a terrible glare. I was able to get rid of the green tones by colour-grading these images in Lightroom but it was bad. Hopefully, this won't happen to you.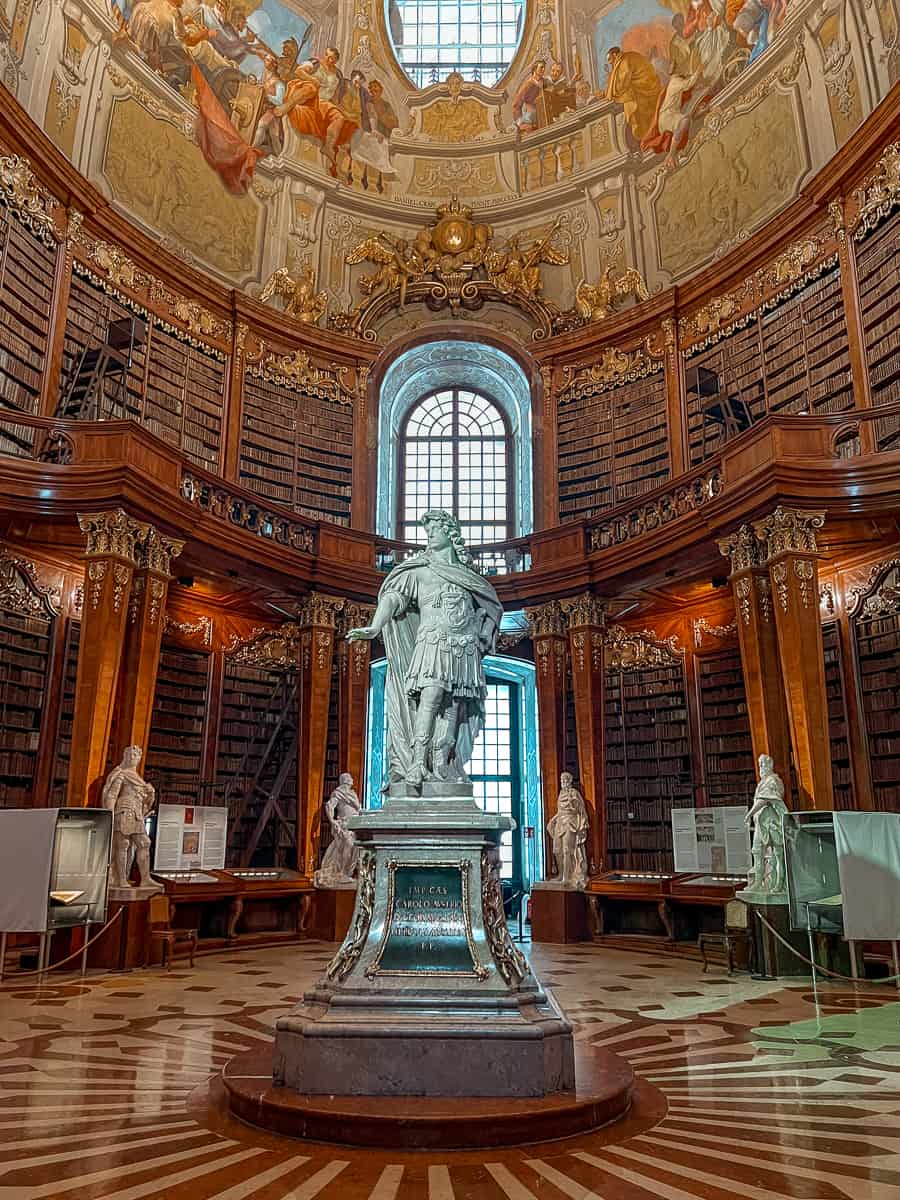 Where is the Austrian National Library in Vienna?
The Austrian National Library is part of Neue Burg Wing of the Hofburg Palace and is a huge complex that takes up many buildings.
But, the entrance to the State Hall museum can be found next to the Spanish Riding School on Josephplatz. Click here for a Google Pin.
It's best to use a mix of the U-Bahn subway and walking in Vienna to explore the city.
The nearest metro station is Herrengasse on U3 (orange) or Stephansplatz on the U1 (red). Or there are trams and buses.
If you have a Vienna pass, you can use the Hop-On-Hop-Off sightseeing bus to get around the attractions.
Once you enter the building, you'll find the State Hall of the library on the top floor. There are toilets and bag lockers halfway up the grand staircase.
You can purchase tickets on the day at the ticket counter or, if you have a Vienna Pass, you just skip the queue and head straight up the stairs to the entrance. Here, the staff will scan your pass.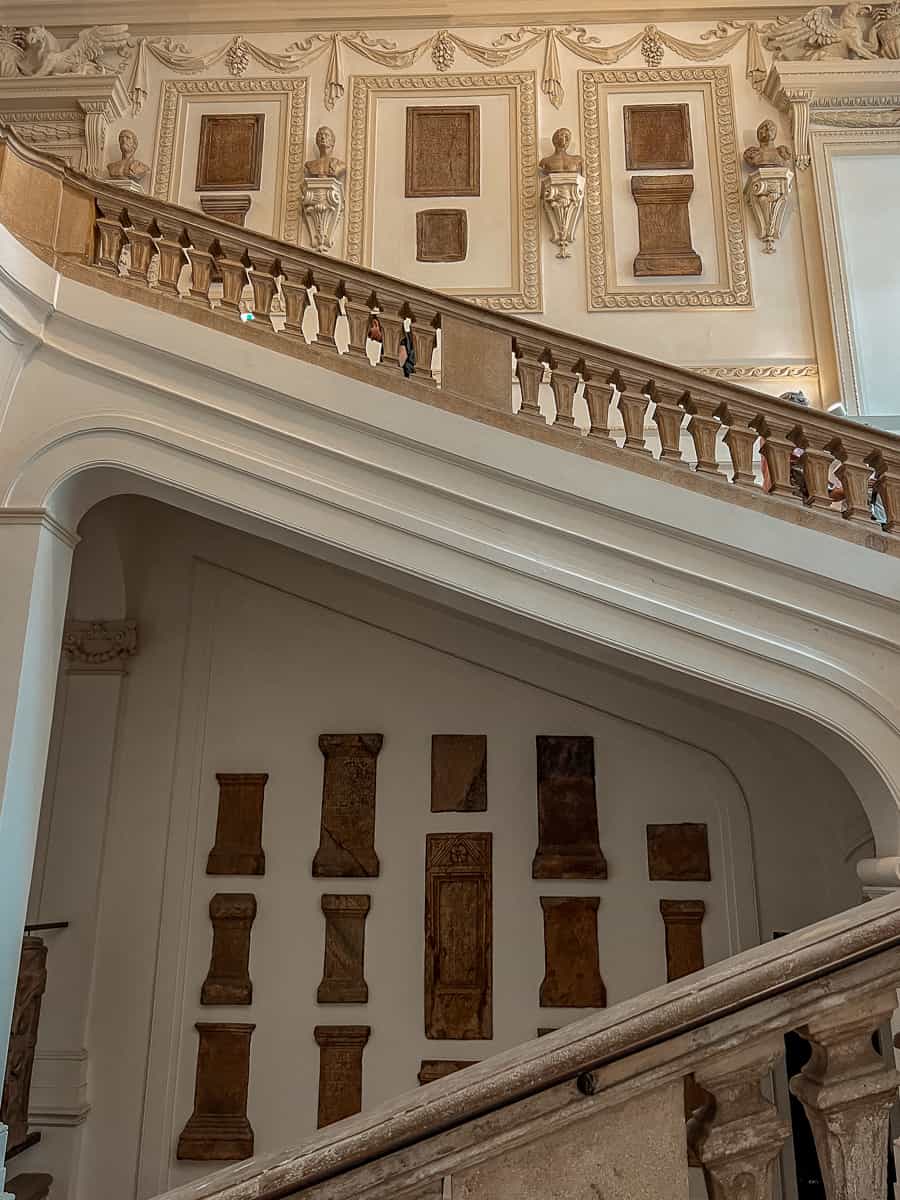 Austrian National Library ticket prices
If you want to visit this magical Baroque book trove in Vienna, then you will need to buy a ticket as it's a museum.
Austrian National Library State Hall ticket prices are 10 euros per adult but under 19s get in for free. There are also group and family discounts available. You pay a little extra for an audio guide.
Entry to the State Hall is free for those with a Vienna pass or you get 20% off with a Vienna City Card.
If you want to use the reading rooms at the library you can buy a day ticket for 3.50 euros.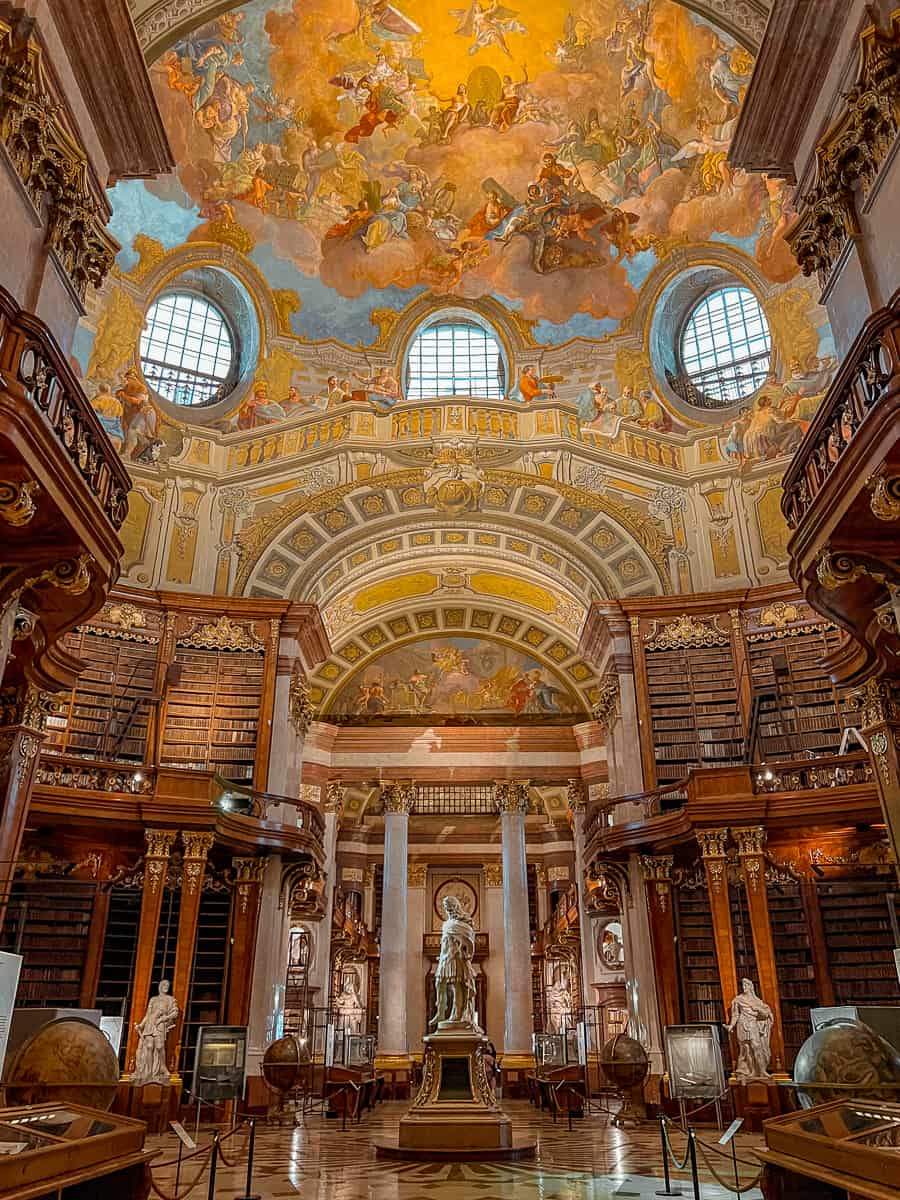 State Hall opening times
Opening times for the State Hall of the Austrian National Library are 10 am – 6 pm from Friday to Wednesday and it's open until 9 pm on Thursdays.
The library is completely closed on Mondays like many of Vienna's museums. They also may close for public holidays.
It's always best to plan ahead by looking at their website.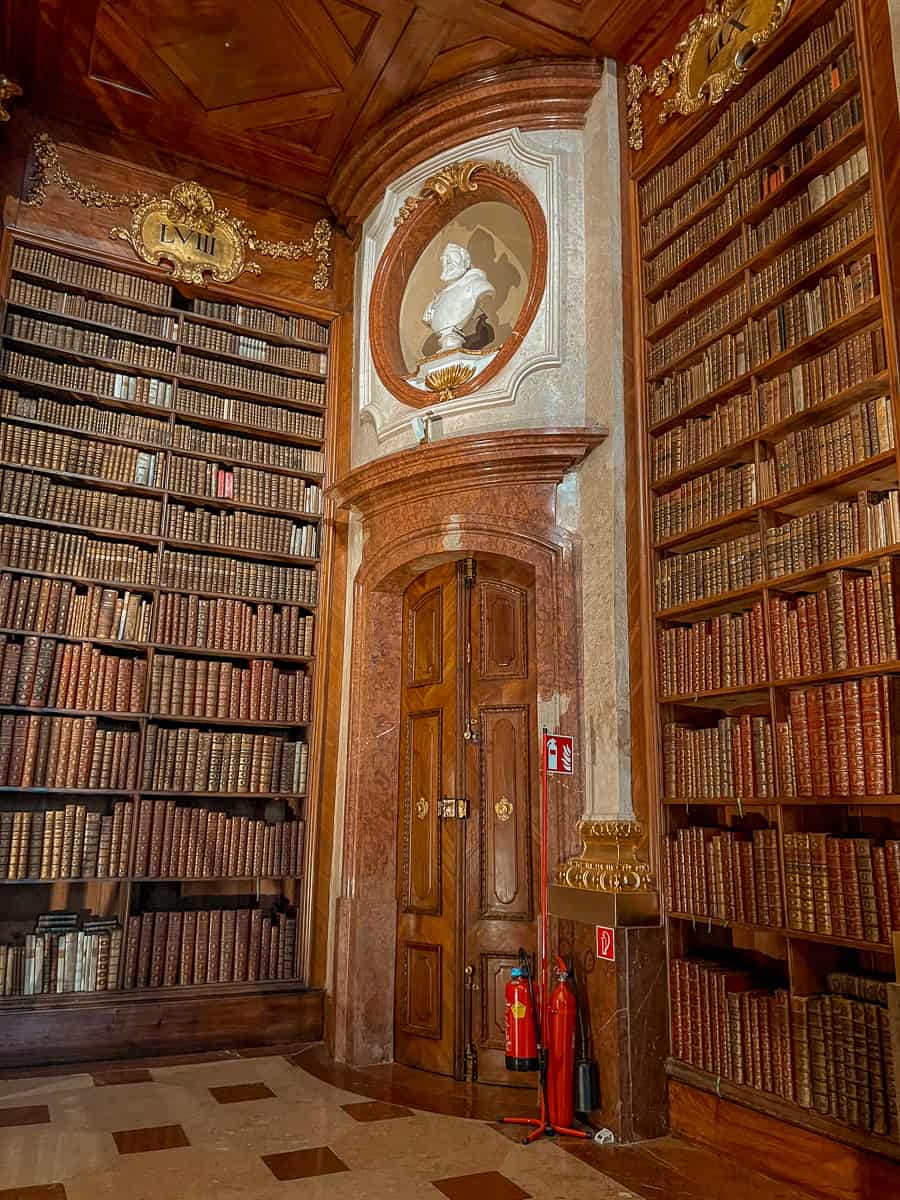 Guided tours of the library
When you pay to visit the State Hall, you will be visiting self-guided but there are guided tours you can book.
They take place every Thursday at 6 pm and Sundays at 3 pm but they only run in German. They cost 4.50 euros plus the standard admission price.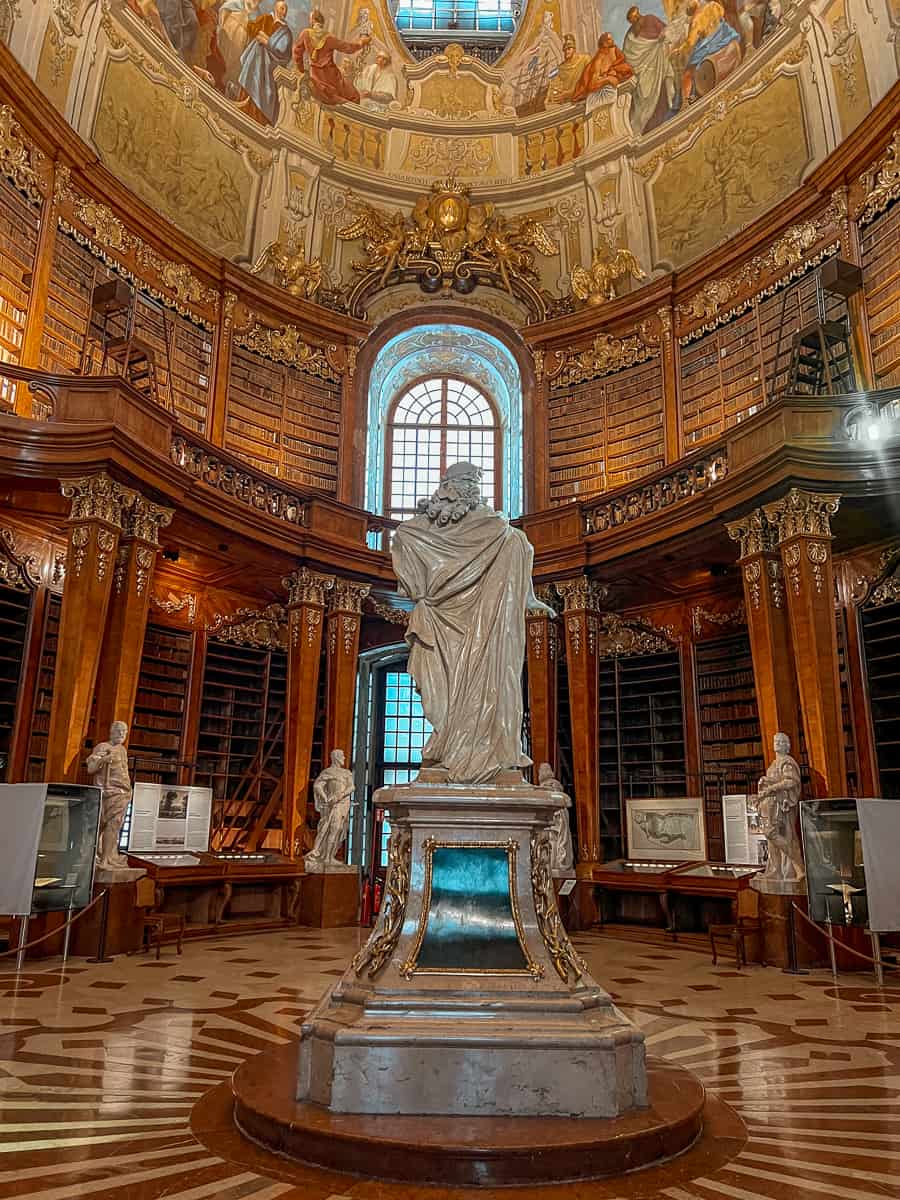 One of the most impressive reading rooms at the National Library of Austria is the Augustinian Reading Room. This is the former library hall of the Augustinian monastery.
It is stunning and has ornate frescoes by Johann Baptist Wenzel on the ceiling. Unfortunately, you don't get access to this room on a tour of the library State Hall.
However, they do run guided tours to see it. These tours only run on the second Wednesday of the month at 4 pm (also only in German).
But, it would be well worth doing if your holiday dates happen to coincide. As it's the most exclusive room at the library it isn't easily accessible without attending a wedding or private event.
Discover even more museums in the library
Beyond the spectacular State Hall, the National Library of Austria has more museums to visit.
They have several permanent exhibitions including the Literature Museum, Papyrus Museum, Globe Museum, Esperanto Museum and the House of Austrian History.
Plus, they have many temporary exhibitions that happen here throughout the year. Honestly, you could spend weeks at this library and not see everything.
All of them have their own individual opening times and ticket prices. You can find more information here.
Things to do in Hofburg Palace
The Imperial Palace of Vienna aka the Hofburg Palace is one of the largest palace complexes in Europe and used to be home to the powerful Habsburg Dynasty.
The palace isn't one big museum, it's actually split up and contains many separate attractions inside the annexes.
You can visit the Imperial Apartments, Spanish Riding School, Silver Collection, Imperial Treasury and many other exhibits.
My personal favourite was the Sisi Museum where you can learn more about the famous Empress of Austria, the wife of Emperor Franz Joseph I.
The exhibition has many of her belongings on display as well as immersive storytelling about this often misunderstood monarch.
After, you'll take a stroll through the Imperial Apartments to see where the royal family used to live, relax and work in the palace.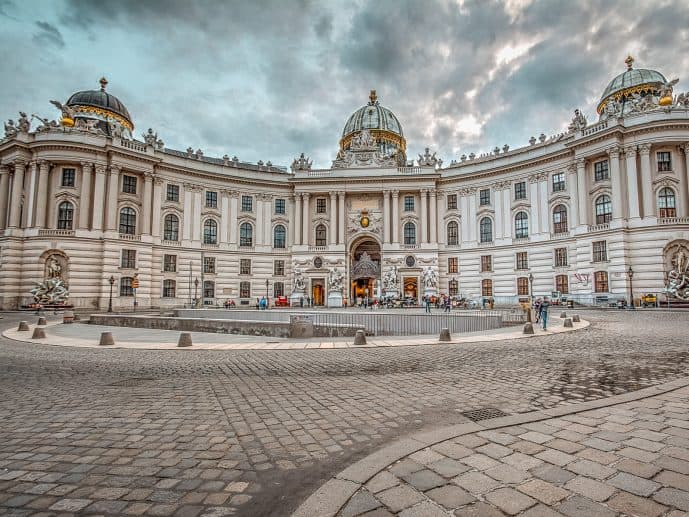 Where to eat near Hofburg Palace in Vienna
So, after you've visited the Austrian National Library and the Hofburg Palace, you may want to take a break and grab something to eat.
I would personally recommend visiting the famous Café Demel which is just opposite the main courtyard entrance on Michaelerplatz.
It's a gorgeous traditional coffee house established in 1786. Demel used to provide sweets to Franz Joseph's court including the violets that Sisi loved so much.
You can visit Demel for a casual coffee on the bottom floor, or head up to the upper floors to have lunch or afternoon tea in their ornate dining rooms. This is what I did and it was so luxurious.
One of the things they are known for is the popular Austrian dessert of Kaiserschmarrn. It's a fluffy pancake with rum-soaked raisins and it goes perfectly with a Viennese coffee.
Like all the famous coffee houses in Vienna, if you don't have a reservation you will have to queue. But, queues go quite quickly and it's always worth the wait.
Before you leave, make sure to browse their confectionary counters. They have all sorts of pastries, cakes and sweets to take away including chocolate-covered strawberries!
Why not purchase The Vienna Pass?
Unlike other European cities, Vienna charges for all their museums and there are no free entry days throughout the month.
So, visiting all this Imperial history can cost a small fortune. That's why I would consider purchasing The Vienna Pass for your visit.
I've bought city cards before in cities like Paris and barely broken even. But, the Vienna Card was well worth the money.
My three-day pass cost 137 euros but if I added up all the attractions and museums I visited in Vienna it would have surpassed 300 euros!
You can either order a physical pass or you can have it on your phone with a QR code. It was so easy and I got to skip many of the long attraction lines too.
The National Library of Austria is included in the Vienna Pass as well as many of the other museums in the Imperial Palace.
Of course, you should always do your own math before purchasing as your interests may differ from mine. But, for all I wanted to see and do in Vienna, I thought it was a great deal.
You can purchase your Vienna Pass here
Austrian National Library FAQs
Can you read in the Austrian National Library? Yes, you can read the books from the library but not in the State Hall as the precious books are antiquities and part of a museum. However, you can pay to use the reading rooms and make use of their archives. They sell daily tickets.
How many books are in the Austrian National Library? It has over 12 million books and artefacts making it the largest in Austria.
Read more of my Austria travel guides
Café Sacher Vienna review – trying the famous Original Sachertorte
Discover the hidden gem of Justizpalast Vienna
Café Central Vienna review – is it worth it?
Admont Abbey Library a real-life fairytale in Austria
Save how to visit the Austrian National Library for later!