If you're looking for a hidden gem in Paris, then you must visit Avenue de Camoens as it has a spectacular view of the Eiffel Tower in the backdrop.
Many people visit Trocadéro Esplanade but this can be really crowded and, unless you're up at sunrise, it takes a long time to get photographs without people in them.
Fortunately, Avenue de Camoens is located a short walk away from there and this stunning cobbled street sees a fraction of the crowds.
So, you can get some great photos with minimal effort at any time of the day or at night.
Here is a complete guide on how to visit including photography locations and what to expect!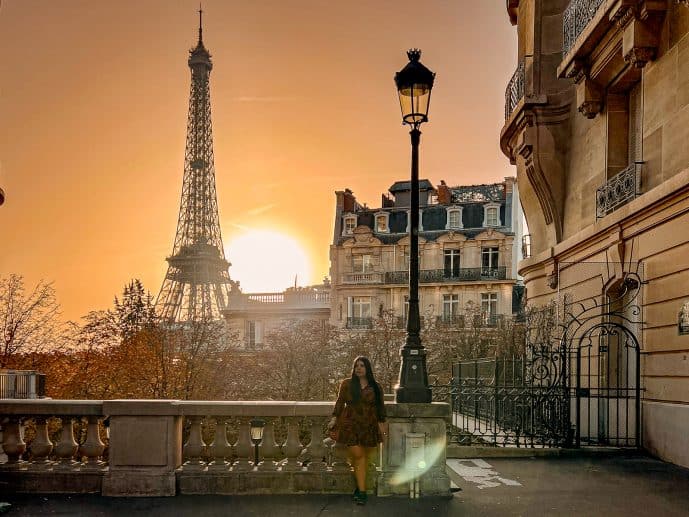 Avenue de Camoens history
Avenue de Camoens is a dead-end public road that is one of the shortest avenues in Paris at 115 metres long.
Originally, the land of this area belonged to Count Armand and Count de La Rochefoucauld-Bayers. However, it became a residential area and public street in 1904.
The avenue takes its name from the famous 16th-century Portuguese poet Luis de Camões (Camoens).
There is a large marble memorial dedicated to him at the bottom of the double staircase leading to Boulevard Delessert.
Many of the buildings here were designed by famous architects such as Henri Duray who won a facade competition in 1909 for his work.
Also, famous residents of Avenue de Camoens include Saint-John Perse, who won a Nobel Prize for Literature in 1960.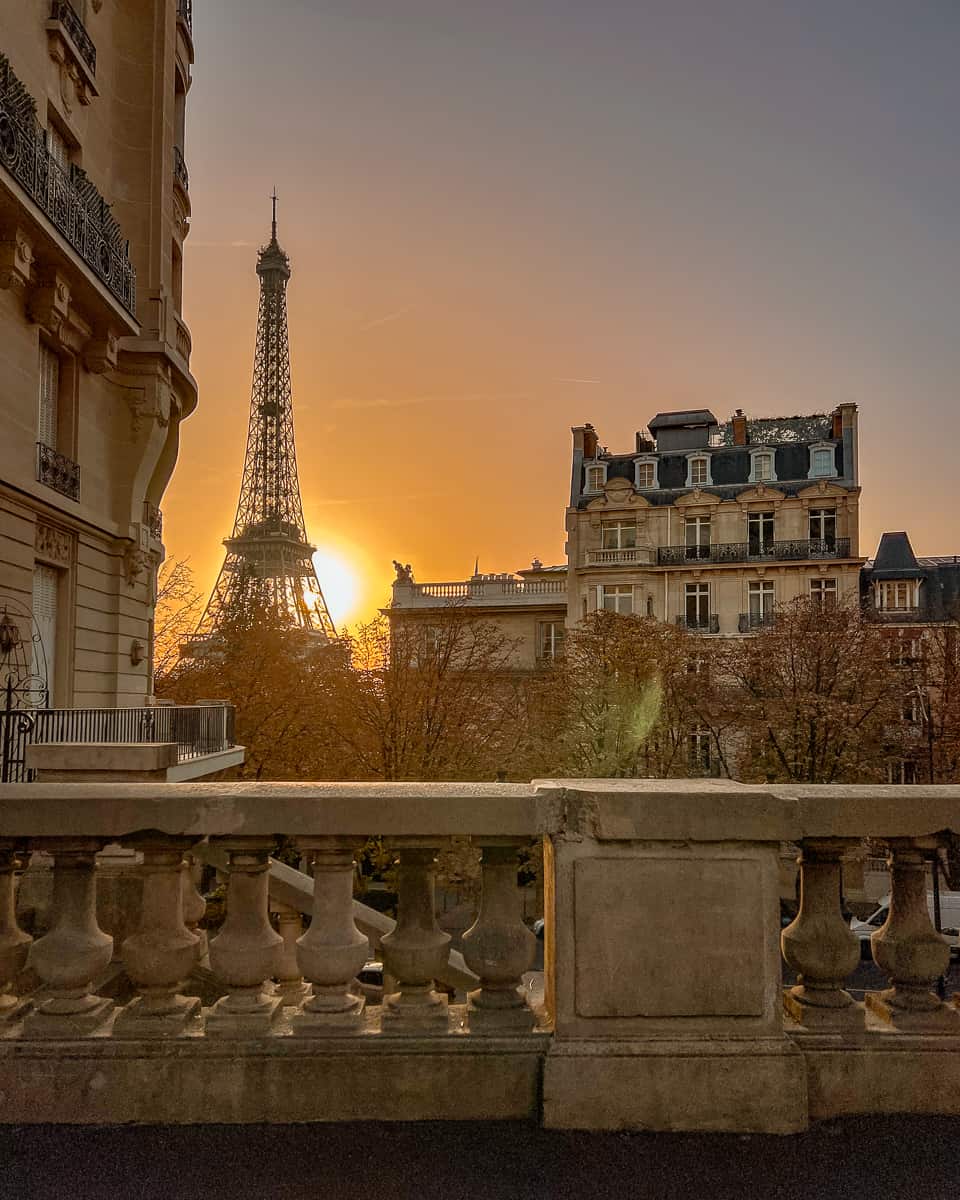 What is so special about Avenue de Camoens?
Today, this pedestrianised avenue is special in Paris because of the stunning views it has of the Eiffel Tower.
Although it's just a five-minute walk from Trocadéro Gardens, this pretty street sees far fewer crowds making it a far more enjoyable experience.
Instead of lots of people and vendors trying to sell you things, you can stroll down a quaint cobbled lane with a spectacular view of the Eiffel Tower that looks like it's part of a movie set.
Is this the best Eiffel Tower view in Paris?
There are countless views of the Eiffel Tower in Paris and potentially hundreds of places to take photographs with this iconic monument in the background.
But, I do believe that Avenue de Camoens is by far one of the best views and photography locations in the city.
The entire street looks like you've stepped back in time to the Belle Époque. It has cobbles, oil lamps and quintessential Parisian buildings.
It's also a place that doesn't require you to be up before dawn to capture without people. So, that's always a plus in my books.
How to visit Avenue de Camoens in Paris
If you want to visit Avenue de Camoens, you'll find it in the 16th Arrondissement in Paris.
It's always best to use a mix of the metro and walking to explore the city and the nearest metro stops are Passy (Metro 6) and Trocadero (Metro 6 and Metro 9).
Fun fact, if you're heading here on Metro 6 from areas like Bercy and Montparnasse, you may get to see a view of the Eiffel Tower on your commute over here.
Another benefit is that you're a 10-minute walk from the famous Trocadéro Gardens & Esplanade. So, you can visit both locations very easily.
Click here for a Google Pin for Avenue de Camoens
When is the best time to visit?
Avenue de Camoens is a bit of a hidden gem in Paris to the regular visitor, however, it's no secret to photographers.
Although you can visit here any time of day and find it quiet, you can definitely expect to be joined by other photographers and content creators.
I still think it's best to go in the early morning. This way you can (hopefully) have this photography location to yourself and the best lighting.
On my visit in Autumn, it was SO sunny first thing, and it was a struggle to get photos without glare. In the end, I just went with it but it wasn't ideal.
Alternatively, sunset may be a good time as then you can stick around and wait for the Eiffel Tower to light up and sparkle.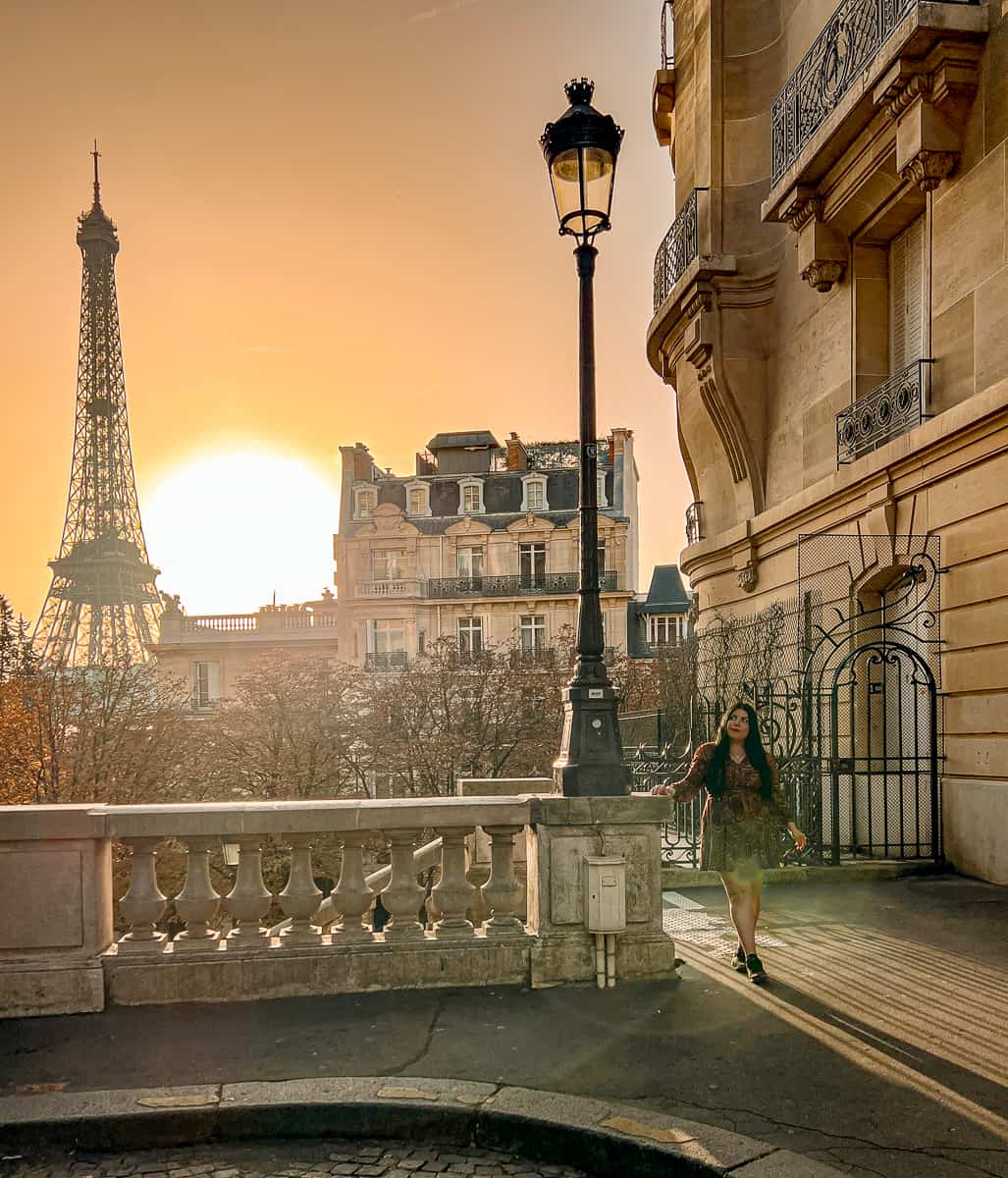 Opening times and prices
Avenue de Camoens is a public avenue and street, so you can visit it 24 hours a day for photos.
It's also completely free to visit which makes it a great budget photography location in Paris.
Avenue de Camoens photography locations
There are many Avenue de Camoens photography locations here beyond the obvious one on the street side. So, don't panic if it's crowded.
If you head down the steps, you'll find a great view of the Eiffel Tower from the staircase along with the buildings and streets below.
I particularly loved the bottom of the stairs too. If you turn around you'll see a fabulous statue of Luis de Cameons.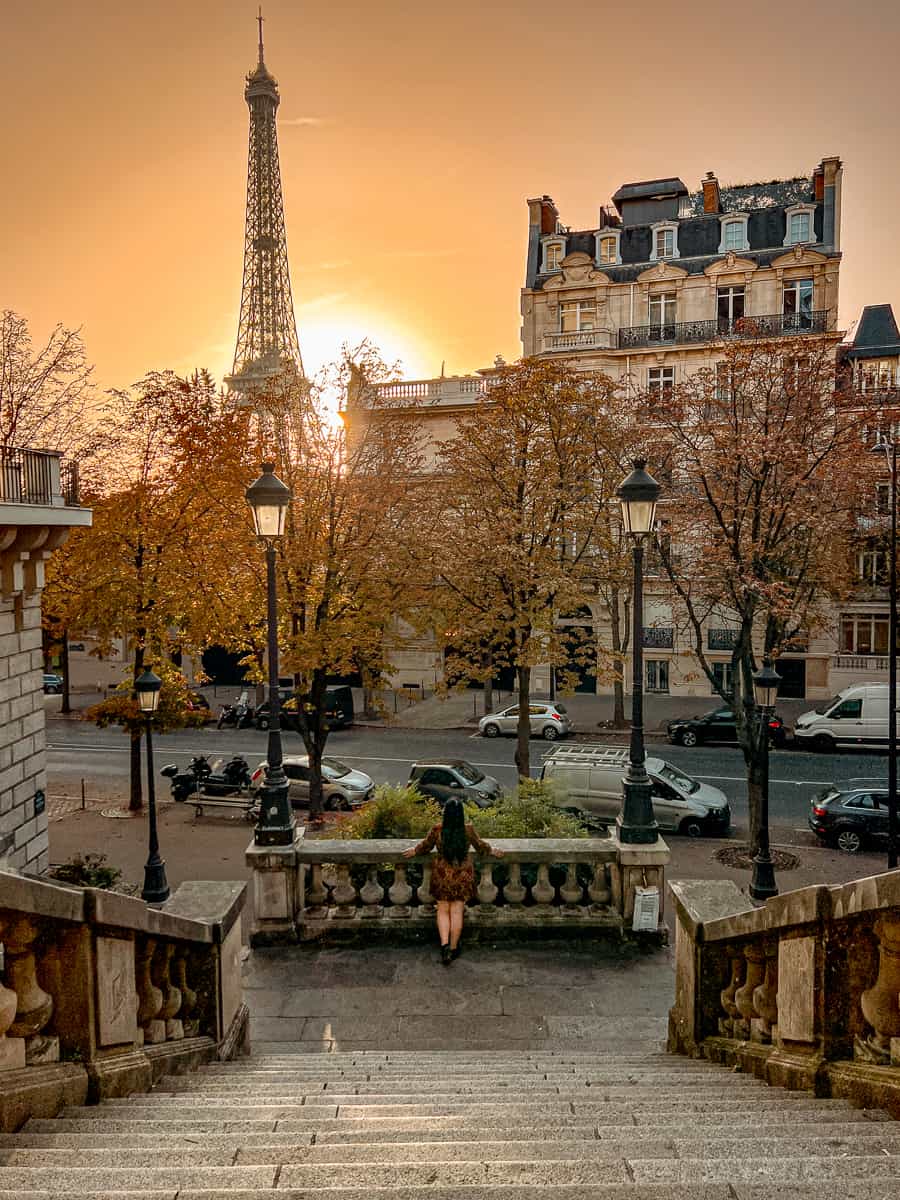 Luis de Camoens statue
Luis de Camoens is who this street is named after and there is a wonderful monument of him down the bottom of the mirrored staircase facing Boulevard Delessert.
Luís Vaz de Camões is considered to be Portugal's greatest poet. He is often compared to contemporaries such as Shakespeare and Molière.
He was born in Lisbon and died there in 1580, as far as I'm away he never visited Paris. So, why is there a statue of him here?
Well, the Society of Portuguese Studies created a bust of Luis de Camões in 1912 and inaugurated it here with huge fanfare. But, less than a year later it mysteriously disappeared.
The culprit was never found and the statue was never recovered but it is believed that a resident of Avenue de Camoens removed it as it was 'unsightly'.
A gorgeous replacement was sculpted by Clara Menerès decades later and erected in 1987. It is beautifully carved out of pink marble and people sometimes leave flowers for him.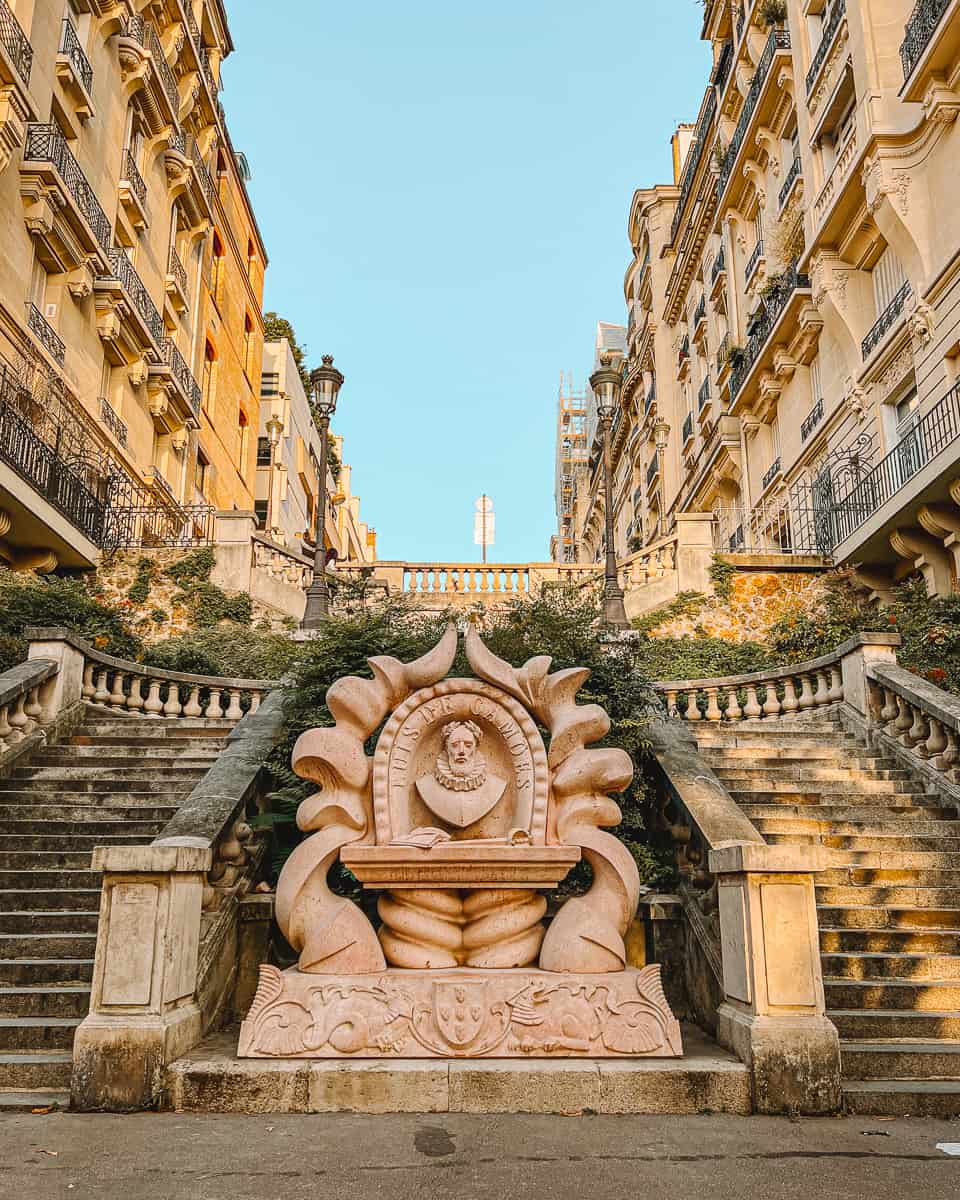 The Eiffel Tower sparkle show
The Eiffel Tower sparkle is one of my favourite things to see in Paris at night time and there are plenty of locations around the city where you can watch the show.
Trocadéro Esplanade is usually the preferred place for many as it's a great view. But, it's super crowded and rife with pickpockets.
I think that coming to this avenue may be a nicer experience as there is room to breathe and you could even sip on a glass of wine.
You could get also some lovely photos and videos with the glittering Eiffel Tower in the backdrop without the fuss of queuing for hours on Pont d'lena.
My top tips for visiting Avenue de Camoens
Be respectful of residents – this is a residential neighbourhood and so you should be respectful of those living here.
Visit early – it's best to visit this photography location at sunrise or earlier in the day for fewer people. Paris 'hidden gems' are rarely actually hidden or secret.
Be safe – so many people climb and stand on the walls here but I would be really careful!
Work around all the photography going on – there were around 4 separate photoshoots going on at all times and it was a bit of a circus. It was exhausting to work out who was taking photos where, if you were in their way, and/or when they were done. But, be patient, wait your turn and you'll get there eventually.
Don't litter – I saw so much rubbish here on the floor despite there being a bin. Dispose of your trash responsibly. No one likes a litter bug.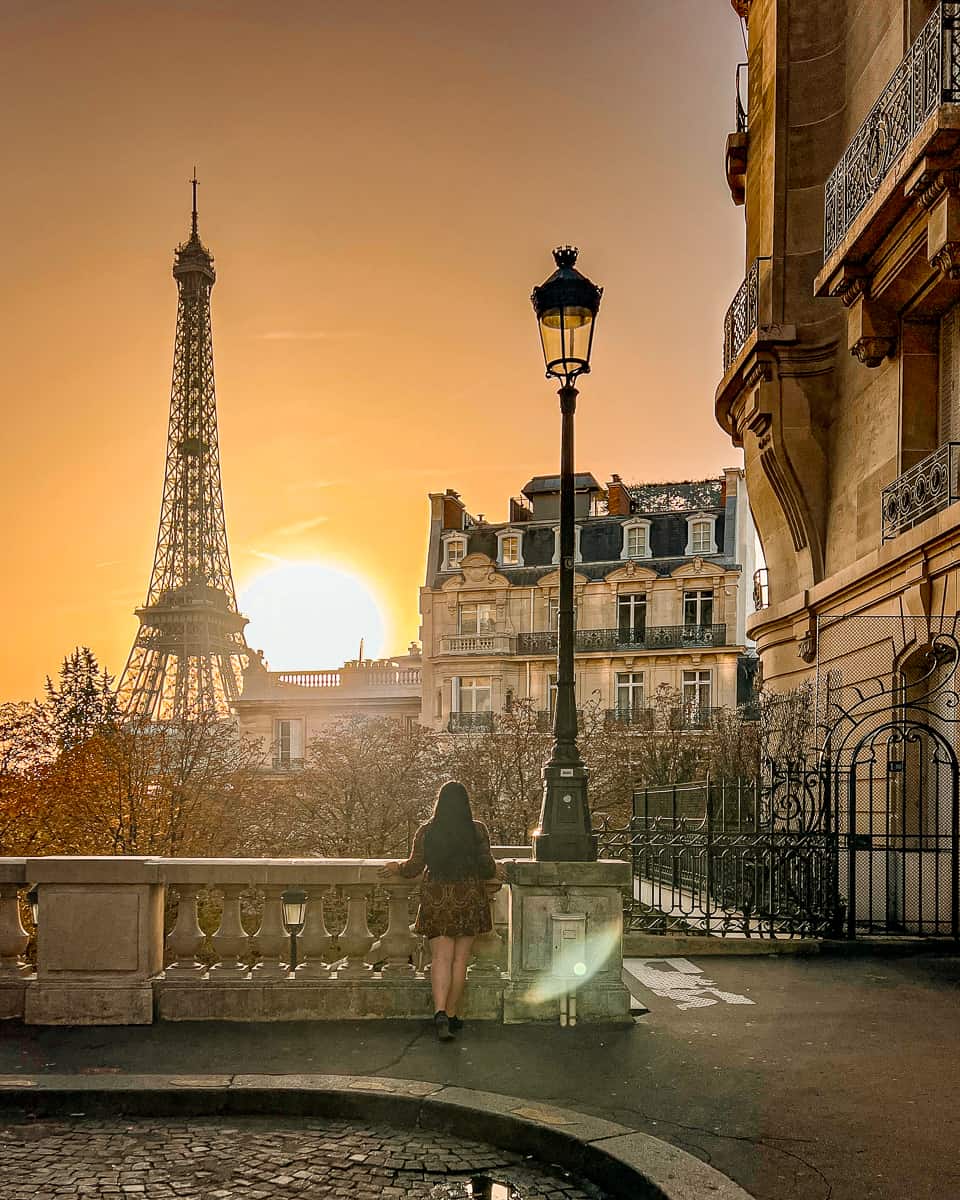 Looking for more Eiffel Tower views in Paris?
There are plenty of incredible Eiffel Tower viewpoints and photography locations in Paris worth visiting.
Despite it being ridiculously crowded, Trocadéro is still the very best photography location of them all.
You also have plenty of pretty views from surrounding areas like Champ de Mars, Pont d'Lena Bridge, and Passerelle Debilly.
There are popular attractions with an Eiffel Tower view like the top of the Arc De Triomphe, Notre Dame Cathedral's upper floors, and Montnarpasse Tower.
Also, many streets have the Eiffel Tower in the backdrop such as Rue de L'Université, Square Rapp, Avenue de New York, and Rue Saint-Dominique.
Pont de Bir Hakeim is another incredible viewpoint as well as the spectacular ornate Pont Alexandre III Bridge!
Avenue de Camoens FAQs
Which arrondissement is Avenue de Camoens? It's in the 16th Arrondissement of Paris near the Eiffel Tower.
What is the nearest metro station to Avenue de Camoens? The nearest underground station is Passy which services Metro Line 6. If you take a train heading to Bercy or Montnarpasse you will see views of the Eiffel Tower from the train window!
Read more of my Paris travel guides
Le Train Bleu restaurant review – is it worth it?
Is Starbucks Opera the prettiest Starbucks in the world?
Why you must visit Saint-Chapelle – the Jewel Box church
How to get an empty Versailles Hall of Mirrors Photo
A complete Pink Mamma Paris review – is it worth it?
Visit the Medici Fountain in Jardin de Luxembourg
How to visit Marie Antoinette's Queen's Hamlet in Versailles
How to visit Merlin's Camelot Castle aka Chateau de Pierrefonds
50+ Instagrammable places at Disneyland Paris
25+ Things to do in Disney Village Paris
Don't miss the Disneyland Paris Dragon
Captain Jack's Restaurant Review
How to eat at Bistrot Chez Remy Ratatouille Restaurant
How to find Jim Morrison's Grave at Pere Lachaise Cemetery
Save Avenue de Camoens Paris for later!