If you're a book lover then you have to visit the B2 Hotel Wine Library in Zurich Switzerland. It acts as a bar, restaurant, co-working and meeting space.
You can indulge in a coffee or a glass of wine while you are surrounded by 33,000 volumes of books!
It's the perfect place to visit in Zurich once the sun goes down or you can stay in their boutique hotel to have 24-hour access.
As a huge reader and lover of libraries, I decided to stay overnight here and I adored this cosy book space. The shelves were so high, it felt like walking through the library in Beauty and the Beast.
You are surrounded by books, sitting under original Hürlimann beer bottle chandeliers and you can even climb on their book ladder.
Here is why you must visit the B2 Hotel Wine Library, a hidden gem in Zurich Switzerland!
What is the B2 Hotel Wine Library?
The B2 Wine Bar is an open-plan library tucked away in the B2 Boutique Hotel in the Enge district of Zurich.
The library holds 33,000 books, is lit by original Hürlimann beer bottle chandeliers and has cosy chairs and tables where patrons can relax with a glass of wine.
It's the perfect place to relax for bibliophiles and you will be in awe of the towers of tomes.
It acts as a restaurant, café, meeting and co-working space. So, there's a reason for everyone to visit!
B2 Hotel Zurich history
The B2 Boutique Hotel has an interesting story to tell as it used to be one of the largest breweries in Switzerland once upon a time.
The building was constructed on a plot of old farmland in Zurich's Enge district in 1867. It had a unique refrigeration system which was a pioneer for its time.
Albert Hürlimann brewed Hürlimann beer in this factory and it soon became a household name in Zurich. By 1888, it was the largest brewery in the country.
In 1996, the Hürlimann brand stopped brewing in the city and merged with the Feldschlösschen brewery in Aargau.
The building was then abandoned and so a competition was held to design a new one. The rest, they say, is history and the B2 Boutique Hotel & Spa was born.
Today, it is one of the top hotels in Zurich with an open-plan wine library, 60 modern rooms and a natural thermal spa.
Exploring the B2 Wine Library
As soon as you enter the B2 Boutique Hotel you'll be immersed in their wine library with cosy armchairs and sofas.
It has dark wood shelves filled with tomes and they almost reach the top of the ceilings. Like a cathedral of bookshelves.
There are tables where you can relax and pick up a good book to read while you're here. Plus, you can have a glass of wine or coffee to accompany you.
I loved climbing their book ladder which will help you access hard-to-reach books! Although I visit libraries a lot, it's a rare treat to climb up a book ladder so I instantly took the opportunity.
There are so many vintage books to be found here and not all are in German. It's worth browsing the shelves to see if something takes your fancy.
I did ask the staff how they manage to keep the very top books clean and they said that they clean them once per year!
They remove all the books, scrub them down, clean the shelves and then restack them back in their places.
They also assured me that they rotate the books around to give some of the higher ones some love too. In case you felt sorry for some of the out-of-reach books like me (why am I like this?)
Can non-hotel guests visit the B2 Wine Bar?
Yes, the great thing about the B2 Wine Bar is that it is open to the public and anyone can visit whether you're a hotel guest or not.
So, you can pop in anytime to enjoy food, coffee and a cake, tea, or some rare wines that they keep onsite!
It's a great place to visit in the evening in Zurich, especially if you're a book lover. You can enjoy a cocktail (or two) in their cosy setting amongst the thousands of books.
What do they serve at the B2 Hotel Wine Library?
The B2 Wine Bar serves up meals, snacks, coffee, tea and alcoholic drinks throughout the day. It's great if you wanted to catch up with friends or a partner. You could even take yourself on a solo date.
In the morning, they serve up a buffet breakfast. Although this is normally for hotel guests, non-guests are welcome to have breakfast as well at a cost.
During the day they have a menu called 'short stories' where you can indulge in a coffee, cocktail wine and/or one of their homemade cakes. I would recommend Babu's cheesecake which was divine.
For lunch, they serve up snacks in the form of small plates and tapas sharing dishes and they also serve up a dinner menu.
In the evening, they serve up an a la carte menu of prologue starters, chapter main courses and an epilogue of deserts!
How to visit the B2 Wine Library in Zurich
You can visit the B2 Wine Library in the B2 Boutique Hotel in Zurich, a large city in Northern Switzerland.
It's located in the Enge district near the Google offices. Although this is not centrally located, the B2 Hotel is only a short tram ride away from Zurich Central Station. You can alight at the Zurich Enge stop.
Or, if you would prefer, you could walk to the B2 wine library in around 25 minutes or so from Zurich HB.
If you're thinking of visiting by taxi, Zurich has Uber and I would recommend this as the metre taxis can be super expensive.
B2 Boutique Hotel + Spa address is Brandschenkestrasse 152, 8002 Zurich, Switzerland. Click here for a Google Pin!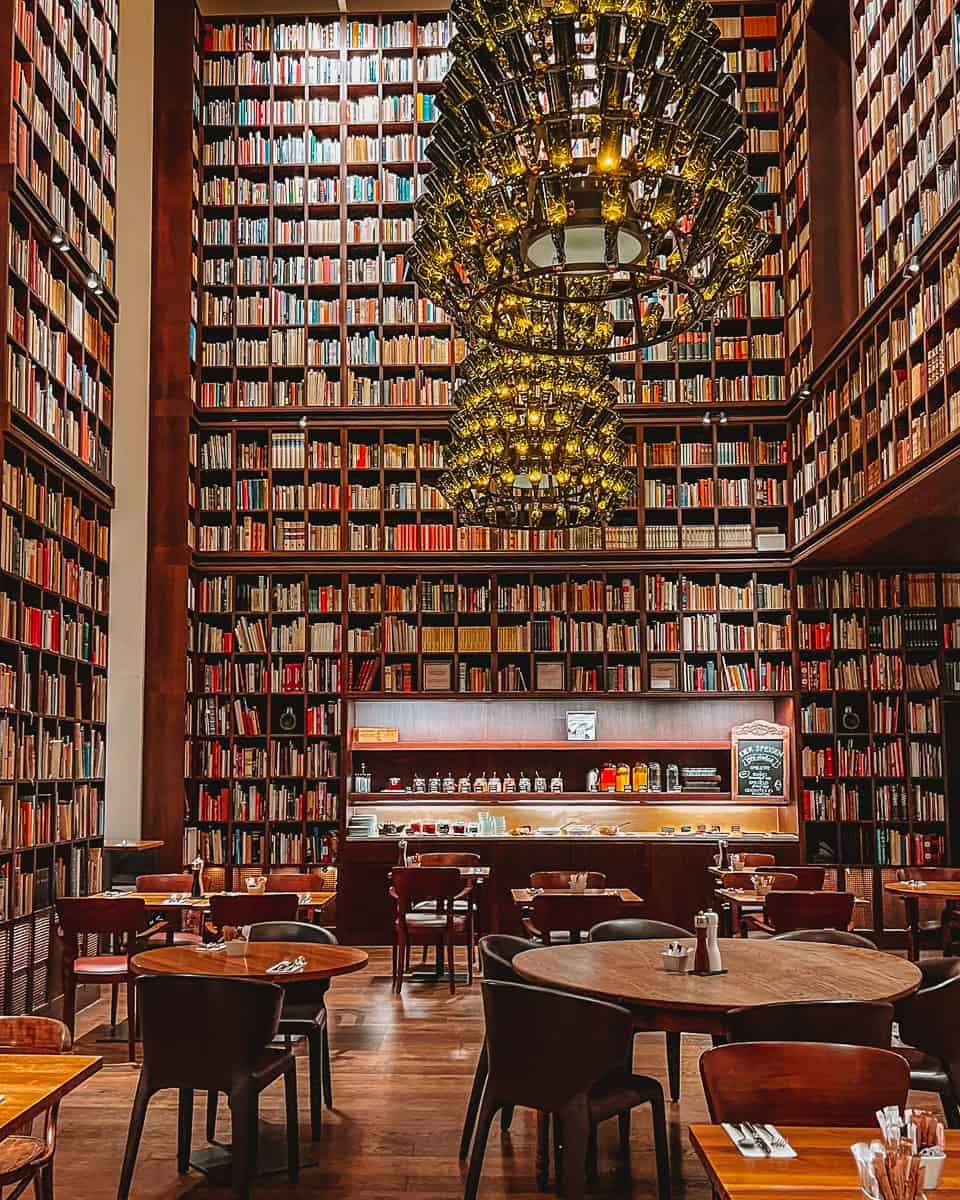 Why not stay at B2 Boutique Hotel?
As it was my last day in Switzerland, I decided to stay at the B2 Boutique Hotel to relax and make use of their wine library and spa.
Although it was in the centre of the city, it had incredible soundproofing and the beds were extra comfy.
In the morning when you wake up, you get to have breakfast from their buffet and dine amongst their thousands of books.
Then, when you're ready you can spend the day in the Hürlimannbad Spa on the top floor! As a hotel guest, you get an exclusive access route and it was perfect.
The staff here were SO friendly and it was the best way to end my trip to Switzerland. I would book to stay again in a heartbeat.
Click here to book your stay at the B2 Boutique Hotel Zurich!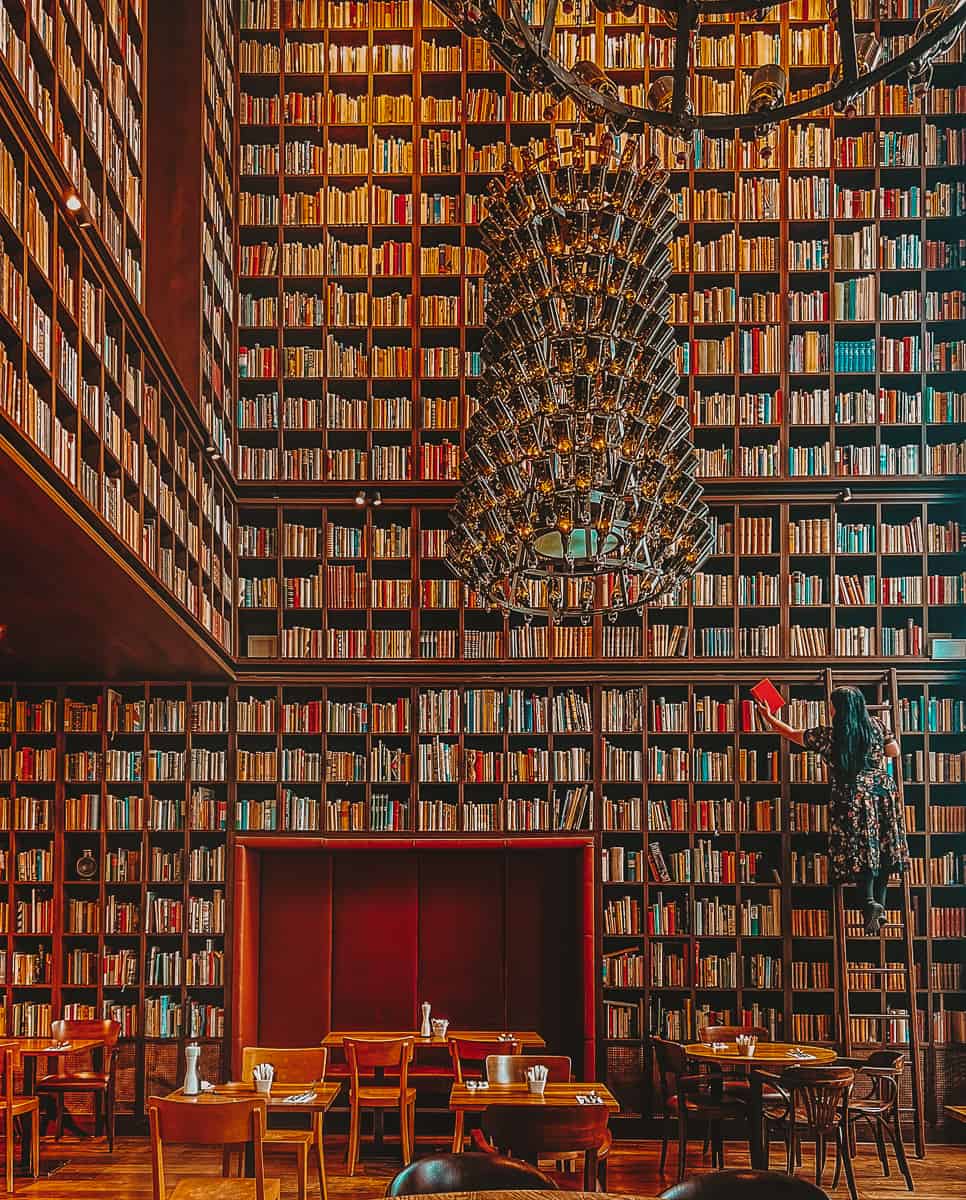 Zurich Hürlimannbad Spa
One of the best parts of staying at the B2 Boutique Hotel is the fact that they have the famous Zurich Hürlimannbad Spa on the top floor.
Not only does this have a heated infinity rooftop pool with a view of the city and mountain range but they also have an entire Roman-Irish spa ritual that you can indulge in as well.
This spa experience is a wellness route that includes 10 stations of steam rooms, exfoliating alcoves, hot pools, cold pools, meditation rooms and more.
It will help to reset you and make you feel relaxed. All the Roman decor and candles gave me Hades and Persephone vibes and it was the perfect ending to my holiday in the mountains.
Honestly, it was one of the best spa experiences I've done to date and I would highly recommend it.
You do have to pay to use the pool and spa as part of the hotel facilities. But, if you're a B2 Hotel guest you receive 50% off. So, you get to use the pool and ritual for 32.5 CHF instead of 65 CHF.
There is also a holistic café at the spa and a range of treatments and massages that you can book. These come with an additional cost.
Click here to find out more on the Hürlimannbad Spa website
Looking for more magical things to do in Zurich?
Zurich is a fabulous city that has many highlights to explore and I would recommend paying a visit to the Altstadt (Old Town) first.
You can stroll along the Limmat to see the historic buildings and you may spot a swan or two swimming by.
Here, you can find many famous churches like the Fraumunster, Grossmunster and St Peter's Church.
A great place to watch the world go by is to have a drink at Storchen Zürich. They have a riverside bar that provides amazing views of the Grossmunster. They have their very own riverboat port for hotel guests.
Take a stroll down the colourful street of Augustinergasse or end your day with a sunset view from Lindenhof Hill, it provides a great panorama of the city.
A hidden gem you may not know about is tucked away in the Zurich police station. The Giacometti Murals is a colourful vaulted ceiling. It's completely FREE to visit just remember to bring a form of ID.
Or, why not indulge in some Swiss chocolate? The Lindt Chocolate Factory is a popular thing to do here where you can learn how they make their tasty chocolate and you even get some samples as part of your visit.
Click here to read the best things to do in Zurich!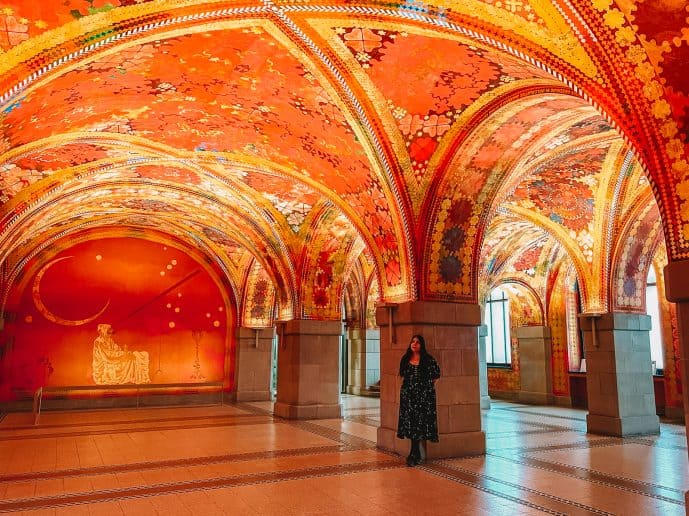 Read more of my Switzerland guides
20+ best things to do in Zermatt
Glacier Express Excellence Class Review – is it worth it?
How to find the best Zermatt Matterhorn viewpoint
Is Zermatt a real life Velaris from ACOTAR?
Heading up to Jungfraujoch – Top of Europe
How to see the Matterhorn in Zermatt
Männlichen to Kleine Scheidegg walking guide
The famous Kapellbrücke Bridge
A Sherlock Holmes guide for Meiringen
The best afternoon tea in Interlaken
A 007 guide for Schilthorn Piz Gloria!
Save the B2 Hotel Wine Library for later!