One of my favourite experiences on my trip to South Devon was a ride on the Babbacombe Cliff Railway to Oddicombe Beach.
Although we initially arrived in a hailstorm, the clouds parted ways and we were greeted with blue skies and even brighter turquoise waters. We had now truly arrived in the English Riviera!
This quaint and historic cliff lift will take you from the top of the cliffs at Babbacombe down to the peachy red Oddicombe sands that sit in a cove below.
It's a little hidden gem here in South Devon and if you're looking for hidden beaches to explore, this is definitely one I would add to your list!
Here's a complete Babbacombe Cliff Railway to Oddicombe Beach guide. With prices, times and things to do while you're here.
Babbacombe Cliff Railway history
The Babbacombe Cliff Railway has a history dating back to the Victorian era with some failed attempts to build it initially.
Both Sir George Newnes MP and George Croydon Marks worked together in 1890 to create a proposal and a design to build the Babbacombe cliff railway.
Unfortunately, Newnes would never see the railway built as he died in 1910. But, in their time Newnes and Marks built 3 cliff railways along the coast.
The Babbacombe Cliff Railway was finally opened in 1926 and cost over £15,000 to build.
The first person to ride the cliff railway was the Mayor of Torquay, Alderman John Taylor.
Apart from a brief closure during World War II, the Babbacombe Cliff Railway has been taking passengers up and down the cliff ever since!
Babbacombe Cliff Railway Trust today
One of the things I was most happy to hear was that this cliff railway was saved from closure by the local community.
The Friends of the Babbacombe Cliff Railway (FBCR) was set up in 2005 after the council threatened to close the railway as it needed significant investment.
They registered the company as a charity and now run the Cliff Railway as a not for profit enterprise. So, all your money to ride goes towards preserving this fantastic historic attraction!
They have bought the lease for 40 years and are just coming up to 10 years this year. So, there will be plenty more years to enjoy it.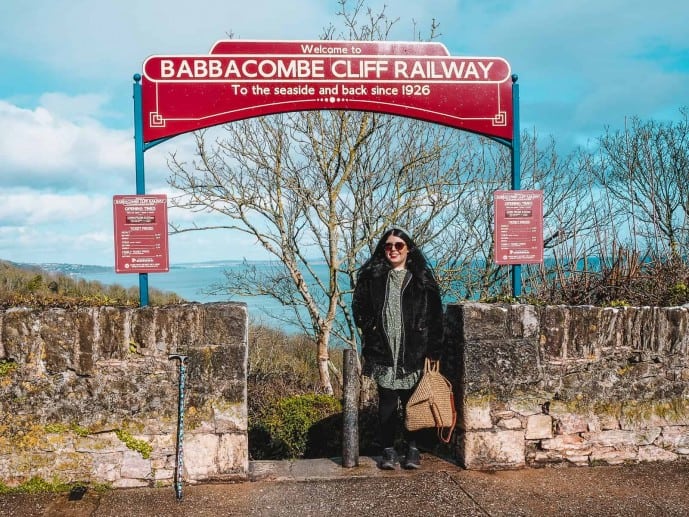 How much is the Babbacombe Cliff Railway to Oddicombe beach?
The tickets for this funicular are surprisingly cheap! You can buy a single or return, so it's perfect if you only wanted to walk one way down to the Oddicombe beach.
Adults: A single journey for adults is £2.10 and a return ticket is £2.90.
Children: For children over 2 years old, it's £1.70 a single and £2.10 return.
Family tickets: for 2 adults and 2 children is £9 return
Dogs tickets for Babbacombe Railway: Dogs are FREE to use the railway if kept on a lead and is at the discretion of the operator.
There are annual passes available if you were planning on using the railway more often!
Babbacombe Cliff Railway timings
The railway runs at regular intervals throughout the day and journeys take less than 5 minutes to get from Babbacombe Cliffs and Oddicombe Beach.
So, even on a busy day, you won't be waiting long, the carriages take quite a few people as well!
The Babbacombe Cliff Railway runs from 9 am – 4.45 pm and there will be two bell warnings to call for the last carriage of the day too.
The Babbacombe Cliff Railway is step-free with steep ramps to access the booths but enquire about accessibility onto the carriages with wheelchairs.
From what I saw there were ramps for wheelchairs but I am not an expert. It's always best to contact the company first to enquire before you visit.
What to expect on the journey from Babbacombe to Oddicombe
I wasn't really sure what to expect on this carriage ride really, but I have been on electric, steam and even water-powered funiculars in the past!
What I love about cliff railways is they are all so unique! As we bought our tickets, we didn't have to queue at all as it was low season!
The Cliff Railway doors are then opened by an operator with the vintage carriage sitting behind it.
This funicular only has one carriage and it's nice a spacious with big glass windows you can enjoy the views as you're heading down.
There are four individual seats in the carriage should you need to sit down or you can stand and hold onto the poles and handlebars inside.
As you make your way down the track, you'll see the other carriage making its way up with makes an amazing photo opportunity.
But, my favourite part had to be the incredible panoramic views. Your carriage will travel right down to Oddicombe cove.
So, you'll get breathtaking views of the blue sea, the edges of the jagged cliffs and beyond! Although it is brief, it really is a stunning journey and I enjoyed every second of it.
Things to do in Oddicombe Beach, Devon
So, now that you've made it down to the shores of Oddicombe Beach, what now?!
Well, although it is a tiny little hidden away spot in Devon, there are some incredible things to do in Oddicombe Beach to pass the time.
It's extremely popular with dog walkers and I loved stalking all the amazing puppies and different breeds here. The dogs were loving it too!
1. Explore the red beach at Oddicombe and take in the views
When I first arrived, I couldn't quite believe the bright red colour of the sand on the beach! But, when you look at the sandstone cliffs beside it, it's kind of easy to see why it is that colour.
A lady on the Cliff Railway explained that last year they had a landslide and so the red sandstone cliffs fell into the water.
For a short time, it turned the whole beach and even the sea bright red!
Today, this tiny beach is still quite reddish and almost looked pink with the sunshine. So, it makes a fantastic place for photos with the blue sea for contrast.
As it was winter when I arrived here, I have to admit I didn't fancy sunbathing. But, I loved walking along the coastline and taking in the views from the shore.
You can see the Cary Arms Hotel in the distance and see the dramatic cliff face in the cove.
It is quite hard to get down to the beach as there are huge steep steps that see a lot of seaweed on them. Be careful as you're heading down. There are some shallower steps as you head lower down.
2. Sip on coffee in Three Degrees West
A great place to take in the views is to visit the adorable bar and bistro Three Degrees West that is right on the beachfront.
Although they do serve up a delicious breakfast and lunch menu here, they are open for a coffee and a cake break too!
We decided to get our caffeine fix here and treat ourselves to some of their Winter Special pie which was only £1 a slice – unheard of!
It had lovely nautical themed decor inside and they have a fully stocked bar too if you fancied something stronger.
We were sheltered from the nippy breeze indoors, but there is outdoor seating too if the weather is pleasant.
Three Degrees West is open from 9am – 4pm, 7 days a week
3. Visit the Babbacombe Cliff Railway Visitor Centre
If you'd like to learn more about the Cliff Lift, including the history and technology, I would recommend visiting the Babbacombe Cliff Railway Visitor Centre on Oddicombe Beach.
The visitor centre has some delightful exhibitions and galleries of some photos of the railway. Plus, all proceeds go towards keeping this amazing railway open to the public.
Unfortunately, the visitor does close during the Winter season. But, opens up around Easter time!
4. Take a steep but scenic walk back to Babbacombe
If the railway isn't running or you have missed the last train back to Babbacombe, don't panic!
The Cliff Railway isn't the only way to get between Babbacombe and Oddicombe!
You can take a steep but scenic walk up or down the cliff to access the beach too. I saw many people doing this walk and it did look fun.
Although I'm sure you may be a bit breathless if you're heading up the cliff instead of down!
Where to stay near Oddicombe Beach and Babbacombe
I had the pleasure of staying in the magnificent Cary Arms & Spa that is perched right on the cliffs of Babbacombe Bay. It has a select amount of luxury rooms and suites to stay in.
I stayed in one of their fantastic beach suites right on the bay. I don't think we could have been closer to the sea if we tried!
Our beach suite had three rooms; a lounge, double bedroom and walk-in bathroom.
We had underfloor heating, a TV with Netflix, faux fireplace, two cosy beds and a bathtub AND shower!
I was completely blown away by this wonderful property by the sea and if it was warmer would have loved to lounge on our private deckchairs overlooking the sea.
It was absolutely wonderful, click here for more information and how to book!
How to reach Babbacombe Cliff Railway in Devon
Babbacombe Cliff Railway is located on the cliffs of Babbacombe in the Torbay area of Devon.
Just a few miles away from Torquay. If you're driving you can plug in the Babbacombe Downs Road or TQ1 3LF into your SatNav.
Or, when you're heading into Torquay, it's clearly signposted with the brown tourist signs as part of Devon's attractions.
If you're not driving, you can easily catch the number 22 bus from Torquay to York Road in Babbacombe and it's a short walk from there.
Babbacombe Cliff Railway parking
The parking on the road around the Babbacombe cliff railway could possibly be one of the only places in Devon where you don't have to Pay and Display to park! But, spaces are limited.
As we were here in winter, we were able to park up on the road right beside the entrance of the cliff railway!
If you can't grab a space by the entrance of the railway, the whole road alongside the cliffs has plenty of space to park up free of cost.
Things to do around Babbacombe, Devon
Once you're finished riding the Babbacombe Cliff Railway and Oddicombe Beach. There are plenty of things to do in the Torbay area of Devon.
There are more beaches, houses and gardens for history lovers and you're part of the UNESCO English Riviera GeoPark too.
Torre Abbey
Torre Abbey has existed on this site in Torquay since 1196 and for many years was a place of worship for the Premonstratensian Canons. It's one of the best-preserved abbeys in Devon and Cornwall.
It was later home to the Cary family for centuries and they housed over 300 Spanish prisoners off war in their Barn onsite during the Spanish Armada.
The Cary family were known Catholics despite it being illegal after King Henry VIII became the head of the Church of England. So, the family had their own private chapel inside where they would perform Catholic sermons.
There's is lots more history to uncover inside and they have a fantastic display of interactive exhibitions which brings the place to life.
For Agatha Christie fans this is part of the Mystery Mile and in their gardens, you can check out some of their potent plants. Can you figure out what poisonous plants belong to what novels?
Torre Abbey is open daily, see here for more details
Kents Cavern Pre-historic Caves
Kents Cavern is part of the UNESCO English Riviera Global Geopark. This massive cave system tell a huge story that spans back to prehistoric periods!
It is also known as Britain's oldest home as there is evidence of cave dwellers found in here over 36,000 years ago.
The first recorded excavations of the caves took place in 1824. But, the most famous was led by Edward Vivian and William Pengelly in 1846. It took a course of over 15 years to fully investigate the caves.
As well as removing over 8 tonnes of cave waste, thanks to their cute donkey Topsy, they also uncovered a labyrinth of caves underground.
It was here they also uncovered Stalagmites over half a million years old and bone fragments from prehistoric humans and animals too.
It opened as a tourist attraction in 1903 and today, thankfully, we don't have to go diving or digging to see what is inside.
It's an entertaining guided tour through the caves and you can learn about the history, the minerals and some of the findings too.
For Agatha Christie fans these caves inspired "Hampsley Cavern" in The Man in the Brown Suit.
A visit to Kents Cavern is by guided tour. check the website for tour times and prices
Cockington Village
An unlikely place to find tucked away in the countryside is the quaint village of Cockington.
Here you'll feel like you've been transported through time and you're not wrong. Some of these buildings have a history dating back to the Doomsday books!
You'll find thatched cottages, old forges, a mill wheel, pubs, and even an old Manor Home to the Cary Family.
Cockington Court makes a fab day out for the family as there are lots of arts and crafts workshops here too.
Don't forget to indulge in a traditional Devonshire cream tea in one of their many old world tea rooms.
Click here to read my Cockington Village travel guide
Read more of my South Devon articles
Visiting Greenway House – home of Agatha Christie
Top places on the Agatha Christie Mystery Mile
The ULTIMATE Burgh Island travel guide
Harry Potter locations in Exeter
Is this Exeter's Diagon Alley?
Walking down the Narrowest Street in Britain!
The House That Moved in Exeter
How to visit Wistman's Wood on Dartmoor
How to visit Lydford Gorge & White Lady Waterfall in Dartmoor
How to visit Brentor Church in Dartmoor
Woolacombe Bay Holiday Parks Review
Magical Valley of the Rocks Devon guide
Like it? Pin it!