A restaurant that has been on my bucket list for a while now is Bacchanalia London Restaurant in Mayfair.
A delectable Mediterranean dining experience that will transport you to Ancient Rome and the ritualistic celebrations of Bacchus.
The sumptuous interiors cost £75 million pounds to create and the entire place is like a work of art with 5 enormous Greco-Roman statues flying above the tables.
It's a Dionysian reimagining that's a feast for the senses and the interiors will make you feel like a God or Goddess as you dine.
Here is a detailed Bacchanalia London Restaurant review and if this hedonist affair is worth the price tag.
What is Bacchanalia London?
Bacchanalia is the newest luxury restaurant in London that has created quite a stir in Mayfair with its extraordinary interiors.
This gastronomic experience is meant to transport you back to the times of Ancient Rome.
Bacchus or Dionysus was the god of wine, fertility, ritual madness, and religious ecstasy.
His followers used to host a Bacchanalia in his honour, a festival that was a wild hedonistic celebration of drinking, music, and debauchery.
They were very popular but gained such a bad reputation that they were quickly banned by the Roman Senate.
Despite this law, these parties still took place as clandestine events over the centuries and continue to this day.
It is this ethos that the Bacchanalia London Restaurant hopes to bring to their guests who dine here.
It's perfect for those who want to escape reality and delve into a world of fantasy for a spell.
The most expensive restaurant in London
Bacchanalia cost over £75 million pounds to fit which is just over $90 million US dollars and is owned by British Businessman and Billionaire Richard Caring.
It's officially the most expensive restaurant in London and was one of the most expensive to create in the world.
Martin Brudnizki Design Studio was hired to fit out the space with a theme of Greco-Roman mythology.
Many of the statues on display are over 2,000 years old and 300 books of 24-carat gold leaf were used to decorate the interiors.
A floor-to-ceiling mural by Gary Myatt depicts a Roman scene of the Bacchanalia but if you look closely you'll see people holding iPhones, wearing hoodies, and using laptops.
There are also ceiling murals that look like they've been here since the Renaissance and lots of mirrors, crystals, and glitter.
The restaurant also has a private club area called Apollo's Muse and the Artemis Room, a private space for events.
What's great is that the staff all dress up in Greco-Roman attire to set the scene and to serve with golden vine headbands and vambraces.
They take their Roman theme very seriously in Bacchanalia. If you can believe it, they even had a job offer recently for a 'grape feeder' with 'gorgeous hands' who would need to speak Greek / Latin…
Greco-Roman statues by Damien Hurst
The one thing that stood out to me about the theming in Bacchanalia was the five larger-than-life Greco-Roman statues.
You'll find a Griffin, Medusa, a unicorn, a Pegasus, and winged lovers that all appear to be flying above your heads whilst you enjoy your meal.
All of these statues were created by the world-famous British artist Damien Hirst.
I have been following Damien Hirst's artworks for years and he is most famous for his controversial depictions of death like the 'Mother and Child' aka the Formaldehyde cows that won a Turner Prize.
I remember seeing 'For the Love of God' in the Tate Modern which is a platinum cast of a human skull covered in over 8,500 diamonds.
Also, this isn't Hirst's first major sculpture piece. 'Verity' in Ilfracombe is a 66-foot-tall sculpture of Truth and Justice. Half of the statue shows a pregnant woman's outer form and the other shows the inner human anatomy including her womb with a foetus.
So, I loved seeing his latest creations at Bacchanalia. Out of all the statues here, Medusa was my favourite.
A Gorgon who is so tragically misunderstood and is the perfect representation of duality. A victim and villain, good and evil, human yet a monster, attractive but ugly. A perfect symphony.
Fun Fact: My waiter told me that Hirst used his girlfriend Sophie Cannell as the muse for the Medusa model. He immortalised her and if you look very closely you can see he included her tattoos!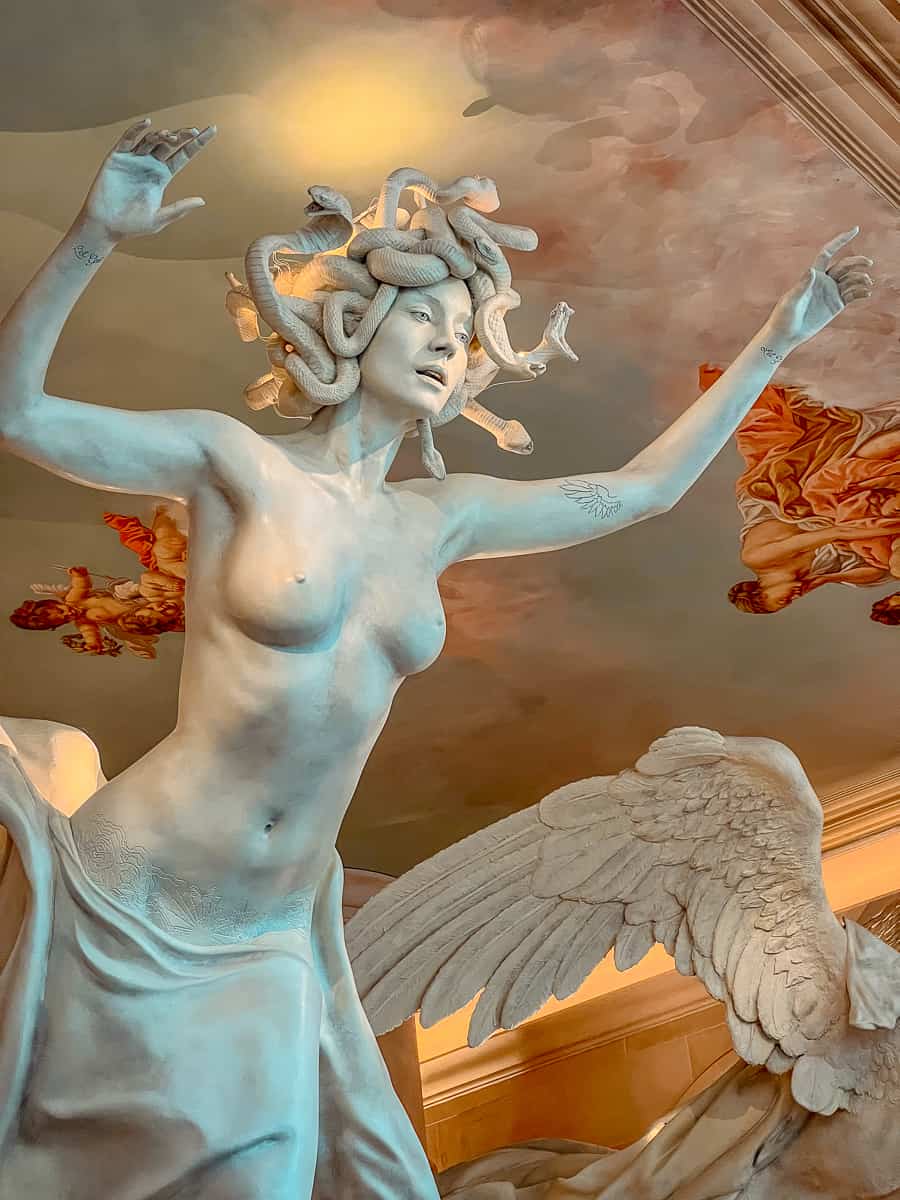 What is on the menu at Bacchanalia Restaurant London?
This entire place feels like a museum and so it's easy to forget that this is actually a restaurant that you can dine in.
You'll sit at a gorgeous mirrored table with sumptuous red furnishings and can browse their menu filled with Food from the Gods.
They serve up a range of Greek and Mediterranean-inspired dishes that are created to be shared.
You'll find salads, pasta, fish, and meat dishes as well as some sweet endings of indulgent desserts.
Bacchanalia lunch set menu review
As I was visiting during the daytime, I decided to sample the Bacchanalia lunch set menu which they serve from Monday to Friday from 12 pm – 4 pm.
It's £40 for two courses or £49 for three which is great value for money compared to the A La Carte options.
You get to choose from a variety of Mediterranean dishes including vegetarian options so it's a great taster of what they have on offer.
Elixir Shot
Firstly, the lunch set menu comes with a complimentary elixir shot or amuse bouche which is made of cucumber, apple, lemon, mint, and agave.
I was also given a bowl of pitted olives which are my favourite. So, the first impressions were great.
The lunch set menu doesn't include any drinks but Bacchanalia has extensive wine and cocktail lists which you can choose from.
I went for their Bacchanalia Spritz which was a delightful potion of prosecco, grapefruit soda, Mastika, bitters, grapefruit, and basil cordial.
I wasn't sure what basil would taste like in a drink but I was surprised how good it tasted. So good, I ordered two.
A popular cocktail that I saw many people order here was 'Baklava', a mix of Butter-washed Absolut Elyx Vodka, Palo Cortado Sherry, pistachio & honey.
It is topped with foam and so they print a photo of a winged God on top! Next time, I'll order this.
Starter
You have a choice of four starter options. There is a Seabream Carpaccio (served raw), Charred Beetroots, Greek Salad, or the Keftedes meatballs.
As I'm not good with raw fish, I decided to go with the Keftedes which were Greek-style meatballs with tomato relish and smoked yoghurt.
It was beautifully presented on a hot plate and was delectable. The smoked yoghurt really complimented the meat and it had lots of flavour.
Main Course
For the main courses, you have a choice of Wood-Fired Cauliflower with Tahini, Seabream with greens and capers, or Grilled Chicken with potatoes and peppers.
I decided to go for the grilled chicken and again, it was really tasty. I loved the Mediterranean flavours and the generous helping of oregano.
The only thing that let this dish down was the potatoes were quite hard but it was a very small gripe as the chicken was succulent and cooked to perfection.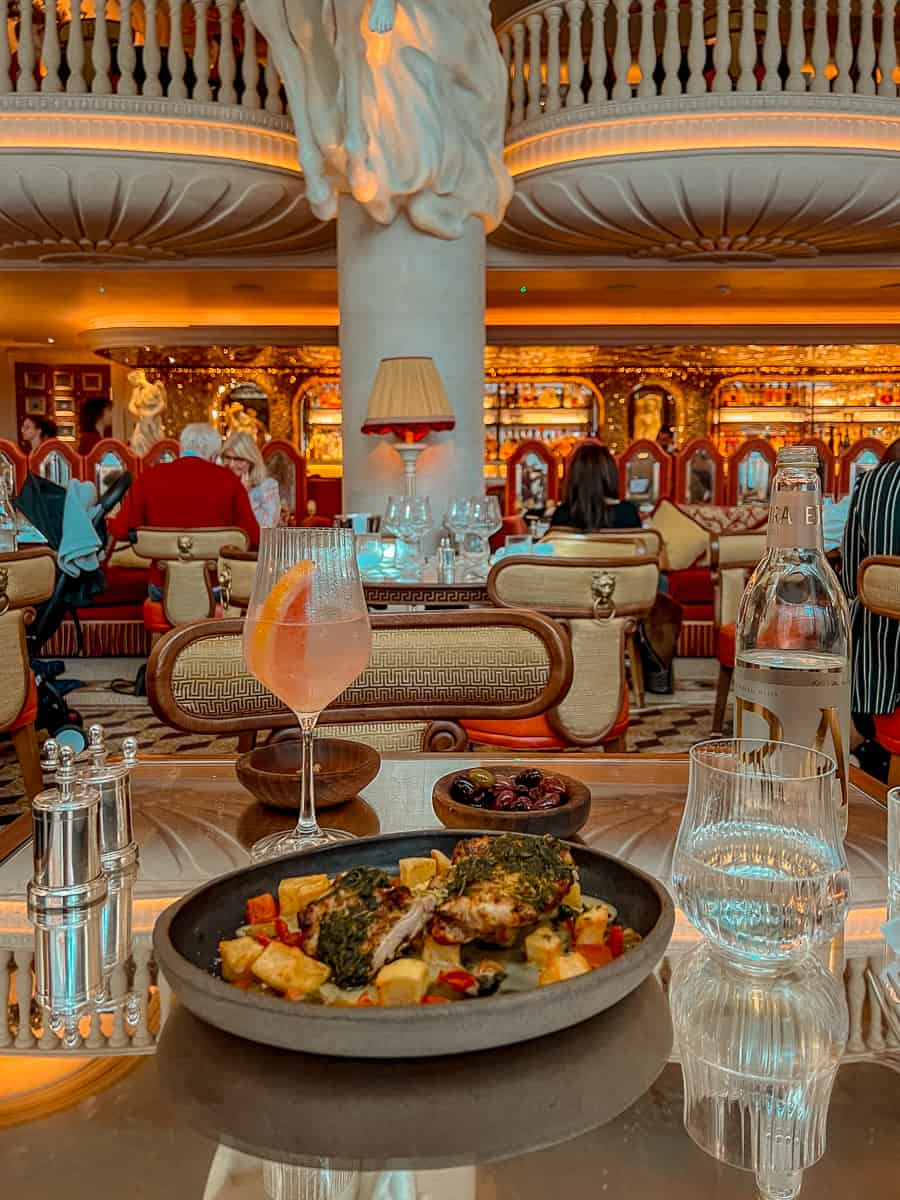 Dessert
Lastly, you have a selection of desserts or sweet endings to your meal. You can choose a selection of chocolate truffles, the Bacchanalia Tiramisu, or an ice cream & sorbet selection.
I'm a huge lover of coffee-flavoured stuff and I had heard great things about their signature Tiramisu so I had to give it a try.
Honestly, it was one of the best desserts I've had in a while. You could really taste the coffee and the sponge was so delicate and soft.
It was the perfect end to my Bacchanalia lunch set menu. I was so impressed with not only the presentation of all the food but the flavours as well.
If you really wanted to go all out, I would recommend looking at their signature desserts on the A La Carte menu.
They have a large Medusa head made out of white chocolate with coconut, tonka beans, and cocoa nibs. It was inspired by the Damien Hirst statue in the restaurant.
It looks epic but be warned that this deity dessert comes with a hefty £50 price tag…
Exploring the restaurant
After your dinner, I would urge you to take a look around this gorgeous restaurant. The entire place is a work of art.
I particularly loved the murals on the walls and ceilings by Gary Myatt. These murals, reminiscent of Versailles, added a touch of royalty to the place.
You'll find ancient statues and artworks, pampas displays, mirrors, crystals, and gold leaf. Every corner has something amazing to offer you.
The mezzanine floor to the upper bar has a series of balconies that give you a closer look at the incredible statues too. Honestly, I could have spent hours admiring all the details.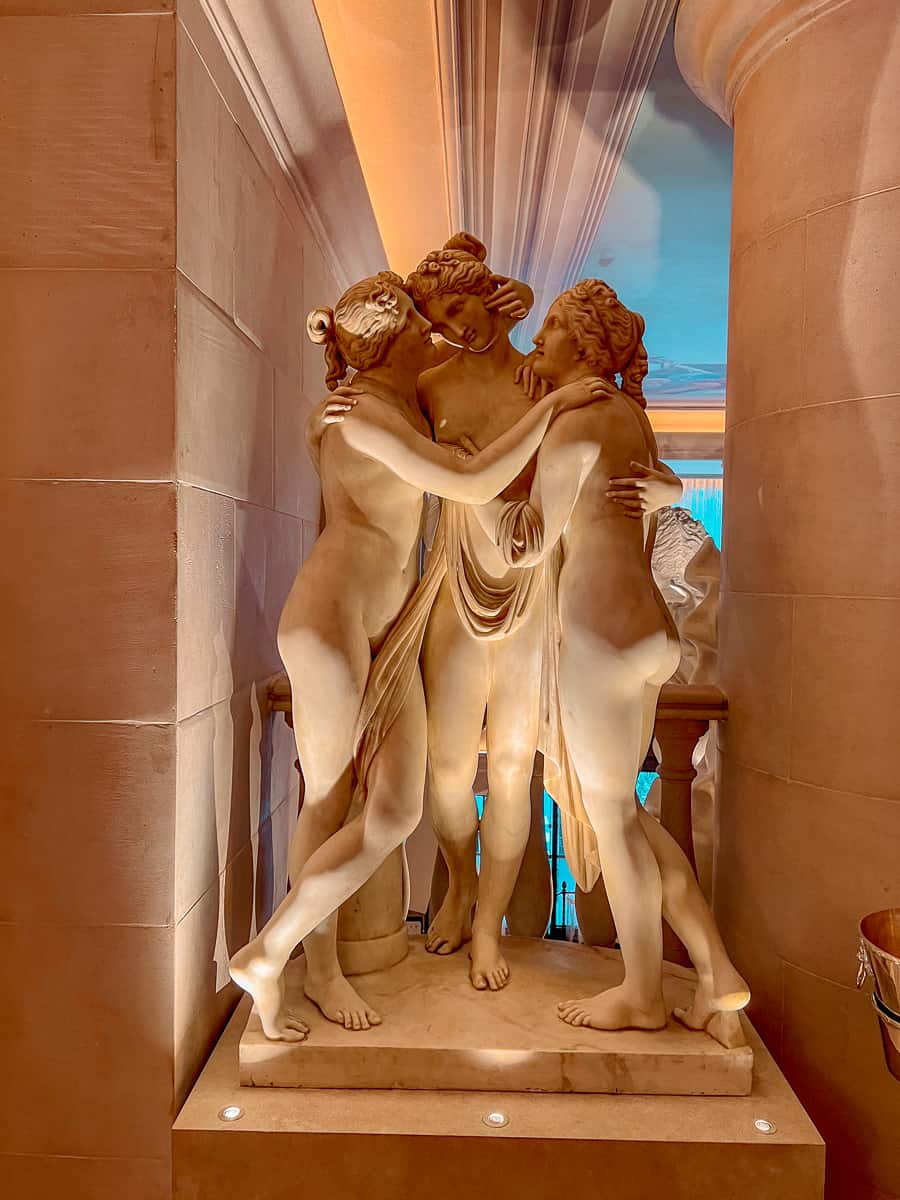 Are the Bacchanalia toilets the prettiest in London?
So, I don't usually mention restaurant toilets in my reviews but Bacchanalia's bathroom is the exception as it has to be the prettiest in all of London.
The entire room is decorated in gorgeous ceramics representing vines, soft lights, a marble floor, and ancient statues. Even the toilets are lavishly decorated.
They used over 400,000 tiles to decorate the space and the design was based on the Garden of Hesperides where golden apples grow in mythology.
Beautiful classical music will be playing and this room is an attraction in itself. A bonus is that makes a wonderful photo opportunity.
Honestly, I could live in those bathrooms like Moaning Myrtle in Harry Potter. They were just divine.
I resisted the urge to peek into the men's bathrooms but I had heard that they are decorated with a black marble theme of Hades and the Underworld. The toilets are on the bottom floor so it's very apt!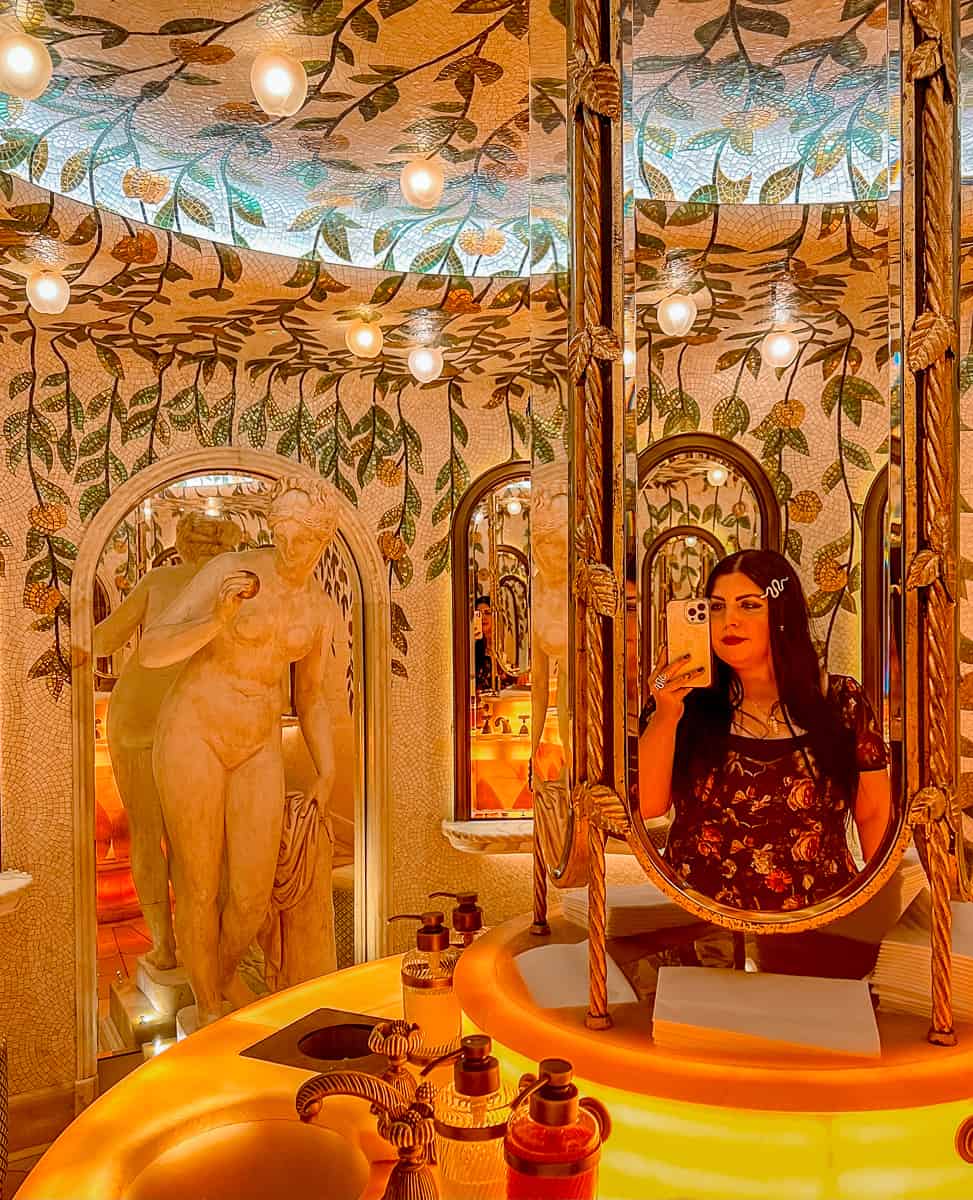 Apollo's Muse Members Club
Did you know that Bacchanalia has a private members club with members like Jared Leto and Kate Moss?
It's called Apollo's Muse and it's hidden away in the back of the restaurant. You'll find it lavishly decorated from marble floor to painted ceiling with sumptuous Greco-Roman statues and decor.
Private member clubs are nothing new in London and have been part of high society culture since the 1700s with places like the Athenaeum.
But, as Apollo's Muse is strictly exclusive, only 500 people will be granted a membership making it one of the most exclusive clubs in the world. There is a membership application online.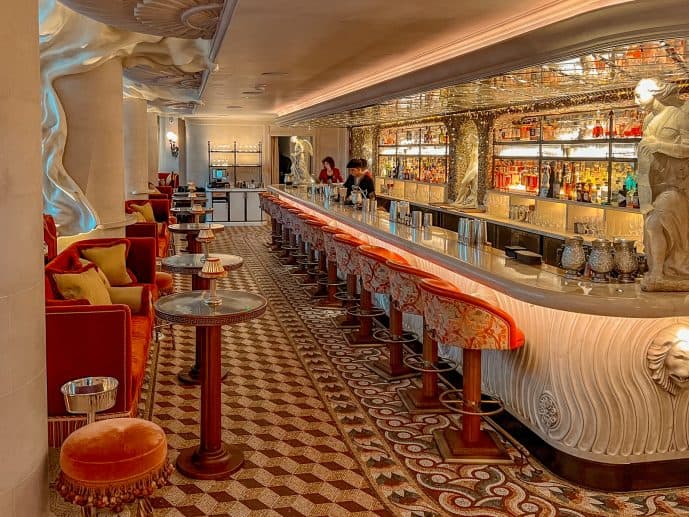 Is visiting Bacchanalia London worth it?
Yes, I definitely think that Bacchanalia restaurant in London is worth visiting as the interiors are some of the prettiest I've ever seen.
The attention to detail, the gigantic Greco-Roman statues, and the 'Bacchus Chic' glamour all make this one of the best dining experiences in the city.
I particularly think it's worth it if you visit for the tasty lunch menu as it's the best value for money. But, I'm sure that an evening spent here would be sensational and worth the price tag.
Don't miss a visit to Bacchanalia London, it's a hedonistic affair that you won't forget in a hurry.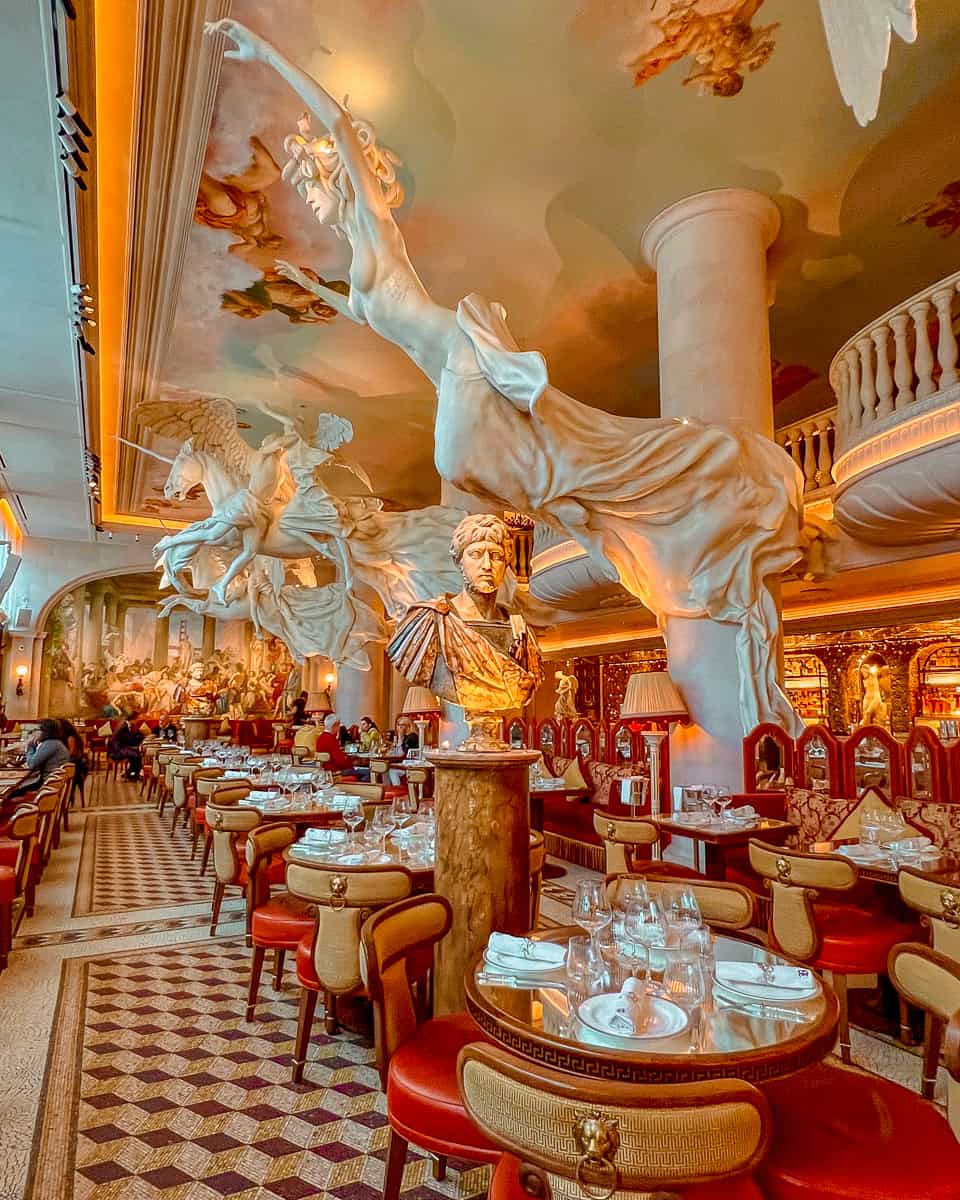 How to visit Bacchanalia London
Bacchanalia Restaurant is located in London's Mayfair, one of the most affluent areas of the city.
It's just a short walk away from The Ritz and Oxford Street, Europe's most famous and busiest shopping street.
It's best to use a mix of London Underground (aka the tube) and walking to travel around London.
The closest tube stations to Bacchanalia are Oxford Street (5 minutes walk) and Green Park (8 minutes walk).
Bacchanalia's address is 1-3 Mount St, London W1K 3NB. Click here for a Google Pin.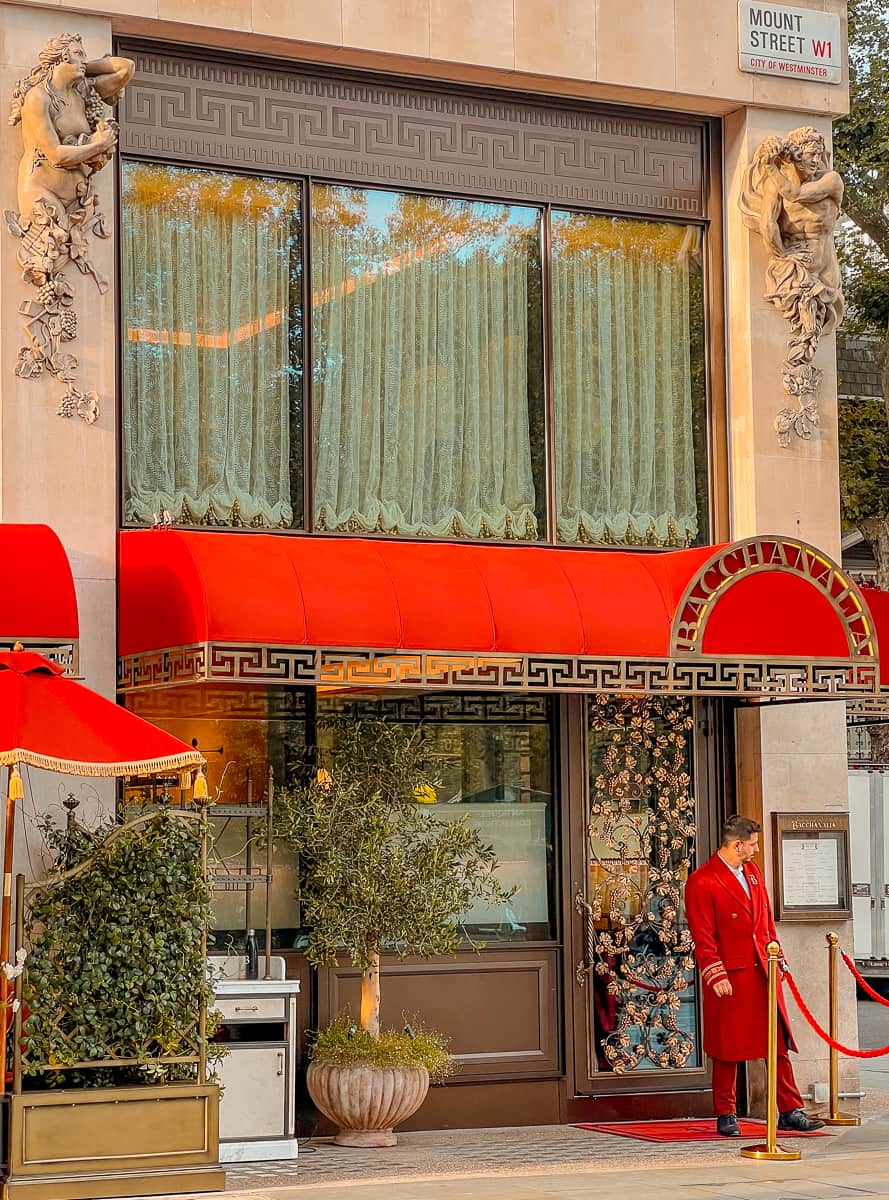 Do you need to reserve a table for Bacchanalia?
It is highly recommended to book a table for Bacchanalia London in advance as it's a very popular venue in Mayfair.
You can easily book online via their website for a time slot. I went for lunch and it was quite easy to reserve a table in the afternoon, I can't speak for the evenings.
Just note they do take your credit card details for table bookings.
If you don't show up or you don't cancel your reservation with 24 hours notice they will deduct £50 per person from your account – so make sure to set a reminder.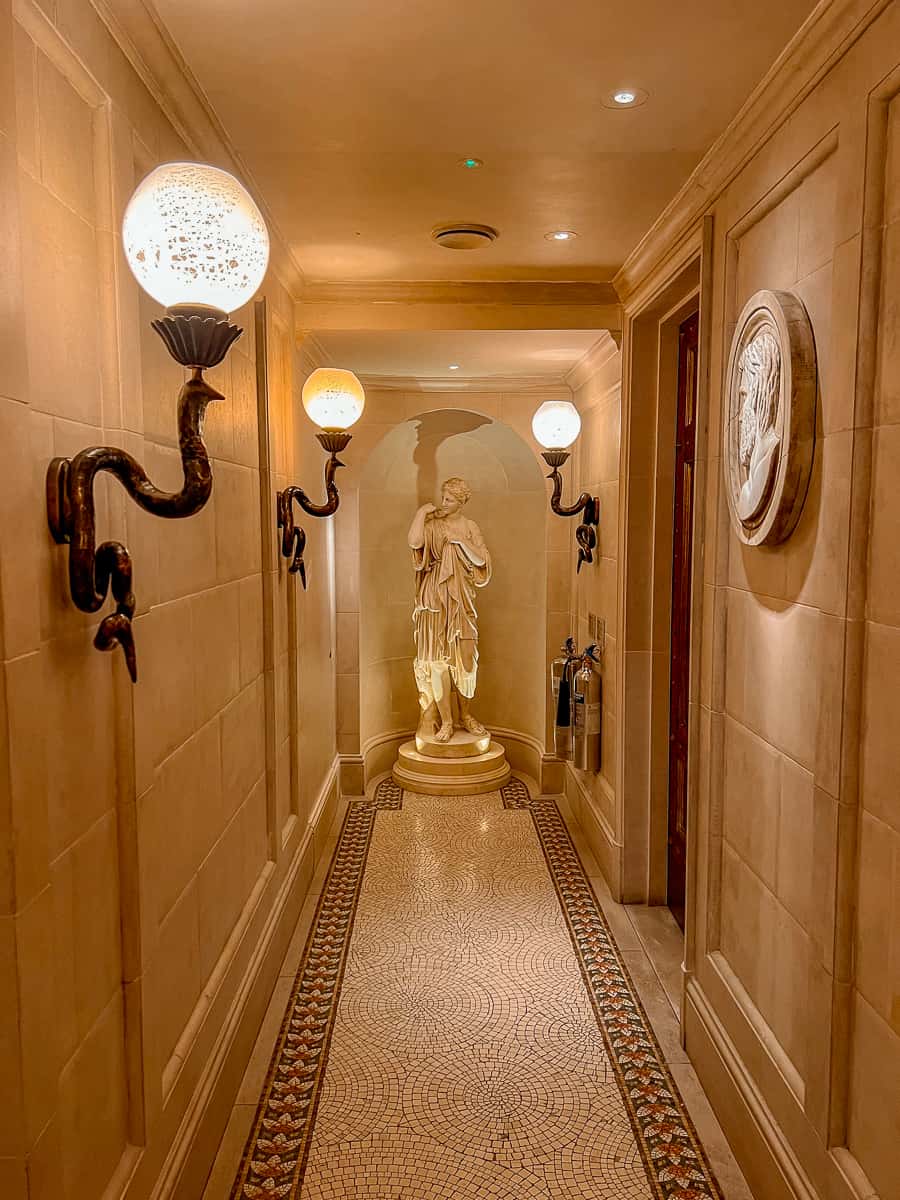 What is the dress code for Bacchanalia London?
Bacchanalia invites guests to dress up in a smart and elegant way, interpreting 'Bacchanalia Chic' in whichever way they choose.
It's not a super strict dress code but they do ask that guests not wear caps, ripped or distressed clothes, fitness trainers, or sliders.
I wore a black maxi dress with sandals and a little snake clip in my hair as an ode to my Gorgon girl, Medusa!
Bacchanalia photography tips
So, lots of people love to visit Bacchanalia London for photos and videos to post on social media channels such as Instagram and TikTok.
But, it is important to know that the restaurant likes to ensure the privacy and comfort of their guests and would prefer if you don't photograph/film them.
This is the main reason why I visited at lunchtime so I had a chance to capture the interiors a little emptier.
I visited around 2.30 / 3 p.m. and I found this was a great time to capture the restaurant as the switchover between the lunch and dinner service was a bit quieter.
Alternatively, I would visit as soon as it opens to capture it without too many people around 12 p.m. The evenings will be really busy.
Note: tripods and selfie sticks are not permitted to be used inside the restaurant.
Do you love Greco-Roman history? Check out these places in London next!
Did you know that London has an ancient Roman history? It used to be called Londinium in ancient times and there is still a lot of evidence of this settlement left over today.
The entire city used to be protected by the 'London Wall' and there is a London Roman City Wall walk you can follow to find out more.
There are also lots of Roman ruins like the London Amphitheatre, London Stone, and Roman Baths.
The Museum of London and The British Museum are great places to see all the ancient Roman treasures that the British excavated (or stole depending on your view) from Scotland to Syria.
You can visit the 'Roman Empire' exhibition in the Wolfson Gallery to see ancient statues, jewellery, and pottery.
A personal favourite experience of mine is the London Mathraeum or the Temple of Mithras. It's an immersive exhibition set at the location of an excavated temple discovered in the 1950s.
If you weren't aware, Mithras was a Pagan god who slayed a bull in a cave in ancient mythology and he had his own underground cult of followers in the Roman Empire.
This secret sect would meet in dark and mysterious temples called Mithraeaums that were built like sacred caves from the legend with bas-reliefs of the Tauroctony to worship.
To join the cult, there were seven challenges or levels of initiation that were dictated by the cosmos. They would hold secret ceremonies, feast together, and were all "united by the handshake".
The exhibition is located in Walbrook (near Bank tube station), is completely free and it is a great insight into this mysterious religion. It's an audio-visual show using sounds, lights, and special effects.
Bacchanalia London FAQs
Can you wear trainers to Bacchanalia? They ask you not to wear fitness trainers or sliders to Bacchanalia.
Who is the owner of Bacchanalia London? Richard Caring, Caprice Holdings' chairman.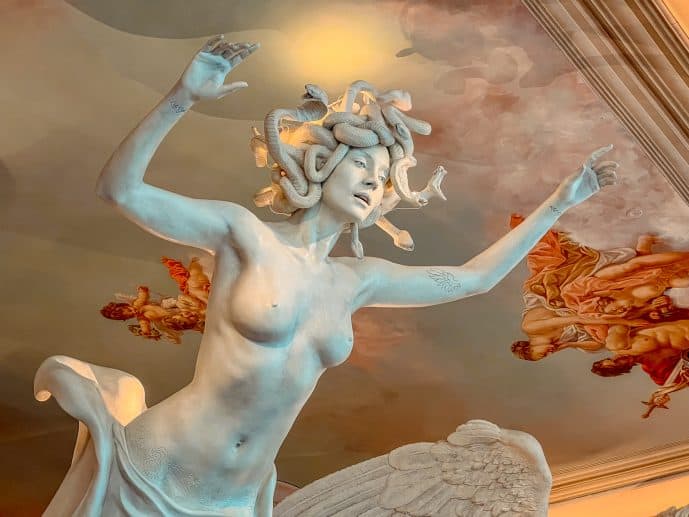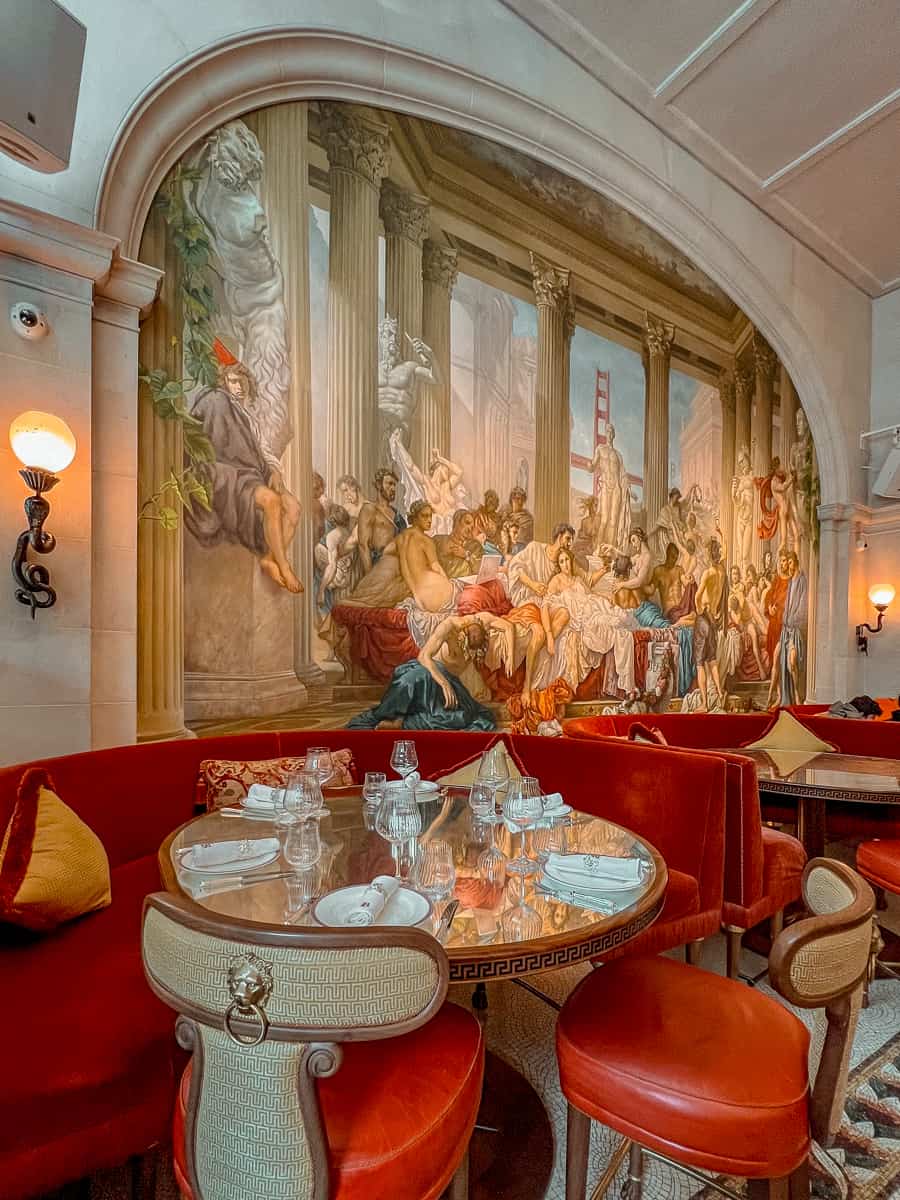 What tube station is closest to Bacchanalia? It's 5 minutes walk from Oxford Street tube station or 8 minutes walk from Green Park tube station.
How much did Bacchanalia cost to build? £75 million pounds or $91 million USD. It's currently the most expensive restaurant built in London.
Read more of my London articles
40+ Harry Potter locations in London
A complete guide to the Greenwich Foot Tunnel
Why you must visit God's Own Junkyard
The hidden gem of St Dunstan in the East Church Garden
FREE things to do in the London Bridge District
A Harry Potter guide for Leadenhall Market
Magical cocktails at The Cauldron
How to visit Harry Potter's 12 Grimmauld Place
Why you must visit the House of MinaLima
Dark Arts at Harry Potter Studios London
The secret Anne Boleyn symbols at Hampton Court Palace
Visiting Hogwarts in the Snow at Harry Potter Studios
How to visit the Hogwarts Divination Stairwell at St Paul's Cathedral
A complete Mr. Fogg's Tavern review
Save this Bacchanalia London Restaurant review for later!