If there is one place that left an impression on me in Rajasthan, it was the golden city of cenotaphs called Bada Bagh in Jaisalmer.
Bada Bagh, also known as Bara Bagh, translates to "grand garden" in Hindi and this is where you'll find the final resting place of Jaisalmer royalty.
You'll discover rows upon rows of honey-combed Chhatris which make an incredible panorama.
As well as exploring the golden city of the dead, this vista in the desert is an amazing place to watch the sunset on your visit.
Here's a complete guide for visiting Bada Bagh in Jaisalmer with the history, what to expect, and top tips!
What are Chhatris?
For those that aren't in the know, cenotaphs are empty tombs that have been built to commemorate people whose remains lie elsewhere.
In many parts of India, the funerary cenotaphs are called 'Chhatris'. This is due to the elevated dome-shaped pavilions that sit on top of the tombs.
Chhatris are extremely common in the North of India, mainly used in Rajput and Mughal architecture, and the word translates to 'canopy' or 'umbrella'.
In Jaisalmer, chhatris were built to commemorate Jaisalmer royalty and Bada Bagh started with the founder of the city, Maharaja Jai Singh II.
Did you know? You'll find a group of chhatris in nearly every Rajasthani city. For example, the Ahar Cenotaphs in Udaipur.
The history of Bada Bagh in Jaisalmer
The first cenotaph in Bada Bagh was built in the 18th century to commemorate Maharaja Jai Singh II. He founded the city in 1688 and continued to rule until 1743.
During his reign, he made significant improvements to the infrastructure of Jaisalmer and always strived to make people's lives better.
To many, his greatest achievement was commissioning the water dam 'Jait Bandh'. This provided water for the city, allowed the desert to turn green, and cultivation of fruit and crops.
It created an oasis in an otherwise barren landscape. Hence where the name 'Bada Bagh' comes from.
After his death, his son Lunkaran built a chhatri to commemorate his father. It then continued as a tradition to build a cenotaph for each Jaisalmer king or queen that passed away.
This tradition finally stopped in the 20th century and the last cenotaph was built for Maharaja Jahawar Singh.
Unfortunately, this one is unfinished as his son suddenly died not long after taking over the throne. The cenotaph was then associated with bad luck and the construction was abandoned.
Today, Bada Bagh is mainly a tourist attraction although many do visit the site in memory of the royal family.
Here, you can explore these amazing golden chhatris and also watch the sunset over the desert!
Things to do in Bada Bagh
Despite the name being translated to 'big garden', there aren't any flowers, grass or trees here anymore. It's now largely a desert landscape.
But, what is here are the gorgeous cenotaphs! On your visit, you can explore them at your leisure. Once you're finished, there are plenty more things to do on your visit as well.
1. Explore the golden 'Chhatris'
The main draw for visiting is to see the gorgeous sandstone cenotaphs that sit high up on a hill in the desert.
You may notice as you look around that the chhatris are in different sizes. These represent family member status.
There are four different sizes in total. The largest one would be for Jaisalmer kings. The more wealthy and renowned the king was, the bigger the chhatri.
Then there is a slightly smaller one for queens, even smaller for the princes or princesses and the smallest ones would be for other members of the royal family.
Each one will have a memorial inscription of who the family member was. There are sometimes images of a man with a horse as well.
If you are into photography, I'd say this is one of the best places to visit in Jaisalmer. The honey-combed tombs being washed over in sunlight is just so beautiful.
However, as you wander around taking photos it's important to remain respectful of the dead.
Make sure you take your shoes off before you climb inside any of the cenotaphs.
2. Watch the sunrise/sunset from the vista viewpoint
As well as visiting the hill for the cenotaphs, this area is a popular viewing area for sunrise/sunset.
Personally, I visited for sunrise to avoid the crowds and the heat. As I visited during November, this was the busy tourist season.
I was lucky as when we arrived just before sunrise, there was nobody there so we had the place to ourselves!
You can expect this place to get crowded nearly every day especially in the evening when there are cooler temperatures.
There are plenty of places to watch the sunrise and the sunset here. You don't have to stay in amongst the tombs. You could watch it over the dam, or from the summit!
3. See the Jait Bandh Dam, Jaitsar Tank and Govardhan Stambh
Originally, this area became famous due to the water tank called 'Jaitsar tank' that was commissioned by Maharaja Jai Singh II.
This tank, which was filled in by the 'Jait Bandh Dam', allowed for water to be collected by the people of Jaisalmer. In turn, this water created vegetation in the desert!
Although water is no longer collected here, you can still see some of the remains of the old dam in the large park area below Bada Bagh.
Plus, during the monsoon season, you will still find some greenery! Look out for the Govardhan Stambh pillar that sits by the dam. Nearby is a small temple dedicated to Shiva.
A lot of people also talk about the 'windmills' (turbines) that can be seen from a distance. Some people like them, others hate them!
But, although they look ugly with the view, they provide much-needed energy for the desert.
Where is Badah Bagh in Jaisalmer & how to get there?
The royal cenotaphs are located around 6 kilometres from the city of Jaisalmer.
So, you will need to organise transport to take you there. Many hotels in the area can organise a taxi for you or you can hire a tuk-tuk.
I ended up hiring a tuk-tuk to take us one way for around 250 rupees. Then, on the way back, I waited for a good while for another auto-rickshaw to come along.
We ended up negotiating around 300 rupees back. Supply and demand, I guess!
To make it worth your while and save some money, you could organise a visit to Bada Bagh as part of a day tour.
There are many attractions around the area worth seeing outside of Jaisalmer like the haunted village of Kuldhara!
Click here to see this day tour of Jaisalmer
Bada Bagh opening times & price of entry
There aren't really any opening times for Bada Bagh. You could visit any time of the day or night. There are no fences or anything around the area.
When we arrived at sunrise, there were no guards or anyone collecting money for tickets. But, when we left later in the morning, they ended up charging us on exit.
During the day or at sunset, money is collected by the guards from everyone who visits. So, make sure you have some change spare.
Photography is free but tripods are forbidden. Drone photography is also strictly forbidden.
Bada Bag Prices are:
Indian Nationals: 100 rupees
Foreign Nationals: 300 rupees
Top tips before visiting
Personally, I think it's better to visit the site at sunrise or early morning before it gets too hot. Or, around sunset in the evening. During the day, the heat is unbearable.
You will need to take your shoes off to explore the cenotaphs. So, this is another reason to visit in cooler temperatures.
To avoid crowds for photography, I'd recommend visiting early morning. That way, you'll have the place to yourself
Take water and wear loose clothing, the area is extremely dry. You'll thank me later!
There is a small chai stall at the entrance of Bada Bagh with a friendly owner. It's perfect if you fancy a pick me up.
Looking for more things to do in Jaisalmer?
Although many call Jaisalmer overrated and touristy, I would have to disagree. It's an incredible golden city and one of my favourites in all of Rajasthan!
Everywhere you look, you'll find forts, temples, and buildings all looking like they have been dipped in honey.
You can visit the famous palaces, go shopping in Jaisalmer Fort, visit the Patwa Havelis and end the day boating on Gadisar Lake!
Plus, no visit to Jaisalmer would be complete without a trip to the Thar Desert.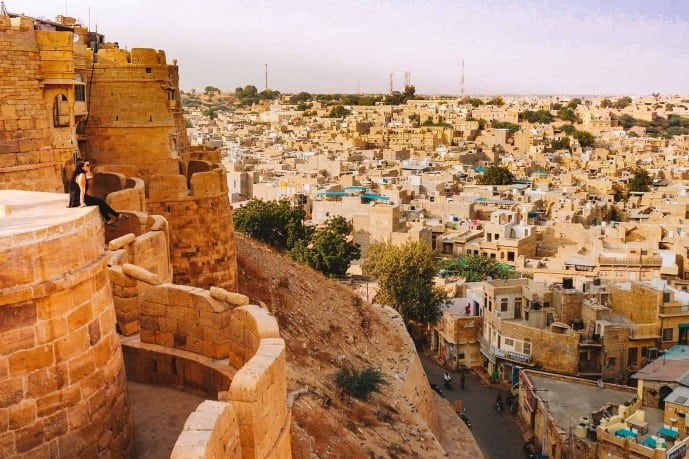 Where to stay in Jaisalmer
I wouldn't recommend staying in Jaisalmer Fort itself, even Lonely Planet deems this unethical as the fort is struggling with infrastructure as it is.
There are plenty of amazing hotels in the city surrounding Jaisalmer Fort and they are a lot more affordable as well.
I ended up staying in Helsinki House which was a gorgeous boutique hotel made of traditional sandstone. The rooms were so clean, the beds were comfy and the rates were also amazing for what you got.
From the hotel rooftop, we had an awesome view of the fort! I loved having breakfast there in the mornings.
If you were looking for something more luxurious, then I would recommend the majestic Suryagarh. It's almost like a royal palace. It's now on my hotel bucket list!
For a budget option, I'd recommend Zostel Jaisalmer. They're a recommended hostel chain here in India and sometimes they do loyalty discounts. This means you get money off for staying with other Zostel Hostels in India.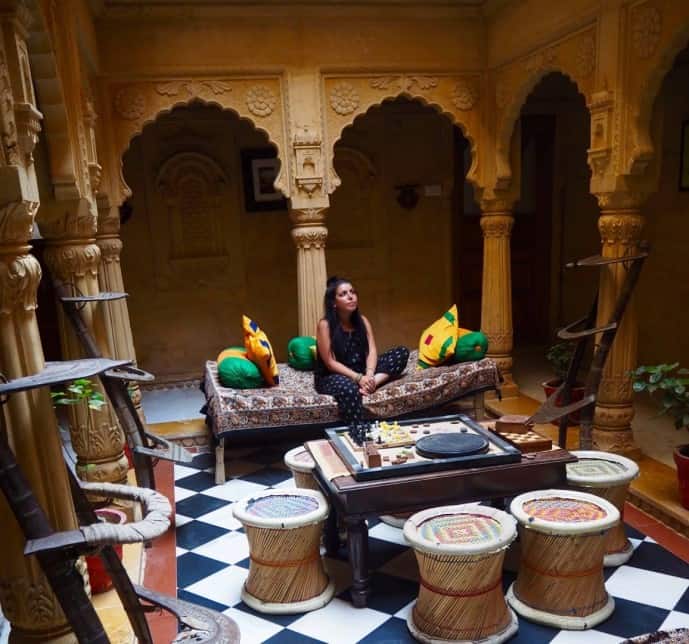 Read more of my articles on Rajasthan
My complete guide to the Pink City of Jaipur
A photography guide for Jaipur
Why Bundi has to be on your bucket list
Top places to visit in Bikaner
Visiting the rat temple in India
Save this Bada Bagh Jaisalmer guide for later!