Are you looking for the A Malcolm Outlander Print Shop? Look no further than Bakehouse Close Edinburgh on the Royal Mile!
Who can forget the iconic scene where Claire visits Jamie's, or Alexander Malcolm's, Print Shop in Carfax Close in series 3?
After twenty years apart, two centuries away from each other, or rather 5 LONG painful episodes, we were all gripped to the screens to see them finally reunited!
Of course, Carfax Close doesn't exist in Edinburgh but Bakehouse Close was the place that the Outlander team chose to feature the print shop. So, you can see it for yourself and relive that heartfelt moment.
As one of the most preserved historic closes off the Royal Mile, you'll feel like you've been immersed in 18th-century Edinburgh as soon as you walk through the tunnel.
Here's a complete guide to Bakehouse Close Edinburgh, or the A Malcolm Outlander Print Shop.
What is Bakehouse Close Edinburgh?
Bakehouse Close is one of 80 closes that fall off the Royal Mile. As you meander up the most famous street in Edinburgh, you'll see lots of alleyways and openings on either side.
These are all the Royal Mile closes and each provides some mysterious intrigue and its pathway can lead you to some hidden surprises in the Scottish capital.
A 'close' is a Scottish term for alleyways, but they can also be called close entry, court, or wynd.
They were named after the famous occupant who lived in the close at the time or trade that the residents of the close were known for. So, Bakehouse Close was named for the bakers that lived here.
This historic close leads you to Holyrood Road, which leads onto the Holyrood Palace and Park.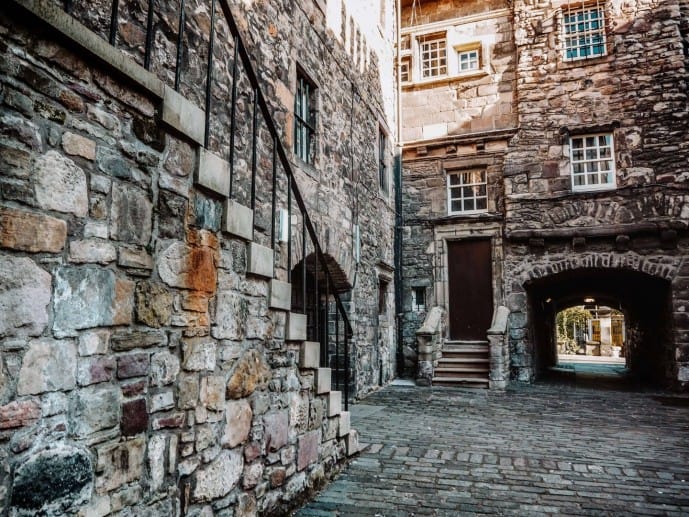 Bakehouse Close Edinburgh History
Like many of the closes on the Royal Mile, Bakehouse Close has an interesting history.
The long tunnel archway that you walk through to reach the close was established in 1570 and was a joining of three houses.
Huntly House, which was a mansion on the East Side of the close, is now the Museum of Edinburgh. Look out for the stone tablets which give the locals a telling off for opposing its construction!
Bakehouse Close is named after the bakehouse on the West side of the close. This is where the bakers, hammermen, or metalsmiths used to live. Also, the Archeson Family, who were the household staff to James VI and Charles I, used to live here too.
James VI, Charles I, and his son Charles II were part of the Stuart Dynasty that Bonnie Prince Charlie was related too. He wanted his father James Francis Edward Stuart, or The Old Pretender, back on the throne which started the Jacobite rebellions.
When we are transported to A Malcolm's Print Shop in this scene at Bakehouse Close, the rebellion is over after the Battle of Culloden.
It's the end of the Clans, wearing tartan, speaking Gaelic and 'the world' as Scotland knew it. Hence why Jamie has a new name 'A Malcolm'.
Carfax Close, A Malcolm Outlander Print Shop Scene
When Claire travels back through the stones and makes her way to Edinburgh, she asks for directions to the print shop that A Malcolm is residing. A young baker's boy tells her that it's located on Carfax Close.
When she makes her way through the archway, she sees the print shop sign and then makes her way up the stairs to see if it really is Jamie as A Malcolm!
I don't know about you but, when I saw this scene I couldn't help but shed a tear or two. I was gripped and on the edge of my seat. But, also relieved, as FINALLY, they will be together again haha!
It's now gone down in the history books as one of the iconic scenes in the series, so it's only natural that Bakehouse Close is a popular Outlander Location in Edinburgh for fans too.
Where is Bakehouse Close in Edinburgh?
There are 80 closes on the Royal Mile, so, unless you want to explore them all, you'll need to know where you're headed.
Bakehouse Close is located in my favourite part of the Royal Mile; Canongate.
I don't know what it is about it but this part of the Royal Mile. Maybe it's the gorgeous Edinburgh stone-listed buildings, the atmosphere, or (slightly) fewer crowds, either way, it's mesmerising to walk around.
It's also home to the famous World's End nearby, Dougal Mckenzie's favourite haunt. Read my World's End Outlander guide here!
How to find Bakehouse Close on the Royal Mile
I don't think you can miss a trip to the Royal Mile in Edinburgh. With the historic Edinburgh Castle at the top, the current Queen's royal residence of Holyrood Palace at the bottom, and no end of attractions and shops in between, it's a must-visit.
How to reach Bakehouse Close on foot
Bakehouse Close is easy to access on foot and is located towards the bottom of the Royal Mile in Canon Gate.
To help guide you, head towards The Museum of Edinburgh which is a bright yellow building next door, or look for Canongate Kirk which is directly opposite.
Canongate Kirk also features in the Outlander novel, where Colum MacKenzie meets Claire and Jamie.
How to reach Bakehouse Close by bus
If you're located outside of the city, there's a bus stop right outside of Bakehouse Close.
The Number 35 service stops right outside in Canongate Kirk bus stop. These bus covers stops from The Avenue to Ocean Terminal by Ocean Drive.
How to reach Bakehouse Close by car or taxi
The Royal Mile is also a working road that cars are allowed to drive through. There are a few public parking spots along the road in Canongate but these are very limited.
Parking fees during the day are expensive but a top tip I have would to be park before 8.30 am in the morning, or after 6.30 pm at night.
From 6.30 pm – 8.30 am, parking on the Royal Mile is completely FREE! Alternatively, park up at Holyrood Palace Car Park which has the same parking regulations and is free in off-peak times.
Bakehouse Close opening times
As a residential area, Bakehouse Close is open 24 hours a day and so you can turn up at any point during the day.
This attraction is also completely FREE. So is the Museum of Edinburgh right next door!
When is the best time to visit Bakehouse Close?
Bakehouse Close is quiet most times of the day as it's off the Royal Mile in Edinburgh but as a popular walking route to Holyrood Road, you may find a few commuters.
It's popular with Outlander fans so you may find some walking tour groups that pop by and a few fellow fans snapping photos around the area.
As I was filming a vlog and wanted to take pictures undisturbed, I got to the close around 6.30 am. It was a great time to visit as there was no one around and also few or no cars. By 7.30 am it got busy with people on the school run, buses, and those heading to work.
Alternatively, you can visit in the evening and it will be empty too. In June, Scotland had around 4 hours of darkness so you can find its light around the area even at 10 pm.
Edinburgh is a really safe city to walk around, even at night and you'll find no trouble around the closes on the Royal Mile. Most have CCTV.
Bakehouse Close Edinburgh Outlander locations
Okay, so now we've covered all the details, we'll cover what Bakehouse Close Outlander locations there are in the area.
1. Bakehouse Close & the steps to A Malcolm's print shop
Of course, the pivotal scene is where Claire enters Carfax Close (Bakehouse Close) to see A Malcolm's print shop.
Bakehouse Close has transformed into 18th-century Edinburgh, so there were some barrels, ropes, and carts lined up.
As soon as you walk in, you'll notice that the stairway isn't enclosed and there is no A Malcolm Print Shop sign, sigh. But, the stairs are irrevocably the ones that Claire walks up that lead to the Outlander Print Shop.
You can walk up the stairs here like Claire and snap a great photo.
If you turn around from the stairs, you'll also recognise the archway and the door to the left of it. It's here that Claire pauses before she walks toward the stairs. This is also a great snap!
2. The brothel where Jamie has lodgings
It's not only the Outlander print shop that was filmed in Bakehouse close for the TV series. It's also the street where Jamie leads Claire to the brothel where he has his lodgings in Edinburgh.
Apparently, Bakehouse Close was also the location of a Victorian brothel called Cock and Strumpet! The reason being is that Archeson House, which was home to the Archeson family in the 17th century, used to have a cockerel over trumpet on its family crest.
So, when the building was turned into a brothel, Cock, and Strumpet, was a lewd twist on the Archeson crest above the doorway.
In 1935, the Marquess of Bute purchased the property to save it from demolition. It's now the home of Edinburgh Old Heritage. If the gate is unlocked when you visit, you can see the Cockerel over the trumpet above the doorway, just as it was centuries ago.
Tweeddale Court
If you're on an Outlander locations tour of Edinburgh, then you may be interested in visiting Tweeddale Court which is just a few minute's walk up the Royal Mile from Bakehouse Close.
It can easily be found by the colourful and ornate sign above the long alleyway and the 'Tweeddale Court' sign on the floor.
Tweeddale Court is usually a sleepy close, but for Outlander it was transformed into a bustling market street. It's also the spot where Claire is reunited with Fergus. It's a must-stop on the Royal Mile for Outlander fans!
Click here to read my complete Tweeddale Court guide!
Outlander Walking Tours of Edinburgh
In the Outlander TV series and the books by Diana Gabaldon, there are more than a few Edinburgh spots mentioned and featured. Canongate Kirk, Canongate Gaol, the World's End pub, Holyrood Palace and more are mentioned in the story.
If you'd rather be guided on a tour with knowledgeable experts, there are some Outlander walking tours you can take.
Or, there are plenty of day tours that take you further afield to Lallybroch (Midhope Castle), Fort William (Blackness Castle), and Wentworth Prison (Linlithgow Palace) too!
I have a whole Outlander Royal Mile walking tour with a handy map for you here!
Looking for more Outlander locations in Edinburgh?
There are so many Outlander locations to visit in Edinburgh, that you'll be spoiled for choice. So check out my complete list of them here. Or, if you're really keen, here are over 90 film sites used in Outlander, in Scotland, and all over the world.
Centrally you also have some more season 3 locations. Summerhall featured as a lecture room for Claire in Boston.
Craigmillar Castle doubled up as Ardsmuir Prison and the Signet Library was used as the Governor's mansion in Jamaica. Or, why not visit The World's End pub that featured in the series?
In the Lothians, you can visit Gosford House that was used as Helwater Estate in series 3, and Preston Mill which doubled up as Lallybroch Mill in series 1. Roslin Glen Country Park is also a series 1 location with its Gunpowder Mills.
South Queensferry, is where you'll find the Duke of Sandringham's house in Hopetoun House with its red room along with Lallybroch, Broch Tuarach, in Midhope Castle. Abercorn Church that featured in season 4 is also nearby. In fact, there are over 17 Outlander locations filmed there!
Blackness Castle was featured as Fort William, Bo'ness station featured as the vintage station Claire said goodbye to Frank, and Linlithgow Palace nearby featured as Wentworth Prison.
Culross was used to portray Cranesmuir with the Black Kirk and the small village of Falkland doubled up for the iconic scenes in episode one of 1945 Inverness!
Or, visit the seat of Clan MacKenzie, Castle Leoch, at Doune Castle, Drummond Castle Gardens was Versailles, and Deanston Distillery has Jared's wine store in La Havre.
Heading to Glasgow? Check out my complete list of Outlander film sites in the city!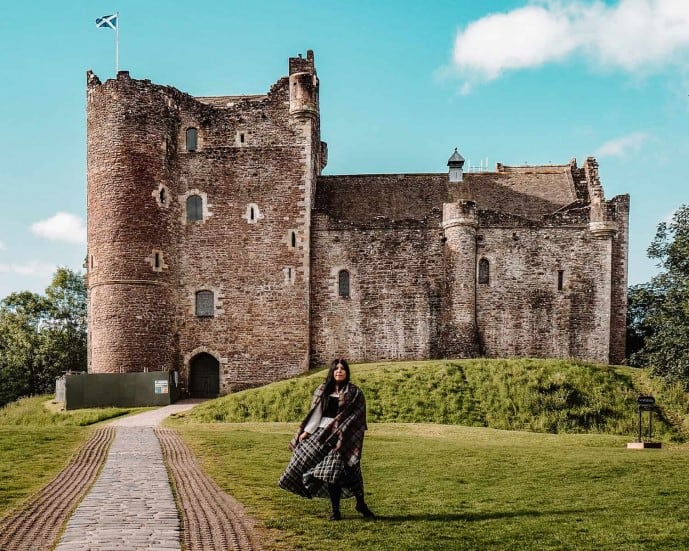 Read my Edinburgh travel guides
All the Outlander locations in Edinburgh
Harry Potter locations in Edinburgh
How to visit the Harry Potter graveyard
A complete guide for Armchair Books
Why you must visit Dean Village
A complete guide for the Vennel
How to find Bakehouse Close from Outlander
The hidden gem of Whitehorse Close
Signet Library Afternoon Tea review
Why you must visit the World's End
A complete guide for Circus Lane
The mystery of the Burke and Hare Coffin Dolls
Queen Mary's Bath House in Edinburgh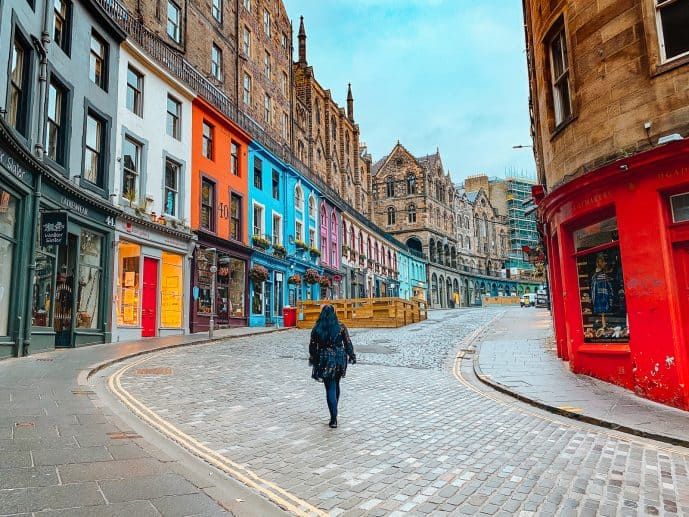 Save this Bakehouse Close Edinburgh guide!