Ballintoy Harbour is a gorgeous scenic quay that sits on the Antrim Coastline of Northern Ireland.
It's a popular stop for those on a Causeway Coast road trip and it's easy to see why. It's as pretty as a postcard!
Fans of Game of Thrones will love visiting this pretty harbour as it played the Iron Islands in the series. You can follow in Theon's footsteps and visit Pyke in real life.
Here is a complete guide for Ballintoy Harbour Northern Ireland and all the Ballintoy Harbour Game of Thrones filming locations you can visit!
Ballintoy Harbour history
In Irish, Ballintoy means 'Baile an Tuaigh' which roughly translates to 'the northern townland' or 'townland of the north'.
Ballintoy has had a human settlement history of over 9,000 years since the last Ice Age but the settlements we see today started in the 17th century.
Archibald Stewart was permitted a grant from Randal MacDonnell, the first Earl of Antrim, to set up two districts. These were Ballyclough and Ballintoy.
Ballintoy Village was established and Ballintoy Harbour was an industrial place of fishing boats, netting and hard work.
The harbour also acted as a trading point for sett stones in the 19th century. A small rail track was used to transport the limestone from the quarries to the quay. You can still see the remains of a lime kiln building.
Nowadays, Ballintoy Harbour is a quiet and picturesque quay that is a popular tourist attraction.
It's also popular with Game of Thrones fans as it was a filming location for the Iron Islands of Westeros in the series.
Ballintoy Harbour Game of Thrones filming location
If you're visiting some of the Game of Thrones filming locations in Northern Ireland then you must put Ballintoy Harbour on your list.
This seaside quay in County Antrim played Pyke in the Iron Islands in Westeros during series 2!
This is when Theon returns to his ancestral home of House Greyjoy with the intention of asking his father for help.
He lands at Lordsport (aka Ballintoy) and is rather surprised when there isn't a fanfare waiting to greet him!
We also see the beach near Ballintoy Harbour later on. This is the place where Theon has his baptism to reaffirm his allegiance to the sea.
It's quite a turning point for Theon as this is when he turns his back on Robb and the Starks.
Apparently, when the team were here filming these scenes there was a gale and sand got in their eyes and equipment all day.
Visit Lordsport from Pyke in the Iron Islands!
So, yes, if you wanted to visit the Iron Islands of Westeros in real life then you only need to visit Ballintoy Harbour.
The fierce House Greyjoy has a golden Kraken as its sigil and 'We Do Not Sow' as their motto! Meaning they do nothing but take and usually with a touch of violence.
The Iron Islands are dramatic, harsh, bleak, wild and unyielding. So, Ballintoy was changed a lot to reflect this in the show.
In real life, Ballintoy is actually lovely, peaceful and very scenic. But, you'll still recognise a bit of Pyke here especially if it's cloudy or raining!
Here are all the things to do at Ballintoy Harbour or Pyke on your visit.
Things to do in Ballintoy Harbour
1. Chase Ballintoy Harbour Game of Thrones filming locations
Most Game of Thrones filming locations in Northern Ireland have a sign that lets you know how it was used in the series.
Ballintoy Harbour actually has two of these signs on both ends of the area. So, make sure to check out both.
The first one is located by the harbour and features Theon. This is the location where he first arrives by boat to the Iron Islands and lands on Pyke harbour.
The second sign can be found near Ballintoy Beach and this features both Theon and his sister Yara.
You'll remember this scene from Theon Greyjoy's baptism where he reaffirms his allegiance to the Drowned God of the Sea, "What Is Dead May Never Die".
It was so cool wandering around this area. Although it doesn't look exactly as it did in the show, you can definitely recognise Lordsport with all the jagged rocks and coastline!
If you haven't already, I would download the Game of Thrones Locations app. It has all the locations on there with directions etc.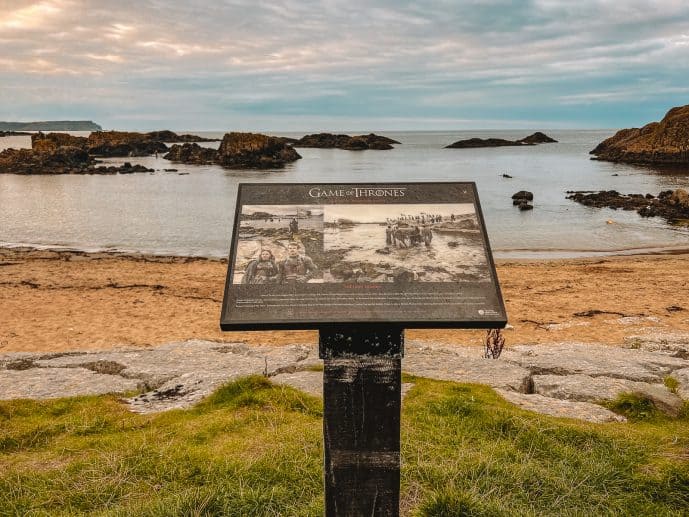 2. Stroll around the harbour
Most people visit Ballintoy Harbour to enjoy the scenery and take a quick walk around.
You'll see a few boats bobbing in the bay, a series of chalk buildings, caves and panoramic views of the Antrim Coast.
There are a series of rocky outcrops here you can climb onto for better views – but be careful as you go as the paths are steep and the rocks on these are very sharp.
It's a small place and a leisurely stroll around should only take you around 20-30 minutes in total.
It's very quaint and looks like you're walking through an oil painting!
If you were looking for the best photography location, I would recommend heading back up the hill to capture the harbour from there. It's a brilliant spot to visit at sunset.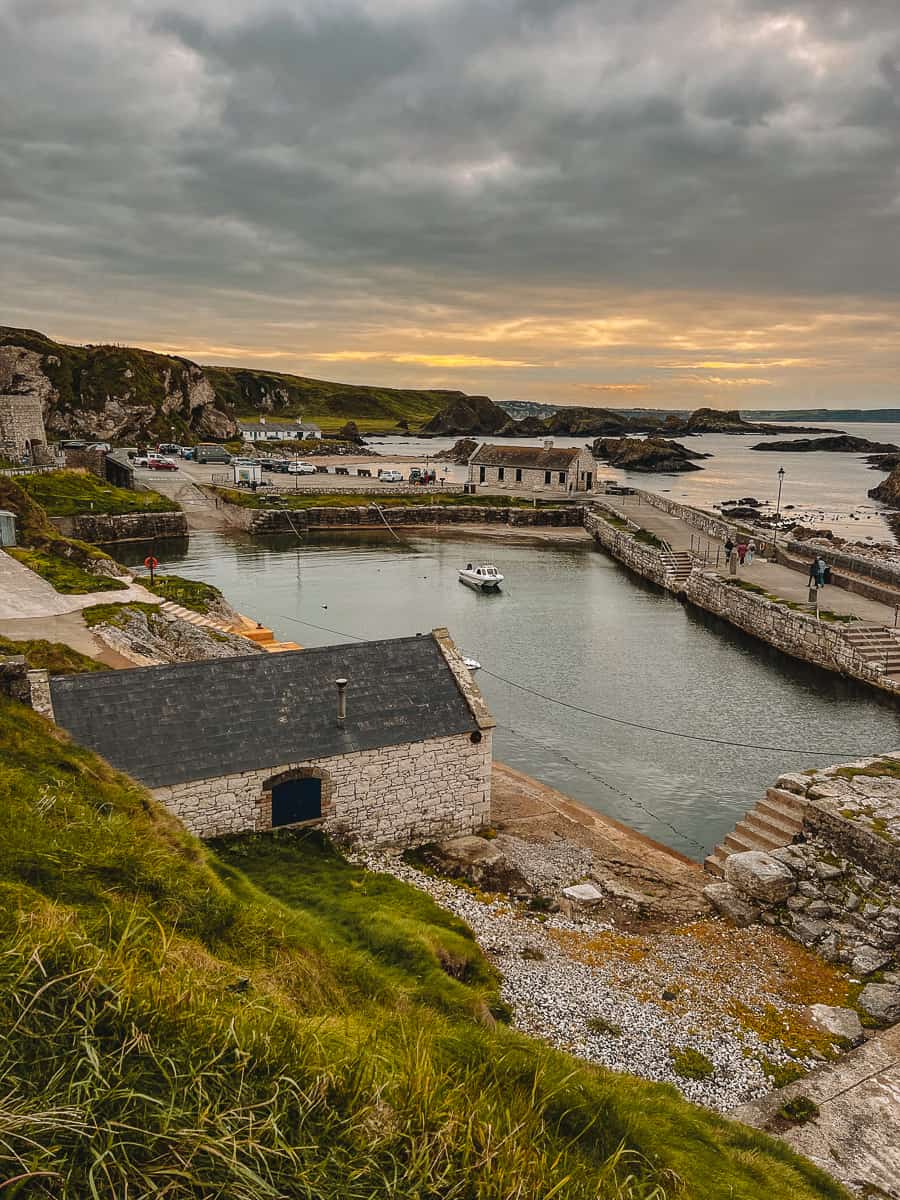 3. See the Old Lime Kiln
Ballintoy Harbour was a shipping port in the 19th century for limestone which was sourced from the cliffside and quarries in the area.
There were a series of rail tracks set up on the cliffs and the limestone would be transported down to the boats and then shipped off overseas.
You can still see the old Lime Kiln in the car park. There is a sign with the history and you can climb on top of the building for a panoramic view.
4. Go swimming or kayaking
Ballintoy is a very popular leisure spot when the weather is warm as there are plenty of places to go swimming here!
The water in the harbour is sheltered and so it's quite safe. There are also lots of picnic tables surrounding the water as well.
If you're feeling a bit more adventurous, you could opt to go kayaking and canoeing from Ballintoy.
It would be a very unique way to explore Pyke and the Iron Islands.
You can book a trip through Causeway Coast Kayaking Tours
5. Explore the Ballintoy caves or hollows
As you explore the harbour, you may notice a series of hollows or caves on the cliffside. There is even one at the back of the car park!
It started to rain on my visit and I went to take shelter here but the caves are pretty shallow. There isn't a series of tunnels or anything like that.
However, if you head around the path along the beach, you'll find deeper caves and what looks like a round table and chairs in one of them!
6. Have tea at Roark's Kitchen
If you fancied having tea or coffee with a view, you can pop inside Roark's Kitchen! It's located inside a quaint chalk building on the harbourfront.
They have some outdoor seating that provides panoramic views of the coastline and the Iron Islands.
They sell hot and cold drinks, light lunches and homemade treats throughout the day.
Please note that this café is seasonal and may be closed in the winter months
7. Visit Ballintoy Church
As you drive down to the harbour, you'll pass by the pretty Ballintoy Church that is perched on the hillside.
From here, you can see along the Antrim coastline and over towards Rathlin Island on a clear day.
The church we see was completed in 1813 but this replaced an older medieval structure that fell into ruin.
You can visit the grounds to see the epic views or pop inside to check out the beautiful architecture and furnishings.
It is still an active parish church with weekly services and so it can get very busy on Sundays with cars parked everywhere around it.
8. Walk to Carrick-a-Rede Rope Bridge
If you wanted to explore the area on foot, you could walk along the Causeway Coast Way towards Carrick-a-Rede Rope Bridge!
It will take you around an hour and you can then end your trip by crossing the bridge over to Carrick-a-Rede island.
The bridge is 20 metres long and hangs 30 metres over the sea! It's exhilarating and a must-do.
Carrick-a-Rede Rope Bridge is National Trust and you do need to pay to visit the island. You may need to pre-book during busy times and it can close in inclement weather.
It's a must-visit for Game of Thrones fans as this rope bridge inspired Castle Greyjoy's Rope Bridge in Game of Thrones!
Click here to read my guide for Carrick-a-Rede Rope Bridge
9. Eat at the Fullerton Arms – Game of Thrones pub
If you're on a Game of Thrones tour in Northern Ireland then I would highly recommend stopping at the Fullerton Arms in Ballintoy for some food or a drink.
It's one of the pubs that have a Game of Thrones door which is part of the Journey of Doors trail!
If you weren't in the know, the beech trees at the Dark Hedges were damaged some years ago due to over-tourism and some of them were sadly knocked down.
Some clever artists re-purposed the wood and made a series of Game of Thrones doors.
Click here to see how you can find all 10 Game of Thrones doors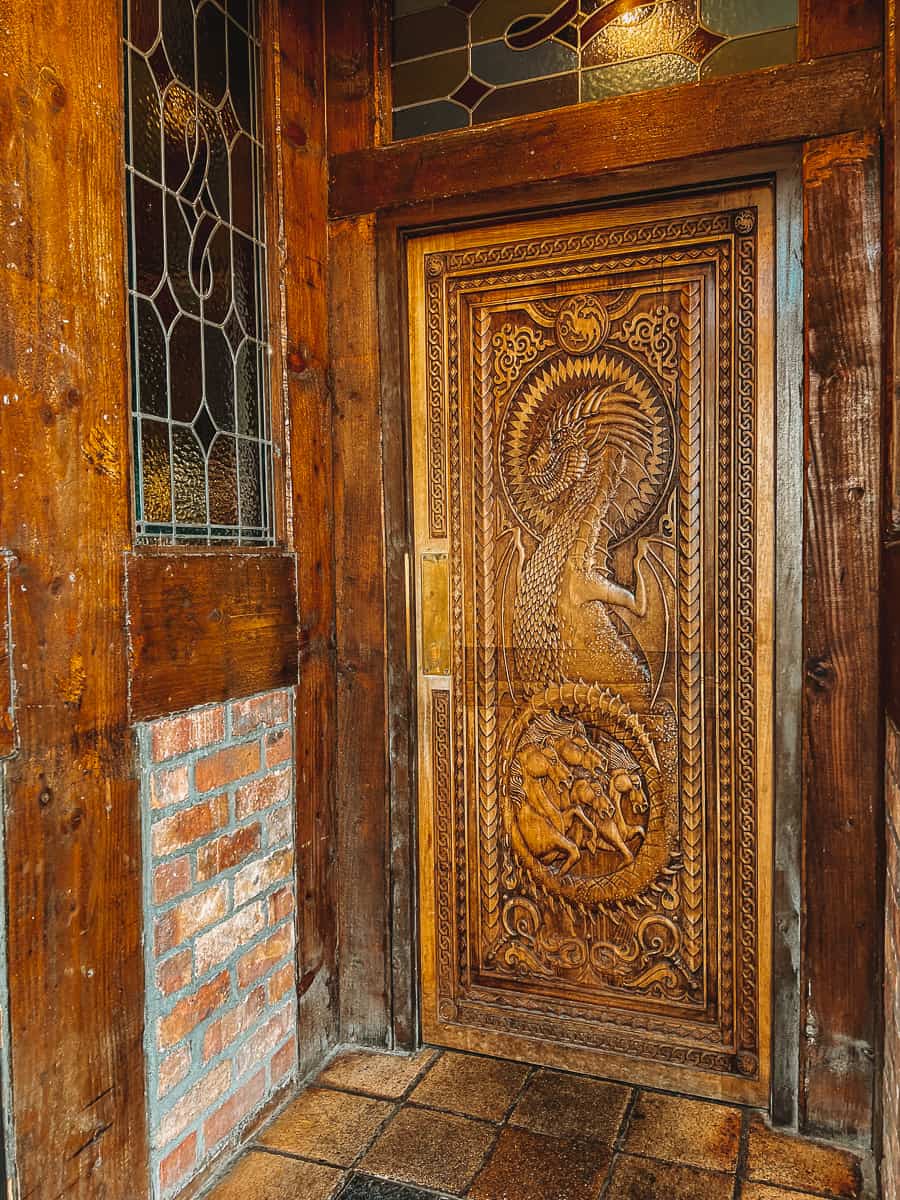 They were gifted to pubs dotted around Northern Ireland. Many of these pubs were places that the cast/crew used to eat, drink or sleep in after filming!
The Fullerton Arms has one of these carved doors so remember to pick up a Journey of Doors passport and stamp it here.
As well as the door, the pub has a warm setting to enjoy a traditional lunch or dinner. I ate here and would highly recommend their steak and ale pie.
Don't forget to take a photo with their iron throne in the back room, you can make your friends or family members bend the knee!
Click here to reserve a table on their website
Where is Ballintoy Harbour in Northern Ireland?
Ballintoy Harbour is located beneath Ballintoy village in County Antrim, Northern Ireland.
This is in the far north and can be found by driving along the famous Causeway Coast.
You'll find Ballintoy between Coleraine and Ballycastle and it's just over a 60-minute drive from the city of Belfast.
Ballintoy joins many popular attractions in this area like the Giant's Causeway, Dunluce Castle, Dunseverick Castle and Carrick-a-Rede Rope Bridge.
It's also easy to plan a quick stop as part of a Game of Thrones road trip as there are other filming locations found nearby.
Ballintoy Harbour address is Harbour Road, Ballintoy, Ballycastle BT54 6NA. Click here for a Google Pin!
How to visit Ballintoy Harbour
It's easiest to drive to Ballintoy Harbour as part of a Causeway Coast road trip.
Ballintoy Harbour is a 5-minute drive (1.3 miles) from Carrick-a-Rede Rope Bridge, an 8-minute drive (3.7 miles) from Dunseverick and a 15-minute drive (8 miles) from the Giant's Causeway.
When you turn off the B15 on the Causeway Coast, you will be driving on narrow lanes to access the harbour.
There will be many cars parked up on both sides of the road from residents or those visiting Ballintoy church. So, proceed with caution.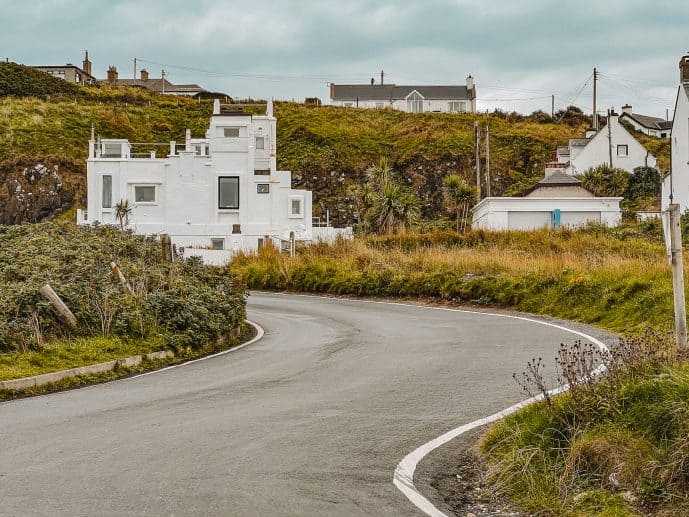 You'll then wind down the harbour road on Knocksaughey Hill with a series of steep switchback turns to get to the car park!
If you're not driving, the 402 bus service that runs from Coleraine and Ballycastle will drop you off at Ballintoy on the main road. It's then a 15-minute walk to Ballintoy harbour.
Or, you could walk to Ballintoy on the Causeway Coast Way from Carrick-a-Rede or Ballycastle.
It's a small place so I would recommend spending around 30 – 60 minutes at Ballintoy Harbour if you're on a road trip. You could easily spend a couple of hours if you wanted to relax for a while though.
Ballintoy Harbour parking
There is a large free car park at Ballintoy Harbour that is open 24 hours a day and has plenty of spaces!
But, in the summer months or when there is warm weather, this can get very busy. So, I would visit early in the morning or later in the afternoon for a quieter visit.
Also, lots of Game of Thrones tour buses arrive from around 10 / 11 am. So, I would visit around this time to avoid the crowds.
There are also some free toilets in Ballintoy Harbour car park and these are open 24 hours.
Looking for more Game of Thrones filming locations nearby?
After your visit to Pyke or Ballintoy Harbour, there is plenty more Game of Thrones filming locations on the Causeway Coast route.
You can head over to Larrybane Quarry which was Renly Baratheon's Camp near Carrick-a-Rede Rope Bridge.
Dunluce Castle featured as the House of Pyke or Castle Greyjoy but they did rework the ruins with the magic of CGI.
Don't forget to pop by the Dark Hedges or the King's Road and Downhill Beach doubled up as Dragonstone.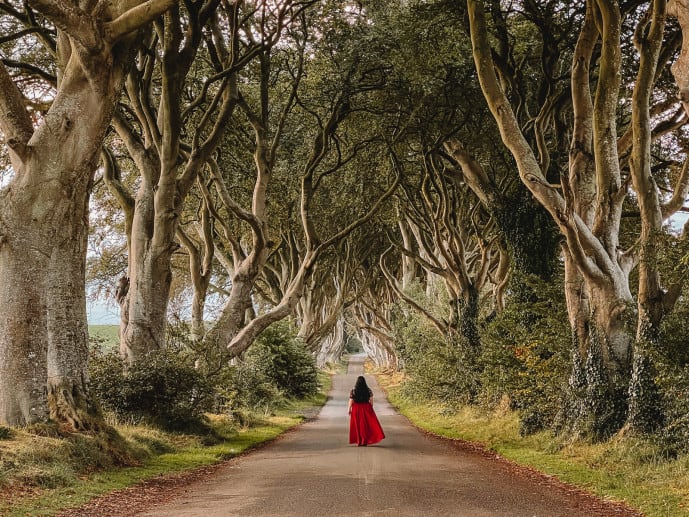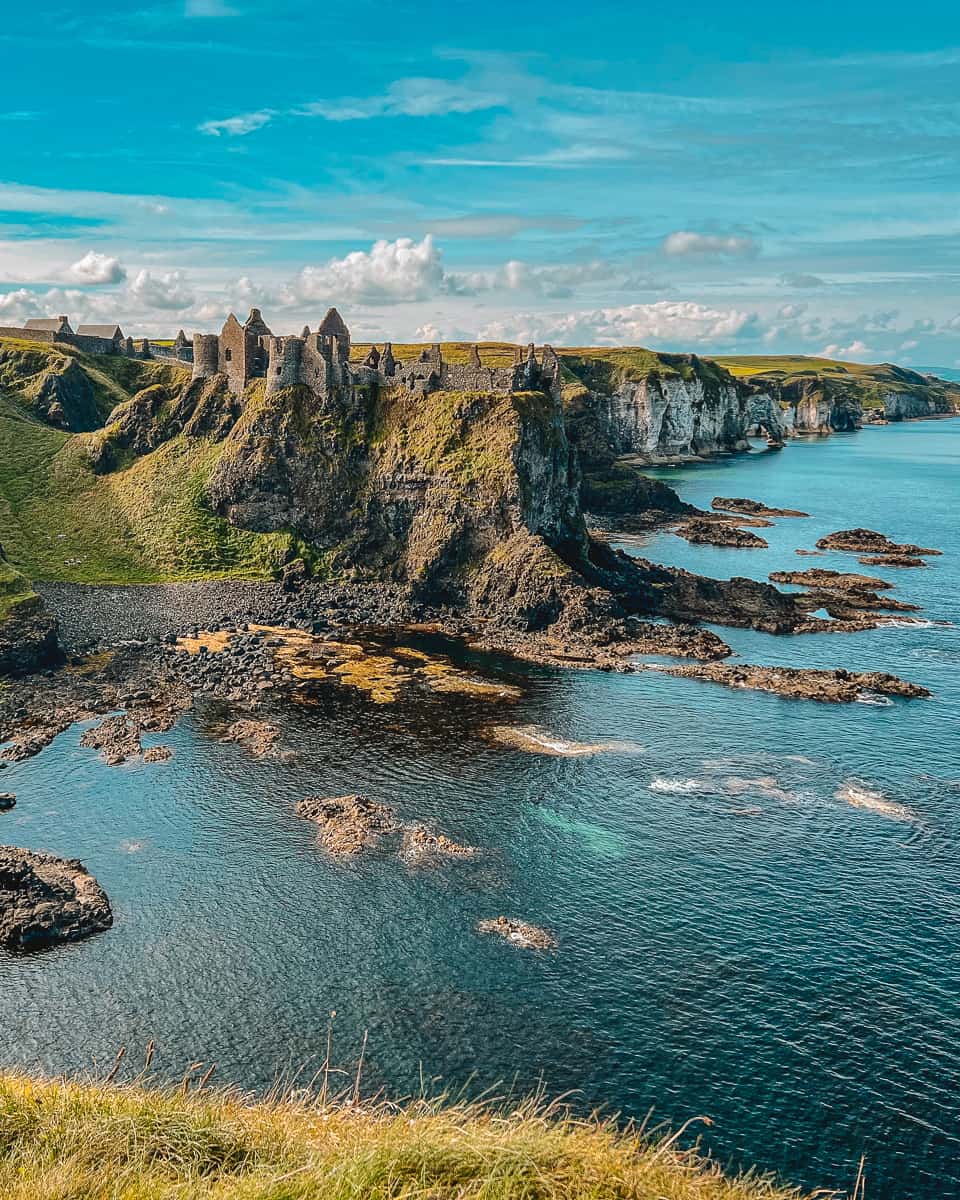 If you're heading down south towards Belfast, I would recommend stopping at Murlough Bay, and Fair Head where Jon Snow meets Daenerys' Dragons.
Also, you can make a stop at Cushendun Caves which was where Melisandre has her shadow baby!
There is Carnlough Harbour where Arya lands in Braavos or you can pop to Steenson's Jeweller's workshop that made lots of the props for the show. I even got to wear a prototype of Sansa's Queen of the North crown!
You can then head on down to Cairncastle to see where Ned Stark executed a deserter of the Night's Watch.
Discover the Causeway Coast
As well as Game of Thrones filming locations, there are plenty of beautiful places to visit on the Causeway Coast.
There are so many places to choose from but here are some of the top locations I would highly recommend!
Kinbane Castle
Kinbane Castle is a bit of a hidden gem and sees fewer visitors than its popular neighbour of Carrick-a-Rede rope bridge.
It's a ruined castle that was built on a white limestone headland that projects into the Atlantic Ocean!
It was originally built by Colla MacDonnell in the 16th century but has fallen into ruin over time.
You do have to walk down some steep steps to access it but it's so worth it. What's even better is it's completely FREE!
Click here to read my complete guide for visiting Kinbane Castle
Giant's Causeway
The Giant's Causeway had been on my bucket list for years and it's a magical ancient place that has over 40,000 columns that lead into the ocean.
As one of the most visited attractions in the country, you can expect it to be busy every day.
You can book your tickets through the National Trust but this is just for the visitor centre. You can visit anytime if you're in the area as they can't technically close the coast! Sunrise or sunset are so much quieter.
The walk from the visitor centre car park is around 20 minutes to the most famous part with the columns but there is a bus service available.
This is something I really wouldn't skip in Northern Ireland as it was absolutely breathtaking!
Dunluce Castle
Dunluce Castle is a magical ruin on the Causeway Coast and has inspired many artists and writers over time including C. S. Lewis.
Apparently, these ruins inspired the ancient capital of Narnia, Cair Paravel in the Chronicles of Narnia!
Well, the team of Game of Thrones creators were inspired too and so they used these ruins as Castle Greyjoy in Westeros.
They filmed at the castle ruins but then transformed the keep on the cliffs with some magical CGI to make it appear as a set of toppling towers connected by rope bridges!
Dunluce was built in the 13th century and was inhabited by the feuding McQuillan and MacDonnell clans.
Eventually, Sorley Boy MacDonnell made this his base of operations as the 'Lord of the Route' and his son became the 1st Earl of Antrim! It fell into ruin after the Battle of the Boyne.
I would highly recommend visiting this romantic castle, even if it's just a quick stop to admire it from the viewpoint.
Click here to read my complete guide for visiting Dunluce Castle aka Castle Greyjoy!
Ballintoy Harbour FAQs
What was Ballintoy Harbour in Game of Thrones? It was used to film the Iron Islands! Specifically, Lordsport on Pyke Island. It's where Theon arrives to ask for his father's help.
Can you swim in Ballintoy Harbour? Yes, it's a popular swimming spot!
Is Ballintoy Harbour dog friendly? Yes, I saw lots of dogs here out for a walk. There was a water bowl near the toilets too.
Read more of my Ireland guides
Game of Thrones Studio Tour Review
How to visit Belfast Umbrella Street
How to visit the Pollnagollum Cave Game of Thrones location
How to visit Inch Abbey from Game of Thrones
Tollymore Forest Park Game of Thrones filming locations
How to see the Game of Thrones Tapestry in Belfast
Glass of Thrones walking trail in Belfast
How to visit Lough Tay aka Guinness Lake
How to find the Ballinastoe Boardwalk in Wicklow
Guinness Storehouse in Dublin review
Save the Ballintoy Harbour Game of Thrones filming location for later!