One of the best-hidden gems in Ireland has to be the magical Ballysaggartmore Towers near Lismore in County Waterford.
Tucked away in the lush forest, you'll find a pair of spectacular follies that lie in ruins and covered in vines. As well as abandoned lodges, a river, and a waterfall.
Although the follies look like something from a fairytale, the tragic story surrounding this historic demesne is anything but dreamy. It's a dark fable filled with cruelty, avarice, and woe.
Here is how to visit Ballysaggartmore Towers including what to see and tips for the walk!
What are Ballysaggartmore Towers?
Ballysaggartmore Towers are two elaborate follies that have been built in a historic estate near Lismore.
Although they look like they belong in the middle ages, they were actually built in the 19th century by a rather cruel landlord.
The towers today are derelict and lie in ruins covered in moss and vines. They act as a bridge to cross over a river and feel like something from a fairytale.
The follies are joined by Ballysaggartmore Lodges in the woodland which acted as an elaborate gateway to the ancient estate.
It was meant to impress visitors who were visiting the demesne and the long-lost Ballysaggartmore House of Arthur Keily-Ussher.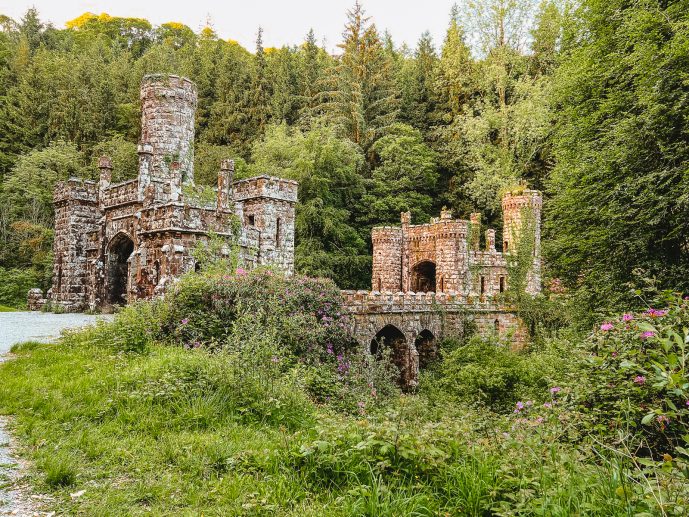 Ballysaggartmore history
Ballysaggartmore towers were built by a man called Arthur Keily-Ussher who owned an estate of 8000 acres most of which he rented out to tenants.
He reserved around 1000 acres of the land as his personal demesne where he built his family residence of Ballysaggartmore House. It was a very modest household and not much to talk about.
There is a local legend that says Arthur was jealous of his brother's more impressive Strancally Castle.
Also, his highly ambitious wife Elizabeth wanted a similar grand residence to what her sister-in-law called home.
So, Arthur decided to build the elaborate Ballysaggartmore towers and a grand entrance gate/lodge on the estate.
It was a huge project that was purely ostentatious and came at a great expense to the family fortune.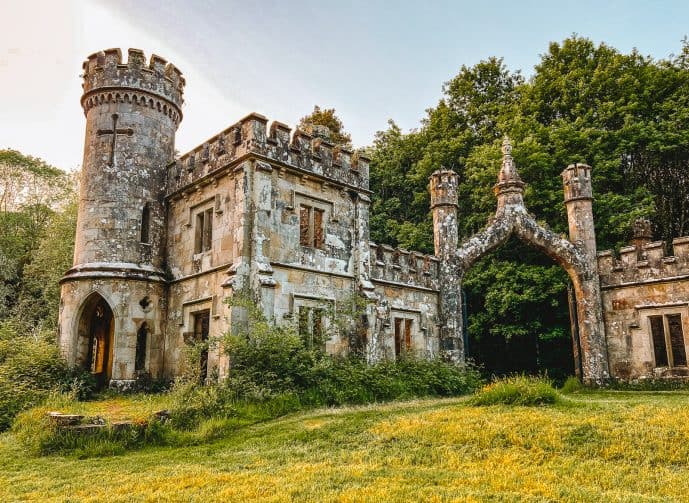 After they had built the follies, they started to turn their attention toward building a grand mansion to replace the house. But, they quickly realised that they were running out of money.
This was at the same time as the Great Famine when people were starving and could barely afford to pay rent.
Arthur Keily-Ussher was stubborn as he was trying to regain his losses. He refused to put a hold on rent payments and didn't even offer a reduction for his poor tenants despite the tragic circumstances.
He started to evict those living on his land who couldn't afford to pay. It was a truly malicious act in a time of great suffering. Many sold all their worldly possessions just to have a roof over their heads.
There were multiple assassination attempts made on Arthur Keily-Ussher for his cruelty and his fortunes continued to dwindle.
What happened to Ballysaggartmore House?
After the Great Famine, the country started to thrive but the Keily-Usshers only continued to spiral into misfortune. Many people thought this was karma and justice for his cruel treatment and neglect.
The family was quickly becoming bankrupt and was seeking a new owner for their estate. Eventually, it was sold to William Morton Woodroofe in 1861. Arthur died a year later.
At the turn of the century, the Honourable Claud Anson bought the residence. He was an English man that lived in Texas and owned a ranch.
He married Lady Clodagh de la Poer Beresford, a sister of the Marquis of Waterford.
Although the couple lived in America for a time, they eventually wanted to return home to Ireland when their first child was born.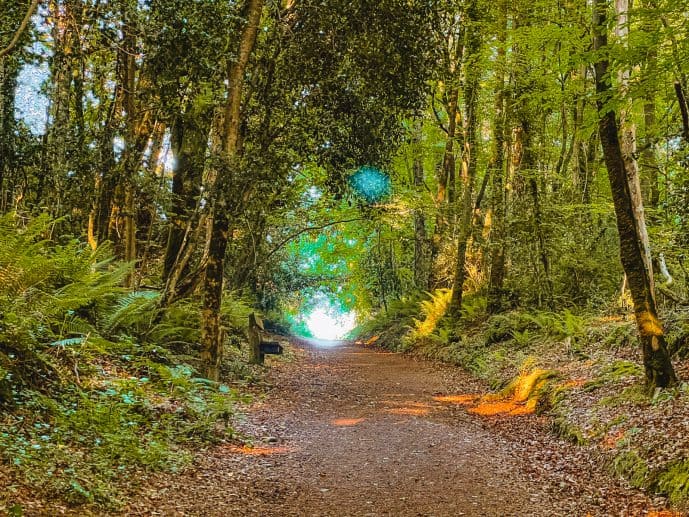 Sadly, their dream of owning a grand estate here was thwarted during the Irish War of Independence. As part of the conflict, Ballysaggartmore House was set ablaze in 1922.
Claud didn't have the funds to rebuild due to rash and unlucky investments and so it stood derelict for many years and was eventually demolished.
Fortunately, there is a bittersweet happily ever after to this dark and grim fairytale.
Although in ruins, the gorgeous Ballysaggartmore towers and lodges still survive today and are now open to the public.
There is a small loop walk and picnic area in the woodland so that everyone can enjoy them.
How to get to Ballysaggartmore Towers
If you wanted to visit these romantic ruins for yourself, the easiest way to visit Ballysaggartmore is to drive there as it's in quite a remote location near the town of Lismore in County Waterford.
The nearest larger cities are Waterford and Cork and both locations will take you around an hour's drive to reach Lismore.
You can drive here on the M8/72 road. When you reach Lismore Castle, cross the bridge over the River Blackwater and then turn left on the R666.
You'll eventually reach a small lay-by where you can park up and it's then around a 20-minute walk to reach the Ballysaggartmore Towers.
If you're not driving, you could walk to Ballysaggartmore demesne from Lismore. There are regular bus services to Lismore from Waterford City Canal.
Ballysaggartmore address is Southpark, County Waterford, Ireland. Click here for a Google Pin!
Ballysaggartmore Towers parking
There is some limited FREE parking found just outside of the Ballysaggartmore Walk entrance.
It's a medium-sized lay-by and so make sure to park with consideration. Also, there was a sign to not leave valuables on display.
Parking is on a first come first served basis, so I would visit earlier or later in the day to guarantee a space.
If this free parking area is full, there are more spaces found a little further along the road.
At the top of the steps, you'll find a small information board with the history of Ballysaggartmore and some background on the area.
You can then head into the woodland to start your leisurely walk to the fairytale ruins.
Things to do in Ballysaggartmore
So, what is there to do once you reach Ballysaggartmore and the historic estate?
Although it's a short 2-kilometre walk, there is actually a surprising amount to see here and it's all so beautiful.
1. Take a walk through the historic demesne
There is a short loop path that takes you around the woodland and it's around 2 kilometres long or 1.2 miles.
The entire walk will take you around 40 minutes without stopping but I would plan around an hour or more as there are lots of things to see.
The stroll through the woods is very scenic with lots of lush trees and emerald foliage. In the summer, there were pink rhododendrons that added a pop of colour.
I would recommend visiting earlier or later in the evening for a quieter visit. There are tables and benches dotted around to have a picnic.
2. Visit Ballysaggartmore Lodges
I decided to visit the Ballysaggartmore Lodges first as they were the closest ruins to the car park.
The path to get up here is quite deceiving, although it looks relatively flat it's actually very steep and I was soon out of breath.
These stunning and elaborate buildings were once the entrance gate to Arthur Keily-Ussher's estate.
They were rented out to tenants until the 1970s when they were eventually abandoned. They have fallen to decay over time and many are now roofless.
You can explore the skeletal remains of the lodges but be careful as you go as these are abandoned buildings.
I particularly loved the ornate arched gate that you walk through, it leads you on a flat path over to the two folly towers.
3. Explore the magical Ballysaggartmore Towers
My favourite part of this walk was the ruins of Ballysaggartmore Towers which is the reason why I wanted to visit.
As you approach them it really does feel like you've stepped into a fantasy world or the pages of a storybook.
Although the towers are abandoned you can step inside and see the remains. They are covered in all sorts of vines and moss. It's beautiful.
If you take a look around, you can make out what remains of a fireplace and the towers of the structure before it was abandoned.
The towers are connected via a bridge that allows you to cross over a river. If you walk to the side of this bridge you can see the archways which make it look even more magical.
To me, this looked like it could have belonged to the medieval era and formed part of an ancient castle. You could just imagine a knight crossing the bridge on his horse.
It's hard to fathom this was built in the 19th century and even stranger to think this was just an elaborate entranceway to show off wealth and impress visitors.
Regardless, it's really beautiful to explore and makes an even prettier photo opportunity.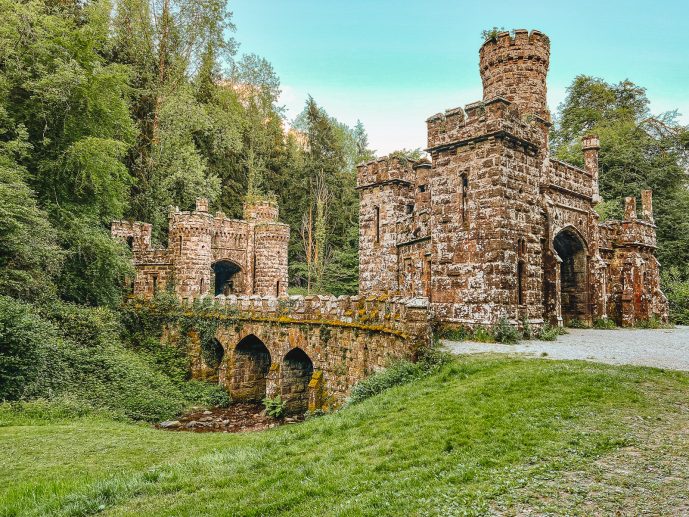 4. Ballysaggartmore waterfall
Just above the towers, you can head up to see the Ballysaggartmore waterfall that cascades down towards the river. The water from here eventually flows under the bridge.
I have to admit, in summer this waterfall was not very impressive. It was more of a trickle.
There was a heatwave going on and so the water levels were very low. Also, there was lots of foliage blocking the area so you could barely make it out.
I'm sure in the rainy season this waterfall would be really dramatic and worth exploring.
After you've had a look around this tower area you can then head on the path back to the car park. It's an easy and scenic loop.
How long is the Ballysaggartmore Towers walk?
This walk is only 2 kilometres (1.2 miles) and so it only really takes you around 45 minutes to complete the loop. Some paths are steep to reach the ruins but eventually, it flattens out.
Although it's a short walk, there are lots of things to see here that make visiting this magical forest worth it.
You can explore the Ballysaggartmore Lodges, a pretty waterfall, the river, and Ballysaggartmore Towers. As well as many smaller ruins left behind from the historic estate.
It's also a very green area with lots of flowers and pretty scenery. Plus, there are picnic benches to enjoy lunch. I would plan around 1-2 hours for your visit.
Is visiting Ballysaggartmore Towers worth it?
100% yes, it's worth it! Personally, I thought these follies looked like something straight out of a fairytale and the entire place felt very magical. Especially as it's so out of the way.
I particularly loved the towers as it looked like a medieval castle and exploring the lodges was also really fun.
It's a bit of a hidden gem and so it sees fewer crowds than many of the bigger attractions in Ireland. This makes it a nice and relaxing walk in nature.
There are also lots of attractions nearby like Lismore Castle Gardens that could make it into a day trip.
So, don't skip the magical Ballysaggartmore Towers in Ireland!
My top tips for visiting
Plan for around an hour or two – The walk is only 2 kilometres (45ish minutes) but there is lots to see here and ruins to explore. I would leave around 1-2 hours for your visit.
Wear appropriate footwear – In summer it was very dry on the ground but winter does see lots of mud on the pathways.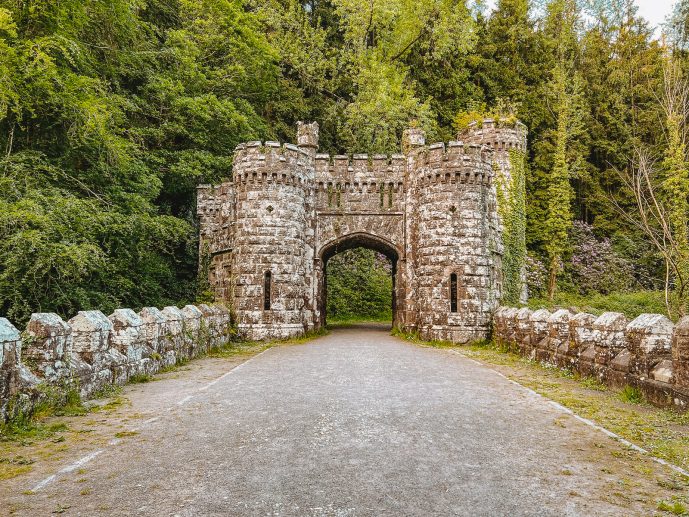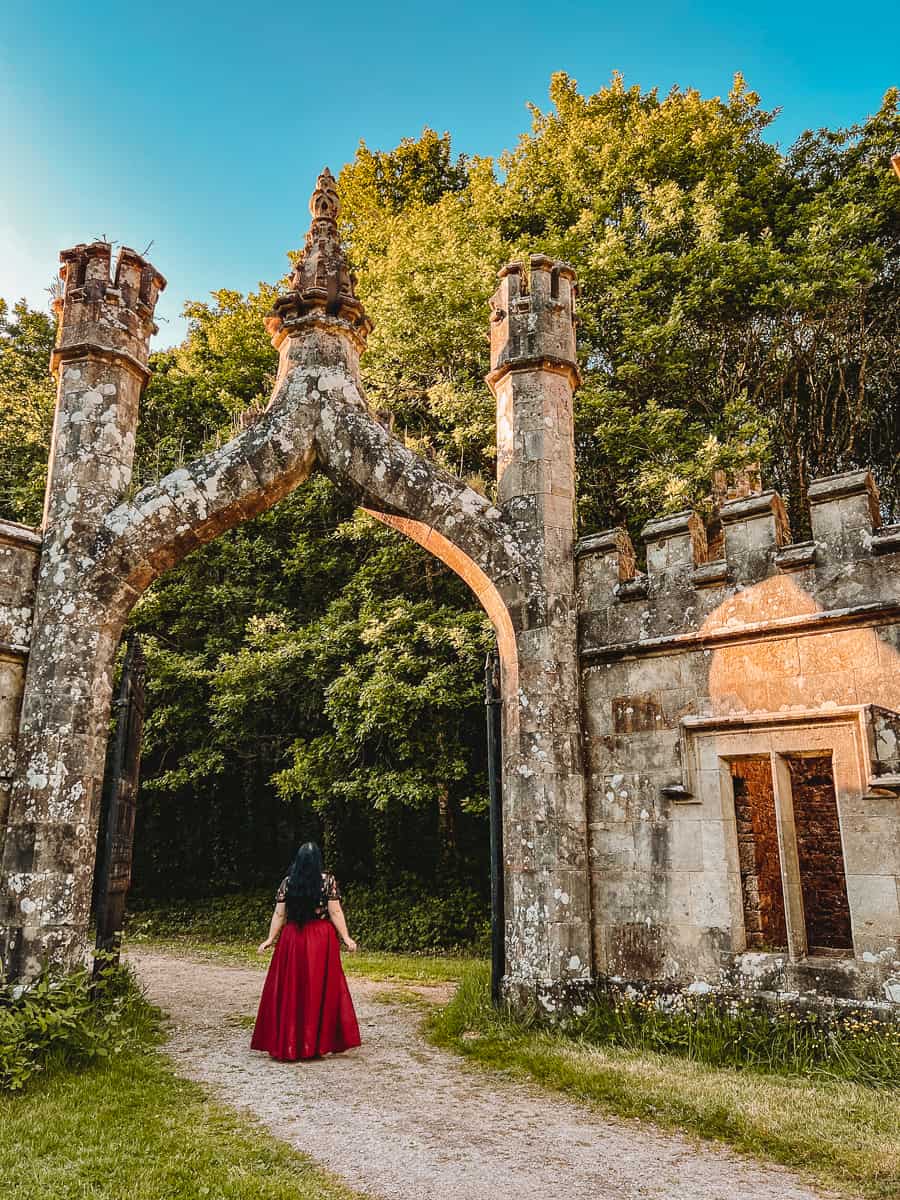 Visit early or later in the evening – Although Ballysaggartmore is a hidden gem, I would still visit early morning or later in the day for a more peaceful visit.
Prepare for bugs – Lots of midges and annoying bugs were here in summer, especially around the water. They aren't dangerous but the bites can be very itchy.
Things to do near Ballysaggartmore Towers
There are plenty of things to do near Ballysaggartmore that could make a great day out in County Waterford.
Lismore is a historic town in Ireland that is often associated with Saint Mochuda of Lismore, who founded Lismore Abbey in the 7th century.
Most of the town was built around Lismore Castle. A fort that was originally built by King John and has had many famous owners such as Sir Walter Raleigh and the Dukes of Devonshire.
Although you cannot visit the castle today as it's a private residence, you can explore the Lismore Castle Gardens surrounding it which are one of Ireland's best-kept secrets.
Lismore is renowned as a spiritual place and so you could also visit Lismore Church or St Carthages Cathedral in the centre.
Or, why not extend your visit by booking a retreat at St Mary's Abbey near Ballysaggartmore?
It's the only Cistercian monastery for women in Ireland and many people visit to learn about their practice and enjoy their hospitality in the guesthouse onsite.
Read more of my Ireland guides
How to visit Powerscourt Waterfall Ireland
Visit the magical Muckross Abbey ruins & yew tree
How to visit Torc Waterfall in Ireland
How to capture Deck of Cards Cobh
How to find the Umbrella Street Dublin
Marsh's Library – visit the oldest public library in Ireland
Visit the Cliffs of Moher Harry Potter Cave
Visit Trinity College Long Room Library in Dublin
How to visit the Pollnagollum Cave Game of Thrones location
How to find the Umbrella Street Belfast
How to visit Lough Tay aka Guinness Lake
How to find the Ballinastoe Boardwalk in Wicklow
Guinness Storehouse in Dublin review
Save Ballysaggartmore Towers for later!