One of the more intriguing attractions in Scotland has to be the mysterious Balmoral Pyramid.
Yep, you read that right. Scotland has its very own pyramid and it's called Prince Albert's Cairn!
It was commissioned by Queen Victoria shortly after his death in 1862. Although Albert's is the most famous, there are actually 11 Balmoral Cairns that you can visit on the Balmoral Castle estate.
It's a steep walk into the woodland but well worth the effort to see this incredible landmark and panoramic views of the Cairngorms National Park.
Here is a complete guide for the Balmoral Pyramid walk and how to get to Prince Albert's Cairn in Scotland!
What is Balmoral Pyramid?
So, the most popular question people ask is 'why on Earth is there a pyramid in Scotland?!'.
Well, the Balmoral Pyramids are a series of cairns that were commissioned by Queen Victoria on her Balmoral Estate.
A "cairn" is a Gaelic term for a structure made of stacked stones. These act as a marker for a burial site, memorial, or landmark.
The first Balmoral Pyramid was the "Purchase Cairn" after Prince Albert purchased the estate for Queen Victoria in 1852. The first stones were placed by both Queen Victoria and Albert.
The rest of the cairns were built to commemorate the engagements and marriages of her nine children.
The most recognisable and famous Balmoral Cairn is Prince Albert's Pyramid. It was dedicated by Victoria shortly after his death.
It's the largest and most impressive of the pyramids and provides spectacular views over the Cairngorms National Park.
Prince Albert's Cairn history
Queen Victoria and Prince Albert first visited Scotland in 1842, two years after their marriage.
Victoria and Albert loved Scotland so much that Prince Albert purchased Balmoral Castle and Estate for Victoria in 1852. They would often spend many happy summers here.
Prince Albert died suddenly of an illness in 1861 at just 42 years old. His death sent a heartbroken Victoria into depression, she withdrew from public life and mourned him by wearing black for the rest of her reign.
The Balmoral Pyramid inscription reads;
"To, the beloved memory of ALBERT, the great and good Prince Consort. Erected by his broken-hearted widow VICTORIA. R. – 21st August,1862"
It's good to note that Prince Albert is not buried inside the Balmoral pyramid, he was laid to rest at Frogmore House & Gardens in Windsor.
Queen Victoria was interred in the mausoleum alongside him when she died forty years later in 1901.
The pyramid is solely a granite memorial dedicated to him by his widow. Victoria continued to visit every time she stayed at Balmoral.
Where is the Balmoral Pyramid?
Prince Albert's Cairn stands high on Craig Lowrigan hill in Aberdeenshire. This is located on the Balmoral Castle estate in Ballater overlooking the peaks of the Cairngorms National Park.
It's closest to Easter Balmoral village, which is home to the famous Royal Lochnagar Distillery, on a short but steep walk through the woodlands.
As it's so high up, you cannot drive to Balmoral Pyramid. You will need to park up around a mile away and walk there.
How to get to Prince Albert's Cairn on the Balmoral Estate
You can visit Prince Albert's Cairn on a 1.5-mile walk (2.4 kilometres) from the Balmoral car park.
Although it is closer to Easter Balmoral village, there is no parking there. So, you must park up outside Balmoral Castle in order to visit on foot.
The Balmoral Pyramid walk will take you on the B976 road to Easter Balmoral village, then up through the woodland to the cairn.
Balmoral Car Park's address is Balmoral Castle, Ballater, AB35 5TL. Click here for a Google Pin!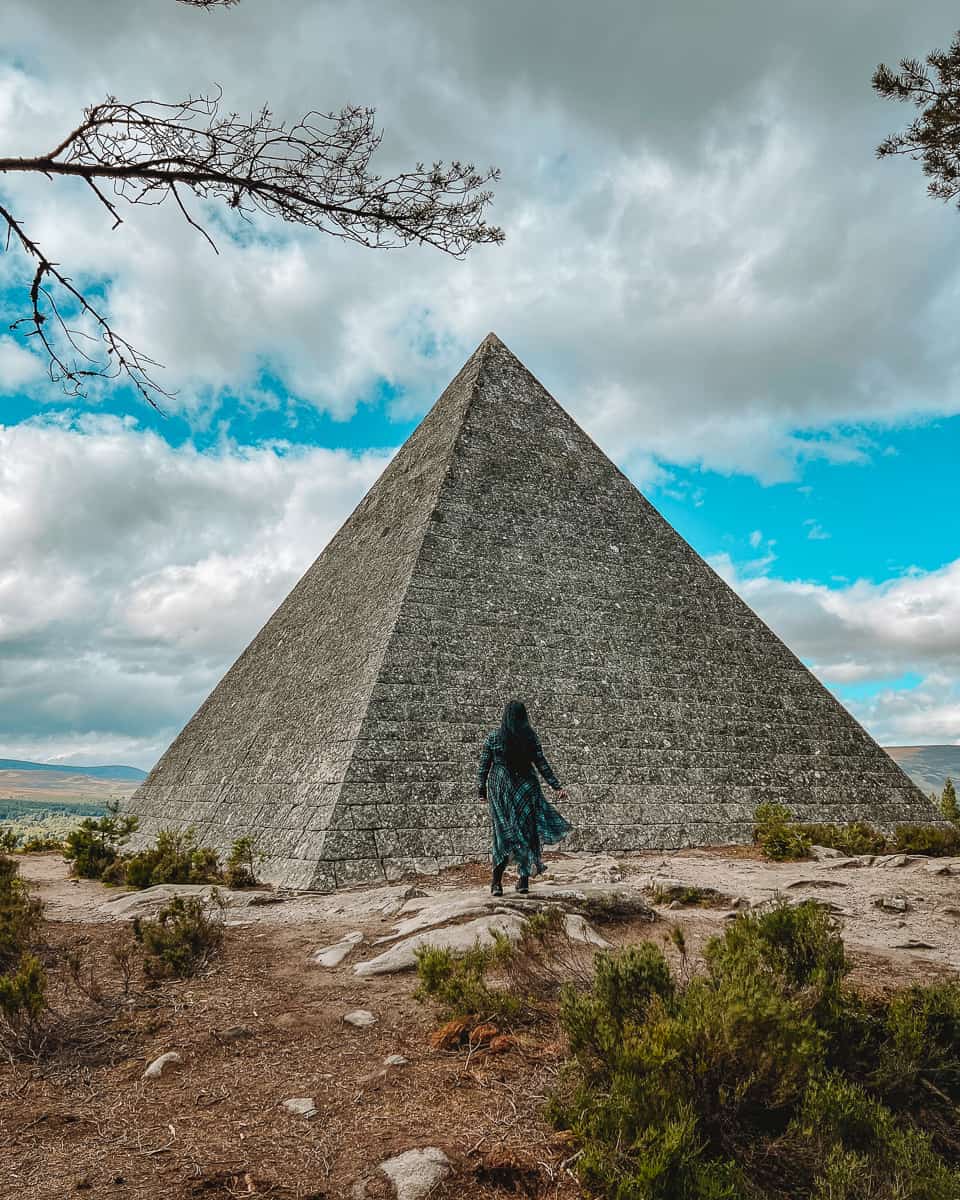 Balmoral Pyramid opening times and ticket prices
You may be surprised to know that you don't need to buy a Balmoral Castle ticket to visit any of the Balmoral Cairns.
Prince Albert's Cairn is completely free to visit all year round, you just need to pay for Balmoral Castle parking whilst you're here.
Balmoral parking prices are £5 per car (£10 for motorhomes) but you get to park for the entire day which means you have plenty of time for the walk.
The Balmoral Estate Pyramid is open 24 hours a day all year round but it's important to note that Balmoral Castle closes off to the public in late summer.
Balmoral is a private holiday home for the Royal Family in Scotland. The King usually visits in early August and stays through September/early October.
When the Royal Family members are in residence both the castle and some of the estate grounds are closed.
You can still visit the Balmoral Pyramid, you just have to take a direct route to the cairn as opposed to a longer circular walk.
The best time to visit Prince Albert's Cairn would be on a dry day any time in April – July. That way you can visit Balmoral Castle and the Balmoral Pyramid on the same day!
HRH will usually release a closure statement of when she plans to visit Balmoral. Check Balmoral Castle's website for details of closure days.
How long is the Balmoral Pyramid walk?
Unfortunately, there is no 'quick access' to visit Prince Albert's Cairn. All of the memorial cairns are placed high on the hillside of Balmoral Estate overlooking the Cairngorms peaks.
You'll be walking for around a mile from the Balmoral Castle parking area through Easter Balmoral village to start your ascent through the forest.
It will take you around 40-50 minutes one way. So, I would personally plan at least 2 hours for the Balmoral Pyramid walk.
The entire walk is uphill and you'll want to leave lots of time to admire the views and take photos.
If you want to see the other memorial cairns, I would plan around 3-4 hours as it's approximately 6 miles.
Is the Balmoral Pyramid walk difficult?
This is always subjective. But, although it is a relatively short walk, it can be a challenging hike for many.
Although you start out on nice flat concrete roads, the path through the Easter Balmoral village and then up through the forest is extremely steep the entire way to Prince Albert's Cairn.
There are no benches to relax on but you can take some breaks on the rocks found by the pathway if you need a breather.
I visited on a particularly hot muggy day and there was no breeze in the forest so I had a face like a tomato. The lack of breeze also meant that bugs were everywhere. Luckily, it was windy at the top.
My visit was in July when the ground was very dry but these pathways can get very boggy in the autumn/winter. Also, the ground is uneven in the forest so make sure you have some suitable footwear.
You'll definitely get a bit of a workout and you'll be breathless at the top. But, you'll soon forget all that once you see the breathtaking views – totally worth it!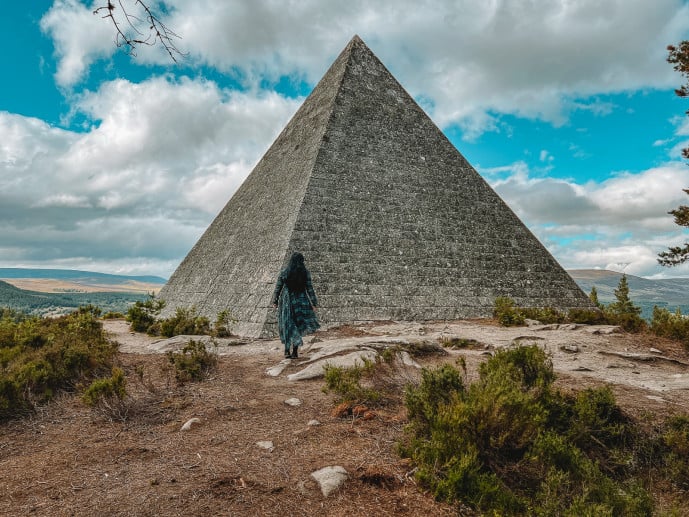 Balmoral Pyramid directions
So, it is quite easy to find Balmoral Pyramid once you know where you're headed. I did ask the staff at Balmoral Castle for the best route and they recommended these directions.
The main thing to remember after you've passed the Balmoral Castle visitor centre is a right turn, right turn, left turn, and then up into the woodland to the cairn.
Here are some Balmoral Pyramid directions to help you find it!
1. From the Balmoral parking area, head over the River Dee
Regardless of whether you decide to visit Balmoral Castle or not, the easiest place to park up is at Balmoral Car Park.
They have snazzy touch-screen parking machines that take cards, cash, and contactless payments. It's ticketless and you just enter your parking registration when paying.
Once you're ready, cross over the wrought iron suspension bridge over the River Dee. Fun fact, this was built by none other than Isambard Kingdom Brunel!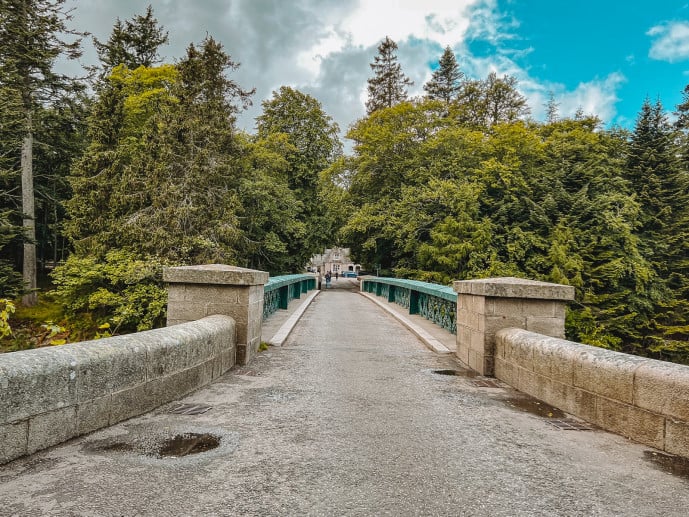 He was a famous engineer of his time and is known for his pioneer inventions, especially in the South West.
He designed the Great Western Railway, Clifton Suspension Bridge, and the S. S. Great Britain amongst other things.
The views over the River Dee from this bridge are spectacular but this is a road so be mindful of traffic. Once you're ready walk straight ahead passing the Balmoral War Memorial on your left.
2. Turn left at the Balmoral Estate visitor centre
You'll eventually see the Balmoral Estate ticket office in front of you. You'll be turning left here.
Then, keep walking straight along this flat concrete road. The views are lovely on this stretch, you'll get a peek of the private golf course (you're not allowed to enter) and even some Highland cows and bulls.
Remember to walk to the side of this road as there will be cars that drive along here.
3. Turn right at the Royal Lochnagar Distillery signs
Once you see the two signs pointing to the Royal Lochnagar Distillery make a right turn into Easter Balmoral.
The Royal Lochnagar Distillery is famous in the Highlands and there are tours you can take if you wanted to extend your visit.
Click here to find out more information or book a distillery tour!
4. Turn right and walk through Easter Balmoral village to the very end
If you're not bothered, keep heading up the hill and turn right again into Easter Balmoral Village.
On my visit, there was a makeshift paper sign on the distillery tourist sign that said 'Cairns' pointing towards the village.
Make a slight left and walk straight through Easter Balmoral Village to the very end. Here, you'll see the woodland!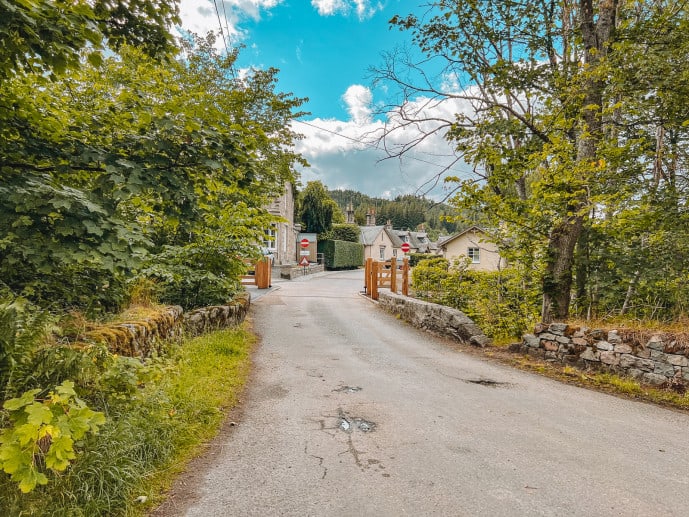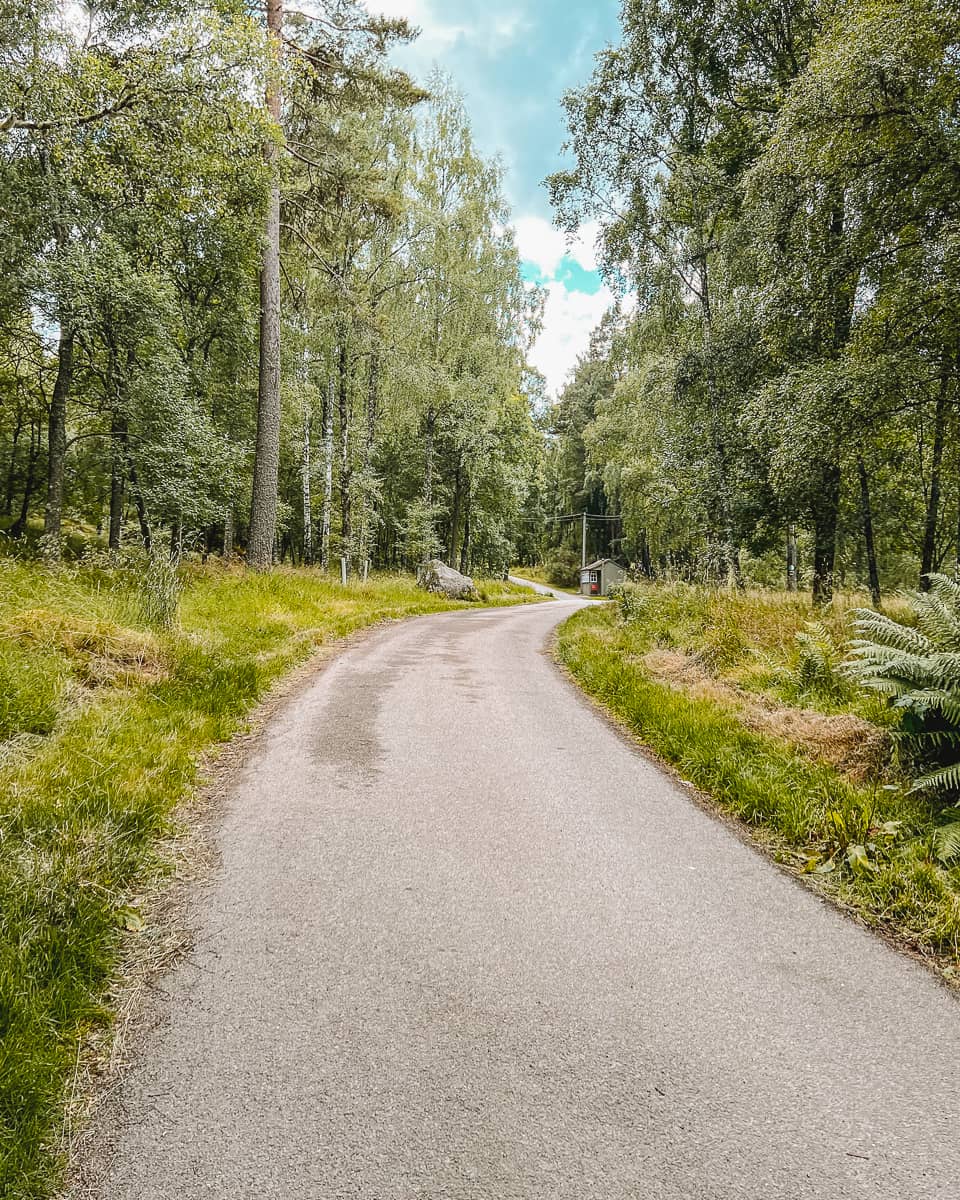 5. Turn left when you see the sign for Prince Albert's Cairn
You'll come across what looks like a security booth on the right. Turn left here and you'll see the sign pointing to Prince Albert's Cairn.
Follow this path upwards and into the woodland. This is when the walk starts to get very steep and possibly muddy if you're visiting in the autumn/winter.
Keep going until you find a large gate. Cross through the gate and then continue on ahead.
6. Make a quick stop at Princess Beatrice's Cairn
Keep walking until you see your first cairn which is Princess Beatrice's Cairn located on the hillside.
This cairn was built to commemorate Princess Beatrice's marriage to Prince Henry of Battenberg in 1865.
It is not as large as Prince Albert's Cairn but worth a stop and a quick photo. Once, you're ready continue on the same path all the way up the hill.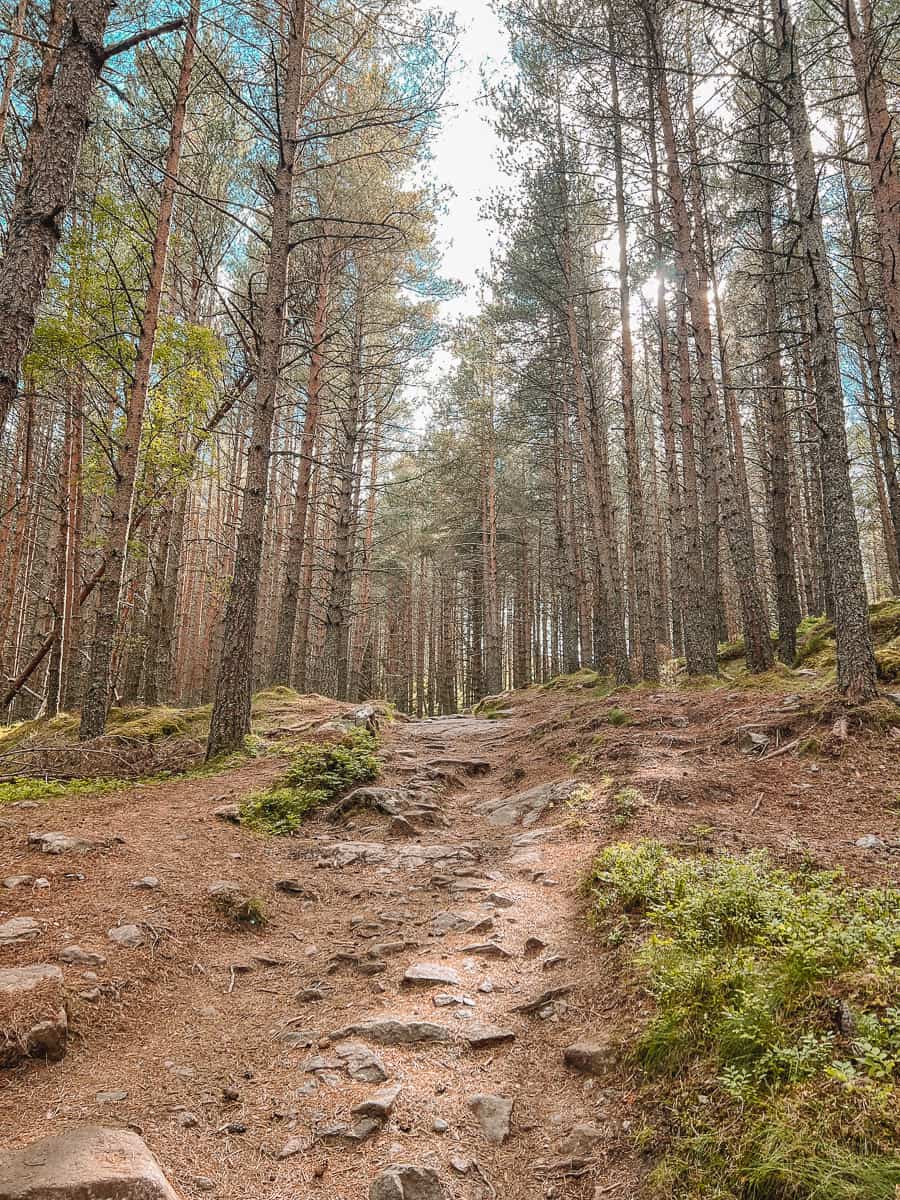 7. Follow the steep path up to Prince Albert's Cairn!
Once you reach the very top of the hill, you will have finally made it to Prince Albert's Cairn or the Balmoral Pyramid.
Thankfully, the ground evens out here at the top. So, once you've caught your breath, you can just enjoy taking in the views.
There's even a small platform to take a seat for a well-deserved rest. It's not the easiest hike but I'm sure you'll agree it's well worth the effort.
Exploring Balmoral Pyramid
Once you get to the Balmoral Pyramid, you can really appreciate the size of it. It's around 41 feet wide by 41 feet high!
You can take a walk around the pyramid and you'll find the inscription on the very front facing the view.
I would definitely make sure to have your camera ready to take a few snaps! On a sunny day, the peaks are incredible.
Wildlife lovers will also enjoy a visit here. Red squirrels are regularly spotted, Golden Eagles fly overhead and there is also the rare Capercaillie grouse.
Can you go inside Prince Albert's Cairn? No. You cannot enter any of the Balmoral Cairns on the estate. They are not burial tombs and are made of stacked stones and granite. There is not even a door!
Find the other Balmoral Pyramids
After you've visited Prince Albert's Pyramid, you can easily head back the way you came to the car park.
But, many people like to explore all of the Balmoral Cairns whilst they are here. There are 11 including the Purchase Cairn and Prince Albert's in total. These are;
Princess Royal's Cairn – to commemorate the marriage to Prince Frederick William of Prussia in 1858.
Princess Alice's Cairn – engagement to Prince Louis of Hesse-Darmstadt in 1862.
Princess Beatrice's Cairn – marriage to Prince Henry of Battenberg in 1865.
Princess Helena's Cairn – engagement to Prince Christian of Schleswig-Holstein in 1866.
Prince Arthur's Cairn – marriage to Princess Louise Margaret of Prussia in 1870.
Princess Louise's Cairn – marriage to John Campbell, 9th Duke of Argyll in 1871.
Prince Leopold's Cairn – marriage to Princess Helena of Waldeck in 1882.
Prince Alfred's Cairn is located on Ripe Hill. Prince Albert-Edward's (later King Edward VII) cairn is on Birkhall.
The walk is around 6 miles and will take you around 3-4 hours to complete. But, many people say that it's worth it.
Personally, I was quite happy with just visiting Prince Albert's Cairn and, as it was getting dark, I decided to head back.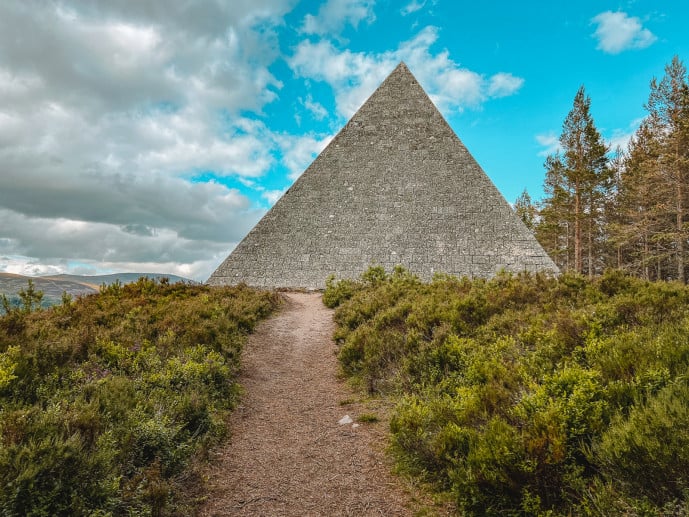 Top tips for the Balmoral Pyramid walk
Wear suitable footwear – this hike can get pretty mucky in the autumn / winter or when it has been raining heavily
Go on a dry day – I know this is Scotland and it's never a guarantee but I would try to plan a visit on a dry day. The pyramid is exposed to the elements.
Facilities – there are no toilets on this walk or in Easter Balmoral Village. The closest is in Balmoral Castle and the visitor information centre at Crathie.
Bring water/snacks – it's a long walk, especially if you're heading to all the Balmoral Cairns!
Make sure to bring bug spray – In summer, there were lots of bugs in the woodland. Smidge is always recommended to ward off bites.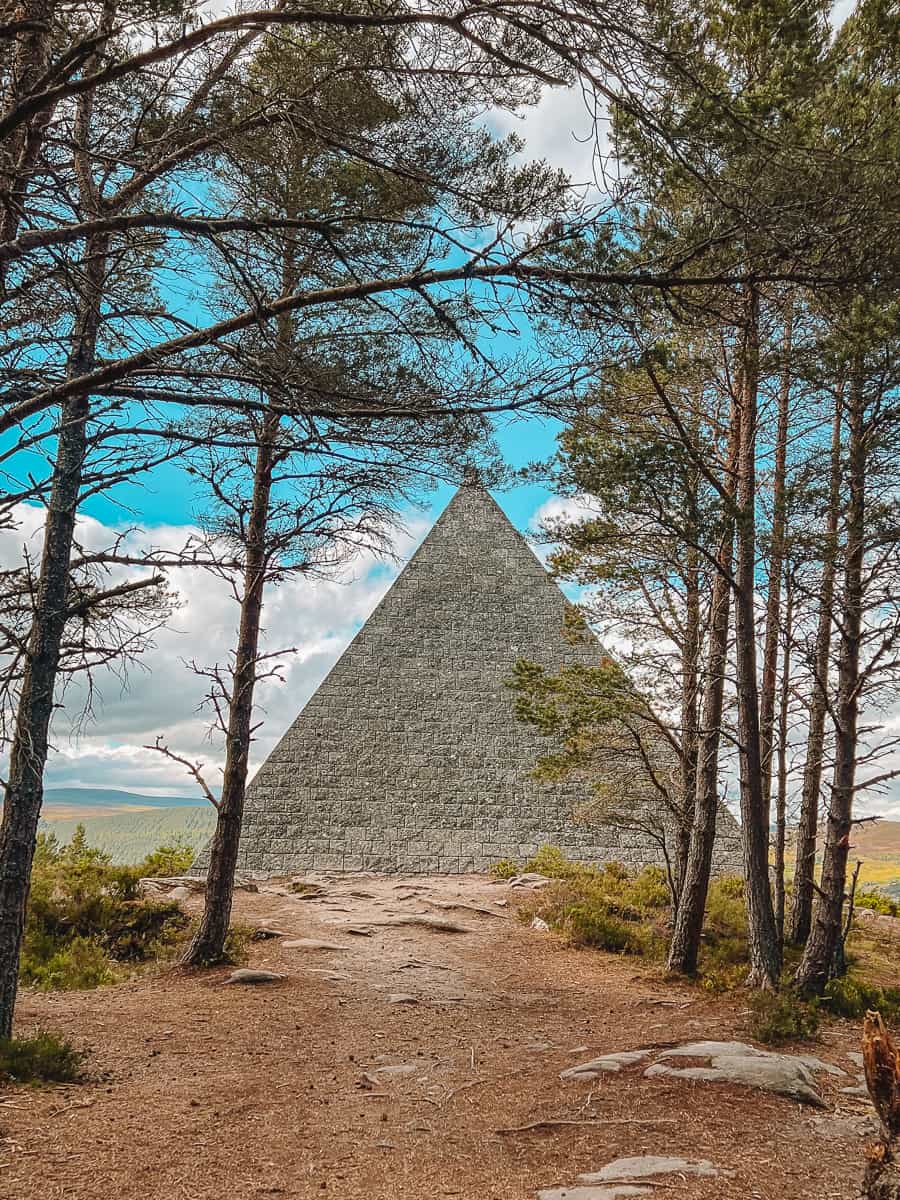 Is a visit to Balmoral Castle worth it?
Many people like to visit Balmoral Castle and the Balmoral Cairns on the same day. The castle opens up to the public every year from April – July when the King is not in residence.
Tickets are £15 (not including the £5 parking) which grants you access to the manicured gardens, Balmoral Castle, café, and a gift shop laden with corgi souvenirs.
It's a self-guided tour and audio guides are available. But, it's good to note that you only get to visit one room in the entire castle as part of your ticket!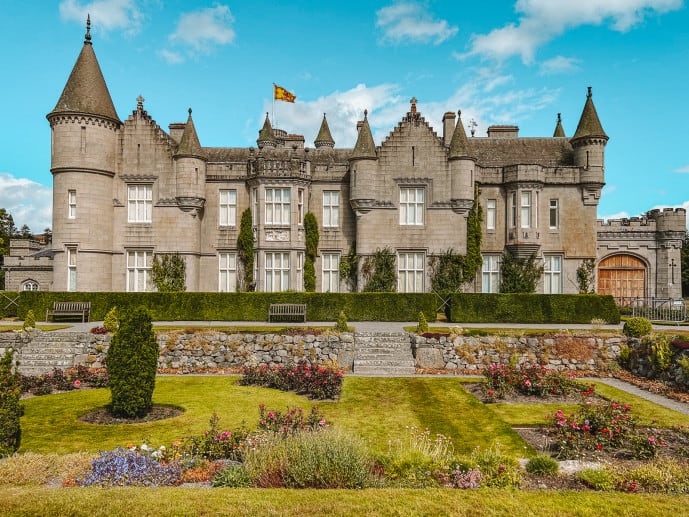 You see, as Balmoral Castle is an active royal household, the public is only allowed to visit the staterooms of the house. Balmoral only has one stateroom which is the Balmoral Ballroom.
The ballroom is transformed into an exhibition featuring a few of late Queen Elizabeth II's outfits, portraits, artworks, and collectibles. But, you cannot even take photos inside.
Saying that it's a fairytale building and the gardens are seriously impressive with lovely water features and colourful flowers! Plus, I loved seeing the statue of Noble who was Victoria's favourite dog.
You also get the chance to spot a red squirrel here as there is a large population in the woodland. You'll see these super cute 'beware – squirrel crossing' signs!
I love history and so visiting Victoria and Albert's famous Balmoral Estate was high on my list of things to do in Scotland.
Did I think the ticket price was good value for money? No. But, what can you do? It's a royal residence and a one-off!
You will ultimately have to decide whether you think a ticket to Balmoral Castle is worth it based on your budget and what you prefer to do on your holidays.
Where to stay near Balmoral
There aren't many hotels next to Balmoral Castle. The closest accommodation would be in Braemar and Ballater.
Here are some of the top recommended hotels;
Balmoral Arms – Formerly known as the 'Deeside Inn', this cosy hotel is located in the Victorian village of Ballater. There are rooms and suites as well as a restaurant onsite. Click here for dates and rates.
Braemar Youth Hostel – backpacking around Scotland? Try the dorms at this friendly hostel down the road. Click here for rates!
Read more of my Scotland articles
Where is the pink castle in Scotland?
How to visit the Green Loch Aviemore
How to visit the Kelpies in Falkirk
Edinburgh Harry Potter locations
Outlander locations you can visit in Scotland
How to visit Lallybroch from Outlander
Visiting the Fairy Pools on the Isle of Sky
Magical Kilchurn Castle viewpoint
Smoo Cave & Waterfall walk in Durness
How to visit the Corpach Shipwreck
Things to Do in Gearrannan Blackhouse Village
How to visit Castle Stalker in Scotland
How to visit Dunrobin Castle – Scotland's fairytale chateau
Why you must visit Leakey's Bookshop Inverness
How to visit the Callanish Stones on the Isle of Lewis
How to visit the Pink House on Loch Glass
Visiting the Puck's Glen Fairy trail
Save the Balmoral Pyramid walk for later!