Bamburgh Castle is one of my favourite castles in the world, an ancient fortress on the Northumberland coastline that has over 3000 years of history!
So, when I was invited to visit Bamburgh Castle at Christmas to see it all decorated for the festive season I just couldn't say no.
This year, Bamburgh Castle has decorated their keep in the theme of the Twelve Days of Christmas with Lords-a-Leaping, Swans-a-Swimming, and even a partridge in a pear tree!
It's a magical time to visit the castle and is guaranteed to get you into the festive spirit so I would make sure you don't miss out.
Here's everything you need to know about visiting Bamburgh Castle at Christmas including opening dates, prices, and things to see!
Note: I was kindly invited to celebrate Bamburgh Castle at Christmas. Although a guest, all opinions are my own.
Bamburgh Castle at Christmas
Bamburgh Castle has decorated their staterooms into a whimsical and enchanting world of the Twelve Days of Christmas.
So, think of this as your true love gifting you these French Hens, Gold Rings, Swimming Swans, Leaping Lords, and Partridges in Pear Trees!
The festive decor has been designed by award-winning theatrical designer Charlotte Lloyd-Webber and her team at CLW Event Design so you know it's going to be spectacular.
You'll find huge displays, floral wreaths, Christmas trees, twinkling lights, baubles and so much more magic for the special occasion.
It's a truly special time of year to visit Bamburgh but you will need to hurry as it's only on for a limited time!
Twelve Days of Christmas at Bamburgh Castle
Bamburgh Castle's Twelve Days of Christmas event is running from Saturday 12th November – until Sunday 8th January 2023.
So, you'll need to make your way up to Northumberland soon to see this magical Christmas spectacle in their staterooms.
Here is what you can expect to see when visiting Bamburgh Castle at Christmas;
A Partridge in a Pear Tree
As soon as you enter the Bamburgh Castle staterooms you'll kick off your Christmas trail with a partridge in a sparkling pear tree.
Here, you can learn about the history of the castle and the work that has been put in to preserve this ancient fortress.
There are lots of festive wreaths around the fire and look out for the French Hens nesting in nooks and crannies with cosy candles.
The Great Hall
My favourite room in the entire fortress is, without a doubt, the Bamburgh Castle Great Hall.
It just commands attention with its dark teak hammer beam ceiling, fine art portraits, a huge fireplace, and a mezzanine balcony.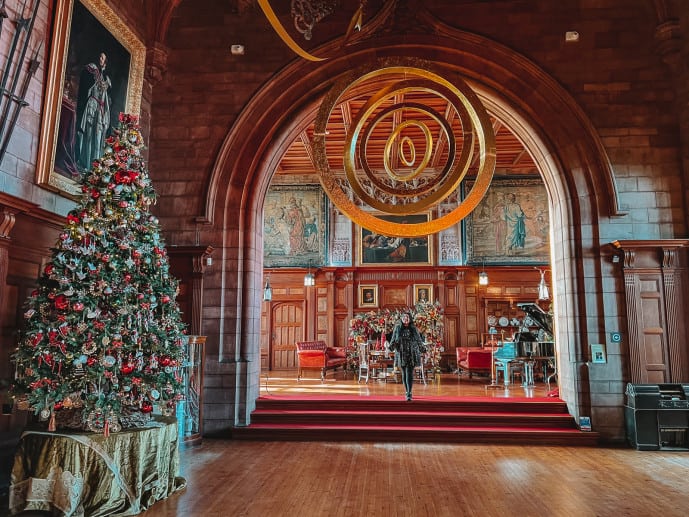 At Christmas time, this room transforms into a festive treat. This year, you'll see five huge gold rings hanging in the centre surrounded by twinkling lights and tinsel.
You'll see angels with trumpets hanging from the ceiling and some of the most beautifully decorated Christmas trees I've seen.
The Billiard Room
As you make your way through the cloistered stairs decorated with dusted wreaths, you'll eventually reach the Billiards Room.
Although the Great Hall is spectacular, the Billiard's Room truly is a work of art to behold.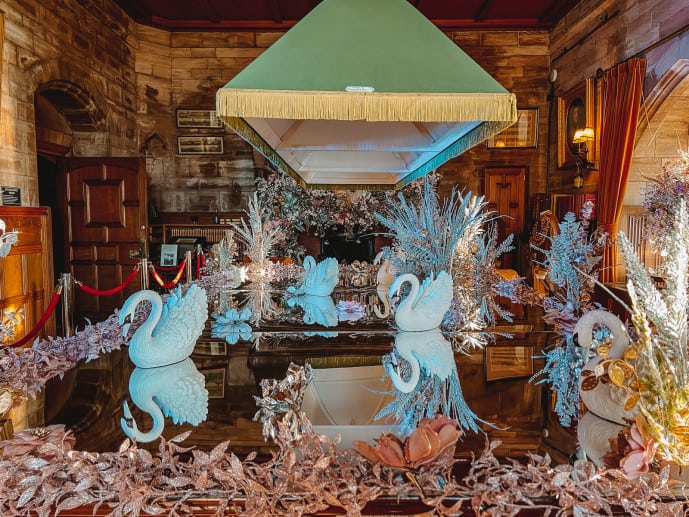 It represents the Swans-a-Swimming verse of the Twelve Days of Christmas and it was so cleverly done with the swans looking in the mirror.
To join the swans, there were so many glittery bouquets and floral decorations framing the room! I could have spent an age admiring all the pretty flowers and lights.
Even more festive fun
The number of staterooms that you can explore on your visit is vast and none have been left out of the Christmas cheer.
The armoury and kitchens have also been decorated for the festive season and there are piles of presents and bunting around every corner.
You'll find tributes to eight maids milking, nine ladies dancing, ten lords-a-leaping, eleven piper's piping, and twelve drummers drumming too!
All in all, it was such a magical event that got me well and truly into the festive spirit for this year. I would highly recommend visiting while you can.
Bamburgh Castle grounds
After your magical visit to the Bamburgh Castle staterooms, I wouldn't forget to take a good wander around the castle grounds.
For thousands of years, Bamburgh has been a defensive fortress on the Northumberland Coast controlled by great monarchs such as King Henry VIII and Queen Elizabeth I.
So, you can expect to find a huge keep with cannons overlooking panoramic views of the coast.
On a clear day, you can see over the horizon and admire views of the Farne Islands and the Holy Island of Lindisfarne. One of the most magical places in Northumberland.
Meet Father Christmas & Wreath Making
As well as the Bamburgh Castle Christmas event, you can book for your kids to meet Father Christmas for the festive season too.
Sessions can be booked from Saturday 19th November until Friday 23rd December and it costs £19.95 per child (in addition to a regular castle ticket).
The entry includes a visit to a magical winter grotto and an exclusive gift from Santa.
There are also some wreath-making classes running at £49.95 per person which would be perfect to make some unique decorations for your home this year.
Note: Meet Father Christmas & the Wreath Making sessions are now fully sold out. I would book this early next year!
Bamburgh Castle at Christmas prices
You'll be happy to know that the Christmas decorations at Bamburgh Castle are included in regular winter admission tickets and you should always try to pre-book where possible to guarantee entry.
Bamburgh Castle is known as the King of Castles and so is a very popular attraction in Northumberland but it's especially popular in the festive season!
Winter tickets cost £15.50 per adult and the admission gains you entry into the castle and grounds. Children's tickets (5-16) are £7.65 and those under 4's are free.
Dogs are allowed on the site and on the castle grounds but are not allowed in the staterooms.
Click here to book tickets for the Twelve Days of Christmas
Bamburgh Castle opening times
Bamburgh Castle at Christmas is running from the 12th of November until the 8th of January. You can even visit on Christmas Eve and New Year's eve for some festive fun.
Bamburgh Castle in winter is open in from 10 am – 4 pm with the last admission to the staterooms at 3.15 pm. I would recommend getting here earlier rather than later in the day.
Parking is limited and I would always recommend spending at least a couple of hours at Bamburgh Castle.
There is so much to see on the grounds of the fortress and the staterooms plus there is a café and gift shop!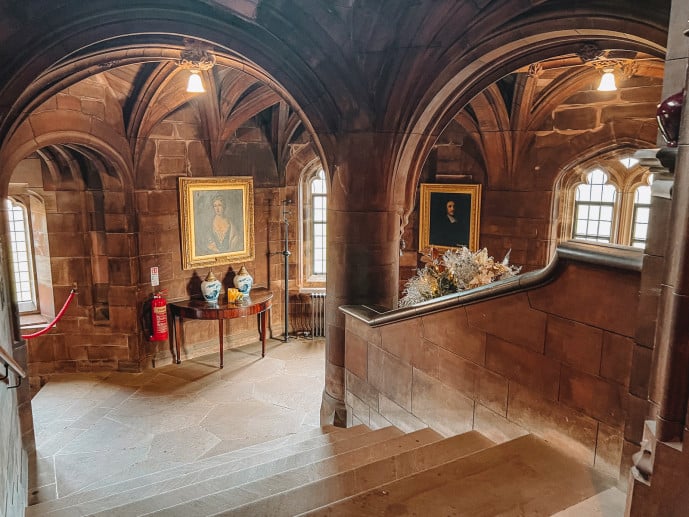 How to get to Bamburgh Castle in Northumberland
Bamburgh is in the North East side of the United Kingdom in the county of Northumberland.
It's located in the heart of the Northumberland Coast which is an Area of Outstanding Natural Beauty (AONB). It's halfway between both Berwick upon Tweed and Alnwick.
The easiest way to travel to Bamburgh is by car. You can take the coastal route using the A1 and turn off on the B1341 Road from Seahouses.
If driving is not an option, there is no direct train to Bamburgh, you must alight at either Alnmouth or Berwick-on-Tweed. From here, take an Arriva or Travelsure bus service to the village.
Bamburgh Castle address is Bamburgh NE69 7DF. Click here for a Google Pin!
Bamburgh Castle parking
There is limited Bamburgh Castle parking located at the top of the castle near the entrance gate.
When you enter the town, follow the brown tourist signs that will guide you up the hill to the private car park.
Parking prices are not included in your admission ticket and it costs £4 per car for the day. You need to pay on arrival.
Bamburgh village and attractions are easily accessible nearby on a short walk down from the fortress.
Things to do near Bamburgh Castle
Beyond Bamburgh Castle, there are plenty of things to do in Bamburgh village which is on the Northumberland coast.
One of my favourite places to visit is Bamburgh beach which can be found after you have climbed over the sand dunes. You get incredible views of the castle from there.
You can also visit the historic St Aidan's Church which was named after St Aidan who founded it in 635 AD.
Or, you can learn about the heroine Grace Darling who was a major inspiration for the RNLI. She was a young woman who lived in one of the Farne Island lighthouses and saved almost a hundred sailors from a shipwreck by sailboat with her father.
You can learn her inspiring story of bravery in the Grace Darling Centre opposite the church.
I would always recommend popping into the Copper Kettle tearoom for a bite to eat – they do the best scones and teacakes.
If you're a fan of The Last Kingdom on Netflix, you may be surprised to learn that Bamburgh in Northumberland is actually Uhtred's Bebbanburg!
That's right, it's a real place. Although today it looks nothing like Uthred's Anglo-Saxon birthright, it's still worth exploring and seeing where it was based in the series.
A fun fact is that The Last Kingdom team actually filmed on Bamburgh beach but it was a very small feature and Alexander Dreymon (who plays Uhtred) wasn't here *sniff*.
Click here to read my complete guide to visiting Uhtred's Bebbanburg!
Where to stay near Bamburgh Castle
If you were looking for a place to stay near Bamburgh Castle then look no further than the Bamburgh Castle Inn run by the Inn Collection Group.
Although not in Bamburgh itself, it's only a short drive away in Seahouses where you can take boat trips out to the Farne Islands.
They have many cosy rooms where you can spend the night and some have balconies with sweeping views over the coast.
If you're visiting for the festive season, the Inn Collection Group has special offer Winter Breaks where you can book dinner, bed, and breakfast for £49.95.
Even if you didn't want to stay the night, I would recommend visiting the Bamburgh Castle Inn for its tasty restaurant.
It has an amazing range of comfort food which is perfect after cold wintery adventures on the coast!
Click here to book your stay at the Bamburgh Castle Inn
Read more of my Northumberland articles
Craster to Dunstanburgh Castle walk
A complete guide for Ford and Etal
How to see puffins on the Farne Islands
Things to do on Holy Island (Lindisfarne)
Why you must try Lindisfarne Mead
Sycamore Gap walk on Hadrian's Wall
How to visit the Walltown Crags
The mysterious Temple of Mithras
Harry Potter filming locations in Alnwick Castle
How to visit the Alnwick Gardens Cherry Blossom
Discover the Alnwick Poison Garden
Magical Alnwick Treehouse restaurant review
Visit the magical Barter Books Alnwick
Save Bamburgh Castle at Christmas for later!