If you want to take a short walk in the Peak District but also see some breathtaking views then this easy Bamford Edge Walk is the one for you!
In just 20 minutes you'll be standing over 1000 feet above sea level on Bamford Moor and get to see a spectacular panorama of Hope Valley, Ladybower Reservoir, and Win Hill.
It's quite a steep walk but it's well worth losing your breath and it provides some fantastic photo opportunities as well. It was easily my favourite walk on my visit to the Peak District and you feel on top of the world.
Here is a complete guide for the easy Bamford Edge walk with the best time to visit, where to park, walking directions, and how to get those amazing instagrammable ledge photos.
Note: this walk is now getting very popular. If you are choosing to visit, please make sure to take rubbish home with you. Don't expect people to clean up after you. Respect and protect the natural beauty of these wonderful places. Thank you.
What is Bamford Edge?
Bamford Edge is an overhang of gritstone that sticks out over the beautiful Bamford Moor which is home to lots of grouse!
It lies elevated on the moor, close to the quintessential Derbyshire village of Bamford in the Peak District National Park.
Bamford Edge is approximately 1381 ft above sea level or 420 metres high. From the top, you get some of the best views of Ladybower Reservoir, Win Hill, and Hope Valley on a relatively short and steep walk.
It's extremely popular with rock climbers, walkers, and those wanting to get some fabulous photos on an iconic overhanging ledge!
How to get to Bamford Edge in the Peak District
Bamford Edge is located in the Peak District National Park which is in the North of England, the closest city is Sheffield.
Bamford Edge is located on Bamford Moor which is in Hope Valley and very near popular attractions like Stanage Edge and Castleton.
The easiest way to access Bamford Edge is by car as the Peak District is quite remote.
Although public transport facilities here are good (see below) they are not always frequent so it's easiest to have your own means of transport to access Bamford.
The easiest place to park for Bamford Edge is New Road which is in Hope Valley near Castleton. But, there are numerous trails that will lead you here over Bamford Moor.
Alternatively, there are routes from Ladybower Reservoir and Stanage Edge but these walks will not be as easy.
Once you're parked on New Road, Bamford Edge is easy to locate and it's only a short 20-minute walk to get up on the moor!
Bamford Edge Car Park – Where to park for Bamford Edge?
The easiest place to park for Bamford Edge is on New Road which is an off-road car park right by the entrance of this walk.
The Bamford Edge parking postcode is New Road, Bamford, S33 0AD or you can use this Google Pin to find it here.
This is a lay-by on the roadside and is very narrow! But, there is just enough room to park with consideration.
The Bamford Edge parking charges are FREE on New Road and it is the closest place to park for Bamford Edge. So, it's a win-win.
If you cannot find space here, there is Hook's Carr Car Park opposite Stanage Edge use postcode S32 1BR. This has free parking but requires you to climb up on the moor and walk over to Bamford Edge which is a fair few miles.
Or, you can park at Ladybower Reservoir at Heatherdene Car Park use S33 0BY. However, this car park is not free and costs £3 to park all day in cash. This walk will also be a lot longer!
I would always recommend getting there early to secure a space on New Road as it really is the most convenient.
Important: Please do not park on the soft grass verges for this walk as the roads leading here are single track and parking on the roadside blocks very important access for local and emergency vehicles. Always park in designated lay-bys and car parks.
Bamford Edge bus or train
If you were visiting the Peak District by public transport, there are buses that run to Lydgate Lane and Ladybower Reservoir which will allow you to start the Bamford Edge walk.
However, this will be a bit longer. There is a 257 bus service from Sheffield interchange and this stops at Lydgate Lane in Hope Valley and carries on to Castleton.
Alternatively, you can get a train to Hope station and catch the 257 bus heading back to Sheffield which stops at Lydgate Lane and Ladybower Reservoir.
There are no buses that service New Road for this walk, unfortunately. But, Lydgate Lane in Hope Valley is a 10-minute walk to New Road from the bus stop to start the Bamford Edge walk.
It's important to note that planning your public transport routes in the Peak District in advance is essential as buses are infrequent. Always do some research before you go to ensure you can get a bus back.
How long is the Bamford Edge walk?
The great thing about the Bamford Edge walk is that it's one of the shortest walks in the Peak District but you get these spectacular views with very little effort.
I'm a bit believer that there is no shame in wanting to access some incredible views without walking miles if you don't have to.
The walk from New Road from the stile is around 15-20 minutes tops to reach the top of Bamford moor! In total, it's around 2-miles as a loop but it didn't feel that long to me.
You can actually see Bamford Edge from the roadside and it's not overly difficult to reach. However, you will definitely be out of breath and could have legs like jelly with the incline.
I would leave at least an hour or two as you'll want to spend some time up on Bamford moor grabbing some photos and enjoying the incredible views!
If you wanted to extend this walk to head to Ladybower Reservoir or Stanage Edge. You'll need to leave at least 4-6 hours for either of those circuits as they are considerably longer.
How difficult is the Bamford Edge walk? Is Bamford Edge an easy walk?
YES! It's one of the easiest and shortest walks in the Peak District but doesn't fail to provide spectacular views for very little effort!
This was one of my favourite walks that I took on the Peak District as the views were incredible but it only took me 20 minutes to reach the top of Bamford Moor.
I will warn you that it is quite a steep climb up the hillside though and you will need to climb over a stile at the very beginning to get onto the public right of way. So, this may not be easy and accessible for everyone.
However, the short and steep walk is well worth the effort as the views and photo opportunities you get from up here are truly breathtaking on a clear day!
If you wanted to head on over to Ladybower Reservoir or Stanage Edge, this may be more difficult so I would recommending doing some research before you set out.
Personally, I just walked up to Bamford Edge and back. I was satisfied with that as I LOVED the views from here.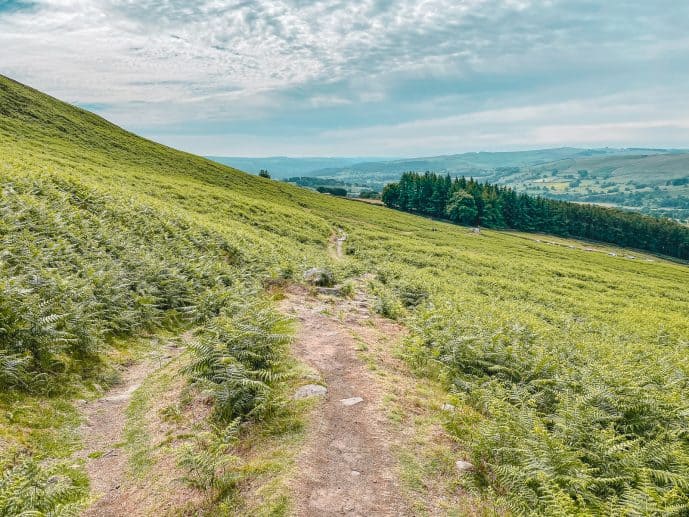 Bamford Edge walking tips
Weather – always best to check the weather and I would try to visit Bamford Edge on a clear day if possible as you'll get to enjoy some spectacular views that way! Check the weather for Bamford here.
Crowds – although quiet in the past, this walk is now gaining popularity. So, I would recommend visiting in as early as possible to guarantee a parking space and have it to yourself! Also, visiting on a weekday is better than a weekend for fewer crowds.
Facilities – there are no toilets at the start of the Bamford Edge walk. So, you'll need to use the facilities at Ladybower Reservoir, Hathersage or Castleton on the way!
Foliage – Bamford Edge will be fine most of the year but in the summer foliage can often block trails heading onto other locations on the moor. Always download an offline map via Maps.Me or bring an OS Map.
Food – there is no café here so bring your own food for a picnic! However, BBQs are strictly not allowed. Always take rubbish with you until you find a bin.
Wear good shoes – although a short walk, it's still an incline and can see muddy and uneven trails. Always come prepared with a good pair of ankle supporting shoes.
Dogs – Bamford Edge is part of a grouse moor and also privately owned. So, unfortunately, your furry family members cannot join you on this walk!
Easy Bamford Edge walk with directions
So, this is the easiest way to walk to Bamford Edge in the Peak District. You'll be pleased to know it's a very short walk but it provides some most epic views of the national park.
It will be around a mile each way and will take you around 15-20 minutes to reach the top of the moor and the viewpoint!
Here are the easy Bamford Edge walk directions.
1. Start off on New Road
I would always recommend that you start this walk on New Road via the car parking provided here.
I say parking, but it's more like an off-road lay-by where you can park to access the Bamford Edge walk on the moor!
It's always best to get here as early as possible or visit on a weekday to secure a parking spot as places are limited!
The Bamford Edge parking postcode is New Road, Bamford, S33 0AD or you can use this Google Pin to find it here.
2. Climb over the stile and head up the beaten track up the hill
Luckily, the roadside parking is right next to the stile which will allow you to climb over the fence and start the Bamford Edge Walk.
There is no marked trail in particular but you will see a well-beaten path that will lead you up the hillside.
From the stile, you'll be able to see the overhanging gritstone from the bottom, so keep heading up one of the trails towards it!
There will be lots of ferns and overgrowth but these are usually well maintained and you'll see the path easily.
The pathway is left 'natural' and is more like a scarring on the land. Parts of this can be muddy if it's been raining so make sure you have some good shoes on in the winter season!
3. Climb over the ridge and you've made it to Bamford Edge
Keep following the marked trail up the hillside and over the grit stone. You'll notice the terrain change rapidly on this walk. First, there is green grass and ferns and then it changes to gritstone with red moor grass.
This moor grass is a popular hiding spot for grouse, so you may spot some around here if you're lucky but the foliage does mean they are quite well hidden.
Keep heading up the ridge on either of the various trails following the direction of the gritstone in the distance.
You'll eventually reach a rocky outcrop and this is the start of Bamford Edge! You just need to keep following these overhanding rocks along the moor.
By now, you'll probably start seeing some of the spectacular views you can get around here! In the distance, you'll get a great view of Win Hill which is another popular hike in the Peak District.
4. Keep going to visit the views over Lady Bower Reservoir
Once you reach the top of Bamford Moor, the views don't end there! Keep going forwards. You'll eventually pass the highly Instagrammable overhanging ledge which is popular for photos.
Once you've snapped up some amazing pictures, keep heading forwards and you'll eventually reach the views over Ladybower Reservoir.
On a clear day, the water is so blue you could almost mistake this viewpoint as somewhere in the Alps!
Although manmade its position in-between the hills surrounding is gorgeous and a great place to stop and have a well-deserved rest. This is where I ate my lunch and it was a fabulous picnic spot.
From here, you can either keep going towards Ladybower Reservoir or Stanage Edge. Or, when you're ready, head back the way you came to your car.
Extended walk – head over to Ladybower Reservoir
Many people like to extend a walk in Bamford Edge by heading over to Ladybower Reservoir and vice versa.
You can easily park your car at Heatherdene Car Park and make the ascent up to Bamford Edge on a circular route.
This walk will be around 6 miles long on a circular trial, so I would always suggest planning your route ahead.
It will take around 4-5 hours in total to complete this walk and starts and ends in the same location at Heatherdene Car Park.
Important: in summer, the natural foliage can often block the beaten trails and there is little signage! Always bring an offline map from Maps.Me or an Ordinance Survey Map with a compass to help guide you. Don't rely on Google Maps as the signal is non-existent in places.
Extended walk – head over to Stanage Edge
Did you know that Bamford Edge is incredibly close to the famous Stanage Edge?
So, you could walk from Bamford Edge to Stanage Edge to extend your Bamford Edge walk.
It's a 5-mile circular walk or 8-kilometres that starts off at either Bamford Edge car park or Stanage Edge at Hook's Carr car park.
It will take you around 3-4 hours to complete but I'd allow longer if you want to stop for photos.
You can download an AllTrails route here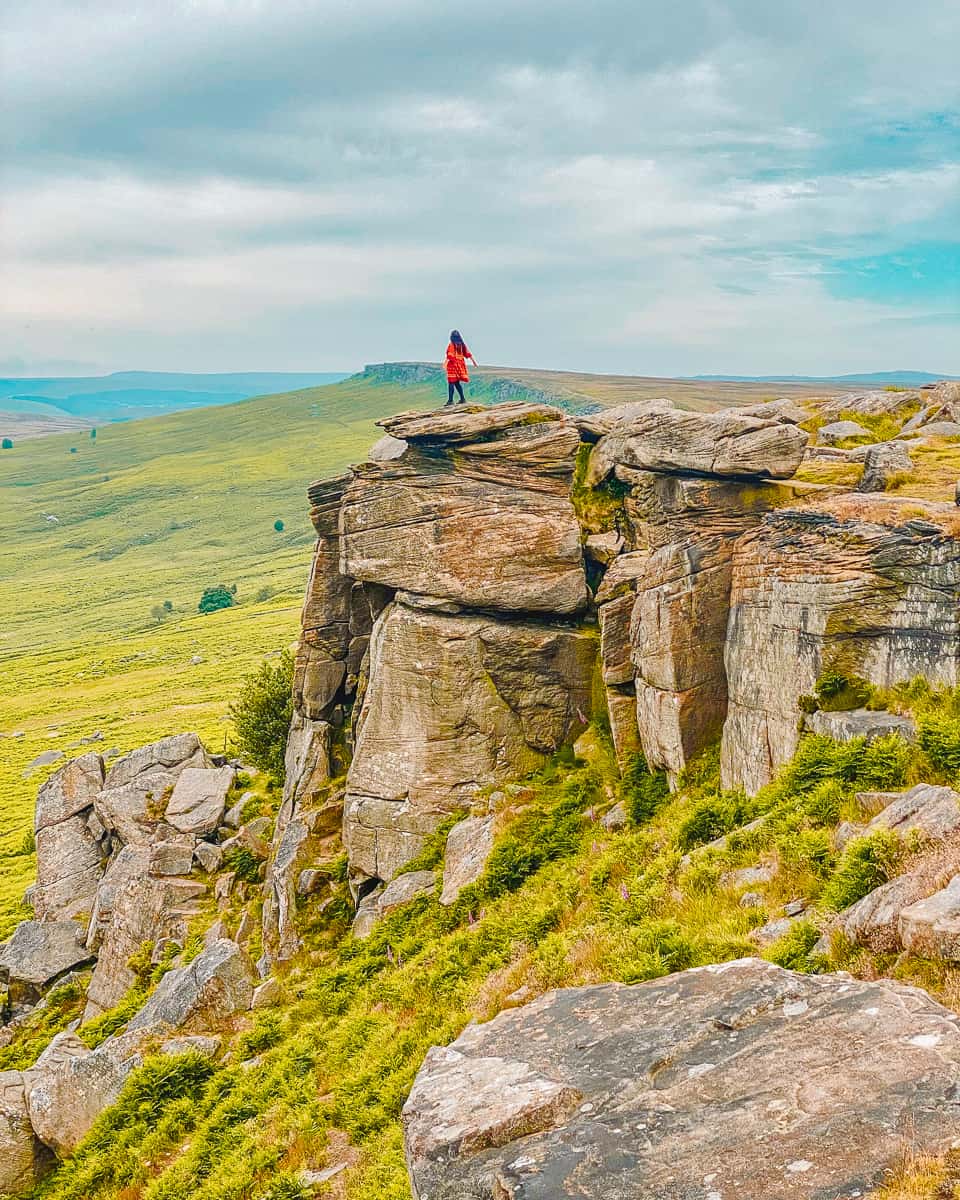 Bamford Edge photography – the most Instagrammable place in the Peak District?
So, I'll be the first to admit that the main reason why I wanted to visit Stanage Edge was to take photos with this incredible overhanging ledge with the spectacular scenery in the background!
In my opinion, this is one of the most Instagrammable places in the Peak District and it makes an incredible snap.
It gives the illusion that you're hanging off a mountain top with the rolling hills beneath you but, in reality, it's not as scary as it looks. It's a gristone ledge that hangs over an elevated hill on Bamford Moor.
However, I'd always recommend you take caution as you will be sitting on an overhanging piece of gritstone that is quite high up. If you did happen to fall, you could seriously injure yourself on the rocks below.
If you're worried about the rock falling off or crumbling, don't be. The gritstone around here is safe for rock climbing which has people literally hanging off it with their full body weight every day.
So, you know it's sturdy and has sat here for hundreds if not thousands of years. The likelihood of you damaging this stone ledge or it falling off is next to none. You'd have to weigh a literal tonne.
I did have to queue for my photo here at midday as it's a popular stop for photos and for walkers to climb on it and see the views.
So, if you wanted it to yourself for a photoshoot I'd get here earlier in the day rather than later, especially at weekends!
I also took my photos by myself with my tripod set up on the moor but I'd always recommend bringing a friend to grab some photos/videos for you as it's so much quicker.
Top tip: Don't send them to your mum or you'll get a slap on the wrist like I did for giving them a fright haha! #sorrymum
What is the best time to visit Bamford Edge?
The Bamford Edge walk has year-round open access, so don't worry about what time you visit as the views will be spectacular all year!
However, there are always going to be pros and cons with any season that you visit. For example, in winter, it may be boggy on the floor and you may not see the views as well on a foggy/drizzly day.
Likewise, in spring/summer the ferns and foliage on the floor can block the marked trails making the extended walk over to Ladybower Reservoir and Stanage Edge difficult to navigate.
Personally, I think autumn in the shoulder season would be an incredible time to do this walk. The colour of the landscape will change and the cooler temperatures would be lovely.
In terms of what time of day to get here, this walk is not as popular as Stanage Edge or Mam Tor (yet).
It's still a bit of a hidden gem, so it doesn't see as many crowds but Instagram/TikTok are quickly changing this as the ledge is so popular for photos!
When I was here at midday there were lots of people queuing for a photo with the ledge and dotted about on the moor having a picnic and enjoying the views.
But, not so many people that the walk wasn't enjoyable. There was plenty of space on the moor to take in the panoramic backdrop.
I would always recommend visiting as early as possible to guarantee a parking space and for the least crowds. Definitely try to get here before 9 am.
Also, sunset is a lovely time to visit with softer lighting but it could be busy as this short and scenic walk really attracts the crowds!
What to pack for the Bamford Edge walk
Water and snacks – there are no cafés near Bamford. So, I would bring some water and snacks with you. On a clear day, the moor is an amazing picnic spot with spectacular views but just make sure to take any rubbish with you!
A spare layer – the Peak District is known for adverse weather and as you'll be high up on the moor it may be a bit windy too! I'd have a spare layer packed just in case.
A good pair of shoes – this walk is relatively short and easy but you'll be climbing up an incline and the pathways are not even. If it's been raining it can get boggy too. So, take a good pair of ankle supporting shoes.
Camera – that amazing ledge is too good of an opportunity to miss! So, make sure to have a camera and a friend or tripod to capture you sitting there… just don't show mum lol.
OS map – the walk up to Bamford Edge moor is an easily marked trail on the hillside and very easy to navigate to as you can see the gritstone ledge from the car park. So, if you're just visiting the ledge and the moor, you won't need a map! However, if you plan to walk to Ladybower Reservoir or Stanage Edge the trail is often unmarked and can be overgrown in summer. So, download an offline map via Maps.Me or take an OS Map.
SatNav – If you're driving here, signal can be intermittent and terrible in the Peak District, so don't rely on just your phone. Have a SatNav prepared for driving directions as Google Maps can be temperamental here!
Where to eat near Bamford Edge
Bamford is a remote part of the Peak District, so I would recommend preparing some bottled water and snacks or a lunch for this walk to take with you.
There are no cafés or facilities in the parking area and once you're on the moor, there will be nothing apart from amazing scenery!
However, you're only a short drive or walk away from Ladybower Reservoir which has the Ladybower Inn, a pub that provides hearty pub meals.
There is also the Yorkshire Bridge Inn near Bamford and the Cheshire Cheese on Edale Road. Hathersage is also close by which has the Little John Hotel.
Castleton also has a wealth of cute cafés and eateries that you could visit. There is the Castle Inn which is a popular pub but you also have tearooms like Rose Cottage and the Castleton Visitor Centre's Blueberry Café.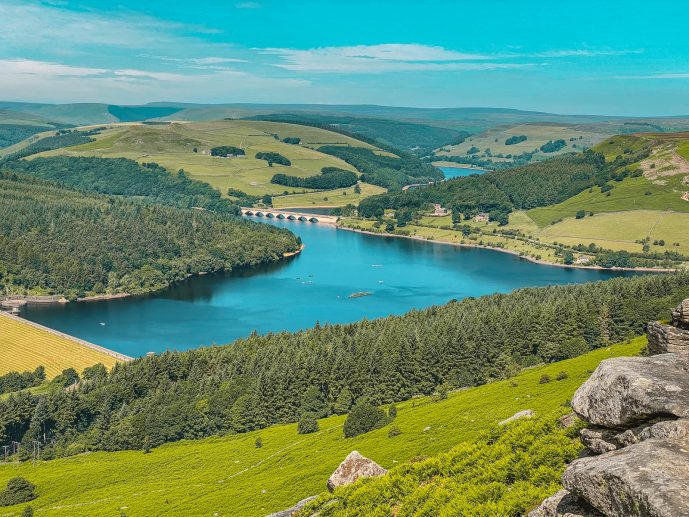 Where to stay near Bamford
Bamford is quite a remote area of the Peak District, so you won't find a wealth of hotels close by.
But, if you did want to stay in touching distance of this walk then the Yorkshire Bridge Inn is the place to go! It's a huge and cosy country pub that has some boutique lodging upstairs.
There is also the Ladybower Inn which is close to Ladybower Reservoir. So, you could stay here and then walk to Bamford from there!
In Castleton, you have the Ye Olde Nags Head which is a mid-range accommodation choice. But, if you're on a budget the YHA Castleton Losehill Hall is a hostel that is set in a Gothic Mansion!
FAQs about Bamford Edge!
How high is Bamford Edge? Bamford Edge is 1381 feet high or 420 metres above sea level. It's an overhang of gritstone rock in the village of Bamford. From here, you get amazing views of Ladybower Reservoir and Hope Valley!
Is Bamford Edge steep? Yes, it's a short but steep walk in the Peak District. However, the climb is definitely worth the spectacular views you get from here! So, it's worth the sore legs.
Can you drive to Bamford Edge? Yep and there is parking on the road nearby. But, you will have to walk around 15-20 minutes up the hillside to reach the moor and views!
Who owns Bamford Edge? Bamford Moor is owned privately by Moscar Lodge. Therefore, it's important to keep to public rights of way while visiting.
Is Bamford Edge dog friendly? Unfortunately no as Bamford Moor is a grouse moor. There are many public rights of way you can walk on around Bamford with dogs but not on this moor.
Can you go Bamford Edge wild camping? Although many national parks in the UK often give permission for walkers to wild camp in certain areas, the Peak District do not give this permission in any part of the park. Bamford Moor is also privately owned. Therefore, it is illegal to wild camp on or near Bamford Edge.
Can you go Bamford Edge rock climbing? Yes, there is a legal right of access on Bodmin Moor and this includes access to the hanging gritstone for climbing. See the BMC for details.
Where to next in the Peak District?
Once you've finished your Bamford Edge walk, there are plenty of amazing places to head to next in the Peak District.
You can also drive over to Stanage Edge for another short walk up onto the moor to visit the incredible Robin Hood's Cave. Or, head to Ladybower Reservoir for a stroll around the water!
From here, you're also close to Hathersage where you can visit Little John's Grave or their huge outdoor swimming pool.
Castleton is just a short drive from here also which is one of the most beautiful villages in the Peak District which is home to Peveril Castle and the spectacular Peakshole Water!
You'll drive through Winnat's Pass and you can visit the likes of Mam Tor and some of the amazing Castleton Caves here. You're also close to Edale and Hope Valley.
You can also take another scenic walk of Padley Gorge or head further down to Eyam Plague Village.
Read more of my Peak District travel guides
How to Visit Mr. Darcy's Pemberley aka Chatsworth House
The easiest way to find Thor's Cave
The best things to do in Milldale
Why you must visit Peakshole Water Castleton
How to visit Little John's Grave in Hathersage
How to find Robin Hood's Cave in Stanage Edge
Exploring the Longnor Pride and Prejudice location
How to visit Malfoy Manor in real life from the Deathly Hallows
A complete visitor guide for Monsal Head viewpoint
How to visit and cross Dovedale Stepping Stones
Best things to do in Ashford in the Water
Chee Dale Stepping Stones walk
Why you must visit Scrivener's Books in Buxton
Things to do in Eyam Plague Village
How to visit Ramshaw Rocks from Pride and Prejudice
Save this easy Bamford Edge walk for later!