If you haven't put Bar Palladio Jaipur on your bucket list whilst in the capital of Rajasthan then I would change that and add it right now! You would really be missing out if you skipped it.
Inspired by Italian Renaissance design mixed with Mughal architecture, you'll be immersed in the most beautiful setting for Italian food and the finest wine and cocktails you can find in Jaipur.
You will struggle to decide which room to sit in as they are all magnificent with the most well thought out designs.
Here are the 6 reasons why you should visit Bar Palladio in Jaipur!
Looking for more Instagrammable spots in Jaipur? Check out my guide here!
1. Bar Palladio is interior goals!
After having visited Café Palladio in Jaipur, I knew that Bar Palladio had to be just as good, if not better. Whoever designed both of these properties is an absolute genius.
As soon as I walked in, my jaw dropped at the decoration. The first room we entered was a vibrant blue with chandeliers, sleek monotone floor and elegant windows to let the light in.
Then as we walked from room to room, we found beautiful murals and artwork, pretty colours and the most beautiful seating including floral cushions! I think I died and went to heaven here.
You will struggle to choose where to sit as each and every room is so pretty and has been expertly designed.
2. It has a fantastic cocktail menu
Before I visited, I did check out their menu online to see what sort of things were on offer.
I mean, I would visit for the interiors alone but I definitely wanted to sample one of their artisan cocktails. They have all the classics with a few Rajasthan Indian twists and my favourite; Gin and Tonic.
I only popped in here for a drink but they also have a luxury dining menu of mainly Italian food.
Having sampled Café Palladio's pasta dishes, I can attest to the fact that it tastes divine.
India doesn't really do pasta dishes too well, but here you can be sure of only the finest exported ingredients.
But, if you're backpacking, I'd say this would be the place to splurge as a treat due to it being quite expensive for food.
3. It's easy to find in the centre of Jaipur
Café Palladio and Bar Palladio are in completely different areas but close together. Bar Palladio is located within the grounds of the Palace Niwas Hotel on Narain Singh Road.
It's really easy to locate by using Uber or instructing one of the many rickshaw drivers to take you there in the city. If you're unfamiliar with how to use Uber in India, see my simple guide here.
To make reservations at Bar Palladio you can call Reservations +91 141 2565556 or +91 963 6914000 or email info@bar-palladio.com.
4. You can sit outside Bar Palladio in their beautiful gardens
When I visited Bar Palladio, it was in the peak of monsoon season. So, when it wasn't pouring down, the heat outside was quite humid and unbearable. Plus, the mosquitos were out in full swing. So, we didn't last long outside despite it being so beautiful.
But, I'm sure in the winter months their gardens must be such a treat to dine and relax in. I just loved the tented canopies with a Rajasthani feel to them. In the evening, they create a great atmosphere by lighting candles for each table.
The gardens in Palace Niwas also has peacocks that wander about the grounds, so you will really feel like you've followed in the footsteps of a Maharaja.
5. It has reasonable prices
Although to backpackers this place may seem pricey, it's actually really reasonable if you have some extra cash to spare. For example, my gin and tonic only cost around 300 rupees (£3.50) which is a steal to have in a quality bar such as this.
The food is also reasonable with dishes starting from 500 rupees (£6) per head. But, I must stress, you won't be getting pasta with ketchup here or a pizza base with mayonnaise or white sauce and no cheese! This is really common with Italian food orders in India, trust me.
All dishes will be made with only the finest Italian ingredients. It's a real treat so enjoy it!
6. You'll feel like royalty visiting there
From start to finish, I loved my visit to Bar Palladio Jaipur. It was a place that had been on my Instagram feed for a while and I just couldn't stop myself from paying a visit.
Not only were the staff super friendly, but it's also rare to find a bar that is wall-to-wall opulence! You will simply fall in love with the colours, the patterns, the textiles and the paintings.
Lose yourself for a while in Bar Palladio Jaipur, you won't regret it!
Read my complete Caffe Palladio guide next!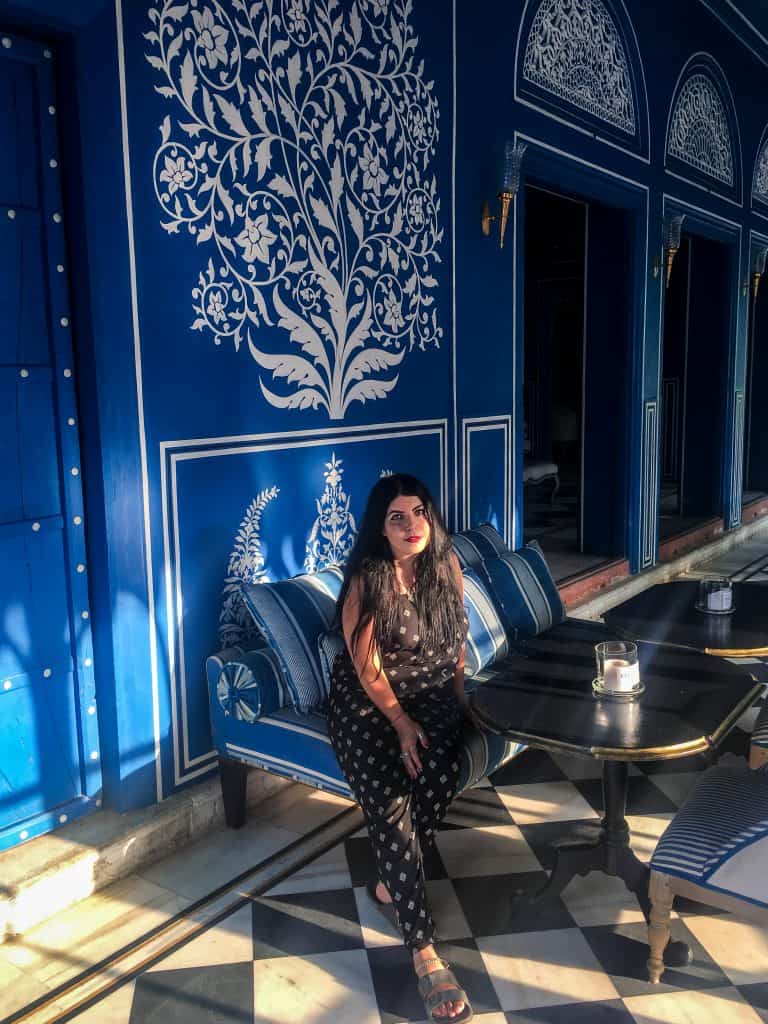 With thanks to Bar Palladio for having us! For more information visit their website. For reservations please call +91 141 2565556 or +91 963 6914000 or email info@bar-palladio.com.
Read more of my Jaipur articles
The most Instagrammable places in Jaipur
Visiting the Patrika gate in Jaipur
Taking a Pink City Rickshaw Tour
Why you must visit Panna Meena Ka Kund
Heading around Rajasthan? Check out these posts!
My top travel tips for Jaisalmer
Why Bundi has to be on your bucket list
The ultimate travel guide for Jodhpur
Top places to visit in Bikaner
Save this Bar Palladio Jaipur guide for later!