Barafundle Bay Beach in Wales has frequently been voted as one of the best beaches in the entire world!
It's a secret cove that is tucked away on the Pembrokeshire coastline that has a golden stretch of sand and crystal clear turquoise waters.
On a sunny day, it can almost feel like you're not in Wales at all but on a sandy beach abroad in the Riviera or even the Caribbean. I couldn't believe this hidden gem was literally on my doorstep!
However, there is a catch. It's not the easiest place to visit as it's tucked away in a remote part of the coastline and you can't drive there. The only way that you can visit this amazing beach is on foot.
So, here's a complete guide on how to get to Barafundle Bay Beach including what to expect on the Stackpole Quay to Barafundle Bay walk!
The history of Barafundle Bay
For many centuries, Barafundle Bay was a quiet, remote part of the Pembrokeshire coastline that didn't see many visitors at all.
It forms part of the Stackpole Estate which was a huge area that was privately owned for centuries. During the Civil War, the Lort Family used to own this land and lived in Stackpole Court mansion from 1611 to 1698.
However, as they sided with the King, the Parliamentarians seized their property. After that, it passed down to the Scottish Campbell's of Cawdor who inherited the estate through marriage.
During World War II, much of the Stackpole Estate was requisitioned for training troops. In fact, the Castlemartin Range still work in this area today.
Unfortunately, the toil of two World Wars and troops causing irreparable damage to Stackpole Court meant that the estate fell into decline.
The repairs were far too costly and the taxes were incredibly high. So, unfortunately, Stackpole Court Mansion was demolished in 1963.
However, the estate and land around the coast were donated to the National Trust. They still own and protect this gorgeous beauty spot area today. It's now open to the public to explore.
Barafundle Bay used to be a local secret until it won an award for being one of the top 12 beaches in the world in 2004!
So, it's a secret no more! Nowadays, it sees thousands of people flocking here every year to enjoy its golden sand and blue waters. It also continues to receive countless beach awards to date. You must see this amazing beach for yourself in Pembrokeshire!
Where is Barafundle Bay in Pembrokeshire?
Barafundle Bay is in South Pembrokeshire deep in the South of Wales in the UK. It's very near popular attractions and beaches like Tenby, Bosherton and Freshwater East. So, it makes the perfect pitstop on a Wales road trip!
Pembrokeshire is a huge county, so if you're heading here by car it's best to split up the county into two sections of North and South.
However, you cannot drive to Barafundle directly and the only way you can access this cove is to walk here. The closest place to Barafundle Bay is Stackpole Quay.
How to get to Barafundle Bay in Pembrokeshire
To access Barafundle Bay beach, you must firstly make your way to Stackpole Quay. So, make sure to plugin the Stackpole Quay postcode SA71 5LS in your SatNav.
The drive down will be around 30 minutes from Tenby and Saundersfoot, 20 minutes from Freshwater West Beach and 10 minutes drive from the Bosherton area and Freshwater East.
If you were travelling from further afield or from the capital city of Cardiff, the drive will take you around 2-3 hours.
The journey down to Stackpole Quay is quite a steep, single-track country road with passing places. There is only really room for one car at a time so proceed here with caution, especially as you approach the Stackpole Quay National Trust car park.
If you would prefer to visit Stackpole Quay car-free, you can easily walk here on the Pembrokeshire Coast Path. Many people enjoy making a whole day of it from Freshwater East or the Bosherton area.
Although Stackpole Quay is a tiny place, the car park provided by the National Trust is huge! So, you shouldn't have trouble finding some spaces to park.
Read my complete guide on Stackpole Quay here
How much does Barafundle Bay parking cost?
There is no Barafundle Bay car park, so you must park up in the National Trust Stackpole Quay car park first.
The Stackpole Quay car park will cost you £3 to park for 3 hours which is enough time to do the walk and visit Barafundle Bay Beach.
National Trust members get to park there for free, you simply need to scan your membership card when prompted on the ticket machine.
Note: make sure to bring change for the car park – the parking machine doesn't take cards!
How long is the Barafundle Bay walk from Stackpole Quay?
The walk from Stackpole Quay to Barafundle Bay is only half a mile but it's not a flat path as you have to climb up some steep steps and walk over the rugged headland!
So, it will take you anything from 10 – 20 minutes to complete the walk. But, you can totally take your time with it and make it half an hour if you wanted to.
I think it took me a little longer as I was busy enjoying the amazing views from the cliffs and taking photos.
On a sunny day, the views are breathtaking, so I spent longer here on the headland admiring the wild and rugged coastline.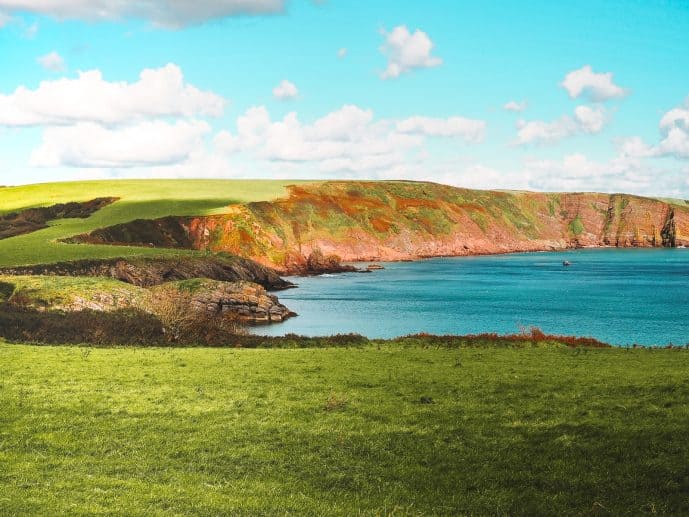 What to expect on the Stackpole Quay to Barafundle Bay walk
So, once you've parked up, make your way over towards the historic Stackpole Quay. I would highly recommend taking a little walk around the cove here and the harbour as it's so picturesque!
Once you're finished, you'll see a pathway that's directing you towards Barafundle Beach.
The walk will start off with a steep set of stairs that can be quite a workout. So, take your time to make your way up to the headland.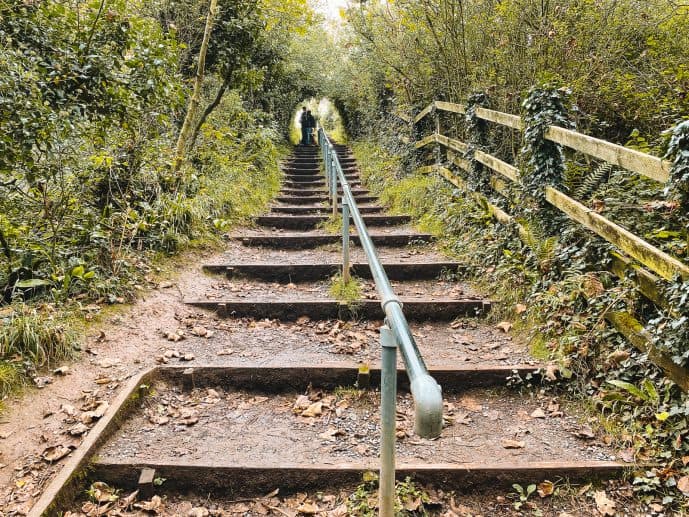 Once you've reached the top of the steps, you'll be walking along the clifftops towards Barafundle Bay. It's quite a flat grassy and the views over the rugged coastline are fabulous if it's sunny!
You can either stop a while here to admire the view or carry on straight over the headland to the beach.
You can tell you're near to the beach as you'll see Barafundle Bay coming into view before you get there. It will be marked by the National Trust plaque.
Things to do at Barafundle Bay!
So, what is there to do at Barafundle Bay when you finally make it here! Well, there is plenty to see at all times of the year.
In spring you'll see lots of perennial flowers in bloom on the coast. In the summer season, it's the perfect place to go swimming or sunbathing and in autumn and winter, it's great to blow the cobwebs away with a walk!
Here are all the amazing things to do at Barafundle Bay.
Take in the views from the top of the cliff
Once you arrive at Barafundle Bay, you must take in the spectacular views of the beach from the headland before you head down.
The entrance to the cove is through a sham folly gate, which looks like it was part of an old stone fence on the headland.
You'll also find the National Trust plaque, which is a great photo opportunity! I couldn't believe the views you could get from here.
Barafundle Bay is actually sandwiched between two cliffs. So, you could easily make your way over to the other side of the beach and climb up the headland there as well!
Head down to the secluded beach
So, once you're ready to head down to the beach, you'll need to make another steep walk down to the sand!
It's quite easy to walk down here as it's a mixture of steps and slopes. But, it is steep! Coming back up is quite a workout.
The beach is a bit of a sun trap so it's perfect for sunbathing if you've brought towels with you! But, even if it's not warm, the walk around the beach is stunning simply to take in the views.
Unfortunately, as soon as I got down here it started to pour down! But, it was still stunning, even in the rain.
Can you swim at Barafundle Bay?
Yes, you can! In fact, Barafundle Bay is one of the best places to go open water swimming in all of Wales. As it's in a secluded cove on the coast, the waves aren't so strong here so it's safe to swim or go paddling.
Many people say that this place doesn't look like it's in Wales at all with its golden sandy beach. You could almost mistake it for the Riviera or even the Caribbean!
This secluded cove has frequently been voted as one of the best beaches in the entire world. So, if it's warm you must take the chance to go swimming here.
Take part in some surfing and watersports
You'll often see people walking over the headland with their surfboards on a windy day here.
Although the waters are usually calm for swimming, it's the perfect spot for surfing when it's windy!
For kayaking, I would recommend doing that at Stackpole Quay to save you lugging a heavy boat over the clifftops as there is parking right next to it.
Where to eat in Barafundle Bay
There are no restaurants or café facilities at Barafundle Bay. So, if you were planning on spending time here, I would pack a picnic.
There is nothing stopping you from bringing your own food and snacks but please remember to take all rubbish home with you!
If you were peckish, you can easily grab some food over at Stackpole Quay.
The Boat House Café is run by the National Trust and serves up drinks, cakes, and sandwiches! This is open from 10.30 am – 5 pm in summer.
Or, you can drive over to Stackpole Village to visit the Stackpole Inn for a warm meal and a locally brewed pint!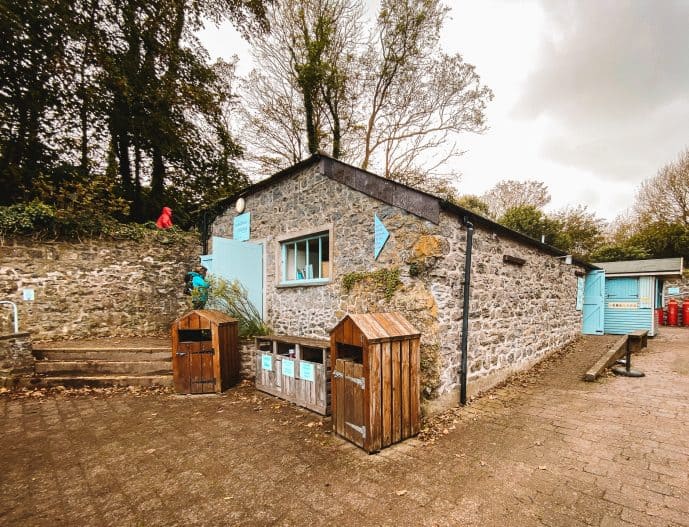 Are there toilets at Barafundle Bay?
Another thing to note is that there are no toilets at Barafundle Bay. So, I would make sure to use the facilities at Stackpole Quay before you go on the walk!
Luckily it's only a 10-15 minute walk between the two areas if you plan on spending a long time at the beach.
My top tips for Visiting Barafundle Bay
Come prepared with good footwear – Although it's a short walk, you'll be walking up and down some steep steps. Plus, the headland can get boggy if you're visiting in winter or if it's been raining. Bring some good ankle supporting shoes, this is not the right place for flip-flops! You can always change into them when you reach the beach.
Be prepared for sudden weather changes – when I arrived and walked over to Barafundle Bay it was bright sunshine. But, when I got onto the beach it started to rain heavily. It was completely exposed! It also can get cold with the wind so bring a spare jacket!
Make sure to remember change – The parking machine here does not take cards. So, make sure to bring some change with you. Thankfully, the café at Stackpole Quay does take card payments for drinks and food though!
Accessibility – this walk is not accessible for pushchairs or wheelchairs! Although a relatively short walk, you'll be walking up steps, over a grassy headland and then back down some steep steps to the beach.
Take refreshments with you – I would always recommend having a bottle of water and snacks prepared for your visit to Barafundle Bay. There are no facilities and you may wish to spend way longer here than you first intended!
Barafundle Bay hotels
There is no Barafundle Bay accommodation here at the beach. I think this is a good thing as it keeps the beach as untouched as possible!
However, if you were looking for some cosy accommodation, the National Trust have some cosy farm cottages on the Stackpole Estate that you can rent!
They are farmers cottages called 'Byre's' and there are three of them that are just a mile or two away from this incredible place.
They are not cheap by any means and they do require a minimum stay of a few nights. But, it's the perfect place to come for some peace and quiet.
Click here to check the Barafundle cottage prices and to book!
Frequently Asked Questions about Barafundle Bay Beach
What are the Barafundle Bay opening times? Barafundle Bay is open 24 hours a day and 7 days a week! There is no closing time on the Stackpole Quay car park.
Is there camping at Barafundle Bay? There is no overnight camping allowed on Barafundle Bay beach itself. But, there are a couple of campsites nearby, the closest is Trafalen Farm.
Is Barafundle Bay dog friendly? Yes, which is great news for dog owners! Your fluffy friends can enjoy this beach all year round without a fuss!
How far is Barafundle Bay from Tenby? Barafundle Bay is around 30 minutes drive away from Tenby. But, you'll have to spend around 15 minutes walking here too! So, I would factor in around 45 minutes to an hour to reach Barafundle Bay from Tenby.
Heading to Pembrokeshire? Read more of my travel guides
How to visit the Green Bridge of Wales in Pembrokeshire
How to get to St Govan's Chapel
How to find Dobby's Grave on Freshwater West Beach
A complete guide for the Blue Lagoon
Save this Stackpole Quay to Barafundle Bay Walk post for later!