One of the best Barcelona viewpoints has to be Bunkers del Carmel or Barcelona Bunkers.
They are a series of old underground military bunkers that were built during the Spanish Civil War above Parc del Guinardó.
Today, they lie in ruins but they are a popular attraction due to the stunning panoramic views in the backdrop.
From this vantage point, you get 360-degree views of the entire area and can see iconic sites like the Sagrada Familia from above.
I've been to Barcelona many times but never managed to make it to the bunkers and I'm happy to report that my first visit did not disappoint!
The jaw-dropping views are seriously out of this world. Here is how to get to Bunkers del Carmel or the Barcelona Bunkers.
2023 update: Although it is open during the day, there is currently a temporary evening curfew for the bunkers to avoid overcrowding and to respect residents. Current closing times are 7.30 pm – 9 am in summer and it will be brought forward to 5.30 pm in winter. It may change so look out for local news updates before you go.
What is Bunkers del Carmel in Barcelona?
Barcelona Bunkers is a spectacular viewpoint and one of the best places to visit in the city for sunset.
From the bunkers, you get 360 panoramic views over the entire metropolis including a birds-eye view of the Sagrada Familia.
Although this used to be a bit of a hidden gem, it's gotten very popular over the years with the rise of social media.
So, you can expect this place to be packed with tourists and photographers hoping to capture the views. It's also where many locals like to hang out with friends and walk their dogs.
But, you're probably wondering 'Why is this place called Bunkers del Carmel?'. Well, this area has a long history as a battery for the military and shelter.
History of the Barcelona Bunkers
During the Spanish Civil War (1936-1939), these bunkers were used as an anti-aircraft base and defence fortification.
When the war ended and Francisco Franco came into power, the arms were removed from this area but the bunkers remained.
Unfortunately, there was a lot of poverty and homelessness during Franco's regime and so many of these bunkers were used as a shelter.
It developed into a shanty town and, at its peak, it housed over 3,000 people in the 1960s.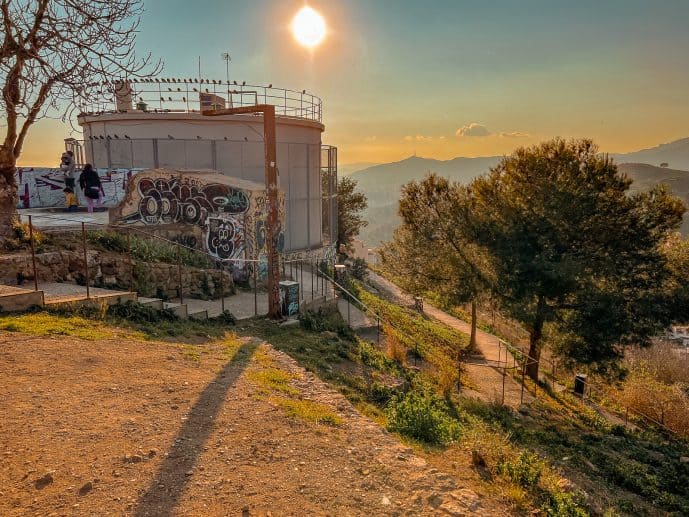 When the 1992 Olympic Games were to be held in Barcelona, there was a massive push to 'clean up the city' and so Bunkers del Carmel was evacuated.
The city council rehoused many of the people living in the bunkers and so it was left to crumble.
In the early 2000s, it started to be discovered as a viewpoint and the city started to renovate the area to make it more appealing to tourists.
There is now a small museum called Turó de le Rovira in one of the bunkers explaining its history and it's now a major attraction due to its position above the city.
Where is Bunkers Carmel in the city?
Bunkers del Carmel is a little way out of the centre of the city and isn't near major attractions like La Rambla.
It can be found above the municipal Parc del Guinardó. This is around 1.5 kilometres away from Parc Güell.
Although it is known as Bunkers del Carmel, the local name for this place is actually Turó de le Rovira.
On Google Maps, the pin location is MUHBA Turó de la Rovira (Battery Viewpoint). So, this is the pin you should be following for directions and taxi apps.
The address is Carrer de Marià Labèrnia, 08032 Barcelona, Spain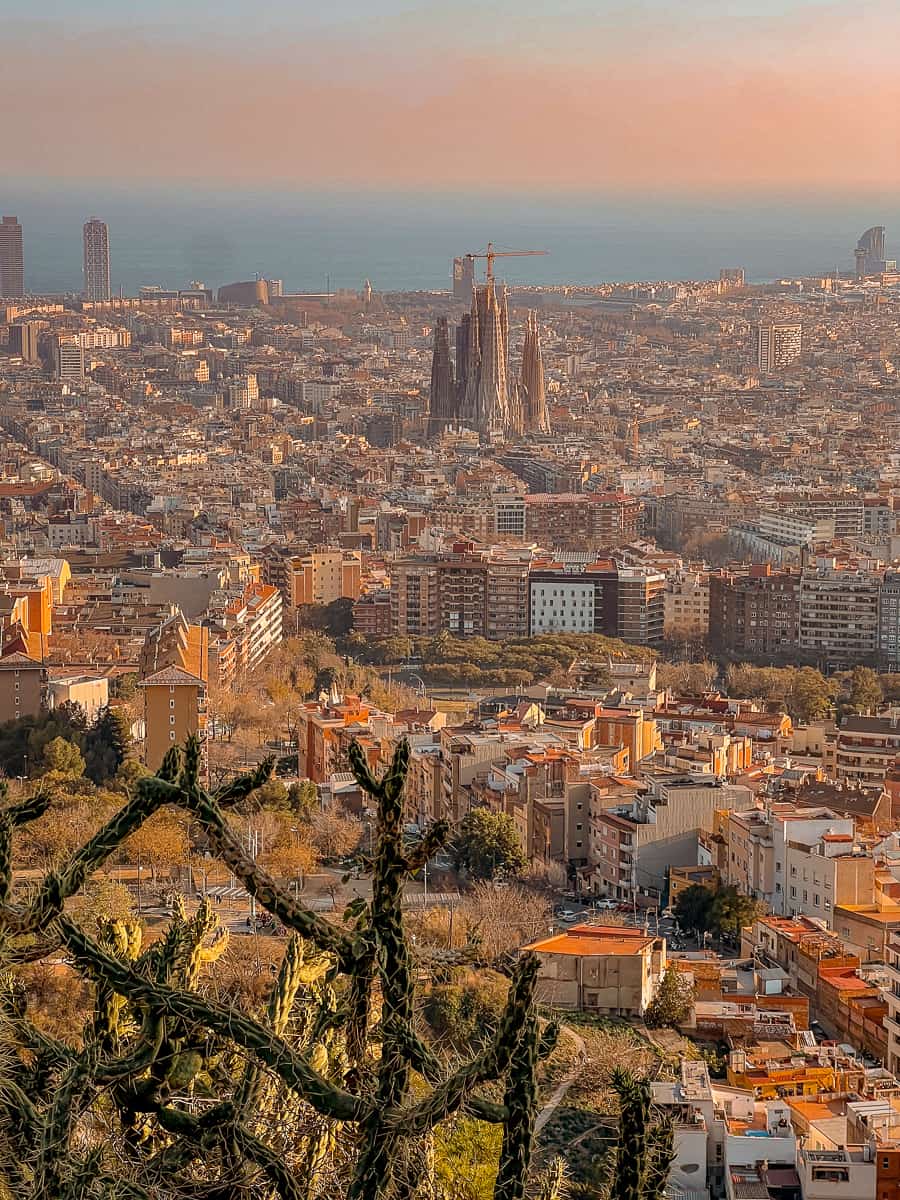 How to get to Bunkers del Carmel Barcelona
Although the Barcelona Bunkers are a bit of a hidden gem, they are quite easy to access by a mix of public transport and walking.
You can easily get the bus or metro near to the viewpoint and walk the rest of the way. Or, you can take a taxi.
If you prefer walking, it's best to visit from Parc Güell. It's only a 15-20 minute walk through the residential streets.
But, if you would like to skip most of the steep hike, here is how to get to Barcelona Bunkers by bus, metro, and taxi.
Bunkers del Carmel by Bus
The best way to get to Bunkers del Carmel in Barcelona would be to take the bus as it takes you the majority of the way up the hill to the viewpoint.
The 119 bus is the only bus that will take you all the way up to the Carmel bus stop at Carrer de Marià Labèrnia. It's then just a few minutes to the bunkers.
But, you can get buses 22 and 24 to Carrer de la Gran Vista which is a turning circle before the road blocks off.
From the Vista bus stop, you can walk the rest of the way through Carrer del Panorma to Maria Labernia to reach Carmel Bunkers.
Click here to plan you journey by bus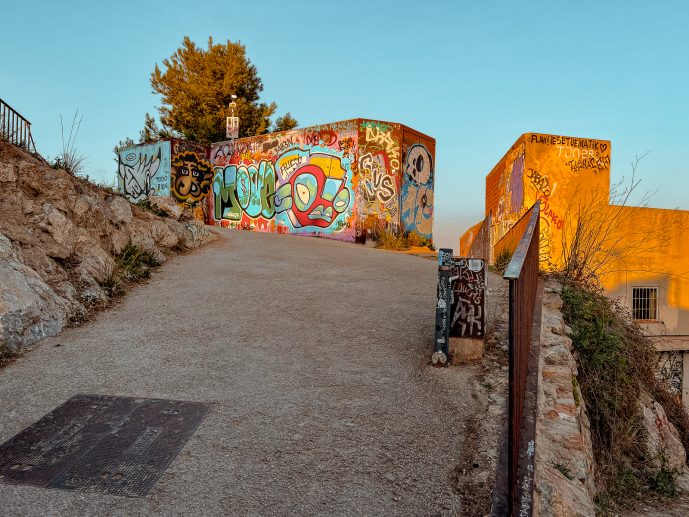 Bunkers Barcelona by Metro
Although the Barcelona Metro is an amazing way to get around the city, it's not great for exploring some of the hillier attractions.
You'll soon notice that the metro doesn't reach places like Parc Güell, Sagrat Cor, and Montjuic. It's the same with Bunkers Del Carmel.
Most of the time, you need to catch the metro and walk/bus the rest of the way.
The nearest metro stops for Barcelona Bunkers would be Alfons X (yellow line) and El Carmel (blue line). Then, it will be a steep 20-minute hike to the top!
Get a Taxi
If you're stuck for time, it may be easier to take a taxi up to the foothills of Bunkers del Carmel.
Although there is Uber in the city, FreeNow is the most popular option that locals use and has more availability.
You'll be taken up to Carrer de la Gran Vista turning circle as the road is then blocked off. It's only open for buses and resident permit vehicles.
Then, you will need to walk the rest of the way for around 10-15 minutes. This is what I did and I have no regrets!
Walking to Bunkers Carmel
Regardless of how you decide to get to Bunkers del Carmel, everyone gets dropped off on the foothills of the viewpoint.
From the taxi drop-off point, you will need to walk for around 10 minutes up Carrer del Panorama and then head through the residential street of Maria Labernia to reach the bunkers.
The 119 bus does go a little further up and drops you off outside Carrer de Maria Labernia. Then, you will be walking through the houses and up to the viewpoint for less than 5 minutes.
Keep this steep walk in mind if you plan to bring lots of food and drinks for a picnic at the top. Anything you bring will need to be lugged up the hill.
I'm not going to lie, this walk is steep and you'll definitely be out of breath at the end of it.
However, make sure to keep going as the panoramic views of the city are breathtaking!
What to expect at the Barcelona Bunkers
Although Bunkers del Carmel has been a bit of a secret for years, I'm afraid to say that the word is definitely out.
Even in the low season of January, it was overflowing with people up here at the viewpoint hours before the sun was going to set. With views like these, is it any wonder?
People sit all over the viewpoint and there are lots of places to relax. But, if you wanted 'that' view of Sagrada Familia from the centre then I would get here early to guarantee a space.
Before you settle in, I would recommend walking around and exploring the Barcelona Bunkers. Or, what's left of them anyway.
Most of the structures here are ruins and have been ''decorated' with spray paint, murals, and graffiti tags.
Anywhere you go on the hilltop, you'll see 360 panoramic views over the city that are stunning. It feels like you're flying you are so high up.
You can see the Sagrada Familia, the Balearic Sea, and many of Barcelona's iconic buildings.
What is the best time to visit Bunkers del Carmel?
The most popular time to visit Bunkers Carmel would be at sunset. But, this is also when everyone else wants to go!
So, I would get here early if you wanted a good spot to watch the sunset over the Sagrada Familia.
That being said, it's not necessarily the best time as it can get super crowded. Especially in the summer months.
If you wanted to avoid the majority of the crowds, I would head here during the daytime. The views will still be amazing but you'll have more space to explore in peace.
Instagram & Bunkers Barcelona photography tips
With spectacular views like these, it's no surprise that this viewpoint draws a lot of people who want to visit for photos/videos for their Instagram and TikTok feeds.
Sunset is a great time to go but you'll also find that it's incredibly busy. So, you may be queueing for photos at some of the popular spots with the Sagrada Familia in the background.
There is also a very famous photo spot here on a broken wall that people like to sit on to get photos with as it has a backdrop of the city.
Even I wanted to go here for years because I saw influencers who had gotten photos here and it looked really cool.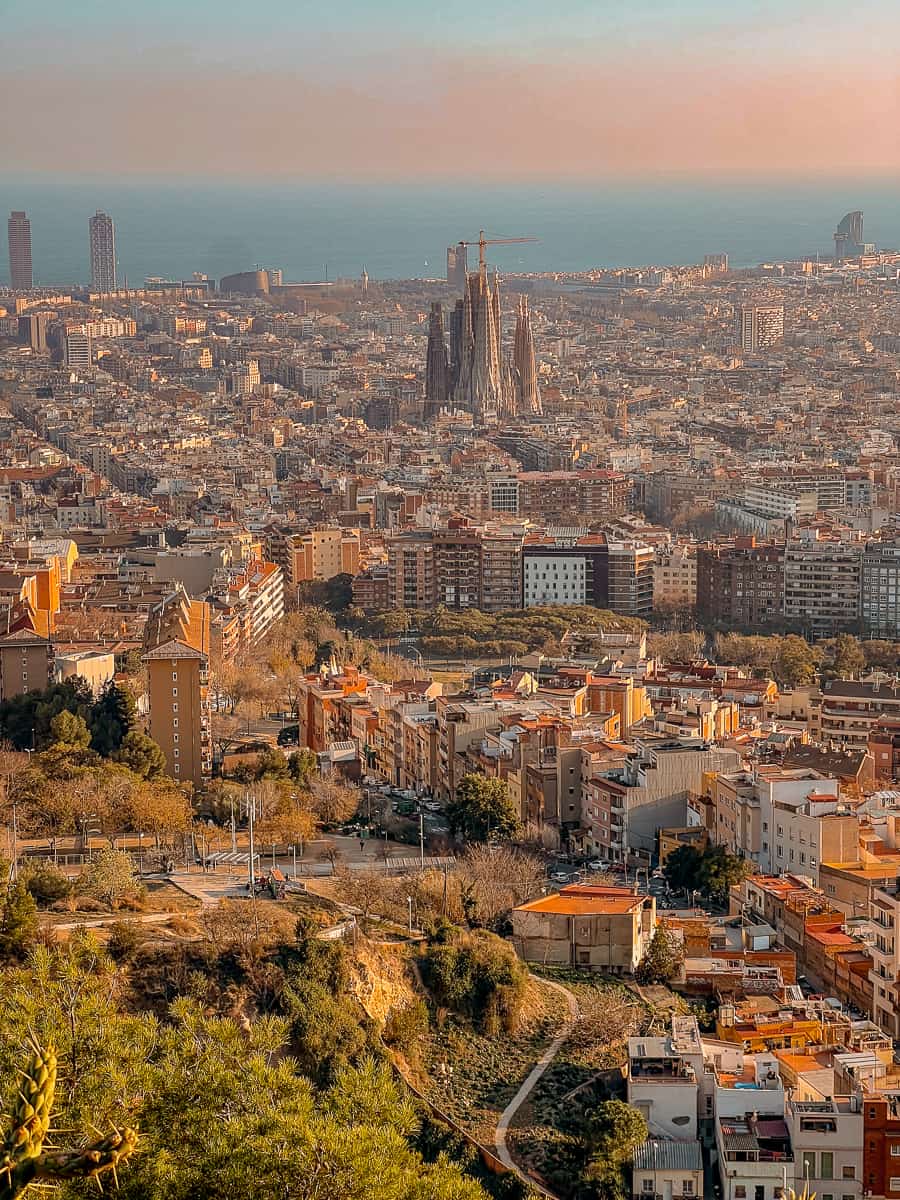 But, in reality, when you get to this place you'll soon see that it's a broken wall that is unstable. You have to climb over a safety barrier to reach it and it has a sheer drop below.
I know no one wants to hear it but I wouldn't recommend sitting on that wall for photos. It looked dodgy AF and it's simply not worth getting injured for the 'gram.
Call me boring if you want but the views are what it's all about and you can get some incredible photos here in far safer locations.
Are the Bunkers Barcelona safe to visit?
This is a question that comes up a lot as there have been some instances of pickpockets and robbery here in the past.
As I was travelling solo, I was a little dubious about visiting this viewpoint as I had heard some really scary stories.
However, I was actually surprised at how nice it was up at the bunkers. There were lots of people, friends hanging out, and even families with kids.
There were lots of people taking photos and enjoying the incredible views. It was a really nice vibe.
Personally, I wouldn't explore the viewpoint/park late at night and if you do end up being here after dark make sure you have company.
Tip: make sure to secure your belongings as it's a prime location for pickpockets.
What facilities are there at Bunkers del Carmel?
There is very little in terms of facilities are Bunkers del Carmel. It's just the ruins of an old Battery that happens to have a stunning panorama as a backdrop.
There are no toilets, no café, no picnic tables or anything of that kind. People just sit on the walls and the floor to wait for the sunset.
But, I did see some guy selling drinks at the top out of an ice box. There was water, fizzy drinks, and even beer. Also, there were some local artists selling souvenirs.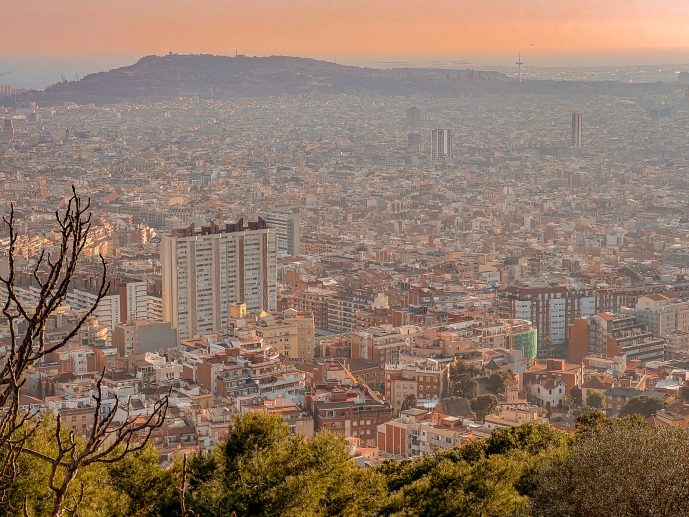 Bunkers del Carmel opening times and ticket prices
Bunkers Barcelona Viewpoint is normally open 24 hours a day, 7 days a week. But, they have introduced evening curfews and are currently closing the gates at 7.30 pm (5.30 pm in winter).
Although I understand the need for it, I don't understand why the gates can't just be closed at dusk.
The most popular time is usually sunset but the council wants to 'change visitor behaviour' and avoid illegal parties.
So, you can visit during the daytime but evenings are currently off-limits for the time being. I wouldn't recommend coming here in the dark anyway.
These spectacular views are also completely free which is pretty mind-blowing considering the ticket prices of some of the city's major attractions and UNESCO sites.
It makes a great budget activity in Barcelona and is perfect for backpackers as it costs next to nothing to get here.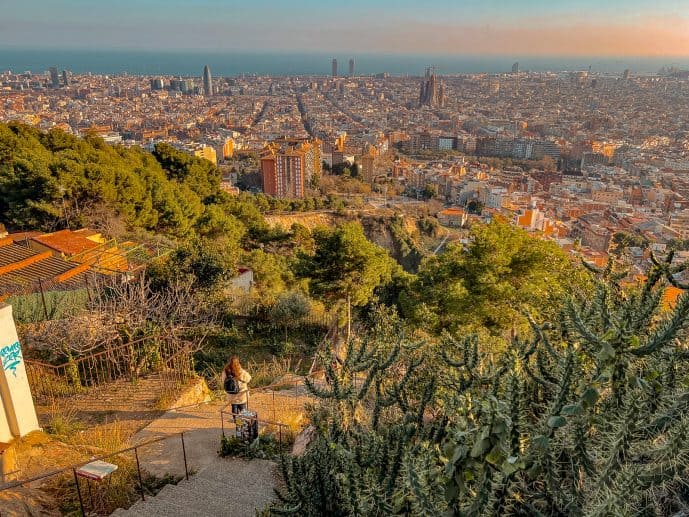 My top tips for visiting
Wear sensible shoes – the walk up here is very steep and the ground is uneven in places.
Bring a torch – after the sun sets it gets very dark and there's limited lighting. Bring a torch to head back to the bus stop.
Head here early – make sure to visit the Barcelona Bunkers early if you want a good spot for sunset. Even in January, there were so many people.
Stay safe – There's a particular wall that people sit on here for an Instagram photo but it's not secure and you could hurt yourself. For your safety, I wouldn't climb on it and it's best not to damage the monument further.
Don't litter – lots of people bring drinks and food up here for sunset. Make sure to take all rubbish home with you and respect the space.
It's dog friendly – Bunkers del Carmel is really dog friendly. It's a great place to take them for a walk as there's an entire park that surrounds the viewpoint.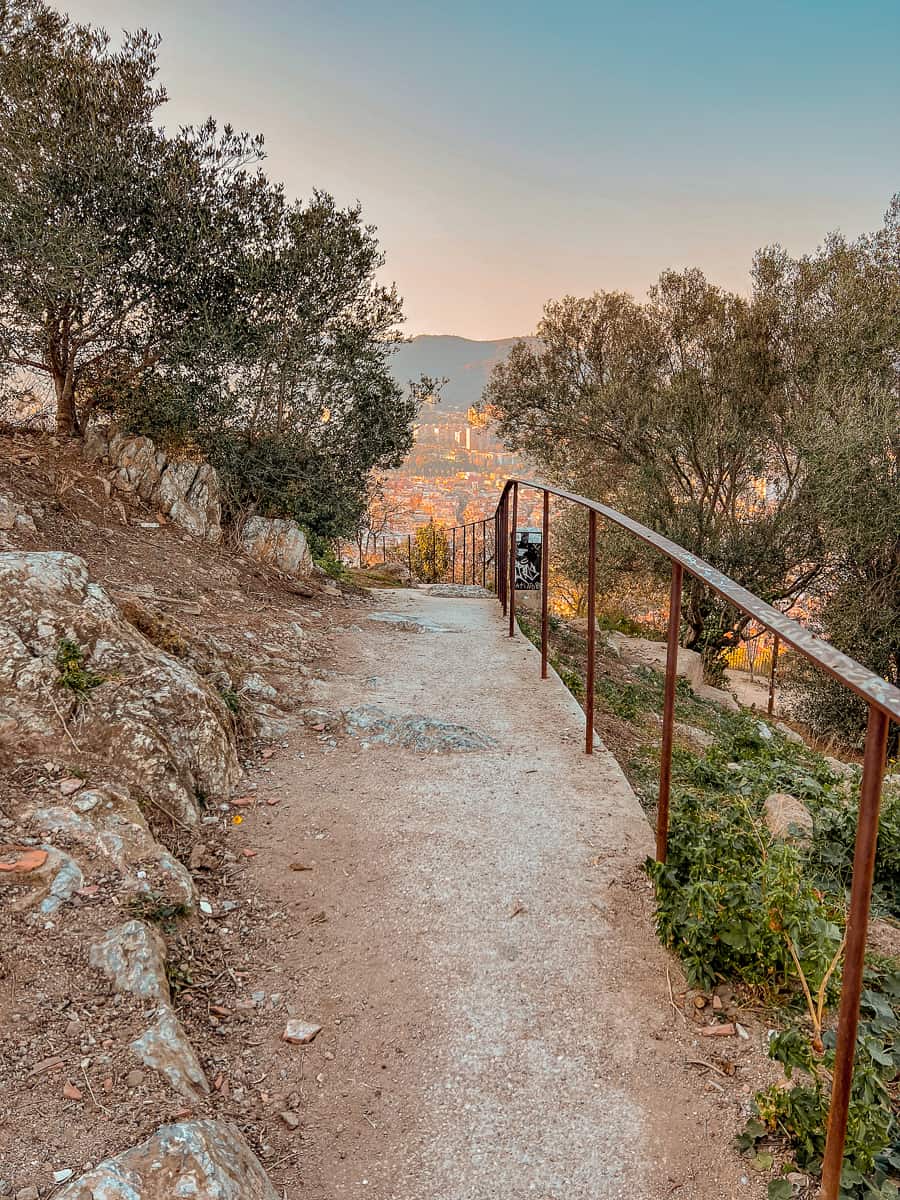 Is Bunkers del Carmel worth visiting?
Yes, the bunkers are definitely worth visiting in Barcelona. I'm kind of annoyed that it took me so long to visit.
I've been to this wonderful city many times but the panoramic views from the Barcelona Bunkers cannot be matched.
You can see for miles over the city, to the mountains and the Balearic Sea. It will take your breath away.
Don't skip a visit to Bunkers del Carmel Barcelona. You won't regret it!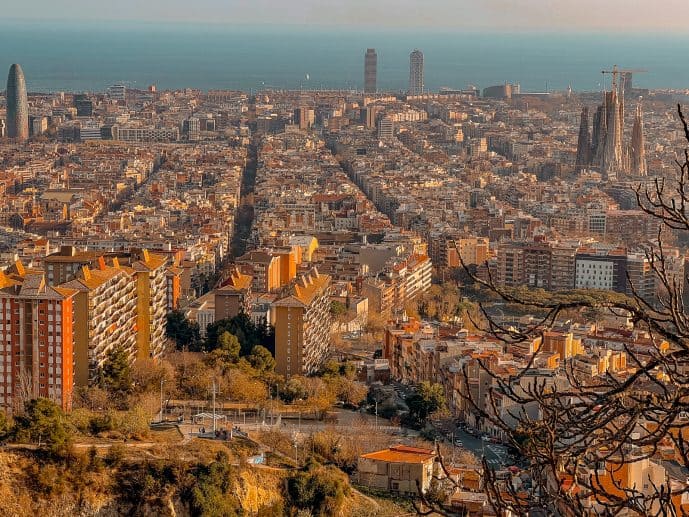 Where to next in Barcelona?
Park Güell is one of the most popular attractions in Barcelona and for good reason. It's stunning and has lots of architecture and viewpoints to explore.
It's only a 15-20 minute walk from Carmel Bunkers or you can take a bus/taxi.
It's a park that was created by Gaudi for a business tycoon called Eusebi Güell and opened in 1914. Today, it's a public park but they do charge for tickets.
It's a hot mess with tourists so make sure to book tickets in advance and I would head here early to avoid (most of) the crowds.
As part of your visit, you can see the famous Serpentine balconies, admire the tall pillars of the Hypostyle Room, and get a cheesy selfie with El Drac!
Where to stay in Barcelona
On my visit, I stayed in the magical Sercotel Rosellón which was located right beside the Sagrada Familia and had one of the best views of the city.
Not only do most of the rooms face the Sagrada but they have an incredible rooftop terrace where you can sip a drink and enjoy tapas with this breathtaking view as well.
The rooms were very clean and comfortable and it was close to most of the city centre attractions.
Also, the metro was just a minute's walk away which links you with the rest of Barcelona!
Click here to book your stay at Sercotel Rosellón
Bunkers Barcelona FAQs
How long does it take to walk up the bunkers in Barcelona? Around 45 minutes from the city centre and 20 minutes from Park Güell.
Is Bunkers Barcelona free? YES, it's the best free viewpoint in the city!
Do you need tickets for Bunkers del Carmel? No, you can visit for free without any type of ticket.
Read more of my Barcelona travel guides
30+ Instagrammable Places in Barcelona
Why you must visit Palau de Musica Catalana
Magical Sant Pau Recinte Modernista
Cascada Monumental – discover Gaudi's fountain
How to find the Kiss of Freedom
Secrets of Pont el Bisbe bridge in the Gothic Quarter
How to visit the Fairy Bar in Barcelona
Save how to visit Bunkers del Camel for later!