Set in an old Victorian railway station, Barter Books Alnwick is an enormous second-hand bookshop that has over 350,000 books in its archives.
They are often nicknamed the 'The British Library of secondhand bookshops' and are one of the only bookshops in the UK that still run on a barter system where you can swap your books for credit.
But, beyond the volumes, this is no ordinary bookstore. You also have a miniature railway, roaring fireplace, ginormous art murals and a cosy station café to keep you entertained.
It's well worth visiting and I wouldn't miss it whilst you're travelling on the Northumberland Coast.
Here is a complete guide to Barter Books Alnwick, the largest and best bookshop in Northumberland!
Barter Books history
Barter Books is now set in what was the old Victorian Alnwick railway station that was built by William Bell in 1887.
It's a massive 32,000-square-foot building and was mainly built for the Dukes of Northumberland to receive royalty at their home.
The Alnwick station was the terminus stop of the East Coast Main Line that branched out from Alnmouth.
It closed for passengers in the late 1960s but parts of the building were opened up for repurposing and taken over by local businesses.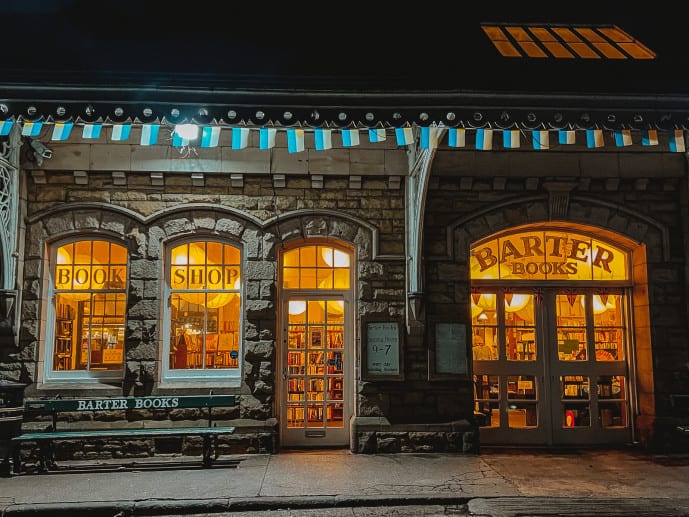 In the 1990s, Mary Manley decided to open a second-hand bookshop at the station based on a barter system which is essentially a book swap.
Her partner Stuart Manley, who had an interest in the railways, went into partnership with Mary and the business has grown from strength to strength.
In the year 2000, Barter Books made the headlines when they found an old wartime 'Keep Calm and Carry On' poster and it inspired a worldwide phenomenon.
Today, Barter Books is one of the largest secondhand bookshops in Europe and is now referred to as 'The British Library of secondhand bookshops'.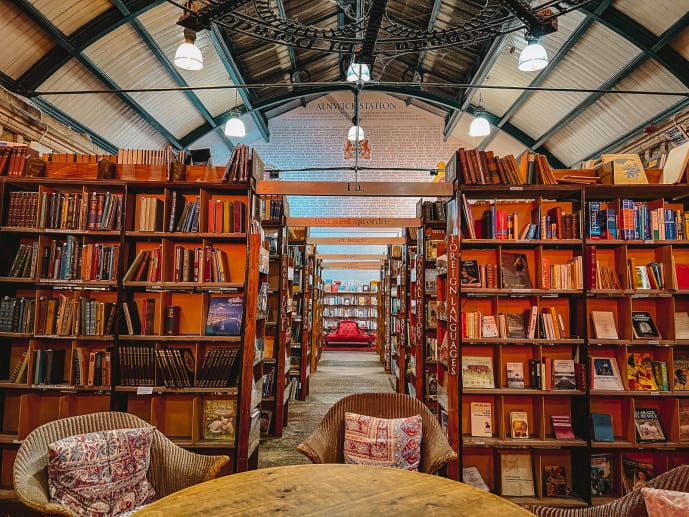 Things to do in Barter Books Alnwick
So, once you make it to Barter Books Alnwick, what is there to see and do inside?
Beyond the obvious draw of their tome treasure trove, you also have lots to look out for including a roaring fire, cosy seats, huge art murals, a miniature railway and a café!
Here are all the things to do in Barter Books Alnwick;
1. Browse their enormous selection of books
You know a bookshop is huge when you're offered a handy map to find the different sections of their store!
Barter Books has over 350,000 books in its archives (although not all are on display) so there's a lot to rummage through.
They have sections on romance, history, politics, science, psychology, art, religion, astronomy and everything you could think of. There's also a large children's and young adult section.
For me, I'm always racing towards the Fantasy/Sci-Fi, Romance and Historical fiction sections. There were so many to choose from.
Although I saw a rather interesting pirate love triangle book starring Captain Flint and Long John Silver, I ended up picking some Philipa Gregory books.
Although I've seen films like The Other Boleyn Girl and the TV series White Queen/Princess, I've never read the inspirations for them!
I also picked up this amazing collector's copy of the Game of Thrones: A Guide to Westeros and Beyond as I'm obsessed with that world.
What I loved is that the books were not very expensive to buy and you can even barter for them by donating your old books in exchange for credit!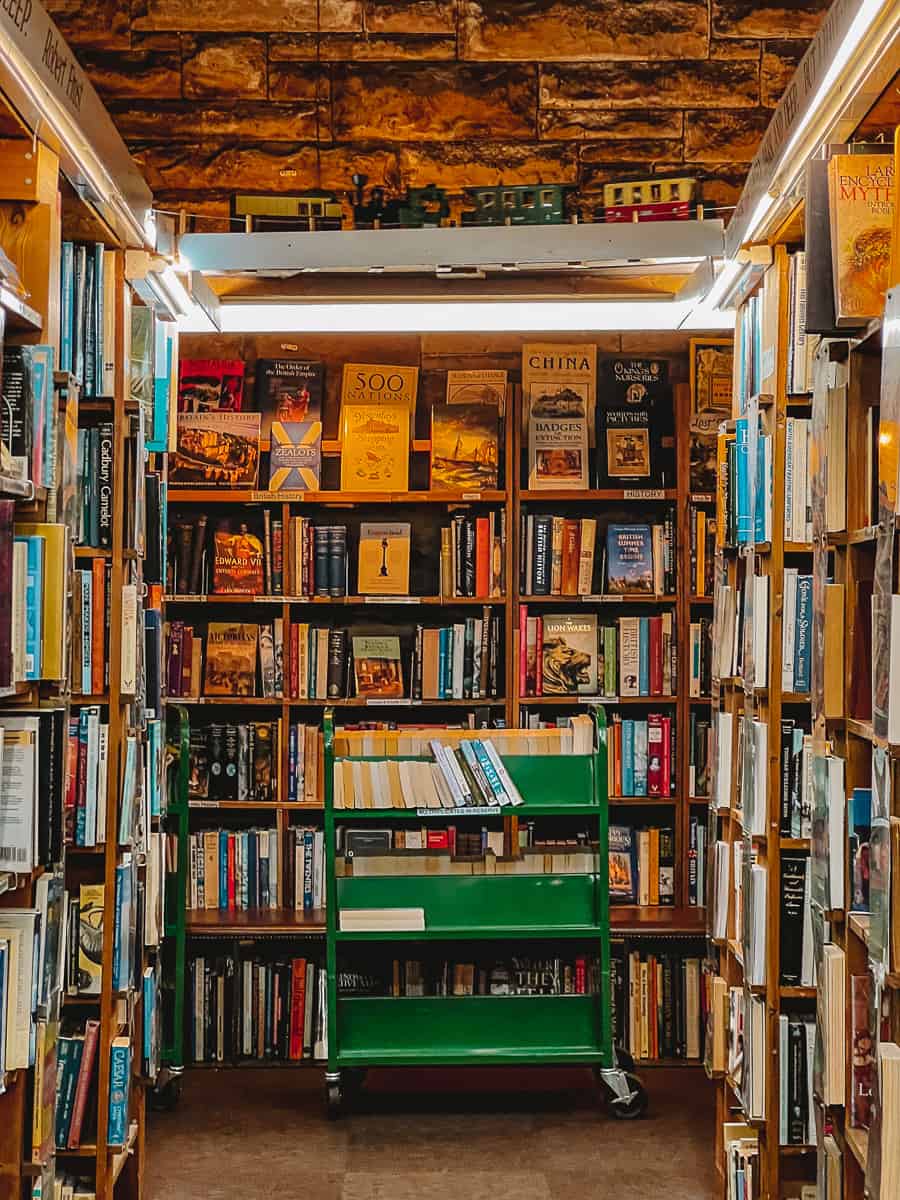 2. Cosy up by the open log fire
I visited Barter Books on a very chilly autumn evening so it was quite cold inside this huge bookshop.
Although they did have thermal heaters throughout the store, there's nothing quite like a crackling open log fireplace to make this railway station cosy.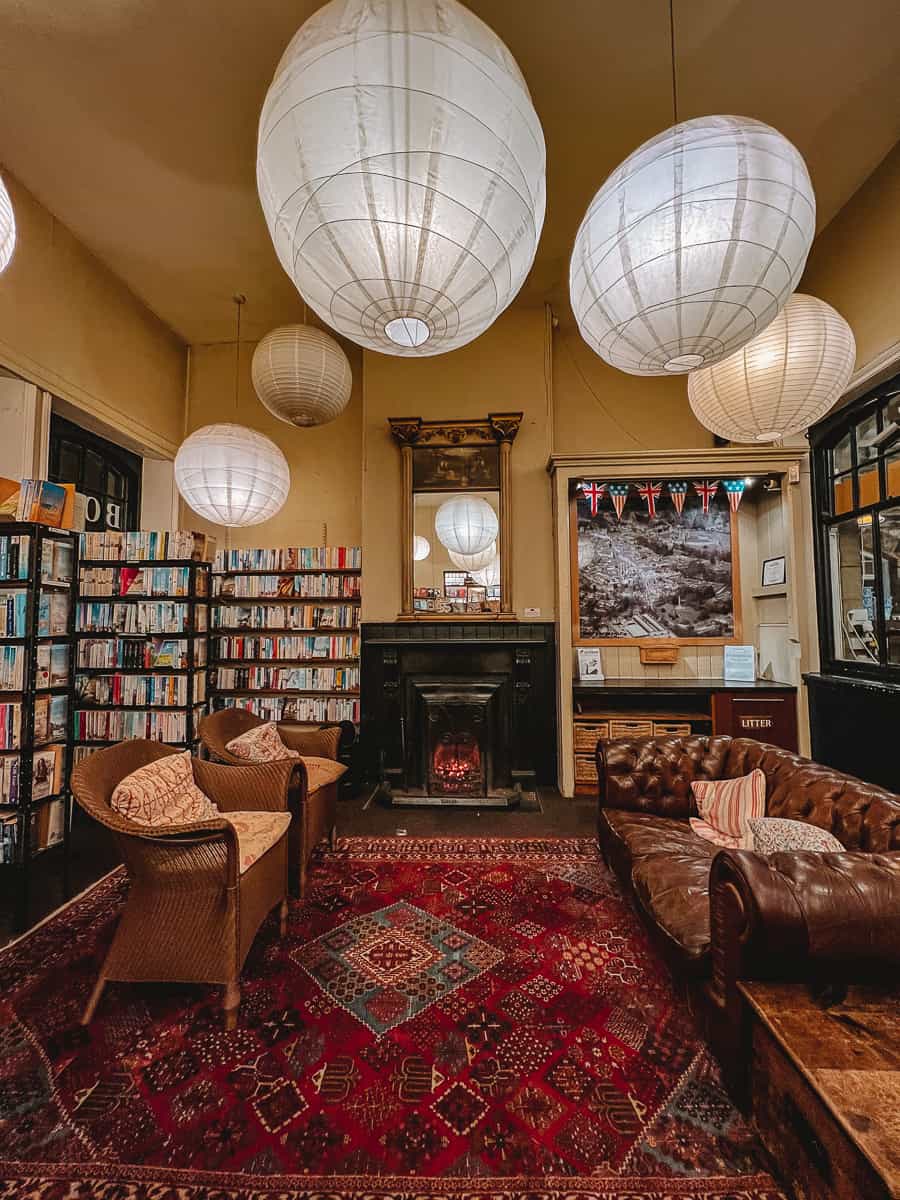 They had some cosy sofas to perch on and you could listen to the fizzle and pop of the wood while reading a book.
There are also plenty of other seats to relax on too like their chaise lounges and a King Arthur round table in the centre of the store!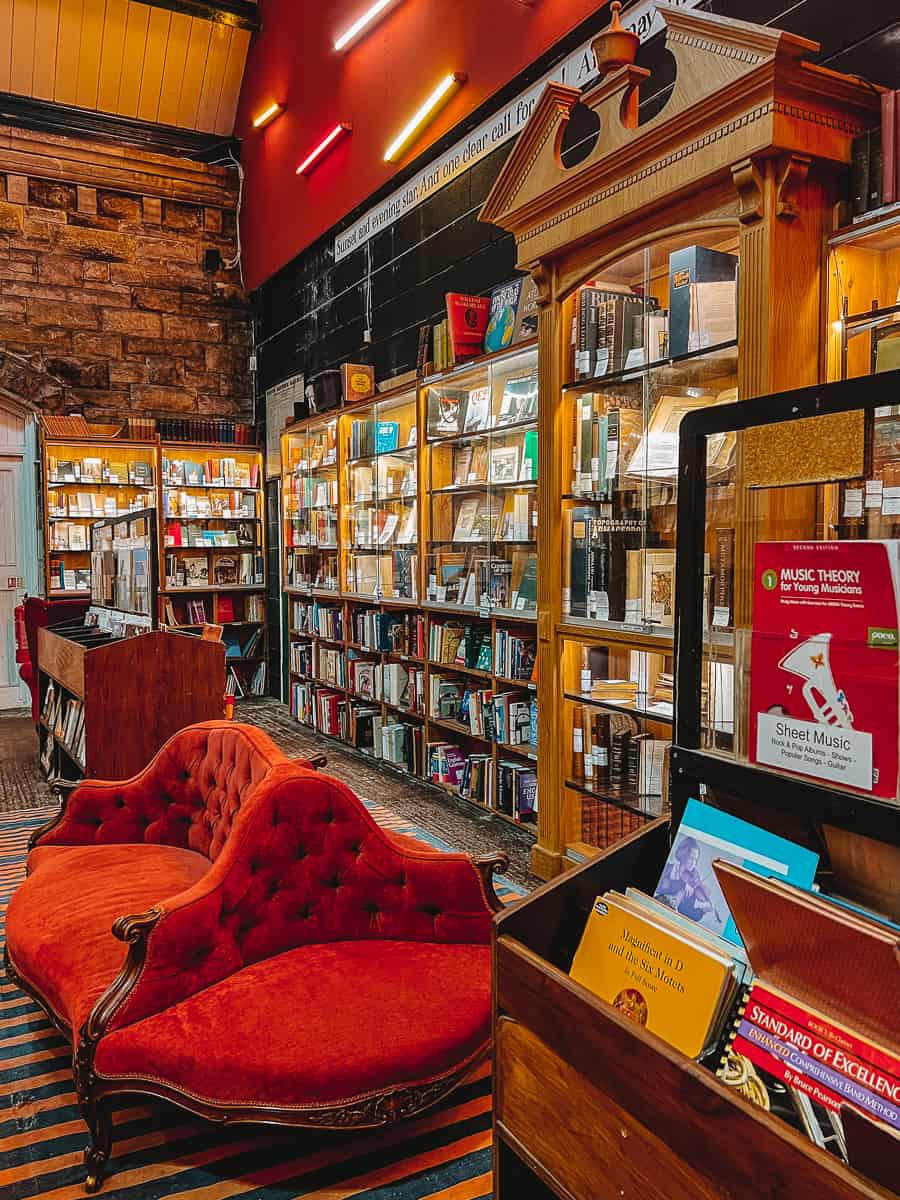 3. Admire the colourful bookish decor & murals
Although you can still find some of the original features of the Victorian railway station inside Barter Books, I loved the new murals and decor inside that made it so cosy.
You can find their 40-foot writer's mural that features over 40 famous characters from English Literature.
There is also a railway station mural that pays homage to the bookshop's roots as the old Alnwick Station.
But, my favourite has to be the sunburst Tennyson Installation. A colourful neon sign mural can be found at the back of the store!
You'll notice a culmination of poetry lines across the store and they all form part of this mural. It makes a fabulous photo opportunity.
4. See the Barter Books train on their miniature railway
I think Barter Books is the only bookshop I've ever seen that has its very own miniature railway set inside the store.
Although trains stopped running through this station decades ago, you can still find a miniature service running through the bookshelves and over bridges lined with poetry!
Stuart Manley always had an interest in the railways. Before the bookshop, he would make miniature train parts in a small factory here.
He always dreamed of trains revisiting Alnwick Station and so he became part of the Aln Valley Railway Project which aims to restore the railway line from Alnwick to Alnmouth.
Parts of this heritage line are already running from Lionheart to Greenrigg Halt and you can check out prices for riding the service here.
So, it makes sense that there is a miniature railway set that makes a journey up and over the book columns here in Barter Books!
It's fascinating to watch and the kids absolutely love it. Make sure to check it out on your visit.
5. Barter Books Keep Calm and Carry On Poster
Do you remember that time in the early 2000s when the Keep Calm and Carry On poster trend took the world by storm?! Well, that whole phenomenon started right here in Barter Books.
The owner, Stuart Manley, was looking through a box of second-hand books bought at auction when he stumbled upon one of the original Keep Calm and Carry On posters.
Although over 2 million copies of the motivational poster were printed in 1939 and some were used during the Blitz in WWII, not many were publicly displayed.
The Manley's proudly framed the propaganda poster by their cash register and it started to gain lots of attention.
Eventually, Barter Books started selling copies and then it was advertised by the newspapers in gift guides.
Ever since thousands of copies of this design have been issued and it has become so famous it's used all around the world. It's also become very trivialised with joke slogans popping up all the time.
However, you can still see their original poster framed behind Barter Books tills today!
6. Don't forget to visit the Barter Books Café
You could easily spend half a day in Barter Books rummaging around for second-hand volumes, there are so many things to see.
But, if you were feeling peckish or in need of a drink, you can visit the Barter Books Café at the back of the bookstore.
The Station Buffet sells hot drinks, breakfast, lunches and light snacks throughout the day.
You can sit in their cosy seating area that has a fireplace and beautiful portraits of notable events that happened in Alnwick train station.
I had a slice of their homemade carrot cake and elderflower presse and it was delicious. It was the perfect treat after a busy session of book shopping!
Barter Books café opening hours are 9 am – 6.30 pm. Last hot food orders at 5 pm.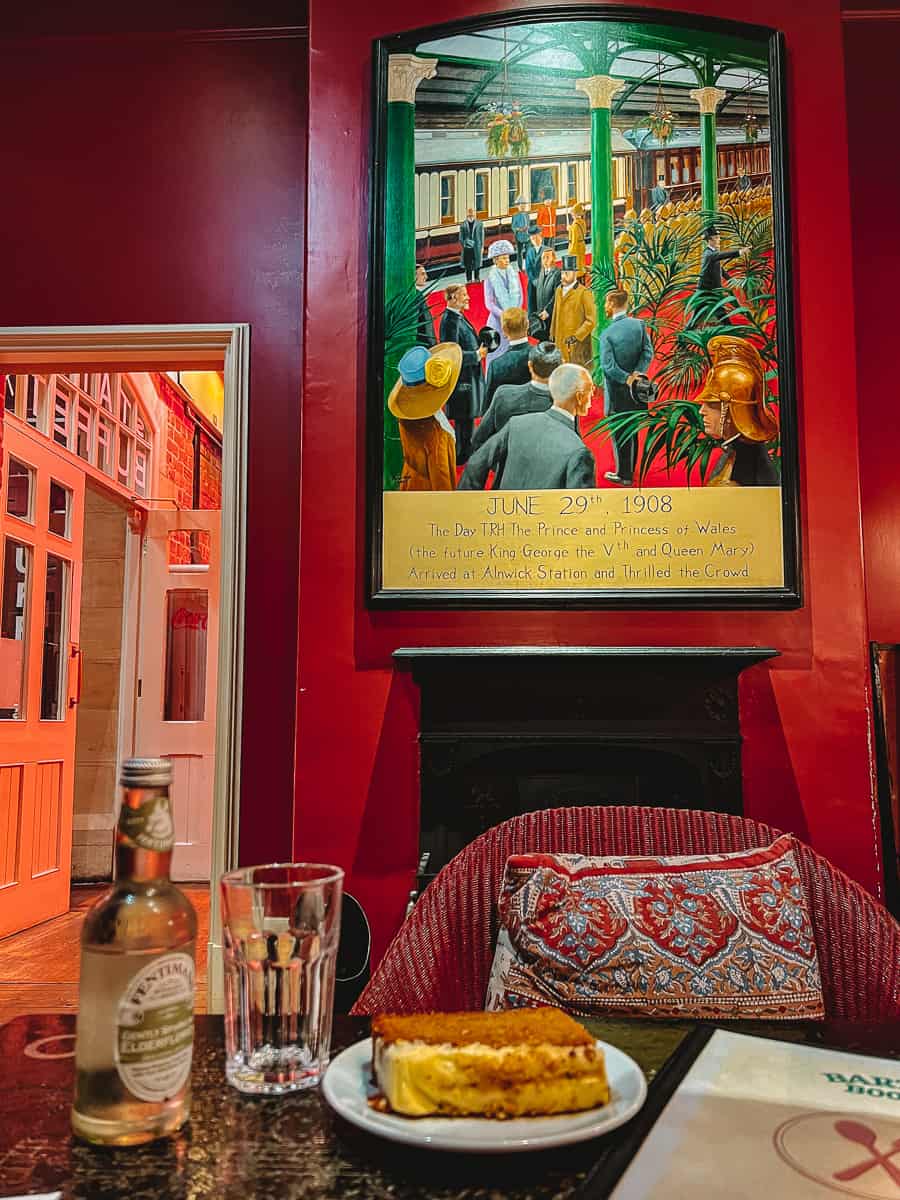 How to visit Barter Books Alnwick
Barter Books is located in the old train station of the gorgeous historic market town of Alnwick in the county of Northumberland, home of the famous Alnwick Castle and Gardens!
This is in the North East of England just above the city of Newcastle and on the border of Scotland.
If you're driving, you can access Barter Books straight off the A1 motorway that heads up to Scotland.
Just turn off at Alnwick, follow the signs into the town centre and then follow the brown tourist signs for Barter Books.
If you're arriving by train, Barter Books currently resides in what was Alnwick station years ago. Today, the closest train station is Alnmouth. There are direct train services from Edinburgh, Newcastle and York.
You can also travel to Barter Books by bus from Newcastle and Edinburgh. I always recommend Traveline or Google Maps to plan public transport journeys.
Barter Books address is Alnwick Station, Alnwick NE66 2NP. Click here for a Google Pin!
Barter Books parking
There is FREE car parking right outside of Barter Books and there are over 42 spaces!
So, there's plenty of room to park your car to go book shopping throughout the day.
There are also some disabled Blue Badge spaces nearer the front of the shop for accessibility.
Barter Books opening times
Barter Books is open every day from 9 am – 7 pm so it's the perfect place to visit whilst you're on a trip to Northumberland.
I visited in the winter and this bookshop was a great place to visit in the evening when most of the other attractions in Alnwick had closed for the day.
They had a roaring fire and it felt so cosy inside. You can sit on a sofa, pull up a book, visit their café or watch the miniature railway!
Barter Books FAQ
Who owns Barter Books? Stuart and Mary Manley!
Why is Barter Books famous? They have over 350,000 books in their archives and you can barter for credit (hence the name). Also, in the year 2000, the owner discovered an original WWII "Keep Calm and Carry On Poster" from 1939. You can still see it framed and on display. It made the headlines and became an international phenomenon.
Is there parking at Barter Books Alnwick? Yes, there's a large FREE car park just outside
Is Barter Books dog friendly? Yes, dogs with well-behaved owners are welcome in Barter Books!
Does Barter Books have a café? Yes, you can dine in their Station Buffet café throughout the day.
Looking for more things to do in Alnwick?
Alnwick is a historic market town in Northumberland that has lots to do on a day out from Edinburgh or extended stay in the county.
I would always recommend planning a visit to Alnwick Castle which is the ancient seat of the Dukes of Northumberland.
Big movies and TV series like Downton Abbey and Harry Potter were filmed there. You can even take part in some broomstick lessons as well.
The Alnwick Garden is just nearby which is a delight to visit all year. Don't miss out on their poison garden or lunch in the amazing Alnwick Treehouse restaurant that feels like the Weasley's Burrow.
Beyond the castle and gardens, there are lots of independent shops and cafés to browse in the main marketplace.
You can visit the Bailifffgate Museum to learn more about the history of the town or catch a show at the Playhouse Theatre.
There are also lots of walks around Hulne Park including Hulne Priory and the Brizlee Tower.
Just outside of Alnwick you can visit the beach towns Amble and Alnmouth that have great seaside views.
Or, discover even more history with Howick Hall & Gardens, Craster village, Warkworth Castle and the amazing Dunstanburgh Castle.
Read more of my Alnwick articles
Harry Potter filming locations in Alnwick Castle
How to visit the Alnwick Gardens Cherry Blossom
Discover the Alnwick Poison Garden
Magical Alnwick Treehouse restaurant review
Save time and book a tour!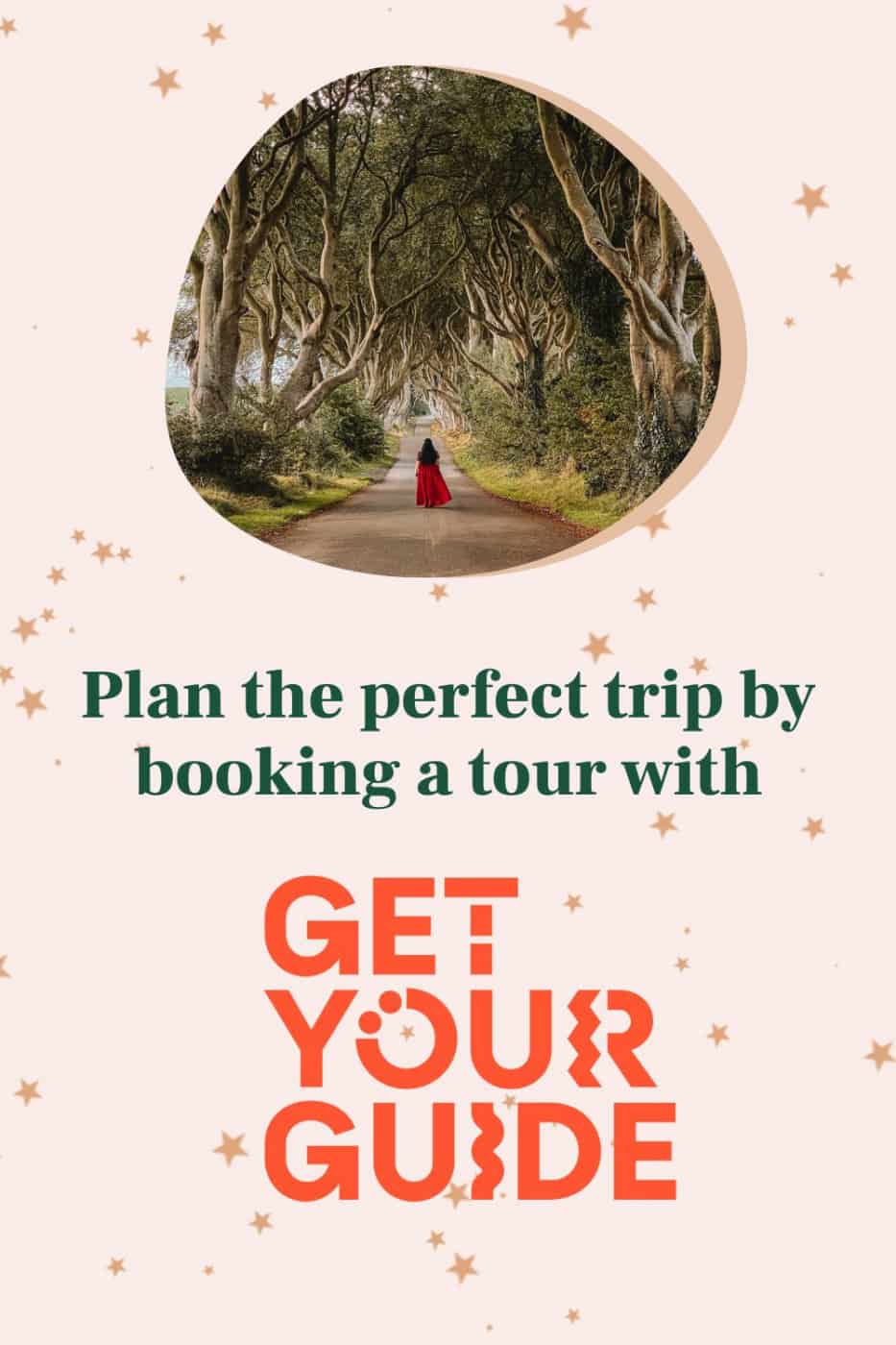 Book tours & tickets for Northumberland!
Where to stay in Alnwick
If you're planning to come here for some book shopping, why not make it a weekend away?
Here are some of the best hotels in Alnwick;
The Hogs Head Inn – An award winner in the North East England Tourism Awards, this place was named after the Harry Potter tavern! I love the Inn Collection Group and their properties are always cosy, with a hearty breakfast and friendly service. This Inn has 53 en-suite rooms for rent with a pub and restaurant onsite. Click here for rates.
The Cookie Jar – This boutique accommodation is an award-winning cosy retreat located right in the heart of Alnwick. The bedrooms are all unique and the amazing interiors are just to die for! There's a terrace and Bistro onsite. Click here to book.
The Bondgate Boutique – Another boutique property in a Grade II listed building dating back to the 1700s. But, you'll find cosy modern furnishings in their beautiful rooms. Click to enquire.
Read more of my Northumberland articles
Craster to Dunstanburgh Castle walk
A complete guide for Ford and Etal
Last Kingdom Guide for Bamburgh (Bebbanburg)
Why you must visit Bamburgh Castle at Christmas
How to see puffins on the Farne Islands
Things to do on Holy Island (Lindisfarne)
Why you must try Lindisfarne Mead
Sycamore Gap walk on Hadrian's Wall
How to visit the Walltown Crags
The mysterious Temple of Mithras
Save Barter Books Alnwick for later!