The most magical dining experience I have had at Walt Disney World is the Beauty and the Beast Be Our Guest restaurant in Magic Kingdom.
If you have ever wanted to enter Beast's castle, visit the Grand Ballroom or sneak into the West Wing to see the enchanted rose – you can do that while dining on exquisite French food.
There are three royal rooms to dine in all inspired by different scenes of Beauty and the Beast and you can even try the famous 'Grey stuff' on the menu.
It's breathtaking but as one of the most popular restaurants at Walt Disney World, there are a few things that you need to be prepared for if you want to dine here.
Here is a complete Be Our Guest restaurant review with top tips and tricks for your visit!
"Be our guest! Be our guest! Put our service to the test, tie your napkin 'round your neck, cherie and we'll provide the rest. Soup du jour, hot hors d'oeuvres, why, we only live to serve. Try the grey stuff, It's delicious! Don't believe me? Ask the dishes!"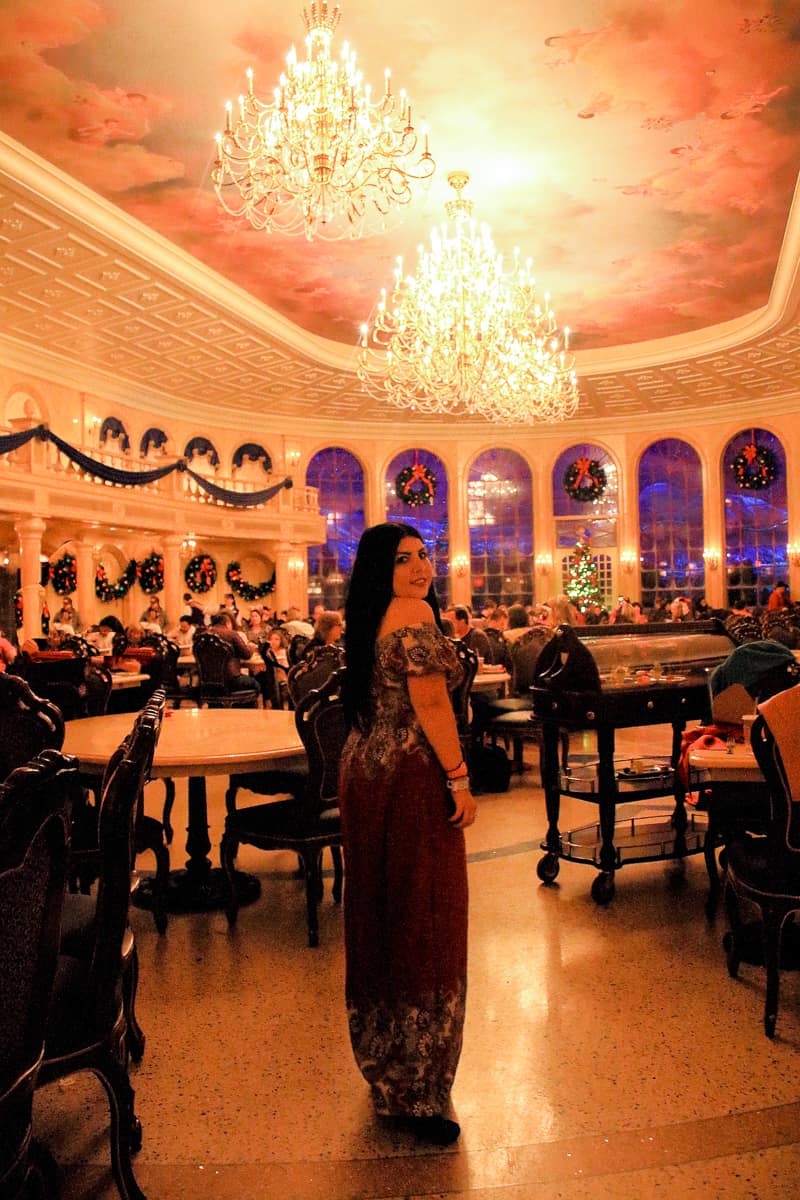 What is the Beauty and the Beast Be Our Guest Restaurant?
Be Our Guest is a Beauty and the Beast-themed restaurant located in Fantasyland at Walt Disney World's Magic Kingdom theme park.
It's decorated to look like Beast's castle in the French countryside and has three rooms which are the Grand Ballroom, Castle Gallery, and the forbidden West Wing.
It serves up a table-service menu of French food and this is a tres delicieux three-course dinner. You can expect to find French Soup, Filet Mignon, and even the Grey Stuff on the menu for dessert.
There has been no expense spared at Be Our Guest and if you love aesthetics, you must look out for the tiniest attention to detail.
There are gargoyles, lanterns, stained glass windows, shields, an enchanted rose, portraits, and chandeliers. It really does feel like you're at Beast's castle inside and outside of the restaurant!
Beauty and the Beast is my favourite Disney movie and Belle is my favourite Disney Princess. Honestly, I get a bit emotional every time I visit because it feels like you're there.
Important information about Be Our Guest Walt Disney World
Be Our Guest Restaurant is at Magic Kingdom in Fantasyland located between Gaston's Tavern, Bonjour! Village Gifts and Enchanted Tales with Belle.
It's currently open for lunch and dinner. Lunch is served from 10am – 2.55pm and dinner from 3pm to 10pm.
This is a table-service restaurant not counter or quick service and, at the time of writing, not included in Disney Dining Plans.
You can meet and greet Beast after your meal at the dinner service.
Top tips for Be Our Guest reservations
As one of the most popular restaurants in Walt Disney World, advanced reservations are a MUST and they go like hot cakes.
I'd reserve as soon as dates become available on the My Disney Experience app. At the moment, you can book up to 60 days in advance.
If you've already booked your trip, I would say to keep checking for when the dates become available if you wanted a specific day/time.
If you miss it and it's full, you can keep checking the app for availability closer to the time. You may get lucky with a cancellation.
Limited walk-ins are available but these may not be possible on the day or you will have a very long wait on the bridge which isn't the best use of your time in Magic Kingdom.
Click here to see reservation options for Be Our Guest
What are the three rooms at Be Our Guest?
After you have secured your reservation, it's now time to think about which one of the three rooms at Be Our Guest you'd like to eat in.
The theme of the restaurant is set in Beast's Castle and Beast has some royal dining rooms to accommodate his loyal subjects.
The three Royal Rooms for Loyal Subjects at Be Our Guest restaurant are the Grand Ballroom, the West Wing, and the Castle Gallery.
They are all amazing, with incredible aesthetics and there was no expense spared. But, there are pros and cons to each of these rooms. So, it really comes down to what sort of ambiance you'd like when you eat.
You cannot guarantee what room you will get on your reservation. But, it's easy enough to put it in a request or ask a cast member at the desk if you have a preference and then they can try to accommodate you on the day!
You may have to wait a little longer but it's well worth it if you want to eat in a specific Royal Room at Beast's castle.
Don't forget, you're free to explore all three rooms at Be Our Guest restaurant if you wish to on your visit.
The Grand Ballroom
The Grand Ballroom at Be Our Guest is a breathtaking room with a painted ceiling, tall columns, candelabras, and chandeliers.
There are glass windows that reveal starry skies over the snowy mountains of the French countryside.
It really is an exact replica of the ballroom when Belle and the Beast dance to Tale as Old as Time. They even play the instrumental version of the song while you eat.
As soon as I walked in I gasped. I was blown away by how amazing it looks and it's such a dreamy setting for dinner. Like walking through a fairytale.
Most people want to eat in this room though and it's the largest of the three so it can be incredibly busy and noisy whilst you're eating in here.
If you want to hear a conversation, I'd opt for the Castle Gallery. We ate in the ballroom for brunch as opposed to our evening meal.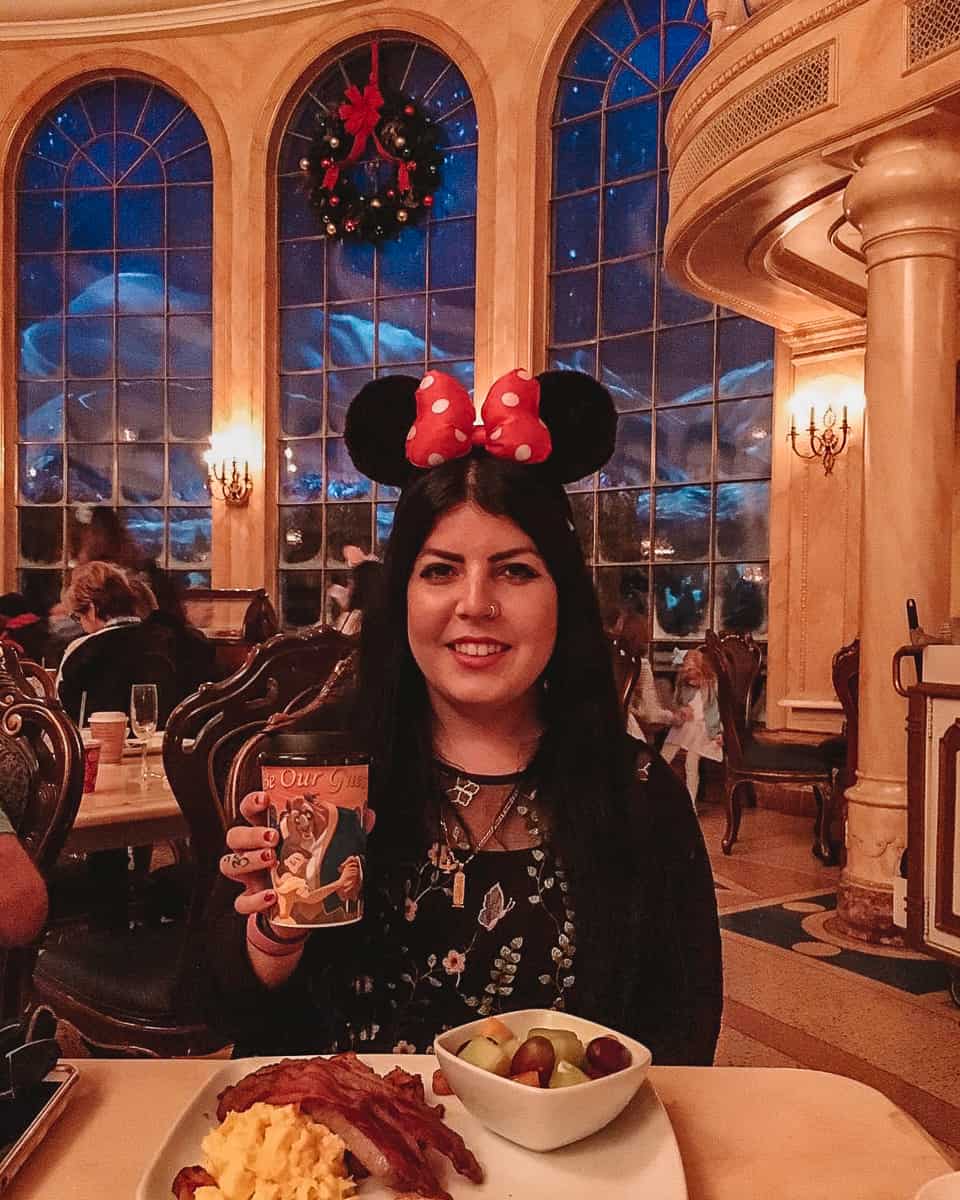 The West Wing
The West Wing is one of the coolest rooms at Be Our Guest restaurant. It's very dark with ripped wallpaper and curtains. You also get the odd strike of lightning in this room with the sounds of a thunderstorm.
But, the very best part is the enchanted rose that is placed on a table in a far corner of the room. It's animated so it's constantly 'wilting' throughout your meal.
This West Wing is always such a vibe and it has a taste of the forbidden but it can very very dark.
If you're the sort of person that wants to see the menu without a torchlight and you will get annoyed if you can't see your meal properly you may want to opt for a lighter room.
Personally, I'd find my meal blindfolded and still have a great time. It's the only room I haven't eaten in yet so it's on my list for next time.
The Castle Gallery
The Castle Gallery is a portrait gallery at Beast's Castle. There are lots of pretty paintings of memorable scenes from Beauty and the Beast.
You also have this gorgeous podium in the middle of the room that has a twirling statue of Belle and Beast dancing together. It's very sweet.
We ate here for dinner and it was nice as it wasn't so loud as the Grand Ballroom and not as dark as the West Wing. It's an in-the-middle room but no less of a magical experience with the atmosphere.
It completely depends on what sort of experience you'd like when you visit Be Our Guest restaurant.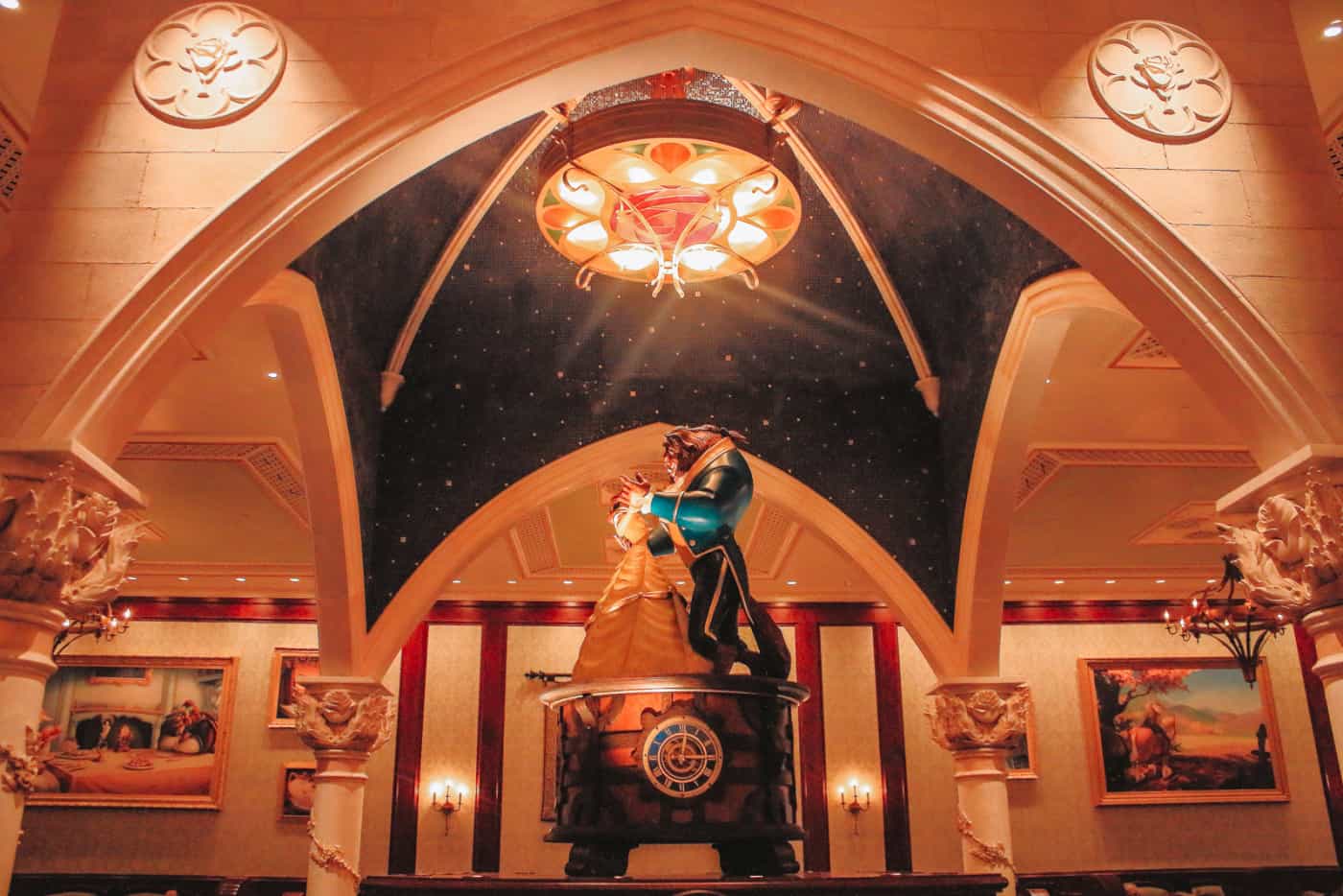 Be Our Guest menu
You can eat at Be Our Guest for either lunch or dinner at Magic Kingdom. For many, lunch is the better option as this is easier to reserve or get a walk-in table.
If you can though, I'd opt for their dinner service in the evening as you get to meet and greet with Beast after your meal.
This service starts at 3 pm so it's easy enough to book a late lunch here if you wanted to hold out to meet Beast.
The lunch and dinner menu is French themed but I'd always say these are more like fusions with an American twist.
Your meals will all be presented to you by your server on a traditional French wheeled serving trolley just like in the movie.
For starters, you can expect to find Octopus, Lobster Bisque, and French Soup. The soup is incredible and comes with so much Gruyere cheese it's unreal.
The mains are a choice of Pork Tenderloin, Vadouvan vegetables, Poulet Rouge Chicken, Fish, or Filet-Mignon. I went for the steak and it was cooked very well with a lovely sauce.
For desserts, you can choose from a Lemon Macron, Vanilla Cake with Lemon Curd, Dark Chocolate Truffle, or my favourite which is the GREY stuff!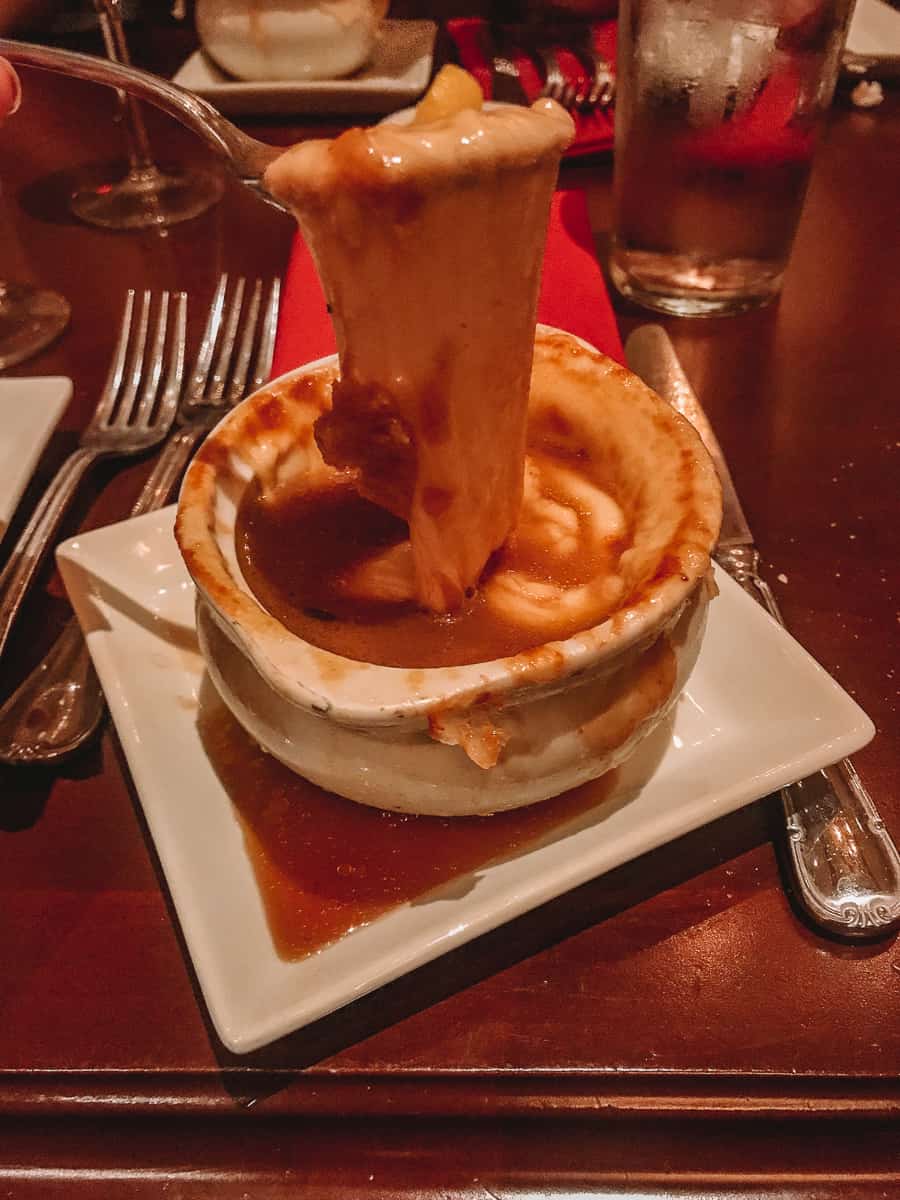 What is the GREY stuff at Be Our Guest?
Remember that lyric in the 'Be Our Guest' song 'try the grey stuff, it's delicious'?!
Well, Be Our Guest has created a themed dessert that is a nod to the famous 'Grey stuff' in Beauty and the Beast!
It's actually called a chocolate tart on the menu but it comes with the grey stuff on top and this was my favourite.
The tart comes presented as a small teacup like Chip and it has a swirl of grey stuff with crisp pearls and a Tale as Old as Time chocolate wafer on top.
The grey stuff is actually chocolate and vanilla pudding mixed with whip and Oreos. It tastes divine.
On my visit, the plate came with edible sugar paper decorated like the enchanted rose in stained glass. Plus, a raspberry-stuffed macaron and mini truffle.
You eat with your eyes and so this Grey stuff dessert may put off many. But, the Grey stuff certainly is delicious so give it a try! You're in Beast's castle after all.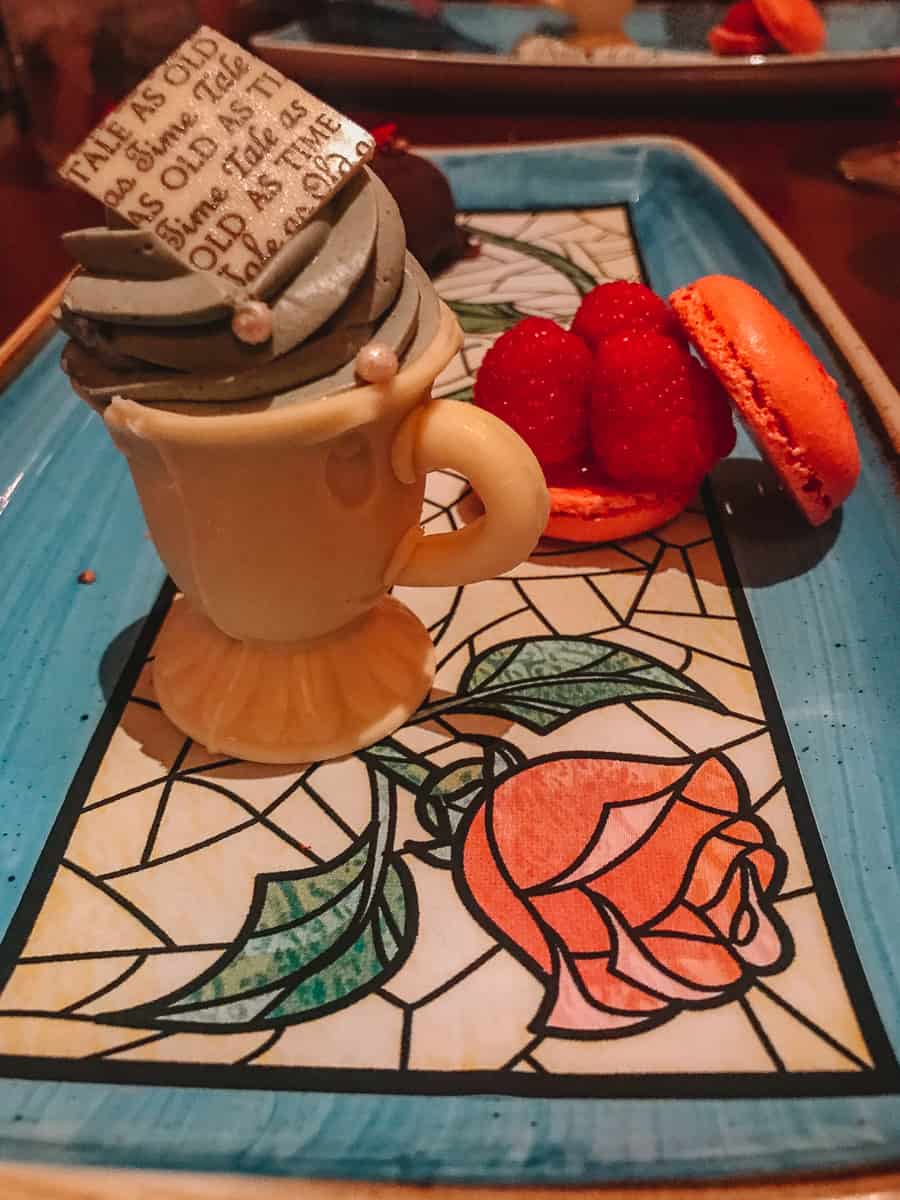 How much does it cost to eat at Be Our Guest?
Be Our Guest is one of the premium-themed restaurants at Walt Disney World and it does come with a hefty price tag.
Prices for both lunch and dinner are $62 USD per adult and $37 USD for a child (ages 3 – 9). This is a three-course dinner and the price is without drinks.
You can buy signature non-alcoholic drinks starting at $10 some of these come in a signature cup or goblet.
Or, for bigger kids, you can buy alcohol. There is a large range of wines, sparkling wines, champagne, and beer.
A glass of wine like the Enchantée Rosé is around $12 a glass. Enchantée Champagne is also here for $20 a glass if you'd prefer a French pairing. Beer & cider starts at $8 a bottle.
Remember, for my non-US readers, all these prices are the base price without tax and gratuity charges. So, remember to factor this into your budget.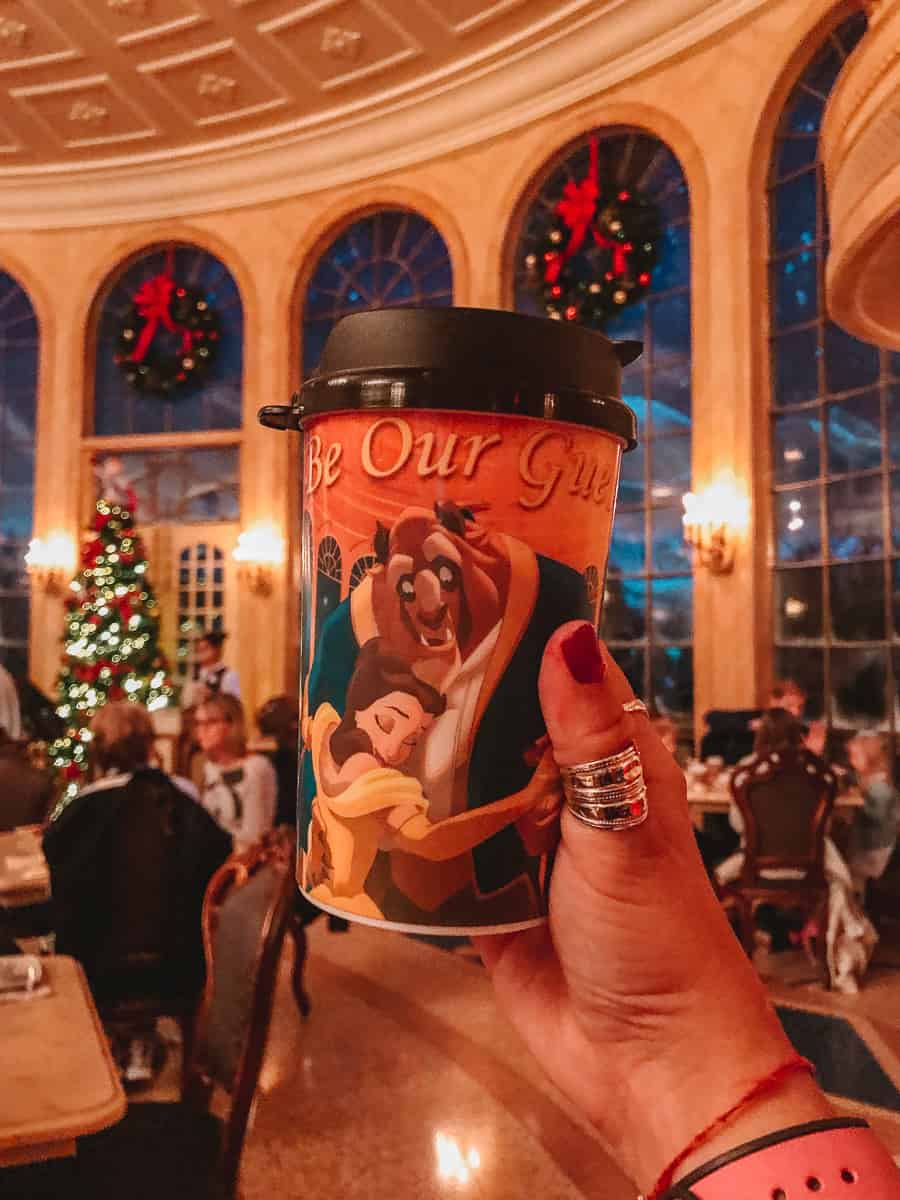 Is Be Our Guest restaurant worth it?
100% YES! I honestly think this is one of THE best restaurants in the whole of Walt Disney World even above Cinderella's Royal Table in the castle.
Just seeing the Grand Ballroom was enough for me to think that this Beauty and the Beast dining experience was worth the money.
But, the decor, enchanted rose, delectable French food, and meeting Beast were multiple magical cherries on top!
If you're a fan of Beauty and Beast you should run not walk to eat in Beast's castle in Fantasyland.
How long does it take to eat at Be Our Guest?
I would budget at least an hour to 90 minutes for your dining experience at Be Our Guest restaurant.
As this is a table service restaurant, you will be waited on and served a three-course meal and so you definitely want to relax and enjoy the experience.
The ambiance here is magical and, as it's not the cheapest restaurant, you don't want to rush through.
If you're eating here for dinner, I would also factor in some time for photos with Beast at the very end.
We decided to have a later dinner here before Mickey's Christmas Party celebrations. I would try to avoid booking a time too close to Magic Kingdom parades and/or fireworks show times.
Most restaurants will only be able to hold your table for 15 minutes after your booking time. You don't want to be stuck in the mass crowds of Main Street USA or Fantasyland and miss your reservation.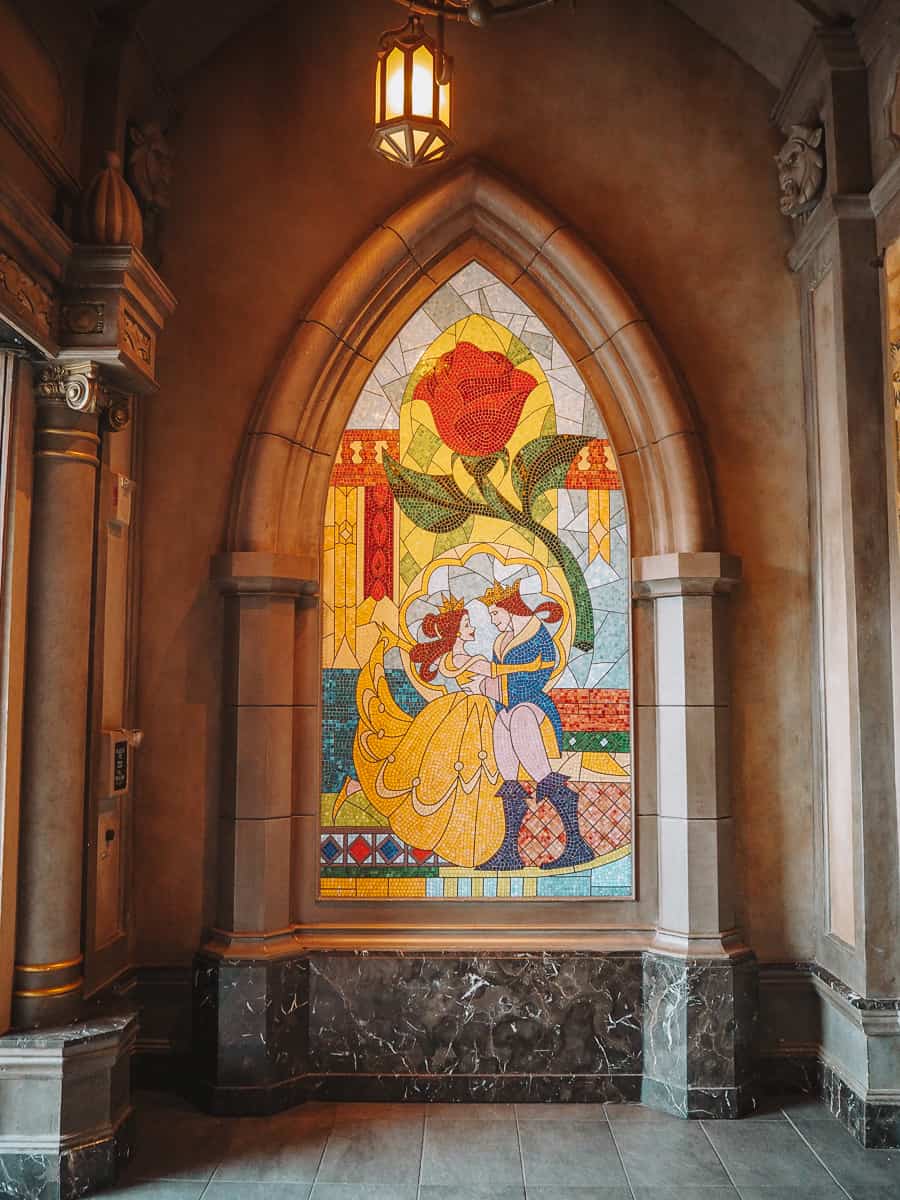 Is there a dress code for Be Our Guest?
No. You can dress in your normal theme park attire for Be Our Guest restaurant. But, nothing is stopping you from dressing up for dinner if you want to.
As I knew I was going, I had a change of dress packed for dinner and slipped it on in the bathrooms to get photos in the restaurant and with Beast.
It was nothing too fancy just something a little nicer than I would normally wear around the parks.
But, you can easily rock up in a t-shirt, shorts, trainers, and even your Mickey ears and you'll still be warmly welcomed into Be Our Guest.
Can you meet Beast at Be Our Guest?
YES! One of the best parts of dining at Be Our Guest restaurant is that you can queue to meet Beast in his castle.
But, he only greets guests after dinner. So, if you wanted to guarantee meeting Beast you will need to make sure to book a late afternoon/evening reservation.
After you have eaten your meal, you can queue up for official Disney PhotoPass Service photos with Beast. Or, you can take some on your own phone and camera.
It's a beautiful setting in front of the fireplace at Beast's Castle and almost looks like the West Wing but a lot lighter and brighter.
After your meet and greet, you'll be able to view these official photos on your PhotoPass gallery online or the My Disney Experience app via the link to your MagicBand or Park Tickets.
But, if you would rather, you can also purchase these as hard prints on the day if you want to remember your time at Be Our Guest restaurant!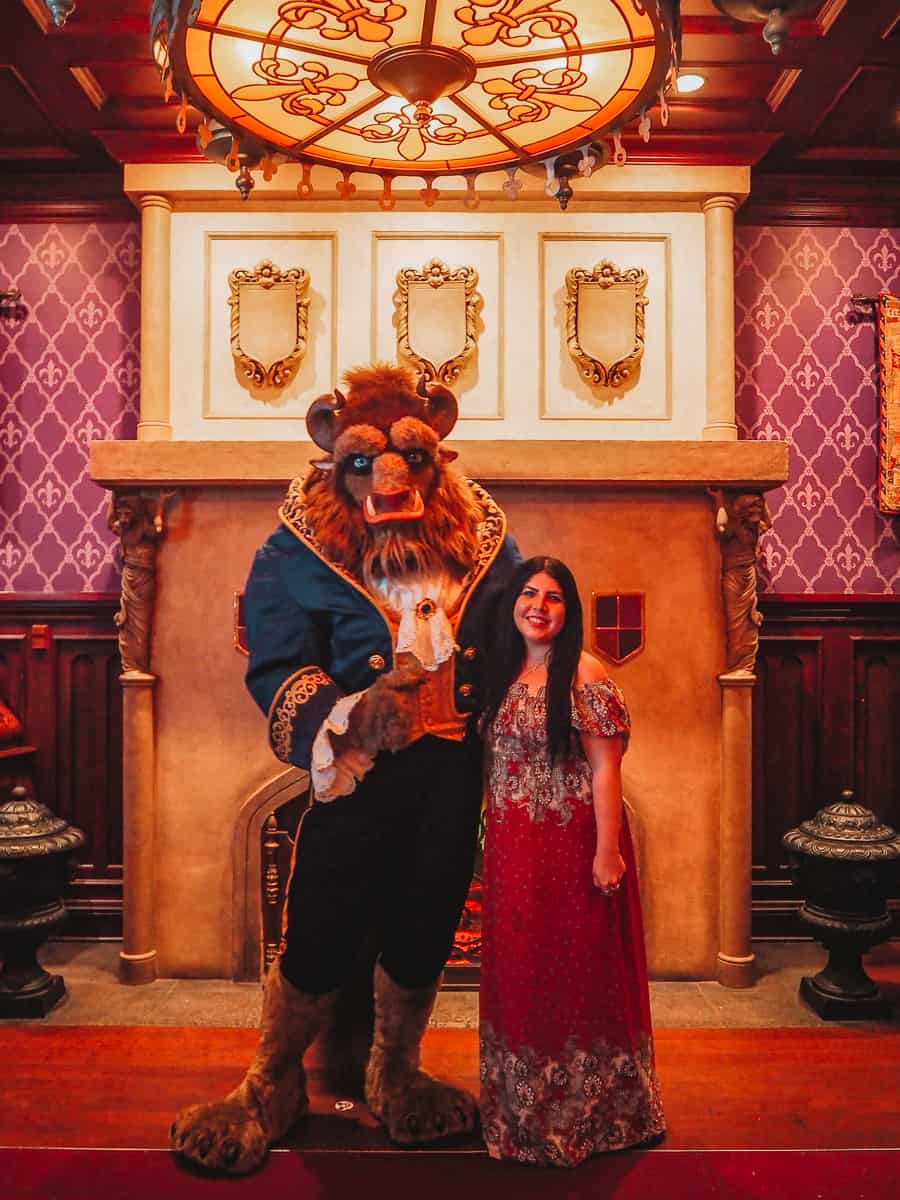 Don't forget to see the stained glass window
When leaving the Be Our Guest restaurant, don't forget to stop by the beautiful arched mosaic of the 'stained glass window' from Beauty and the Beast.
It's absolutely gorgeous and showcases the romantic moment when Belle and the Prince dance in the Grand Ballroom in the movie. You'll see the enchanted rose above them.
It makes a great photo opportunity but plenty of people miss this on their way out. If you're a fan then make sure you're not one of them.
Do you meet Belle at Be Our Guest?
Unfortunately, no. Belle is not available for character meet and greets at Be Our Guest restaurant.
At the time of writing, Belle is only available for a meet and greet in the French Pavillion at Epcot.
Make sure to download the My Disney Experience app and check 'meet and greets' to see when she will appear!
Magical Beauty and the Beast experiences at Walt Disney World
There are plenty of amazing chances to experience even more Beauty and the Beast all over Walt Disney World in nearly all of the parks.
Here is a list of Beauty and the Beast attractions in Walt Disney World;
Gaston's Tavern in Fantasyland
If you could imagine Gaston's ideal place, this would be it! It oozes ego with a statue of Gaston and LeFou on the fountain outside and plenty of (fake) taxidermy and furs to decorate the walls.
Grab a LeFou's Brew which is the tavern's non-alcoholic signature drink. It's a frozen apple beverage with a hint of burned marshmallow and fruity froth!
There is also a counter service where you can grab warm cinnamon rolls and ham sandwiches throughout the day.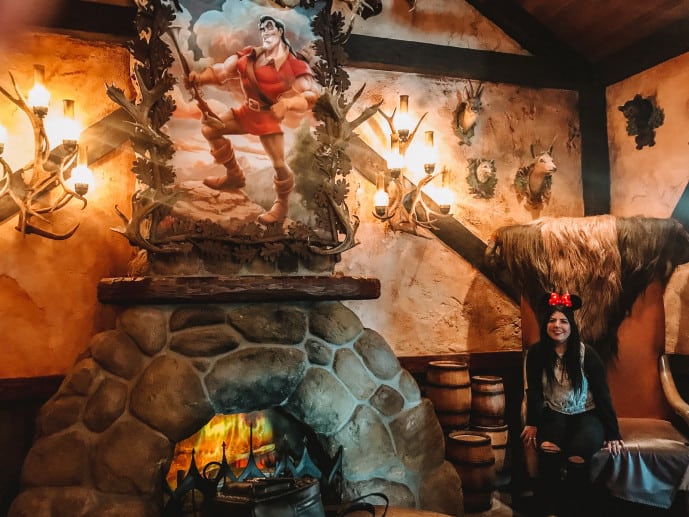 Enchanted Tales with Belle
This used to be a storytelling experience where you could meet Belle and see the Enchanted Wardrobe in Belle and Maurice's country cottage.
At the moment it's temporarily unavailable. But, hopefully, it will be back soon.
Beauty and the Beast Show at Hollywood Studios
One of my favourite shows at Walt Disney World is Beauty and the Beast Live on Stage. It's a twenty-minute musical rendition and it is fabulous.
The costumes, singing, and effects are truly out of this world. You can't help but get involved and sing along.
When Beauty and Beast dance at the end it always brings a tear to my eye. I'll never be over that gold dress.
Get there early to bag a seat. Although there are many showings throughout the day, they do tend to fill up fast.
For more tips, check out my article on the best shows at Walt Disney World!
France Pavillion in Epcot
There is now a Beauty and the Beast Sing-along in the French Pavilion at Epcot.
You can watch a 15-minute film at Palais du Cinema with your favourite songs from Beauty and the Beast!
Just outside you can find wonderful topiary sculptures of Belle, Beast, Chip, and Mrs. Potts.
Beauty and the Beast float in Magic Kingdom Parade & Fantasmic
You will see both Belle and Beast dancing together in their finest on their float in the Festival of Fantasy parade at Magic Kingdom. Most of the time they are the very first float.
Belle will be in her gold dress and Beast in his suit and they will dance together and wave to the crowds.
Also, they appear in the Fantasmic evening show in Hollywood Studios in the same gorgeous ballroom attire. They float down the river in a boat with other classic Disney couples like Ariel and Prince Eric.
Again, Fantasmic is one of those shows where you need to get to the stadium really early to guarantee a seat. It's recommended to show up around an hour before the show begins.
Belle and Gaston's character meet and greets
If you wanted to meet some other characters from Beauty and the Beast you can meet both Gaston and Belle at the parks.
There will be a timed Belle character meet in France Pavilion at Epcot. She will be in her blue dress.
You cannot book or find the Gaston meet & greet on the Disney app but he can often be seen outside Gaston's Tavern to welcome guests inside.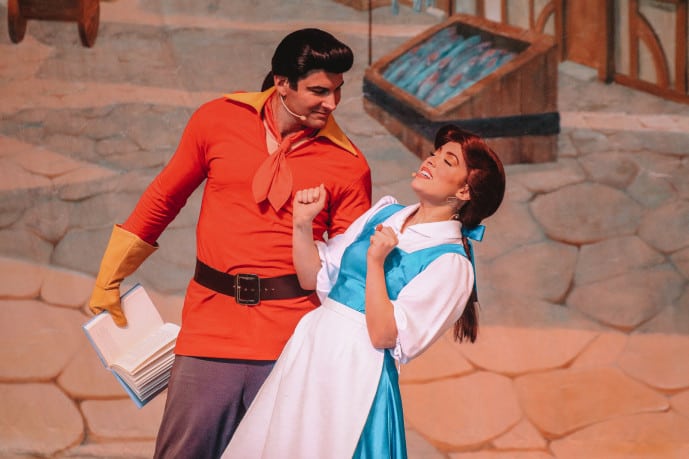 Belle Character dining experiences
Belle will be available to meet in the Princess Storybook Dining at Akershus Royal Banquet Hall in the Norway Pavilion at Epcot.
It's set in a medieval castle and you can expect to meet many other princesses in this dining experience including Snow White, Cinderella, Aurora, and Ariel.
It's not a cheap experience at all with prices for the lunch and dinner buffet starting at over $60 per adult.
Advance reservations for character dining experiences are again a must. You can do this via the My Disney Experience app and you should look to book 60 days in advance when reservations open!
Read more of my Walt Disney World guides
A Free Disney Day Out at the Boardwalk
Beautiful photo spots at Walt Disney World
Unmissable Mickey Food finds in WDW
The secret Disney Walls of Walt Disney World
Where is the You are Most Beautiful Wall?
What is the Purple Wall at Magic Kingdom?
Save this Be Our Guest Restaurant review for later!