Before I even planned to visit, I knew I wanted to visit the Beatles Ashram in Rishikesh.
The popular band from the UK flew over to India in 1968 for a retreat of transcendental meditation with their yogi instructor Maharishi Mahesh.
Some of the group spent a total of 8 weeks here attending seminars, yoga instruction, and hours of mindful meditation.
They embraced a life away from the stress and media attention they were receiving worldwide eventually becoming disciples of their guru.
Their stay proved to be their most productive period and they wrote almost 40 songs while they were here, some featured on the famous White Album.
Today, the Ashram is abandoned but the influence that the Beatles had on this place remains.
You can still pay the deserted place a visit if you find yourself in Rishikesh and I would highly recommend you do.
Here's a complete guide on how to visit the Beatles Ashram in Rishikesh.
Heading to India? Don't forget about travel insurance! Click here for a FREE quote from World Nomads
How to reach the Beatles Ashram in Rishikesh
Personally, I found this place a little hard to find. It's around 3 km from the infamous Lakshman Jhula and 1 km from Ram Jhula.
My friend and I were using google maps to find it and still got lost!
We ended up walking around for way longer than we should have done. But, on the positive side, it was a beautiful walk in the countryside.
It's actually located around the Rajaji Tiger Reserve. When you see this sign, keep walking until you reach the gate at the end of the road!
Unfortunately, it's not the most signposted attraction.
The best bet is to hire an auto-rickshaw/taxi to take you straight there for a surefire way of finding it.
Beatles Ashram ticket prices
You will pay around 600 rupees for a foreign ticket.
Locals pay around 150 rupees.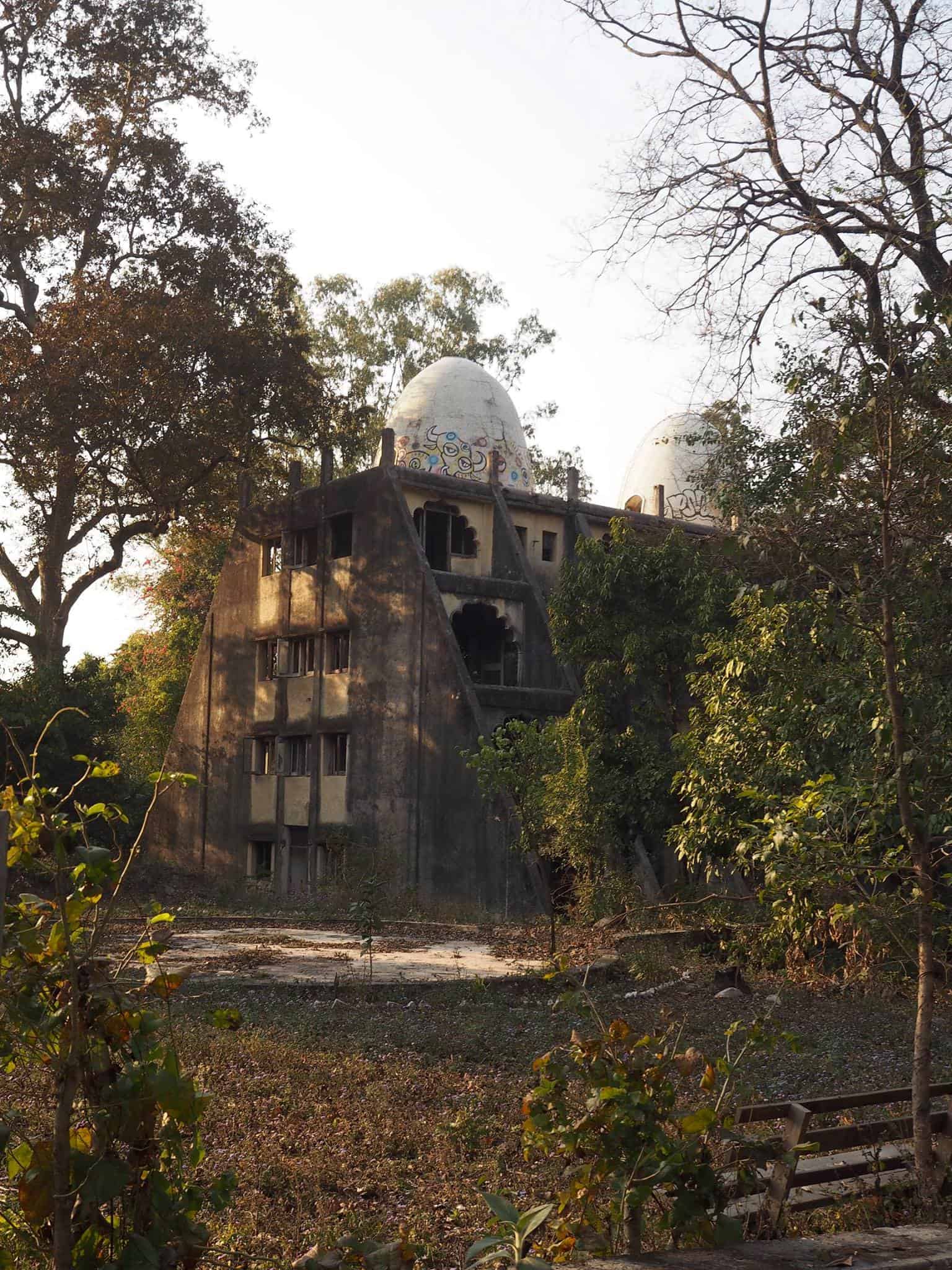 What you can find at the Beatles Ashram
The first part you will reach as you make your way up the steep hill (and I mean really steep) is the little cluster of quirky meditation huts.
In its heyday, these huts would house the many students who were here to retreat and learn from Maharishi.
It must have been a fantastic community of like-minded souls coming together.
The thing I loved about visiting this ashram is that nowhere was off-limits. You could climb into any one of these huts and poke your nose around.
Some of the huts have some colourful graffiti on the walls and quotes from Beatles songs inside.
One which struck me was a quote by John Lennon which had been painted on the ceiling.
Supposedly, he wrote this in a letter to Yoko to let her know he was thinking of her while he was here;
"When you look up at the sky and see a cloud, think of me"
Exploring the Beatles Ashram on Foot
It was actually quite spooky exploring this place. There weren't many people around and so it felt like you were left alone to just wander for as long as you like.
You could get wonderfully lost or camp out in one of the abandoned buildings and no one would find you…or care!
On the flip, it was actually really peaceful and relaxing. It had a nice vibe going on.
Nowhere was off-limits in this place. There were so many buildings to explore. My favourite was the meditation chambers.
There were almost a hundred empty rooms all free for students to spend their hours meditating and finding peace.
Art work at the Beatles Ashram
Hands down the coolest part of being here were seeing the vibrancy of the art and graffiti on the walls.
It was a photographer's dream! Obviously, a lot of it was Beatles inspired with portraits and lyrics plastered at any opportunity on all the decaying buildings.
But, it didn't get boring or defeat the fact that it was a living work of art.
It actually brought some life into the place which had been abandoned all those years ago.
A fitting tribute to Maharishi Mahesh Yogi's legacy and memory.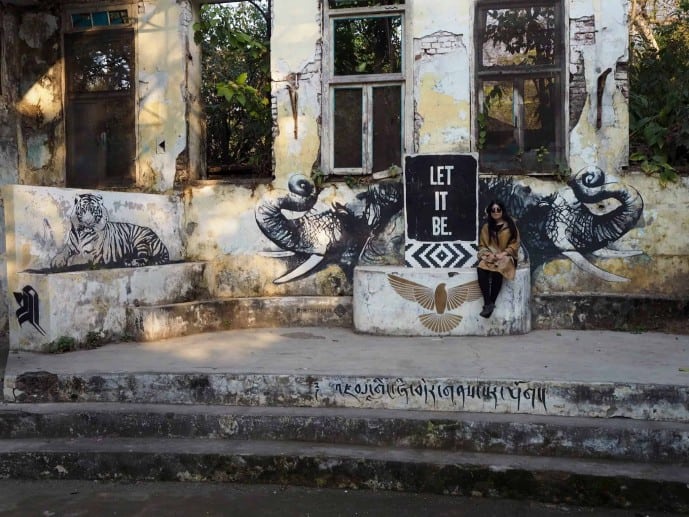 Save this Beatles Ashram in Rishikesh guide for later
Undoubtedly, the Beatles Ashram in Rishikesh made its mark of universal fame after the Beatles paid it a visit almost 50 years ago.
Although it is abandoned today, there is still a great feeling when you venture around here.
It must have been an awesome community of spiritual awakening and souls looking to find peace of mind in this crazy world that we live in.
Although an expensive attraction in terms of Indian tourist prices it is well worth a visit if you find yourself in Rishikesh, the home of yoga.
Click here to read my complete guide to Rishikesh!
Heading North in India? Read more of my blog posts
A complete Mussoorie travel guide
A complete guide to Dharamshala
Rohtang Pass – India's most dangerous road!